A Hat in Time's 15 Best Mods To Download (All Free)
This post may contain affiliate links. If you buy something we may get a small commission at no extra cost to you. (Learn more).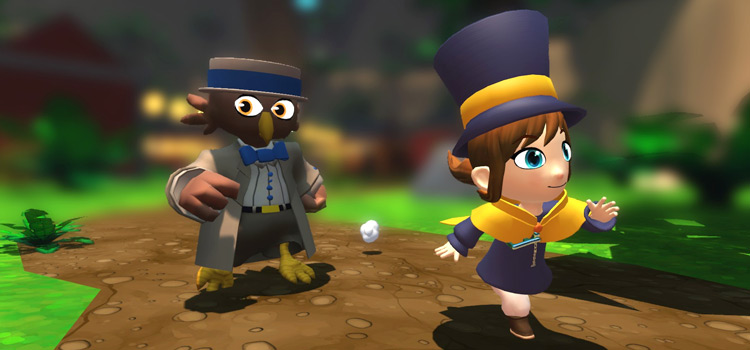 This might be one of the games that has provided me with almost as much enjoyment as Mario Sunshine back in the day.
In my honest opinion, A Hat In Time is better than many of the latest Mario titles that have come out. And it proves to be quite challenging as well as extremely entertaining.
However once you've completed it, you're probably left wanting more.
Sure, the game takes a long while to truly finish. But given how long ago it was released, it's likely that many of you have already gone through it on its entirety.
Worry not – if you've been left wanting more of A Hat in Time then you're in luck!
I came across some fantastic mods that add to the experience of the game and make it, to some extent, even more challenging(and entertaining).
If you wanna try out some of these mods then check out my list and grab anything that suits your fancy.
15.

Playable Time
I'm pretty sure the creator of this mod called it Playable Time as an ode to P.T., the scary successor to the latest Resident Evil.
This mod is quite somber and surprisingly scary for a game as happy-looking as A Hat in Time.
I wouldn't go as far as to advise you not to play this at night… but beware that it's not as uplifting as many of the other mission mods below.
Maybe just keep a nightlight on.
14.

Groovin' to the Moon
A completely new flair is going to be the smallest yet coolest addition if you were to download this amazing mod.
It puts a whole new map into the game, allowing you to experience a short adventure that proves to be quite challenging anyway.
The creator of the mod states that it should take you around 10 minutes to complete it, but it took me a solid 25.
I know that I do suck at this game. But that doesn't take away from the fact that it's not as easy as it seems.
Don't get cocky, kid! Put on your big boy pants and face the challenge of this mod.
13.

Hat Kid's Adventure in South Island
Alright, this is an absolutely fantastic mod.
It takes you on an adventure through the first Sonic game's levels, all the way up to Labyrinth zone.
If there was a mod that I wish had been completed, it would be this one.
Don't be discouraged, though. It comes with enough levels for it to be extremely challenging.
The main issue?
Well, some hats might break certain levels. These ARE Sonic levels, after all. And they aren't meant to be played with crazy hats that give you abilities.
But hey, that's part of the fun!
12.

Metro Library
Books? A library? Trains?
Sign me up for this short little adventure that takes us on a trip through a library with a bunch of trains in it.
This is a challenging level that will require you to have three main items in the game before you can complete it (I won't say more in case you don't want spoilers).
In any case, Metro Library is a pretty well-developed mod that truly takes you on a different type of adventure in the world of A Hat in Time.
11.

Sort My Inventory
If you're looking for truly awesome mods then chances are you've already completed the game by now.
This means you likely have an inventory full of flairs, but also a damn mess that is a true pain to organize.
This amazing mod changes that for the better. And no longer will you complain about having a messy inventory, or even complain about having to organize it.
With this mod you get a button to automatically sort your inventory however you want.
Quickly look for hat flairs or any other item that you wish and they will all be found together, sorted by item types.
Talk about one of the best QOL mods that this mod community has to offer.
10.

Hat Kid Steals the Declaration of Independence
I have to admit: I chuckled when I first read the name of this mod.
Just imagining Nicolas Cage in the world of A Hat in Time gave me quite a good laugh.
However this mod is more than comedy – it happens to be quite a damn challenge.
Trust me, the challenge is not only for you but also for your computer.
This mod requires a lot of processing power. And if you have a low-specs PC I would advise to not bother installing it quite yet. You can also check the description for details on exactly how much extra GPU/RAM you'll need.
I mean, mine's a pretty good PC built for gaming and it still took me a long while to load the map!
9.

Express Owls In: Gold Leaf Galaxy
An autumn-themed world and a fantastic adventure await those who choose to install this mod.
It takes you through an entirely new world which contains 4 timepieces and a few hours of fun.
Totally worth checking out.
8.

New Hat City
This mod quite literally feels like it could've been in the base game and no one notice a difference.
It's just so well done that it's going to take you some time to finish it, not only because of its size but also because of the difficulty of certain parts.
You'll need to complete quite a few challenges if you wish to wrap up this adventure.
But you'll end up with up to 8 new timepieces if you do!
A fun urban environment to explore complete with a whole bunch of interiors and a lot more things to do.
7.

Pillow Fort Playtime
New areas, new challenges, and a fort made with pillows.
That might sound like the beginning of a kids' cartoo. But it's one of the best custom-made maps that I've seen for A Hat in Time.
It's actually the remake of a mod called Pillow Fort Panic, but the creator managed to add many changes to it to make it more challenging and much more fun!
6.

ConductorWare: Smooth Moves
I got a few good laughs while playing with this mod, which warns us to be prepared to laugh if we play it.
Movie references and inside jokes are aplenty in Smooth Moves, where you will be presented with up to 28 minigames that you'll have to complete if you wish to play through all of this mod.
It's very well done and completely worth it for the laughs that it'll bring you.
Especially if you're a big movie buff.
5.

Just Like Clockwork
You're going to be facing a perilous time should you happen to download this mod.
Explore the inside of a clocktower and climb up to the top by completing a few challenging parts!
There's a timepiece waiting for they who manage to conquer this tower. It's a short adventure with a single timepiece as a reward, but trust me – I'm ranking it so high up on this list because of how amazing it is.
4.

Festival of Horrors
What would happen if it was suddenly Halloween in Mafia Town?
It would probably get a few cool decorations to rise up to the occasion, right?
Well yeah, but it gets better! You'll also have a few more quests to finish and things to do.
New hidden areas come with a whole lot of action that you're going to love.
Besides, I think this mod is almost entirely worth it to see how Mafia Town looks when the spooks arrive.
And you don't need to play it in October – it's Halloween the entire year when you download this mod.
3.

Beta Hero Challenge
This mod is not actually a modded map per se – the Beta Hero Challenge was a challenge map that already came with A Hat in Time, but it was ultimately scrapped and vaulted.
However it remained in the game files, and the creator of this mod managed to unlock it and share it with us!
Kind of like a cool revamped Easter Egg, of sorts.
Take your hat up to space and finish this small mission to get a pretty little timepiece.
2.

The Conductor's Village
Take a trip to the village where The Conductor lives with the Express Owls and help them all out!
We know that The Conductor very rarely has time for anything that isn't making movies, but the Owls need help.
Should you decide to spend some time and help, The Conductor will reward you with an additional timepiece. Neat!
1.

No Bunk Surfing
Take a trip down to memory lane and revisit the days you used to spend playing surf maps in CS 1.6… you know, when you were a kid with the No Bunk Surfing map!
OK maybe this relates more to younger gamers but seriously this is real fun.
This challenging scenario will require you to have the No Bunk Badge and a whole lot of skill. It pushes the game to the limits. Perhaps not made for every gamer but absolutely worth a runthrough.
Browse:
Lists
Steam
Video Games