15 Able Sisters Shop Ideas: Design Inspiration For ACNH
This post may contain affiliate links. If you buy something we may get a small commission at no extra cost to you. (Learn more).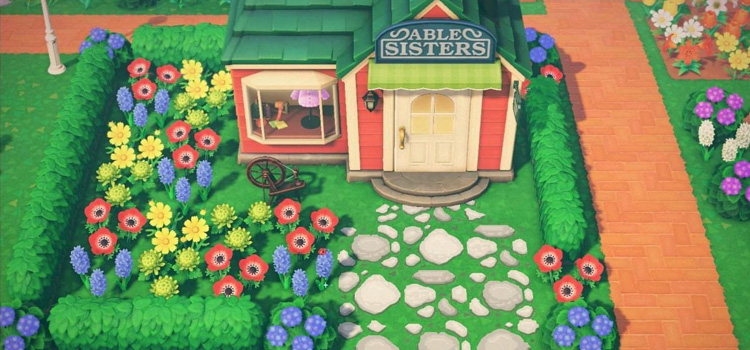 One of the main stores on your island is the Able Sisters tailor shop, run by sisters Mable and Sable who work tirelessly to create the latest fashion trends.
Whether you need a new t-shirt or a full-blown wardrobe, the Able Sisters is the place to go to shop for new threads.
So it makes sense to create an awesome space around it, right?
Well for this list I've compiled my favorite Able Sisters store ideas, to give you that much needed island design inspiration.
15.

Sisters in the Forest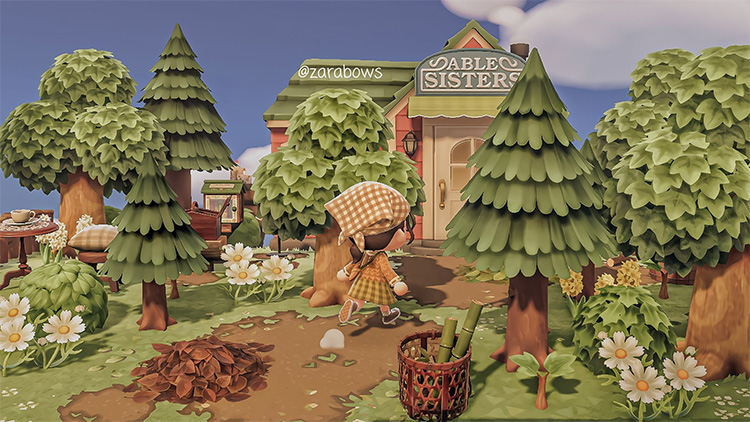 Are you a nature lover?
Then this Able design is for you!
Set your store nestled away in the forest and surround it with a mix of cedar and hardwood trees.
Don't forget to add your favorite path and some leaf piles scattered around too. And you can also add lots of flowers just for a pop of beauty.
Pro tip: a cute little wicker basket with some bamboo goes so well with this set up.
You can also add an antique table and chairs, like a rest stop with a view for your weary villagers after a hard day of dress shopping.
14.

Between the Gardens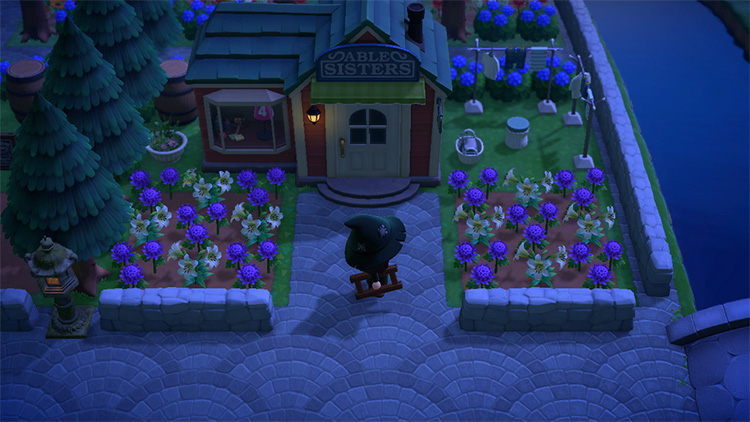 Ah, the smell of fresh flowers while buying a new wardrobe.
I love these two gardens leading up to The Able's shop. The gardens are even color co-ordinated too!
This is such a great idea to display your favorite flowers, I adore it. Maybe complement your gardens with your favorite fencing to make sure there are no visitors who clumsily trample all your hard work.
You can also add some washing lines and a bunch of hardwood trees to tie the whole look together.
And I'm sure the sisters would love a cute pathway, so make sure you pick a cute stone tile.
And just like that, you have yourself a beautiful store entrance. Pretty sure Leif would approve too!
13.

By The River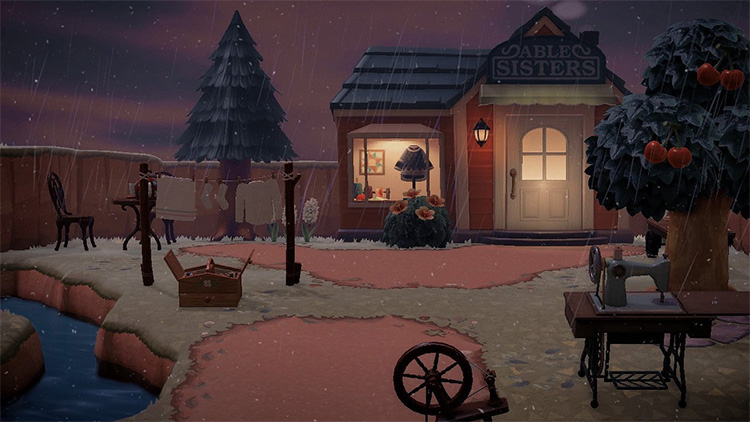 Do you want to keep your island simple, yet keep it looking amazing?
This super easy look only takes a few items to create. All you need is a super cool dirt path design that you can weave around outside your store.
Add a clothes line and a tablet to the side for a super chillout area. Your illagers will love waiting here while the sisters do a quick stitch job on their torn clothes.
This idea looks so good snuggled into the cliff edge. You can also add a river running nearby too.
And don't forget to add a sewing machine outside too!
12.

Outdoor Office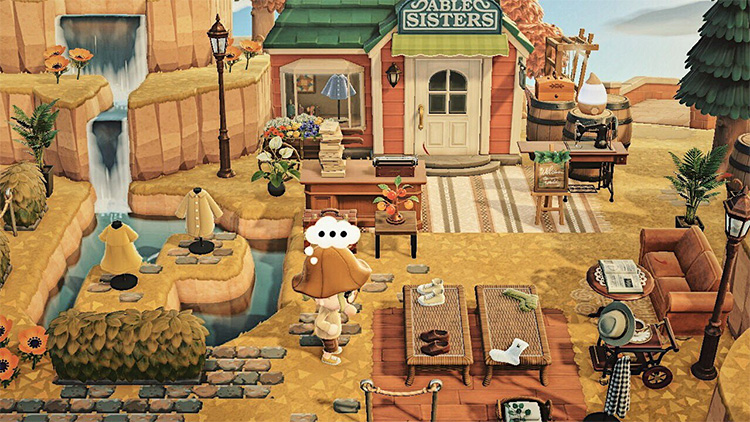 Who said you had to work inside all day?
Why not bring the sister's office outside so they can do their admin work sitting in the sun?
This cute office setup would make a great addition to any island. With its welcoming ambience it's sure to be the envy of all your visitors.
Here's how: add a couple of rattan tables and a couch to create the perfect little waiting area, and you can even pop some magazines on the table for visitors to entertain themselves while they wait.
Then add a hat and coat rack to tie in with the theme.
I'm sure Mabel and Sable will love their new workspace!
11.

Under the Waterfall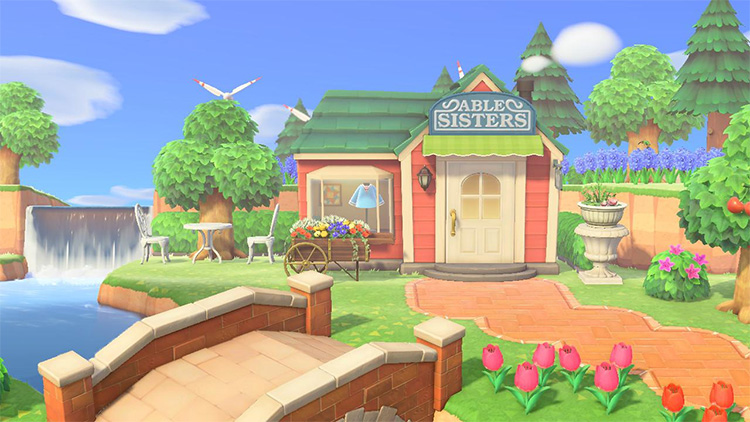 This design makes me feel just like I'm walking through a postcard.
And you can create this on your island too!
First throw on your terraforming hat and start by creating a cascading waterfall running into a river that flows around the area.
Select a brick bridge and angle it over the river diagonally. Keep it cheery with heaps of tulips and hyacinths, and you even add some fruit trees around the area.
Finish with some iron tables and chairs out back, and an adorable red brick walkway.
10.

Marketplace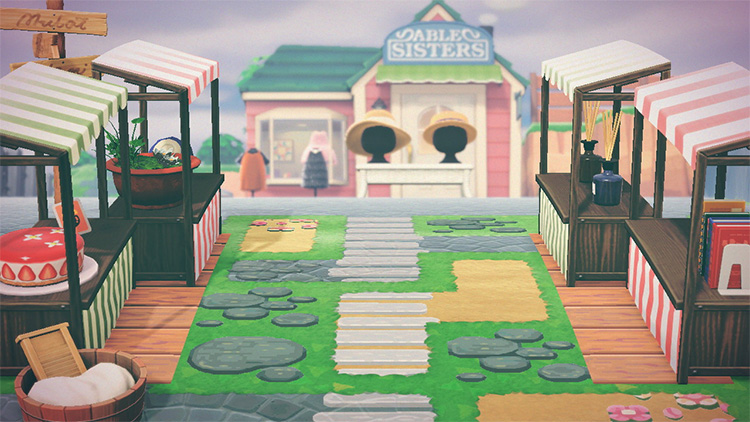 This marketplace is pretty impressive, right?
Surround your Able Sisters shop with a little bit of everything for the ultimate shopping experience.
All you need to start is a few stalls, and you can customize them with your favorite patterns.
If you don't have any patterns yet, keep talking to Sable each time you go into the store. She'll eventually warm up to you, and if you talk to her every day, she'll then start to give you extra design patterns.
Once you've got this setup, add different products to each stall, from cakes to plants to reed diffusers. You can add anything you like to start your own thriving business area.
Then before you know it, you'll have busiest market in town!
9.

Sewing in the Sun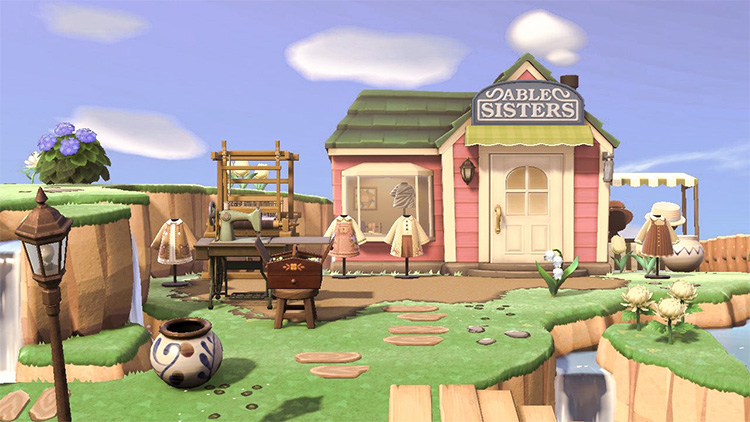 It's about time Sable got a bigger workspace, right?
Instead of being stuck at her desk all day, create a tailor studio out front. That way she can sew all day long in the fresh air.
It's a super cute idea, and all you need is a few sewing essentials to complete her dressmaking station.
Start by adding a loom, then add a desk and a chair, and of course don't forget the most vital ingredient… the sewing machine!
Finish the area by adding some mannequins with your favourite designs. This is also a really good way to display the custom designs you're most proud of.
And if you need some extra patterns for this, talk to Sable every day. She may seem shy at first, but eventually she will become your friend and gift you an abundance of really cool designs!
8.

Able's on the Beach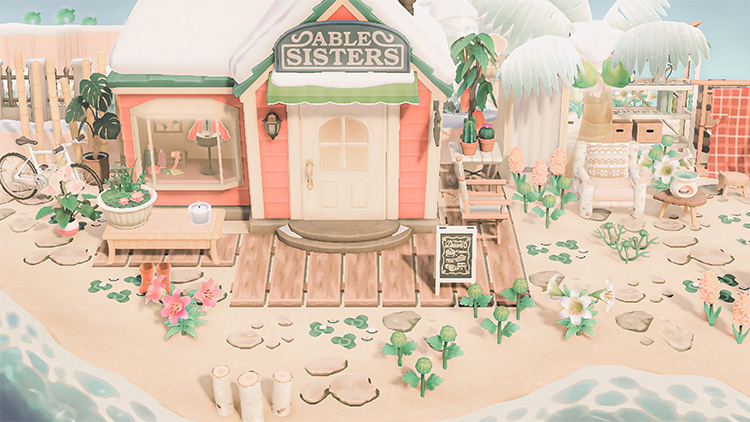 The sisters will thank you for this one!
Turn your Able Sisters store into beachfront property.
Yes, you can actually place your building's directly on the sand.
You can even put custom designs on the sand too, so you can create some custom flooring to make it look like your store is resting on wooden decking.
Add some rattan and wooden furniture outside to tie in with the theme. Then add a selection of plants for some greenery (just keep them simple!)
I'm sure Mable and Sable will love dipping their paws in the sea after a hard day of sewing.
7.

On a Clifftop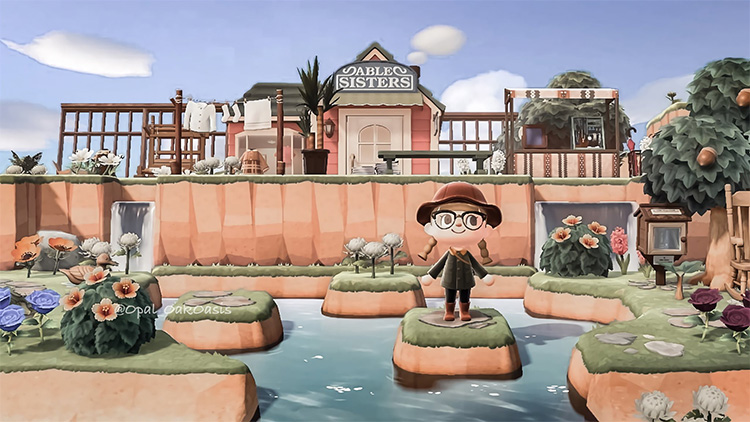 This is pretty high on the list of my favorite Able designs.
Start by choosing an area on your island and terraforming a large cliff. Pop your Able's up on top, and down below create a series of waterfalls leading into a large lake.
Add little steppingstones and a bunch of colorful flowers to create the ultimate view from the store.
Outside the store you can decorate this area with a washing line, a seating area, and some custom kiosks.
And don't forget my favorite part: the cute little rocking chair by the lake.
6.

Hidden Able's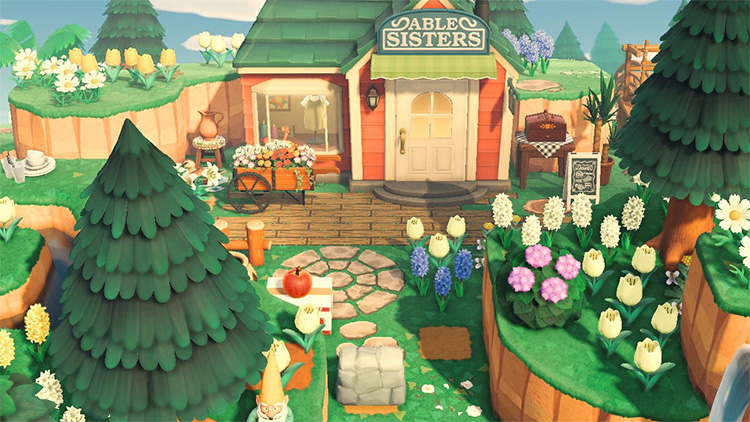 Nestle your Able's away between cliff edges to create the most adorable hidden shopping area.
Start by adding a series of rounded cliffs with a small, secluded area inbetween. You can then can safely tuck your store away in the middle.
When doing this, be sure to leave enough space to move other items around the entrance.
Then fill the area with an abundance of gorgeous flowers and foliage, and of course your most rustic custom path designs.
It may take others a while or to actually find it on your island. But that's what the map is for, right?
5.

In The Woods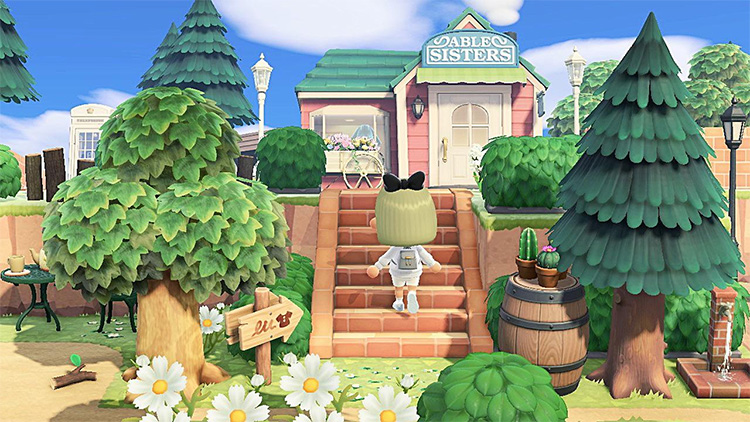 This sweet Able's design is a great addition to those cute and cozy islands.
To get a similar look, set your store up on a clifftop. You can then add your favorite staircase to the cliffside to lead up to the store.
This look requires trees, and lots of them, so be sure to add a mix of cedar and hardwood.
Then drop a cute iron table and chair set for the perfect place to set up a picnic under the shade.
I simply love the clothing sign pointing up to the shop, too. It ties the whole look together.
4.

Shopping with a View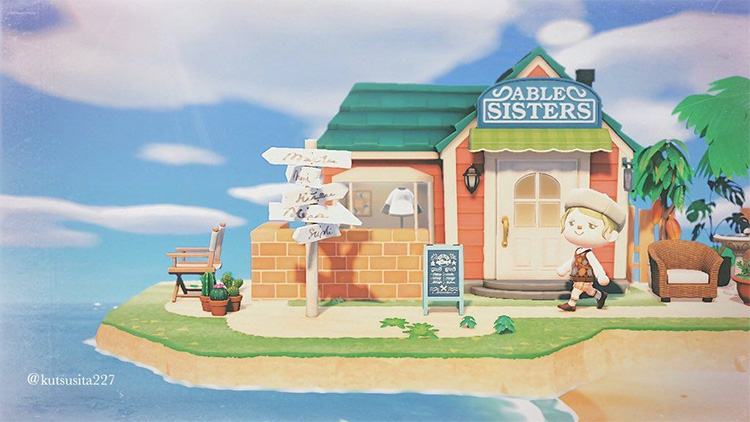 Did someone say clothes shopping with an ocean view? Yes please!
The store is set on the edge of the island here, and it even has a little wooden chair that's perfect for gazing out across the sea.
Place some other seating areas around the sides of the store, and maybe some out back, so your villagers can have a quick coffee and a catch-up between trying on outfits.
Of course, this look wouldn't be complete without a wooden signpost. You can pop this just outside the store along with a custom "operating hours" blackboard sign.
This is such an awesome space to situate your Able's store, so you can head straight to the beach after picking up some new threads.
3.

City Shopping
If you're tired of the natural island look and you're missing those late-night city vibes, then this one is for you.
Mix your Able Sisters into the urban jungle you're longing for.
Make sure you have a design for the road and slam that down just outside your store.
With this design above, they used the simple panels customized with a brick design and pushed them up against the store front to give it more of a city feel.
You can do this with almost any design, and you could even customize the panels to look like city buildings, or even houses.
There's also some graffiti in the back that just ties paints a picture of the inner city.
2.

Cherry Blossom Able Sisters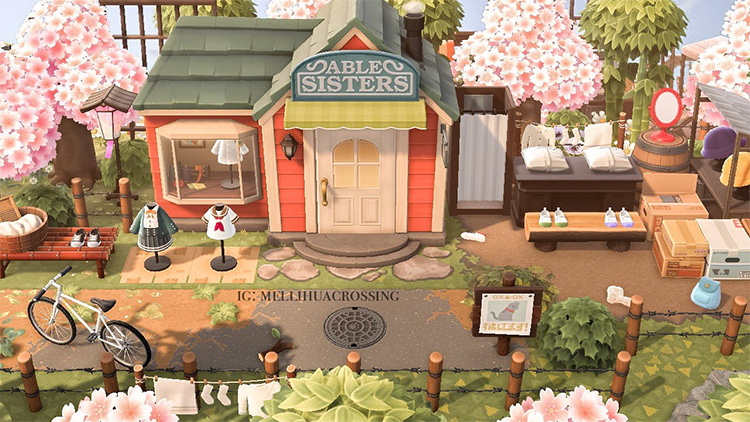 Having another fitting room right outside your store? Genius.
There's so much going on with this Able Sister's design, and I'm living for it!
You can create it by adding a road outside to start the path.
You can even add some mannequins with some of your favorite outfit patterns to give customers a taste of your islands fashion sense.
The cherry blossom trees really give this look some added spice, and I'm here for it.
This design also has a storage area off to the side. I've often wondered just where the sisters keep all their stock… now I guess I know the answer!
1.

Shopping Strip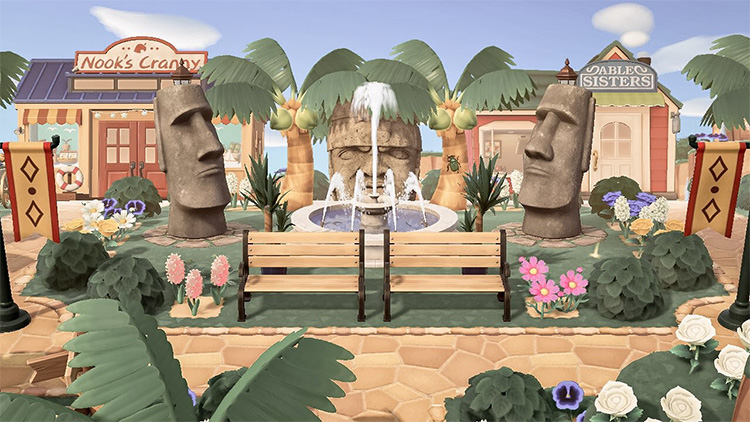 This tropical paradise makes me want to take a vacation immediately!
Make your island the number one vacation spot by creating a shopping strip that's bound to give everyone those summer vibes.
First select a large area on your island and lay down your favorite stone path around the edge of the area. Fill the center with fountains, statues, and plenty of brightly colored flowers.
Line up your Able Sisters shop next to Nook's Cranny, and design paths leading to both.
And be sure to add lots of coconut trees for that tropical ambiance.
People will be lining up at DODO airlines to visit your summer paradise!
Browse:
Animal Crossing
Lists
Video Games