20 Bamboo Design Ideas & Tips For Animal Crossing: New Horizons
This post may contain affiliate links. If you buy something we may get a small commission at no extra cost to you. (Learn more).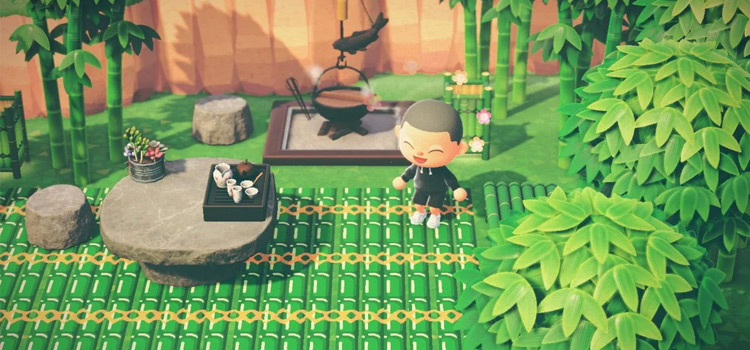 The bamboo line of ACNH items are super cute, and give all of our islands an awesome, tropical vibe.
Doesn't matter whether they're placed inside our houses, or outside as part of neat builds, or accent items, or anything else!
So maybe you're looking for some bamboo inspiration?
Well here's some of the coolest player-made builds that left us totally bamboozled!
20.

Bamboo Garden Cafe
What goes better with a warm drink than the sound of a trickling stream?
And of course the pretty, swaying shade of tall bamboo tops.
Kudos to Reddit user u/freygrmn for this beautiful green cafe.
Sipping matcha or sencha surrounded by nature in this gorgeous spot would be super relaxing. And the adorable rock path helps villagers find a spot to sit here, plus matching spotlights tie in the green theme.
19.

Japanese Bamboo Park
Let's face it:
Animal Crossings: New Horizons is set on a (originally) deserted island.
That means that along with fruits and house loans, green space is abundant.
Reddit user u/ripcurtis celebrates the natural beauty of nature with this bamboo-loaded park space. Rock seats give villagers a spot to sit down, maybe have a picnic, and just relax.
We love the orange and red poppies in the back. The bright colors go beautifully with the green bamboo. Well worth re-creating in your own game!
18.

Bamboo Garden with Bridge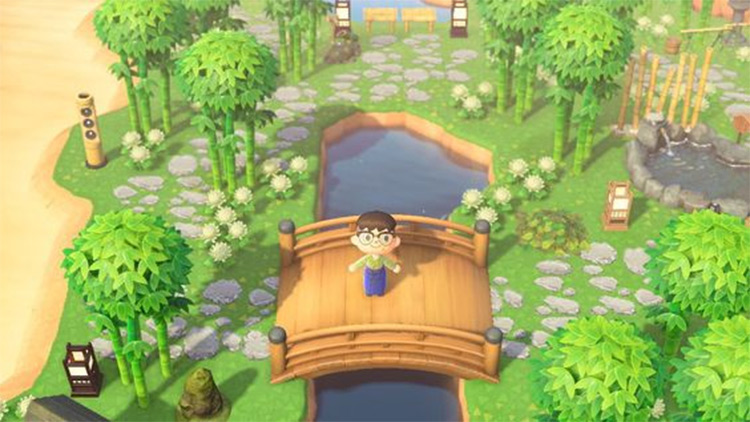 Similarly to the last one, this adorable bamboo garden space is natural greenspot.
With several ponds, white mums, and a rustic looking bridge, this build is an adorable tribute to Asian-inspired gardens.
The attention to detail here is awesome, too.
Paper lanterns give the space a friendly glow when the sun goes down. And other goodies like a pile of leaves, some benches, and a speaker, all enrich this bamboo garden with a fun vibe.
17.

Bamboo Forest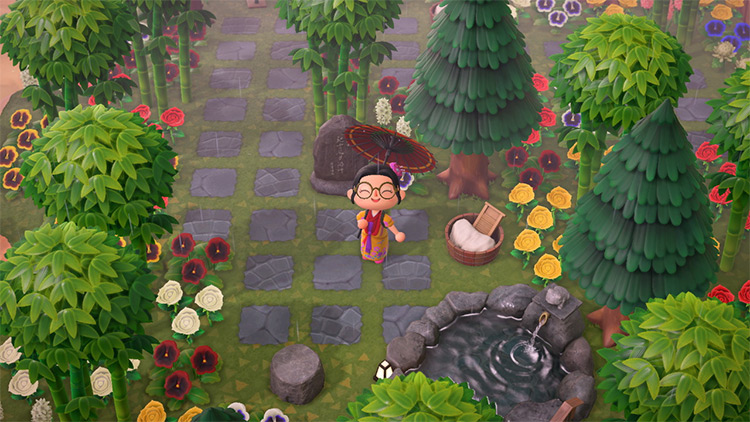 Another gorgeous outdoor space here. This makes use of pretty pansies, regal roses, and happy hyacinths to add a rainbow of color.
There's a definite rustic appeal with the wash bucket by the pond, too.
And the engraved stone gives the area a serious but refined look, while the pine trees mesh super well with the bamboo to give the forest some depth and variety.
A stone seat by the pond also helps villagers with a quiet spot to relax and reflect in this fantastic nature paradise.
16.

Bamboo Wooden Outdoor Spa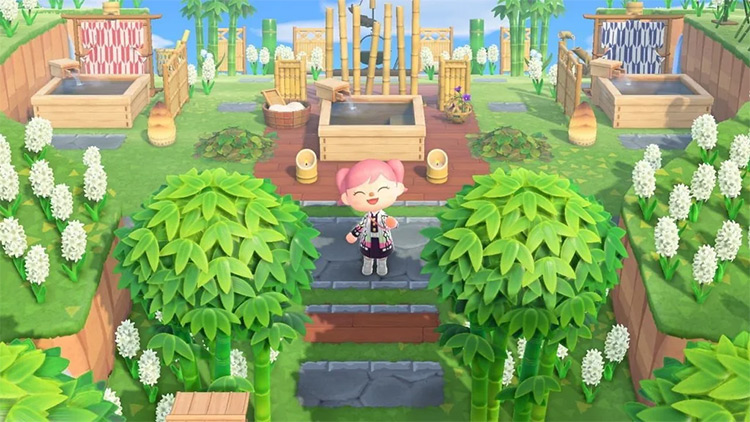 Maybe it's because of the relaxing vibe that bamboo gives off, but we have another neat bamboo spa to show you.
This design has several wooden tubs with spouts to pour warm fresh water into the bath.
Pretty white hyacinth lines the entrance here, which uses terraforming brilliantly to section off the space without the use of fences.
Bright bunches of bamboo make the space pop, but don't feel overwhelming.
And some bamboo lights would make this spa glow beautifully in the dark, making it even more relaxing. Sign us up for the next treatment, please!
Even your snooty villagers would love it here.
15.

Zen Sand Garden
This list would not be complete without a sand garden, as they tend to go hand in hand with swaying bamboo.
This build, which conveniently comes with the code for the sand wave patterns, is quite an elaborate idea.
Terraforming allowed this player to put a waterfall by their stone stairs, as well as a teeny island for a light to guide the way.
Bamboo is used in cubic lanterns so that this garden is as beautiful at night as it is during the day, if not more so!
A stone arch, which is available on order from the NookStop, stands tall in the waves of sand along with other stone sculptures. And a stone table with matching seats may not be the comfiest to sit on, but certainly give a scenic spot to take a seat and soak in this gorgeous build!
14.

Bamboo Tea Spot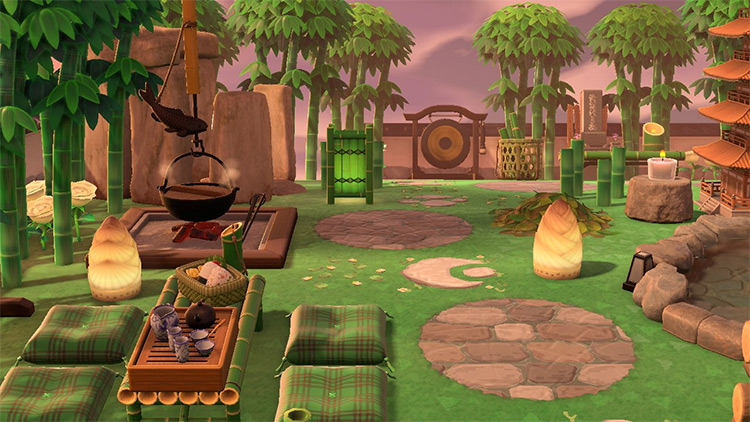 Drinking quality matcha on a soft pillow with a soft breeze making the bamboo above sway… that's the dream.
And this build makes it a reality!
A rock pool and a pagoda are fun additions for detail, while a gong rests in the background.
Plus that cauldron is readily available beside the perfect snack spot to make warm treats and meals so much easier!
An interesting path with an inventive stone design leads villagers around this bamboo garden, and tea lights and lanterns can lead them around when the sun goes down, too!
13.

Zen Deck
Animal Crossing: New Horizons has served as a great escape while being stuck inside.
The fantasy of relaxing on a deck as zen as this, and with friends? It just makes this idea come alive, albeit virtually.
Monochromatic bamboo flooring, lanterns, benches, and other furniture give a nice base color so that the green from the plants and the blue from the seating cushions really pop.
Beside the deck is a Go board for some fun game time. Or there's also a tea set and easel available.
This might be the perfect spot for a book club, or some other casual get together too.
12.

Bonsai Garden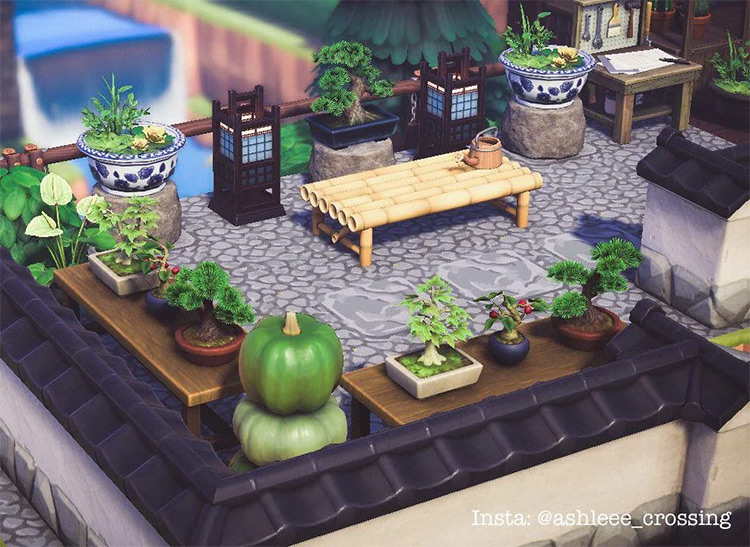 Banzai!
This gorgeous micro-garden boasts an array of teensy tiny trees, and pond-filled china bowls for a cute little nook.
A low bamboo table is a great spot to rest the tools needed to take care of these itty-bitty trees, and the aged-looking stone gives it a rustic feel.
The DIY workbench in the corner is a super helpful & practical piece to add into the space.
What's worse than trekking out on your island, only to break a tool on the first rock you hit?
Nothing, that's what.
Well, maybe paying Tom's crazy-expensive loans.
11.

Bamboo Room
Some people just really like bamboo. And that's a good thing.
The material is plentiful, inexpensive, super eco-friendly, and best of all, reminds us of pandas.
And pandas are great.
This bamboo room takes things to a whole other level, with just about every item being made out of the grassy material.
It's a green lover's dream with bamboo shelves, lanterns, wallpaper – bamboo to the nines!
10.

Imperial Bedroom
This one is subtle, but really beautifully designed.
A bamboo bookshelf is a sleek addition to this otherwise wooden bedroom.
The wallpaper, which includes a great deal of windows, lets in a steady stream of daylight to brighten up the gorgeous space.
For those that prefer a rude awakening from their kingly or queenly bed, a gong sits at the corner, ready to wake up anyone who manages to sleep through the sunlight. Careful though – that family of pandas looks hungry, so keep an eye on your 'bambookshelf'!
9.

Bamboo Bathroom
Typically, bathrooms are not the prime spot to hang out when it comes to a typical home.
However, this chill bamboo bathroom is designed for vibing.
A corner diffuser on a bamboo table gives off so much perfumed mist that it rolls off the floor in waves. Or maybe it's steam from the piping hot bath.
Partitions give some privacy for a shower and a vanity, and towels are conveniently placed between the tub and shower. So if for some reason you actually wanted to leave, it's handy to dry off.
8.

Bamboo Patio
Relaxing is key to enjoying island life.
And a sitting area beside a waterfall and bubbling stream, encircled by a chill bamboo forest, simply oozes relaxation.
This cute build uses a custom designed bamboo pattern on the pillows for the couch, and plenty of bamboo trees all around.
A tea set perfects the space, along with a planter tree and coffee table.
7.

Sushi Restaurant
This elaborate build is a bustling Japanese sushiya.
Bamboo dividers give the illusion of privacy to a low table separate from the bar, giving customers a choice of where they would like to sit.
The sheer amount of detail in this build, from the bamboo candle on the side cart to the bamboo printed screen behind the bar, is fantastic.
We love the planter and bonsai cherry blossoms for a pretty pop of pink. All of the themed wall art must have taken a lot of effort to find!
6.

Bamboo Pathway
Have you got an awkward spot on your island between other awesome builds?
Look no further than this pretty pathway!
Bamboo lines a cleft between raised cliffs, practically making a tunnel of greenery. That's a great way to increase your star rating!
Bamboo dividers keep the bamboo from overgrowing into the wooden plank path, which is super handy too. And lanterns are posted at each end of the walkway.
What a neat idea!
5.

Bamboo Backyard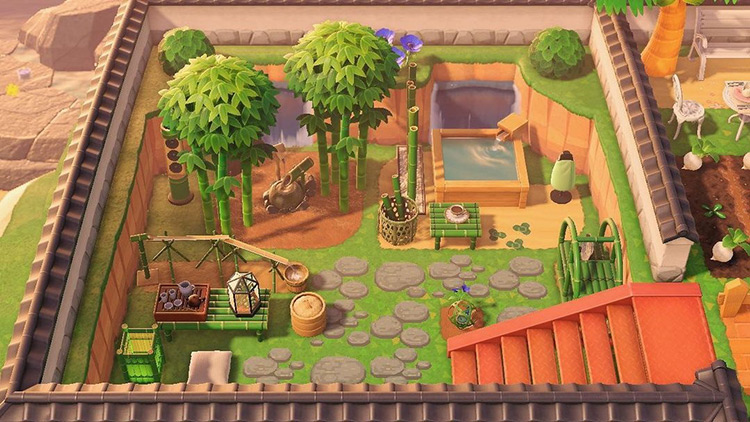 Everyone loves some privacy now and then.
And this sunken backyard provides plenty of it.
A garden section for growing more bamboo keeps you well stocked with plenty of material to craft benches, shelves, tables, or whatever you like!
Talk about self-sustaining.
And about half of the items in this build primarily use bamboo, such as the shelf or lantern.
Other items, such as the tea set or terrarium, must be found by chance. Fingers crossed!
4.

Imperial Bamboo Garden
This is a cool one.
Bright red imperial fencing creates a nice contrast to the bamboo planted alongside a pond, which is creatively filled with a stone pond from the center.
Cherry blossom trees help to give this pretty garden a distinctly Asian feel, and white hyacinth helps to fill the space without drawing attention away from the bright reds and greens.
What a gorgeous spot to try re-creating for your own island.
3.

Go Lounge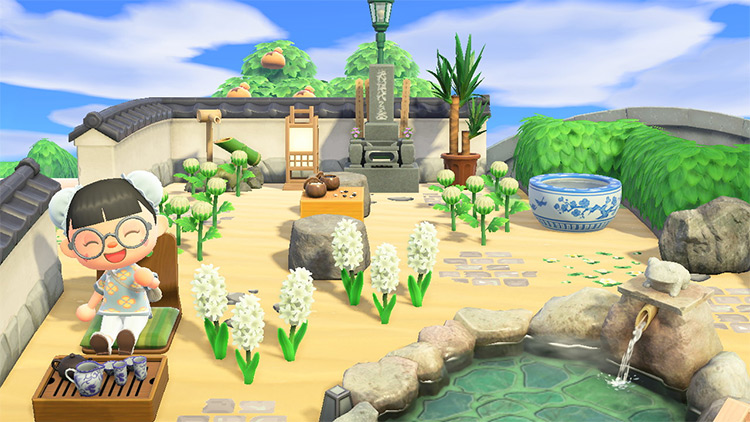 Go boards are a super underrated item in Animal Crossing: New Horizons.
Go is a board game that was invented more than 2500 years ago in China, which might make it one of the most historical objects in the game.
This adorable spot has plenty of pretty white flowers, a bamboo spout, and other cool items to give it a chill, laidback vibe.
If board games aren't usually your thing, this build might just change your mind. Lots of inspo here worth trying!
2.

Botanical Bedroom
This is another subtle one, but bamboo makes itself a centerpiece as a divider behind the bed.
This bedroom is absolutely beautiful with a soft, muted palette and cozy looking cushions and cute plants.
This room is clearly home to a bibliophile. I mean, with the open book on one side of the bed and entire stack on the other.
Books and plants make a fantastic combination, to be fair. So this is highly encouraged!
And if you're looking for even more ACNH bedroom designs maybe take a peek at this list.
1.

Asian Houses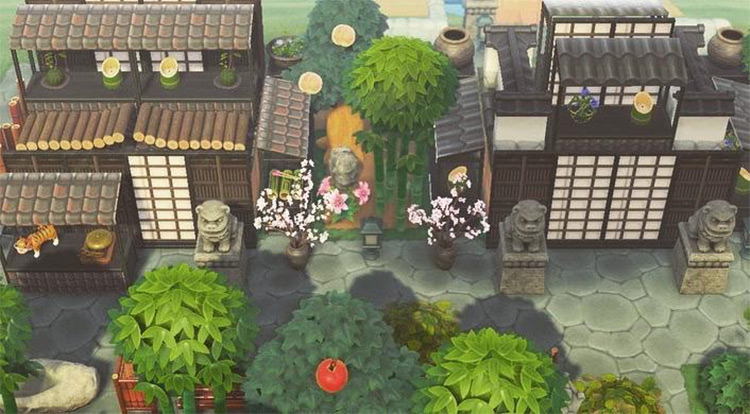 The New Horizons community has some insanely talented players.
And this build, made up of two houses, does not disappoint.
Bamboo lends an authentic feel to this Asian-inspired spot, with other fun details such as a tiger statue, a cherry blossom planter, and custom screens.
All of these details catapult this idea to number one on our list.
Bamboo is also doubly useful in candle form, lighting up the second stories of these adorable homes.
As someone whose building skills are iffy at best, this entry is insanely impressive and creative.
Try replicating the rooftops with log loungers, if you're daring enough to try this awesome build out for yourself.
Browse:
Animal Crossing
Lists
Video Games