ACNH Bar Design Ideas For Your Island (Indoor + Outdoor)
This post may contain affiliate links. If you buy something we may get a small commission at no extra cost to you. (Learn more).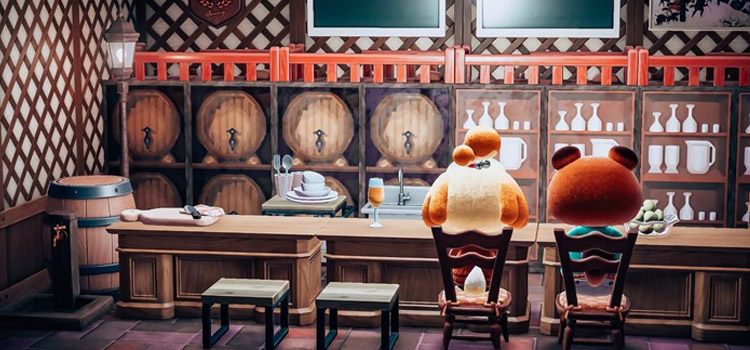 There's nothing like creating your dream home in New Horizons while ignoring your real-life responsibilities.
And what's a better addition to your vision than a complete bar? It's probably the best place to hang out with all your friends on your island.
So whether you're looking to redecorate a room in your home, or want to supply your residents with some well-deserved drinks, here are some amazing bar design ideas well worth trying out.
20.

Dark Eccentric Bar
If I'm ever feeling fancy, this idea seems like the perfect fit to redecorate my home and start my life as an upstanding member of society.
One of my favorite items to use in any of my ACNH ideas is the imperial room divider.
It allows you to use the available space for different purposes, without it feeling too overcrowded.
The Japanese influence here is also quite obvious, with some details such as the cherry flowers and lamps.
This is also a perfect way to incorporate fake art pieces into your home– because let's be honest, we've all made that rookie mistake at some point while playing.
19.

Purple Ice Bar
Let's say you want to enjoy your island during the colder winter months, yet still have somewhere to hang.
Why not build an icy bar for your friends and residents?
The purple colors in this idea are an excellent contrast to the white background. And with just a few items, your bar is open for business.
While I would've added some fences to mark a clear separation from the path, if I ever were to follow a strict color palette for my island, this is a great design idea to keep in mind.
I'm also aware that this design idea may not suit the rest of the island when winter is over.
But I still feel like it's a great suggestion for our players entering the cold season in the southern hemisphere.
18.

Cabin Indoor Pub
I absolutely love this simple and elegant design with the art painting on the pool table as the centerpiece.
It feels like entering into an old pub in the middle of the woods after being all day chopping wood in the forest – or maybe my imagination is too wild.
Regardless, you can still build this for yourself and put your own spin on this cabin pub design.
And you could also consider displaying other award plaques if you still haven't completed your museum's art collection.
17.

Tokyo Rooftop Bar
Some people miss the nightlife after not going out for a few years.
But at least Animal Crossing has your back, right?
Here's another design idea that I found unique in concept and execution.
I'd say it's pretty ingenious how this player re-created a skyline theme with the databases and neon signs. And the attention to small details like the glass of champagne and the ice crusher machine is spectacular.
For some reason, I have too many inflatable pools in my home's storage. So I applaud how this player also incorporated one without it looking out of place. Cheers!
16.

Home Tavern
Now here's another way you can implement a bar inside a small room in your home.
I applaud the use of wooden panels here to create a back area for the bar. Just looks awesome.
And hanging the extra K.K records you may have bought by accident is also an excellent decoration idea, not to mention adding the pool table with the dart game machine is always a safe bet with this theme.
15.

Hawaiian Beach Bar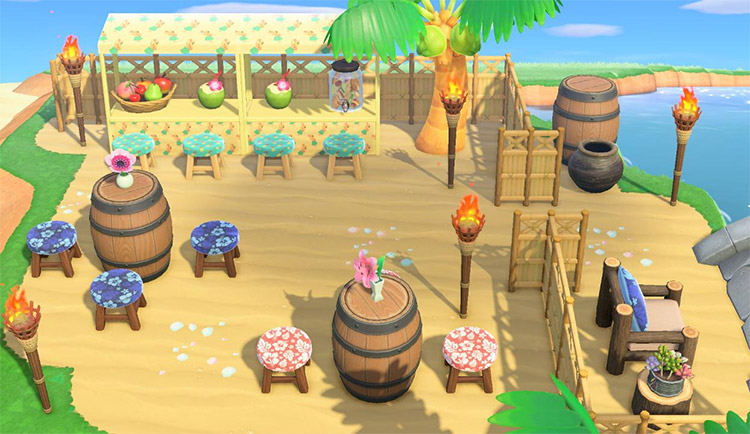 Nothing like designing a beach bar to enjoy some drinks with a chill vibe.
Custom tiki-style bars are a popular theme among Animal Crossing players, and for a good reason: we get to play in the middle of the ocean, after all!
The barrels as tables offer a nice twist to this formula, and the stands with coconut drinks and custom designs will always be a win in my book.
14.

Music Beach Bar
Setting up a bar on the beach is always a great idea (like our last suggestion, right?)
But it's especially fun when summer rolls around for all islands located in the northern hemisphere.
Combining this style with a music section for live music is as close to real life as it gets.
Hopefully your residents can go and grab a seat while you're preparing some cocktails.
And if this design inspires you to create a similar idea on your island, you can also consider adding a resort area attached so that you and your friends can go swimming or sunbathing.
13.

Elegant Hotel Bar
Now I've gotta admit, this design just seems incredible.
It's like something that I would find at a high-class hotel, or any big city's financial district.
With the leather sofas, candles, and flower arrangements, you can easily set up the mood for a formal party.
Most of the items used in this hotel-themed bar appear in Nook's Cranny, or you can craft them yourself once you obtain the DIY recipe.
So check in, grab a drink at the bar, and warm yourself next to the fireplace.
12.

Classic Indoor Bar
I would love to serve some fancy drinks to my friends at my house.
But since I'm a millennial and cannot afford a place in this economy, the best option will always be decoration a corner of my digital ACNH home with custom panels to emulate cabins full of alcohol…
And then setup a lovely bar.
While Animal Crossing does offer the classic items to build a bar, using other tables and chairs can be a great way to make your design stand out from the crowd.
11.

Outdoor Pub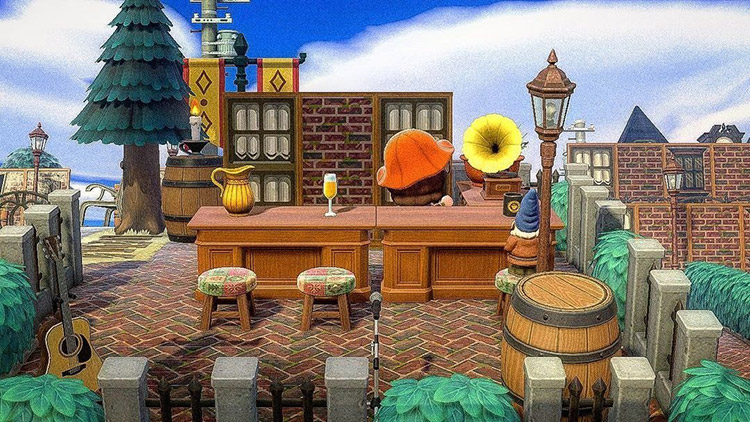 Using custom patterns as background panels is one of the best resources for creative players.
This idea is just an example of how the right items, color palette, and patterns can create an incredible atmosphere.
The gnome sitting by the bar and setting the guitar with a stand-up microphone for a random singer are both unique details that look great.
And you can improvise on those ideas with any items you already have in your inventory.
10.

Indoor Lounge Bar
Sahara's skyline wallpapers and lounge bar may be one of the best combos for creating the perfect lounge space in your home.
Darkness and neon colors are a classic combo to evoke a bar atmosphere, and here you can even add a small arcade area with a jukebox.
And in this indoor lounge we can see far more eclectic elements in the room's composition that still work perfectly with the concept. So it really stands out from other ideas on this list.
Now who wants a drink?
9.

Sports Bar
I'm personally not an avid sports fan, yet I loved the concept of a sports bar in my basement to hang out with my friends.
To build something like this for yourself, add a small arcade area for some healthy competition while waiting for the next match.
And don't forget the bar itself, topped with some kitchenware or whatever you like.
As I've mentioned before, sometimes adding carpets and other items to divide the area into smaller sections can help you use the available space better.
Still, I don't blame you if you want to have a gigantic sports bar in your basement.
8.

Seaside Bar
I'm in love with this wooden bar set next to the beach.
Not only do you get the bar itself and a sitting area, but the coffee stand makes the design more cohesive if you want to continue decorating the rest of the site with more stuff.
The flooring uses a custom pattern that works perfectly with the furniture too.
Still, you can also use the default wooden floor if you somehow already used the additional 50 slots added in version 1.9.0.
Signs and panels will also help you with adding your unique twist to the pumpkin bar.
7.

Vintage Pub
Why not build an old-school pub in your home? It's creative and definitely unique.
With this idea I really like the bar right next to a sitting area with the TV. It feels like the perfect refuge on a cold winter evening.
Not only that, but adding the table with the chessboard seems fitting alongside the pool table.
There's something about drinking a pint while sitting at your favorite bar, and this design idea pays homage to that.
6.

Packed Night Bar
While sometimes we may feel like we can only reinvent a concept so many times before it gets stale, this design still manages to feel fresh and innovative.
And it's really just a basic bar design!
Using art paintings, banners, and plaques to decorate the walls is one of the most common ways to make a room like this feel vibrant.
And once again, custom designs will always help bring any idea to life. So try to use your custom design slots wisely.
5.

Fancy Indoor Bar
One of the best features added in New Horizons has to be those oh-so crazy design slots I've been mentioning.
Most of us just copy designs we find on the Internet, like the background bottles resembling the bar's alcohol supply. But there's a lot you can do with some creativity!
I also think this fancy bar build works well with the piano stools. It's a good way to spice things up with decorations, without steering too far from the main concept.
Although the table football may seem a bit out of place here compared to the rest of the items, I could still see myself re-building this in my own ACNH home.
4.

Sushi Bar
When I think of a bar, sometimes another idea pops up in my mind…
And some players have also come up with ingenious ways to incorporate custom sushi bars into their islands, like this example right here.
It offers a good reason to show off fish tanks as decorations, combined with bamboo items and other well-thought details to evocate an authentic experience.
While this may not be a traditional bar that we may recognize in Western culture, I still think this design idea should have a spot on this list – purely based on execution.
3.

Tiki Bar 2.0
OK, the classic tiki bar may not be my first choice for a bar on my island.
But I must admit that this idea is exquisitely designed.
The waterfall and art statue caught my attention immediately. And really, you could take that idea and run with it by adding your own favorite statues.
I also have too many flowers on my island by now, so using them around the bar for decoration may be the best idea ever.
Plus the moai statue is the cherry on top of the cake for drinking some piña colada after a hard day fishing, hunting bugs, and chopping down trees.
2.

NYC-styled Bar & Club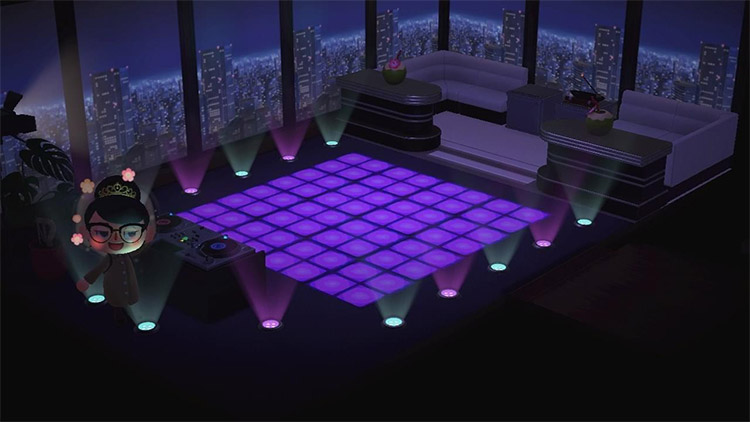 I want to live my fantasy of going into a luxurious lounge in downtown New York with this simple yet elegant indoor arrangement.
You can use any of the new reactions from the latest updates on the dance floor, or relax in the sitting area, or pretend that you're a talented DJ.
No matter your mood, I think you (and all your animal friends) could enjoy a couple of drinks in this awesome basement build.
I know how annoying it can be to obtain some items from TeleNook, like the floor lights used for the dance floor. But using the time travel technique may help you get items faster from the catalog.
Just avoid doing this while you have turnips on your island!
1.

Basement Tiki Bar & Lounge
Once you've filled your house with items, how else could you add a bar on top of everything?
Well, why not go with a 2-in-1 style in your basement?
Reinvent the tiki bar theme with the addition of an arcade lounge to add a twist to the formula.
I love how this play actually used star fragments as table decorations. So cool!
Going with a tropical theme for an indoor bar is also a very popular choice for ACNH, just due to how many tropical-themed items you have in the game.
And if you can look real close near the right-hand side of this screenshot, you'll notice this player even added a medium-sized fish for extra realism.
Now that's craftsmanship.
Browse:
Animal Crossing
Lists
Video Games