17 ACNH Bathroom Ideas & Design Tips For Your Interiors
This post may contain affiliate links. If you buy something we may get a small commission at no extra cost to you. (Learn more).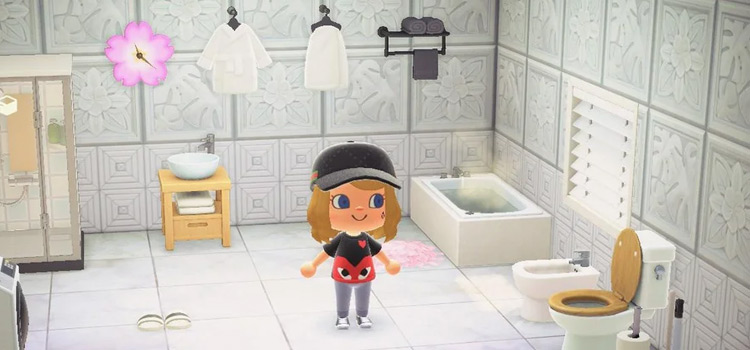 Whether we like it or not, people spend a lot of time in bathrooms. And we can bring all that TP time into our Animal Crossing island, too.
So why not make it a spot we don't mind being in? A design with decorations, toiletries, and a few knicknacks.
While it might be tempting to skip dedicating a whole room in New Horizons to a simple bathroom (Robot Hero room, anyone?), these player-made builds have us running to Nook's Cranny for toilets, tubs, and sinks galore.
17.

Girly Bathroom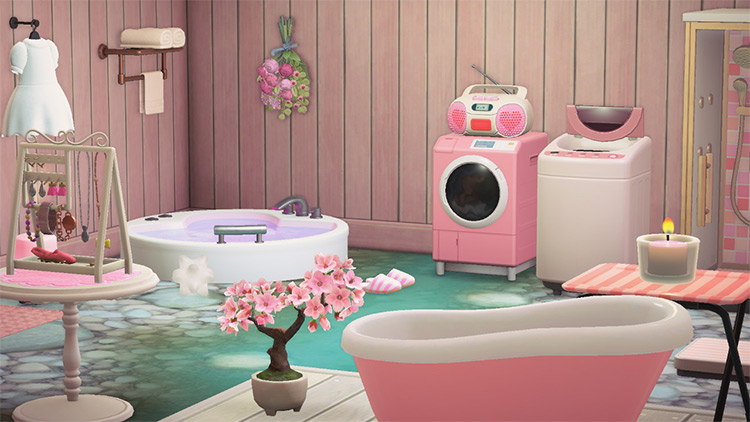 Listen, I'm a pink girl.
Being able to find (and afford!) an entire bathroom worth of pink stuff, down to the washer and dryer, is the dream.
This bathroom design is really beautifully put together with a sunken jacuzzi, shower, and upright bathtub. Details like hanging flowers, a tealight, and a cherry blossom bonsai tree make the space bright, bubbly, and wonderfully pink.
Pink and white striped slippers are all lined up and ready for getting out of the bath… that is, if you somehow manage to convince yourself not to stay in there forever!
16.

Botanical Bathroom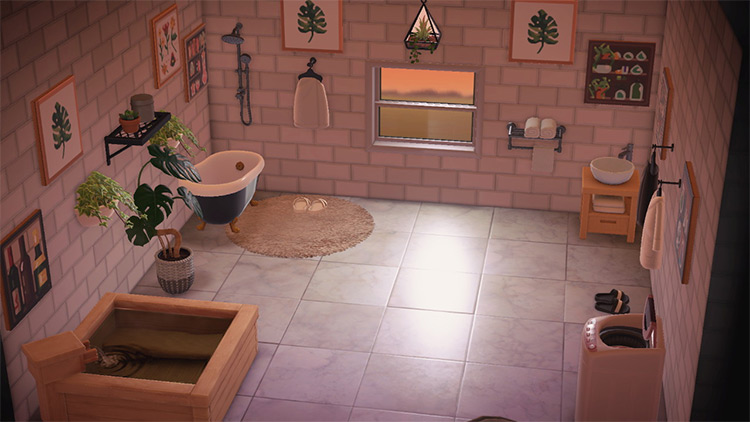 If only apartments came with bathrooms this well-maintained and spacious.
This natural looking ACNH bathroom uses objects with a light wood color, which works really well with the botanical wall art.
Plenty of details like clothes hanging on the wall, hand towels, and a plush rug make this an attractive bathroom for bath time.
Or maybe baths aren't really your speed?
A shower attachment on the tub provides options for everyone to get in on that sweet, sweet hygiene. And a washing machine makes some of the space more efficient, too!
15.

Sleek Bathroom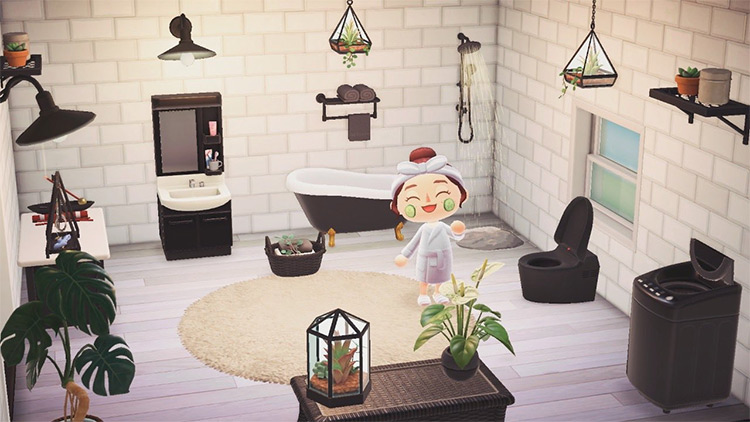 Now this bathroom from Twitter user @honeyACNH is a clean, modern build.
Predominantly featuring black items, like the vanity and bathtub, gives some sleek contrast against the white tile walls and light wood plank floors.
Plenty of hanging plants, little succulent pots, and a wee terrarium also give this design build a pop of color, and help to make the space feel full.
What a cute spot to do some fancy skincare!
14.

Pink Bathroom 2: Electric Boogaloo
What could be more relaxing than sitting in a tub in the middle of the room like royalty? All with your diffuser blasting aromatic oils.
Imagine doing all that, but the tub is pink.
Twitter user @ShannonZKiller delivers the sweet goods with this Barbie Dreamhouse level bathroom design in Animal Crossing: New Horizons.
Dark panel walls help offset the lighter items so that the build looks tasteful and not sickly sweet. Pinky wood floors and a cherry blossom floor vase tie in the bathtub so everything looks well put together.
I would not leave this bathtub. Period.
13.

Antique Bathroom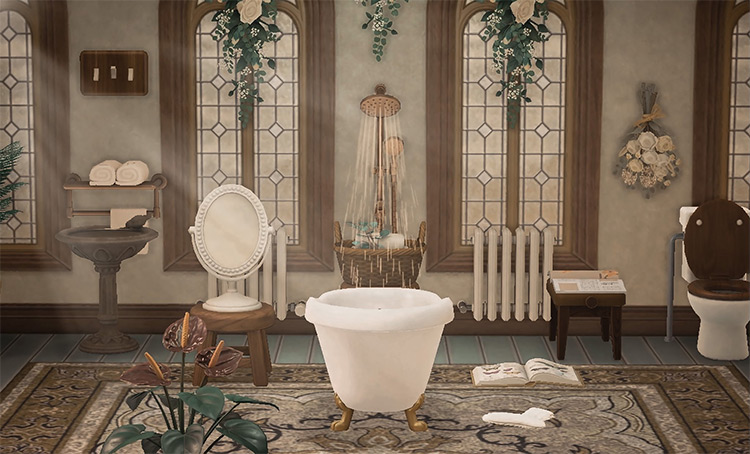 Now this build gives off two simultaneous vibes with a surprising amount of overlap: neat antiques, and rich druid fairy.
Did you ever think you'd read those words in that order?
It's true, though.
The monochromatic woods, open book, dried flowers, and cathedral windows give this bathroom a very nature-inspired vibe of times past.
While using a bird bath as a sink might be unusual, it's an adorable way to keep to the antique-druid-fairy theme. And I love it.
Also note the wood panelled lightswitch. This design is full of little details like this, and we love it.
12.

Mermaid Bathroom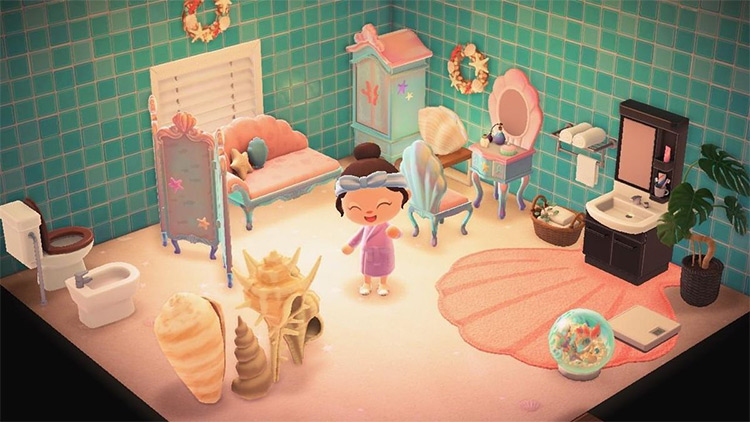 The mermaid aesthetic is very popular these days.
And for good reason: it's darn cute!
The mermaid line of items in Animal Crossing: New Horizons uses pastel pinks, blues, and bits of yellow for the whimsical, under the sea feel.
And this bathroom uses many of these items, which can be found by trading scallops to everyone's favorite chill otter, Pascal. This bathroom even doubles as a sort of dressing room area too, with the lounges and vanity, which is a super adorable replacement for a tub or shower.
Plus the scallop rug coming from the vanity is a nice way to spruce up the floor. And the giant shells make for a cute impromptu divider for the toilet and bidet. This build was merMAID for selfies!
11.

Royal Bathroom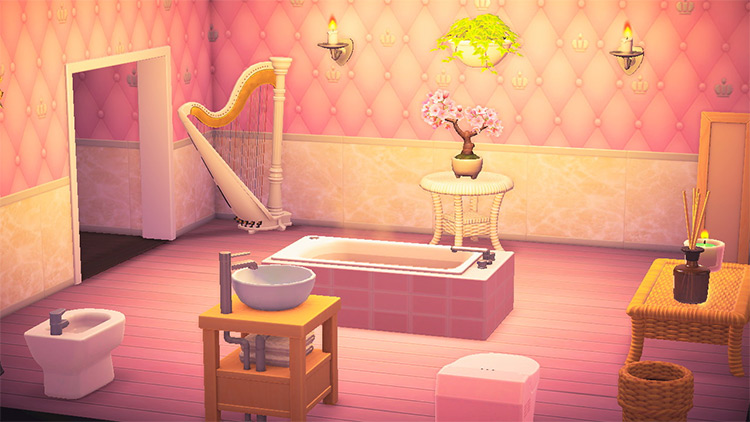 Even kings and queens need bathrooms.
And this royal-themed design does not disappoint.
Plenty of candles give the room some cozy lighting, and the wallpaper is printed with cute crowns to make sure the message comes across.
Did you feel like maybe your bath time was missing music?
Stereos and speakers are so 1990.
Here in the future we use entire harps. That's the kind of luxury that comes with being a monarch, champ.
10.

Japanese Bathroom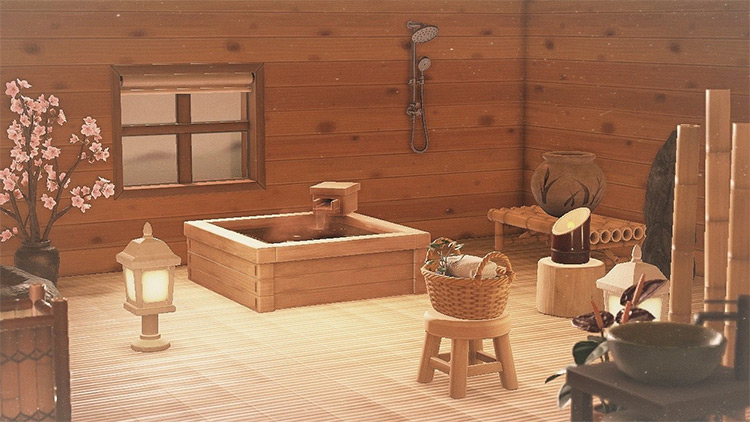 For something a little more chill, try this Japanese-themed bathroom idea.
Bamboo lanterns and tea lights cast a pretty glow onto a wooden bath filled with steaming, relaxing water. The natural wood walls give the build an almost monochromatic ambiance, in the best way possible.
Possibly one of the best Japanese interior builds I've seen.
And if you're not in the mood for a bath, a free shower is available here. Cute sakura branches add a pop of pink to the space, which is sure to put anyone in a chill mood!
9.

Teal Bathroom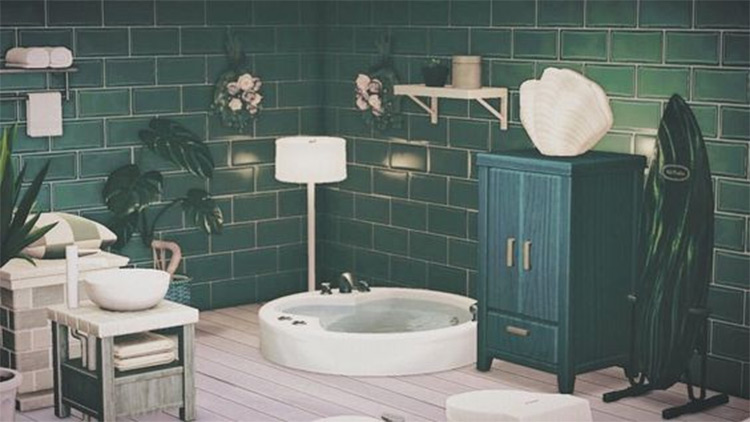 Sometimes it's hard to decide between blue and green… so why not mix them to get teal?
Teal is the perfect color for a bathroom because it's muted, chill, and translates well to relaxation.
This bathroom build uses teal tiles on the wall, which is a really nice contrast against the off-white wood plank floorboards. A sunken jacuzzi and modern sink give the bathroom really avant-garde vibes, and the pops of white really bring the space together.
No overhead light? No problem!
This room uses a shell lamp and a standing lamp, which may be an unconventional choice for a bathroom. But can you imagine the dim lighting while taking a bath?
Amazing.
8.

Modern Bathroom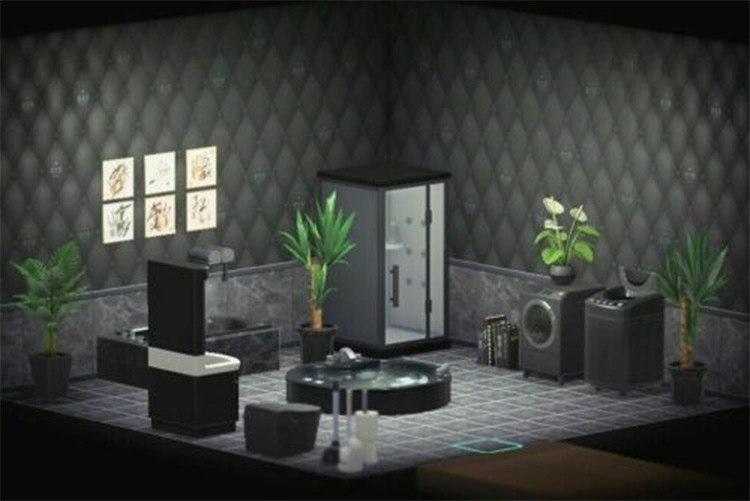 Here's another sleek & cool modern bathroom.
This design relies heavily on black and greys for the color scheme, including grey marble floors and wainscotting.
A few potted plants break up the dark colors for some nice contrast, as do a few white accents. A matching washer and dryer also make an appearance, rounding out the tub, upright shower, toilet, and pedestal sink.
The CEO of bathrooms!
7.

Simplicity Bathroom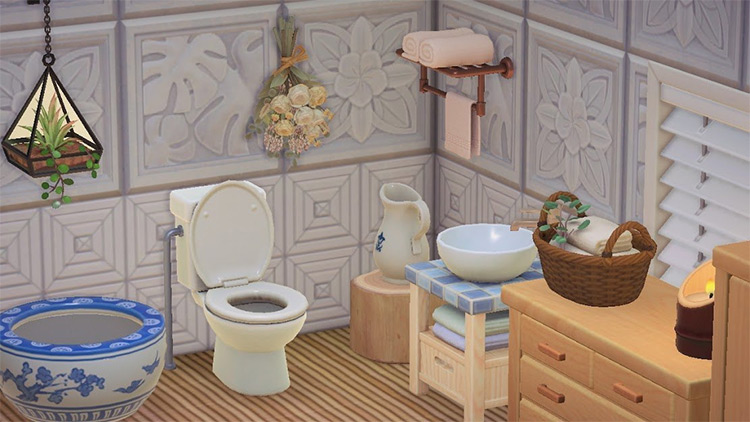 Sometimes, a bathroom is just a bathroom. We can respect that.
And this quaint bathroom design, courtesy of vera-crossing, keeps it simple.
There's a toilet and tub, as well as space for an ironing board. A bathrobe hangs by the tub for easy access, and the colors are all muted(and a little rustic).
A few details, like plants, baskets full of supplies, and a wardrobe, all make this feel like a real living & breathing space.
6.

Japanese Spa Bathroom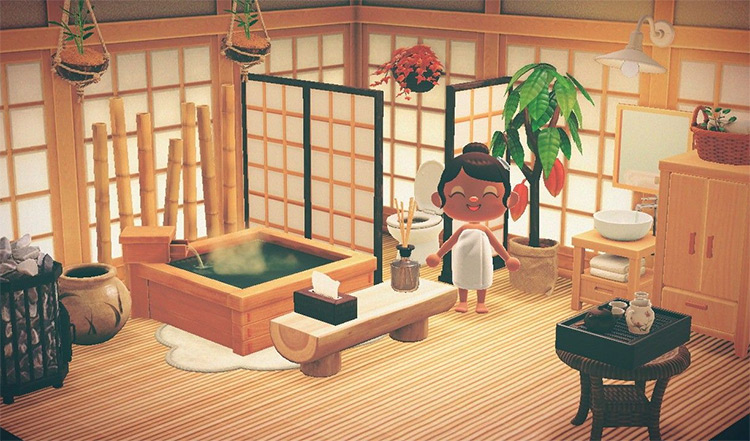 Here we've got a Japanese-inspired spa bathroom, ranking here for its attention to detail.
It can be really hard to fill up rooms sometimes. Between juggling matching colors, finding items from the same sets, and just getting everything to look good together, it can be a real challenge.
This resort-level spa bathroom has hanging plants, a steaming tub, and to top it all off, a spot to take tea.
A cute pedestal sink is the perfect place to put on face masks and a wardrobe can hold plenty of clothes.
We love the Japanese accents too, from the bamboo divider and the shoji screens and wall pattern, to the little box of tissues.
5.

Plant Lover's Bathroom
While plants have been used regularly for accents in this listicle… plants are the focus in this nature lover's bathroom design.
Several trees, such as cypresses, make their home among the toilet, bidet, sink, and bathtub.
There's a china pitcher, presumably for watering all of the leafy greens. There's even some really great levels, since some pots are on the ground, while others are suspended against the wall, giving the room fantastic depth.
White items, tile, and walls help to make plants the focus of this bathroom. Talk about eco-friendly!
4.

Cozy Bathroom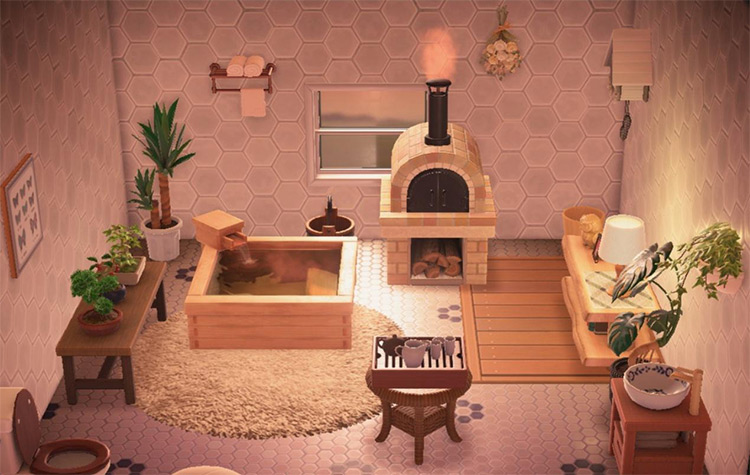 The thought of soaking in the tub of this bathroom, fire flickering beside me, and tea within reach… swoon.
A table laden with cute bonsai trees offers a nice touch of color and a sense of nature to the otherwise wooden build, as well as a monstera plant.
We love the fireplace here as well.
Normally used as a pizza oven, this is a creative use for it.
Well, either that, or the bathroom has a pizza oven in it. And that's just called efficiency.
3.

Shoji Bathroom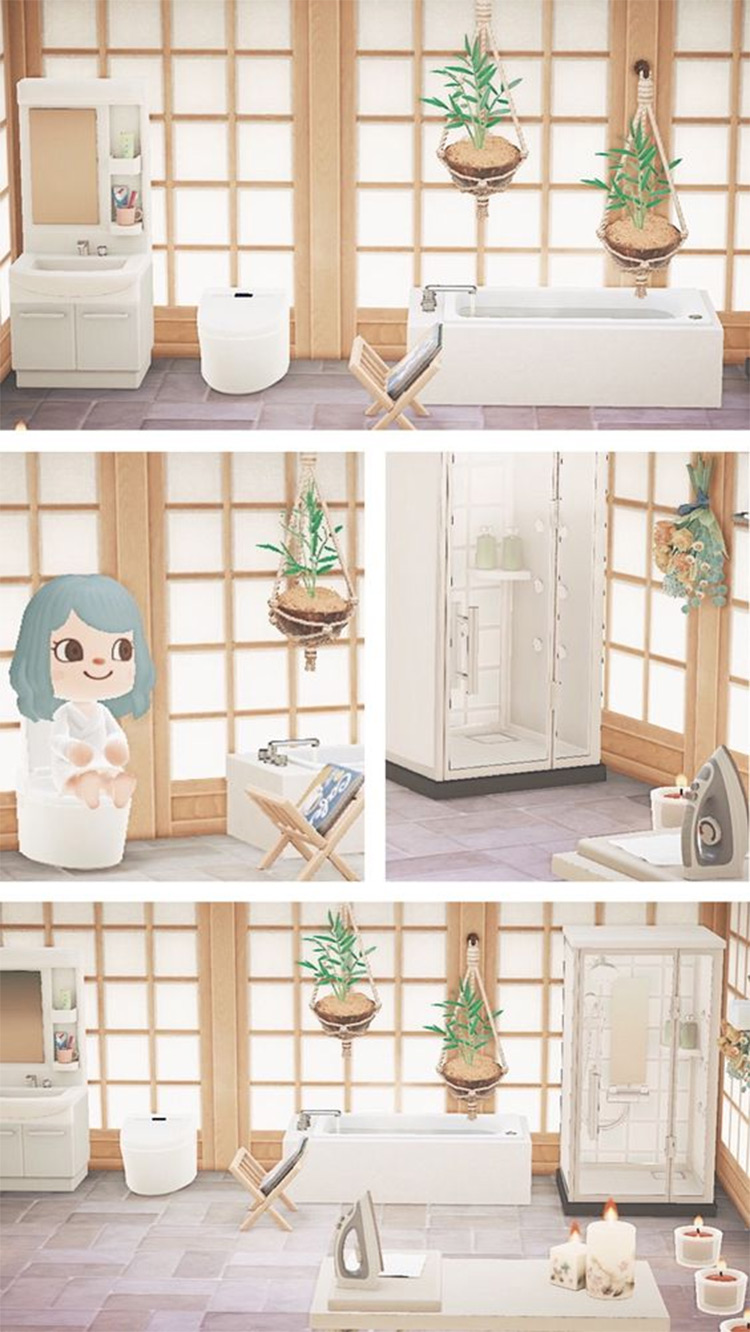 This adorable ACNH bathroom design revels in its simplicity.
With the pure white tub, shower, sink, and toilet, the wood of the shoji walls really stands out in a beautiful way.
A spot to do ironing adds some function to the room, and cute tea lights add some ambient light separate from the usual overheads.
This is a renter's dream, TBH.
Too bad it's locked up in Animal Crossing, huh?
2.

Butterfly Bathroom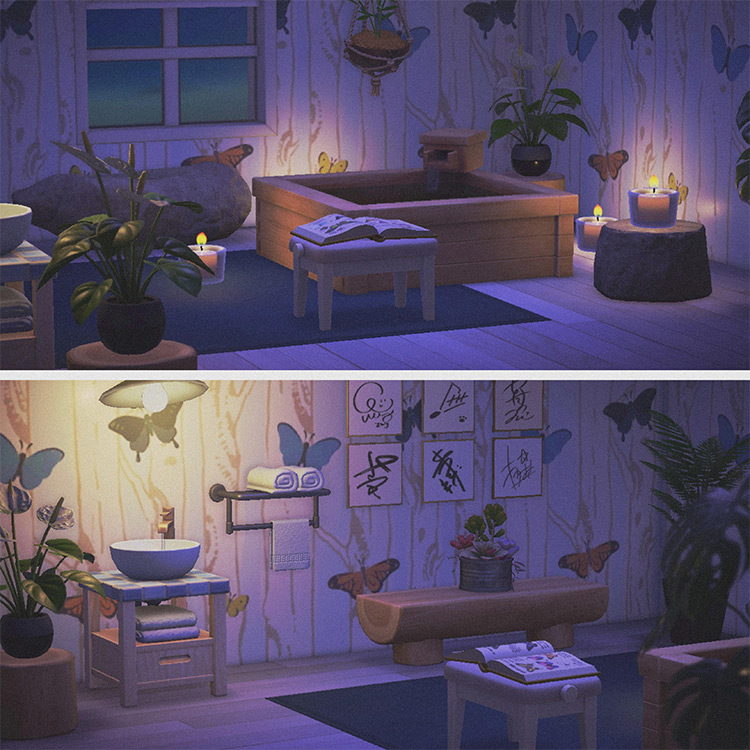 Usually, designing with a nature theme in New Horizons means plants.
This adorable, candlelit bathroom uses butterflies instead.
They cover the adorable wallpaper, the focus of the room. A book rests by the tub for easy access to read, and the few plants, plain wood, and big stone, all give the room a pretty chill vibe.
Talk about giving us butterflies!
1.

Luxury Spa
The blue ribbon winner if I've ever seen it. This god-tier build is for a bit of something fancy.
More of an indoor spa than a bathroom, this spot is ready with a check-in desk to get you ready for your appointment!
Between the lounge chairs and spa tub, there's definitely a way for every animal in your village to relax. Items such as roses, handy bathrobes, and a terrarium set the mood to chill in luxurious comfort.
A key item in this build is the Aquarius urn (really a vase though, right?).
The recipe for this comes from Celeste, and uses star fragments to create.
Browse:
Animal Crossing
Lists
Video Games