Animal Crossing Bedroom Ideas For ACNH Inspiration
This post may contain affiliate links. If you buy something we may get a small commission at no extra cost to you. (Learn more).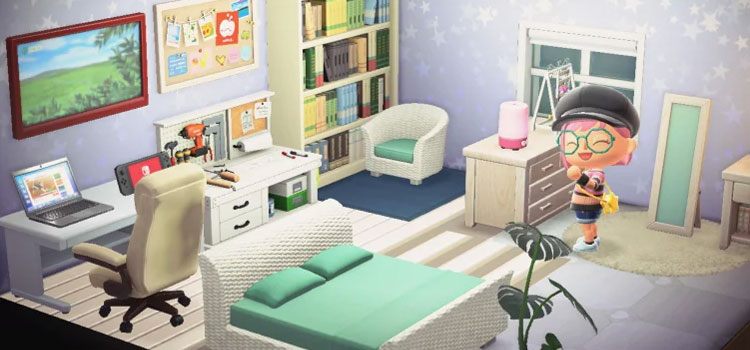 Fancy giving your Animal Crossing bedroom a complete makeover?
Well these ideas will have you sleeping like a baby in no time.
With more ways than ever to customize your home, you can take your creativity to the next level just by following the designs of others.
From super cozy to underwater mermaid bedrooms, I've got it all in this inspo list.
15.

Greenhouse Bedroom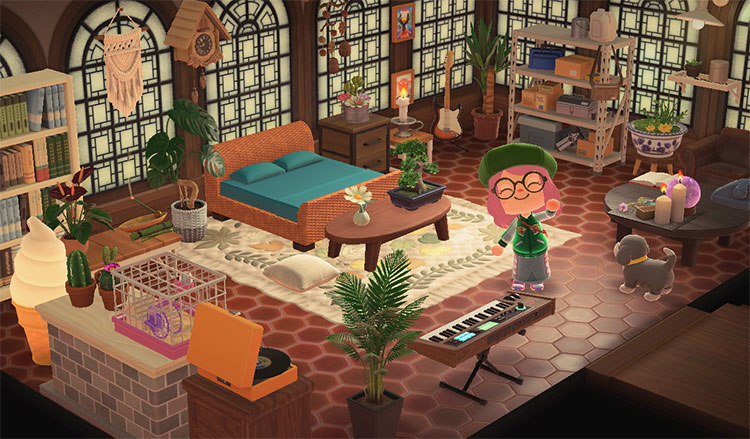 Want to feel truly at home?
Why not turn your bedroom into this relaxing haven?
First you'll need to grab the arched-window wallpaper – you can purchase this from Nook's Cranny when they have it in stock.
Then add your favorite tiled flooring, and adding a bookcase is also essential to the look. Just somewhere in the room.
You can customize the bookcase too, so you can choose whatever color best matches your theme.
And don't forget to add lots of plants and wooden furniture! The wooden/wicker furniture theme fits so well here.
Finish by adding whatever other items you like, such as tables and chairs, shelves, a fireplace, or maybe some musical instruments.
14.

Tropical Bedroom
Bring the beach to your bedroom with this tropical ACNH décor design.
I mean, who doesn't want to wake up right on the beach?
Well now you can! Kind of.
Create this illusion by adding a beach-themed wallpaper and customizing some simple panels with French door and shutter designs.
You can then place them around to look as if they're leading straight onto the sand. Pretty neat effect, right?
You can also add some wooden flooring to your bedroom space, just to separate it out from the rest of the room (in the example above it's a little master bathroom).
And of course don't forget to add a bed!
13.

Cottage Bedroom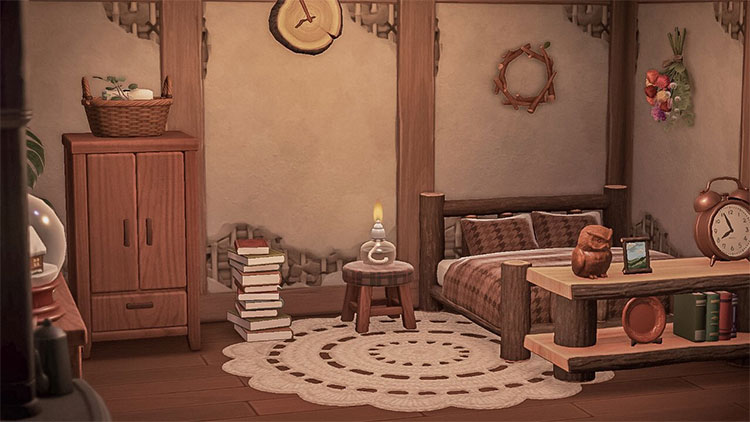 Create this cozy little cottage-style bedroom with just a few steps.
You can use pretty much any wooden themed flooring to give it that old fashioned look. The wallpaper is also a bit "worn", but this could be anything that fits.
Be sure to add some log furniture and the wooden wardrobe to tie in with the theme.
Next we need some decorations. How about a stack of books? Plus an oil lamp for some late-night reading.
You can add also add some wreaths and flowers to your walls. Just to really push that cottagecore aesthetic. And you get to wake up to it every day!
12.

Kid Bedroom
Release your inner child with this gorgeous kid's-style bedroom.
I love the calming blue tones of this design; it fits perfectly with the theme too.
You can create this by adding your favorite blue wallpaper and carpet, whatever matches and feels a bit childish.
Add a couple of bookshelves to tie in with the look, as you can see above.
Then be sure to add a toy box, a teddy bear, and a plushie too!
If you can find any other fun little items, definitely throw them in. I'm sure they'll match nicely.
11.

Modern Bedroom
If you want to keep your bedroom sleek and modern, then this is the look to go for.
Basically, why not convert your room into a small studio apartment layout?
You can section your bedroom area off with a screen, then create your kitchen and dining area on the other sides of your room.
Be sure to keep with the white and black theme with whatever monochrome wallpaper and flooring you like. I say carpeting looks really nice here.
Then complete the tiny apartment space by adding your kitchen units, tables, chairs and a TV!
10.

Pink Bedroom
Give your bedroom the makeover it deserves with this pastel pink design.
Start by covering the walls in some pink wallpaper, and also adding some pink wooden flooring too. This might require a pattern, but even basic wooden flooring could work.
You can also add your favorite table with a few snacks. Just nice to have some table space!
And don't forget to add a mermaid bed to tie the whole look together.
You can also add a toy box and some shelves with books to complete the look. We're going for a Barbie makeover here, and I'd say it looks divine.
9.

Icy Bedroom
Love the winter? Then wake up to it every day with this bedroom idea.
All you need is heaps of frozen items.
You can collect frozen DIY recipes by making snow boys, and if you make them perfectly, they'll reward you with various recipes from the frozen collection.
You'll need to gather some snowflakes to craft these items, too. So keep that in mind.
Once crafted, you can start to decorate with the frozen walls, flooring, bed, chair, and counter space.
You can also add a kid's tent and some candles too, just to make the indoors really feel outdoors.
8.

Wooden Bedroom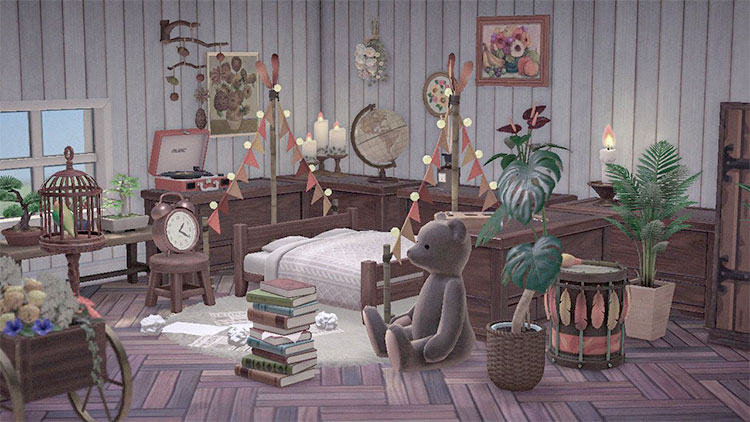 How cute is this wooden bedroom design?
All you need to re-create this is a few old-world type items. But first, decide which wooden wallpaper and flooring you'd like to use. Any of it can work.
After you pop those on, you can start to fill your room with heaps of wooden furniture. I especially love the birdcage!
But really what you want is stuff that looks like it's from olden times. Anything like that should fit.
Be sure to add lots of plants and a huge stack of books, too!
Finish by adding some adorable fairy lights and candles. Big fan of those classic candles in here – they just work!
7.

Gym Bedroom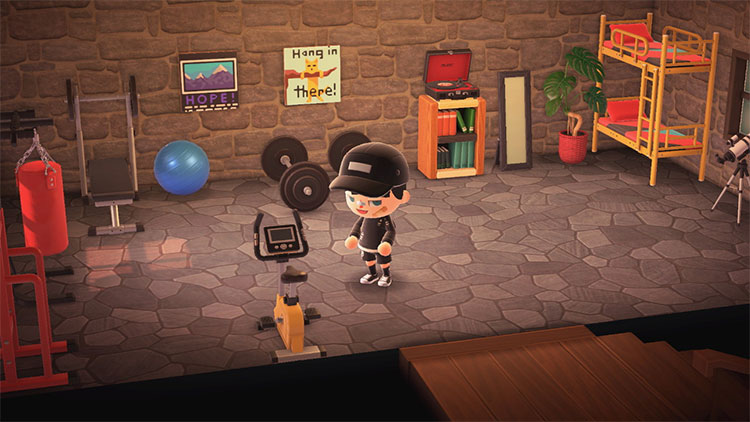 Wake up and pump some iron with this gym bedroom idea.
This is every fitness lover's dream, and pretty easy to re-create in ACNH too.
Start transforming your space by adding some stone walls and flooring. We want a grungy gym look here.
Then you'll want to add all of your gym equipment into your room. Basically try to collect as much as you can.
And don't forget to add a vinyl player to rock out while you're training.
You can even make your own custom inspirational quotes for your wall too! Very clever use of designs on those.
Finally, remember this is a bedroom (I know, hard to believe). So don't forget to pop your bunk bed in there somewhere.
6.

Sweet Bedroom
This is a super sweet design guaranteed to transform any home into a cute ACNH bedroom.
You can create it too, as long as you have an eye for adorable stuff.
Start by adding your favorite floral wallpaper, and some light wooden flooring too.
You can also add a bookcase and some shelves off to the side.
What you really want here are pastel-colored items. They all go together so nicely.
For example, check out the bed and the chair. Plus the matching pink in the floor plant, it all just goes together so well.
Complete this look by adding some star garlands, crescent moons, and maybe some nova lights.
5.

Boho Chic Bedroom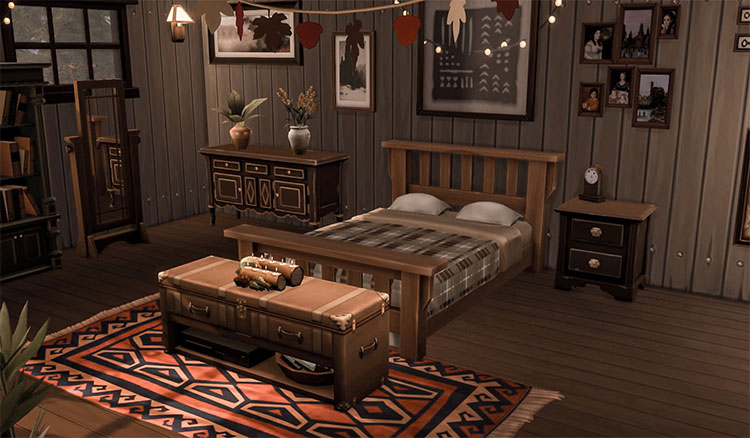 Even if you have no clue how boho design works, I think we can all agree this bedroom is dreamy.
To make this yourself, just start by adding some wooden walls, flooring, and of course some wooden furniture. In the example here we can see a great dresser and matching bed.
Also be sure sure to add a funky rug to inject some color into the space.
You can also add lots of photos and art frames to the walls, but try to keep them more neutral to give it that boho vibe.
4.

Celestial Bedroom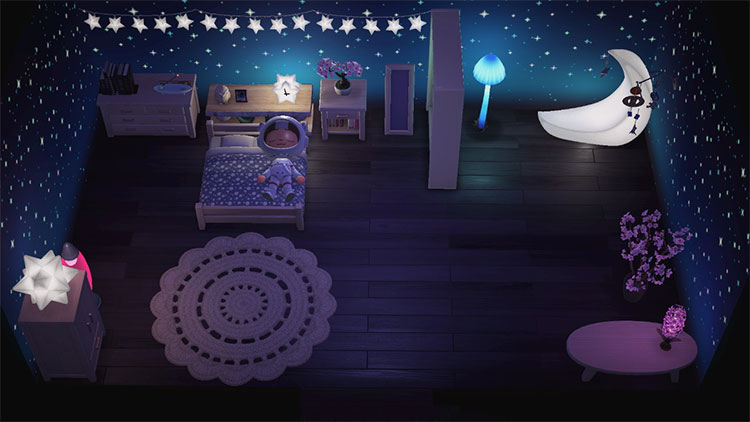 Drift into outer space with this amazing celestial-themed bedroom idea.
To get this bedroom for yourself, all you need to do it grab the starry-sky wallpaper and throw that up. You can get the DIY recipe for this from Celeste, so be sure to speak to her when she visits your island.
Then pop down some wooden flooring, or you could go with carpeting.
But the wood flooring looks nice since you can also add that lacy rug to fit in with the theme.
Now we want lots of light wooden furniture to really create the look.
Then finish by adding star garlands and nova lights.
Bonus points if you throw on an astronaut's costume and actually launch your way into dreamland.
3.

Winter Night Bedroom
Crank up the coziness by creating this amazing snowscape idea.
This just gives comfy feelings year-round. Especially with that incense in the corner.
To make this yourself, first you'll need to get your hands on falling-snow wallpaper (or make it yourself). You can then add your favorite wooden floor design too.
Add a rug and matching wooden bed, and you can also add a small bookshelf/table with a few knickknacks of your choice.
For a nice touch you can also add some hanging terrariums.
And what would this bedroom be without a fireplace? Toss that along with the star garlands to keep you loving your new bedroom for months on end.
2.

Mermaid Bedroom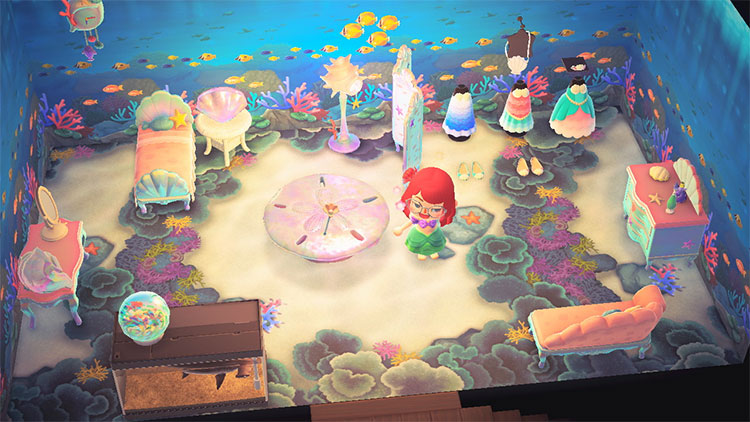 Channel your inner mermaid and let's take a trip under the sea.
You can kick off this look off by using the underwater wallpaper and flooring to create the base for this aquatic room design.
Then add lots of mermaid furniture, which you can obtain from Pascal.
You'll find him out in the ocean. So if you can find him and give him some scallops, he'll reward you by gifting various pieces of furniture from the mermaid collection. It might take some time, but eventually you can get the whole set.
You can also display some of your favorite custom mermaid clothing designs too!
To complete the room, don't forget to display a few fish you've caught too. Whatever tickles your fancy.
1.

Pirate Bedroom
Walk the plank and shiver me timbers, because we've struck gold with this bedroom design!
To create this in your own house, be sure to collect lots of wooden and pirate-style furniture. The example above has tons of ideas, but there's plenty of sets to match this style.
For the pirate set, you can collect those items from Gulivarrr. When you find him washed up on your island, be sure to help him collect his communicator parts. Then he'll reward you with different pirate items.
Then make sure you add the imperial bed and some bookcases too!
Any furniture similar to the imperial styles would work great here.
And if you're a bit fan of One Piece you could even make some custom designs for your walls.
Bonus points if you can snag a little birdie for yourself.
Browse:
Animal Crossing
Lists
Video Games