50 Brilliant ACNH Island Design Ideas: The Ultimate Collection
This post may contain affiliate links. If you buy something we may get a small commission at no extra cost to you. (Learn more).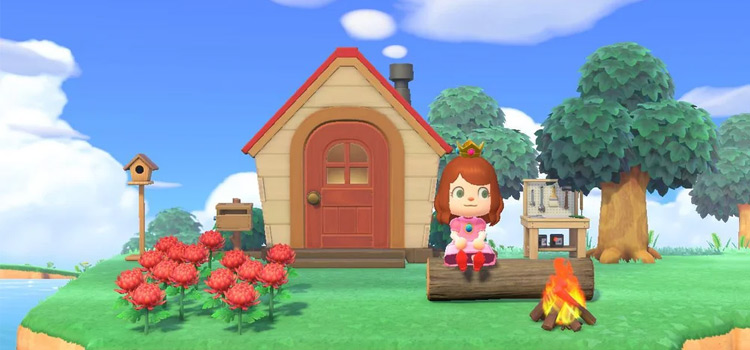 Animal Crossing: New Horizons is a big game with a big fanbase.
Like any sandbox game, creativity comes with the territory.
And that means loads of neat ideas online.
From gardens to interiors to entrances, we've curated a lot of ACNH inspiration galleries. But what if we organized a huge list featuring the best-of-the-best?
That's our goal here: a master list of the coolest build ideas in New Horizons.
50.

Spring Picnic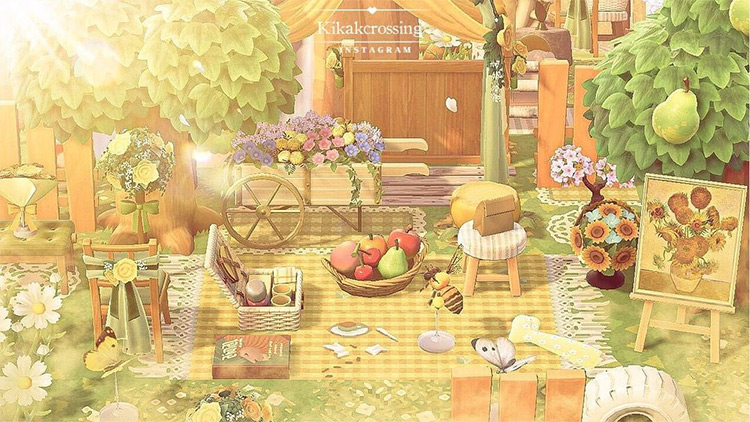 Now that the weather is getting warmer, all I want is to go on a cute picnic.
And here's a great spot to have one on your island!
Plenty of flowers, both growing and arranged, make this a cheerful bright spot.
An open picnic basket, a variety of fruits, and a lunch bag provide all the snacks you'll need to have your villagers or friends join you for a bite to eat.
And with the nature and bright sun, it's sure to be a good time.
49.

Pirate Camp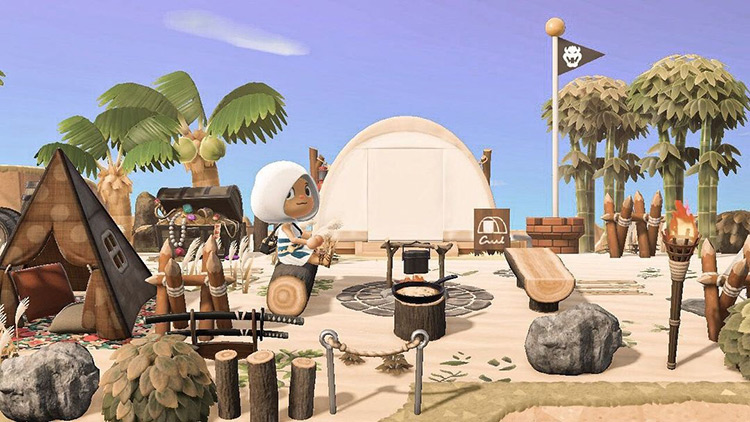 Some people love the campsite, some people hate it.
You can't delete it, though.
So you may as well make the best of it…
And sometimes, that means making it pirate themed!
Buckle your swashes and grab a bottle of rum, because this is the perfect pirate hideaway with a cloth tent, swaying palm trees, and even a big chest of booty.
No jolly roger? No problem!
Thanks to that Mario promotional update Nintendo gave us, you can totally get away with a Bowser goal pole flag instead.
48.

Whimsical Jungle Path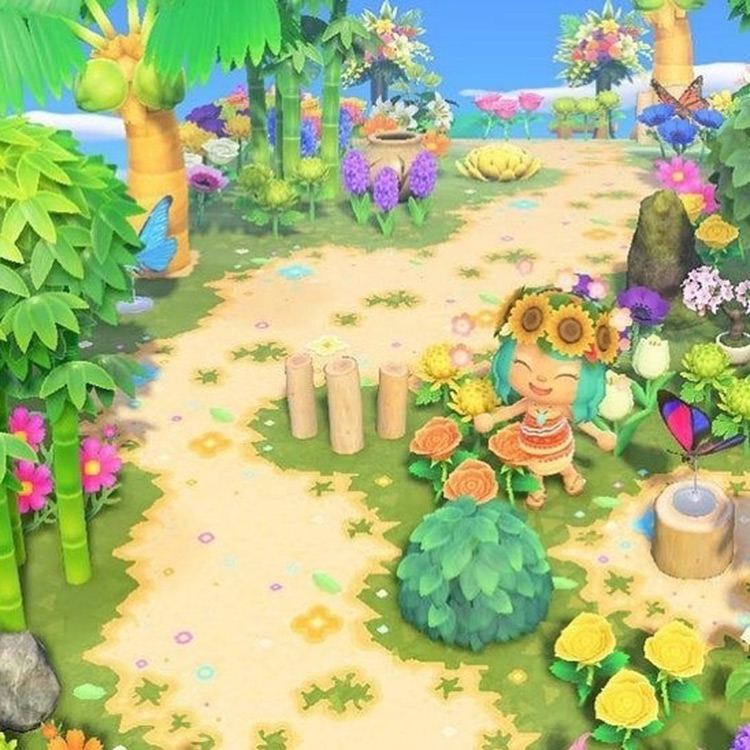 Here's an uber-colorful idea for that awkward pathway you just don't know what to do with!
This would make the best beach path, what with its custom walkway and ALL of the flowers, thank you very much.
Add some palm trees, bamboo, and whatever else you like, and voila!
Gorgeous colorful path, butterfly approved.
47.

Beach Bonfire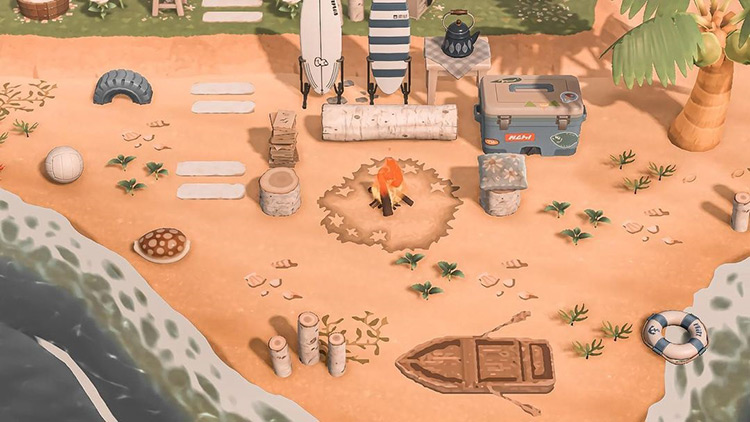 Here's an idea offering the perfect spot to have a bonfire with your friends.
This player embraced some realism and the fact that beaches really are not often perfectly clean by adding a washed up tire, some weeds, and even a rowboat.
Invite your online pals to shoot the breeze over some s'mores or a cold pop. There's plenty of space for everyone!
46.

Pastel Neighborhood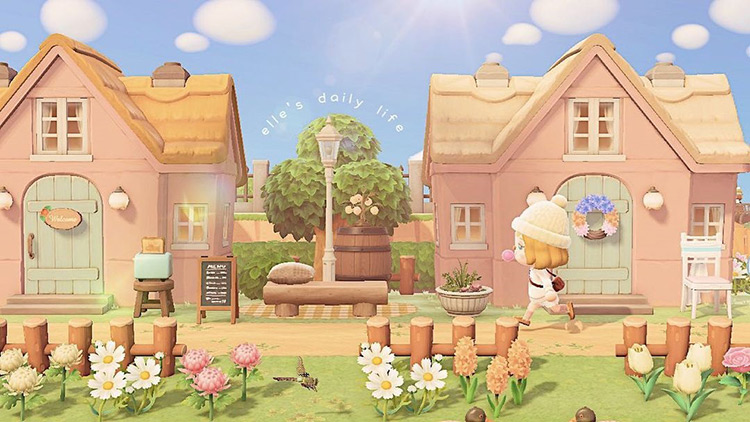 Listen, I love me some good pastels.
And I would give almost anything to live in a pink house.
So I love this streetscape for its pink houses, but also for the adorable mix of flowers, wood fencing, white lamp posts, and comfy looking seating.
This looks like something straight out of a Ghibli movie, and I'm totally here for it!
45.

Purple Mermaid's Perch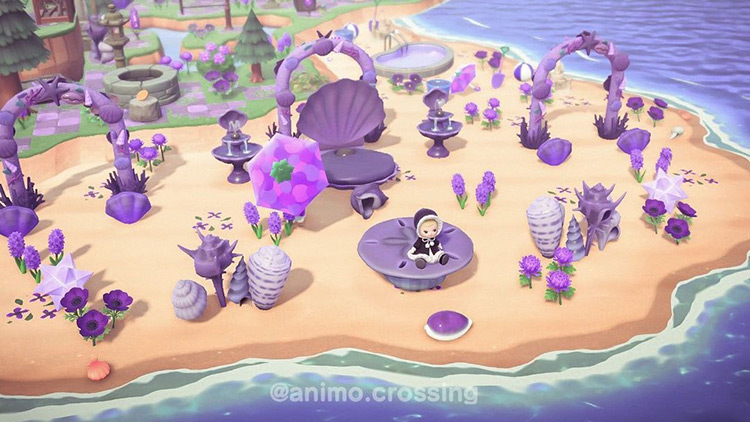 Builds like this are so fun.
Because when you get that little cutscene on the seaplane with the overview of the island, it makes visitors go… "Huh?"
You'll find plenty of very purple items here, such as shell arches, flowers, and even a pool, all make up this surreal build.
It's perfect if you really like purple – or really like having people ask you what's happening here.
Regardless, it's fit for a mermaid princess.
44.

Quaint Little Garden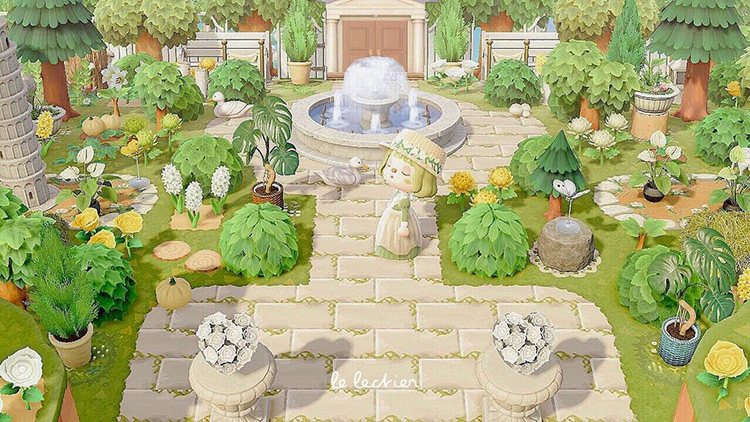 This design is a very Jane-Austen looking garden, with its mix of pumpkins, bushes, and flowers.
The stone pathway and fountain are great touches, but the absolute best thing is hands down the duck.
Having regular trees but also potted plants, like monsteras, help to give this build interesting levels and depth – and keeps it from looking too neat and uniform.
Perfect for an overgrown or secret garden area.
43.

Outdoor Reading Spot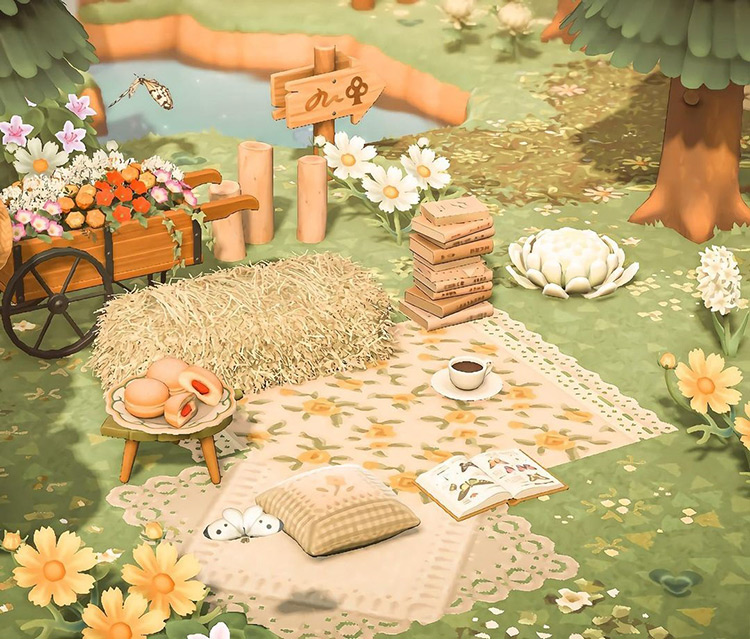 Calling all bookworms!
If you like outside and you like reading, here's a great design idea for your island.
There's some coffee and jelly filled doughnuts if you get hungry, and comfy cushions to sit on.
Spend the afternoon soaking up the sun in this great spot.
It's easy to recreate, too.
All you need is a rug, some sort of cup, hay bales, and whatever decorations you fancy.
42.

Tropical Outdoor Pool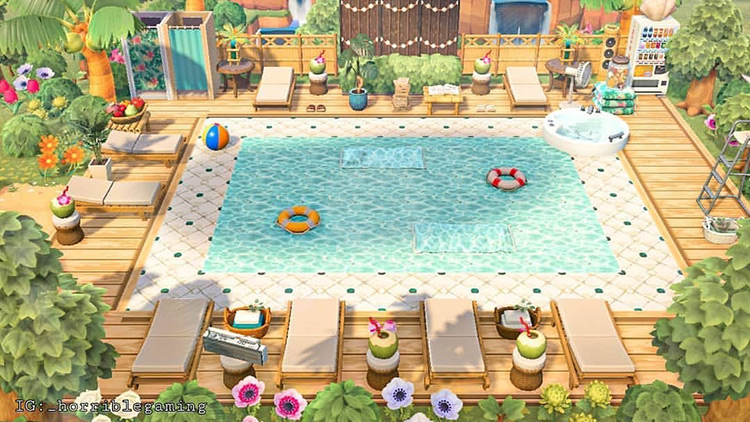 It's kind of unfortunate that we can't swim in New Horizons.
But don't let that stop you from building a pool of your own.
It's all in the custom paths with this idea.
There are plenty of codes online too, if physically designing the tiles yourself isn't your speed.
Surround your makeshift pool with lounge chairs to chill and get tan, and don't forget some floaties or pool toys!
A lifeguard chair will help keep everyone safe. And showers are a nice amenity too.
41.

Fairytale Forest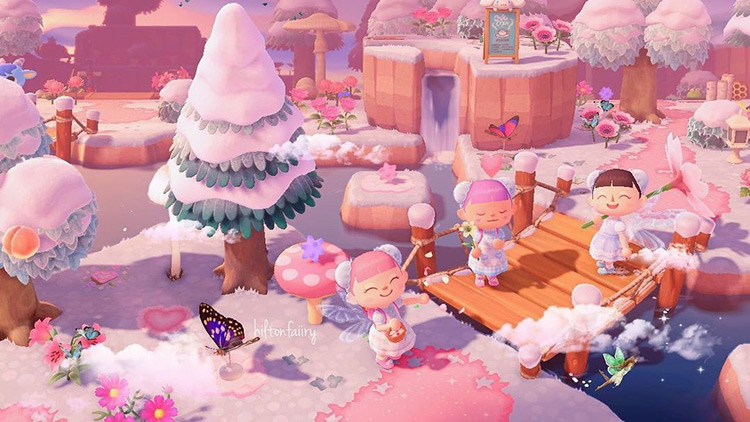 This super pink, super whimsical forest looks great in the snow.
Lots of flowers, mushrooms, and trees are the backbone of this fun build with a sweet fairycore aesthetic.
What a perfect spot to fish and catch butterflies and insects.
Star fragments help to give this spot a magical vibe too, as do the starry custom paths.
40.

Elegant Sitting Room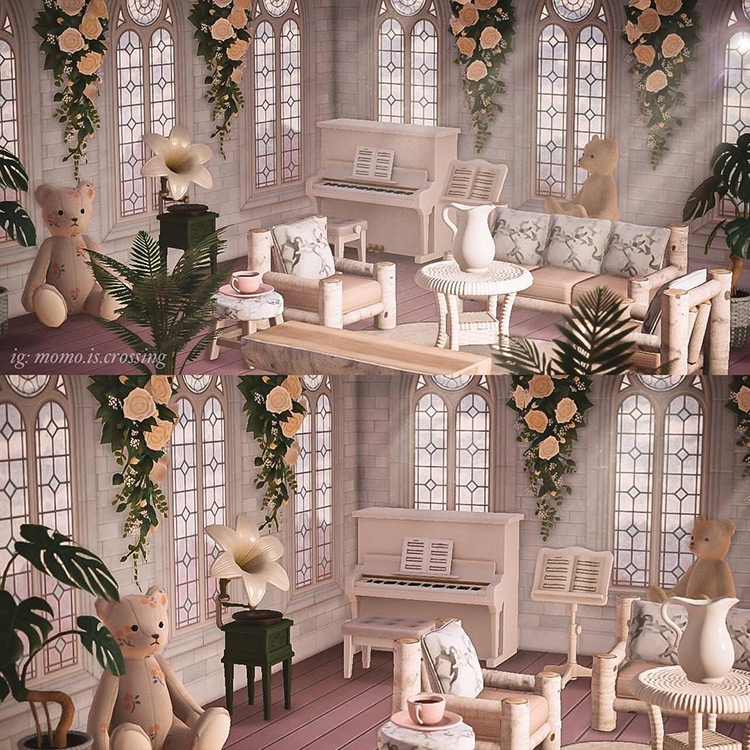 The outside areas on your island are important, of course…
But we can't forget about the inside of our houses!
This gorgeous sitting room has a white theme that makes it look bright and open.
With details like a gramophone, piano, and teddy bear friends, it's a gorgeous spot to just sit and relax, and maybe catch up with friends over tea and cookies.
39.

Laundry Spot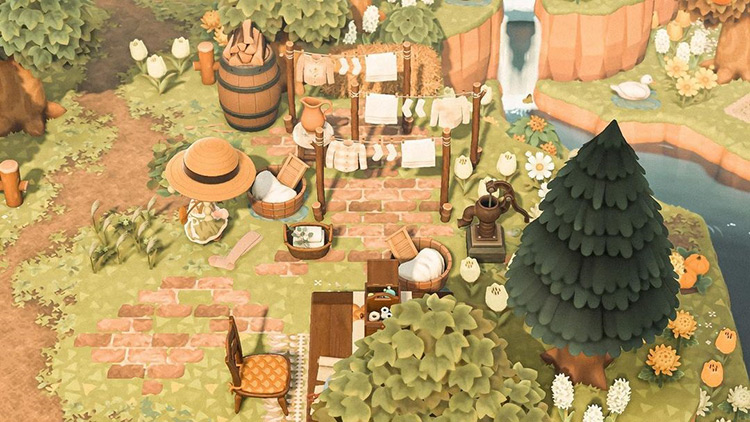 Now this is a fantastic add for a cottagecore island.
While yes, there are washers and dryers in New Horizons, they're nowhere near as fun as this old-timey setup.
Make use of the natural stream to wash your clothes with a good old washboard, and then find a spot to hang them up to dry!
There's also a water pump available if the river isn't your style.
Chores may not be the most exciting thing. But they can be made pleasant by some fresh air, lovely flowers, and warm sunshine.
38.

Gown Shop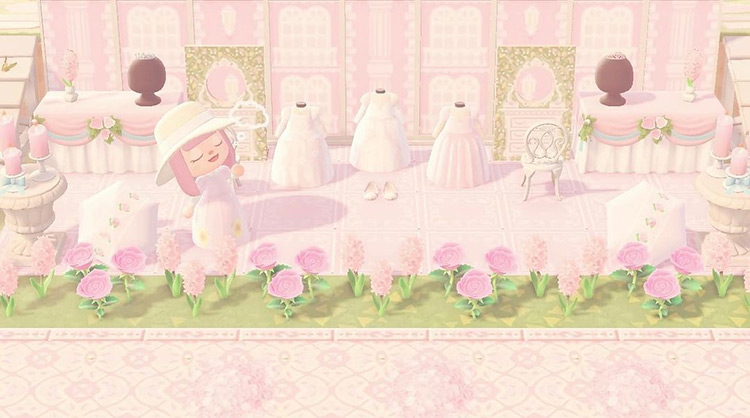 For those of you that like dresses as much as I do, this idea is definitely something to jump on.
Especially since one of the most fun customization options in this game is the ability to design and wear our own clothes.
This player made an outdoor gown shop for their custom designs. The color scheme, items, and dresses all blend together gorgeously – and look perfect against the custom backdrop.
A few candles would provide a lovely glow for nighttime shopping, too!
Also, pink roses are always a plus.
37.

Froggy Shrine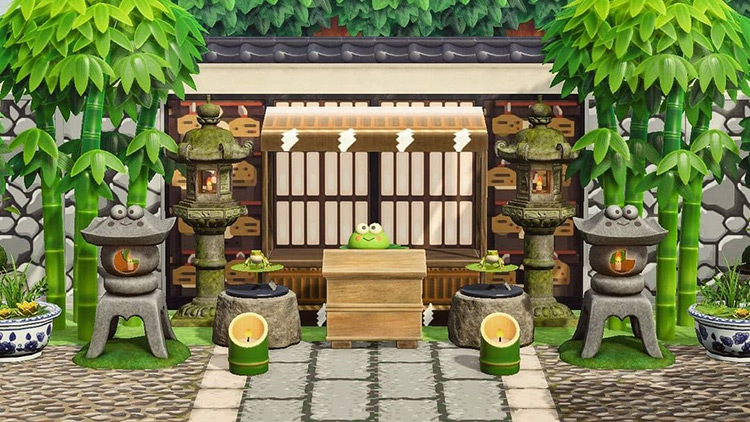 This fun & adorable build makes use of the Japanese items, but with a neat twist:
It's all for a frog!
Pay your respects and leave an offering for this lil guy.
Don't worry if you want to come after dark, because there's plenty of lit candles to guide your way.
Add in some bamboo and planters to help add a little bit of greenery to this otherwise mainly stone build. All hail froggy!
36.

Scarlet Apiary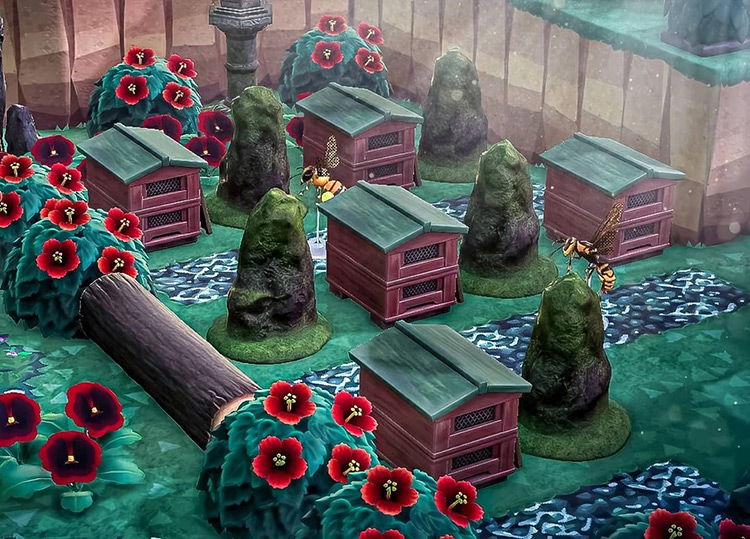 Normally when you think bees, you think yellow or orange, right?
Not with this apiary!
This apiary uses red bee houses and red flowers for their décor.
A great idea to add to an awkward little corner of your island that frankly, you just don't know what to do with. And maybe you already have enough gardens (if there is such a thing!)
35.

Outdoor Breakfast Nook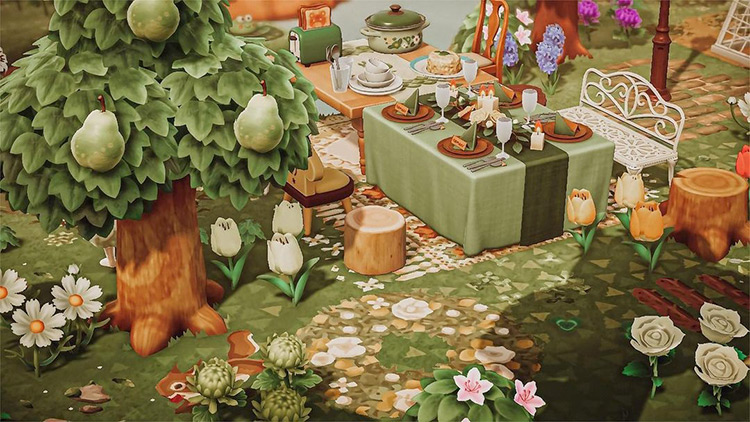 There's lots of space for everyone at this big table.
Enjoy breakfast with friends and villagers at this darling riverside spot that you could easily re-create yourself.
Whether you're cooking up waffles, pancakes, or a proper English breakfast, you're sure to have people running for a bite with the warm smells of fresh cooking.
And speaking of fresh, if you're a fruit in the morning kind of person, pluck yourself a pear from the nearby tree. Easy as that!
The mismatched seating is an adorable touch to this build, and also helps to make it an approachable choice for new players.
Use whatever chairs or DIYs you have to recreate this – whatever works.
34.

Indigo Dreams Campsite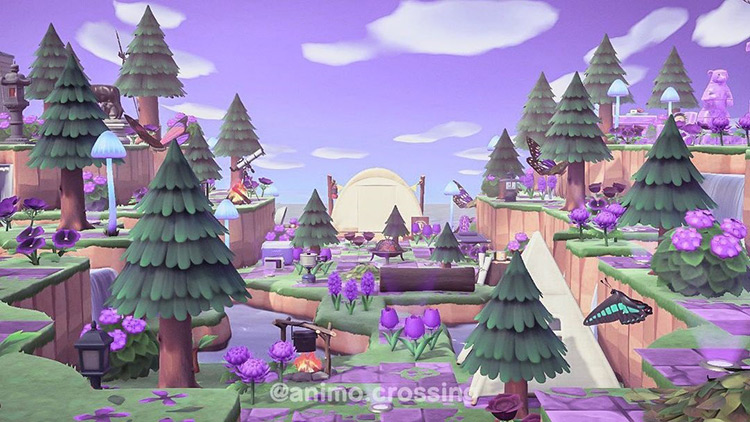 This is another beautiful campsite build, this time in every shade of purple.
Get breeding those flowers, though. Because you're going to need lots to fill out this outdoor space.
You'll attract plenty of butterflies (as well as plenty of rare villagers, hopefully) and have a fantastic spot for fishing, too.
Overall this is a great spot to hang out with friends and shoot the breeze, in the breeze.
The sky looks so beautiful and endless above a landscape like this.
I bet it would be great for meteor showers, too.
Celeste would definitely love all of the colors, I'm sure.
33.

Gothic Bedroom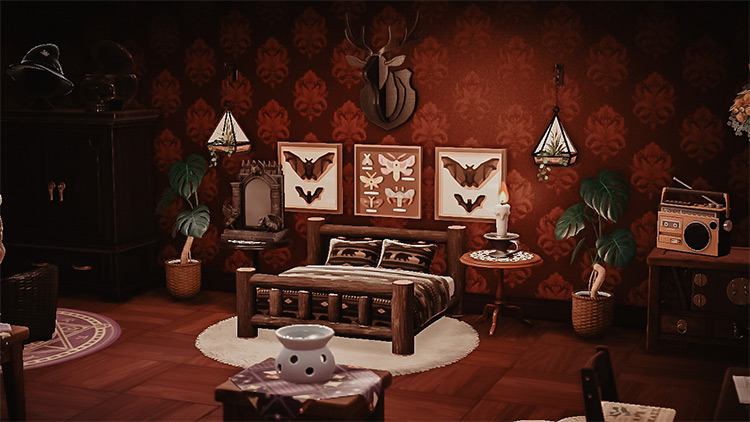 For those of you that like dark colors and somber vibes, here's a cool bedroom idea for you.
This Gothic bedroom uses a witchy rug, some red embossed wallpaper, and edgy hanging plants for decor.
Despite being dark, it's super comfy looking, with fluffy rugs, a comfortable bed, and a radio to play some quiet music (or screamo, I guess).
This would be a great add for any houses with a witchy theme – and I'm sure there are plenty of those, given all the card reading items.
32.

Tiana's Place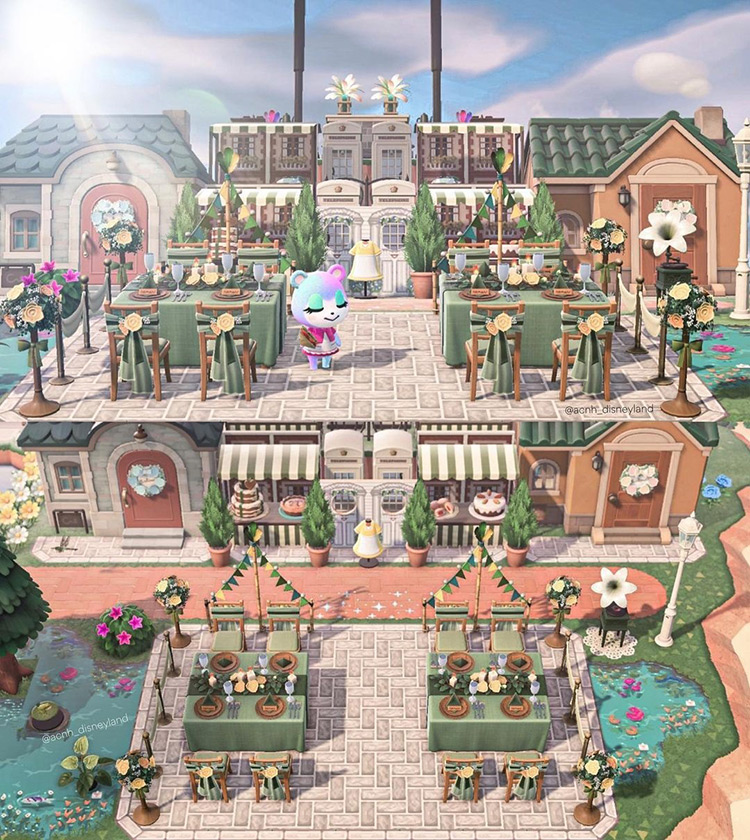 This coastal build is a cute nod to Disney's Princess and the Frog.
Tiana, the titular princess, is a hotspot for southern cooking – and now you can recreate it on your island!
The level of detail here is fantastic.
All the green is super fitting for something related to frogs, and having it over a 'pond' (really just some custom paths) is another cute detail.
Since another key component to this is the Jazz music, call on K.K. Slider to strum some tunes while diners enjoy fresh Louisiana desserts and snacks!
31.

Seaside Camper Van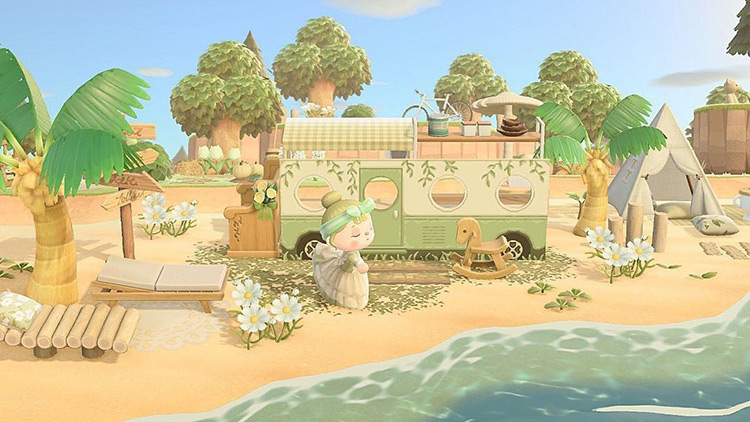 You've gotta love when players make items that just don't exist in game.
This player wanted a camper on their beach, and so they painstakingly made themself one out custom panels, a bench, and a shelf.
So clever!
This idea is the ultimate seaside getaway if you need to get away from the hustle and bustle of your island.
Cause hey, I get it. Those villagers, constantly running after you to teach you emotes? Stressful. Hectic.
You're valid.
This would be a great place to enjoy snorkeling, catching bugs, and fishing with friends – or all by yourself.
An outdoor tent lets you sleep under the stars, lulled by the sound of waves, and the soft, salty breeze.
The dream, really.
30.

Outdoor Classroom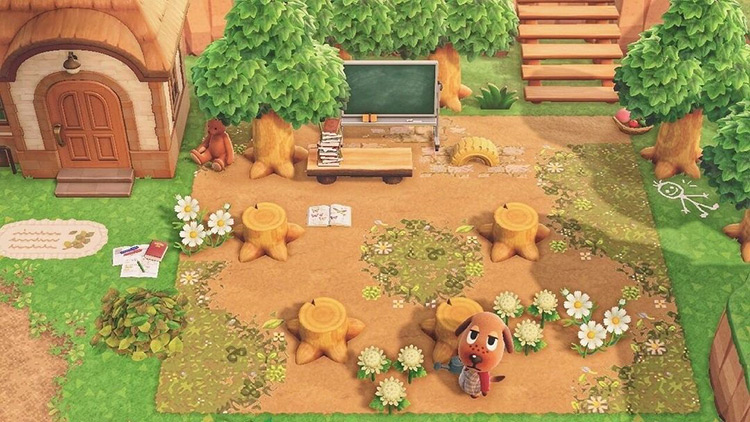 Listen, I love them to bits, but let's face it: some of the villagers are so, so dumb.
How can you lose so many items?!
Teach these kids a thing or two in this charming outdoor classroom.
A chalkboard is a forgiving way to learn them their ABCs, even when they write them the wrong way.
There's books for reading in this build, and what looks to be some abandoned homework… uh oh.
Then at recess, the whole island is a playground!
Just make sure you're back in time for the second period.
29.

Coconut Farm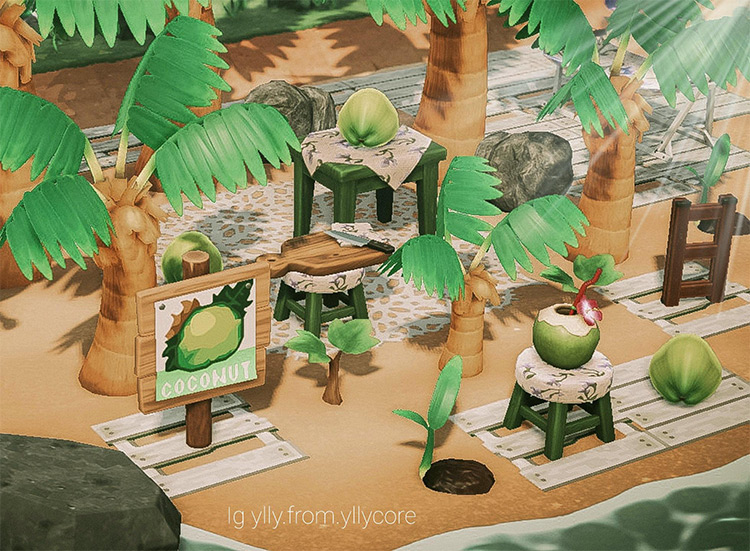 Oftentimes when we see fruit production on New Horizons, it's the other fruit trees since they have a higher sale price.
This coconut farm is super refreshing – and just makes way more sense, since this is a tropical island!
It's an adorable little setup, with a board for chopping open the tasty fruits to make them a sweet beachside drink.
Coconuts grow quickly, so you'll have an ongoing stock no problem.
A few boards and rocks on the ground help to bring things together, if you're thinking of recreating this.
At least next time Gulliver washes up you'll have something to offer him to snack on.
28.

Farmer's Market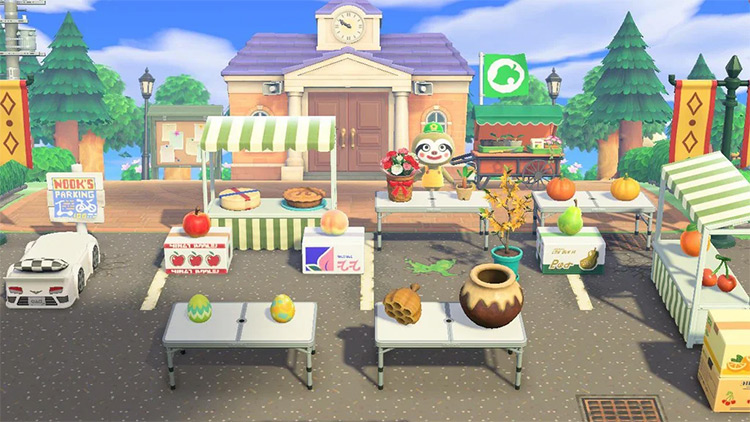 Do you have a lot of random items that you want to use to boost your star rating, but can't quite seem to find a place for?
No problem! Try a farmer's or flea market build.
All you need are some tables or stalls, and they don't even have to match.
Set them up, and then plop honestly whatever on them for your villagers to inspect.
Fruits, candles, cups, anything you can think of.
The best part is, you can even make it seasonal.
In the fall, load up on pumpkins and baked goods. In the spring, flowers or cuttings.
In the winter you could even decorate around with ice sculptures and other seasonal items.
27.

Cozy Living Room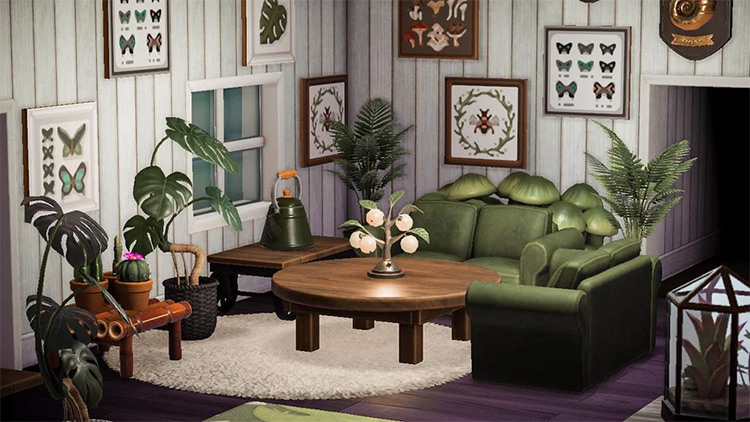 I'm a sucker for plant prints, and this living room is covered in them.
This is a plant lover's dream living room for sure – with all the monsteras, cacti, and other plants.
It's the perfect spot to have a cup of tea and catch up with a friend on a rainy day, or curl up with a good book if you're into that.
The green sofa looks great here, but you could recreate this with any muted color sofa you have, like creams or browns.
26.

Cozy Library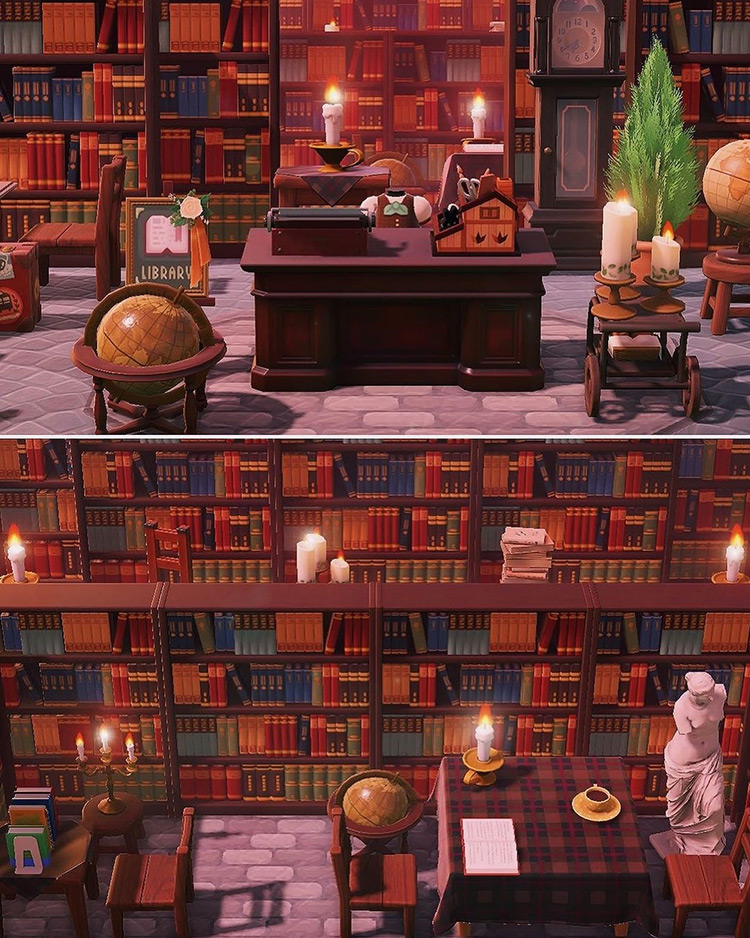 This gorgeous candlelit library is a bibliophile's dream spot.
It's full of not only books, but also curio items, such as different globes and statues.
Easily one of the best library build ideas I've seen.
And it's a great way to mod podge items together for a delightful oddity.
Got a spare teacup? Toss it in the library.
Accidentally bought a fake from Redd? Toss it in.
Stack of books? Toss it.
Obviously in real life, candles around super flammable books isn't the best idea. But this is a video game so it's a-ok.
This would be a gorgeous spot at night with the soft glow – just don't strain your eyes, okay?
25.

Tourist Beach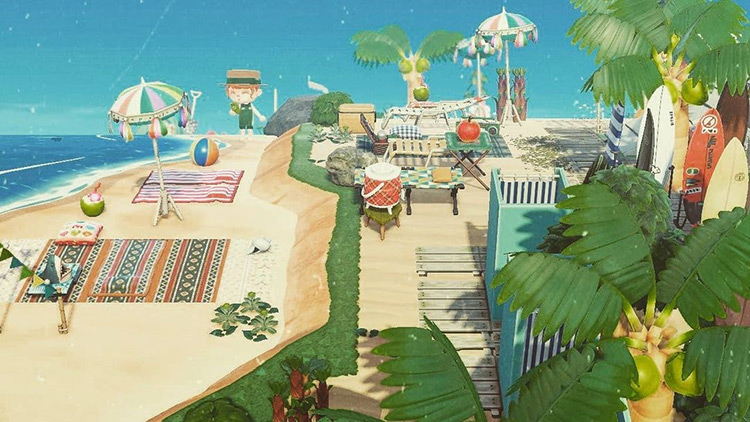 Whether you get a lot of visitors on your island or you just like the look of a commercial beach, this is a great build to add to your island.
Toss all the extra rugs you bought from Sahara that didn't fit your house vibe on the sand as makeshift beach blankets, and add a few umbrellas for shade.
Palm trees add some greenery, and beach items like a ball and sandcastle, surfboards, and shower stalls are also great additions.
Some planks of wood on the ground also give the appearance of a boardwalk.
24.

Palm Reader's Hideaway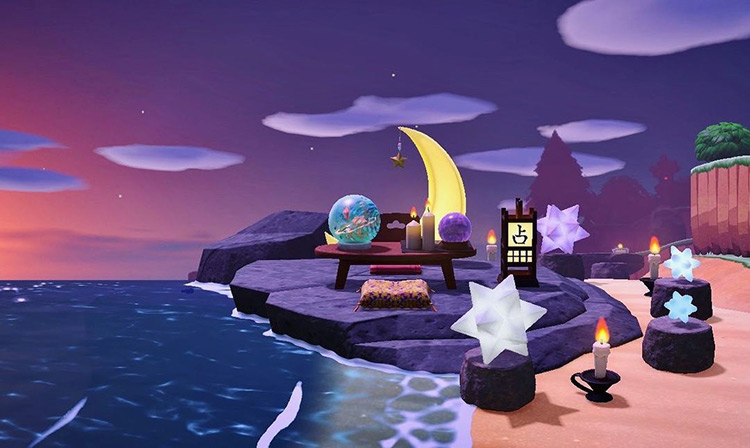 Hey, is mercury in retrograde?
Come check out your life and love lines and consult some tarot cards at this bewitching seaside spot.
Not only is it a great place to play a seer, but it's top tier for watching meteor showers.
Plenty of star fragments add to the lunar vibe. Candles make it a perfect place to go after dark, too.
Invite your friends to read their palms and divine their futures.
Just be careful if you're reading tarot cards – don't let an ominous Tower card ruin a perfectly good friendship.
23.

Classic Treehouse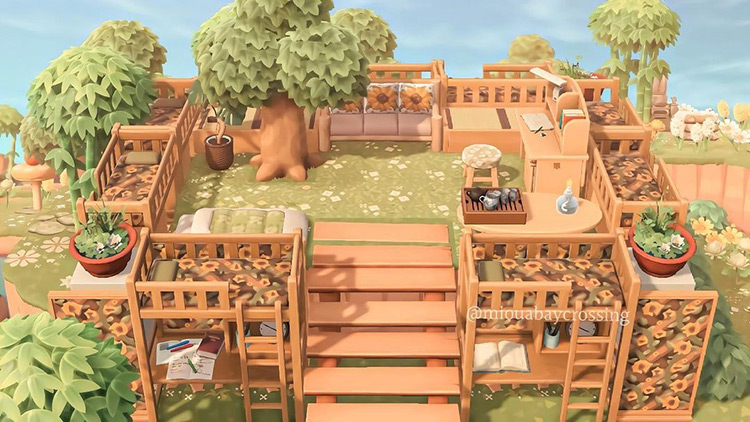 Just one glance and I can tell this is a really cool build.
This player uses a bunch of bunk beds, some terraforming, and a flight of stairs to replicate the feel of a treehouse.
If I had one of these as a kid, I don't think my mom would have ever gotten me inside!
It's a great place to hang out with the buds, as there's a super cozy couch, a desk for studying, and of course, enough beds for everyone for a mega sleepover under the stars.
Just don't shake that tree without a net in hand. A wasp attack up there could be deadly.
22.

Canyon Trail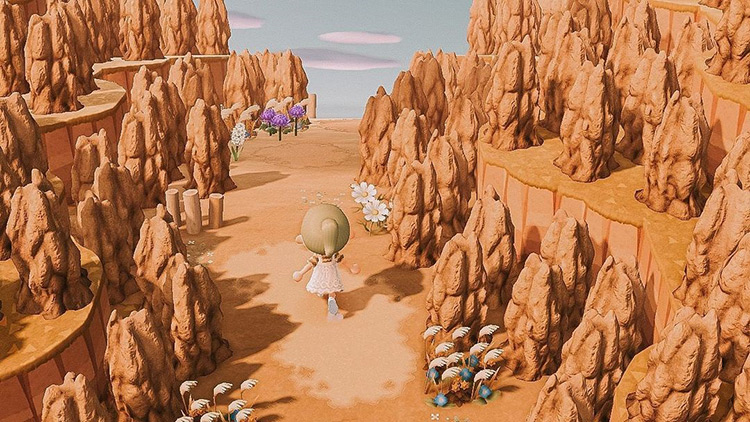 Here's another super creative trail area.
This one replicates a canyon with a LOT of well-placed rocks.
A few flowers add a pop of color here too, without overwhelming the design too much.
Terraforming is an important part of making this build work. Without it, things would look too flat and awkward. So it really is important to have those levels.
This would be a great idea to tackle if you have another build behind some cliffs, like a secret beach or something…
21.

Secret Beach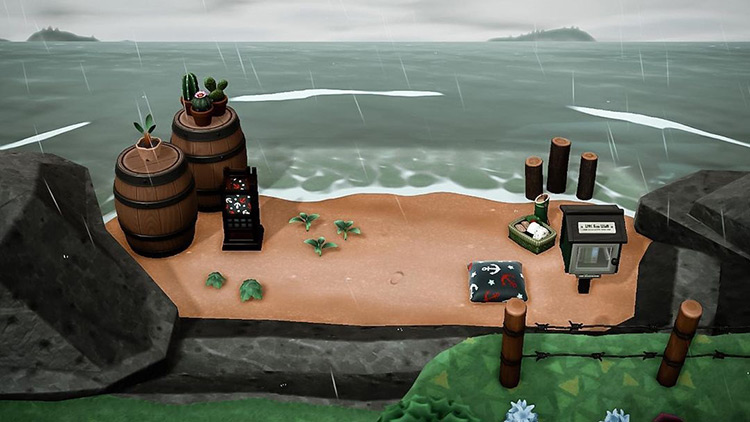 Hehe, see what I did there?
Rock your canyon path to your secret beach, which may or may not be where Redd docks his super legal boat, depending on the layout of your island.
This is a simple build, but effective.
All you need is some cushions, barrels with or without plants on them, and some miscellaneous items.
It could be anything you want – although preferably stuff that's waterproof!
And this design would also be a great spot to put any spare art items, if you have them.
20.

Brilliant Stone Garden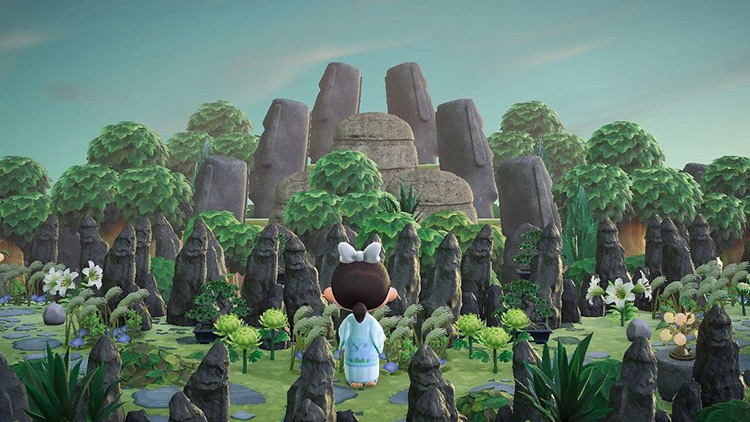 This stone garden is absolutely beautiful to look at.
With all sorts of rocks, from standard ones to Rapa Nui heads, it's a great place to put the rocks that you have to hit every day, too.
It's beautifully overgrown and natural looking.
So if you have a very natural island, this is definitely a build worth considering.
I, for one, never know where to put my rocks. And they never spawn anywhere helpful.
If you have the patience to get them to spawn somewhere deliberate like this, all the power to you.
19.

Starry Bedroom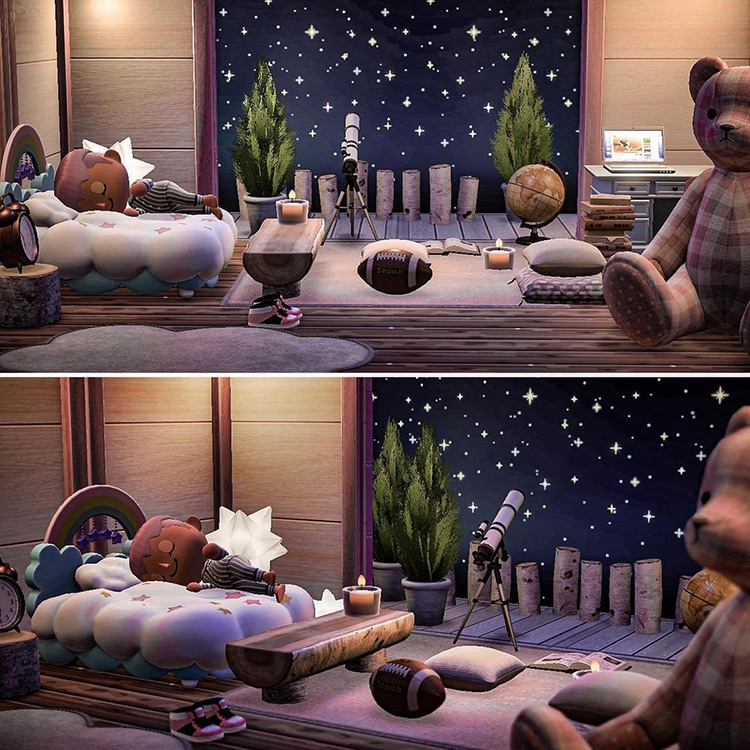 This starry, dreamy bedroom is adorable!
It's messy in the best way, with personal items like a football, books, and other things littered around the floor.
A teddy bear keeps watch over the lucky dreamer, who's surely checking out all sorts of nifty dream addresses.
If you like the stars, this is certainly the bedroom build for your home, since you have a nicely-placed telescope ready for you to inspect the mighty cosmos.
Also, is it just me or is that the comfiest looking bed ever?
Maybe I'm overtired again…
18.

Kimono Shop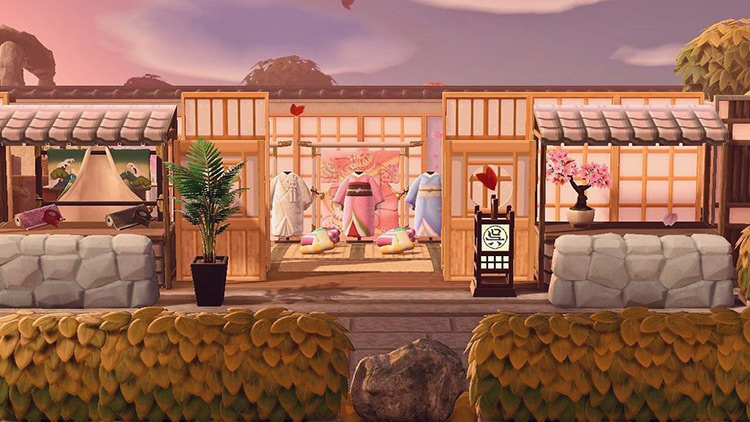 Here's another great idea for Japanese themed islands.
This gorgeous little shop sells all sorts of kimonos and yukatas for every occasion.
Beautiful displays of dresses are framed by stalls with cherry blossoms and classic paintings. It's a bright, classy spot, and well suited to a commercial area – if you have one.
17.

Pompompurin Tiki Bar
Check out this adorable take on the Pompompurin ACNH set of items.
Give yourself an adorable tiki bar with the items from this line, as well as a custom designed stall, some plants, and some stones and pavers.
This idea feels perfect if you have a cutesy style island, but don't want to fully commit to a more traditional tropical theme.
16.

Woodland Pond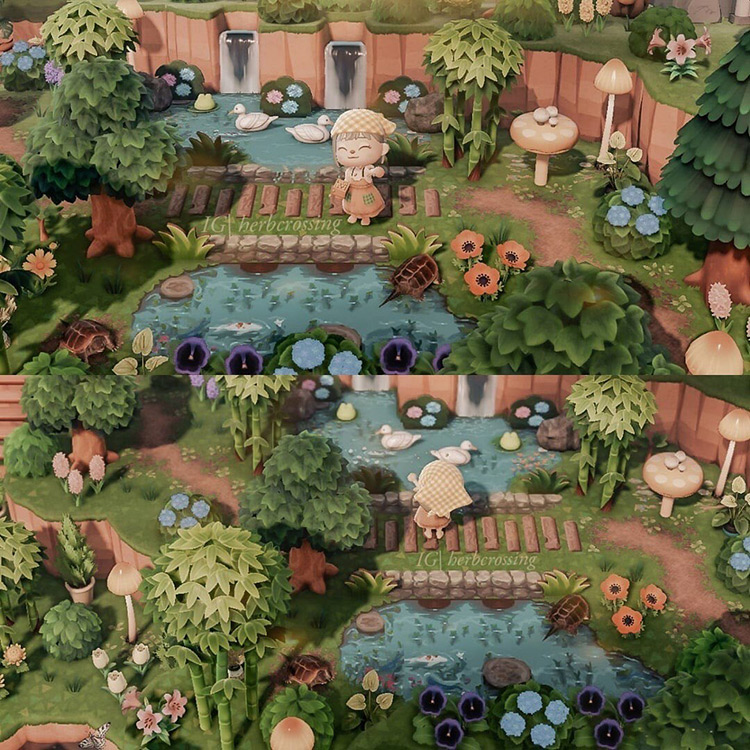 I absolutely adore this little pond build, just because of the sheer level of detail.
There's ducks, turtles, fish, and plenty of flowers and plants.
It works really well because of all the customization.
By doing custom tiles, you could put whatever animals they could design into the 'pond', which looks more detailed than just using the water terraforming tool.
Not to mention this would be a super fun spot to go insect hunting.
15.

New Horizons Preschool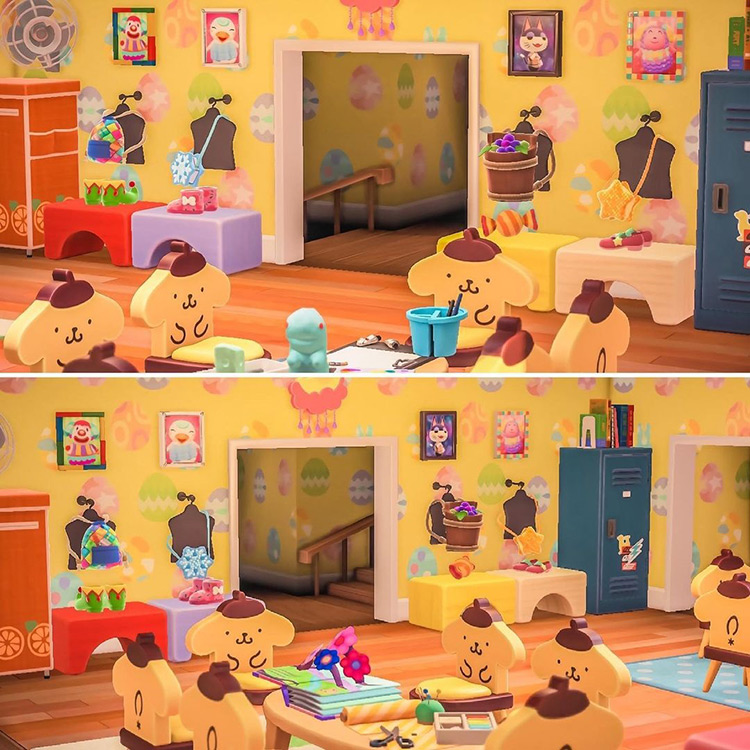 Ok, so maybe there aren't real children in New Horizons… but they gave us so many cute & childlike items that we're just going to have to pretend.
This adorable build uses villager portraits to label cubbies, and chairs from the Pompompurin set for the teensy wittle seats.
A selection of satchels and backpacks line those cubbies, and there's also lockers and craft supplies.
So cute!
Now I want baby villagers… Awe, baby Isabelle.
14.

Rooftop Pool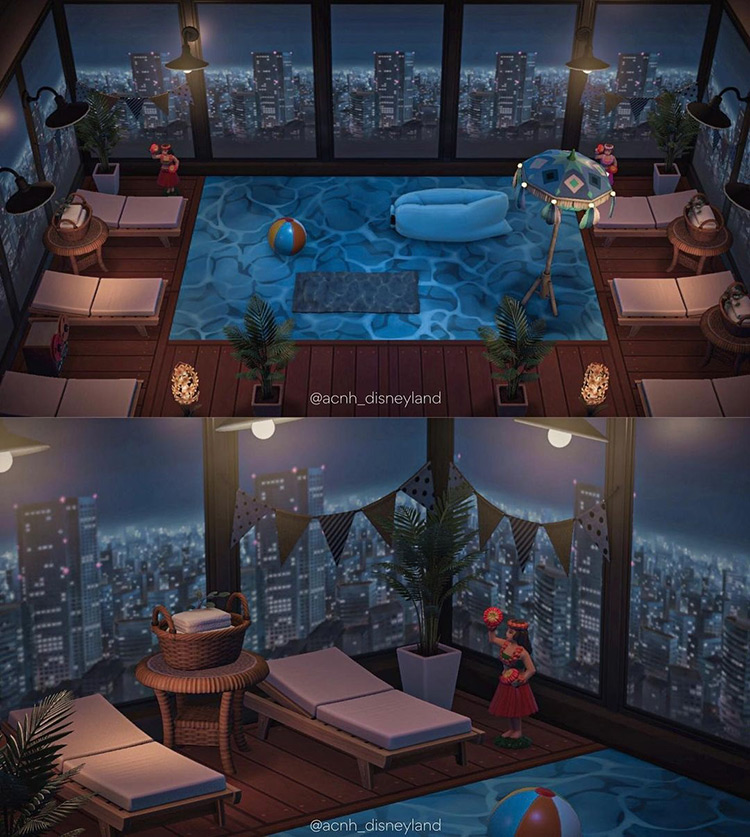 What a neat idea for city dwellers.
This build mimics the look of a rooftop pool area by using a rug, wallpaper, and plenty of lounge chairs.
Dropping in some pool floaties and a ball, as well as handy amenities like towels, really help to give the room some lifelike vibrancy.
This would be a great place to relax in the evenings atop your fancy-schmancy skyscraper room (well, fake skyscraper, but still).
13.

Sophie Hatter's Millinery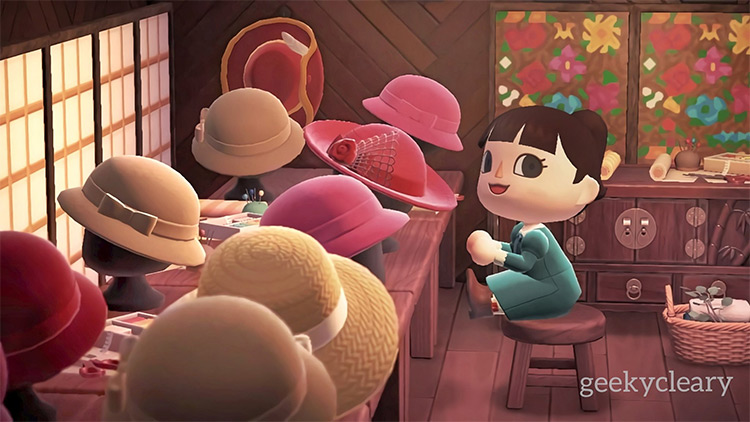 If you're a Ghibli fan, you'll love this one.
This player recreated Sophie Hatter's work station from Howl's Moving Castle.
Being a milliner is hard work, but hats off to those who can get it done!
You can replicate this by simply loading as many hats as possible onto a wooden table in front of the window, so it's a great idea for newer and veteran players alike.
12.

Player's Castle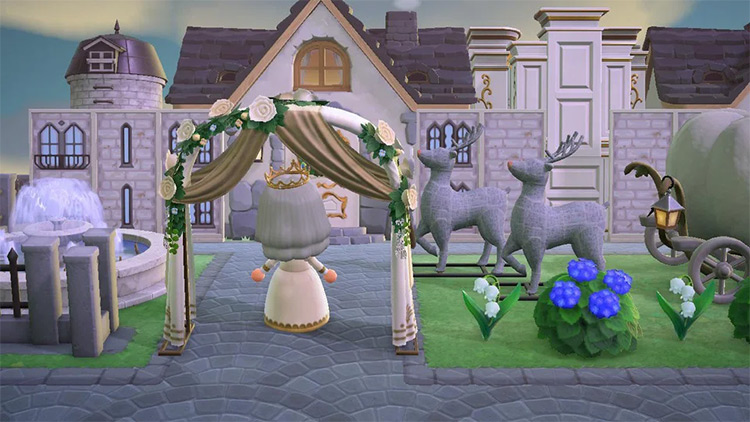 This super creative player used custom panels to create their humble home into a whole castle.
That's part of the beauty of panels: you can do just about anything.
Fancy landscaping like reindeer pulling a carriage and a fountain help to give this castle design an especially regal feel.
Live like the prince or princess you were born to be with this awesome build idea.
11.

Scenic Pond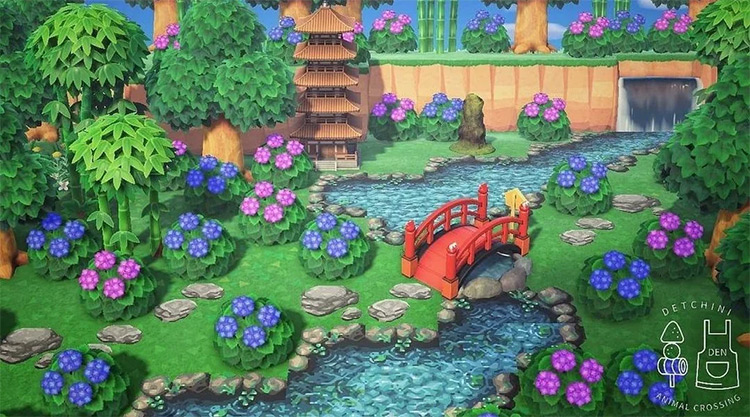 Here's another pond design, and more specifically an adorable forest trail leads to a bridge over a pretty little pond.
Go for a nice stroll on a sunny day, or hop over puddles on a rainy one as you go to view the fish, flowers, and of course, the pagoda.
Go bug catching or take photos with friends, it's all fun here.
A bubbling waterfall adds some nice scenery to the area in this build, and custom stone paths are a great way to add some individuality.
10.

Sleeping Totoro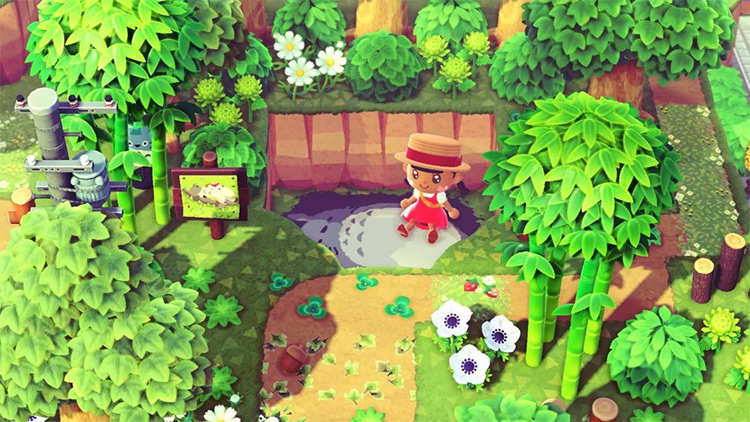 One more Ghibli-themed entry for this list!
This build feels more like a hidden Easter egg for animation fans…
Go far enough into the woods on this island, and in the middle of this player's forest is a sleeping Totoro.
This is achieved through custom tiles, of course.
Filling up the area with plenty of trees and flowers helps, but also letting weeds grow a little is a good idea too. It's important to hide the design until you really stumble across it.
But no matter how you'd wanna build yours, this is a super fun idea.
Mushrooms and stumps also help to make it look like a natural forest.
9.

Roadside Flower Shop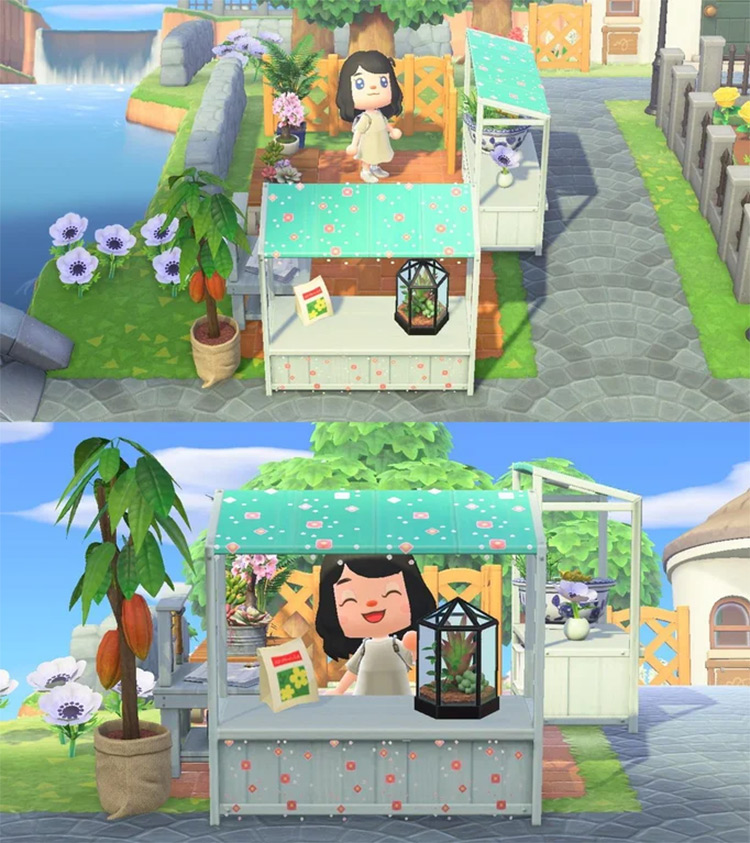 This adorable little roadside flower shop is a great addition to your city or village street.
With just a couple of stalls, some small potted plants, and a wheelbarrow of flowers or two, you can have something just like this on your own island.
Little builds like this are great for making your cities look more lifelike and natural.
And it's always so fun to see the villagers stroll by and inspect things.
8.

Nifty Bathroom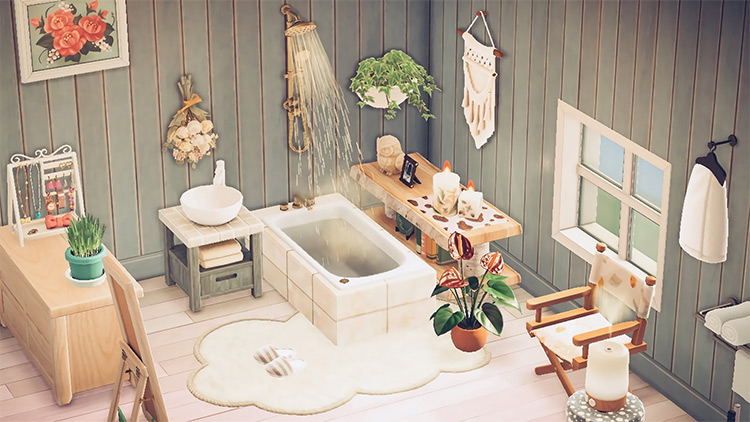 Here's a really fun bathroom idea worth building if you have the time.
Sink into this gorgeous tub after a long day of single handedly supporting your island's economy and relax a little, maybe light some candles?
With the little plants, plenty of storage space, and nice amenities, what more could you want from a bathroom?
And a fluffy white mat will keep your floor dry and your feet happy when you do decide to get out of that wonderful bath.
7.

Alchemist's Lab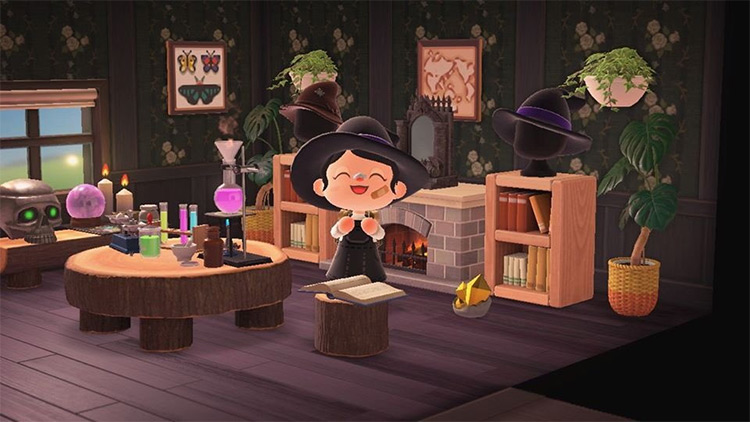 Make your little witch or wizard happy with an alchemy lab like this one.
It's full of spooky items like beakers of strange liquids, a crystal ball, and a skull. These all help set the mood for some potion crafting and spell casting.
Have you got a tarot set lying around? Feel free to add that in, or whatever else you like!
There's space for spare witch hats above the mantle, as well as on the bookshelves, so feel free to get creative.
6.

Mermaid Princess' Bedroom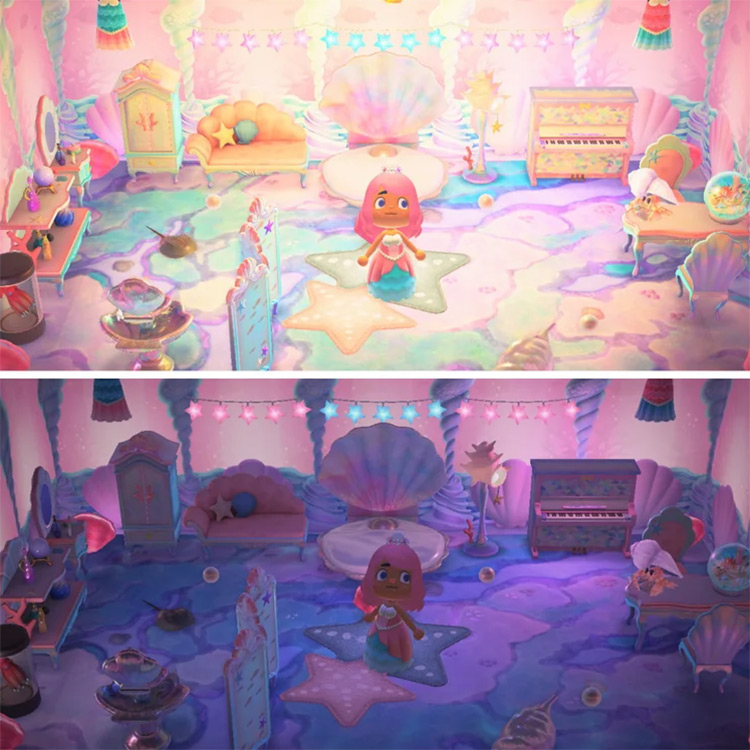 If you love pastel colors or mermaids, then this is a great build idea to try out.
Mermaid items can be found through diving and finding a scallop, which can be traded to Pascal for pearls (which are needed to craft the items) and DIYs.
And we've shared a ton of mermaid-themed ideas already, perfect to match with this build.
This beautiful room has pretty well the entire mermaid set in it!
It's a super adorable space, and perfect for mermaid photoshoots.
5.

Winter Wonderland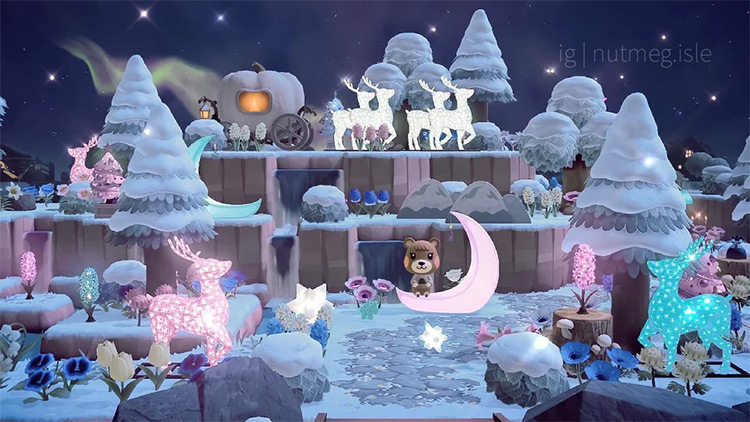 This beautiful snowy area is truly a winter wonderland.
Softly glowing reindeer, star fragments, and even a crescent moon seat help light up the chilly winter night.
Watch the Northern or Southern lights, or even make wishes on falling stars on clear nights.
Even if winter is done on your island, you can get planning for next year!
4.

Bamboo Park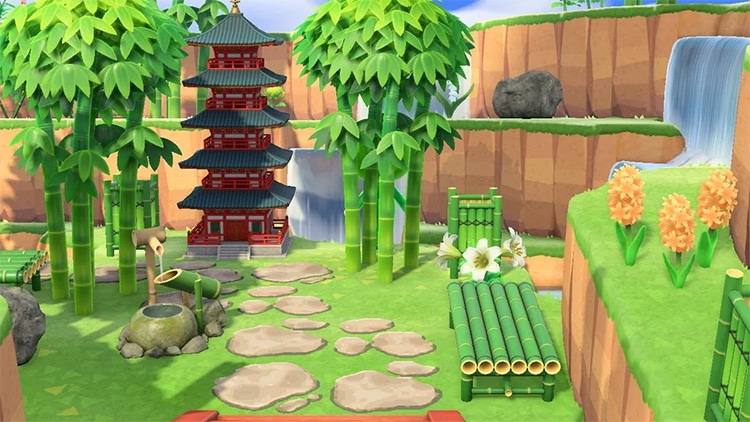 Fancy a nature stroll?
This adorable little spot uses plenty of bamboo items, such as a bench and lanterns, as well as a shishi odoshi.
An awesome park design if you're big into bamboo.
Come to visit the pagoda, or just take in the fresh air and pleasant hum of insects and rush of the waterfall.
Pick a few flowers or just look around and enjoy.
3.

Retro Pizzeria and Diner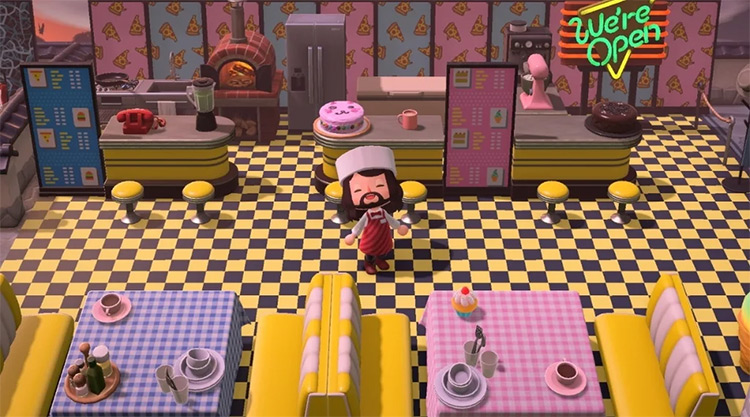 This super adorable build features a diner serving up classics like coffee, cupcakes, and wood fire oven pizzas.
It's got that classic '50s style too, which always looks fantastic.
The yellow, blue, and pink color scheme is a great choice for a vibrant build.
It's on an island, too.
So having it outside is ok since it's usually great weather.
2.

Forestcore Cafe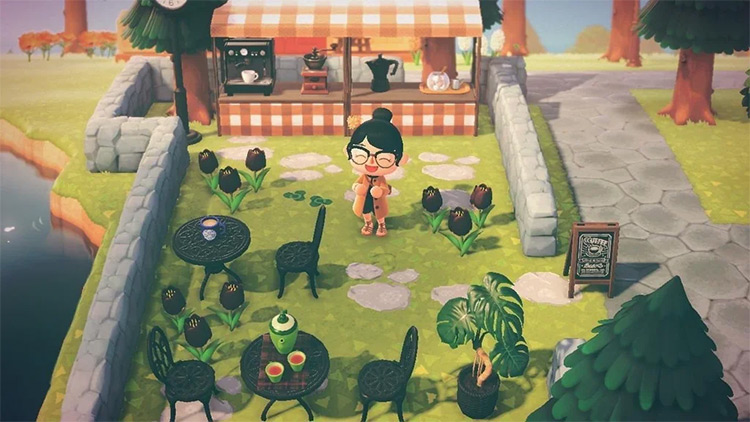 Just because you have a natural looking forestcore-themed island, doesn't mean you're all done with building.
Maybe think about adding your own custom café, like in this creative build.
This player combined both idea with great success by using items like the iron garden dining set, some customized stalls, and plenty of plants.
I don't know about you, but I always seem to have too many cups in this game. Teacups, coffee cups, it doesn't matter.
Make use of them by placing them at tables in a build like this!
Top it off with an espresso maker and you're golden.
1.

Abandoned Shipping Yard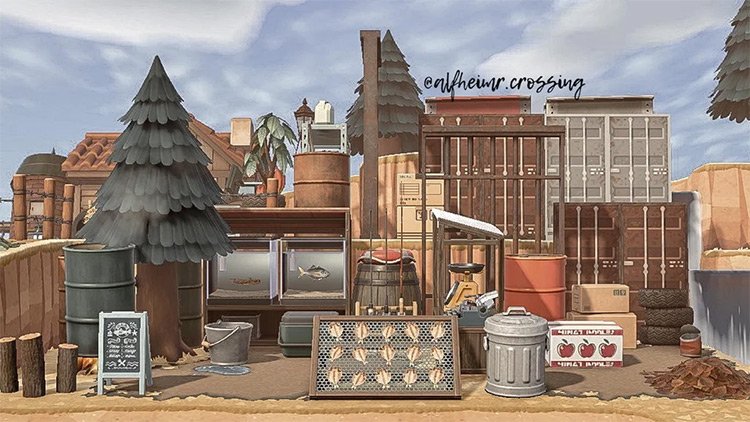 Now here's a really neat idea, and certainly something odd to cap off this massive list.
Whether you believe it or not, trashcore is a thing.
And this design nails the look.
Make use of all the cardboard boxes that pile up in the lost and found in Resident's Services, as well as spare fish in tanks, to make an abandoned shipping yard just like this.
When was the last time someone checked in on this place?
Who knows, but visitors will love stumbling across this super cool idea.
Browse:
Animal Crossing
Lists
Video Games