Bus Stop Design Ideas For Animal Crossing: New Horizons
This post may contain affiliate links. If you buy something we may get a small commission at no extra cost to you. (Learn more).
There's an almost endless stream of cool ideas for your Animal Crossing island.
In fact, there are so many ideas online that building a bus stop would have never personally crossed my mind… until recently.
So while it may seem like a simple concept, there are actually plenty of different ideas you can go for.
And here's some of the coolest ACNH bus stop design builds to get you started.
10.

Forest Trail Stop
I'm sure there are plenty of wooded areas on your island that need a little love.
Here's how you can turn a simple forest into a natural-looking bus stop.
You'll want to pick your favorite tree spot and purchase a dark brown lecture hall bench for the awaiting passengers.
Simply craft a stall and a plain wooden shop sign, and customize them for your stop… and that's about all it takes.
It's simple, but it helps to add some flavor to any wooded areas in your island.
9.

Standard City Stop
I think putting this design right in front of Resident Services is the optimal spot, since it helps create that urban feel.
To make this yourself, you'll need to craft some prison bars from iron, and a log sofa from some hardwood.
If you obtained Rover's briefcase from him during May, you can use that here for a little extra decoration.
If not, an aluminum briefcase will do just fine.
But be sure to purchase a phone booth and a park clock from Nook Miles, as well as an "OK Motors" sign if you can find one.
The umbrella stand and stall with the stack of books also really jump out. They feel like little details that add to the "business" vibe of a city bus stop.
8.

Beachside Bus Stop
Hopefully it doesn't rain on your beach bus stop like this guy's design.
But even if it does, it's still one heck of a cool idea.
This player actually uses many different items in ways you wouldn't normally think to…
For example, the floating blocks from the Mario update create an overhang to keep you dry, while the sides of the pavilion are actually rock climbing walls.
I like the use of drink machines here for decoration, as well as little things like the bicycle, OK Motors sign, and phone booth.
Little things like this really liven up the scene. Especially when your stop overlooks the beautiful blue ocean!
7.

Fruity Frog Fun
If you want a more colorful design for a bus stop, well, look no further.
To build this idea yourself, you'll want a small grassy area that you surround with some custom paths for the street.
Hopefully you have access to apples, too. Because you'd also want to craft the apple chairs and apple hat that's displayed on the stall.
As for the stall itself, customize that with a fun apple pattern to match the décor.
Then decorate the scene with some red décor like a red balloon, phone booth, red cosmos, and a mum cushion.
And don't forget the custom frog design on the ground before you hop on that bus!
6.

Carriage Stop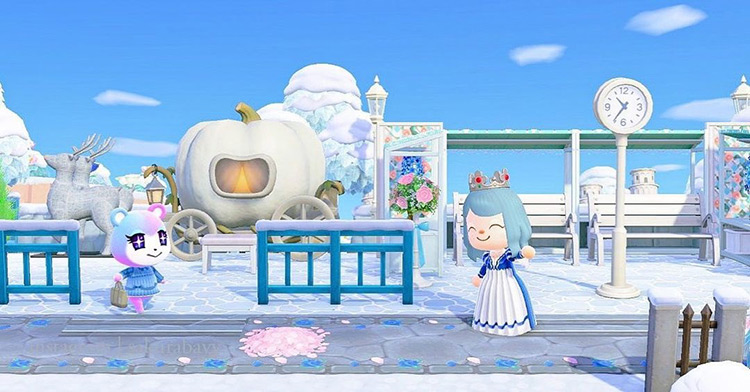 While this is technically a list for bus stops, they don't have to be the only vehicle stopping by.
Here we're mixing many seasonal decorations as the carriage consists of illuminate reindeer with a spooky pumpkin carriage.
To craft these items you'll need to have saved up some ornaments and orange pumpkins, respectively.
This player also used a custom white stone pathway design to fit with the wintery princess aesthetic.
And to polish off this design, you can craft some garden benches and purchase a park clock from Nook Miles.
Your princess carriage awaits!
5.

Snowy Mountain Stop
The sad news is that this idea is not available year-round, as it relies heavily on the winter snows to make it pop.
However, you still have the ability to set it up each winter.
Some of the standard items you'll want to purchase are a park clock, phone booth, and lecture hall bench for the main waiting area.
And to really capture this idea, you'll want to do some land and water-scaping to make some mountains and waterfalls around the area.
Another little detail that caught my eye is the custom path in front of the benches. They look like a giant log. Very cool!
Finish off the scene with some holly bushes and you're ready for the winter!
4.

Riverside Stop
Sometimes all it takes for a design to stand out is simply how you arrange the same old items.
Here we have a public bench, drink machine, popcorn machine, and phone booth.
These items are all easily available on Nook Miles or Nook Shopping.
What sets this design apart is that these items are placed in this grove on the side of the river.
But it's not a large river, and I think that helps the aesthetic here.
I also like the bridges going diagonally. I just think it adds some personality.
For some finishing touches here, craft some mushroom lamps and parasols to create unique scenery. Stuff to look at while you wait.
3.

Dusty Outskirts
I feel like I say this in a lot of articles, but honestly, sometimes the simplest ideas are the best.
Here we have a dirty looking bus stop on the outskirts of the island. And it's very well designed.
To make this, first setup the grounds by placing down some dirt path. Let a few weeds grow to really nail the run-down aesthetic.
In the back of this area we have some simple panels customized with a wooden pattern.
The stalls are also customized to display a wooden pattern on the awning, which compliments the panels well.
Purchase some public benches, a park clock, and a phone both on Nook Miles, and you've got most of the items you need.
The manhole cover is also a nice little addition that you can drop into the design to finish it off.
2.

Holiday Playground
Who says a bus stop can't be fun?
Most people would probably say that, actually… but that's because they haven't seen this idea yet!
To make this yourself, just craft an illuminated tree from some ornaments you got while shaking down those cedars.
And like any Christmas tree, I think this one needs some toys to go underneath it.
Be sure to purchase your favorites like the baby bear, toy box, wooden block toy, and rocking horse.
The last thing you need would be a few park benches, available on Nook Miles.
I think the red and blue benches go well here. They'd definitely blend into the holiday bus stop atmosphere!
1.

Blossoming Garden Stop
Cherry blossom trees are honestly too overpowered when it comes to decorating your island.
They're just so beautiful!
Once you've planted a few trees, you can design a small waterfall running down the mountains in the background.
Then craft some stone garden decorations like the stone lion dog, stone arch, and tall lanterns to liven up your waterfall.
The next thing you'll need would be a bunch of simple panels that you can customize to have a stone pattern, as well as the bus schedule. That little addition is just incredible.
Once you have a public bench in place, you're ready to hang out and wait to board the bus.
Just don't forget your ticket!
Browse:
Animal Crossing
Lists
Video Games