20 Cabin Design Ideas For Animal Crossing: New Horizons
This post may contain affiliate links. If you buy something we may get a small commission at no extra cost to you. (Learn more).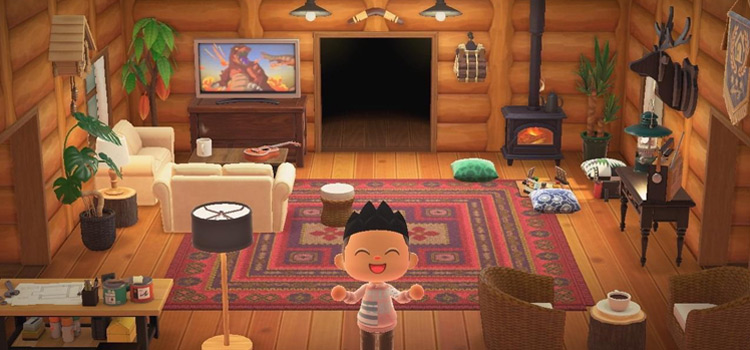 Animal Crossing has always given players a fun & natural experience.
And in New Horizons, the possibilities are even more expansive when it comes to creating a marvelous natural beauty on your island.
One popular idea relating to nature is a cabin in the woods.
With more items than ever at your disposal, there are countless possibilities. So where do you get started?
Here's a handful of cabin-themed ideas for your quest to become a true island naturalist.
20.

Forestview Cabin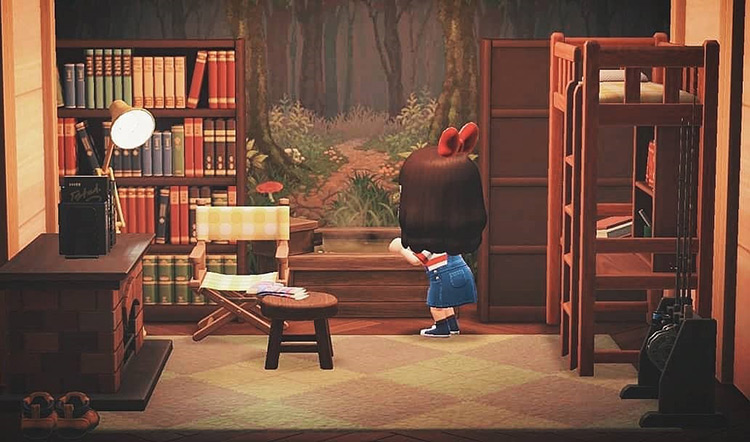 One idea you might try is to simply embrace the beauty of the outdoors while remaining safely inside.
To make this yourself, you'll want to craft a forest wall out of tons of mushrooms and wood that you may have gathered outdoors.
Most of the furniture pieces here are pretty typical items you can craft or purchase.
Items that you can purchase include a loft bed with a desk and fireplace.
Then craft some bookshelves from some books and wood, and you're well on your way to the cozy forest cabin life!
19.

Master Bed & Bath
Most ACNH cabin ideas that you'll find online utilize similar furniture items.
Sometimes you need to get creative in how you arrange those items to stand out.
This idea combines both a bedroom and bathroom in the same place. Very nice.
The bedroom furniture is from the hardwood set, so be sure to chop plenty of hardwood to craft them.
In the bathroom, you'll want to purchase a shower set, toilet, and towel basket.
You'll need to craft a plain sink from some wood, clay, and iron as well.
Separate the two spaces with some simple panels, and everyone can enjoy a hot shower with some privacy!
18.

Beekeeper's Cabin
Here we have an example of a neat outdoor cabin design for a villager's yard.
Now, certain villager houses do have a close resemblance to a wooden cabin. This person used Teddy's house.
Gonzo, Peaches, and Molly are just a few others that work well.
The most important things you'll need here are the beekeeper hives and pots, both of which you can craft.
Beekeeper hives need wasps nests to craft, so shake down plenty of trees and get your running shoes on!
And the country fencing and the custom stone pathway designs aid this idea in achieving a fun cabin for you to harvest plenty of honey!
17.

Reading Nook
I'm sure there are people who simply love to read while they're enjoying the great outdoors.
This fun idea lets you create that cozy cabin feeling, while embracing the reader's lifestyle!
The first step here is to purchase plenty of books, because you'll need them to craft the classic library wallpaper, as well as the wooden bookshelves.
The wood burning stove is one of my favorite items in this design, so definitely check that out too.
Then craft some hardwood chairs, sofas, and tables, and you have the most relaxing place to read in your woodland retreat!
16.

Forest Family Room
Some members of my family own a cabin in the woods. And oftentimes the whole family would spend a weekend up there.
This idea reminds me of that cabin, since it provides something for everyone in the family!
There's a kiddy corner with a dollhouse, a kid's tent, toy box, you name it. All of these items can be bought from Nook Shopping, too.
There's also a sitting area with some double sofas, and a wood burning stove for some toasty fireside chats.
There's even an upright piano for you play your favorite tune and set the mood. Talk about a vacation!
15.

Dom's Lumber Yard
Let's put aside the fact that Dom is literally the greatest villager ever, and let's just appreciate the creativity put into giving him this lumber yard made out of simple pieces of wood.
There's a couple of simple panels here customized to have designs that look like stacked piles of wood.
The simple DIY bench and natural log bench are a couple of average furniture pieces that help the scene really use lumber to its fullest potential.
And be sure to display your favorite axe here, plus some wood piles to fit the aesthetic.
14.

Fancy Cottage Bedroom
Not every cabin interior has to consist of old run-down furniture that's just a bunch of logs.
For this design, you'll want nothing but the best imperial bed to sleep in.
The rustic stone wall and dark herringbone flooring complement each other nicely.
I also like how this person crafted a stall as a shelf for plants and books, and then they customized it to have a brick pattern to match the walls.
Now that's fancy!
13.

Winter Campsite
3Moving back outdoors, there are plenty of ideas that can stick with the winter aesthetic when it's snowy out.
Pick your favorite villager's log house and park your kid's tent right outside so you can visit.
Then craft a couple of hardwood furniture pieces, such as a natural bench and a stool, for some outdoor seating.
And while this campsite certainly does not need to be by the water, it definitely does make for a beautiful spot.
The custom patterned picnic blanket, along with the mama bear, mug, and book objects, all make for a fun place to camp out!
12.

Modern Premium Cabin
What exactly makes this cabin premium?
I honestly don't know. It just gives me vibes of being the best room available at a mountainside lodge.
The sofas are, again, hardwood. And the kitchen stools here are regular wood.
Plus for this design you'll want to buy a fireplace, because duh.
I gotta say, I like the use of the coconut wall plants to help with the natural feeling of staying in a cabin in the woods.
Some items in this idea you'll want to purchase for your kitchen. These include a kitchen island, double door refrigerator, microwave, and magnetic knife rack.
These items don't come cheap. But it's only the best for such a premium room!
11.

Cottage Kitchen
Here we have another kitchen idea that gives off more of a bakery vibe.
I imagine this is the type of place the Keebler Elves cook out of.
Regardless, to make this yourself you'll want to start by selecting you favorite cakes. It can be a birthday cake, mom's homemade cake, or even (if you're feeling bold) the first anniversary cake!
Once you have some cakes, craft an ironwood kitchenette and ironwood cupboard where you can proudly display them.
The shanty mat and common wallpaper help to give the room a slightly dirty feeling, which I think is just perfect for a cabin theme.
10.

Leafy Lounge
Now this little room really emphasizes the nature in staying in a woodland cabin.
The rattan chairs and table already have a more wooden look to them, and placing some bamboo partitions can help engulf you in the fauna.
Of course, you want to obtain a botanical rug from Saharah, so be sure to stop by when she visits.
Then you pretty much want to add your favorite plants and plant-based decorations anywhere.
Some of my favorites include the monstera, mum cushions, mini cactus, anthurium plants, and deer chase.
9.

Alpinist's Lodge
When I think of a cozy cabin, prison bars don't exactly jump out at me.
However, they work surprisingly well in this design. So be sure that you have enough iron to craft them.
As per usual, you'll also want to craft some log furniture from hardwood like the bed, chairs, and decorative log shelf.
The sitting area is more modern with a double sofa, wood burning stove, and even a retro stereo.
Then once you finish, just put on your lederhosen and enjoy life in the mountains!
8.

Summer Camp Bunks
These honestly look way nicer than any summer camp bunks that I've ever seen.
And that's good, because it's a relatively simple design for you to recreate.
You'll definitely want plenty of bunk beds for all the campers to stay in over the summer. So that's item #1.
The corkboard on the wall is also a nice touch, as it can serve as an announcement board for your summer camp.
In the dining area, you have two diner counter tables and eight diner chairs neatly lined up. This looks 100% ready for when everyone wakes up and wants their breakfast.
As Michael Scott might say: I like to wake to the smell of crackling bacon. So sue me!
7.

Winter Lodge
This is not your typical winter lodge.
But it does seem like a rather cool place to spend the night.
While the kotatsu and floor cushions definitely make for a cute sitting area, I definitely don't think the log sofa should be that close to the fireplace…
It's made of wood, after all!
There's also another sitting area made up of some double sofas and an antique mini table, all of which can be bought at Nook's Cranny.
But a couple of the more unique items that stand out to me are the chess board, imperial decorative shelves, and 20" wall mounted TV's.
And the stone flooring and ramshackle wall really give this space that dingy-yet-warm look. Great for an old winter lodge!
6.

Lakeside Campsite
Shep is another villager whose house can make for a great cabin scene. And this player gave him a campsite down by the lake!
Be sure to scope out a nice wooded area by the water for this one.
And of course, the pumpkin patch is surely optional, so you can replace those with your favorite plants such as shrubs or flowers as well.
But be sure to throw in some log chairs and table. They make for great outdoor furniture.
The natural log benches and the custom brick path make for a nice place to hang by the fire and roast marshmallows. Absolutely getting cabin vibes here.
5.

Campsite Visitor's Center
Most campsites will have a visitor's center where you need to check in find information, so here's how you could make one for your own ACNH island.
Start with some den desks for the check in counter, and top them with the most official-looking decorations you can find.
I'm talking about stacks of papers, rotary phones, bookends, and even a judge's bell!
Put some wall mounted TV's up on the wall, obviously, to display important announcements for your guests.
Next, cover your cabin wallpaper with tons of custom designs. Add leaflets that talk about your campsite, the local animals, bugs, and plants.
This custom lobby even has some drink and snack machines, a water fountain, and two log chairs for all the guests waiting to check in. I'd say this player really went the extra mile here.
4.

White Contemporary Cabin
Sometimes it's simply the color scheme that sets a design apart.
Can you guess what the color scheme is here?
Pretty much all the furniture, flooring, and walls can either be bought or customized to have a purely white style. So this is definitely doable on your own island.
The fireplace is white. The tapestries are white. The rattan chairs and waste basket are white. The double door refrigerator is white. And guess what: the double sofa is white too.
While those can all be purchased, you'll need to craft and customize the deer head decoration, wooden table and chairs, rocking chair, and acoustic guitar.
The only problem is, you might not want to spill anything in here…
3.

Holiday Hideout
The Christmas theme in a cabin works surprisingly well for some reason.
Perhaps it's because trees are made from wood?
Whatever the reason, you'll definitely want to hold onto all your Toy Day decorations for this one.
If you managed to shake tons of ornaments off cedar trees, then you can craft ornament wreaths, big festive trees, and festive candles.
Then just place your favorite toys around the tree such as baby bears, toy boxes, a dolly, a rocking horse, or even puppy plushies!
And you can couple the Christmas aesthetic with typical furniture like a fireplace, log sofas, tables, chairs, and wooden bookshelves.
I think Erik's photo on the wall is a nice nod to Rudolph for the holidays, too!
2.

Northern Lights
I'm just going to come out and say it:
This idea is flat out genius.
Making a room inside your house to match the exterior of a cabin way up north is just incredibly unique.
The most important thing you'll need to re-create this for yourself is the aurora wall and ski slope flooring.
The "walls" are actually simple panels customized to look like the outside of a log cabin.
And some recommended indoor furniture would be a wooden bookshelf, wall mounted candles, and an ironwood bed.
Once you setup with some campfire cookware, tiki torches, and log stools, you're free to enjoy the mountain life!
1.

Writer's Solitude
I'm an introvert who writes online articles, so it should be no surprise that this idea stands out to me.
To make this idea on your island you'll want to start with a fireplace, because it's a cabin after all.
Then craft a log dining table from some hardwood and purchase a double sofa so you have a comfortable place to get those creative writing juices flowing.
I also like the added rocking chair and candlesticks. Very cool little pieces that definitely add to the warmth of the room.
Seriously, though, I wish I actually lived here.
Browse:
Animal Crossing
Lists
Video Games