20 ACNH Campsite Design Ideas For Inspiration
This post may contain affiliate links. If you buy something we may get a small commission at no extra cost to you. (Learn more).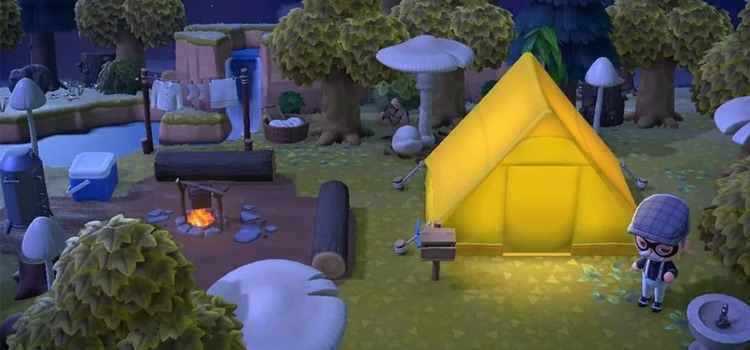 Did you ever think a raccoon could have you running around completing so many errands when you first decided to jump on a plane to a deserted island?
Have you found the perfect spot for that campsite Tom Nook wants built?
Well it's time to make the dream pitch for your island with a brilliant campsite design! And these ideas are here to help.
We've created a list of some of our favorite campsites for ACNH inspo, so dive in and see what you think!
20.

Campsite with a Moat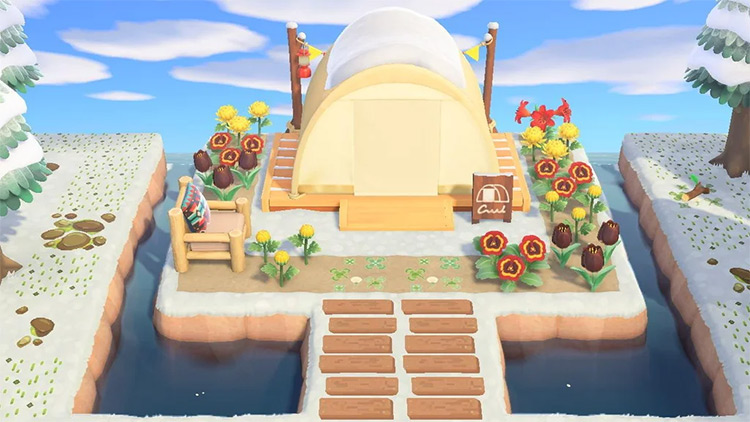 How cool is this design?
It's such a simple idea that you could really build on top of.
Add some log benches and a campfire for a more rustic feeling. Or you could even turn the path leading up into stepping stones to give it more of a rural feel.
Also, maybe try making the river wider on either side of your camp to create the ideal fishing spot.
19.

Calming Campsite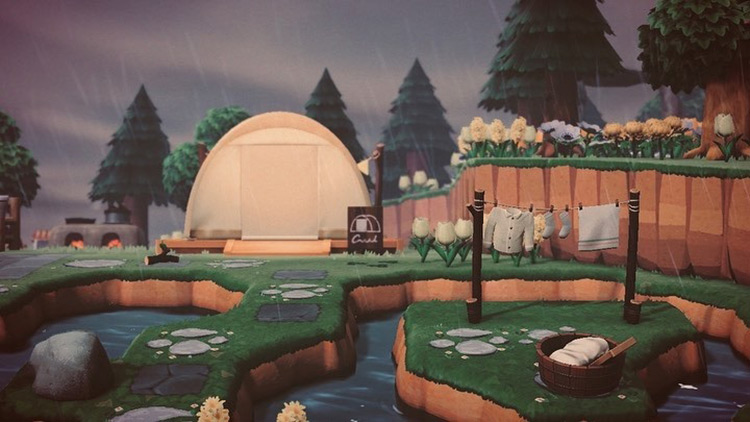 Who's staying on your island campsite this week?
Well no matter the weather, this secluded campsite gives off a calm and peaceful vibe.
How cute would this look with its very own orchard, too? Plant some of your native fruit trees and toss in a stone table & chairs to make a small picnic area.
Or find your favorite blanket design, add a picnic basket & a candle, then feast to your heart's content sitting beneath the trees.
18.

Woodland Campsite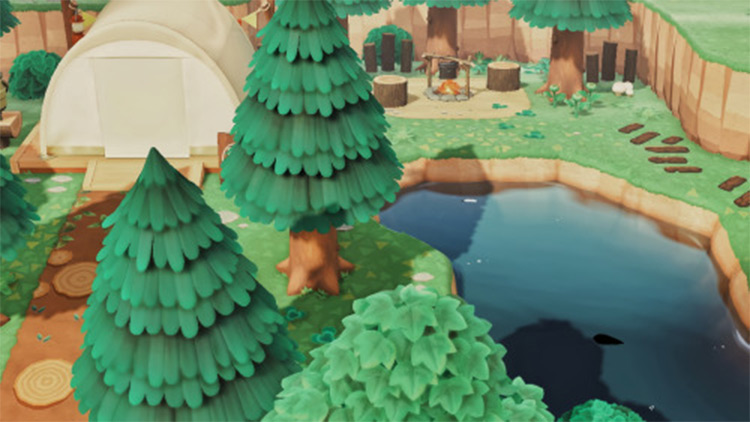 One look at this design and you can almost breathe in that fresh woodland air. What a way to begin your day!
Make this campsite a bug's haven by adding colorful flowers between the trees. Flick will love it!
You could also add a campfire and cushions for the coziest place to roast marshmallows.
Or add in a telescope to do some stargazing at the clear skies above. Imagine the view when there's shooting stars dancing in the night sky.
17.

Rural Campsite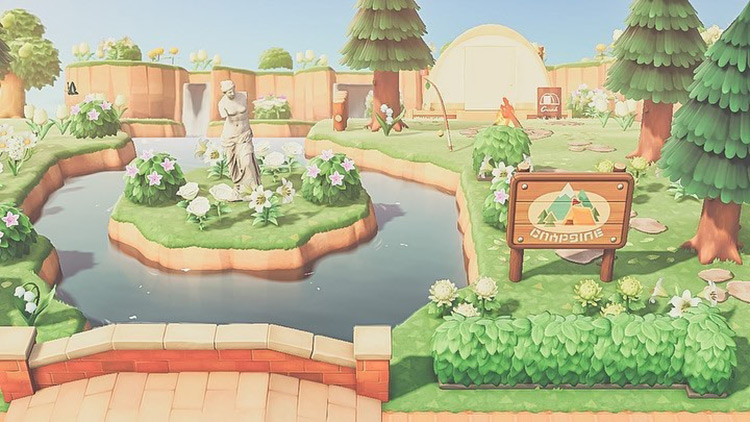 Imagine walking along the bridge here and seeing this beautiful sight. Who wouldn't want to spend the night here?
You can give this camp a nature feeling by adding a birdhouse and beehive to attract the local wildlife.
Add a brick well as a centerpiece with some cute stone flooring designs to surround it.
Or create a bamboo garden in there. Just plant some bamboo trees & add a bamboo bench and hearth. Follow it up with a stone style path curling around your trees to make the go-to place for a stroll.
16.

Waterfall View Campsite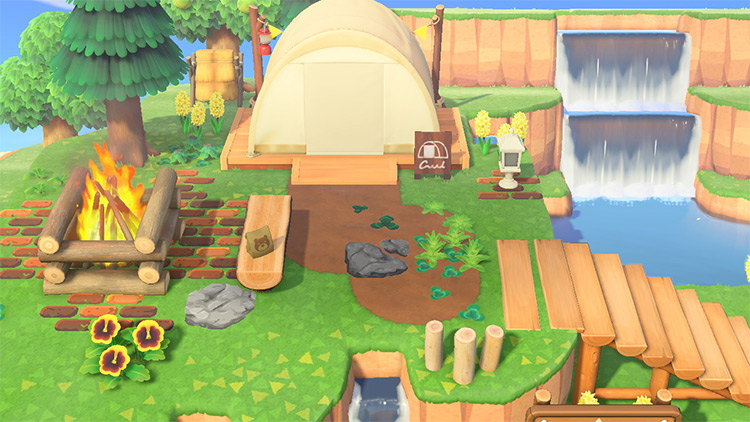 Check out that view!
I love the wooden steps here that take you up to your very own campsite. And I totally agree that the campsite sign from Pocket Camp does pull it all together.
I'd convert the small area by the steps into a fishing spot. Just add a wooden bucket and some decoy ducks to give an outdoorsy feel.
And you could place the campfire cookware or clay furnace anywhere in here, to provide some cooking with a view for your hungry guests.
15.

Pink Campsite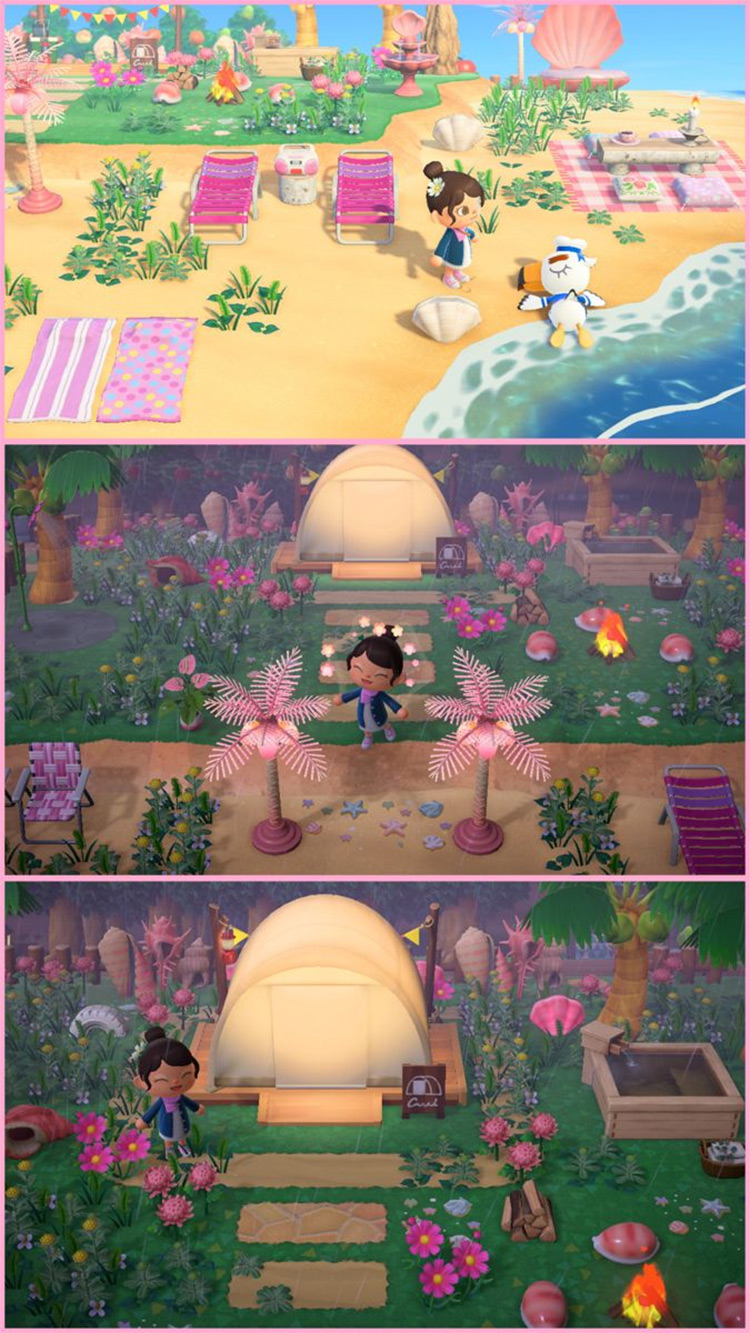 Imagine exploring this fairy paradise with its very own tropical beach!
The mixture of nature and beach vibes fills this campsite just straight-up feelings of fun.
Not a fan of the color pink? Add your favorite color instead!
You can make the beach the go-to spot on your island by adding your very own diner, too.
Or make a boardwalk using a wooden pattern, and put the diner neon sign down to attract your islanders far and wide. Then place the diner mini table and chairs down and enjoy some coconut juice among friends.
14.

Forest Campsite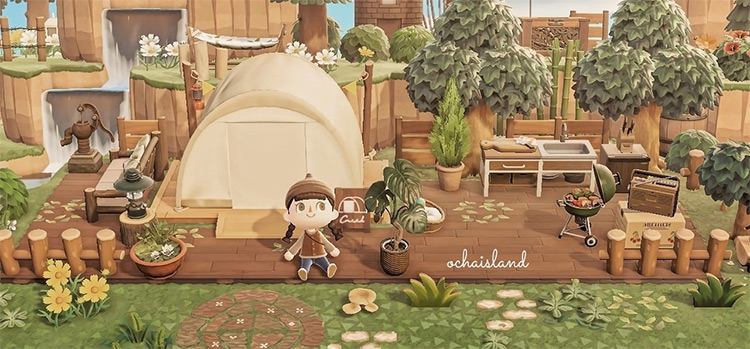 I love the woodland theme of this campsite.
All the décor and nature come together to create such a special place.
You could add an incline to make this campsite over two tiers, all with your camp below and living area above.
Or you can give this design a cottagecore vibe by adding more flowers and trees. Then instead of the wooden boardwalk you could just find a stone design with mushrooms or flowers.
Now let's say you're not a barbecue fan? Just add a built-in brick oven to keep the more natural tone, and surround it all with log stools to sit and enjoy the company of the islanders as you chow down on some home-made grub.
13.

Oceanview Campsite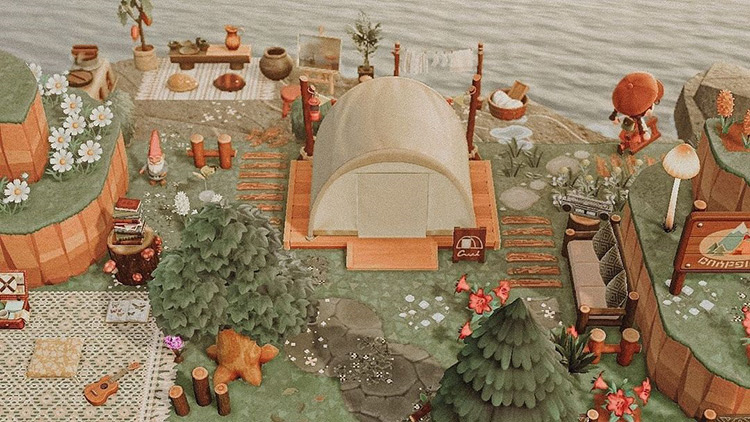 How creative is this one?
It's amazing what you can do with a good view!
This campsite is just incredible, but maybe you want some more scenery?
Plant a flower garden with different types of flowers (imagine the hybrids you could get). Then add an elaborate kimono stand to really stand out from the crowd.
Or do you want to give a more relaxed theme? Add some hammocks and cushions with a fluffy blanket design to show comfort is your ultimate priority.
12.

Homey Campsite
Give your villagers a home away from home experience.
I love the mixture of flowers with the watering can and the boardgame set up on the table.
Add some garden lanterns to light your way around the camp, and a handcart next to the watering can will show everyone how much of a pro gardener you've become!
Keep the garden theme going by swapping the log furniture for an iron table & chairs set, with a picnic basket if you get peck-ish.
11.

Greenery Campsite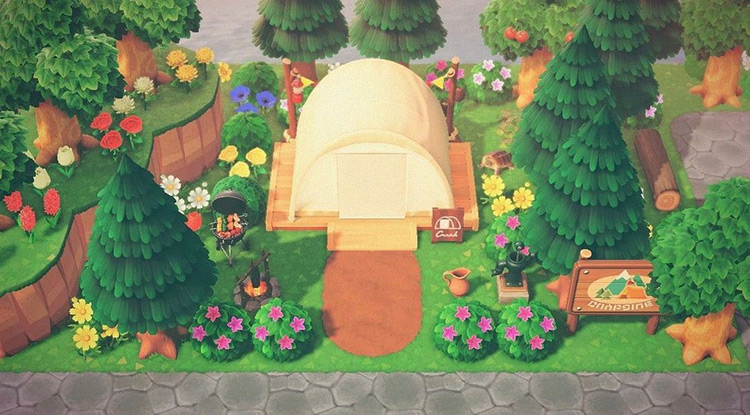 Small and simple, this campsite is great for keeping a natural aesthetic.
The different types of trees, flowers, and bushes all add a quaint "one with nature" feeling, along with the stone path and view of the sea.
You can even add a theme to this area by using the same type of furniture and décor. Complete with log furniture or the garden items, add in a natural garden chair with the garden faucet too.
And maybe throw in some lanterns to give the perfect backyard garden vibe.
10.

Log Campsite
I love the log furniture in ACNH!
This campsite offers a bit of everything that your villagers would need for the perfect stay.
If you find the dark colors of the log furniture a bit dull, you could even add a light-cultured stone to cover the floor.
Then plant some white or yellow flowers all around, or mix in some rattan furniture to brighten up the place with added comfort.
9.

Castaway Campsite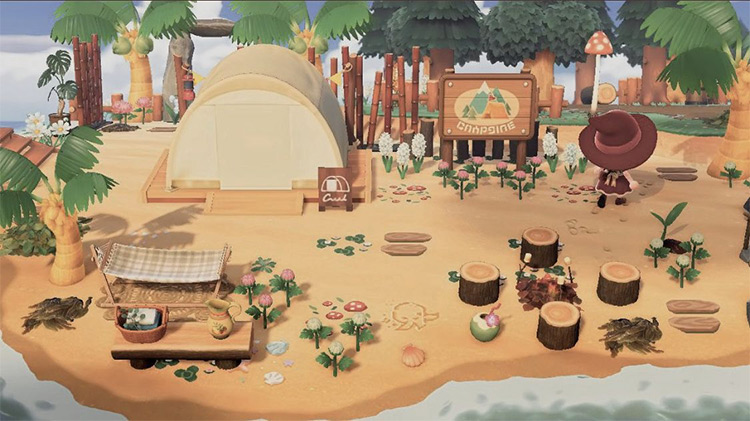 Now this campsite feels like you've come to visit a deserted island!
The shells, palm trees, and bits of stray driftwood give this campsite the best remote island effect I've ever seen!
Add in some tiki torches and a log fire to light up the golden sand at night. Or place an outdoor bath near the crashing waves to create a rock pool.
And be sure to add a shell table to rest your coconut juice on. You'll be sipping a lot of it.
8.

Waterfall Campsite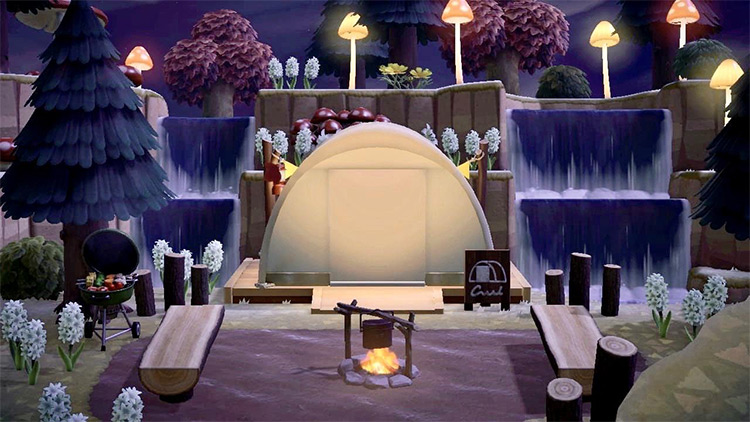 The scenery of this camp all lit up in the dark is amazing.
The double waterfalls with the mushroom lamps give off a fantasy feeling that I'm totally here for!
You could add in some fruit trees to carry on the mystical woodland vibe, and place a simple DIY bench between the trees for the mysterious designer.
Or add in a simple well to echo the deep noises coming from the forest.
But definitely keep this fairy-tale theme going by adding a spinning wheel hidden away in a dark corner. If only we could add Little Miss Muffet, right?
7.

Clifftop Campsite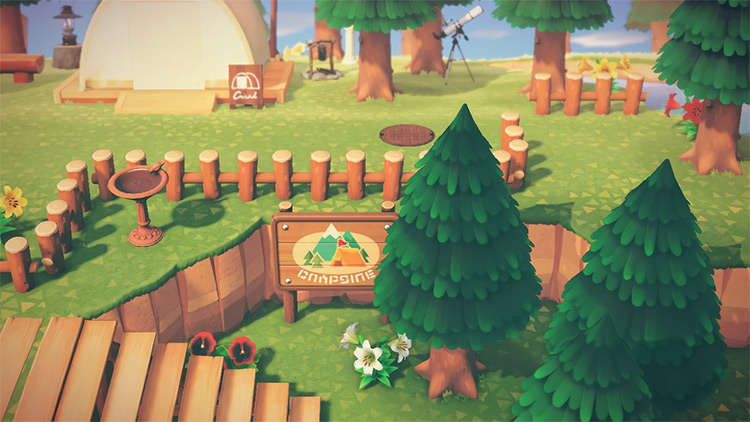 This secluded getaway is so serene and calming.
From the fir trees, winding river, and clifftop design, it's one of my favorites.
Add a swinging bench and some tall lanterns to create a charming seating area.
Or drop in a water pump next to the river just to give a rustic feeling to the space. You can even add in some wild log benches with some flowers dotted around, just to give off a woodland vibe.
6.

Hidden Campsite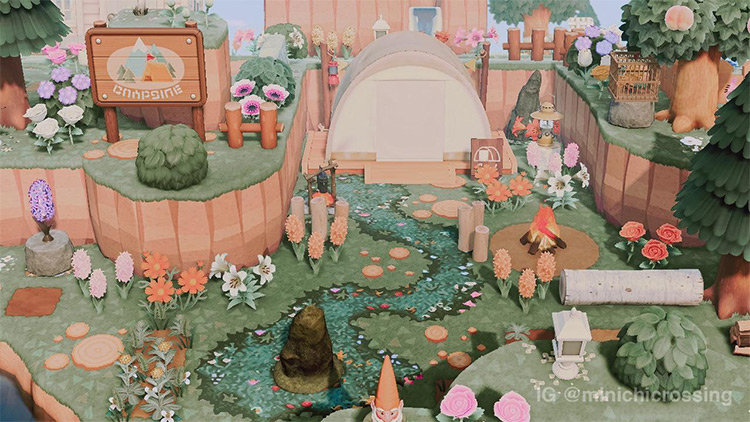 How beautiful is this mushroom and flower grass path?
The use of stones, campfires, and flowers gives it a mystic theme.
And if you want to expand this campsite you could add some differently-colored leaf piles dotted around the trees. Maybe even an artisanal bug cage near your tent to show off your latest catches.
Then add some bamboo pieces to this campsite to give it a more Asian-inspired theme.
The bamboo basket and noodle slide off to the side will brighten up the cliff with extra things to do.
5.

Cozy Campsite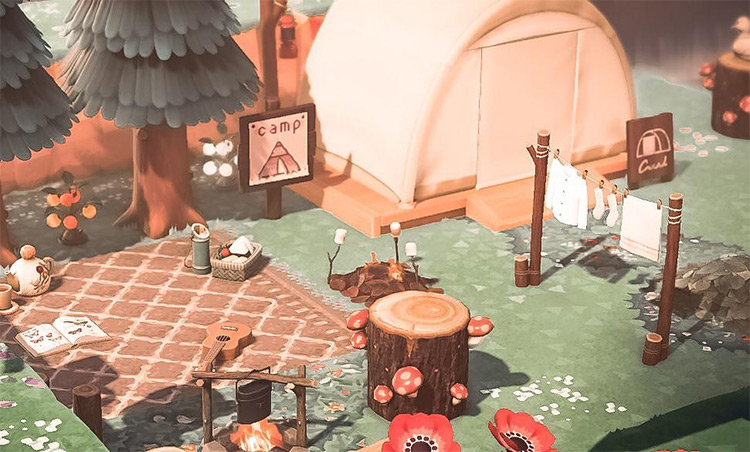 This quaint little camp has captured my heart. I don't know if it's because I'm British, but the teapot and mug on the blanket here instantly make me feel at home.
The cherry blossom furniture and décor from spring 2020 look lovely in this campsite.
You could also add some cherry blossom tree branches, and a pile of cherry blossoms, just to give this space a makeover ready for spring!
And using different seasonal items you've collected, you can make subtle differences to how your campsite looks and feels.
4.

Beach Campsite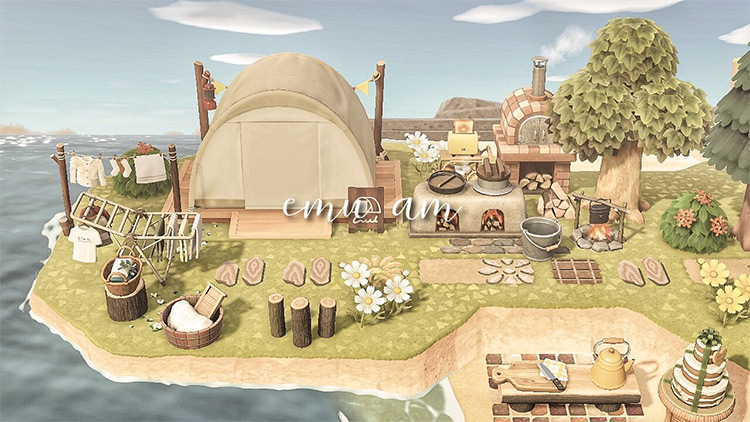 I love the use of both the island and the beach for this campsite idea.
The seclusion of the camp surrounded by the cliff with its own private beach is such a clever idea!
And the mixture of log and rattan furniture gives a truly natural feeling. Not to mention the use the different designs for the flooring. They just compliment this area so well.
Add in some mushroom furniture to keep the vibe going. And you can scatter some mushroom lamps and logs wherever it tickles your fancy.
3.

Getaway Campsite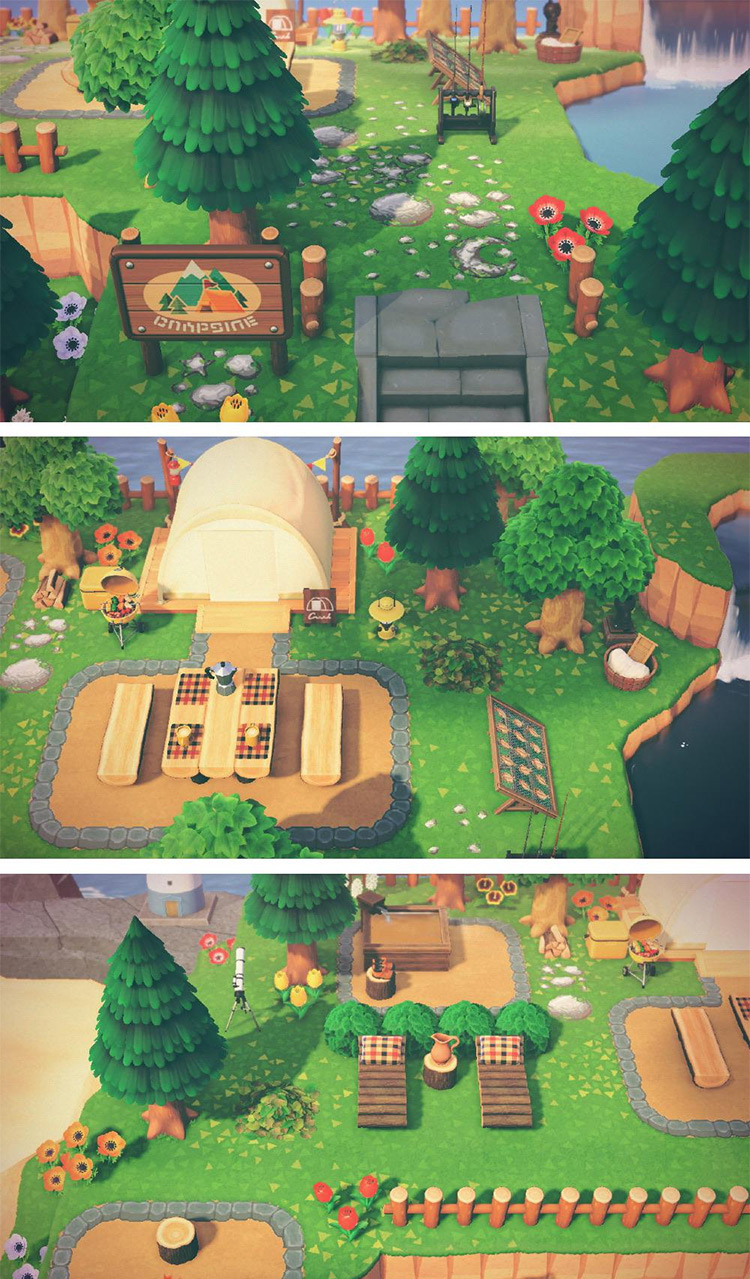 With its own picnic area, spa, and fishing spot, what more could you want for an island campsite?
This is glamping at its finest.
Give this campsite an old-fashioned zen style by adding some pots and zen cushions to your picnic area. You can even place some uniquely-sized rocks around your trees, and a gong as a centerpiece to your camp.
Adding a zen theme to a secluded campsite can give it a truly calming and relaxing vibe.
2.

Riverside Campsite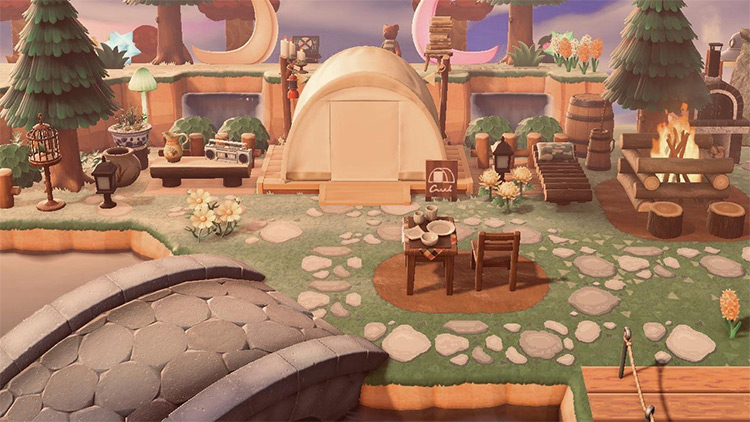 How gorgeous is this camp when the sun's setting?
With all the little bits you could possibly need, there's no better way to make your guests feel right at home.
The stone bridge and custom path are a beautiful touch, along with the log fire and mushroom lamps.
You could even give this camp a fruity feeling with a fruit basket and fruit water dispenser, then add an orchard nearby for a quick bite.
1.

Perfect Campsite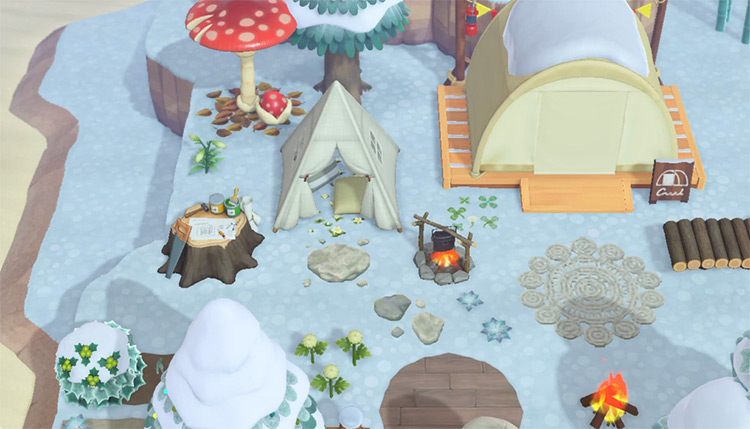 Well here we are. My number one favorite campsite idea!
Check the full video on YouTube, it shows exactly how they built the whole camp, and it's brilliant.
The time they put into this really shows.
And the use of different design codes to decorate the flooring, the trees, and the flowers really stands out. All the different seasonal items absolutely tie this design together.
Browse:
Animal Crossing
Lists
Video Games