ACNH Music Concert Areas & Concert Stage Ideas
This post may contain affiliate links. If you buy something we may get a small commission at no extra cost to you. (Learn more).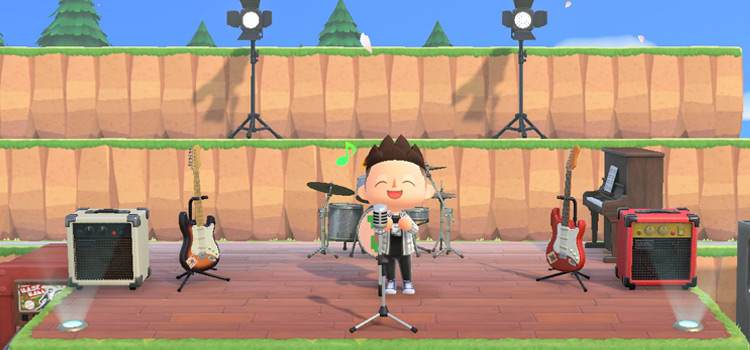 Bring your passion for music to Animal Crossing: New Horizons by building the concert stage of your dreams!
Whether you prefer a sold-out show or an intimate cafe, there are nearly infinite options for designing a spot for your whole village to move and groove to catchy tunes.
So grab your guitars and rosin your bow.
It's time to put down that fishing rod and swap it out for something a little more melodious. After all, you can tune a piano, but you can't tuna fish.
10.

Beach Nightclub
Living on an island means that you're literally surrounded by the beach…
Why not use all that surf and sand as a spot for your villagers to dance the night away to live music?
Instead of a stage, lay down a path design with squares in neon colors for a dance-floor look. Stage lights are an absolute must if you want to keep the party going all night long!
Of course, your party pals are going to work up a sweat moving and grooving to the live D.J. So it's not a bad idea to add a refreshment bar where they can grab a cold coconut shell drink under the glow of palm tree lamps.
K.K. Tracks to Set the Mood:
K.K. Disco
Aloha K.K.
K.K. Technopop
9.

Cafe Stage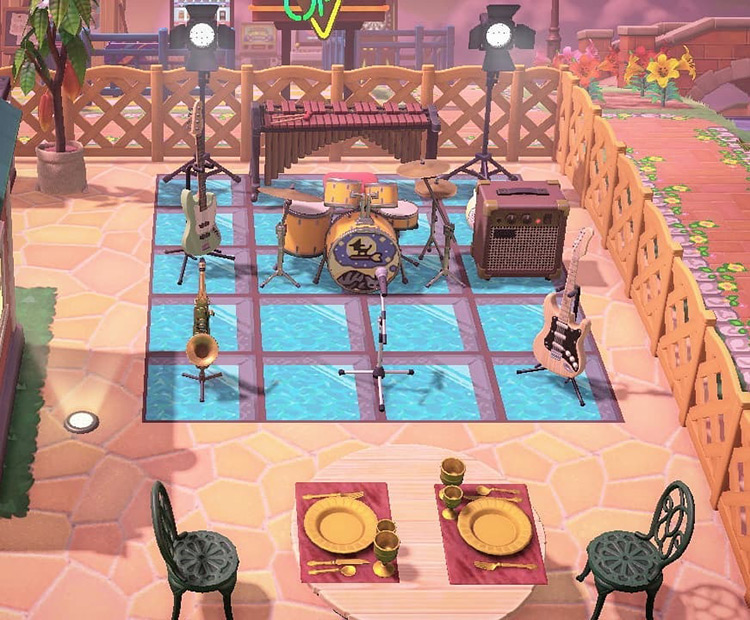 Dinner and show are a classic combination. So treat your villagers to some music with their meal by building a cafe with a stage for live shows.
This creator spared no expense, decking out the stage with a xylophone, two electric guitars, saxophone, microphone, and drum set.
That means diners can be treated to a range of sounds, from jazzy hits for brunch, to something a little moodier for summer evening soirees.
But the best part is that this charming cafe features a concert stage made to look like it's built on top of a glass floor over water!
It gives this restaurant a beachy look, and would create the perfect setting for a tiki-style bar or Hawaiian restaurant.
K.K. Tracks to Set the Mood:
K.K. Jazz
Cafe K.K.
Soulful K.K.
8.

Backyard Practice Stage
If your villager isn't ready to go public with their talents yet, you can build yourself a simple backyard stage to practice your moves until your big debut.
When you're not testing your latest choreography for your upcoming dance track, your amateur playwright neighbors can use the standees and stage for rehearsal.
To create this versatile performance space, add an area backstage to store extra propsk, or put your favorite concert-ready outfits on display.
Finish it off with plenty of seating, plus little extras like a popcorn machine or microphones.
K.K. Tracks to Set the Mood:
Spring Blossoms
Wandering
K.K. Calypso
7.

Basement Concert Hall
Impress your friends with a fancy concert hall right in your home!
Dim the lights and drape everything in a dark heavy fabric.
This creator used classic red curtains, but black or grey would also add to the ambiance.
For a classic concert hall, you won't need electric guitars or stage lights. Instead, set up a grand piano, music stands, and a harp.
The in-game organ is an impressive instrument, and it can serve as the centerpiece to your stage.
Skip the floor lights and opt for iron lamps. They add an old-fashioned vibe that suits the more serious tone of this indoor amphitheater.
K.K. Tracks to Set the Mood:
K.K. Lament
K.K. Love Song
K.K. Chorale
6.

Outdoor Symphony Orchestra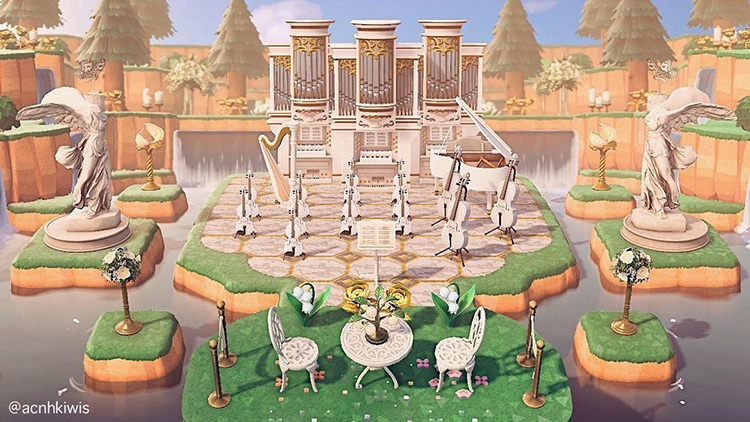 If you love the idea of a symphony orchestra, but prefer a light and airy mood, then move your venue outdoors.
Mix up the color scheme by swapping out the wood tones and stormy neutrals for heavenly creams and glistening gold.
This creator upped the romance by adding a separate island set for two, making it the perfect place to take your sweetheart for a mid-afternoon concert.
Use your own keen eye for detail to create a sophisticated setting.
Candles, bouquets, statues, a gilded stage… With a bit of imagination, there's no limit to elegance and extravagance!
K.K. Tracks to Set the Mood:
Mountain Song
Stale Cupcakes
Two Days Ago
5.

Lifted Concert Stage
Your concert stage deserves to be as epic as the jams that are played on it!
Typically, only hydraulics can lift a stage.
But with a little terraforming, you can skip the machinery and turn part of your island into its own performance platform. This natural approach to stage-building is a definite departure from the orchestral setting, but it has its place in more rural communities.
Get creative with your seating area by adding a waterfall coming off the tiers and spilling into the river below.
Then, add cushions and firepits to create an inviting, rustic space, where your villagers can enjoy live music without catching a chill.
K.K. Tracks to Set the Mood:
K.K. Folk
K.K. Fusion
K.K. Country
4.

DJ Booth
Does one of your favorite villagers have big dreams about spinning records?
Want to host an impromptu dance party for a few friends?
Then it's time to deck out your island with your very own D.J. booth!
You can make it as funky as you'd like, or keep it simple, so it's easy to dress-up for special occasions.
This designer went all-out with lava lamps, rocketships, and of course, D.J. Godzilla.
Since K.K. is only available on the weekends, you can keep the party going all week long by dressing up in your favorite house party getup and operating the booth when our favorite concerto canine isn't around.
K.K. Tracks to Set the Mood:
D.J. K.K.
K.K. Reggae
K.K. Ska
3.

Plaza Music Studio
For towns that like to gather together for casual jam sessions, a plaza music studio means your neighbors never have to wait to show off their talents.
Because this isn't technically a stage, you don't need a lot of room for dancing or prop design.
Instead, use as much of the space as you can to showcase your growing collection of musical instruments in whatever arrangement makes the most sense to you!
To make this feel more like a "garage band" practice area, place a couple of couches or cardboard boxes in empty spaces around your instruments, or move from the plaza to your basement.
K.K. Tracks to Set the Mood:
K.K. Rockabilly
Neopolitan
The K. Funk
2.

Pop Concert Stage
Give your peppy villagers the ultimate gift by creating a pop concert stage for them to finally fulfill their lifelong dreams!
It's almost un-bear-ably adorable to imagine Bluebear, Cheri, and Tutu as the ultimate pop idol group, putting on a concert for your whole town.
For a pop stage, you'll need to go all-out with the glitz and the glamour.
We're talking fireworks, tons of cute props, and plenty of seating to accommodate sold-out shows.
If you really want to make the ultimate pop venue in New Horizons, plan out a palette that emphasizes pinks, blues, and purples.
You can then choose lighting that accentuates the candy-colored extravaganza, and invite your friends to get down to the happy beats all night long.
K.K. Tracks to Set the Mood:
Bubblegum K.K.
Go K.K. Rider!
K.K. House
1.

A Whole Music Festival!
Sometimes narrowing down all of your design ideas for a music venue just isn't possible.
You have a lot of creativity, so let's put it to good use by going all-out with an entire music festival design!
Combine all of your favorite ideas from this list into a huge event, complete with multiple stages decked out for different music genres…
Bright and flashy pop stages, dark and grungy punk stages, even retro disco dance zones!
Of course, you'll need to keep everyone well-fed for this multi-day party.
All that dancing is going to work up an appetite! So create food booths with musical names like The Peach Boys Desserts, Buns and Roses Burgers, or Mötley Crüdités for your resident veggie lovers.
Finally, spare no expense when it comes to accommodations.
Lay out plenty of blankets for sleeping under the stars. Set up fire pits so folks can stay cozy even on chilly nights.
But, perhaps most importantly, don't forget the portable toilets!
K.K. Tracks to Set the Mood:
K.K. Gumbo
K.K. Cruisin'
K.K. Adventure
Browse:
Animal Crossing
Lists
Video Games