Magical Disney Island Ideas For Animal Crossing: New Horizons
This post may contain affiliate links. If you buy something we may get a small commission at no extra cost to you. (Learn more).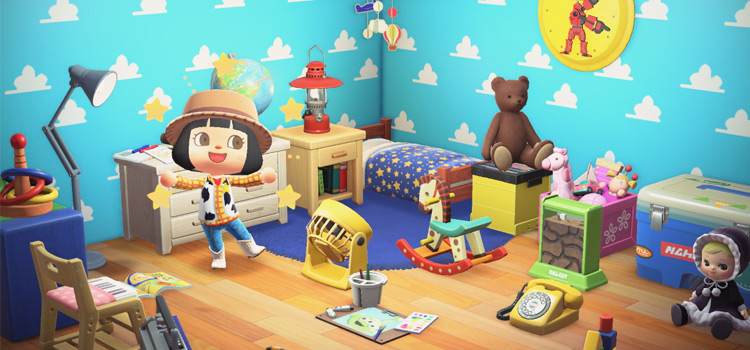 Who doesn't love Disney?
They have so many iconic movies, that even if you don't like 'em, you're bound to know most of them.
And if you have a favorite Disney movie, then maybe you've wanted to design part of your Animal Crossing Island inspired by it.
Or maybe you'd just like to recreate some of your favorite Disney parks instead.
Either way, here's a bunch of ACNH ideas to help you get building your own magical Disney adventure!
10.

Princess Park Standees
Here's a simple idea that you can add to your little heart's desire on your island.
This is because recently, we got the ability to add amusement park standees into our Animal Crossing builds.
And you've probably thought, "What the heck do I do with these?"
Make them look like your favorite Disney Princess!
Jasmine, Belle, Rapunzel, Snow White, Cinderella, all at your disposal.
You can also do any other Disney character if you wish, not even just the princesses.
And on another note, the cherry blossom trees do help create a more magical Disney princess design here.
9.

Disney Cake Pop Shop
I don't know what compelled this player to create a cake pop shop, but it's hilarious and I love it!
For this you'd need an antique mini table and chairs for the dining area, as well as a stall and menu board.
Use your favorite desserts to decorate, such as the First Anniversary Cake, or my personal favorite: the pi pie.
Next comes the most important part:
Customizing simple panels to show your lovely cake pop display.
You'll want a design that clearly displays your pops as different Disney characters shaped like Mickey Mouse. I personally like the pop of the Little Green Alien from Toy Story.
8.

Hercules Inspired Room
The first Disney movie my older sister ever saw was Hercules, and I'm sure that's true for a number of you as well.
To re-create this Hercules themed room, start with some Above-the-clouds wallpaper and cloud flooring to set the scene of being on Mt. Olympus with the gods.
You'll also need star fragments to craft two nova lights, and snowflakes for the two frozen pillars to create the glorious archway.
And for the golden seat, you'll need some gold. Plus iron to make prison bars for the gates.
The best part of this design is all the statues and zodiac items you see strewn across the floor. Fits so well with the theme.
The Taurus bathtub, robust statue, Virgo harp, and valiant statues are some of my personal favorite items in ACNH that bring this scene to life!
7.

Coco Día de Los Muertos Display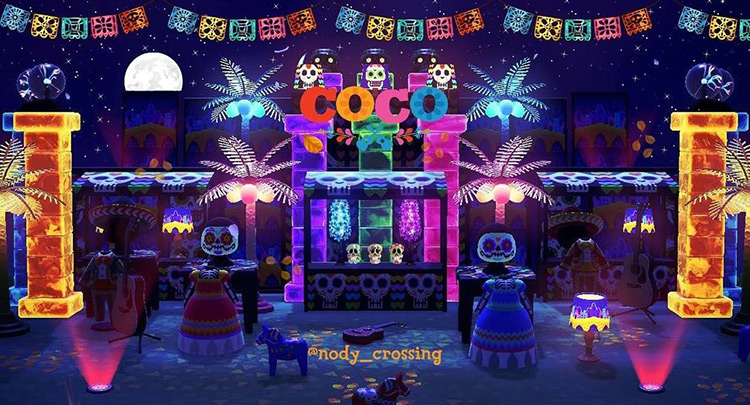 Disney fans, don't you worry.
Unlike the movie, you won't need any tissues for this wonderful Coco-themed display!
But you will need to have saved plenty of snowflakes to craft and customize the many colorful frozen pillars in this idea.
There's a bunch of stalls here you'll also want to customize with sugar skull designs.
And you'll probably want some Coco-nuts (get it?) to craft the palm tree lamps that further illuminate this festive scene.
Lastly, buy some sombreros, mariachi costumes, and acoustic guitars. That way you can play along with the Día de Los Muertos celebration.
6.

Toy Story Toyland
Ah, Toy Story.
The movie that set Pixar up for success, and one movie that fuels every 90's kid's nostalgia supply.
And just to say, let's appreciate the custom Buzz and Woody outfits here.
There's actually a lot of custom designs going on in this, such as the Toy Story logo, the toy block letters, and the various colorful panels.
A few actual items you'll need here are wooden block benches and tire toys, which you can craft.
You'll also want to spend some Nook Miles on some playground gyms and a lighthouse, as well as a papa bear from Nook's Cranny.
Oh yeah, and buy plenty of toy boxes to display around the scene. Because toys!
5.

Alice in Wonderland Area
Recreating specific scenes from Disney movies is honestly a brilliant idea.
Here's a custom forest from Alice in Wonderland that truly is… well, wonderful.
You'll want to start with jungle flooring and wallpaper to set up the room.
Next, craft tons of standees. Tree standees and grass standees, as well as some angled signposts.
Then lastly, you'll want various foliage-like items to liven up the scene. These can include a cacao tree, bamboo speaker, and palm tree lamp.
4.

Mulan Reflection Pond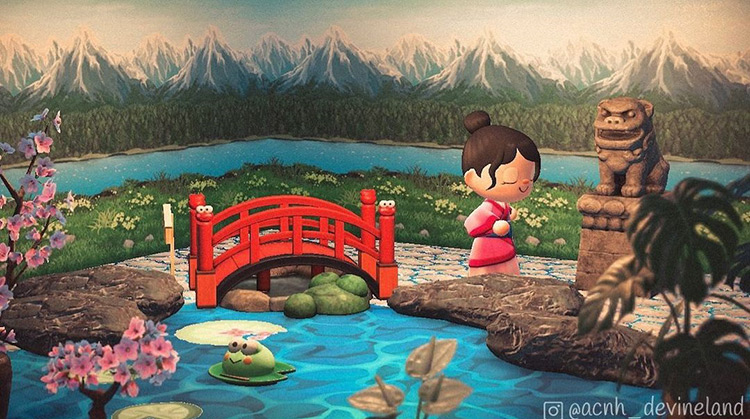 Now here's another movie scene recreated in New Horizons, but I personally think this one is more polished and lifelike.
The field wall beautifully recreates the mountainous background of Mulan, and the water surface flooring makes the pond scene more dynamic.
And with the ACNH 1.9.0 update, you can purchase a Kerokerokeroppi Bridge for your home to recreate this musical number.
The last thing you'll want is a few items to give the pond some life, such as a Kerokerokeroppi Snack, pond stones, and a stone lion dog.
Once finished, take some time to relax and reflect in the pond like Mulan.
3.

Custom Wall-E Junkyard
Wall-E has always been one of my favorite movies.
So I had to share this idea when I found it.
This idea is not overly stunning or complicated, but the item utilization is ingenious!
Obviously, cardboard boxes are needed to recreate the various trash piles of Wall-E's futuristic earth.
You'll also need to fish for a boot and a can, as well as placing a sapling (rather than planting it) so that Wall-E's plant can be displayed.
Eve is simply a custom design on display, but Wall-E is much more complicated.
For that you'll want to place two tire toys, an amp, and a tourist telescope front to back. This should bring everyone's favorite robot buddy to life!
2.

Andy's Bedroom
I already discussed a Toy Story-themed idea, but I think this one is on a whole new level in terms of creativity.
I mean, it's Andy's freaking room.
And it's done exceptionally well!
Again, you have the custom Woody outfit and some toy boxes.
The blue playroom wallpaper perfectly captures the atmosphere of Andy's cloud wallpaper, and the wooden bed is customized here to a space design, just like Andy's Buzz Lightyear bed.
Some other items that stand out here are the cork board, custom throwback rocket, and mobile.
Then there's the folding floor lamp, which is a nice nod to the luxo lamp that's basically the mascot of Pixar!
1.

Main Street Disneyland
Raise your hand if you've been to a Disney theme park.
While I can't see any of you, I'll bet a bunch of you have at least been once.
Well here's an absolutely marvelous recreation of a Disneyland main strip that you can also bring to your island.
The float consists of a springy ride-on, garden wagon, two dresses, festival garland, bunny day festive balloons, and general festival balloons from front to back.
The buildings along the streets make use of different elevations and customized simple panels to hide the cliffs.
Lastly, place some streetlamps and garden benches along the street.
Now the whole island can enjoy your Disneyland parade!
Browse:
Animal Crossing
Lists
Video Games