15 Simple & Easy Island Ideas For Animal Crossing: New Horizons
This post may contain affiliate links. If you buy something we may get a small commission at no extra cost to you. (Learn more).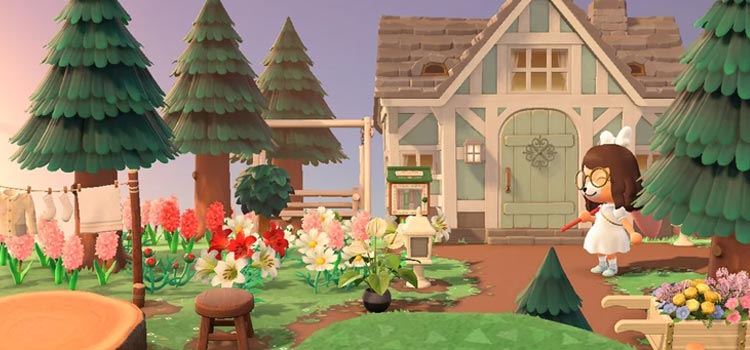 In the early stages of Animal Crossing: New Horizons, there isn't too much that can actually be changed on your island.
However as the game continues, K.K. Slider will come to perform on your island. And after this, terraforming is eventually unlocked.
This allows a bunch of new adjustments to be made, how cool right?
But where do you start? It can be overwhelming. And we've all been there.
Well we've compiled a list of our favorite easy-peasy island ideas. These are all easy to recreate, even for newer players.
So buckle up as we take you on a wild ride through heaps of simplistic island ideas for ACNH.
15.

Cozy Picnic Area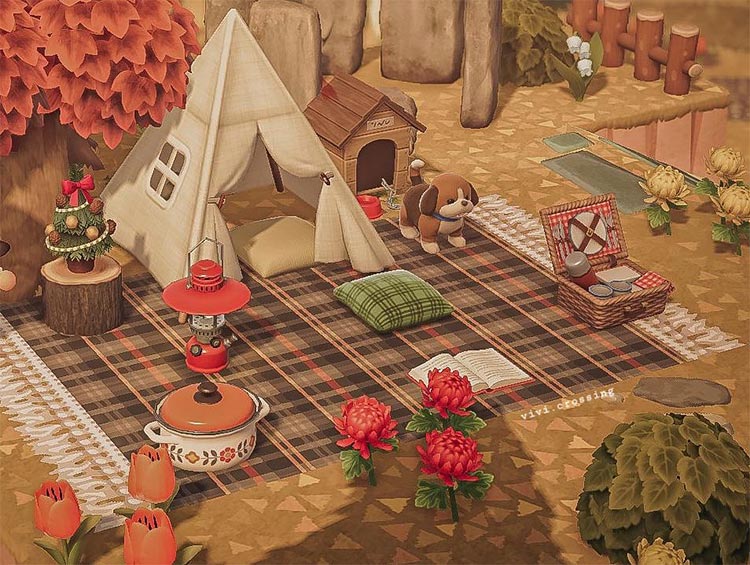 We all need a place to kick back and relax after a hard day fishing and bug catching.
And there's no place like your very own picnic patch.
Creating an area like this is fairly simple. It only requires a couple of custom design slots to create the perfect blanket (this one even has tassels around the edges!)
Then add some cute flowers around the area, a picnic basket, and tie it all together by adding a Kid's tent for those ultimate relaxing vibes.
Of course, we can't forget the dog's house. Or the puppy. Because puppies make everything better, right?
14.

Outdoor Library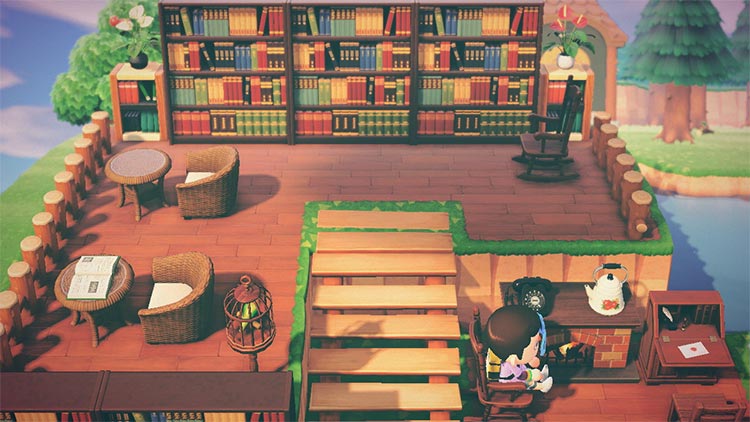 Calling all book worms!
An outdoor library is a must have on your island. And it's super simple to do.
The best part is that the bookshelves come filled with books, so all you need to do is find the perfect reading spot on your island and pop them down.
They're customizable too, so you can select the perfect color for your library.
Don't forget to add a few tables, a cute fence, and finish strong with a rocking chair. So you can read your favorite book and watch the sun go down at ease.
13.

Salon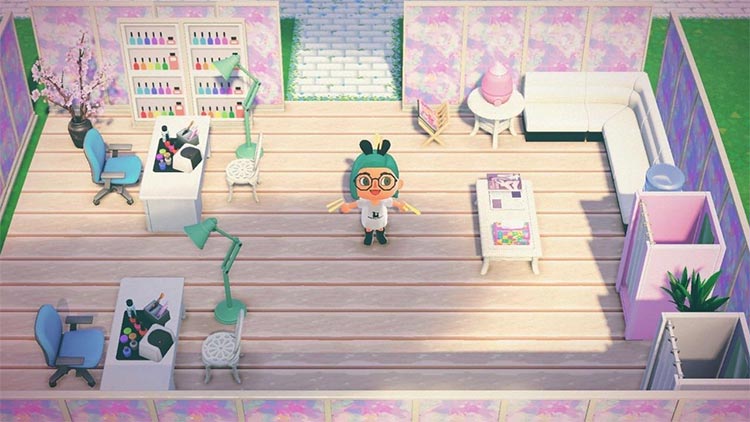 If you want to treat your villagers to some pampered paws, it couldn't be simpler to create a salon on your island.
Add a splash of color by customizing some simple panels with your favorite patterns. You can also use simple panels and custom designs to create your product shelves, too.
Pop in some seating to serve as a relaxing waiting area, plus the actual salon tables, and you've got yourself a beauty hut.
As soon as your villagers hear about your grand opening, business will be booming!
12.

Surf Shack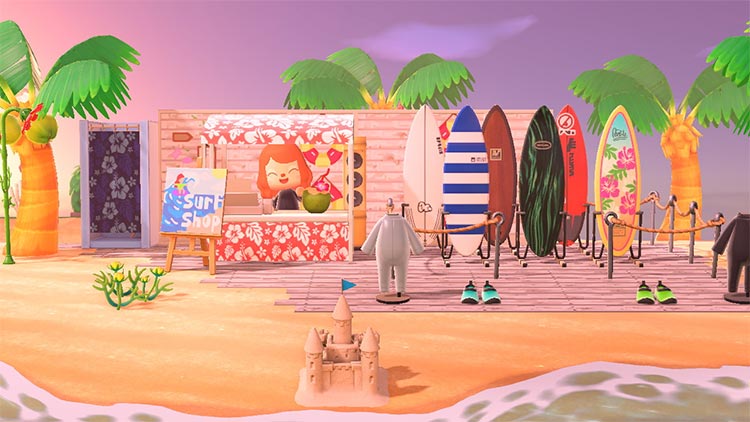 Tired of waiting for summer? You're not alone.
So why not bring the summer to you by creating a surf shack on your beach?
All you need is a custom stall with your favourite tropical design. Then add some surfboards and some extra cool sandcastles.
Don't forget to surround your shack with coconut trees too.
You can even leave your wetsuit and snorkel out on the sand, so you're always ready to ride those waves!
11.

Hiking Trail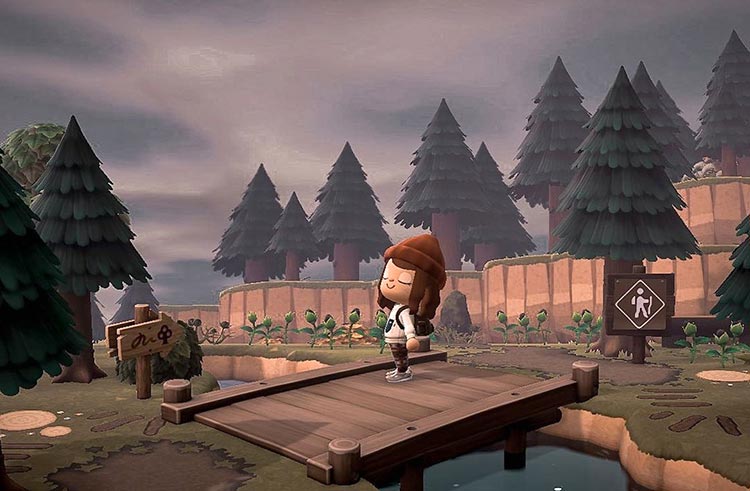 If you're wanting to give your island a more natural look, why not add a hiking trail?
Fill your island with hardwood trees and add a sleek path winding around between all those trees.
And you can mark the entrance of your hiking trail with a custom-made sign, too!
If you're really feeling adventurous, you could even add a cute little hot spring as a surprise for fellow hikers.
Invite some friends over to hike the trail with you. It's the perfect virtual hang out.
10.

Star Gazing Area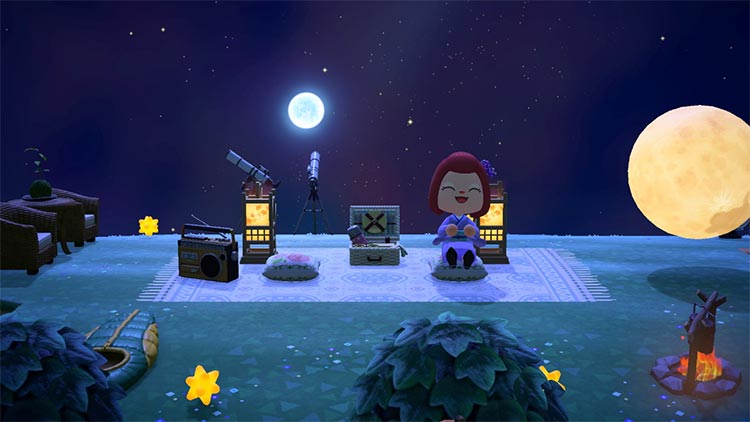 Are you always struggling to find the best spot on the island to see shooting stars?
Now you can reach for the stars with this super simple star gazing area.
Creating your own star gazing area gives you the perfect location to kick back and watch the stars roll by. It also serves as amazing photoshoot area, to get those Instagram shots with all your friends.
All you need is a couple of telescopes, your favourite rug designs, and some lanterns. You'll never miss a shooting star again.
9.

Pirate Cove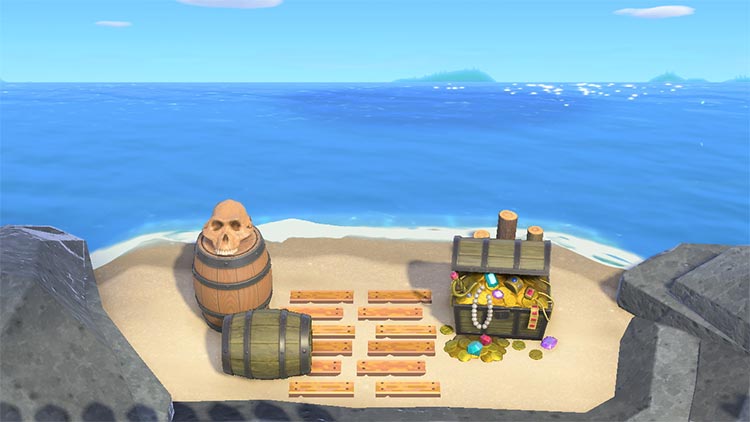 Release your inner pirate by creating your own smugglers beach!
This is so easy to do: gather your favorite pirate items, barrels and plenty of treasures should be in the mix.
Then arrange them on your favorite part of your beach. It'll look even better located on your secret beach, so be sure to locate that on your island map if possible.
And make sure you help Gulliver each time he washes up on your island. He'll reward you with lots of pirate items. Trust me, it will look ARGH-mazing!
8.

Zen Garden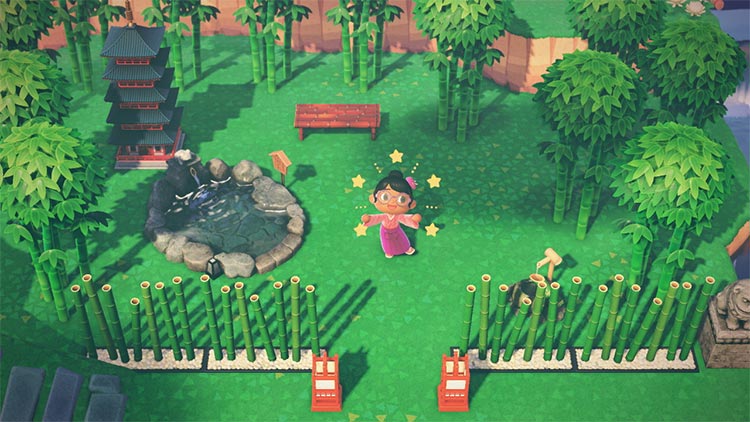 If you're someone who's at one with nature and just want to let the plants do their thing, then this idea is for you!
This garden design is the perfect place to meditate after a long day. And it's pretty easy to make.
Start by planting a bunch of bamboo trees and adding some fencing to give your island that zen garden feel. Maybe add a little rockpool and some statues to bring relaxation and tranquillity to your new meditation space.
Because who doesn't want to find their inner peace?
7.

Space Station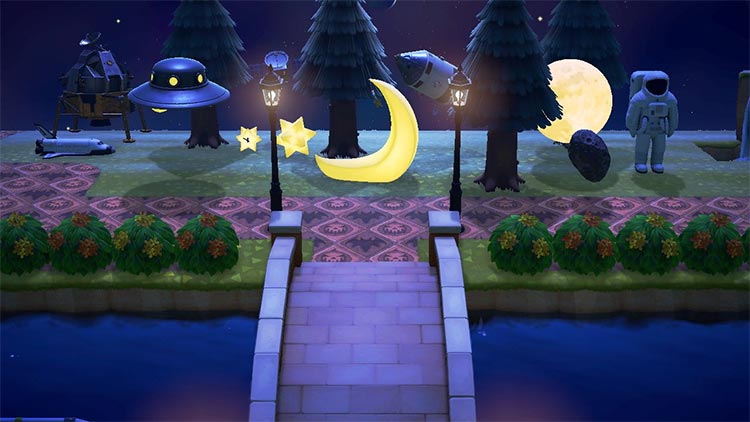 Send your island out of this world by adding your very own space station.
Creating this extra-terrestrial area couldn't be easier.
Simply add some of the space items such as the astronaut suit, crescent moon chair, and the flying saucer.
You can also scatter some spare star fragments around the area too for that true outer space feel.
The DIY recipes for these items can all be collected from Celeste. Just make sure you speak to her when she visits your island to gather them all (but she will only give you one recipe per day, so keep that in mind!)
6.

Grand Waterfall Entrance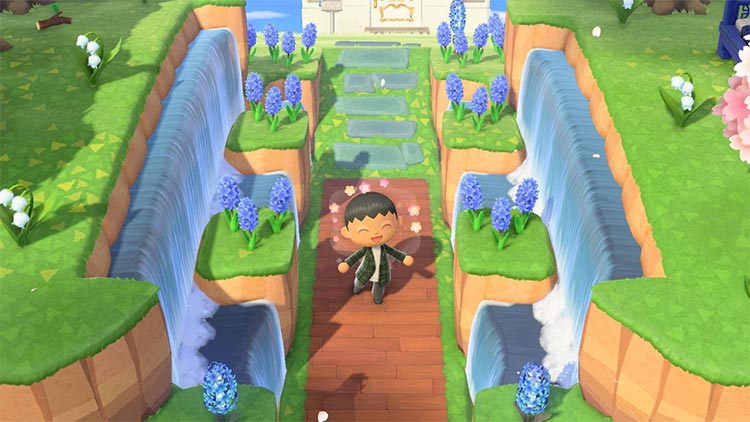 We've all been to visit other islands and were blown away by their amazing entrances.
But just how are they created?
It's not as complicated as it looks. Creating a waterfall entrance looks amazing and it couldn't be easier!
All you need to do is build two cliffs with waterfalls running down the edge of each. Then add some flowers and your favorite path running down the middle, and BOOM!
Just like that you've got yourself a spectacular entrance.
5.

Outdoor Tiki Bar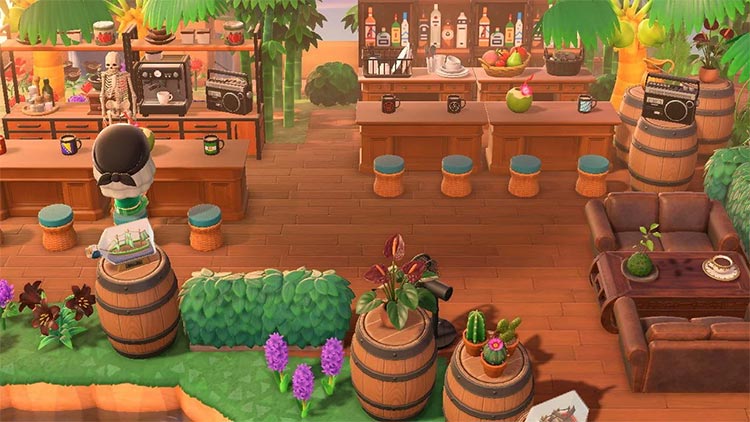 Where else are your villagers going to enjoy a well-deserved drink?
A few fireplaces turned backwards have done the trick here to create this amazing tropical tiki bar.
Throw in some simple panels customized with a bottle design, and a classy seating area to boot, and you've got yourself the best hangout spot on the island.
Up till now it's been our responsibility to keep our villagers hydrated. Let's hope Brewster makes his return soon!
4.

Ice Skating Rink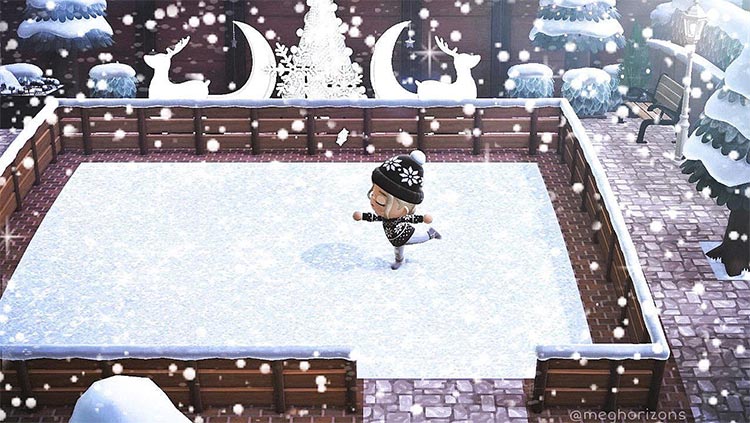 Christmas may be over after December. But the winter season is always going strong.
What better way there to enjoy winter than with a skate on your very own ice rink?
It's simple to make and only takes up one custom design slot.
Just choose your favorite part on your island and lay down your custom design. You can make it as big or as small as you like.
Finish off by putting up fencing around the area.
The best part is, it's never going to melt. So you can leave it up all year round!
3.

Outdoor Arcade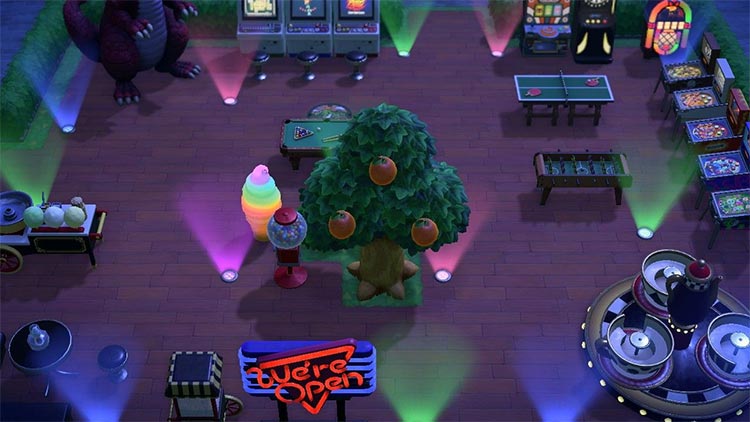 We've seen plenty of ACNH arcades created in player's basements.
But how about taking the games to the streets?
That's right: creating an outdoor arcade will make a huge statement area on your island.
Simply line up as arcade machines as you can to create the ultimate gaming area, giving enough space for players to fit in.
Then maybe add a foosball table and ping pong to get the true game room experience.
Neon signs and LED floor lights are worth including to cast a colorful glow. There's nothing quite like gaming with your villagers until the crack of dawn.
2.

Excavation Site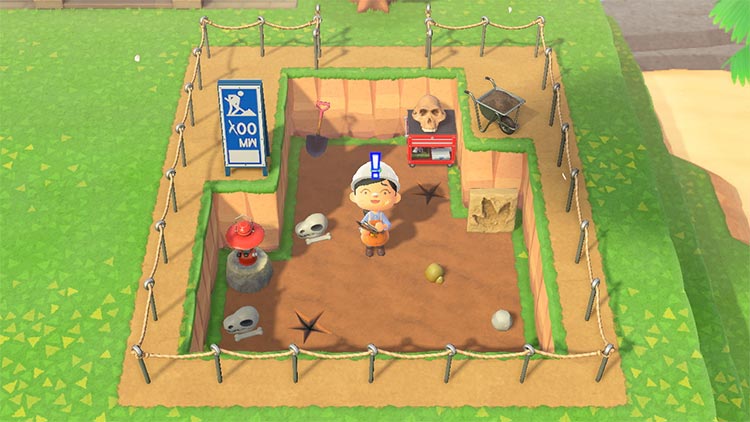 Want to take your fossil hunting to the next level?
Then building your own excavation site is the way to go. It's the perfect place to store those extra fossils you find.
And it's perfect to go side-by-side with your museum. Plus, if you place your museum on a cliff then you can dig down and create a multi-layer excavation site too.
Bury items, place fossils, stones, and even a wheelbarrow to bring out your inner archaeologist.
Finish by adding some safety signs and by fencing off the area, so none of your villagers wander into it by mistake!
1.

Sweet Cake Shop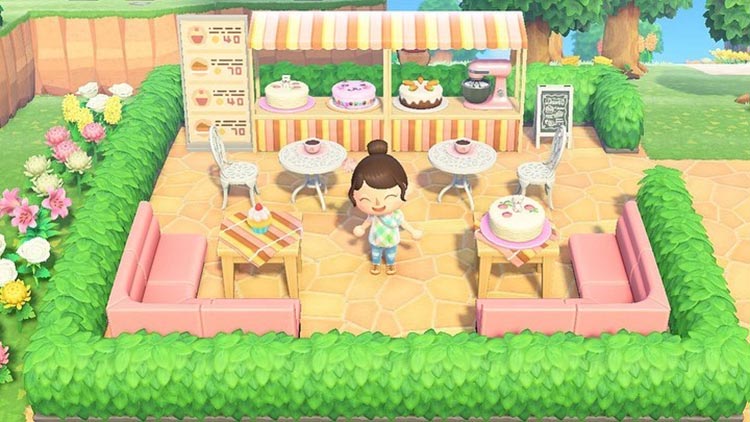 Got a sweet tooth?
Give in to those sugar cravings with your own cake shop. From birthday cakes to wedding cakes, you can have it all.
There's a few ways that you can do this:
On your Birthday you'll be sent a Birthday Cake from your mom. Or you can also grab wedding cakes from taking fantastic photos for Reese and Cyrus when it's wedding season.
If you don't want to wait for those, well then you can simply throw a custom design on a hat. It's that easy!
Finish your shop with cute menu boards, a custom stall, and some tables for your diners.
Your shop is destined to be the talk of the town.
Browse:
Animal Crossing
Lists
Video Games