ACNH Farm Island Ideas: Flowers, Fruits, Crops & More
This post may contain affiliate links. If you buy something we may get a small commission at no extra cost to you. (Learn more).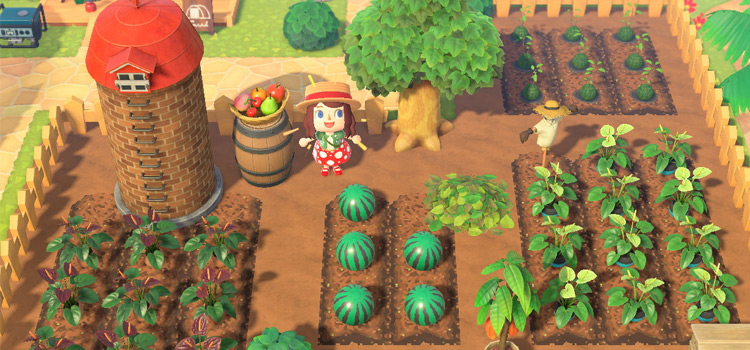 With all the crazy animal villagers you can have on your island, many of them would probably feel right at home on a farm.
And there are plenty of items in New Horizons to make that a reality.
If you're having some trouble getting started setting up a farm build, here's a few cool farm-themed ideas to help you get started!
15.

Enchanted Forest Farm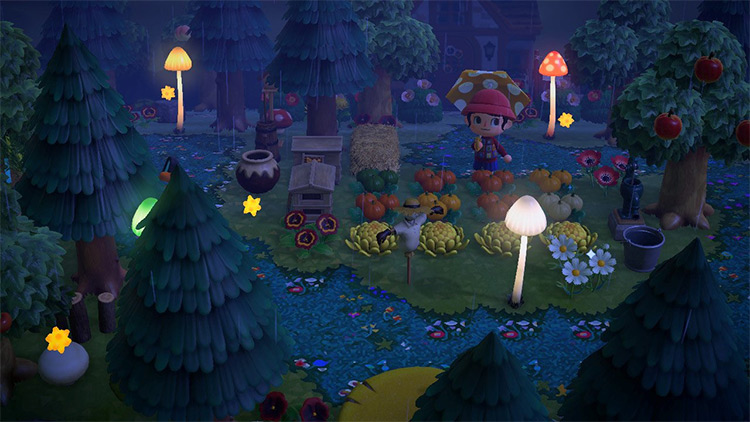 Plants can be magical, so you might want to take the route of creating an enchanted forest to grow your crops!
And obviously, you'll want to select a nice wooded area to start your forest farm. Or maybe buy saplings and plant the trees yourself.
The big thing you'll need is mushrooms to craft the mushroom lights that illuminate the forest with their mystic touch.
As for plants, you'll definitely want some pumpkins in various colors. After all, Cinderella's magical carriage started out a pumpkin, right?
I also like the scattered star fragments in this idea that help brighten up these dark woods, and make the magic glow.
14.

Honeybee Harvest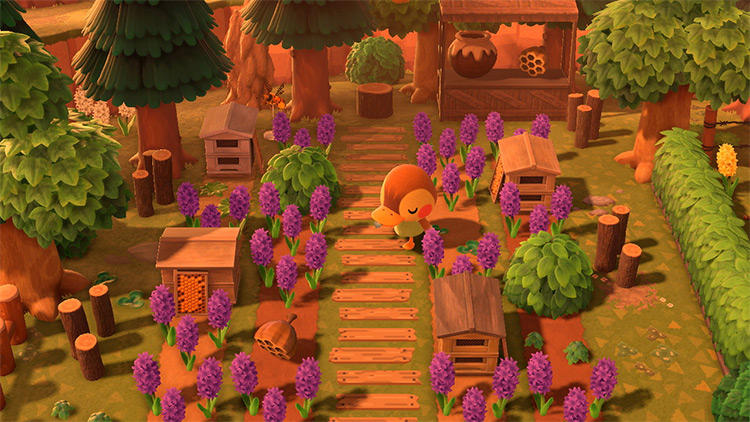 Sometimes the simplest designs are the most beautiful.
And I feel that's the case for this honeybee farm.
As far as crafting items for this idea, you'd need wasp nests to craft beekeeper hives. That means there's gonna be a lot of shaking nests from trees, and a lot of pain from being stung.
One thing that stands out to me is the pot, which one can only assume is full of yummy honey.
Also, this player went through the effort of having a honeybee model crafted from Flick, which is a nice touch.
And we all know bees thrive off of nectar, so maybe you can plant your favorite flowers, and let the honey gathering begin!
13.

Backyard Barnyard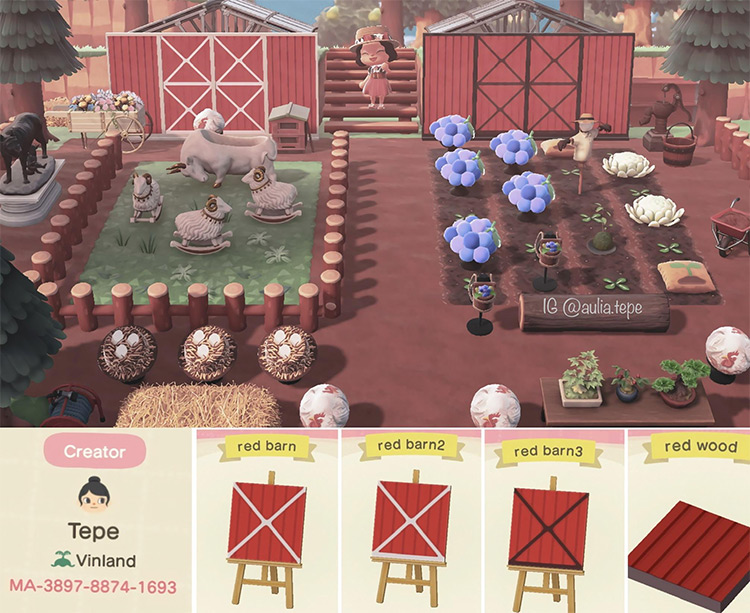 Take a moment and imagine a farm in your head.
You probably just imagined a big red barn, didn't you?
To make this barn a reality in ACNH, you'll need to custom design some simple panels to make the red siding.
And while these aren't plants, the mum cushions and grape hats make for awesome fake plants for you to harvest.
My favorite part of this design is the Aries rocking chairs and Taurus bathtub set up to be the animals. Not only is that hilarious, but it gives this farm area some livestock for you to take care of (well, kinda).
And it's even funnier if your island has sheep or bull villagers that aren't domesticated.
12.

Melon Patch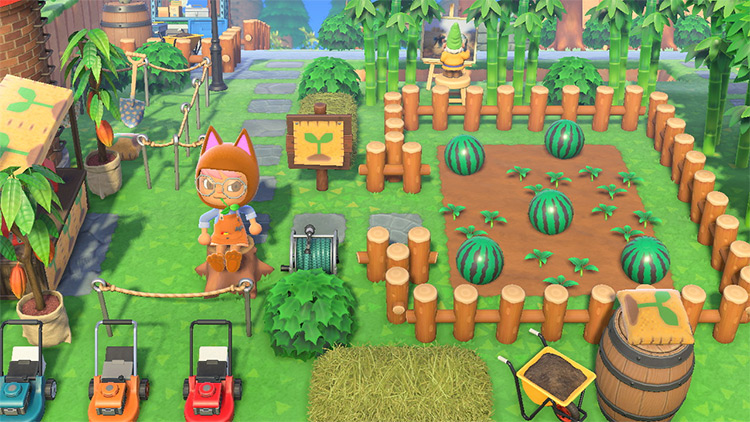 While the watermelons usually grow down by the bay, you can create your own melon patch on your island!
Okay, the melons are not actually melons. They're beach balls with a watermelon design. Weird, huh? But effective.
One you purchase your melon balls, place them in a patch surrounded by some country fencing.
Items that I think are worth purchasing/crafting to help liven up the scene are a handcart, hay bed, lawn mowers, and a stall to sell your yummy melons.
11.

Traditional Crop Farm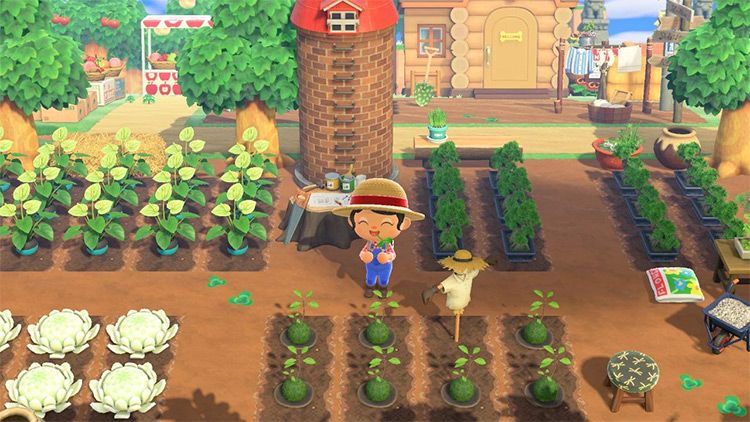 When I picture a farm, this design is probably the closest to what I think.
Contrasting light and dark dirt patterns for the crop locations enhances the realistic feeling of a simple crop farm.
As for the plants, these are all houseplants that you can purchase (or craft) at your leisure. The moss ball, mum cushion, and bonsai tree are some of my favorites.
Lastly, be sure to craft a good silo. You can't have a farm without a good silo.
10.

Industrial Farm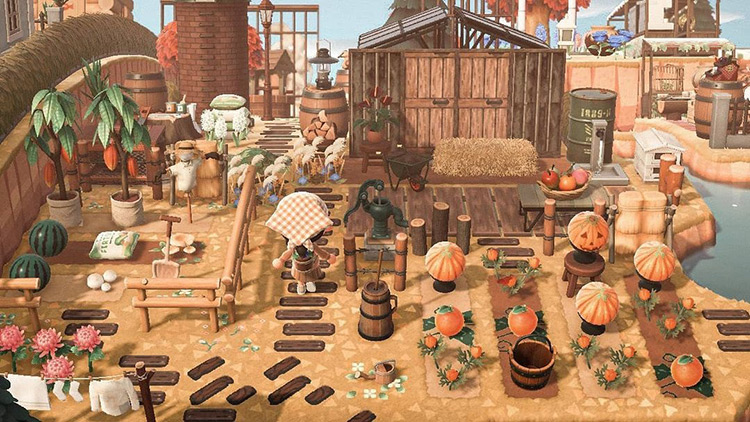 Now this idea has a more industrial and wooden look to it, which helps it stand out.
I like how this player uses the orange plants to aid in the earthy color scheme.
The pumpkins are actually custom designs that shouldn't be too difficult to make or download.
Also, be sure to choose your favorite orange flowers to plant alongside them. I personally prefer orange cosmos.
You'll also need custom designs for the wooden shed, as they use more simple panels.
One last touch I love(which also uses custom designs) are the wooden plank pathways. This really shows the limitless possibilities in New Horizons.
9.

Pig Pen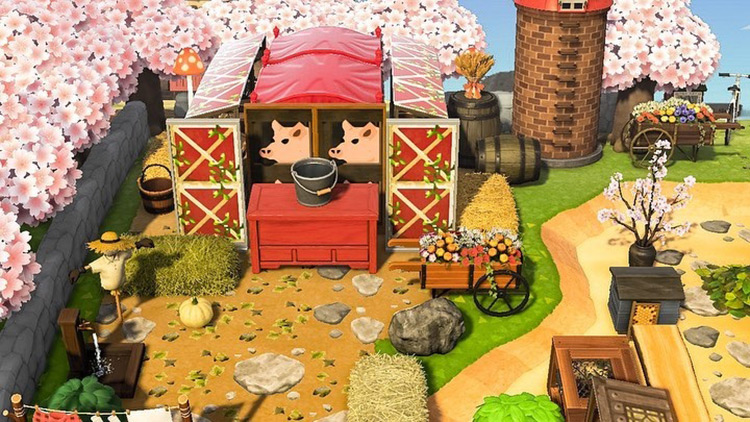 Hey, look, more simple panels to customize for farm buildings!
But seriously, the simple panels really help to bring these ideas to life. In this case, you can make your very own pig pen.
Craft some garden wagons to brighten up the scene, as well as some hay beds to feed your pigs.
Also, the buckets around the pen make for a nice touch as your piggies need a drink every so often.
The garden faucet is also cool, as it provides a water source for your pigs. It even comes in a brick pattern, which I think could work even better since that would match the silo nicely.
8.

Japanese-Style Farm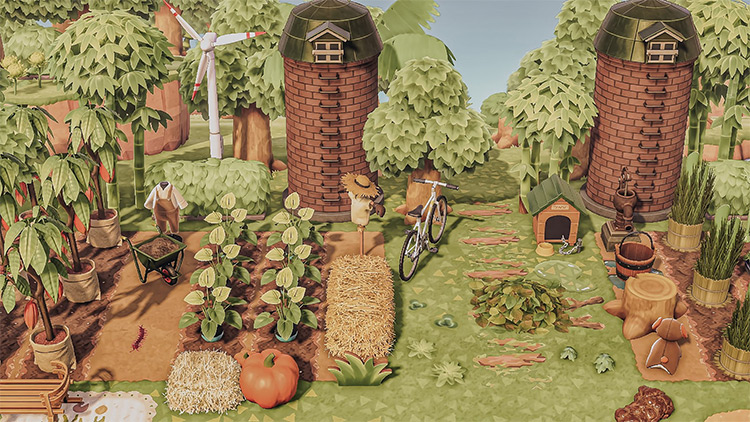 Many places on your island can be customized to have a traditional Japanese appearance, and a farm is no exception.
For this idea you'll need some typical farm items like silos, scarecrows, hay beds, and handcarts.
This player used anthurium plants as crops, which go well with the aesthetic.
Another thing that's different here is the excess of cacao trees. While other designs had a couple, this one uses many, and I'd say it uses them well.
But the most important part of this idea is shrouding your farm in bamboo.
Try planting bamboo trees around the perimeter of the area to bring your Japanese farm to life!
7.

Horse Stables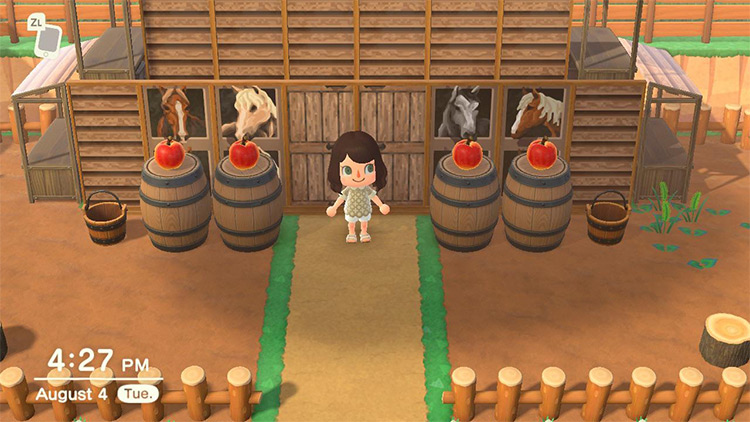 This idea is pretty similar to the pig pen, since it uses custom designed simple panels to make the horses and stables.
And it's a really unique idea.
And the apples sitting on barrels honestly warms my heart. It's easy food for your horses.
Truthfully, this is as simple as it gets. There's some country fencing surrounding the area, and that's about it.
The simplicity of this idea, yet complexity of the stables themselves, is what really makes this worth the effort.
6.

Riverside Farmland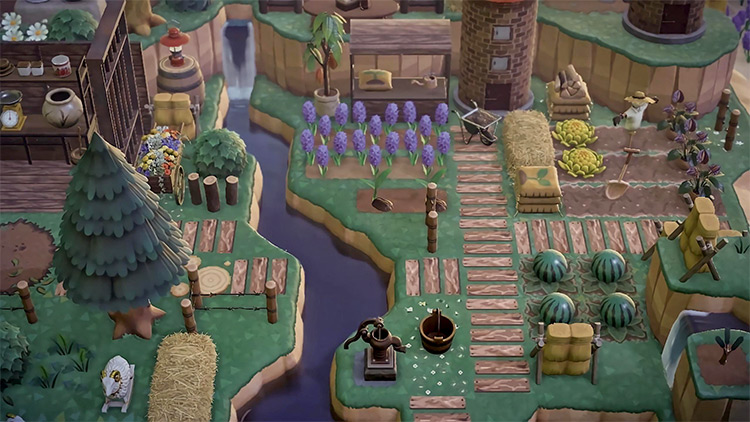 Adding a water well on your island can be difficult, especially if you struggle with sculpting rivers like I do.
However, it doesn't take much effort to sculpt a small stream to run alongside your farm.
This idea is very well laid out, as it has a clear pathway, which is a custom wooden design. And everything else has a clear space.
The melon beach balls have their own section. The hyacinths are growing independently. The mum cushion farm is its own thing.
The careful placement of all these pathway designs really helps this area look neat and tidy, while you peacefully grow crops at the water's edge.
5.

Chicken Coop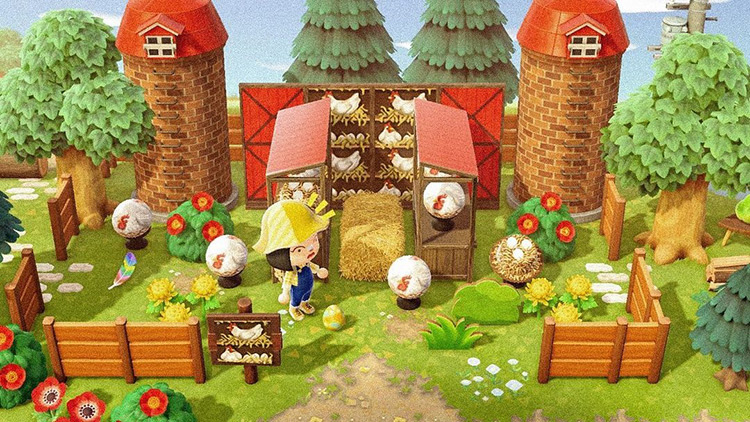 There's a simple reason why this is my personal favorite of all the animal pens in this list:
I love chickens.
Whatever your favorite barnyard animal may be, this idea still puts a new twist on the existing items we have in Animal Crossing.
You have some silos, some stalls, and some corral fencing. You'll need to craft all of these, so be sure to check up on all the right materials.
And the custom designs on these panels might be the most impressive.
This player even carefully made rows of chickens resting in their coop. The effort you put into this will definitely be worth it once it's all set up!
4.

Vibrant Vineyard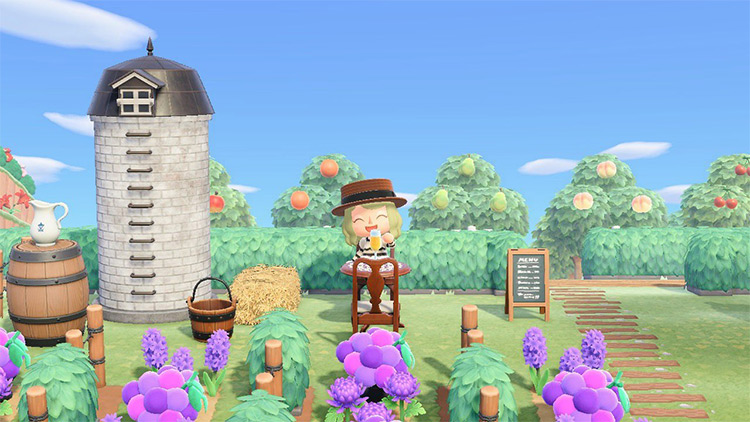 One of the coolest things about the Animal Crossing flora (no, not the ostrich villager) is all the variety of fruit trees you have at your disposal.
If you have friends (unlike me) you can visit their islands to bring back all the possible fruits to your own island.
And once you do, simply plant one of each in the background to create your own fruit farm.
Now, you can't grow grape trees. Because grapes grow on vines anyways.
But you will need some grape hats to display on the ground, as if you were actually growing grapes. That's how we get this vineyard look.
The alternating barbed wire fencing and hedges between the rows of grapes is also pretty cool, as it gives this vineyard design a more authentic feel.
3.

Spooky Pumpkin Patch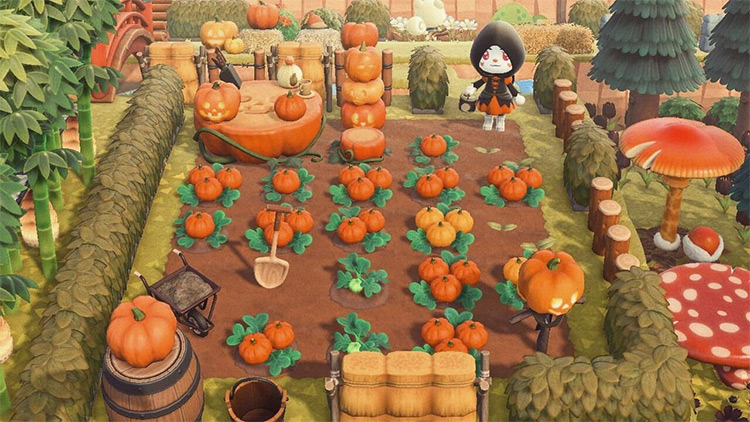 Honestly, come October and Halloween time, we all probably set up a pumpkin patch of sorts to grow our pumpkins in season.
The question then becomes, how do you elevate this idea into something special?
Once you've grown a sufficient amount of pumpkins, you can craft some of the various spooky decorations that come with the season.
Any good farm should have a scarecrow, so the spooky scarecrow is a must-have.
My personal favorite is the spooky table in the corner that looks like an overgrown pumpkin. Plus, you could stack even more pumpkins and spooky lanterns on top! Lots of great stuff you could do with this idea.
2.

Tropical Pineapple Grove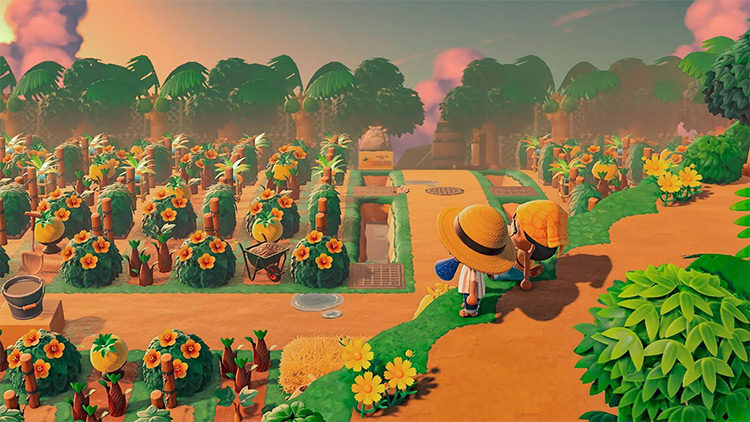 For re-creating a lovely tropical scene like this, you'll want to make sure you plant some palm trees to surround the area.
And for the main farm area, this player simply used bamboo shoots, yellow hibiscus, pineapple hats, and bard wire fencing to create the crop section.
What makes this so gorgeous is the careful placement (and alternating pattern) of all these items. The whole space just looks so crisp and organized.
Scatter in some other items like buckets, handcarts, and shovels, to show that you've been hard at work on your pineapple grove all day long.
1.

Rooftop Energy Farm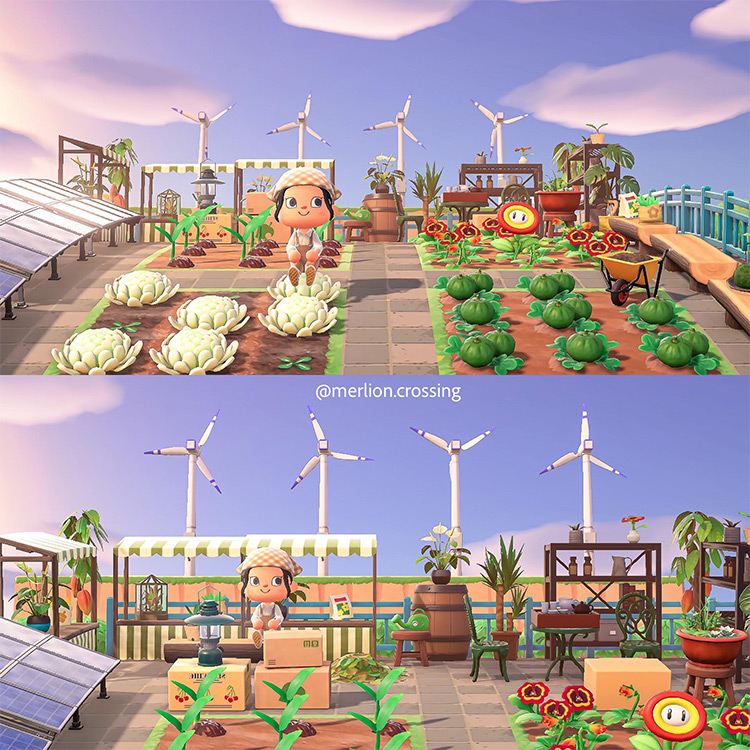 Have you ever seen someone growing crops and flowers on their rooftop?
Well, now that's a possibility in New Horizons… kind of…
This farm idea is on the ground, but it looks like it's straight off the top of a skyscraper!
The major aspect you want to focus on here is the solar panel setup, and the wind turbines. These items are only available for Nook Miles, so you'd better start saving!
Each crop also has its own separate section.
Pumpkins in one corner. Mum cushions in another. Pansies in another (with optional fire flower).
Organization is the key to building this idea yourself.
Once you craft some log benches from hardwood and set them up near the edge, you'll have a nice place to relax and take in all your hard work!
Browse:
Animal Crossing
Lists
Video Games