20 Dark Goth Island Ideas For Animal Crossing: New Horizons
This post may contain affiliate links. If you buy something we may get a small commission at no extra cost to you. (Learn more).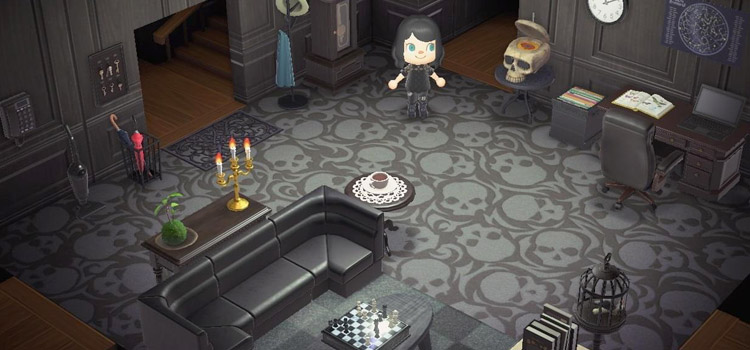 Black. I only work in black. And sometimes really, really dark grey.
You too can embrace the inner darkness and create a goth theme on your island.
From black colors and skull patterns to general dreariness and sadness, there are plenty of ideas to create a goth aesthetic for your island.
Here's a bunch of cool goth-inspired ideas to get you started on your journey to the blackness.
20.

Skull Lake
One simple idea to create your goth paradise can be to splatter skulls all over your island.
In doing so, you can carefully create a skull shaped lake for some dreary, nighttime fishing.
As you do some waterscaping, be sure to leave small islands in the middle of the skull to designate its eye and nose holes.
Then be sure to carve out those teeth so you can take a bite out of the goth lifestyle!
19.

The Graveyard Shift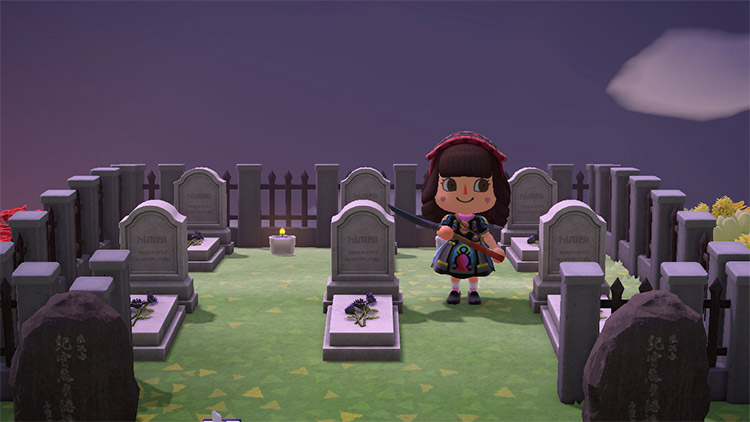 Does something smell dead in here?
That might be because we're standing in a cemetery.
Nothing says goth like embracing the coming darkness of wasting away into the dirt beneath our shoes.
Make this by crafting some western-style stones, and iron and stone fencing, to set up a small cemetery plot.
We've also got a ton of dark cemetery ideas in another list, so definitely check those out too.
You'll want to create this in a secluded and lonesome spot on your island for sure. After all, we're all just dust in the wind waiting to perish and end up in these graves.
Too dark?
18.

Spooky Café Entrance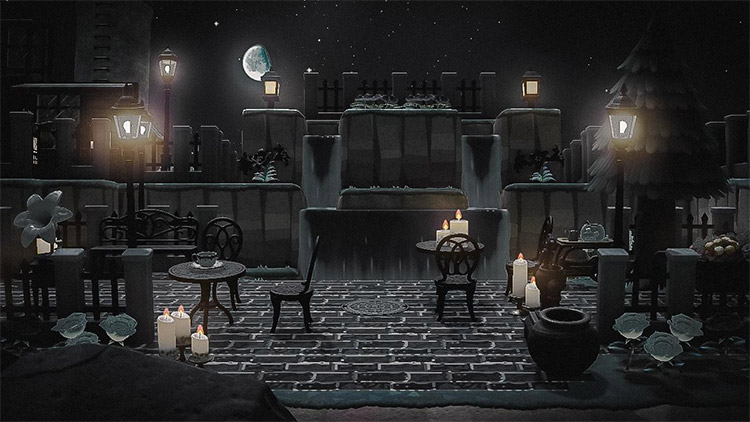 Who says goths can't have fun too?
But gothic fun might be a little different, like going to a drab café for a bland cup of black coffee, perhaps.
Make this yourself with plenty of iron garden tables and chairs for small table settings, and top off each table with a candle set. After all, that's all the light you'll need.
You might also need to purchase some streetlamps from Nook Miles, and lay down some dark stone pathways, too.
Then be sure to include coffee cups and an espresso maker so you can serve up a heaping cup of sadness.
17.

Dressed in Black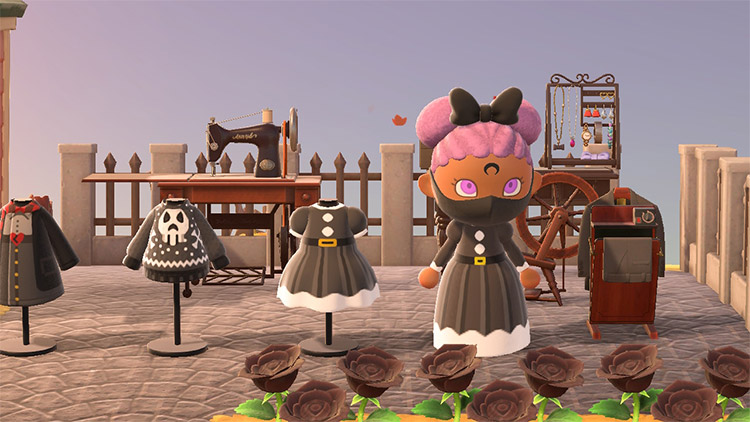 One essential to any goth theme is dark colors – particularly black, because it's the darkest and most dominant.
For this idea you'll want to create your own goth clothing, or download some if the creative spark just isn't there.
But to maybe add some of that spark, I would suggest adding some skull patterns, or using a vampire theme for your outfits.
I also like some more cutesy goth stuff, like black hearts and flower patterns.
Once you have your clothes, proudly display them for all to see! Or is doing that actually anti-goth because happiness is just a fallacy?
16.

Black Flowers Everywhere!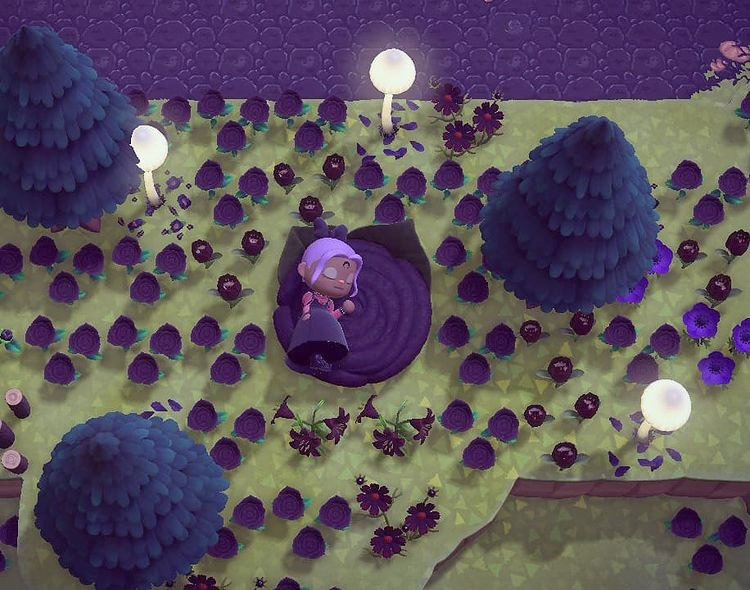 As previously stated, I do love black flowers.
The black cosmos is probably my favorite.
But you're not just limited to cosmos, though. You can breed black lilies, roses, and tulips to decorate your island.
You can even sprinkle in some darker flower colors like purple and blues if you wish. Purple roses work very well here.
Crafting some flower items like a rose bed and customizing them to be black is yet another option to decorate your island in ACNH.
15.

Nan's Bedroom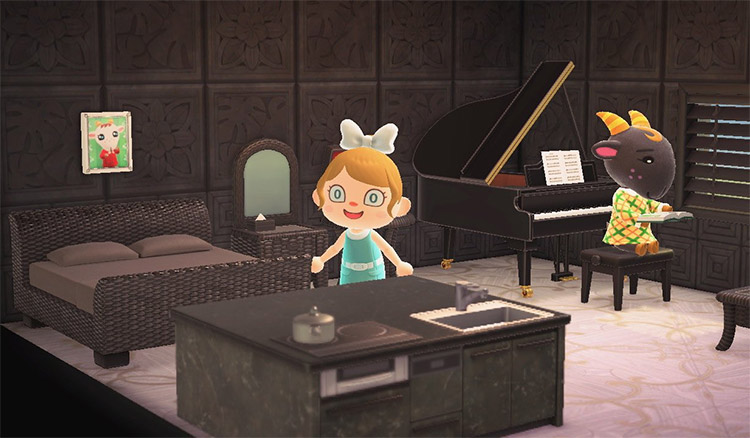 If you need some goth room ideas, try recreating houses to match some goth villagers.
Nan is an excellent example, because her house is almost entirely black inside.
For this idea you'll need to purchase tons of black items, like a grand piano, piano bench, and kitchen island.
Black rattan furniture is also essential for maximum comfort and darkness. So scoop up that rattan bed and vanity while you can.
Then decorate the walls with some black botanical tile wall, and you can have Nan fully embrace the darkness within.
14.

Gothic Outdoor Spa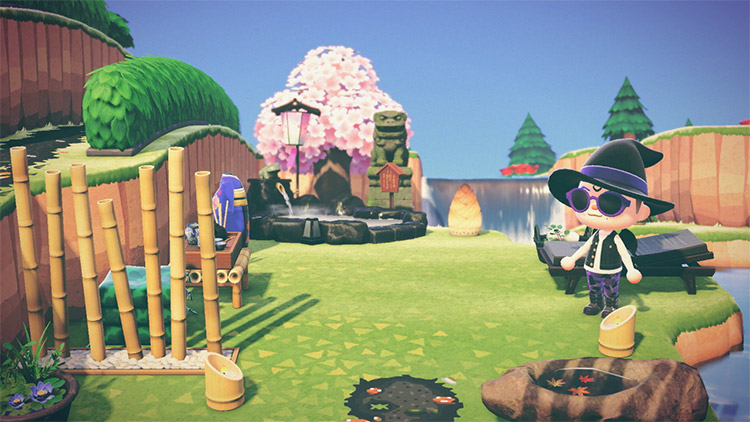 Goths and sun don't mix.
Or do they?
I mean, goths aren't actually vampires. They're not going to turn into dust if they step outside or anything, right?
One outdoor gothic design idea could be setting up an outdoor spa to soothe the strains of being gloomy all day long.
To make this yourself, craft an outdoor bath that you can customize to a shade of black. Purchase a poolside bed too, but make sure it's black.
Then lay down some custom dirt paths… as long as they're black.
The outdoors just became a dark place for some perfect daytime relaxation.
13.

Goth Villagers
If you want to completely engulf your island in the goth aesthetic, then you'd better make sure that all your villagers fit the bill as well.
There's a decent amount of goth villagers for you to choose from, such as the aforementioned Nan.
Pictured here, we have Roscoe, Antonio, and Agnes, all dressed in their biker jackets to enhance their goth look.
Other recommended villagers include the popular Cherry and Muffy, as well as the mouse Bella who's probably the epitome of a goth villager.
Select the right friends and you can share in mutual darkness.
12.

The Dark Forest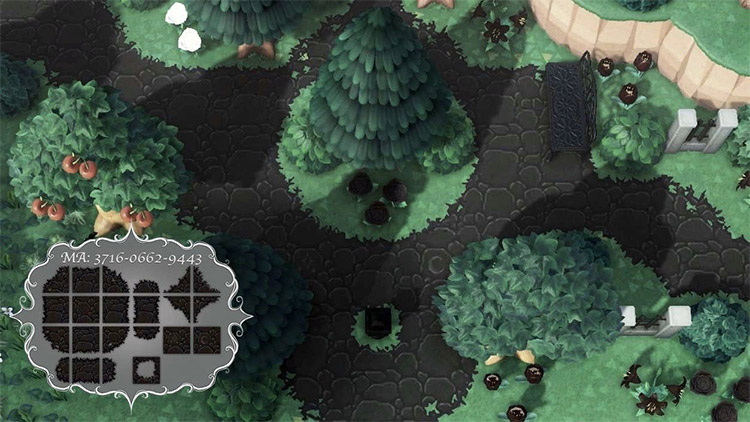 If you wish from the bottom of your heart to truly swamp your island with a gothic theme, then you can't ignore the natural areas of your island.
Find your favorite forest (or perhaps the forest you would most like to burn to the ground) and cover it with the black.
By this I mean lay down some custom black pathways to create a truly dark forest.
Your paths can be wood, stone, dirt, brick, or whatever other ideas you can think of for a forest trail.
You can even decorate your forest with some of the black flowers I mentioned earlier.
11.

Gloomy Garden Entrance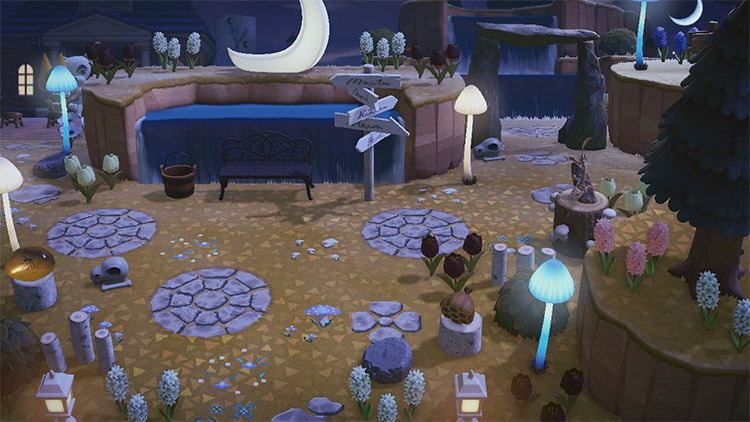 When others visit your island, you probably want them to know immediately that you're one with the darkness.
This gloomy entrance is a good start.
Lay down some stone pathways to start, and craft some black iron garden furniture for seating.
Then decorate your garden with the famous black flowers to bring the area to life… or death.
What really bums this place out is the fossils scattered on the ground.
That'll really put a damper on someone's stay on your island!
10.

Grand Gothic Cathedral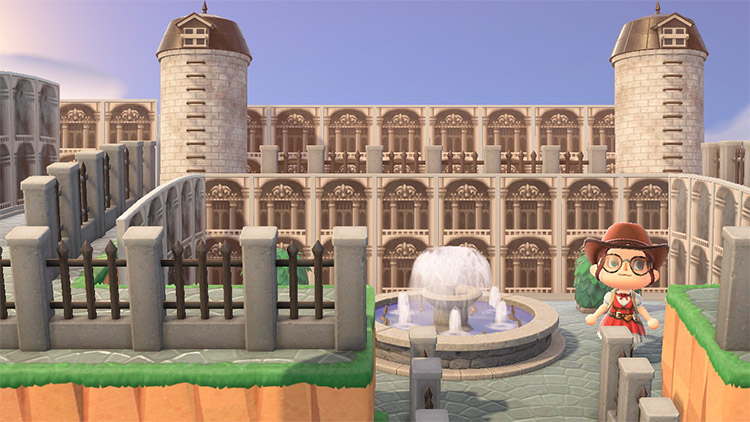 Nothing says "gothic design" quite like a grand cathedral.
I'm being serious here, when I think gothic architecture (which I know is different from being goth) I just think cathedrals.
They work hand-in-hand with the doom and gloom idea.
But the big thing you want to do here is customize plenty of simple panels to act as the cathedral walls, doors, and windows.
Then setup the simple panels on multiple levels of elevation. You'll need to do tons of landscaping to make your cliffs.
Be sure to craft a couple of silos too, and customize them to the dreary, black roof option.
Surround your cathedral with tons of iron and stone fencing, the perfect option to keep out intruders… or to keep the happiness from coming in.
9.

Kitchen of Darkness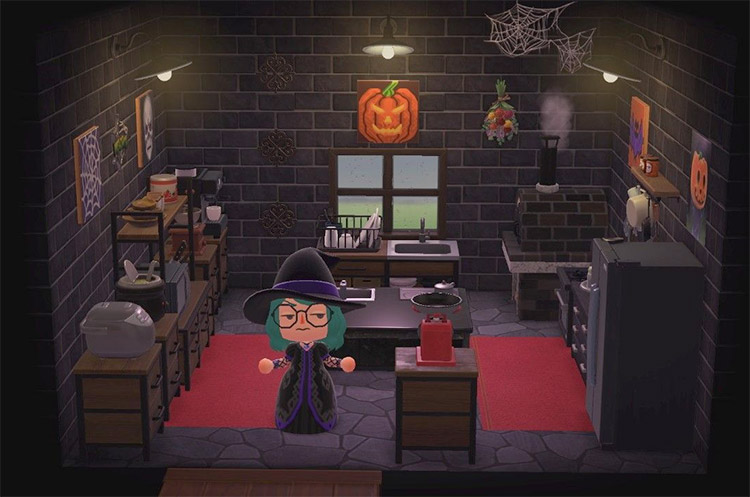 A goth does everything in the dark. And that includes cooking.
To design this kitchen idea, choose some black brick walls and stone flooring to start setting up your goth kitchen corner.
Craft plenty of ironwood kitchen furniture such as ironwood dressers, kitchenettes, and cupboards.
You'll also want to craft a brick oven and make it black. Be sure to burn the pizza!
You can also purchase tons of black kitchen furniture such as a refrigerator and kitchen island.
On the walls, you'll want to display plenty of goth artwork. Display custom designs of jack-o-lanterns, skulls, spider webs, or whatever else bums you out.
8.

Gothic Preschool Bedroom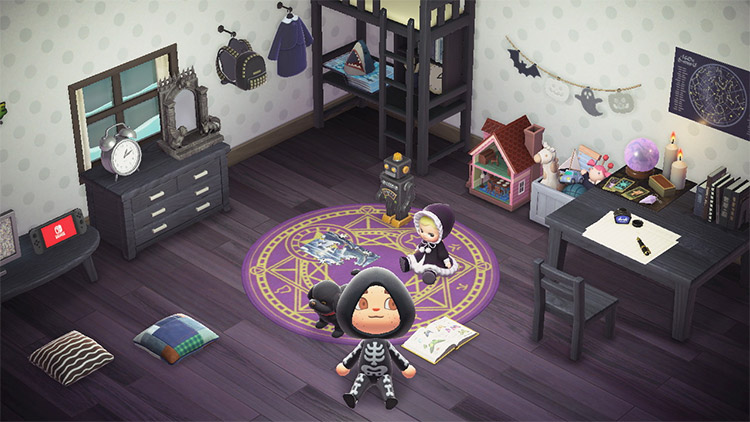 Creating this preschool bedroom might be the craziest idea on this list… and it's fantastic.
We'd start by crafting some wood furniture that you'll craft to a shade of black. This includes a wooden chest, low table, chair, and table.
Be sure to give your blossoming goth preschool kids tons of black toys too, such as a dolly, puppy plushie, and tin robot.
The throwback gothic mirror is an essential for any goth bedroom as well. It's in the title.
You'll also want to purchase a study poster, loft bed with desk, and a magic circle rug for some dark enchantments.
Finish the fun with a Nintendo Switch in there.
That's right, a Nintendo Switch on your Switch for a fun goth bedroom.
7.

Haunted Library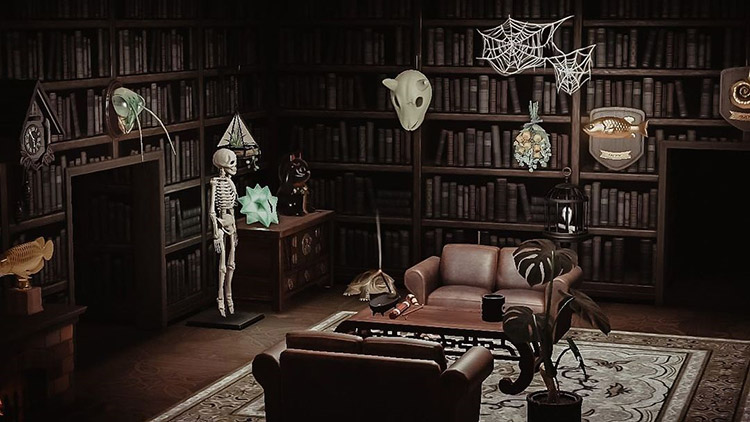 Why is it that libraries at night are always creepy as all heck?
Well if you wanna setup this haunted library, you'll want to start with some classic library wallpaper.
On the walls you'll want to display some pretty spooky and drab items, such as a spider web, imitation cow skull, and cuckoo clock.
Next, purchase some items on Nook Shopping like a skeleton, double sofas, imperial chest, and an imperial low table.
You can even include some spooky house plants like a terrarium, monstera, and hanging terrarium. Because even goths can appreciate nature!
6.

Witch's Walk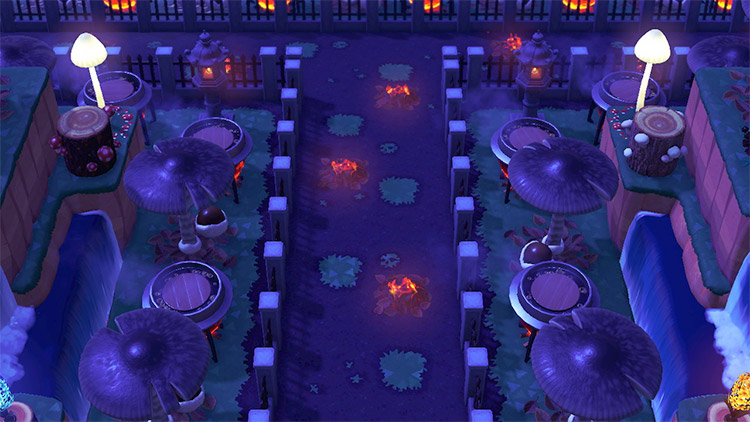 If you want to create another dark entryway idea, then perhaps try out this series of witch incantations for some dark magic.
Lay down some dark dirt paths for the main walkway to start, and surround it with some iron and stone fencing.
Then craft plenty of kettle bathtubs to put behind the fencing. The more you make, the more spells you can cast.
Decorate the scene with plenty of toadstools as well.
After all, they're an essential for any dark magic or potions. I'm talking about making mush parasols and partitions for some gloomy ingredients to use.
Then display some custom designed ghost shirts for a haunted and dreadful experience.
5.

Black Castle Garden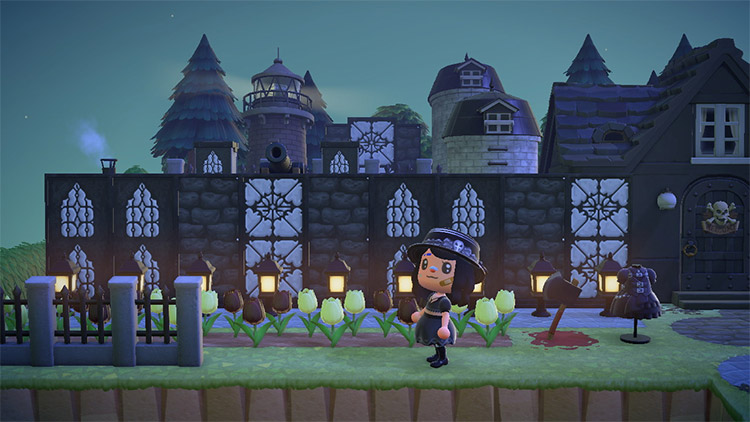 If you want to live in the darkness, then it's not just the interior of your home that matters.
The exterior also needs a makeover.
With this idea you can customize your home to all black, and be sure to decorate your door with a skull doorplate.
You'll also want to customize plenty of simple panels to make various walls and windows for your grand and bleak castle.
In the background, you can add plenty levels of elevation to create more stories to your gothic castle dungeon.
It's back here that you'll also want to place some silos and lighthouses to blend with your castle towers of solitude and loneliness.
Then just setup your garden by planting some black tulips. Occasionally sprinkle in some white ones in there to let everyone know you're not completely dark.
4.

Deadly Wedding Reception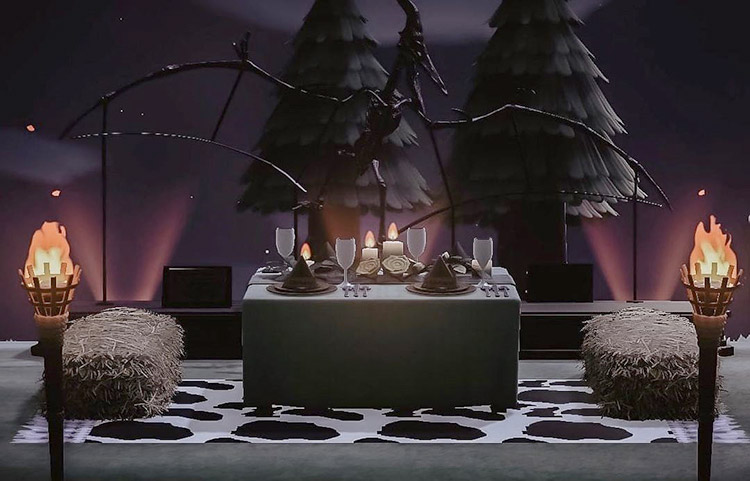 So does anyone else know the song "A Little Piece of Heaven" by Avenged Sevenfold? The one where the guy murders his girlfriend and they have a zombie wedding?
That's the kind of vibe I get with this deadly wedding reception.
To make this yourself, setup a wooden table with a cloth and add enough table settings for a small party.
Then craft some hay beds for the reception seating, and lay down a dark, goth patterned rug.
Now you want to display some fossils in the background to oversee the marriage.
If anyone's going watch this wedding of darkness, it has to be a deceased dinosaur. That makes perfect sense, right?
3.

Museum of the Dead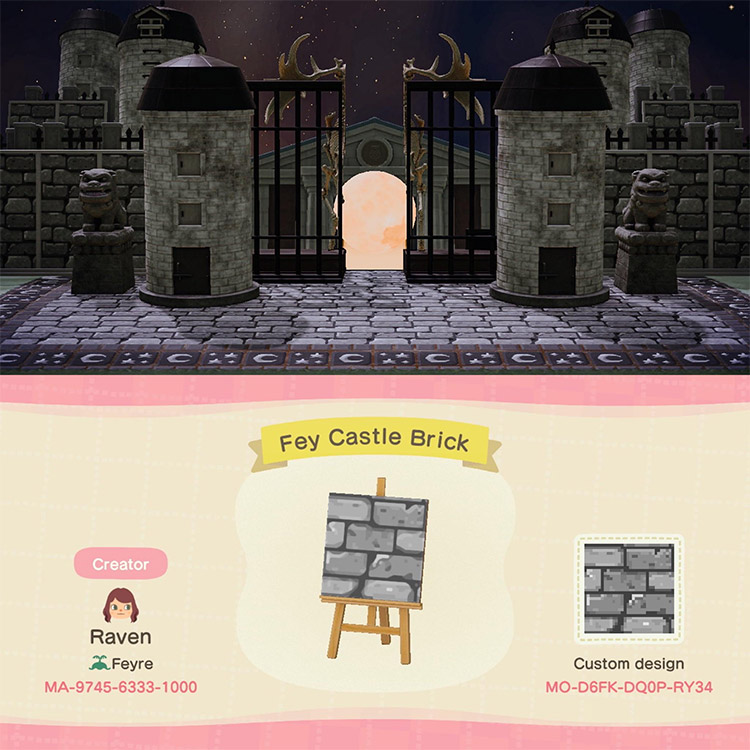 On the topic of literally everything on your island being overtaken by the goth theme… that should include the museum.
To create this museum of death, start by setting up some prison bars for the museum gates.
Then design a few levels of elevation with landscaping to create some bleak, towering walls of death.
You'll want to customize some simple panels and silos to create this gothic castle façade as well, and place these items across the cliffs.
I really like how this person displayed the megaloceros fossils split between the two sides of the gate. This is what truly creates the atmosphere of death.
2.

Haunted Forest Bedroom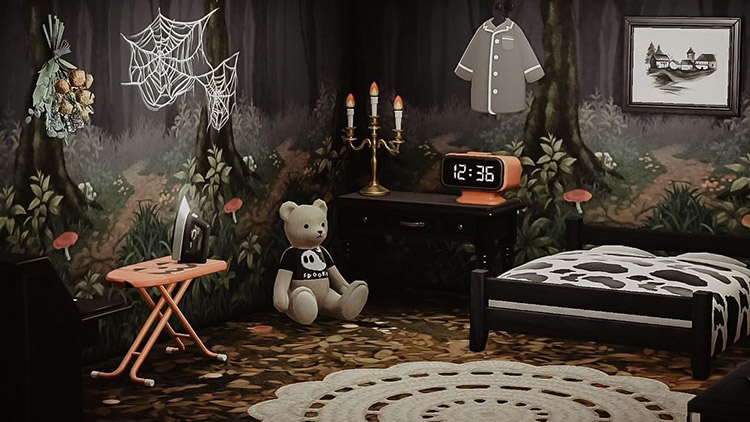 Remember the idea of creating a haunted forest? Hear me out here.
We could try re-creating that in your very own home!
To make this dark forest bedroom design, start by making some mushroom forest wallpaper and mushroom flooring.
Next, set up your furniture.
You'll want to buy a lace rug, simple wooden bed, and antique console table.
Be sure to include a candlestick too, which is an essential for illuminating the dark. You can also customize a mama bear to display your favorite gothic shirt design.
Lastly, don't forget to display those spider webs everywhere.
You're in the forest, so there's plenty of bugs crawling around in the darkness.
1.

The Phantom of the Opera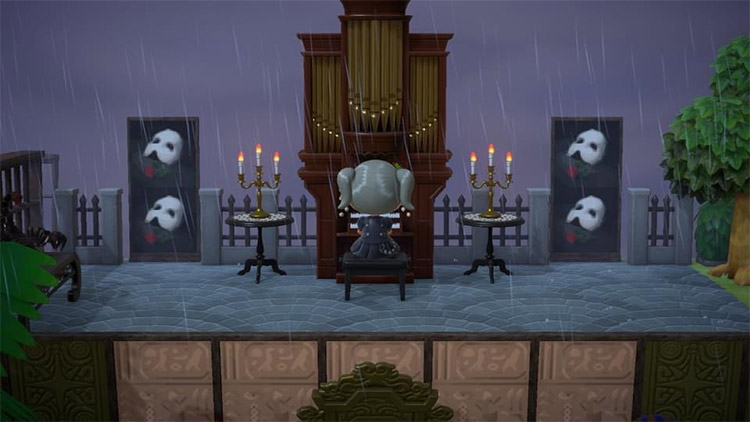 Fun fact: The Phantom of the Opera is the longest running Broadway play of all time.
It's also the perfect choice for some goth-themed theater in New Horizons.
To make this brilliant design, start by advertising your show with some custom designed simple panels to act as posters. I would also recommend making some simple panels to look like a red curtain as well.
Then setup the stage by laying down stone paths and placing some iron and stone fencing around the sides.
You can also include some antique tables with candlesticks on top for gothic mood lighting.
But the most important part is the wedding pipe organ, that way you can set the mood for an eerie and dark performance.
I can hear the keys now taking me away into the night…
Browse:
Animal Crossing
Lists
Video Games