Animal Crossing: New Horizons Greenhouse Ideas & Inspo
This post may contain affiliate links. If you buy something we may get a small commission at no extra cost to you. (Learn more).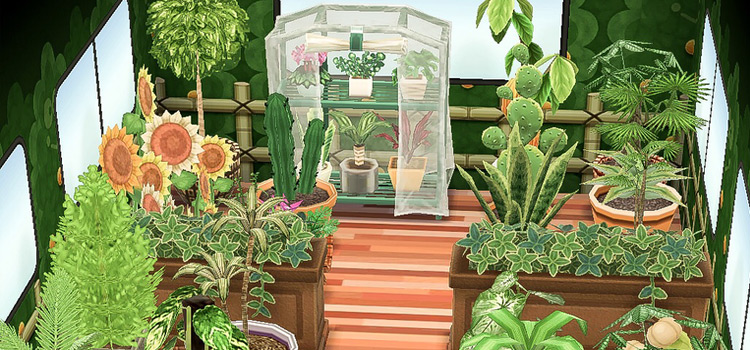 Usually as seasons change, so do crops.
Greenhouses make it easier to keep things growing out of season, though!
While it doesn't really matter for Animal Crossing: New Horizons since everything grows year-round (handy!), these helpful greenhouse build ideas provide us some awesome inspiration to pretend we have to worry about the changing seasons of Mother Nature.
10.

Mini Greenhouse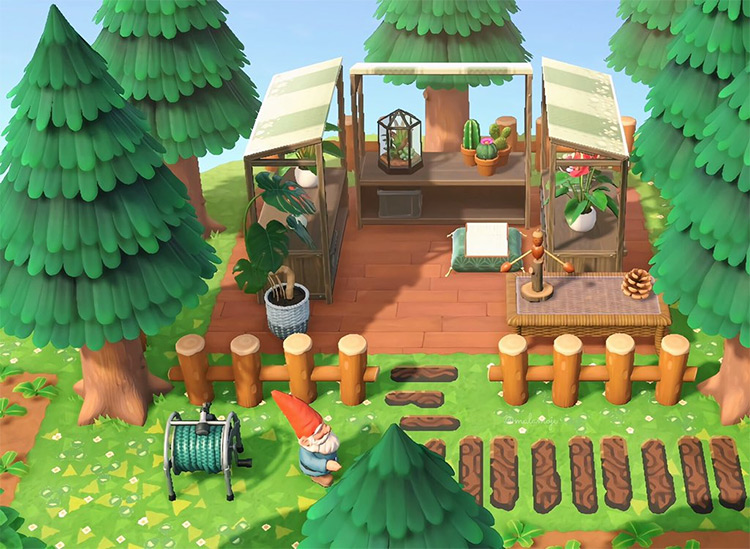 While this greenhouse isn't very insulated, it doesn't have to be!
This user made creative use out of the stalls to create a three-sided structure to house their plants.
A hose kept handy makes watering these cute plants a breeze. And a lawn gnome keeps watch over the little cactus and other plants.
Plus the wood plank flooring helps to bring the total structure together.
Overall, a really cute build!
9.

Classy Glassy Greenhouse
Most IRL greenhouses totally miss the chance to fill the space with beautifully-colored filtered light.
But this island variant doesn't make that mistake!
This adorable greenhouse build has rows of plants for purchase, such as succulents and mini tree saplings. Just outside, there's also a sales area to make selling them a breeze.
Peep the water pump in the foreground too. A cute and rustic way to water these plants!
8.

Starter Greenhouse
This adorable little greenhouse idea plays host to teeny saplings and flower seeds, ready to be planted.
Bright daisies lead the way up to the structure, which is made from two stalls and custom paths.
A custom backdrop helps to really bring it together, with drawn in plants on the shelves. Two lights on either side of the entrance help to make this spot visible at night.
Your villagers will love it!
7.

White Greenhouse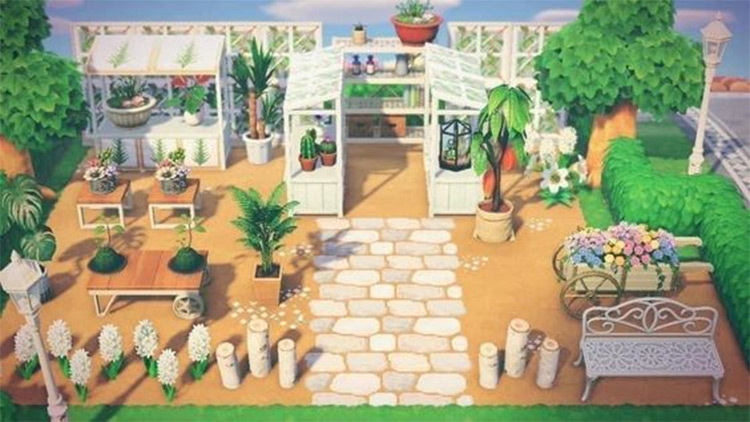 This white greenhouse, not to be mistaken with any other White Houses, is an adorable medium-sized build.
A garden lot has space for a small greenhouse, as well as a bench to sit on, a stall to display goods, and plenty of space for scattered plants.
White hyacinths really help to make the color of the greenhouse pop, as well as a custom stone path.
Your villagers will definitely get into gardening with a spot like this on the island!
6.

Little Dark Greenhouse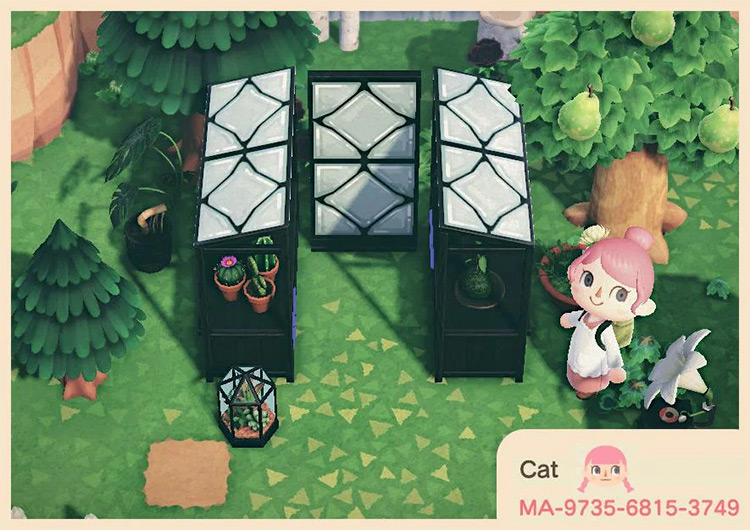 This cute greenhouse comes with a super handy QR code to replicate the glass design. Neat!
This player takes realism seriously with their realistic looking greenhouse glass.
It's the perfect thing to protect the cute little plants on the counter, and a small terrarium to the side provides just enough extra space for plants to grow.
This is an adorable little addition to that spot on the island you just don't know what to do with.
5.

Pond Side Greenhouse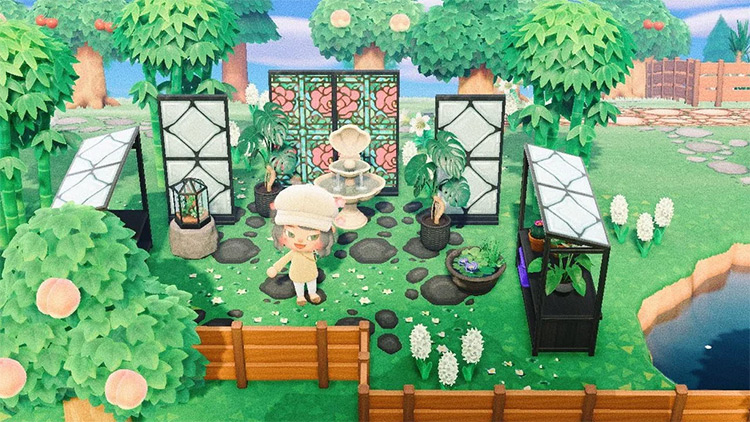 Since ACNH doesn't let us create roofs (which is rude, BTW), this cute pond-side greenhouse is open air.
It uses the same glass tiles as the last one, as well as a rose patterned stained glass wall, the QR for which is provided in the link's comments.
It's the perfect spot for growing monsteras. And the little fountain adds a nice, elegant touch.
Are there any goldfish swimming in that water?
4.

Gorgeous Greenhouse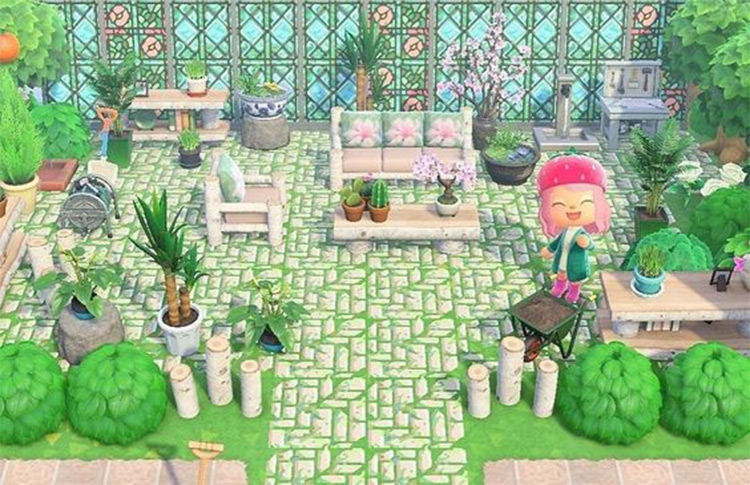 This beautiful large greenhouse is the place to hang out in the warmth with all your plant friends.
There's a great seating area here surrounded by fruit trees and other plants.
Cat villagers would love to curl up around this spot for a nap on a sunny day!
There's a DIY station handy as well, so that you don't have to go running back to your house when you break your watering can with only one plant left to drizzle.
3.

Country Greenhouse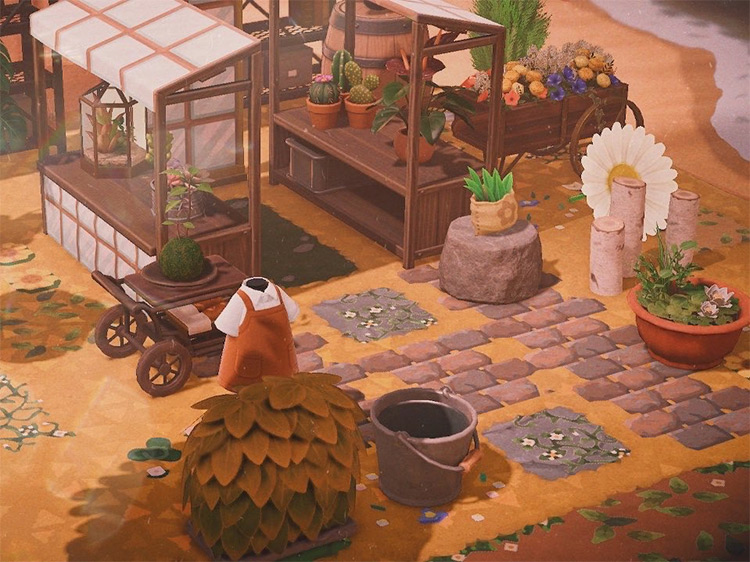 This cute country greenhouse gives off serious rural vibes.
A variety of plants were added into this design, from planters to even bags of weeds (not judging!)
For any workers, a uniform is ready by the door for their shift.
Custom paths give the spot great depth, and a barrel and wheelbarrow of flowers help to really make it look like a commercial space.
2.

Secret Garden Greenhouse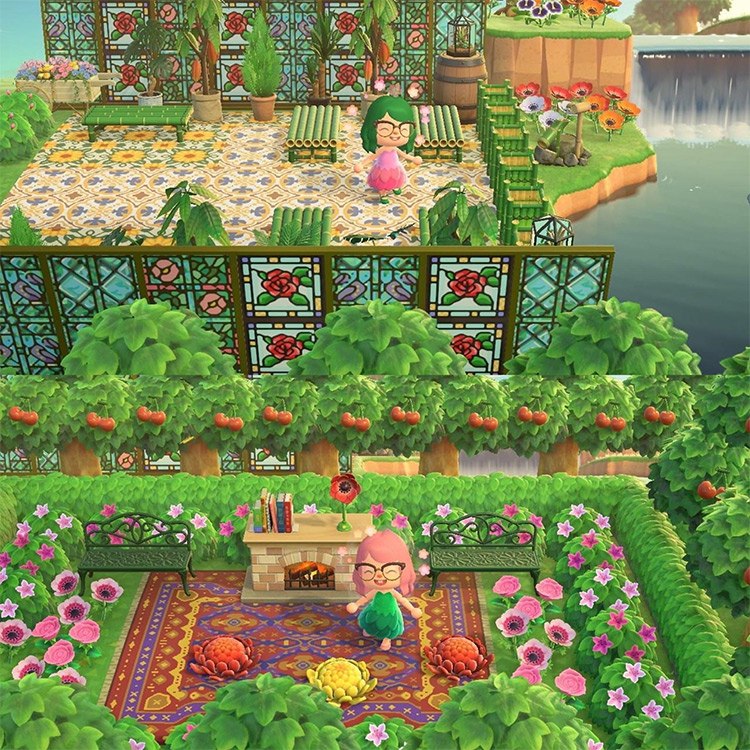 Oh. Em. Gee.
This gorgeous greenhouse build is huge.
Beautiful stained glass and a row of cherry trees keep this Eden hidden to all but the most curious of visitors.
A neat row of hedges adds some structure to a sitting area too, complete with a pretty rug and a fireplace to keep warm.
Did Frances Hodgson Burnett make this herself? Mary Lennox is in love.
1.

Greenhouse Garden Center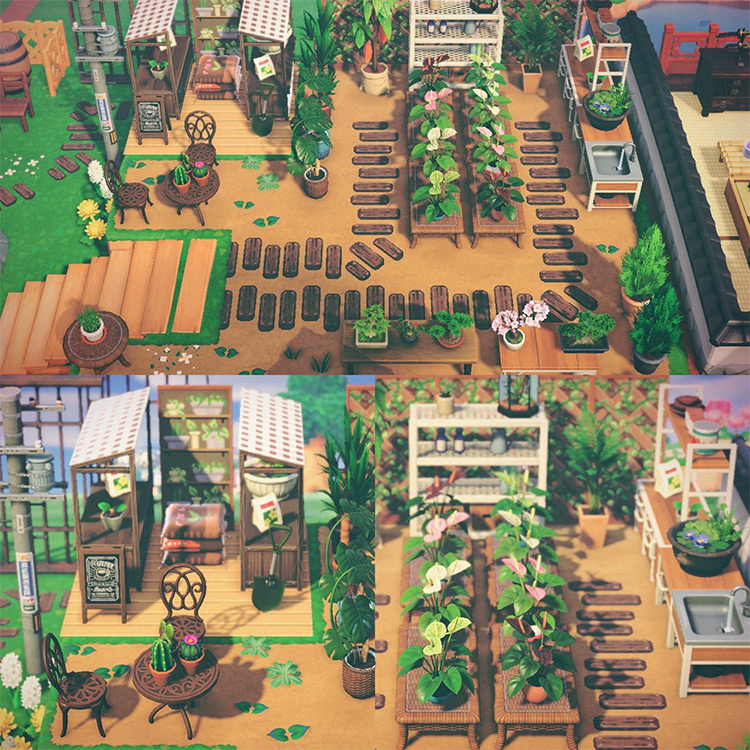 This adorable and elaborate greenhouse and garden center must have taken hours to build.
And let me say, it was worth the effort.
Custom paths lead the way between the varieties of plants growing to sell. It's beautifully put together, with details such as sacks of what must be dirt and mulch, and a table and chair set for anyone who needs to take a load off.
And we especially love the bonsai section! Teeny trees are the best.
Browse:
Animal Crossing
Lists
Video Games