20 Spooky Halloween Island Ideas For Animal Crossing: New Horizons
This post may contain affiliate links. If you buy something we may get a small commission at no extra cost to you. (Learn more).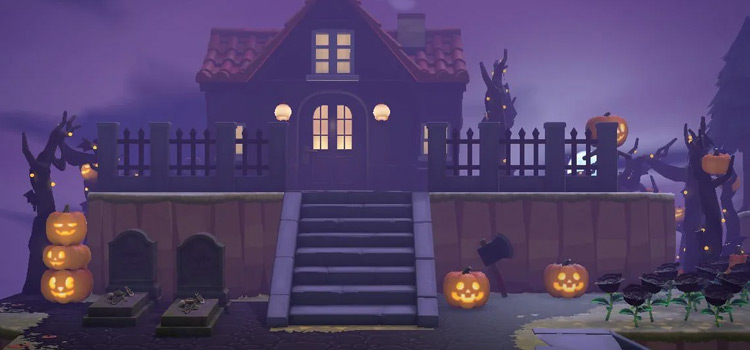 It doesn't have to be Halloween to enjoy the spooky side of things.
Whether you prefer cute-spooky things, like friendly ghosts and bright pumpkins, or the darker & more scary kinds, like scheming witches and horror vibes…
Either way, I have some sweet ACNH Halloween build ideas for your island.
20.

Haunted Castle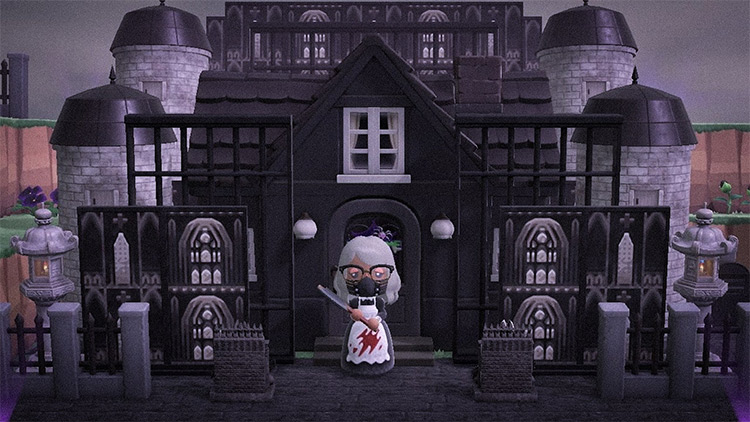 Starting off strong, this creepy haunted castle is so cool!
Creative use of silos, custom panels, fencing, and terraforming, all transform the player's home into a gothic vampire's dream home.
Tom Nook could never handle this…
Whether you're a witch, a vampire, a zombie, or just emo, this is definitely an awesome and creative idea to change up the look of your island in a big way.
What better place for your villagers to go trick or treating?
19.

Jack O' Lantern Room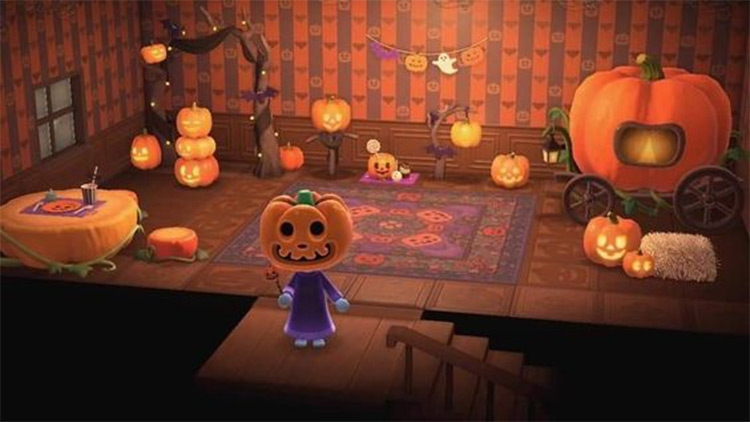 Something a little on the cuter side for me, please!
If you're not into being scared silly, this adorable pumpkin room has lots of bright orange goodness to shine away the scary gothic haunts.
Striped, wainscotted Halloween wallpaper brings the room full of pumpkins together in a fun way.
It's basically packed with pumpkin paraphernalia (pumpkinphernalia?) and orange décor.
Call me Cinderella, because you can catch me hopping in that pumpkin coach!
18.

Halloween-Ready Pumpkin Patch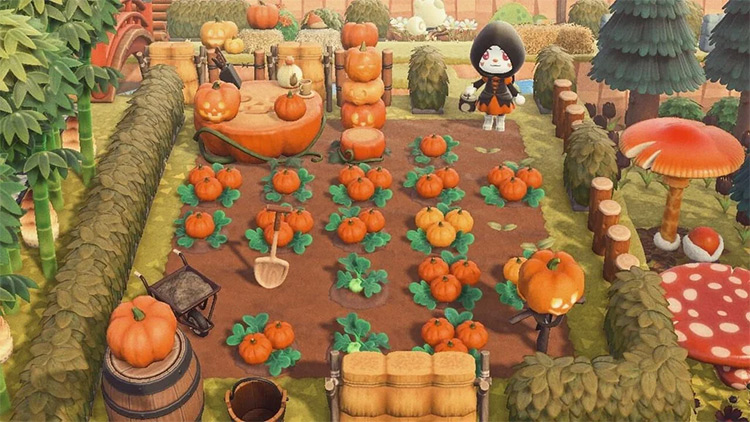 You can't have Halloween without pumpkins.
And here's the cutest spot to get them.
Picking out the perfect pumpkin to carve is just one of the best parts of the holiday, in my humble opinion.
And this adorable pumpkin patch gets bonus points for all of the extra items beyond just the plants themselves. There's a pumpkin lamp, a table, stacked pumpkins, you name it!
It's a busy space that's well designed, all without being so crazy jam-packed that you can't walk around.
This could be your island's go-to for pumpkin carving.
17.

Witch's Botanical Potion Shop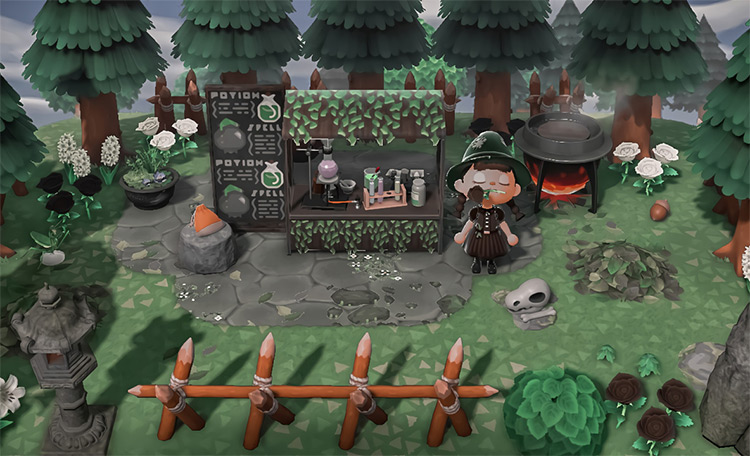 Witches are a pretty solid Halloween subculture, and for good reason.
They're easily one of the best parts of Halloween, as they actually contribute something – just like this potion shop!
When's the last time you saw a ghost open up a business, huh?
This creative, outdoor market-type build uses stalls laden with vials and beakers full of cool, zany spells.
A cauldron stands hot and at the ready to whip up more reagents as needed, so feel free to make requests!
Just no love potions, thanks. That never goes well.
And I really hope that pile of bones is just decoration, and not, like… a potion gone wrong.
16.

Spooky Graveyard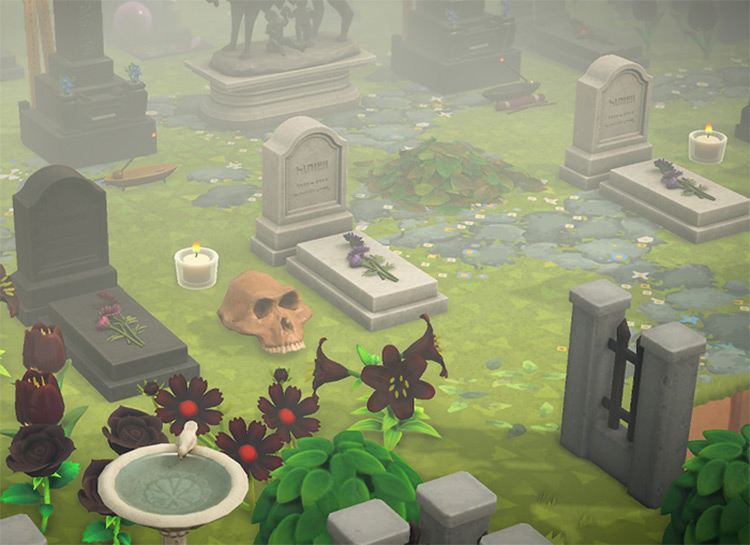 Thankfully, graveyards in Animal Crossing: New Horizons are purely aesthetic and not functional.
But they do make a great spooky build around Halloween!
This specific graveyard idea is painstakingly laid out, with rows of graves, incense burning, and even the Motherly Statue, or the Capitoline Wolf.
Black flowers, like roses, tulips, and daisies, help keep the natural side of things somber.
That doll is just straight up unnerving, though. I wonder if it's haunted?
15.

Eerie Island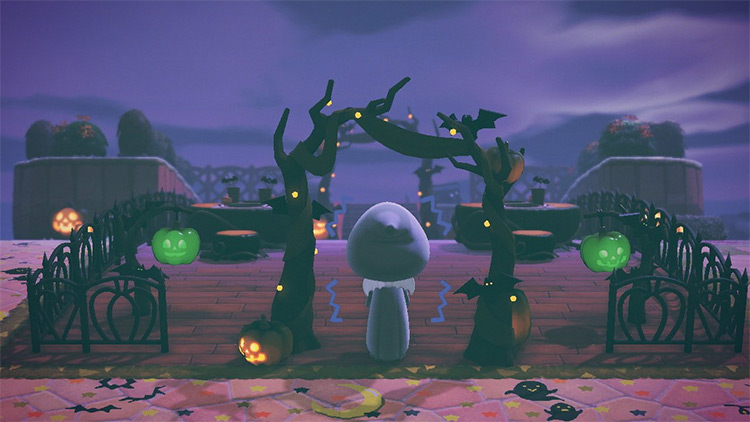 This spooky island area is a fantastic example of what a Halloween island could look like.
It's really well spaced out, not bland, but still empty enough for it to have a really unnerving vibe.
A big grey pumpkin blocks out the foreground, while statues keep watch over what seems to be a somber, ominous castle.
Now that is definitely haunted.
Plus the iron and stone fencing ties the look together so well, too, with its bleak colors. Brr, is anyone else cold in here?
14.

Spooky Island Entrance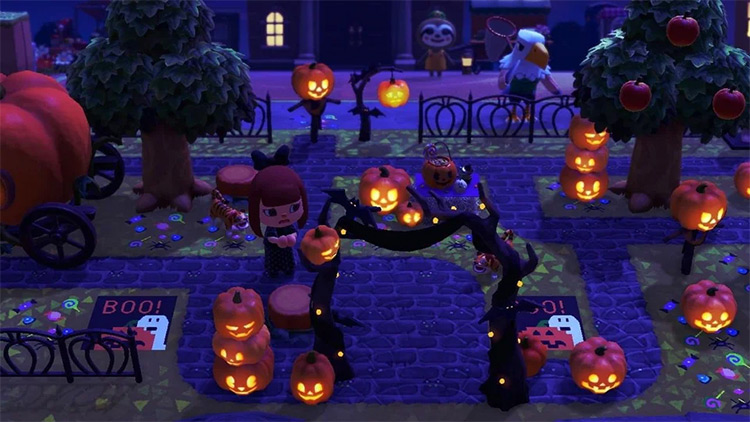 First impressions are important.
And this island kicks up spoopy vibes right off the bat with this creative entrance!
A gnarled arch opens up to a maze of paths, leading past a glowing pumpkin carriage, a table laden with a jack o' lantern, and plenty of other details.
The lit-up pumpkins give just enough light in the dark so as not to get totally lost, but you'll still have to keep your wits about you.
A lot of work clearly went into this, between the custom designs and the methodical collecting of items and DIYs.
13.

Haunted House on a Hill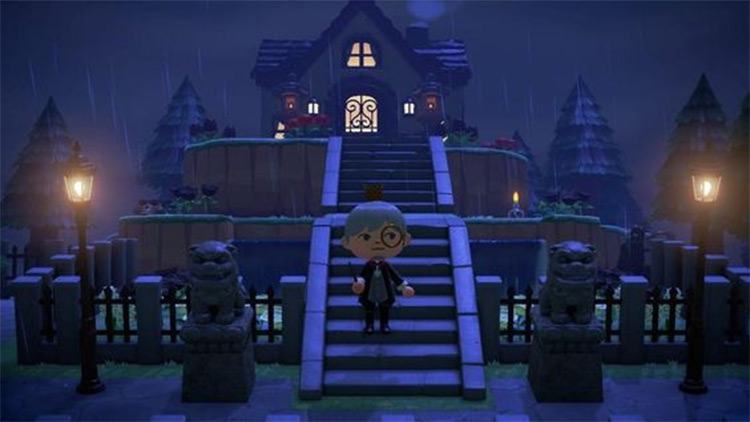 Here's another spooky cool house exterior, perfect for Halloween time.
Stone stairs lead the way up two heights of terraforming, where a creepy, clearly haunted house watches over the rest of the (terrified) island.
The darkness and rain make it look even more convincing!
Two stone statues guard the entrance… but whether that's to keep people out, or to keep something in, I have no idea.
If you decide to build something similar, don't hold me responsible if you get possessed or something.
12.

Abandoned Bridge
Beware… enter this abandoned bridge area at your own risk.
If the gnarled arch and wrought iron fencing weren't enough to scare you away, then congratulations. You're tough.
Where does the bridge lead to?
Who knows, but it might be cursed.
Black roses and tulips, and the odd pumpkin item such as a lantern and a coach, help to make the build feel full and busy.
Maybe it's just the ghost that's making this super scary, but can you imagine this place on a foggy night?
11.

Witchy Spooky Kitchen
Have you ever heard of a kitchen witch?
Normally, it's the kind of thing that has some awesome cottagecore vibes. Or maybe some soft, muted colors.
Well with a spooky kitchen like this, any witch can be a kitchen witch!
Whip up some scary good desserts, or just work on some potions or alchemy.
With a brick oven and a cooktop, there's plenty of space to have multiple things on the go at once.
And there's a nice pile of wood handy, too, for restocking the fires. I mean, there's nothing worse than getting super close to a nice fond or caramelization, and then your heat dies!
In the interest of food safety, maybe take down the spiderwebs, though. Yuck!
10.

We're Watching You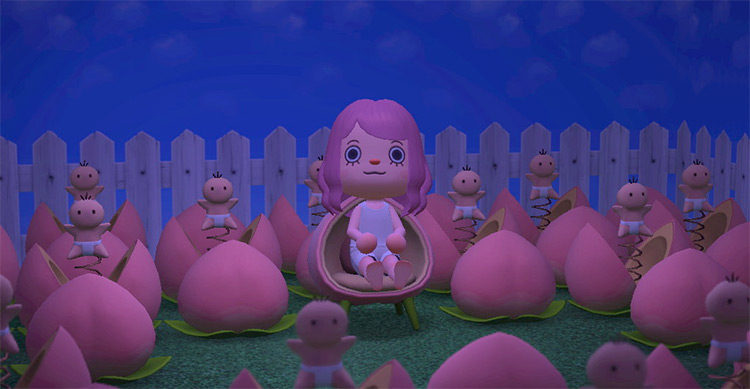 You know what… I'm just going to come out and say it.
The peach surprise baby is creepy.
Dolls are creepy, or else there wouldn't be so many horror movies centered around them.
Yes, I know it's based on the Momotarō myth and Nintendo was being super slick. But if you really want a creepy spooky island, grab as many peach surprises as you can, put them in a field, and that's that.
High-tier spooky.
9.

Halloween Market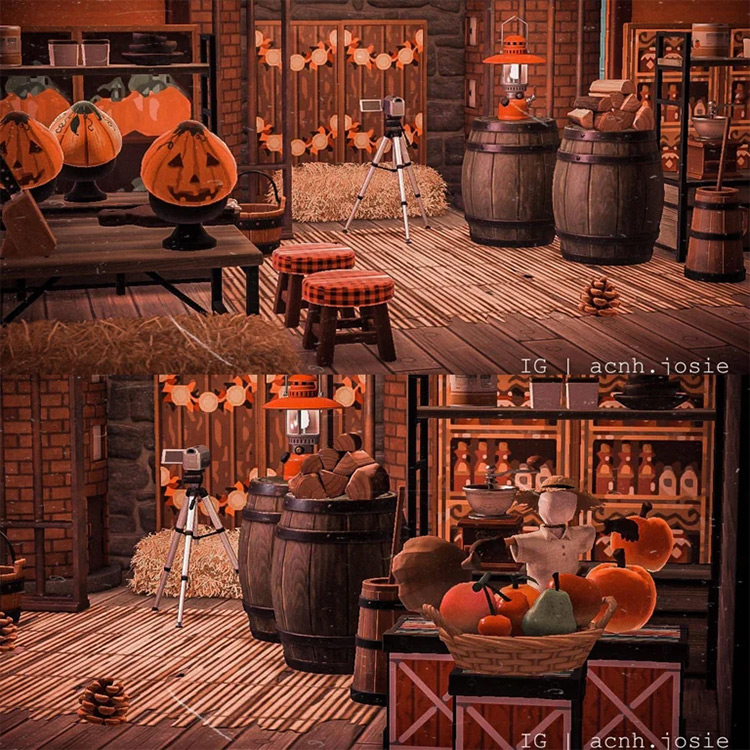 Are you creeped out yet?
Well here's something a little fluffier.
This is an awesome market build filled with beautiful Halloween and autumn colors. You can get ready for the season by purchasing fruits, scarecrows, or pumpkin items.
Are these ones haunted? Maybe. But that's the fun.
Make it an afternoon event with your favorite villagers, as there's plenty to look at! And there's nothing nicer to do on a crisp fall day.
8.

Scary Display
After the sun has gone down, only the stars and tall glowing mushrooms can cast light on this scary display.
Skeletons, hanging jack o' lanterns, and even a pumpkin coach are assembled to look like a skeletal mount pulling a carriage, ready to whisk you away.
How did it get there?
It might have been one of Blathers' ideas. But his little owl hands couldn't possibly have assembled all of those little bones.
It must have been ghosts.
Either way, I would steer clear, for fear of getting cursed!
7.

Halloween Entry Passage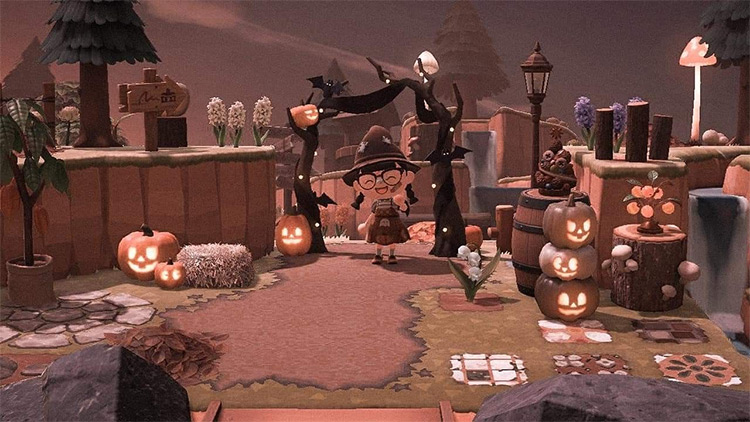 Now this build is spooky in a fun way, rather than a scary one.
A cute witch is ready to guide the way through this passage, which is decorated with jack o' lanterns, hay bales, and other standard Halloween fare.
One of the really great things about this build is that it isn't too simple, but it also isn't so full of a vast array of DIYs that it isn't realistic to replicate.
Even if you don't have a couple of the items, they can be swapped out.
For example, if you don't have that cute pumpkin lamp on the right, replace it with a candle, or just a plain old pumpkin!
The possibilities are endless.
6.

Corn Maze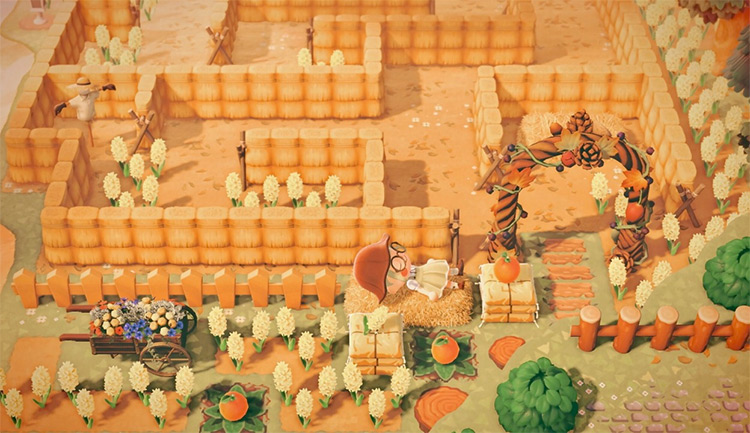 Corn mazes are a classic Halloween festival staple.
Along with bobbing for apples, pumpkin carving, and costume contests, corn mazes (or any kind of maze, really!) are a total necessity for a successful party.
It's a great thing to do design-wise, but it's also super functional.
You can host an IRL festival with your friends (if you have a Nintendo online pass) and hide prizes in the maze, for example.
Or, if you'd rather a trick than a treat, maybe a rotted turnip!
5.

Pet Sematary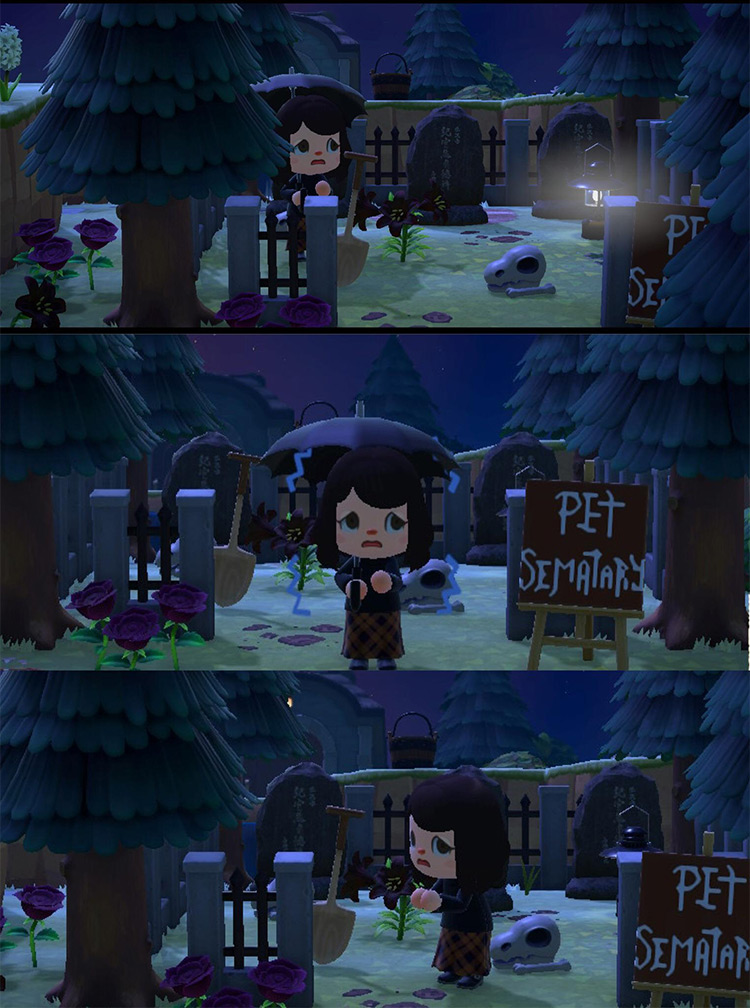 If you're into Stephen King or horror movies, this is the build for you.
Not quite the same as a regular Halloween graveyard, this Pet Sematary inspired site is a sleek nod to the book and movie of the same name.
It's super easy to replicate, too.
With just a few spare skulls from fossils and a stone marker (the DIY for which can be found via the Nook terminal in Resident's Services) you can dive in and re-create this idea on your own island!
Toss in a shovel and some fencing and flowers, and you're golden.
4.

Haunted Orchard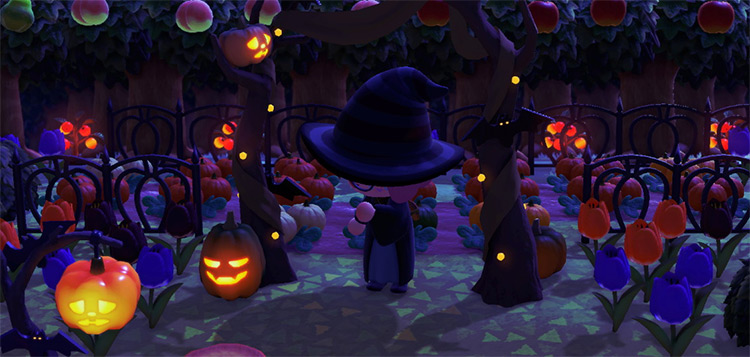 Softly glowing Jack o' lanterns and a few glowing fruits are the only things that provide light in this pitch-black haunted orchard.
Flowers of purple and orange help to keep the space Halloween-y, and fruits of all sorts hang above a big pumpkin patch.
Your villagers will love coming to pick out a pumpkin to carve – in the light of day, that is.
3.

Seer's Parlor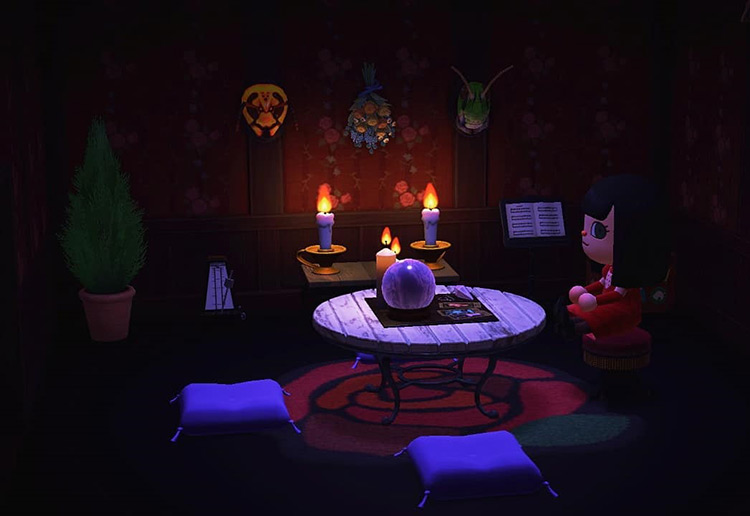 If the ghosts aren't going to come to you, well, you'll just have to come to them.
All sorts of mystic activities are made fun and easy with this crystal ball and tarot set, all done up in a witchy parlor.
Dried flowers, insect heads, and candles set the (admittedly odd) vibe for this build.
Invite your friends, take a seat around the round table, and read some palms, fortunes, or just make some fun ghost pals.
2.

Spooky Secret Garden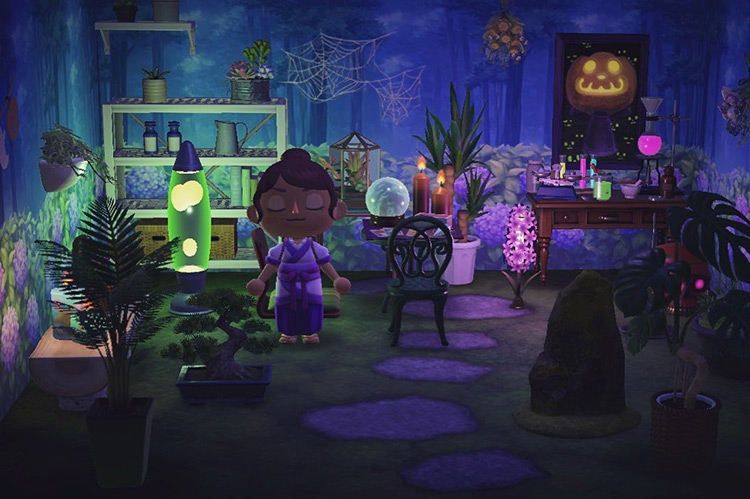 One of the best parts of this garden build is that it's a secret area.
Since this is inside the player's home, villagers aren't going to just wander in and start doing that singing thing some of them do in the square.
Don't get me wrong, it's fine, sometimes… but gardens are meant to be enjoyed peacefully (read: quietly).
Enjoy a spooky garden from the comfort of your own home by re-creating this build.
Try it with similar features too, such as a pumpkin painting, cobwebs galore, and a card reading set.
The green lava lamp adds some swanky green mood lighting, and you can't tell me that it doesn't look like a jar of suspicious goo.
1.

Halloween Carnival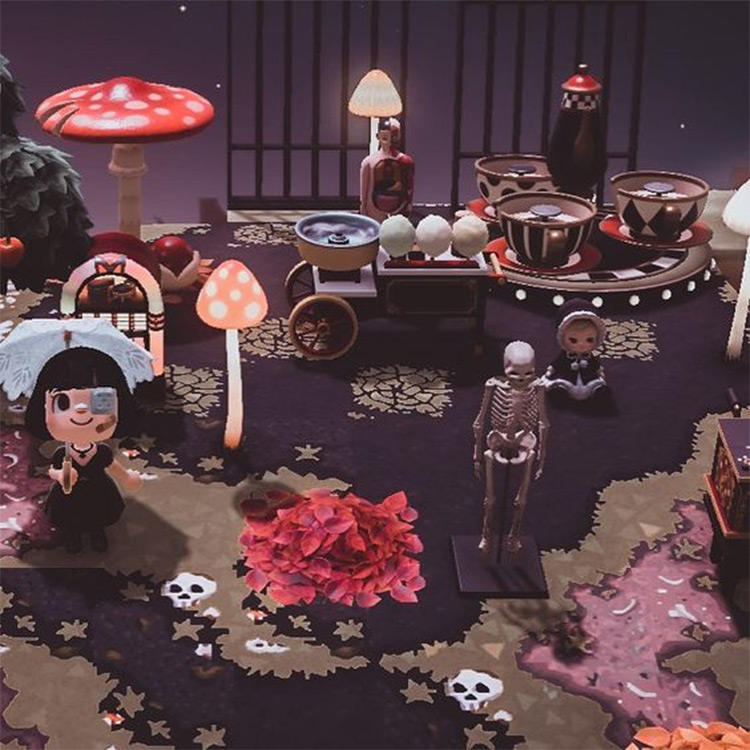 A soft & ominous creaking, the crisp scent of the promise of frost, a cold wind…
These are the things you'll notice as you enter this obviously haunted abandoned carnival.
If the creepy doll and skeleton aren't enough to unnerve you, maybe the biology dummy is.
Don't get drawn in by the sweet cotton candy. Because this carnival of horror is where you'll meet the scary kind of clowns, not the cute or funny ones.
If you're re-designing this yourself, maybe add in some custom paths to match your island's style!
Designer Tip: you can find the teacup ride in the Nook Stop in Resident's Services.
Browse:
Animal Crossing
Lists
Video Games