Harry Potter Island Design Ideas For Animal Crossing: New Horizons
This post may contain affiliate links. If you buy something we may get a small commission at no extra cost to you. (Learn more).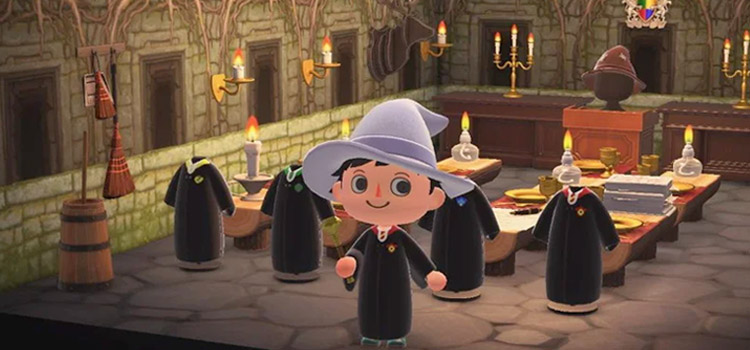 Be sure to go to Diagon Alley, visit Gringotts, and get all of your school supplies, because we're heading to Hogwarts for this list!
I love seeing people recreate scenes from television and movies. And as a massive Harry Potter fan, I could not contain myself with these incredible ACNH designs.
If you're a wizarding fan like me, then you may want to try out some of these Harry Potter themed ideas for your own island.
And I promise not say "magical" too much…
10.

Hogwarts Express
All aboard!
Everyone's first impression of Hogwarts comes before they even enter the famous wizarding school.
The Hogwarts Express takes everyone to and from the school, and you can recreate it on your island in a few easy steps.
Start out by customizing some simple panels to look like the train interiors, and line them up as a wall.
To create the train body, purchase some box sofas and arrange them into individual train cubicles.
Also, craft two stalls and a brick oven, and arrange them like this design to form the train's engine.
Lastly, create some custom designed standees for the exterior wall. Now you're ready for the first ride of your magical journey!
9.

Honeydukes Sweet Shop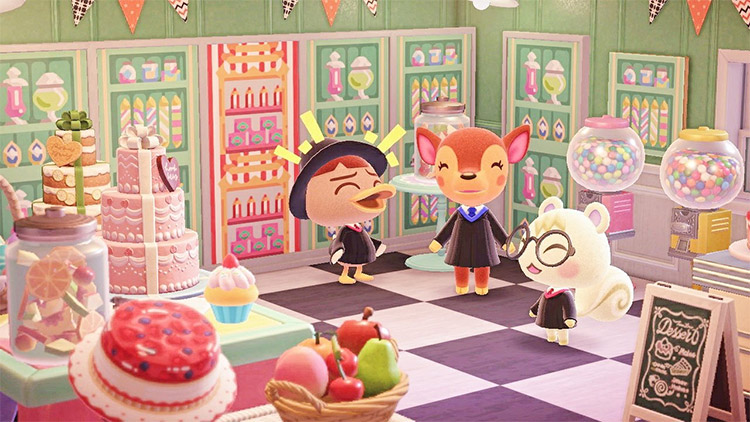 Let's say you're in your third year at Hogwarts now, and have been granted permission to visit the nearby wizarding village of Hogsmeade.
Why not stop into Honeydukes for a treat?
To start this design, you'll want to customize simple panels to display shelves of candy and display them along the walls.
Set up some diner counter tables for a cash register, and craft a wooden block table from some softwood.
The rest is basically decking out the shop from head to toe with various sweets that you can purchase or create.
Buy wedding cakes, candy machines, popcorn machines, soft serve lamps, craft a fruit basket, an infused water dispenser, and even customize some hats to look like cakes.
This is one sweet design you don't want to pass up!
8.

Flourish & Blotts
It's yet another new year, and you need to pick up some text books.
There's no better place than Flourish & Blotts for all your spell book needs.
This design uses multiple stories of shelves just like the shop in the movies, so be sure to sculpt some cliffs for an upper level.
The most important thing you need here is books (duh), primarily to craft many wooden bookshelves to display on both of your levels.
You can also craft some prison bars from iron to create the main door.
But the best part is the customized stalls and simple panels that are designed to look just like the shop windows and awnings!
7.

Dolores Umbridge's Office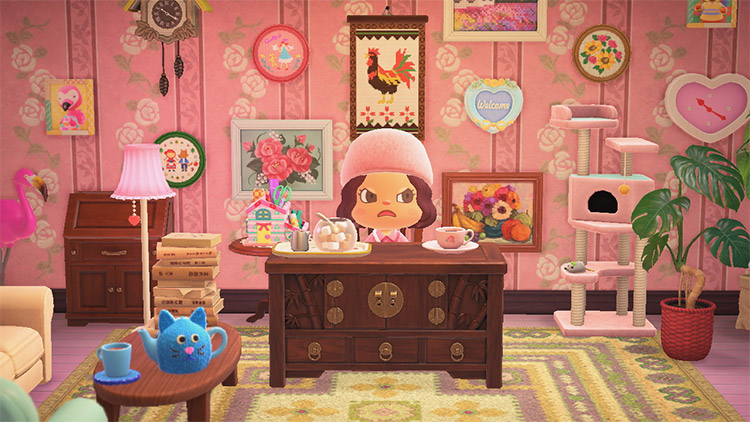 I'm trying to contain my anger right now because, like most Harry Potter fans, I despise Professor Umbridge with every fiber of my being.
On the other hand, recreating her office might be pretty fun (especially if you like pink).
Start with Sakura wood flooring and white rose wallpaper for this design, because Umbridge is a little too obsessed with pink if you ask me.
Then set up an imperial chest for her desk, topped with a tea cup (probably full of Veritaserum so don't drink it).
Then finish it off with cats everywhere!
While the tapestries and Flora's picture are cute, I personally think displaying cat villagers pays greater homage to her office.
6.

Herbology Class
If you're a plant lover, your favorite Hogwarts class might be Herbology.
And if you're looking to build a custom greenhouse, then this greenhouse of fantastical plants offers a brilliant crossover.
Just start by laying down some stone pathway for the flooring.
Then line up rows of rattan low tables and stools that you can purchase on Nook Shopping.
Craft some stalls and customize them to have a natural, ivy leaf pattern as shown.
Then, plants!
Display all of your favorite plants as you see fit.
This player used anthurium plants on all the tables, and a monsters plant, moss ball, and anthurium plant.
While not mandatory, creating this custom look for Professor Sprout means you're ready for class.
5.

Divination Class Room
When you're done with Herbology class, climb the stairs and up the ladder into Professor Trelawny's tower for Divination class.
While this design isn't quite true to its movie appearance, I do like the use of the heavy curtain wall to create a dark and mystical feel to the room.
To design this room for yourself, you'll want to purchase items to set up the students' desks, such as velvet stools and rattan tables.
Top off each table with a fortune teller set, and you're all set to dive into the mystic arts.
4.

Quidditch Pitch
It's the time of year you've all been waiting for.
October has come, and Gryffindor is facing Slytherin in their annual Quidditch match.
This design is almost purely custom designs, but there is some manual labor involved as well.
I would start off by setting up the court, which consists of custom designs for boundary lines, brooms, and even uniforms set up as players.
Next, line up some simple panels in the back with custom designs to look like an audience and the Hogwarts crest.
Then to the sides of the court, create one square of elevation in the middle, and set up three nets around it to act as the Quidditch hoops.
Finish it up with customized stalls to look like even more audience members for each house, and let the games begin.
3.

Gryffindor Dormitory
When it comes time to turn in for the night, head up to your dormitory and slumber in this cozy Harry Potter-themed scene.
Start with red art deco wallpaper and dark block flooring that you can buy at Nook's Cranny.
Next, purchase plenty of furniture items such as an imperial bed, fireplace, and imperial chest.
Set up the seating area by crafting wooden mini tables and chairs, topped with that chessboard game you've had going with Ron all afternoon.
Finish off the walls with your favorite artwork like the famous painting, serene painting, and jolly painting.
Oh, and don't forget the custom designed Gryffindor crest!
2.

Slytherin Common Room
I am a proud Slytherin, so I'm truthfully a little biased towards this design.
You must admit, though, it's just as dark and brooding as you'd expect from the Slytherin Common Room.
You can build this by purchasing some black botanical wallpaper and dark wood pattern flooring.
Set up a couple of black double sofas, a wooden low table, and a wood burning stove into a little seating area.
You may also want to craft some furniture like an ironwood cupboard, prison bars, and a bamboo shelf.
Once you purchase some antique furniture like an antique clock and desk, you can relax with your fellow Slytherins.
1.

Hogwarts Great Hall
Naturally, the great hall had to be the best design.
It's the main attraction of Hogwarts, after all!
This great hall design is set up outdoors, so you'd lay down some custom designed brick and wood pathways to start.
Then craft plenty of wooden tables and log benches, and arrange them in long rows for each house.
Set up some den desks and a golden seat at the head of the room for the teacher's table.
Then you basically just want to cover the tables with food for the feast.
Orange pumpkins, mom's homemade cake, yule logs, fruit baskets, and pi pies are just some of the many items you can include!
Browse:
Animal Crossing
Lists
Video Games