Hippie & Eco-Friendly Island Ideas For Animal Crossing: New Horizons
This post may contain affiliate links. If you buy something we may get a small commission at no extra cost to you. (Learn more).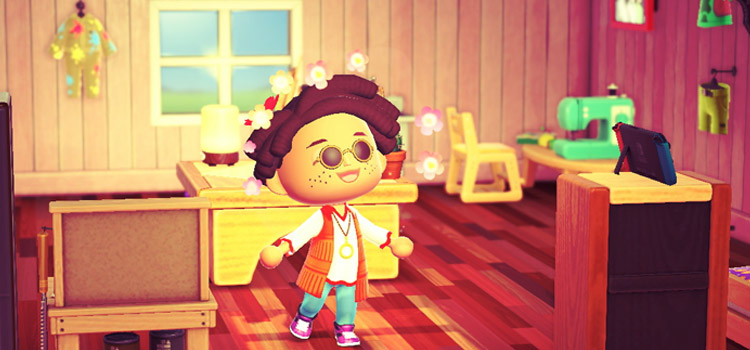 Are you a fan of all things hippie?
Well it's easy to bring that passion onto your New Horizons island!
Make your beach a boho paradise. Create a park where free spirits can enjoy the great outdoors. Invite your friends to go with the flow on an island teeming with nature's beauty and sustainable tropical living.
If you're not sure how to start creating a hometown where you can express your nature loving heart, we've got some ideas here to help you design a primo paradise.
I think you'll dig these creative designs that are sure to put a smile on every flower-child's face.
10.

Compost Bags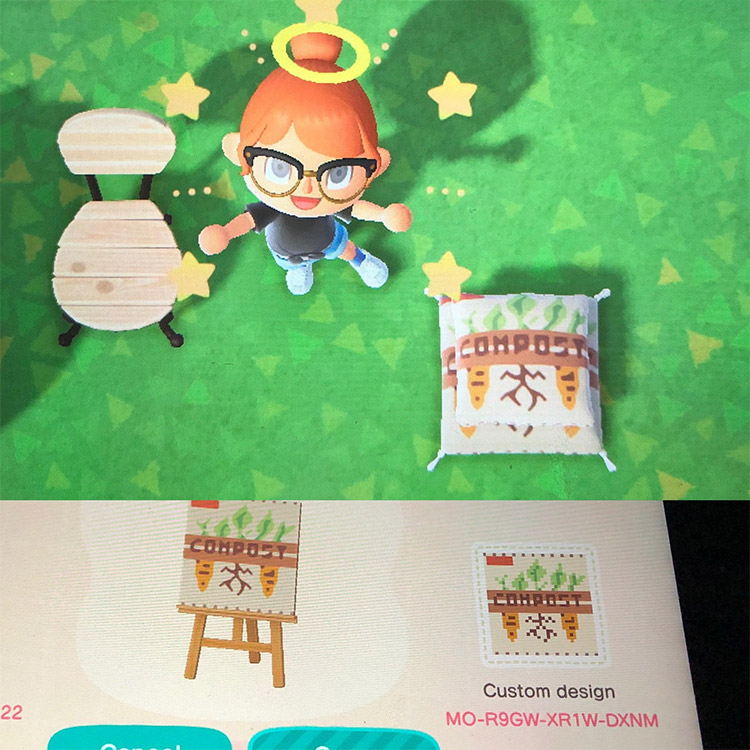 One of the core ideas of the hippie movement is respecting the environment and making eco-friendly decisions.
What better way to show the earth you care than swapping out chemical-laden soil supplements with fresh, homemade compost?
This player used two different cushions to create a stack of fertilizer ready for the farm!
To get this look, use the Zen Cushion on the bottom and a Cushion on top. The Zen Cushion is slightly larger, so it gives the item a little more dimension and character!
Then, use a compost bag design to dress up both of your repurposed pillows.
9.

Flowers, Flowers, & More Flowers!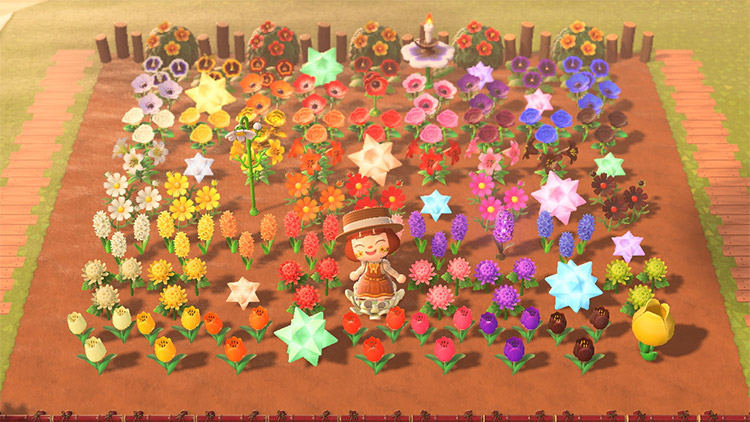 Nature is totally groovy, man… Especially when it's as gorgeous as this field of fresh flowers.
Dress your island up with a variety of flora, either arranged into beds or sprinkled across your town au naturale.
If you choose to make beds, keep your fences rustic. Hippies have never been known for their masonry and metal. Unprocessed wood, on the other hand, is ideal for an environmentally friendly alternative.
8.

Secondhand Sales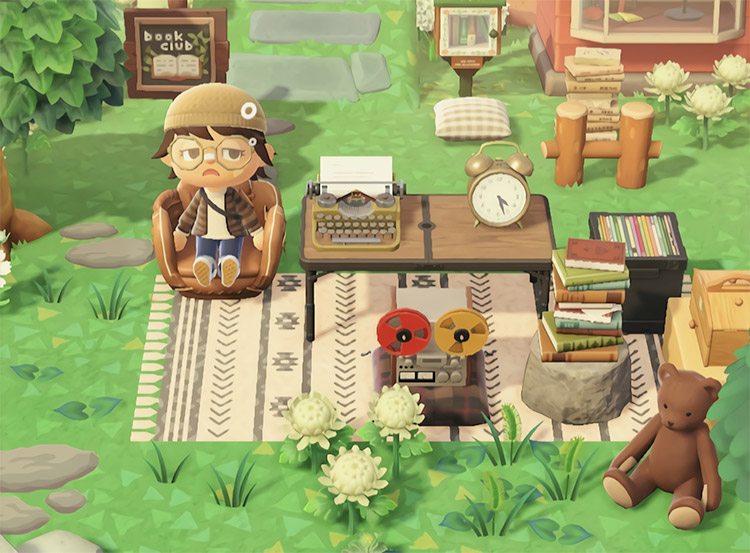 If you played Animal Crossing: New Leaf, you remember Retail.
Reese and Cyrus, two loveable alpacas, invited players to bring in their unwanted items to resell to other villagers.
This idea of reusing instead of buying new is very in tune with hippie culture.
In fact, ask any hippie what their opinion is on tossing out items, and they're sure to tell you, "One person's trash is another one's treasure!"
Instead of getting rid of old items by selling them to the Nooks for disposal, let your friends stop by for a yard sale.
Maybe invite everyone over to look around, haggle on prices, and enjoy all the goodies you're ready to get rid of.
7.

Tie-Dye Designs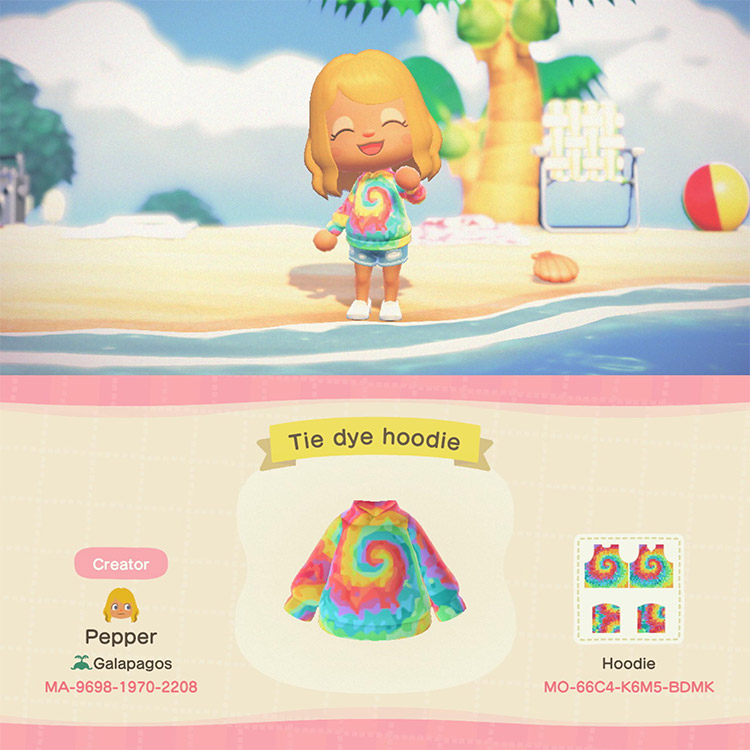 Perhaps the most iconic fashion statement of hippie culture is tie-dye patterns.
With the right design codes, you can dress up any of your threads in swirls of psychedelic colors.
Take this look back to your pad and spend your spaced-out days kicked back at home with walls dressed in twists of your favorite color combinations.
The best part is that tie-dye is meant to look artsy and natural. So it's a fun way to stretch your creative muscles in the Nook Phone design app.
6.

Wind Farm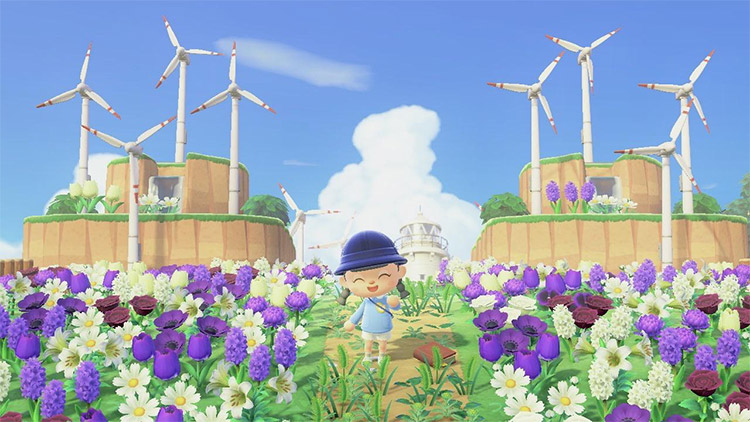 Mother Nature already provides us with so many options for powering our world.
So why not give her a little help with a windmill farm?
Use the terraforming feature to build layered cliffs, then place staggers of aerogenerators to create a sustainable source for your island's electricity needs.
You can also take it a step further with generators next to your waterfalls for hydroelectric power. High-tech hydropower might seem counterproductive to the hippie movement, but anything that works to save our planet from harm would be a welcome addition to a laid-back island.
5.

Farm-to-Table Cafe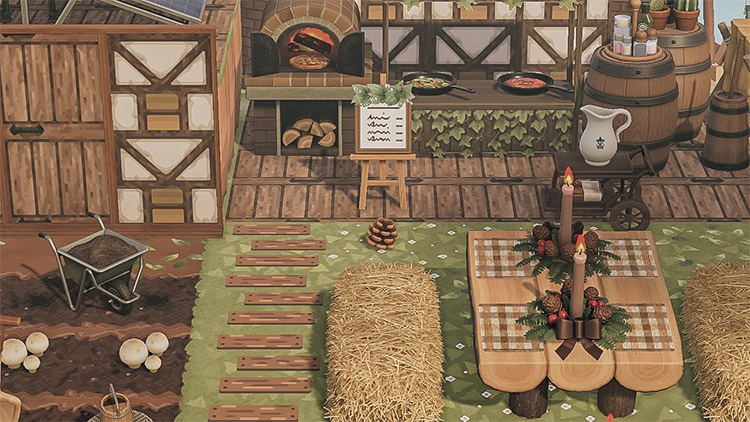 Vegetarianism, veganism, and the farm-to-table movement are all popular for groovy guys and gals who want to reduce their impact on the farming and livestock industry.
So instead of creating fancy cafes, invite your neighbors to nosh on fresh produce that's raised right in your own backyards.
Create a menu sign featuring dishes made exclusively from your island's native fruit, or mix it up when other edible plants come into season, like mushrooms in the fall.
4.

Outdoor Art Studio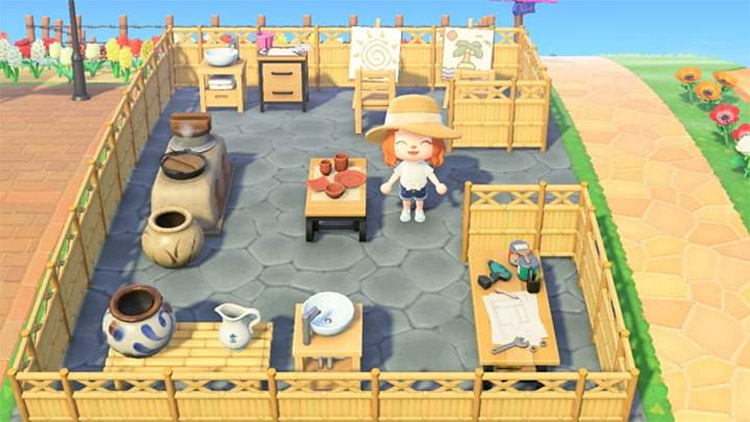 I have a feeling that your artistically-inclined villagers are going to think this outdoor art studio is outta sight.
Whether you want to get your hands dirty with pottery or paint political posters urging for a more peaceful tomorrow, you can do it all with a large alfresco studio.
This creator went all out, even including a handwashing station and a hardware space, where handy villagers can build widgets, then head over to the painting area for some decoration and design.
3.

Recycling Center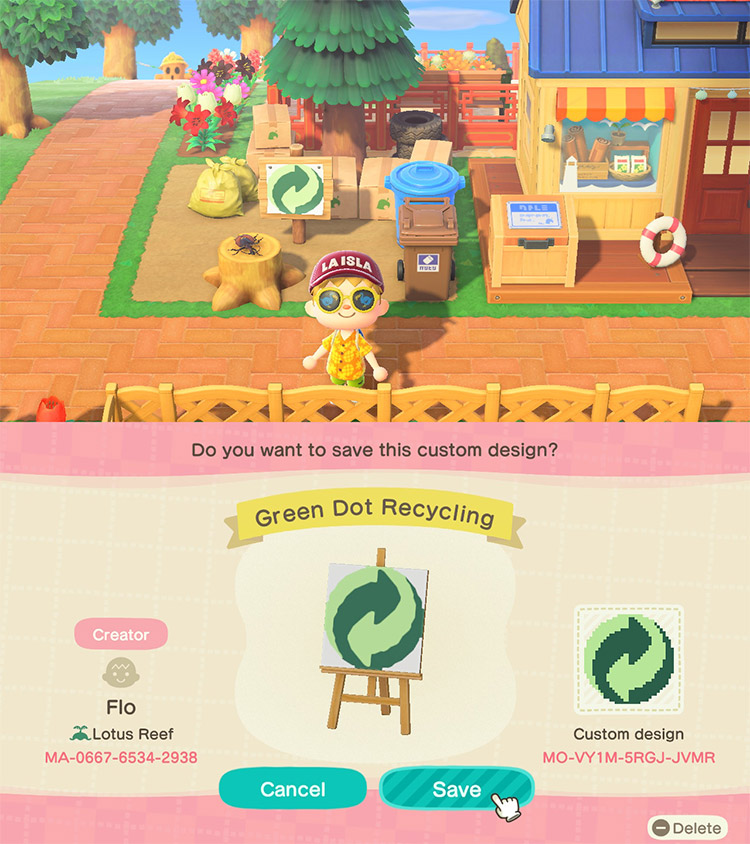 Don't let the Nooks hog all the fun of keeping your island eco-friendly!
Try creating a little recycling area outside of the store. This is where your neighbors can stop by with their garbage, sort it into bins, and help reduce their impact on the island's environment.
And if you'd like, you can even make your own little recycling company, complete with a logo and uniform!
Set up shop outside of Nook's Cranny, then offer to take care of old clothes, falling-apart furniture, and other items that would otherwise end up in the deposit box.
Not only is it a fun way to interact with visiting friends, but it also reminds you to stay aware of what types of items you're willing to toss in the trash.
2.

Classic Hippie Clothes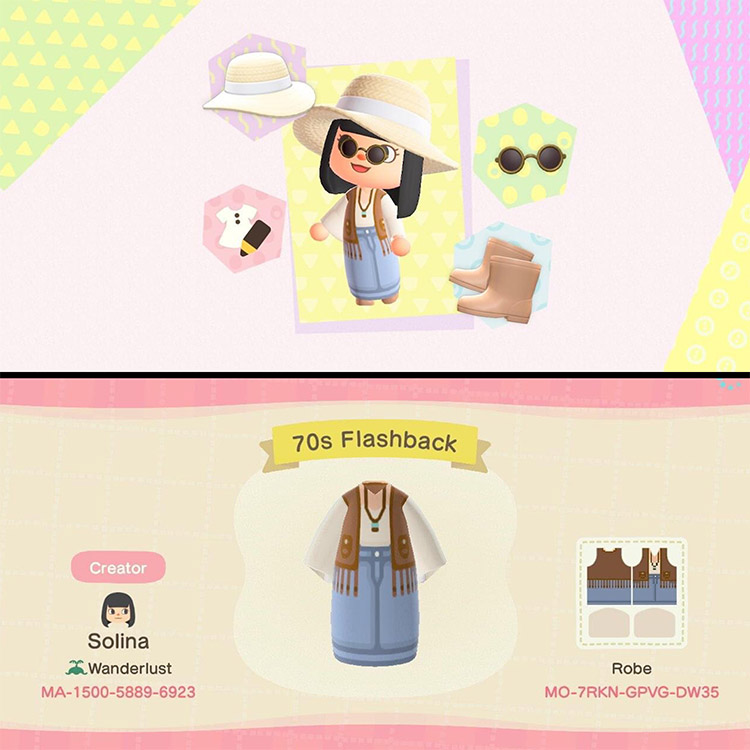 Tie-dye is essential to the hippie fashion movement.
But you can jazz it up even further with head-to-toe silhouettes of the 60s most popular styles.
Try out a long denim skirt, fringe vest, sunhat, and round sunglasses for an effortlessly breezy outfit for your days spent in the sunshine and summer breeze.
Other classic 60s hippie fashion options include bell bottoms, corduroys, peasant blouses, and pretty much anything handmade!
To keep things in theme, you should skip out on dark colors, sharp lines, and fur-lined anything. Hippies are fans of creating their own clothes instead of buying new, so be sure to put in those little handmade details, like macramé accents on your shirt or big floral patterns on your favorite bandana.
1.

Laid-back Villagers Only!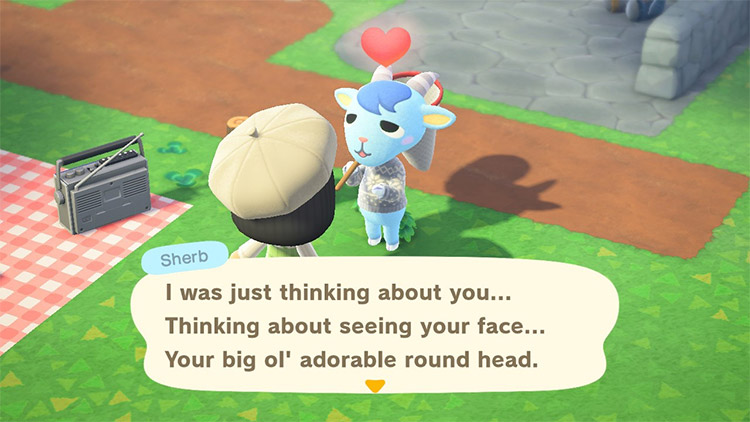 Resident hippie and all-around chill dude Harv would think a resident population of all lazy villagers would be totally far out.
Keep things super laid back by inviting the animal friends like Sherb, Stitches, and Beau to move in.
Their charming laziness and adorably messy personalities make them great candidates to enjoy that simple, sustainable lifestyle you're looking for.
Just be sure to keep plenty of snacks around!
Browse:
Animal Crossing
Lists
Video Games