15 ACNH Hotel Designs & Hotel Lobby Ideas
This post may contain affiliate links. If you buy something we may get a small commission at no extra cost to you. (Learn more).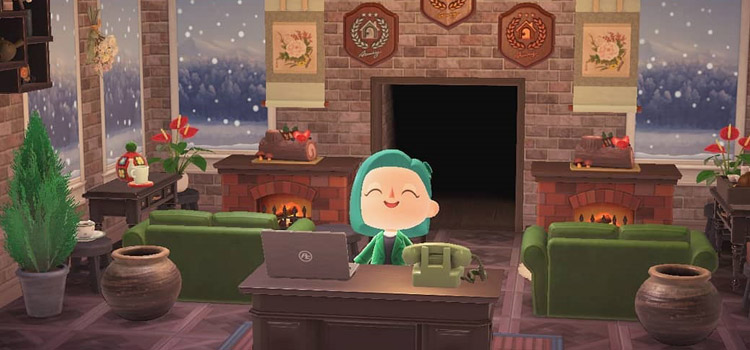 Service please!
One popular Animal Crossing aesthetic is to create different rooms of varying styles in your home, and none are fancier than an island hotel.
Frankly, I could use an island vacation.
And if you're like me, then you might want to try out one of these hotel designs on your own island.
15.

Speedy Check-In Counter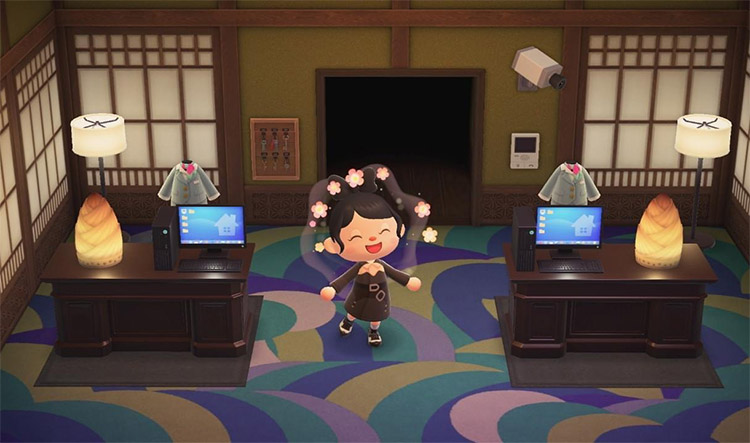 Every hotel experience starts when you enter the front doors and walk up to the check-in counter.
And sometimes, the check-in process can take a while.
Well here's a simple idea for a speedy check-in to maximize every guest's happiness.
Start with some lobby flooring, since this is the lobby of a hotel after all.
Then setup a couple of den desks with desktop computers, which can both be purchased on Nook Shopping.
The flight crew uniforms on display are a neat little addition to give the illusion of hotel employees standing at the ready to help incoming guests.
14.

Cozy Hotel Lobby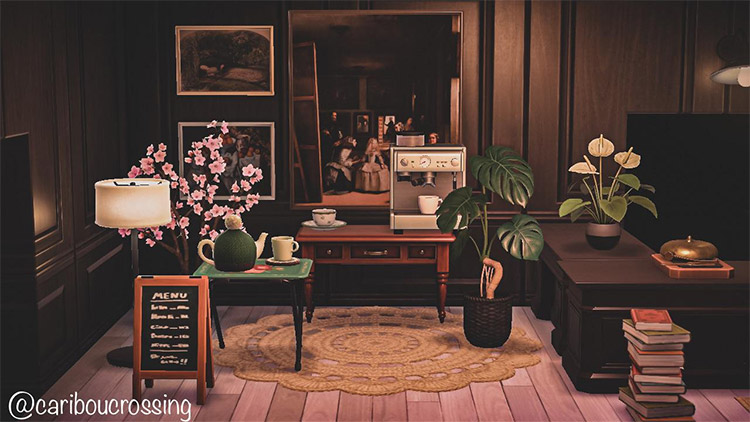 If the lobby and check-in give off the first impression of a hotel, then you want to make it as welcoming as possible.
I think this design does that perfectly.
To make this yourself, start off with some black hallway wallpaper and a couple black den desks to match.
I love the antique console table and espresso maker setup to be a small refreshments area.
I also really like all the artwork to give this lobby some class.
The solemn painting and sinking painting are a couple of my favorites.
Then all that's left is a menu chalkboard and some plants, and you're ready to check-in!
13.

Five Star Lobby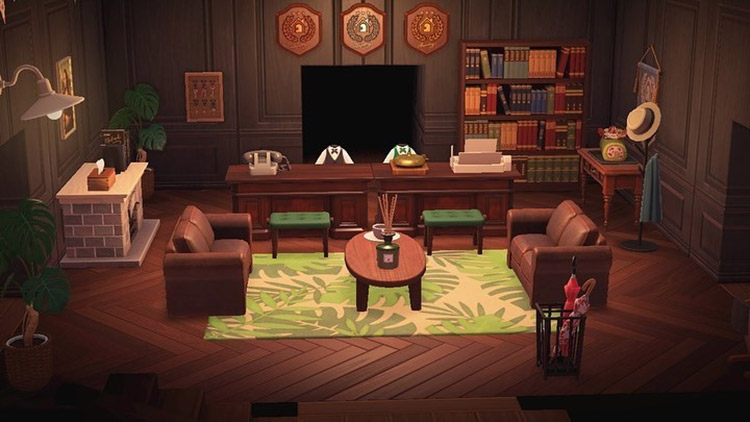 Perhaps the high-end life is more your style.
Consider this design idea and see if you can get a taste of that luxury life.
To make this yourself, you'll want some black hallway wallpaper and dark herringbone flooring to start the room.
Next, purchase some den desks for reception, and two double sofas for seating.
Craft a wooden low table to go with the sofas, and obtain a botanical rug to go underneath your fancy seating area.
And if you really want to spruce up your lobby, then proudly display your various "Happy Home Academy" plaques on the wall – as if they were awards for your hotel's excellent service.
12.

Moonlight Lobby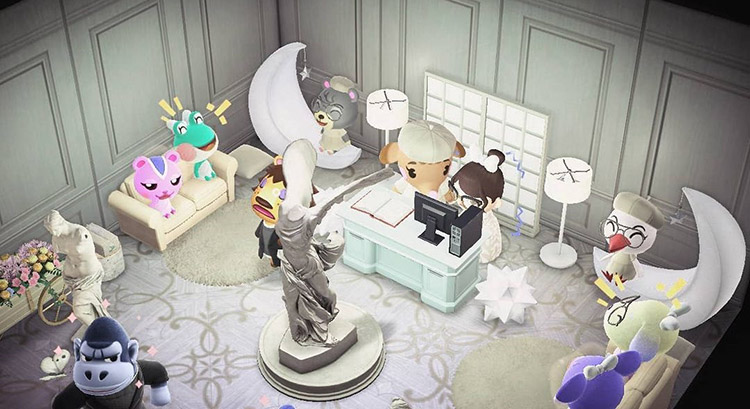 If you prefer light colors and the brightness of the stars at night, then this lobby design is the one for you.
Start with some white hallway wallpaper and white iron parquet flooring.
You'll want to fill the room with some white furniture as well. Include a den desk, double sofas, and floor lamps.
Once you wish upon some stars, you can craft the nova lights and crescent moon chairs from the fallen star fragments.
Finish off your lobby with a grand sculpture in the middle like the valiant statue, but be sure to keep those white walls squeaky clean.
11.

Fancy Bed & Breakfast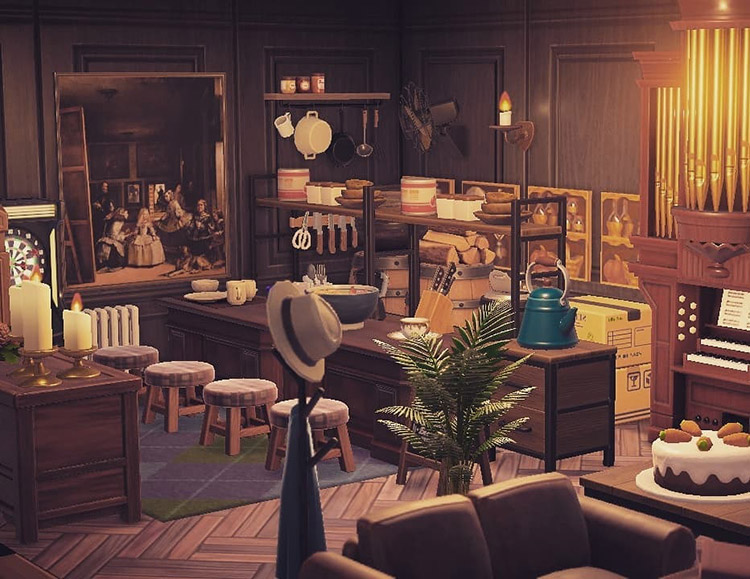 I like sleeping.
I like breakfast food.
So as far as I can see, this is my ideal setup.
If you want to recreate this bed and breakfast, start by purchasing some den desks and setting them up as a counter.
For seating, you'll want to craft wooden stools to line along the counter as well.
And you can make a more cozy sitting area by setting up a fireplace and some double sofas, both of which can be purchased on Nook Miles.
While not mandatory, I also like the wedding pipe organ. It sure does liven up the scene and provide some music for a relaxing weekend away.
10.

Countryside Inn Room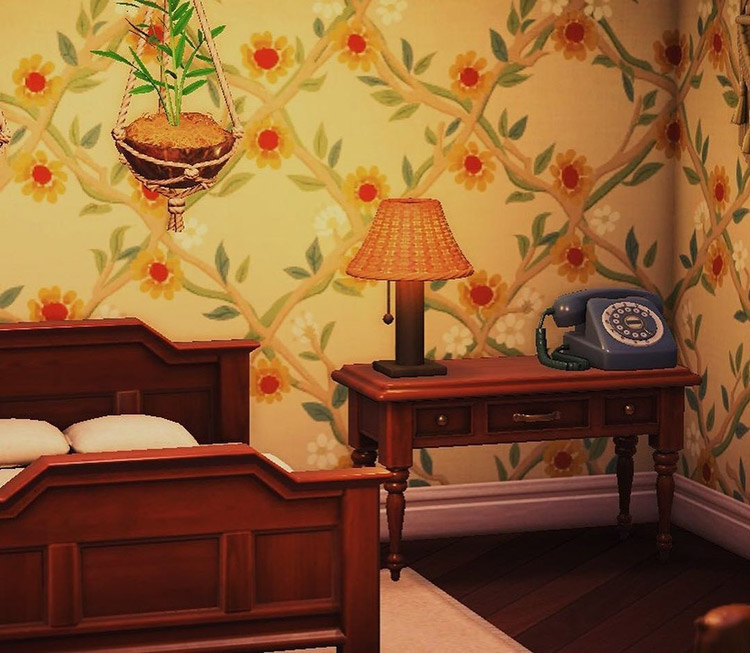 Perhaps staying in a small inn out in the country is more your speed?
Your rural islanders are going to love this.
You'll want to start with a chic wall and dark herringbone flooring to make this room look, well, chic.
Setup the room with tons of antique furniture, including an antique bed, chair, vanity, console table, and wardrobe.
Save those bells, because these don't come cheap.
Then craft a log shelf out of hardwood. On the wall above, mount a 20 inch TV as well as a deer decoration (one of my favorite items).
Finish it off with a rattan lamp as you bedside table – probably something you'll be happy to turn off when you turn in for the night!
9.

Imperial Suite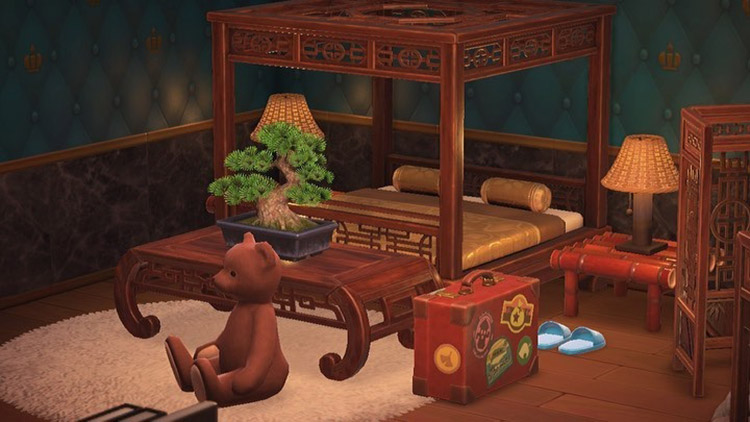 I mean, who wouldn't want to stay a night in the fanciest hotel room out there?
If "fancy" is your scene, then you'll want to give this imperial-style hotel suite a spin.
Imperial furniture is not exactly the cheapest. But you'll need a lot of it.
Save up so you can buy an imperial bed, chests, screens, and low tables.
Then add a 50 inch LCD TV within perfect view of you imperial bed. Who doesn't love watching TV in bed?
I also like the inclusion of the outdoor bath that can be crafted from many stones.
It's a nice touch to enhance the imperial Japanese décor.
8.

Antique Hotel Lobby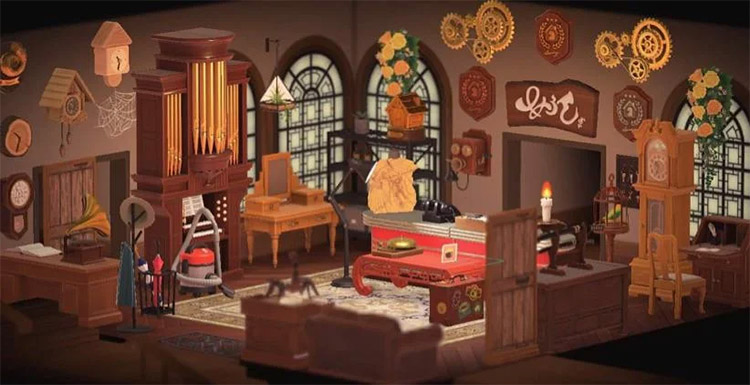 While a cluttered hotel lobby might give off the wrong vibes in the real world, in Animal Crossing, it makes for a unique take on an existing idea.
The counter here consists of two diner counter tables set up with a doorway behind them, as if the room beyond is the office.
You'll need to obtain some antique furniture again, like the antique clock, antique vanity, wedding pipe organ, and den desk.
There's honestly some much going on in this room that I simply can't mention everything – so I'll just list some of my favorite items.
The wall mounted gears, phonograph, iron shelf, imperial low table, and vacuum all make for great additions.
I also like the added touch of the judge's bell. This works as the perfect service call bell.
7.

Holidays at the Hotel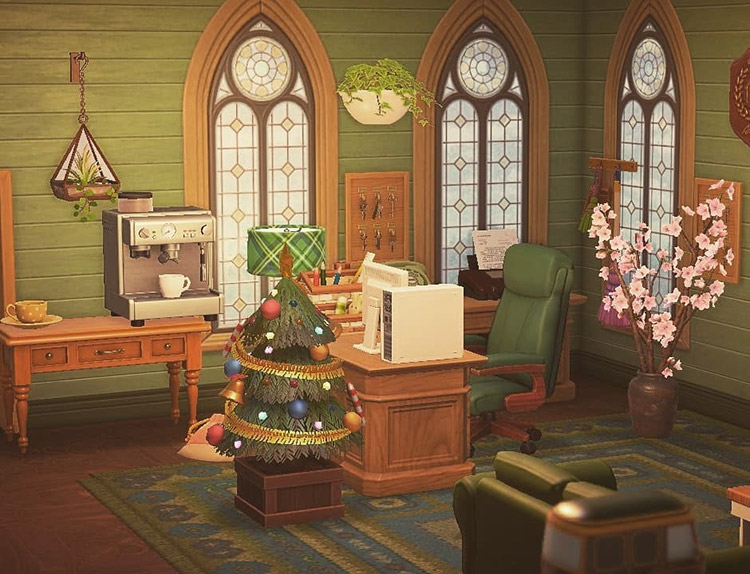 Have you seen Home Alone 2?
That's where my mind goes when I think about holidays in a hotel.
While your room won't be quite as glorious as Christmas at the Plaza Hotel, it still has plenty of Christmas spirit to go around.
The green wedding wall from this idea is a nice start, as it sets up the Christmas color scheme.
Next, setup the reception area with a den desk, den chair, and desktop computer.
Crafting a key rack for the wall is a cool addition.
And I hope you have spare ornaments, because you'll need them to craft a large festive tree. Only then can the festivities begin!
6.

Classical Roman Hotel
Here's another possible twist for a hotel lobby: creating a classical Roman palace.
Start off with some palace flooring and stately wallpaper to set up the regal interior.
As per usual, you'll need some den desks to create a counter in front of the doorway to the hotel office.
Some double sofas make for great lobby seating, and the fan palms make for great decorations. Be sure to purchase both items when you can.
Then craft an umbrella stand and coat rack from some iron nuggets as well.
If you've obtained Rover's briefcase, it makes for a nice added touch. Kinda like someone had actually brought their luggage into this glorious lobby.
5.

Oceanside Inn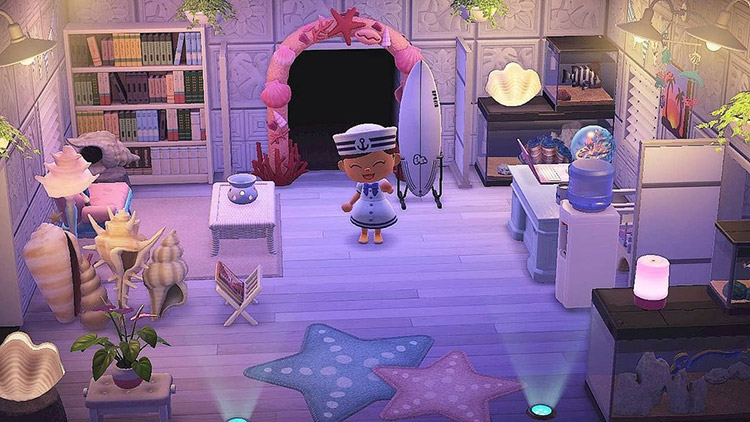 If you're a fan of the mermaid aesthetic like I am, then consider incorporating that into your hotel lobby.
You'll need many shells to craft all the mermaid recipes you get from Pascal.
The items you'll need here include a mermaid sofa, rug, lamp, shell arch, and shell lamps.
Then just create a front desk out of a den desk, add a water cooler, and a laptop for check-in.
I love the sea creatures in the tank that add to the aquatic theme, especially the Gigas Giant Clam.
Now put on you sailor's hat and outfit so you can sail the seven seas in this oceanside inn!
4.

Hotel Fitness Center
If you have a spare room in your hotel (er, home) then consider turning it into a community fitness center.
Every hotel has one, right?
Make sure you purchase an office desk, modern desk chair, desktop computer, and rotary phone to set up the reception area.
Then you want some top-of-the-line exercise equipment.
So be sure to purchase some exercise bikes, treadmills, and weight benches so you can get nice and swole.
Also, maybe consider buying the water cooler and snack machine for some mid-workout nourishment!
3.

Japanese Feng Shui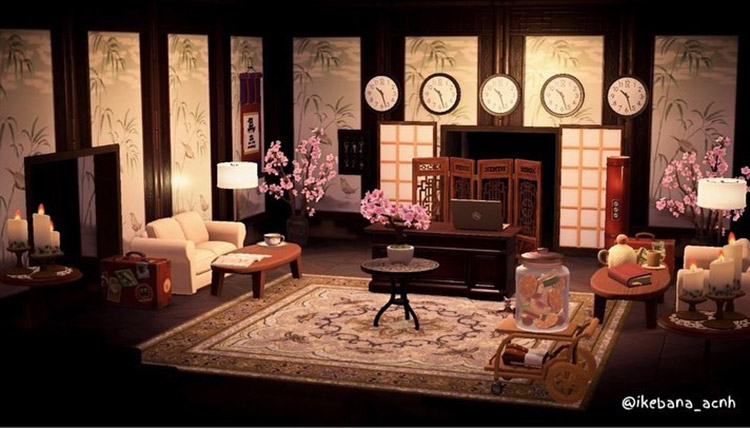 Of all the Japanese-inspired hotel rooms from ACNH, this one is perhaps the most elegant.
To start off, put up the exquisite wallpaper, the dark herringbone flooring, and yellow Persian rug.
You can setup the check-in counter with a den desk, imperial screen, judge's bell, and laptop, all of which are available for purchase.
White double sofas and wooden low sofas make for great seating, and place some books on the tables to keep visitors entertained.
And the finishing touches: the cherry blossom bonsai and branches are the perfect décor to create a vibrant, Japanese feel in your lobby build!
2.

Grand Budapest Hotel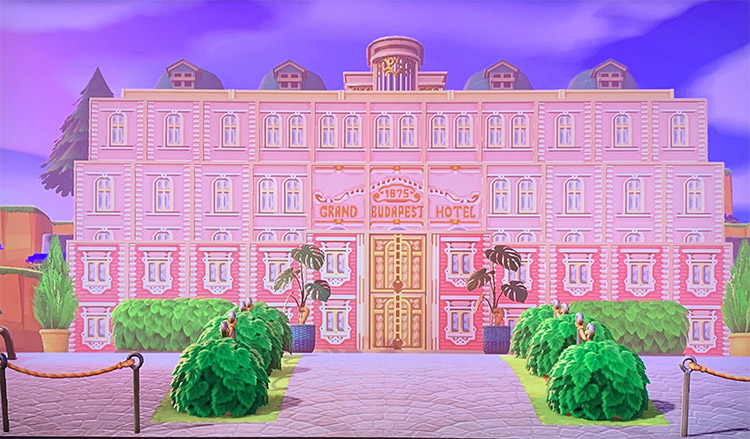 I haven't seen the movie The Grand Budapest Hotel, but that doesn't make this idea any less of an awesome design for a hotel exterior.
While you can't actually go in this hotel, it's still creative and worth some time to build (if you're into this kinda thing).
The design is mostly made out of multiple simple panels all customized to have various parts of the hotel's façade.
You'll need three levels of elevation in the landscaping, too. So get ready to sculpt those cliffs.
Once that's done, carefully place the panels and design around the area. Now your island can claim this famous movie attraction!
1.

Boardwalk Hotel
Sticking with the idea of outdoor hotel appearances, this uses your very own home's exterior in a really cool design.
First, select a spot near the beach to move your house. Then lay down some custom paths for a boardwalk leading to the front door.
While you have freedom to choose the color scheme, the white and blues definitely blend well with the seaside theme.
Customize some simple panels as shown to match the colors of your house.
Then, all you need to do is decorate the scene with items like garden benches, a mountain bike, and an anchor statue.
Enjoy your seaside stay!
Browse:
Animal Crossing
Lists
Video Games