15 Lake & Pond Design Ideas For Animal Crossing: New Horizons
This post may contain affiliate links. If you buy something we may get a small commission at no extra cost to you. (Learn more).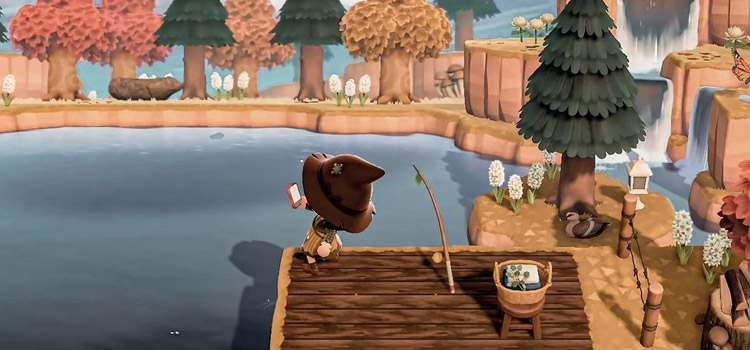 Once you unlock the ability to sculpt your island's water features, you're probably left wondering what the heck to even make with that power.
Sometimes you might want a more natural look to your water features.
Other times, you might be going for more fun aquatic shapes for your villagers to enjoy.
Whatever your preference is, I'm sure you can find something in these lake ideas. Plenty here to suit your fancy!
15.

Moonlight Pond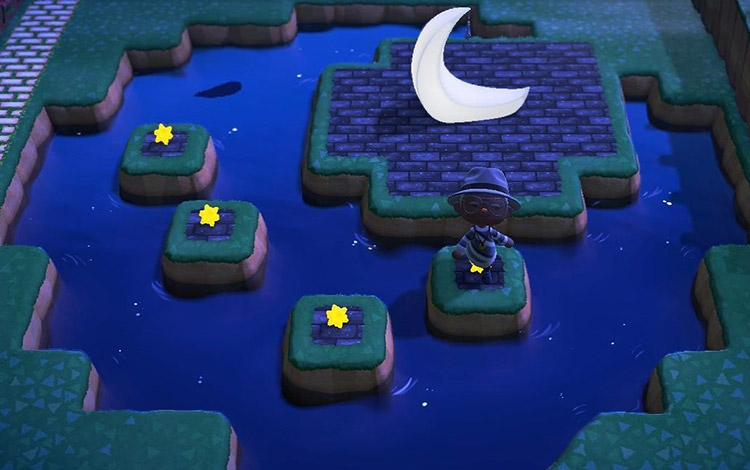 If you have some spare star fragments in storage, then perhaps you want to give this idea a try.
Start out by sculpting a moon-shaped lake in a spot that has a great view of the nighttime sky.
Be sure to leave some smaller islands in the middle of the lake as well.
Then craft a crescent moon chair and place it in the middle of the moon lake.
Once you scatter you remaining star fragments around the lake, you're ready for some lakeside moonlit stargazing.
I'm sensing a theme here…
14.

Waterfall Lake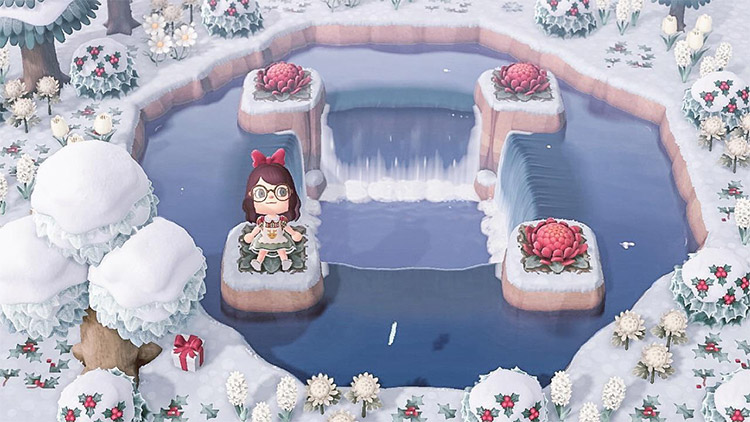 This is a unique take on both lakes and waterfalls, as it essentially incorporates both.
To create this beauty, it actually does require a bit of work with the land + waterscaping.
Because of how the sculpting tool works, you actually need to create the lower level first and then sculpt the cliffs around it.
Once you do that, use the waterscaping tool to create the lower level of the lake, followed by the upper level.
The mum cushions on the little island are cute additions, too. I feel that gives some more character to these grand falls!
13.

Sightseeing Dock
Got a lot of empty space on your island?
Then make a giant lake like this!
Once you have your lake, create a small area for a dock space, and put down the custom wooden pathway.
Then craft some country fencing to set up a safety rail so you don't fall in.
Across the lake, set up some beautiful cherry blossoms, and then purchase a tourist telescope so that you can enjoy the gorgeous view.
12.

Crater Lake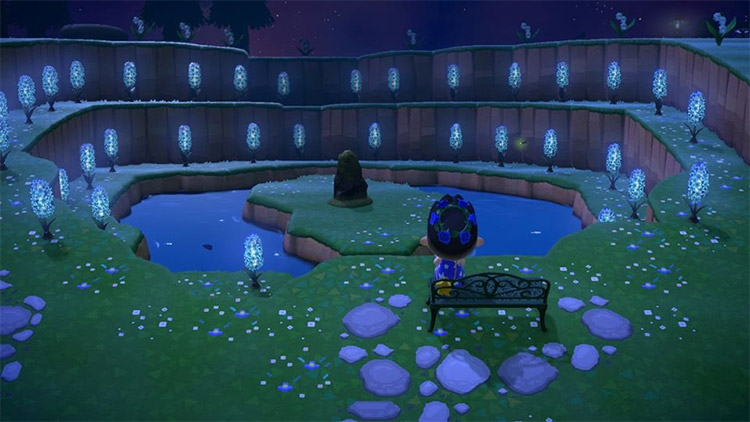 Here's another cool lake idea that utilizes different levels of elevation.
Start by making a decent sized lake, and around it you'll want to create at least two additional levels of cliffs.
Then on each level, place some staggered hyacinth lamps to give it that special glow.
In the middle of the lake sculpt out a small island, and place a mossy stone tablet in the middle.
Lastly, throw down some custom stone pathways and craft an iron garden bench for seating.
Now you have a beautiful lake scene that totally rocks!
11.

Forest Fishing Spot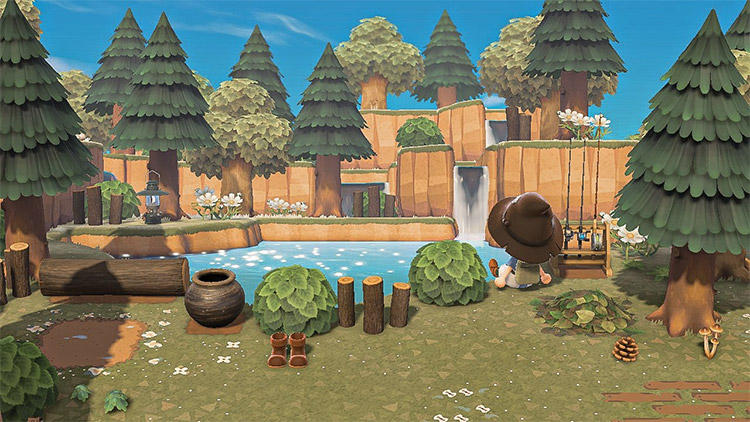 I've gotta say, you have to appreciate the beauty of a natural forest-y lake.
Creating this stunning woodland scene doesn't take much. But it does take a careful touch.
First, pick your favorite forest and craft a small lake in the middle of some strong cedar trees. This can even go great with a forestcore aesthetic.
Next you'll want to participate in the fishing tourney so that you can win the fishing rod stand.
You kind of need those to go fishing.
Then, all it takes is crafting a log natural bench, wooden stakes, and a pot, and the forest fish fun can begin!
10.

Umbrella Lake Picnic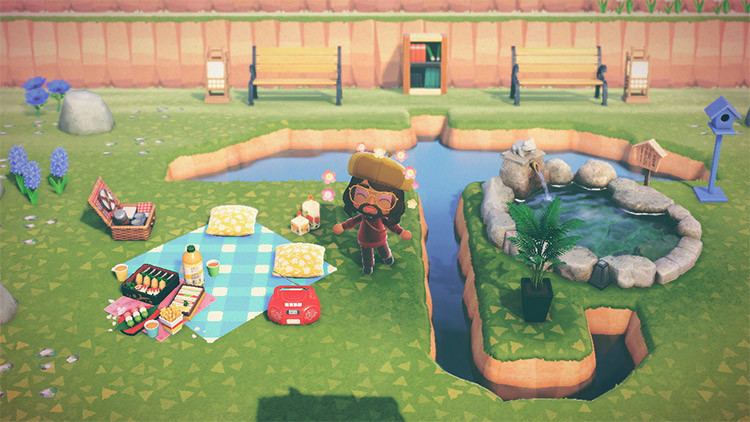 Here's another fun shaped lake idea that can liven up your island. And it even has an aquatic type of theme.
Normally, the umbrella protects you from the rain.
Now it has become the very thing it swore to destroy.
Once you do some waterscaping and make the lake, setup the picnic area with a custom designed picnic blanket.
Top off the blanket with a picnic basket, outdoor picnic set, a couple of cushions, and mom's candle set.
You can also craft an outdoor bath from some stones, and place it on the other side of the handle.
Once you have a couple of garden benches overlooking the lake, take a seat and appreciate your hard work.
9.

Lover's Lake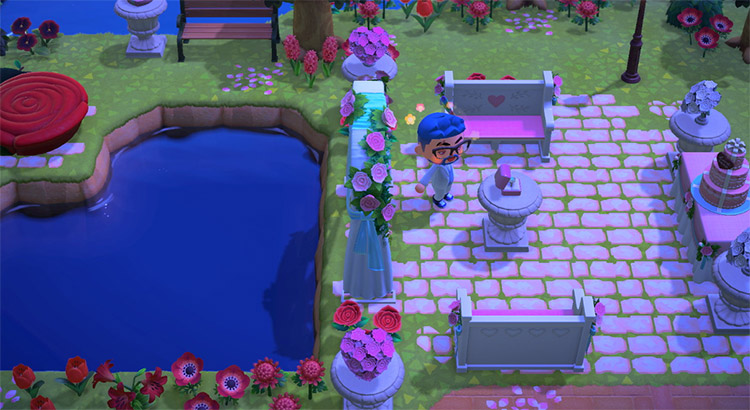 I have seen many heart shaped lake ideas. But this one stood out to me the most because it incorporates the heart into a full theme.
Once you sculpt the lake itself, set up the lover's area by setting down some custom stone pathways.
You can also throw in a couple of wedding benches facing each other, and a wedding arch next to them overlooking the lake.
Also, set up a wedding day table with a wedding cake on top. A heck of a venue, if I do say so myself!
Then just decorate the scene with tons of heart bouquets from Valentine's Day.
Finish off the scene by placing a ring on pedestal in the center. This could be the perfect spot to pop the question!
8.

Colorful Frog Lake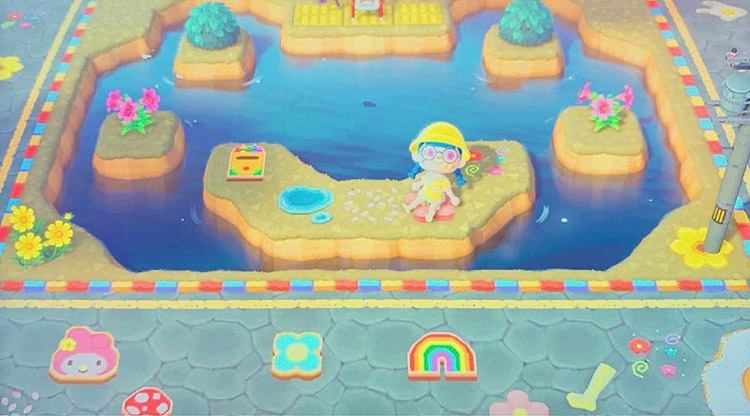 If you like fun and colorful spots on your island, this frog-shaped lake is worth re-creating.
Sculpting the lake is fairly simple, as you mostly need to make sure to leave small islands in the middle for the eyes, cheeks, and mouth.
Most of the rest of the area is custom designs.
The rainbow path border, chalk drawings, and puddles are available to create, or download on the Custom Designs portal.
And the stone path underneath is ideal to maximize how well you can see the chalk drawings.
All that's left is a few plants.
This player used some shrubs and pink lilies, which definitely help this area become a playful island spot!
7.

Spooky Pumpkin Pond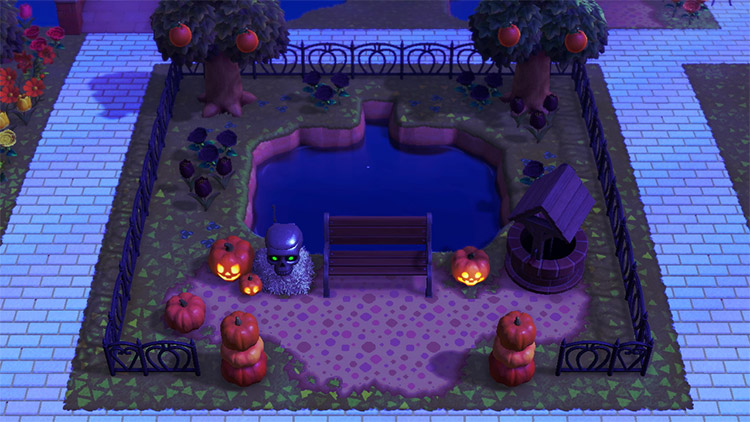 Some of you may prefer the spooky vibes of Halloween all year round.
If so, then you might want to consider this little pumpkin pond.
It's just a small pond, so it shouldn't be too complicated to create via water scaping.
Once the pond is setup, craft tons of spooky items from your orange pumpkin patch.
And make some spooky fencing to surround the area, as well as some spooky lanterns, towers, and lantern sets to decorate the pond.
The garden bench and brick are also necessary for a pond hangout spot, so be sure to craft those too.
I really like the inclusion of the throwback skull radio here. It adds to the Halloween theme, and you can crank up some K.K. Dirge to set the ambiance.
6.

Duck Pond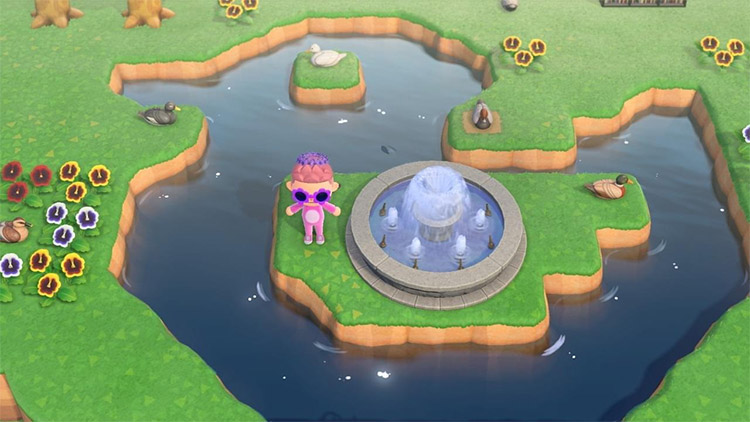 I've also seen many ACNH duck pond ideas out on the web, but this is by far my favorite.
I think the reason is obvious… it's shaped like a freaking duck!
When sculpting the pond, be sure to leave some islands in the middle to show the duck's eye and wing.
Then craft many wooden ducks, and I mean many.
Put them all around you pond to emphasize the duck theme.
The fountain on the wing is a good touch, too. And while not pictured, I may suggest adding a few garden benches here as well.
5.

Lake Lapcat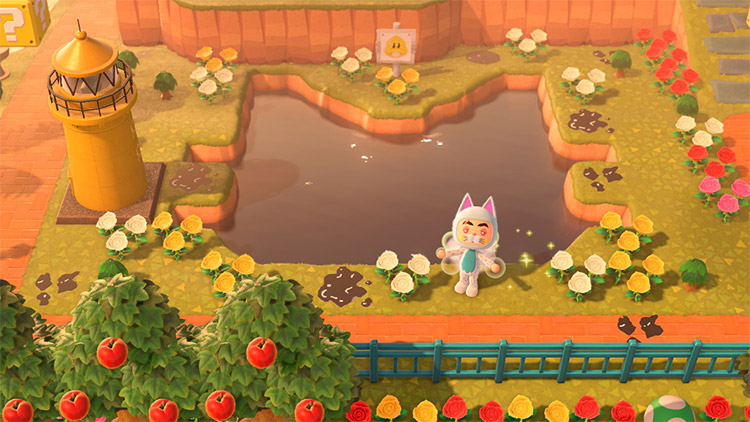 If you're a Super Mario fan, then you might be familiar with Lake Lapcat from the recently released Bowser's Fury.
And now you can redesign that same lake in Animal Crossing!
The first step is sculpting the cat-shaped lake in the middle.
You'll want to purchase some floating blocks and question mark blocks that came from the recent Mario set for ACNH.
This is a Mario location, after all.
And be sure to purchase a lighthouse from Nook Miles. Lighthouses are essential to Bowser's Fury, so it's an important item to include.
Finish off the location with some custom oil spill designs, and a wooden shop sign customized to have the cat bell.
Let's-a go!
4.

Castle-side Lake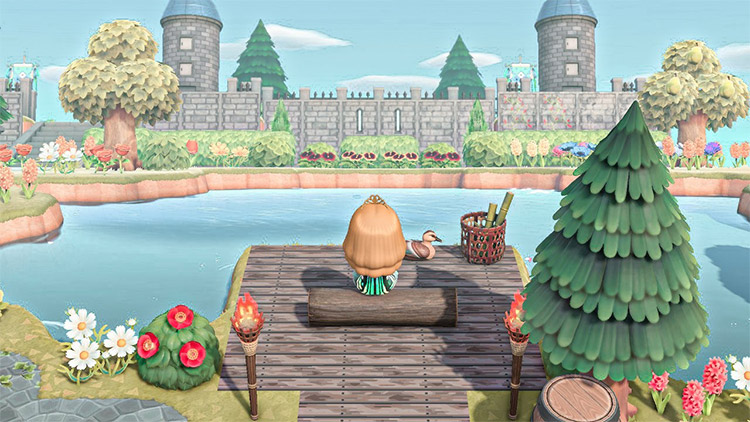 With this design, the spectacle is not so much the lake itself, but rather the surrounding area.
You'll want to start with a decent sized lake, and do some landscaping to create a small pier in the foreground.
To create the castle in the background, you only need two items: simple panels and silos, customized to have matching colors.
They make for an excellent castle.
I also want to praise how this player elevated some land behind the simple panels and placed iron and stone fencing to create the castle turrets. Really smart idea.
All that's left to do is decorate the area with your favorite shrubs, flowers, and trees.
I think the pansies and camellia bushes complement each other well in this royal scene.
3.

Garden Swamp Pond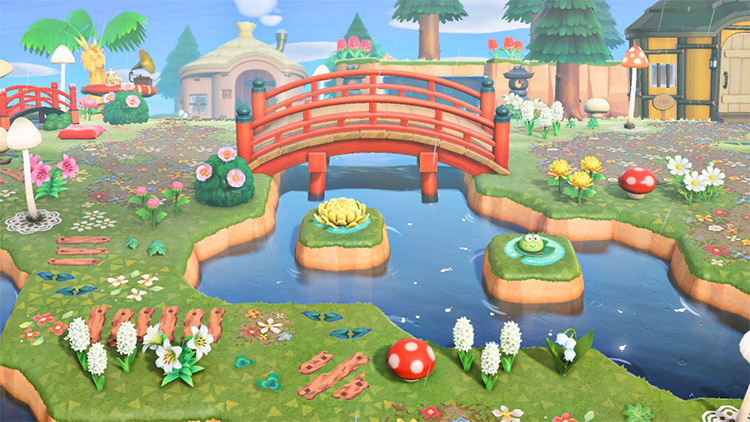 Now this pond sits in more of marshland area, crafted for two of this player's frog villagers.
While the frogs aren't mandatory, the ponds are still gorgeous!
And these ponds don't have to be any particular shape. But you want to leave some small islands in the middle for some mum cushions.
I really like the custom pathway this person used with all the dirt and flowers. It's really eye-catching.
The red zen bridge is ideal to cross over one of the ponds, since it also complements the scenery quite well.
And to wrap it up you can craft some mushroom parasols, lamps, and stools to create a fungal infestation in this swampy area.
2.

New York City Harbor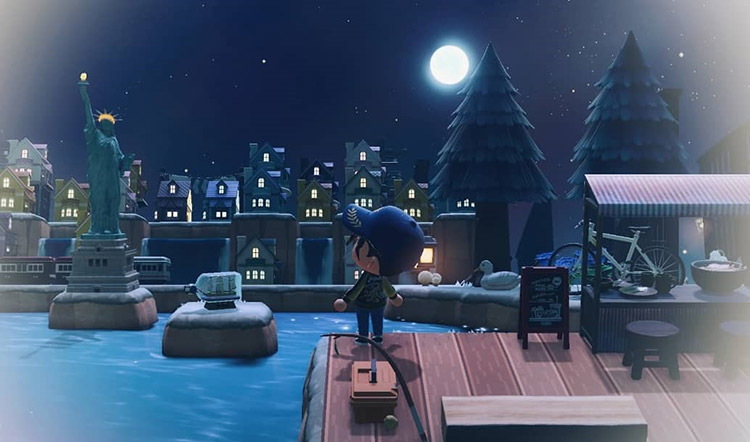 There aren't many scenes as beautiful as the New York City skyline at night.
To recreate this on your island, first create a huge lake. Then in the middle leave an island for the Statue of Liberty, a New York City essential.
I like the high cliffs sculpted with waterfalls, as they create a more dynamic scene with the varying elevations.
Purchase and place tons of doll houses on these cliffs to create the illumination of New York.
As for the harbor, craft a stall and buy a bicycle and menu chalkboard, and you have a nice dock to appreciate the gorgeous view.
1.

Flamingo Watering Hole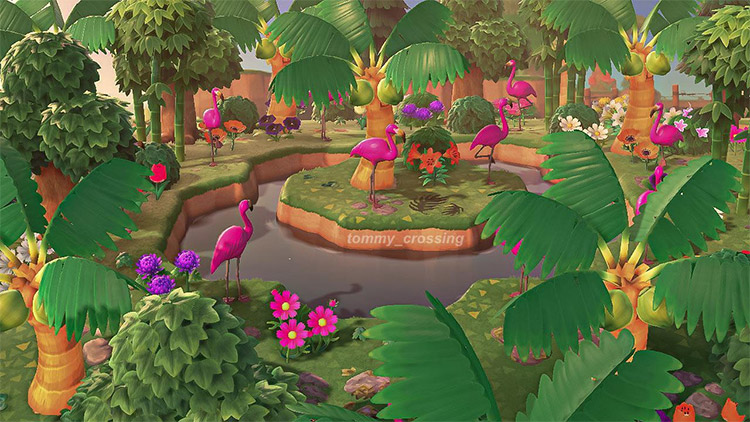 For some reason, I'm infatuated with the Mr. and Mrs. Flamingo items.
This tropical watering hole utilizes them in a more natural-looking environment.
To start off, sculpt out a small pond with an island in the middle.
Place many of those beloved flamingos around the pond, as if it were drinking time at the watering hole.
Then all that's left would be plating all the various flowers and trees, bringing the scene to life.
Some plants I recommend are the palm trees to create a tropical vibe, and the purple pansies and mums that complement the pink flamingos very nicely!
Browse:
Animal Crossing
Lists
Video Games