Best Animal Crossing: New Horizons Library Ideas
This post may contain affiliate links. If you buy something we may get a small commission at no extra cost to you. (Learn more).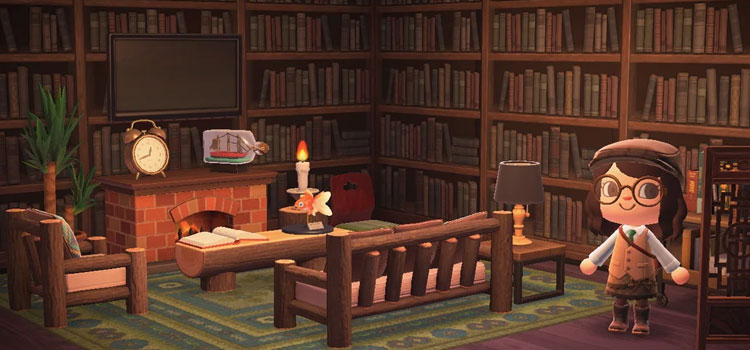 Calling all bookworms: this inspo gallery is for you.
Imagine the perfect evening on your island: curled up with your favorite book, reading out in the beautiful weather, watching the sun go down.
If that sounds like you, then you definitely need a library on your island.
But maybe you're not sure how to design one. Where do you even start?
Well I've got you covered with some of the coolest library designs right here.
15.

Reading Area
This ACNH library idea is a fantastic addition to any island!
And it doesn't need to take up much space, either.
Start by adding your favorite custom tile flooring pattern, although you can make you own designs too.
Next be sure to add a host of bookcases all around, and watch your library come to life!
Complete the look by adding some wooden log seating to the center of the library. The perfect place to relax and get lost in a book.
14.

Office Reading
This indoor at-home library is a mix of business and pleasure.
And either way it looks so darn comfy.
Start by picking any window style wallpaper, then you can also add some wooden flooring in there too. Definitely go wood over carpet here.
Next, start to create the library by adding heaps of bookshelves. What's a library without books?
You can also add a fireplace in there to tie in with the regal theme. And if you want some truly high-brow stuff, maybe throw in a trophy case to boot.
Finish the look by adding some wooden desks and a seating area.
13.

Small Library Outdoors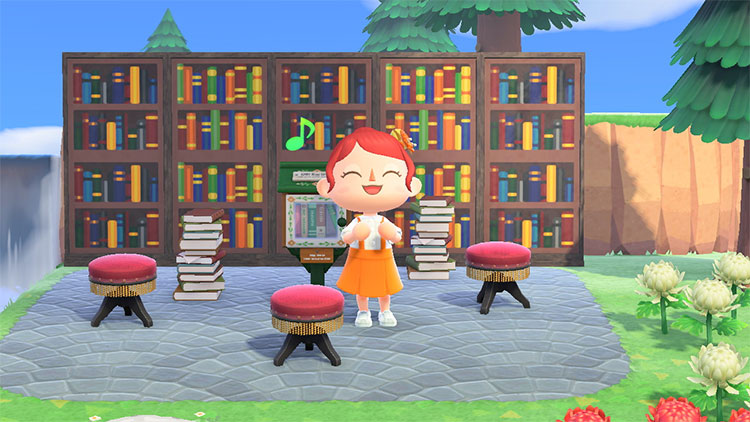 When I say small, I mean tiny. And I mean it in a good way!
This design works better with small spaces, because instead of using actual bookcases, you can customize some simple panels with book designs.
You can even create your own designs here, so you could have any books that you like on display.
Basically lay down some stone flooring in the area and adding some stools to create a seating area.
Complete the area with your stacks of books and you're done. Easy peasy!
12.

Study Area
Is there a better place to study than the library?
Nope. And now you can bring that calming study space right into ACNH.
All you need to get started is lots of bookcases. Arrange them into a pattern, maybe even walling off your study space.
Make sure to lay down some wooden flooring here to give it that true library feeling. Sort of an indoor/outdoor library.
You can then start to add some wooden tables and chairs too. Just anywhere to sit, really.
And if you'll be hanging out a while, maybe toss in a bed for good measure.
11.

Library Nook
Create this tranquil little reading nook on your island with ease (and no, it's not Tom Nook's nook!)
Start by laying down some wooden flooring for the base of your library. Seems wood floors are pretty popular here, eh?
Then mark out the area by adding a spooky fence around the outside.
I like the idea of antique furniture here, just to stick with the library theme.
Then finish by adding some bookshelves. Maybe tuck this into an actual corner of your island to settle yourself in.
10.

Bedroom Library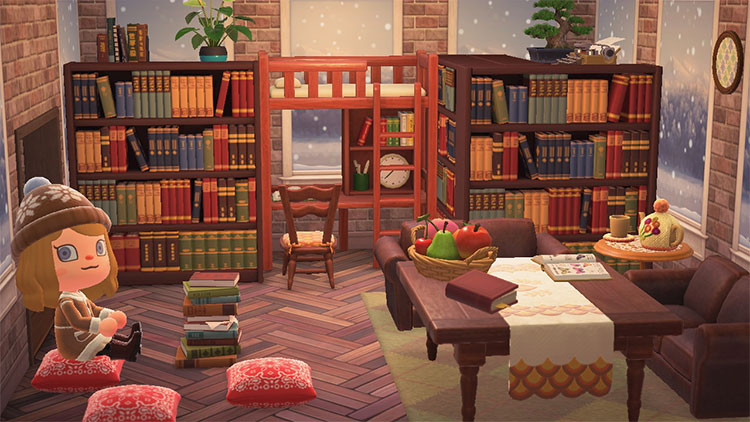 Let's say you're looking to design a cute ACNH bedroom.
Well we've got ideas for that. But a bedroom + library combo?
Now that's creative.
To give your room that extra cozy vibe, you can add the snow-fall wall theme. And don't forget to lay down some wooden flooring too (even carpeting might work here).
Be sure to add lots of bookcases, and customize them to match your color scheme.
You can even add a bunk bed with a desk and chair here. The perfect place to sit and read a book, any time day or night.
Finish the room with lots of pillows to make a reading corner. Possibly my favorite bedroom design of all.
9.

Coffee Shop Reading
This little coffee shop/library hybrid is a must-try on your island.
Simply choose your favorite area with some decent foot traffic, then lay down a section of wooden flooring.
You can then add a bookcase or two along one side, and near there you can also add a log table and some chairs. It's also a good idea to place some books and maybe a few coffee cups on the table, just for the ambiance.
But this is a café too! So maybe add a stall and fill it with a variety of coffee making equipment.
Finish by organizing some seating off to the side, and a lamp to create the comfiest reading space ever.
8.

Library By The River
Who doesn't love the sound of water?
This little reading nook feels like a truly relaxing experience. Pick up a book by the river on a sunny day and escape for a while.
To make this yourself, simply create a dip on your cliff edges where you're able to slot in a number of bookcases.
Decorate the area with a custom blanket, a table, and some pillows dotted around too.
And be sure to add a little book to the table, plus I'm a big fan of that little diffuser to create that calming atmosphere.
Finish by adding some flowers for a splash of color.
7.

Old-Fashioned Library
Add a touch of class to your island with this elegant reading corner.
All you need is a custom decking design to give the wooden flooring effect. After you lay that down you can line up your bookcases along the side.
Then you can customize your bookcases in a few different colors. But I'd keep it simple here!
I like the leather sofas so drop a couple of those, plus a table to create the reading area.
Finish the look by adding a fireplace and a little pillow for reading on the floor too. Leather couches can get boring after a while.
6.

Miniature Library
This might be the tiniest design on this list.
And it's just plain adorable.
If you don't want to add huge bookcases to your island, but still want to design a space where your villagers can get their weekly reading fix, well here ya go.
I'd say this library would fit wonderfully under a shaded tree or near an orchard.
Add a tiny library kiosk, and a stack of books to choose from.
You can also drop in some log stools and picnic set if it suits your fancy.
Really anything to make this outdoorsy library feel like a small slice of tranquility.
5.

Bookshop Idea
Why build just a library? Let's get an entire bookshop designed!
Whether it be a romance novel or a crime thriller, you can design the store that sells it all.
First throw down some wooden flooring, and then line your bookcases around the edge. In this case the bookshelves behave like the walls of the library (but we're still outdoors, living that tropical island life!)
Maybe add some custom stalls too, as you can customize them with any pattern you like. Something neutral yet elegant should work.
Then be sure to add lots of books onto your stalls to complete the look.
4.

Book Maze
This is hands-down one of the coolest designs here.
To create this custom library maze + reading area, you need to line up your bookcases leaving aisles to wander down between them. Any kind of zig-zag pattern should work.
Then at the end of the maze you can lead villagers into a reading area on top of a cliff. Maybe add a little wooden incline to leave the library space (this way it's like a sunken library maze!).
In your seating area you can keep the wooden floors a bit fancier, and place a variety of different seating too.
Even add in a fireplace for that extra cozy feeling.
Then finish the look by adding some hedges around the area. For library privacy.
3.

Mega Library
If you're never without a book in your hand, then you need this massive library on your island!
This two-story library has every book you could ever wish for. And it's designed like one heck of a reading area.
And here's the best part: it's not as complicated it looks to create either.
To start, build a cliff and add some wooden floors on both levels.
Fill the area with as many bookcases as possible on both levels of your library. Try to space them out like walls, wherever makes sense.
You can even add some random book stacks scattered around the area too. Get that library aesthetic going.
Complete the design by adding lots of plants, and let this expand as far as the eye can see!
2.

Library Museum
This has to be one of my favorite library designs: the outdoor museum + library!
To make this, start by building yourself a cliff next door to your museum. Add a waterfall running over the edge in the background if you can.
You can then place a bookcase right next to the water. Also add lots of log-style furniture and stacks of books lying around too.
Then you can design some custom woodland-style paths with lots of wooden tables and chairs.
Finish the area by adding a few fossils, or really whatever piques your interest.
1.

Beach Library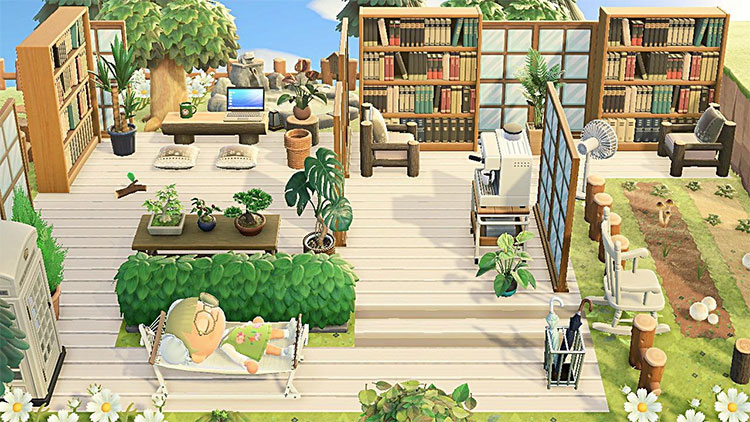 I simply love this calming library; can life get better than reading by the ocean?
This botanical area is the perfect place to track sand everywhere (and not give a hoot cause hey, it's the beach!)
Start by adding some custom decking to get the library started. You can then add some simple panels with custom glass designs to act as French doors.
Be sure to add as many plants as you can off to the side, as you can even add a little farmland area! I like how this player designed it off to the side, much like a small reading area/home garden.
Then of course we need to add lots of bookcases, and stacks of books too. Drop 'em however you like.
Finish by adding some seating areas to read, and even a hammock close to the sand.
This is what I call living.
Browse:
Animal Crossing
Lists
Video Games