15 Moon Design Ideas For Animal Crossing: New Horizons
This post may contain affiliate links. If you buy something we may get a small commission at no extra cost to you. (Learn more).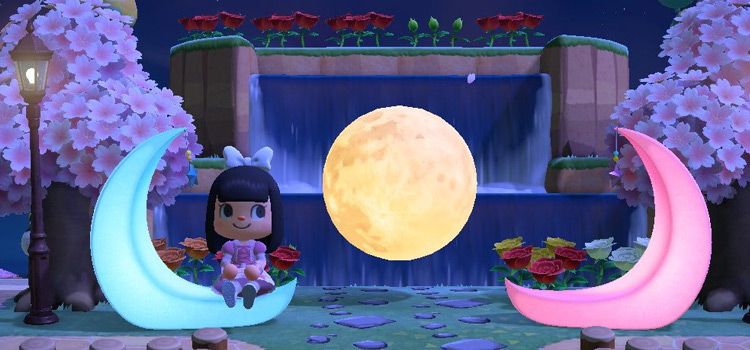 There's nothing quite like being under the moonlight of the evening, whether you're having an evening stroll with a friend, taking in some late night fishing on the pier, or waiting patiently for shooting stars.
Lucky for us, Animal Crossing have a selection of moon items out there, so we can create our own celestial masterpieces!
So this one's for all my lunar lovers: if you have some moon items but aren't quite sure how to show them off, then you're in the right place.
I've put together this list of my favorite ACNH moon designs right here, and if you're in search of some inspiration, don't go anywhere!
15.

Space Station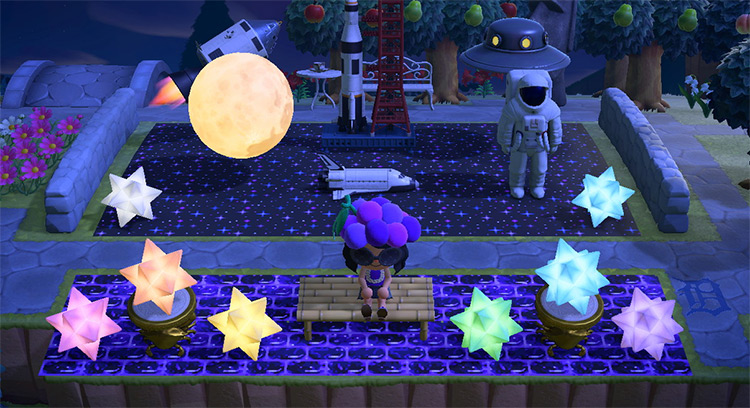 Turn your island into your very own space station with this amazing design.
To create this on your own island, you'll first need to get your hands on some awesome custom flooring designs.
Once you lay down your flooring, you can then add as many space-themed items as you'd like. And of course, don't forget to add your moon in there to bring the whole look together.
Finish by adding lots of nova lights to illuminate the area.
I guarantee your island will be out of this world!
14.

Zodiac Pedestals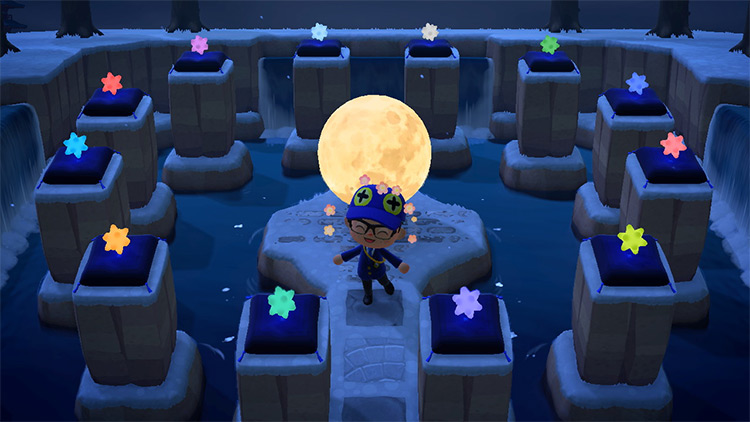 This idea is the perfect way to display all of your zodiac star fragments out in the open (well, once you've collected them).
To build this yourself, you'll want to start by building some small cliffs in a circular shape. Once you have those in place, you can pop out some cushions on top of each cliff, one for each of your star fragments.
You can then dig out a huge lake around the bottom of your cliffs, but make sure to leave an island in the middle. We want a cute pathway into the center.
Then go ahead and place your moon right on this little island to complete the look.
13.

Stargazing Area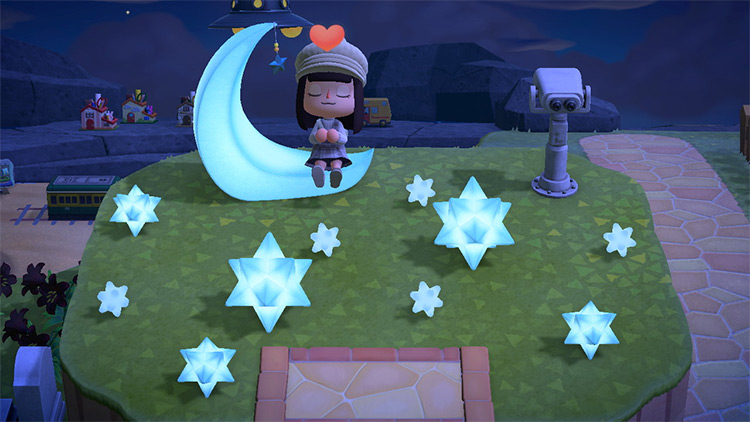 Never miss a shooting star again with this cute little stargazing area (one of many amazing stargazing ideas you could try!)
Start by building a small cliff area, basically anywhere you'd like it to be on your island.
You can then decorate the top with lots of Nova lights, star fragments, and of course, the crescent moon.
This is the perfect place to sit back and relax during a meteor shower. And be sure to complete the look by adding binoculars – I promise you'll never miss a shooting star again.
12.

Rainbow Road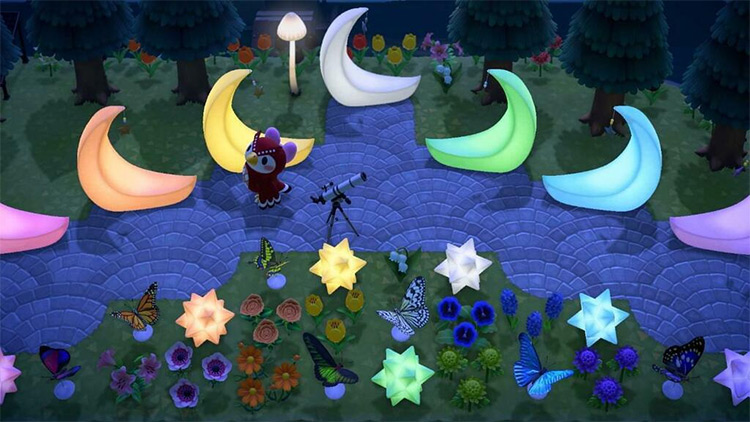 Impress Celeste with this rainbow moon area – I mean, just look at those colors!
To recreate this on your own island, you'll need to make sure you have plenty of crescent moons at your disposal.
Once crafted, you can customize the moons into different colors by using customization kits at a workbench.
And they're easy enough to get: you can grab customization kits from Nook's Cranny.
To make the road, lay down some of your favorite paths, and decorate the areas around with lots of rainbow-colored flowers.
Next, line up your crescent moons in whatever color order you like. And then finish by adding some butterfly models to complete the look.
11.

Moon Waterfall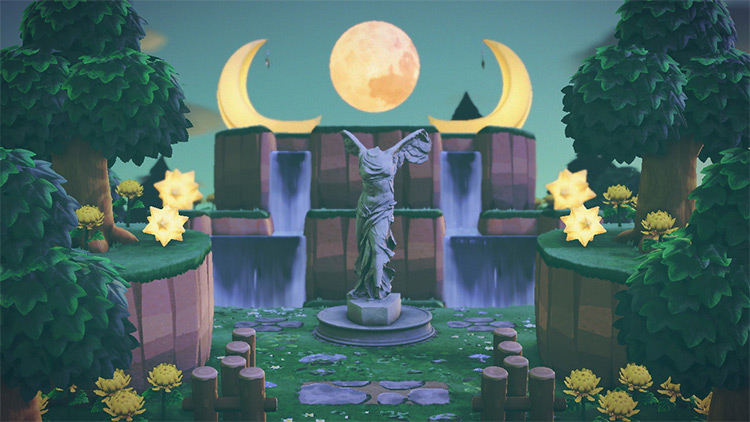 Adding some moons into a hilly design can create this dreamy waterfall idea.
To build this amazing waterfall-focused area (which is just one of many ideas) you'd start by building a two-tier waterfall.
Then create two waterfalls running down from the top level to the very bottom.
Place your moon on the top level, and situate it in the center with two crescent moons at either side.
You can also build a couple of other cliffs around the area too – and don't forget to add lots of trees on top.
Complete the look by adding custom stone flooring, lots of yellow flowers, nova lights, and maybe a valiant statue too.
10.

Moon Island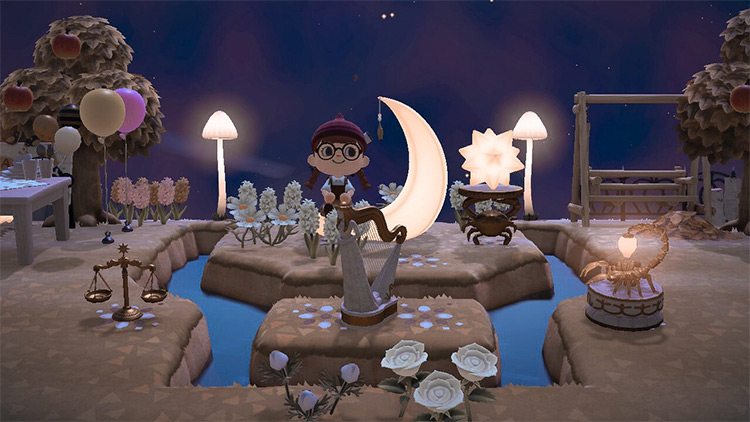 This little moon island is the perfect addition to any island.
To create this, start by digging out a river running around your chosen island area. You can then add lots of custom stone paths to bring the area to life.
Be sure to add lots of white flowers around, and decorate with zodiac items to tie in with the theme.
Of course, be sure to add your crescent moon to the middle of your little island area too. You can then add some nova lights and mush lamps, perfect for those late-night strolls.
Trust me, it will look amazing in the evening!
9.

Rainbow Flowers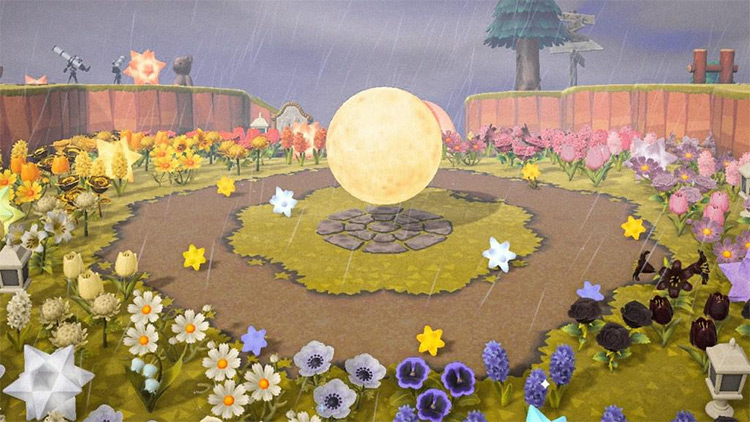 This moon design is the perfect way to show off your favorite flowers. Because you can never have too many flowers, right?
And this idea is super simple to make: first you'll need to grab your favorite custom flooring design to place around in a circle. Ideally you'd make it just big enough to place your moon in the middle.
You can then add different types of flowers around the outside of the path. Bonus points if you organize them by color!
And don't forget to add your moon in there. Let it take place of pride right smack-dab in the center.
Finish by adding some star fragments dotted around your path, and you've got one heck of a moon-themed park area.
8.

Crescent Entrance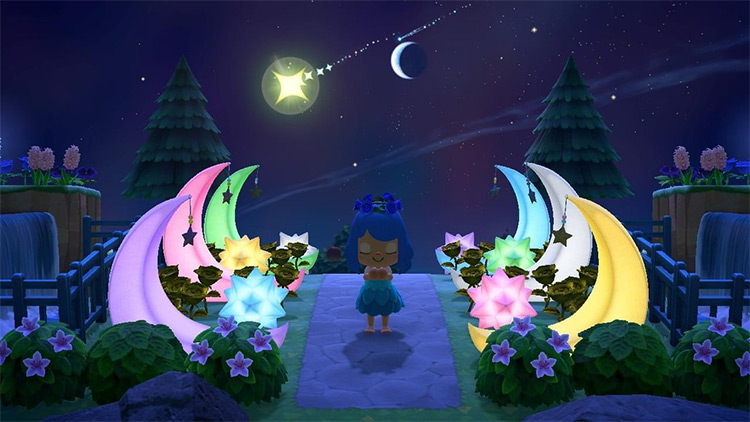 We've shared a lot of ways you can transform your island entrance, and here's one more idea with featuring a cheerful crescent moon pathway.
To create this design, you'll first need to lay down your favorite path design. Any kind of cobblestone or brick could work.
You can then place crescent moons in different colors running along the sides.
Then complete the look by adding lots of nova lights, shrubs, and golden roses.
I guarantee this will look amazing when your friends come to visit.
7.

Moon Yard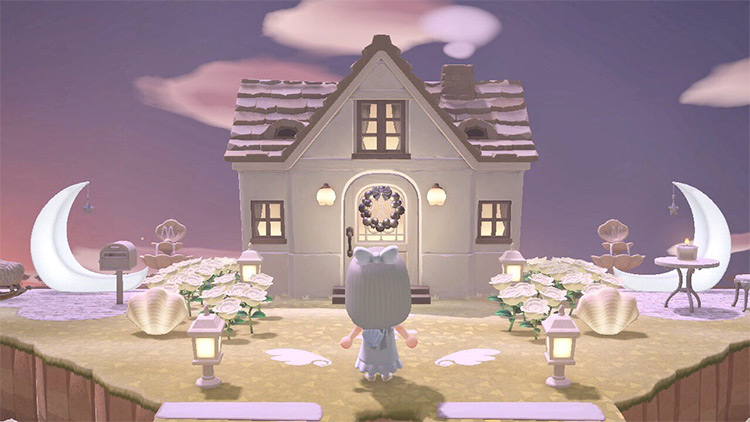 Take your home to the next level with this super cute moon yard idea.
If you want to keep your moon-y view pretty high up, then be sure to place your house up on top of a cliff. You can then design the outside with some custom stone flooring.
Then add crescent moons at each side to really bring it all together. You can also customize the color of the moons to match the cooler scheme of your house.
Finish the look by adding some tables, chairs, lamps, flowers, and pretty much anything else you'd add into your yard.
6.

Moon Room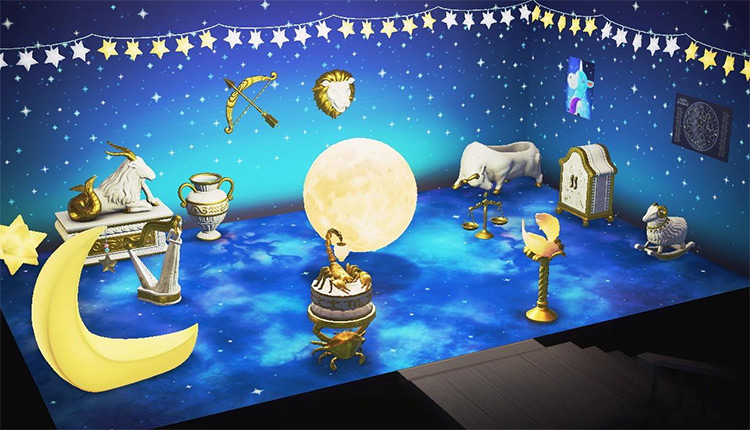 Take your moon decorating skills indoors with this incredible moon-themed room!
To create this yourself, you'll first need to grab the starry-sky wall and the galaxy flooring.
You can then go ahead and fill the room with as many Zodiac items as you can get. The DIY recipes for these can be obtained from Celeste, so be sure to chat to her when she visits your island.
Then complete this décor style with nova lights, crescent moons, and be sure to pop a big full moon in the very center.
5.

Picnic Area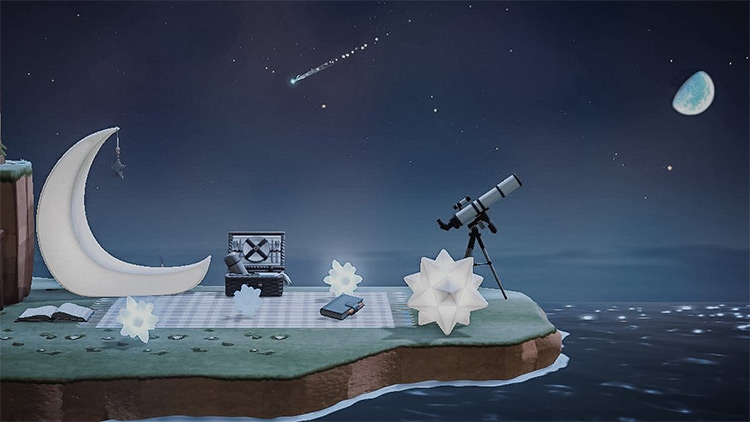 Transform a simple picnic area into this celestial masterpiece with a strong moon vibe.
To make this yourself, you'll first need to get ahold of a custom design to create your picnic blanket. Once you've picked your favorite design, you can lay this down and toss some typical picnic stuff on top.
This might include books or basic picnic supplies. Whatever you want, it's your picnic!
Finish by adding a crescent moon, some nova lights, and some star fragments.
This area would be amazing at the very edge of your island by the ocean. You can even add a telescope on the edge to really get a good look at the night sky.
4.

Moon Lake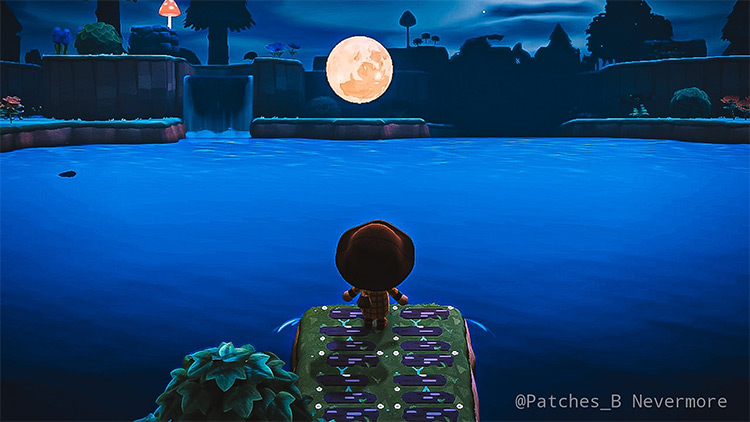 If you've seen the big lake trend and want to get in on the action, then this is the design for you!
It's not as complicated as it looks, either.
You can easily create this kind of space by first digging out a huge lake. And then try building some cliffs and waterfalls situated towards the back of the area (take as much space as you need).
Add your moon to one of the cliffs, and you'll get that amazing evening glow.
Complete the look by building a little pier at the front area of your lake. This is perfect for stargazing and taking those Instagram-worthy photos.
3.

Moon Cliffs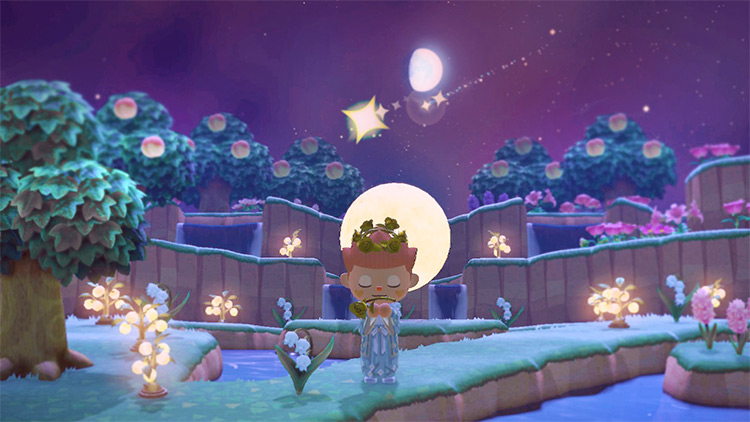 If you're looking for the perfect way to display any full moon on your island, then these cliffs will likely do the trick.
You can start by building some cliffs at staggered heights, and adding some waterfalls running down between them. You can also connect this into a small river, too.
Fill the area with trees, flowers, and plenty of tree's bounty lamps to really illuminate the area.
And to complete the look, just drop your moon in the middle of your cliffs. Then hang out till nightfall.
2.

Golden Entrance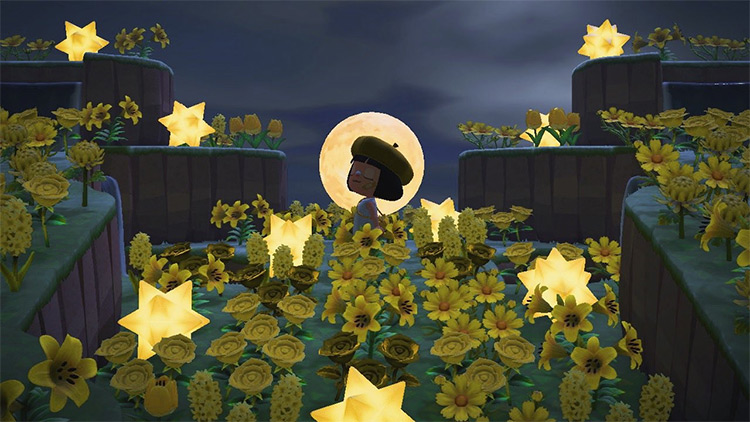 Here's another island entrance idea with a golden ring to it.
To get this amazing look, all you need to do is build out some cliffs on either side of your entrance.
You can also add some cliffs towards the back of your entrance too, just be sure to add some waterfalls if you like the sound of flowing water.
Otherwise, drop in some plants and vegetation.
Then fill your paths and cliffs with all types of yellow flowers and golden roses. You can also add some nova lights to brighten things up as your visitors slowly enter your topical paradise.
It's no wonder they called this game "New Horizons"!
1.

The Show Stopper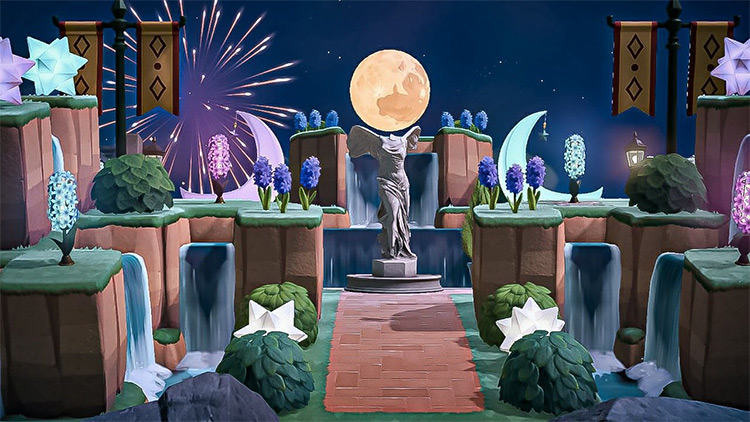 This moon design has to be my favorite, because we all need a show-stopping area to captivate our villagers.
To make this yourself, create some amazing cliffs to surround your area. Staggered heights can work, but this idea only uses a couple altitudes.
Be sure to add lots of waterfalls running through the cliffs too. And you can also add lots of flowers and shrubs for a natural feeling.
Place a valiant statue right in your line of sight to really bring the look together. And of course, don't forget to add your moon in there too!
Decorate this with anything you like – custom lights, banners, signs, flags, whatever will grab attention and leave your villagers thinking "wow!"
Browse:
Animal Crossing
Lists
Video Games