ACNH Cinema & Movie Theater Design Ideas For Your Island
This post may contain affiliate links. If you buy something we may get a small commission at no extra cost to you. (Learn more).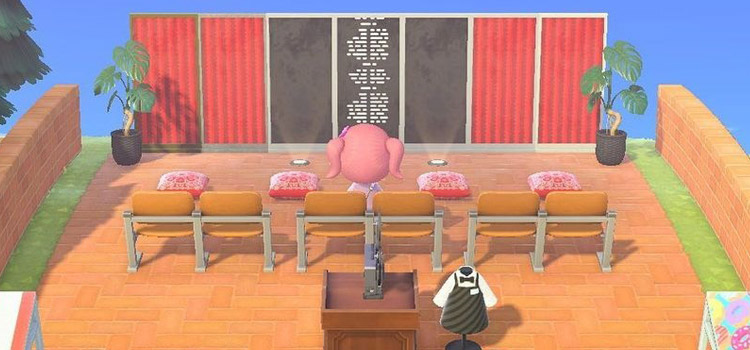 Is there anyone who doesn't love a good movie?
I'm sure everyone has a favorite movie, and often times the moviegoing experience makes a difference.
I know for me, the experience of seeing Avengers Endgame at 11:00 opening night was quite an enjoyable time.
As for your Animal Crossing island, there are plenty of ways you can create a fun moviegoing experience for everyone!
And these ideas are sure to get you started.
10.

Movie Premiere
Sometimes the most enjoyable movies are those you create at home with your friends and family.
This movie theater idea gives off an impression of an up-and-coming movie maker premiering their creation at a film festival.
Firstly, I like the red tile and brick designs in alternating rows on the ground. They complement each other quite well.
So to start off with this, purchase some lecture hall benches and a director's chair from Nook Miles to set up the audience.
You'll also want to purchase a film projector so you can proudly display your video.
Then display some simple panels as a screen, and you're ready to view!
9.

Outdoor Concessions
No moviegoing experience is complete with the snacks, no matter how overpriced they may be.
You can design this concession area with some easy items (and a bit of work!)
Purchase some diner counter tables and set them up in couple of rows to create the concession counter.
Next, you'll want to purchase many goodies in the form of popcorn and candy machines.
What's really cool about this design is the customized simple panels that display posters of some of the movies currently playing.
So pick some of your favorite movies, and create movie posters for everyone to enjoy.
I don't know about you, but I'm buying a large popcorn and heading in to watch Harry Potter!
8.

One-Room Theater
While there's nothing included in this design that's overly unique, I find it quite charming that the entire theater was created in this person's basement.
I like the heavy curtain wall in particular to set up this indoor theater.
The concession counter is pretty typical, consisting of diner counter tables, popcorn machines, snack machines, and espresso maker.
Since it's a small room, the film projector sits atop the snack machine pointed at the simple panel screen at the end of the room.
Lastly, set up rows of lecture hall benches for seating.
With this setup, you don't even have far to go for a mid-movie snack!
7.

Village Viewing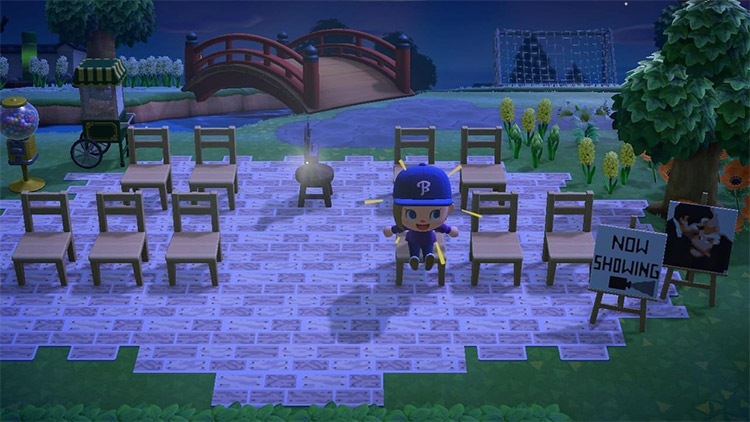 If you want the whole island to get together for a community movie night, here's an idea to get you started.
Set up a nice seating area with some brick pathway on the ground.
The chairs are all wooden chairs here that simply require some wood for you to craft them.
Be sure to make enough for everyone!
Then display some custom designs on the side to announce what movie you're showing. Be as creative as you like.
And then finish it off with a film projector and some candy and popcorn machines, and everyone's ready for movie night.
6.

Classic Home Theater
Rather than creating an actual movie theater inside your house, this idea creates a more homey look to your indoor cinema.
As per usual, you'll want to purchase the concessions.
I'm talking snack machines, drink dispensers, candy stuff, and popcorn machines.
I do like the inclusion of the arcade machine here, since many movie theaters often have a small lobby arcade.
This time you also want a couple double sofas for some more comfortable seating during the movie.
The 3-D glasses on the wall are a very nice added touch. After all, 3-D movies are pretty darn fun, right?
5.

Bedtime Theater
I've seen many outdoor movie theater ideas in ACNH, but this is probably the only one that combined a theater with a bedroom.
Frankly, I love watching movies in bed. And this design seems super cozy.
To start, you'll want to customize some simple panels to display your bedtime movie.
Lay down a custom blanket design, because sleeping on the grass is not ideal.
Then setup some bedroom items like that papa bear and futon, which can be purchased from Nook Shopping, as well as the peach chair that can be crafted from peaches.
The slippers and candle are great little details that you can play with, too.
4.

Horror Movie Night
Are you a fan of horror movies?
Personally, they're not my thing. But you can still enjoy them on your island if your heart desires.
To make this yourself, setup a small area among the trees with a custom-designed blanket and some matching cushions for seating.
Purchase a film projector and customize some simple panels to display your spooky selection.
The outdoorsy decorations really enhance the atmosphere for some fall evening viewings.
Then craft a spooky lantern set, log wild bench, and mush log to design one heck of a theater for some Halloween horror movie fun.
3.

Movie Theater Lobby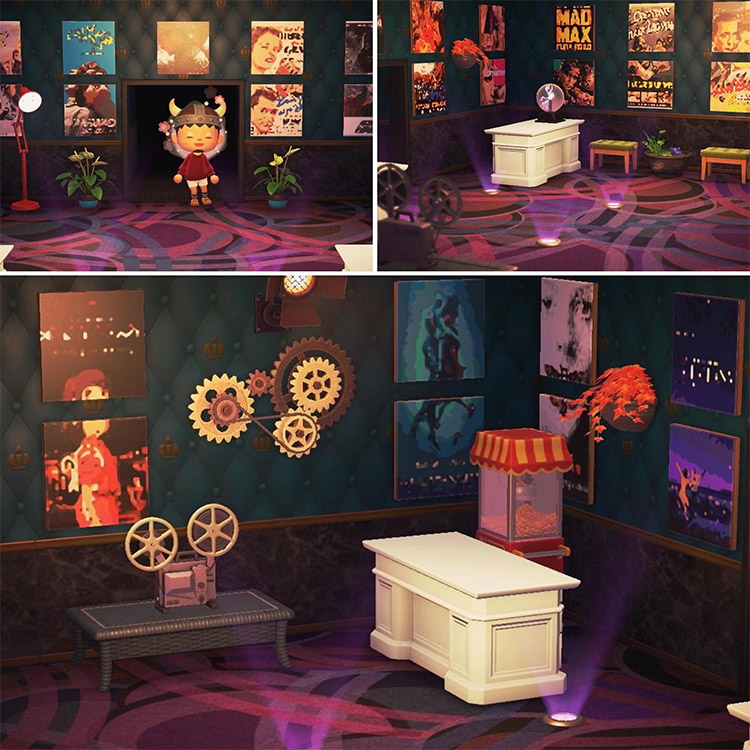 Out of all the theater lobby ideas, this one is perhaps the most dynamic.
That's because this person really went crazy with the movie posters on display!
You can also create (or download) custom designs of all your favorite movie posters to show what your theater will be showing.
Some of the posters, like The Shape of Water, require two separate designs to create.
The other wall decorations work really well with the posters, too. You'll need a studio wall spotlight, gears, and potted ivy plants.
Lobby flooring is perfect for a movie theater lobby (of course), as is the blue crown wallpaper.
Lastly, set up some den desks and a popcorn machine to let the movie madness begin.
2.

Christmas Movie Night
What could be more fun than a Halloween movie night?
Why, a Christmas movie night!
For some reason, I got into the Christmas spirit more than usual this past year. So I had many Christmas movie nights, but not with the right décor.
To make this on your island, you'll want to set up the screen as usual with some customized simple panels to display your favorite holiday flick.
The seating area requires some custom blanket designs on the ground, as well as some cushions.
Use snowflakes and ornaments that you've gathered to craft some festive candles, illuminate snowflakes, and frozen pillars for decoration.
Only when you've placed the yule log next to the film projector can the yuletide tales truly begin!
1.

Basement Drive-In
Ah, the days of the drive-in movie that I totally wasn't alive for. What fun!
Using the summit wallpaper to set up an outdoor scene indoors is ridiculously intuitive.
You'll also want to be sure to place custom park lot designs on the floor to create the rest of the outdoor scene.
Then just craft a stall and purchase a popcorn machine to create a cute little concession stand.
The film projector, pro tape recorder, and 20" wall mounted TV are essentials for making any movie run.
But the star of this design has to be the throwback racecar beds, all set up in the parking lot for some retro drive-in fun.
Browse:
Animal Crossing
Lists
Video Games