15 Nook's Cranny Design Ideas For Animal Crossing: New Horizons
This post may contain affiliate links. If you buy something we may get a small commission at no extra cost to you. (Learn more).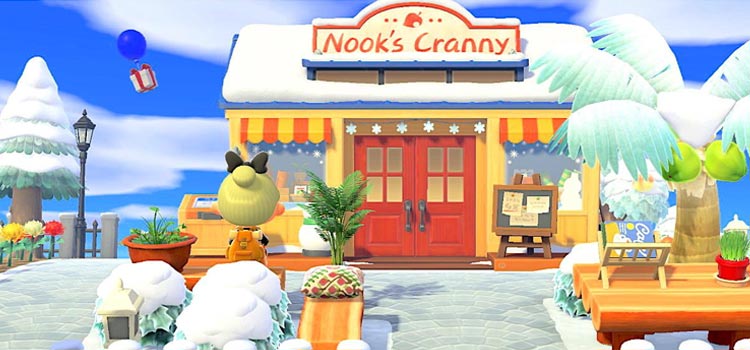 Who doesn't love shopping?
Nook's Cranny is the place to be for all of your island needs. Whether it's furniture, wallpaper, medicine or tools, Nook's has it all.
Or if you're running low on bells, just visit your favorite racoon twins to sell some items and make that much-needed moolah.
So it's easy to see that Nook's is a pretty important part of your island. And it makes sense to design your Nook's storefront so it stands out.
If you're looking for some ideas on where to place your Nook's Cranny, or how to utilize the space around it, we've compiled our favorite inspo & ideas for you to try!
15.

Store Cafe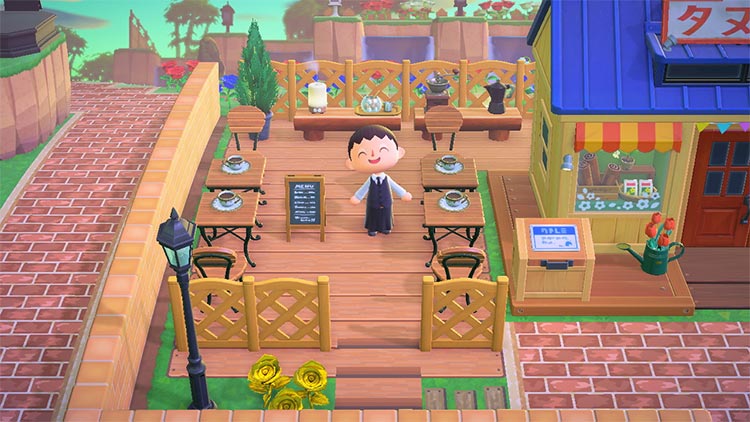 Who doesn't get hungry while shopping? Creating a café attached to your Nook's is a good idea for those who work up an appetite while hitting their weekly shopping list.
Add some tables and chairs to the side of your store, along with some custom menu boards, and add drinks and snacks to the tables.
Cool points if you throw on a waiter's outfit too!
It's the perfect place for your villagers to catch up with each other and chat about the latest island gossip.
It'll be TEA-riffic!
14.

Nook's By The Sea
Bring in those summer vibes by situating your Nook's Cranny on the beach.
Yes that's right, you're actually able to move the building to sit directly on the sand.
Double up the store as an outdoor activity center by placing bikes and surfboards outside. Maybe add some snorkels and wetsuits outside too.
We've got to keep our villagers motivated to exercise, and taking a bike ride has to be the best way to see the island, right?
13.

Forest Nook's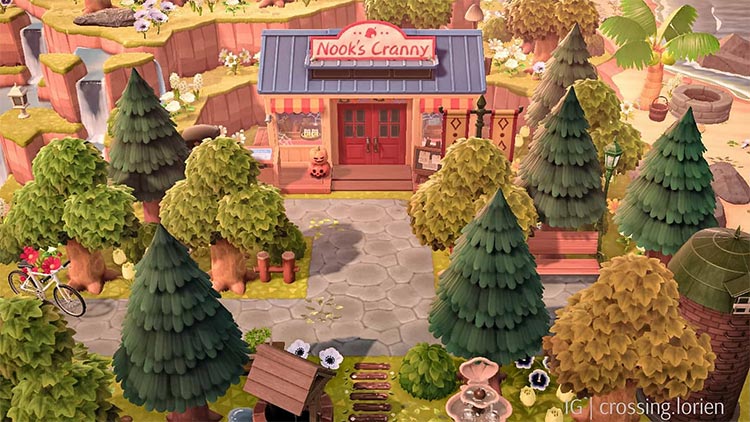 If you're a nature lover and you've got that forest theme going with your island, then why not nestle your store into a gorgeous forest setting?
Situate Nook's between a beautiful mix of cedar and hardwood trees for that super fresh natural feel.
You can even add a wishing well and some log seats, or fencing to tie the whole look together.
We promise your favorite part of the day will be your hike to the store.
12.

Pottery Store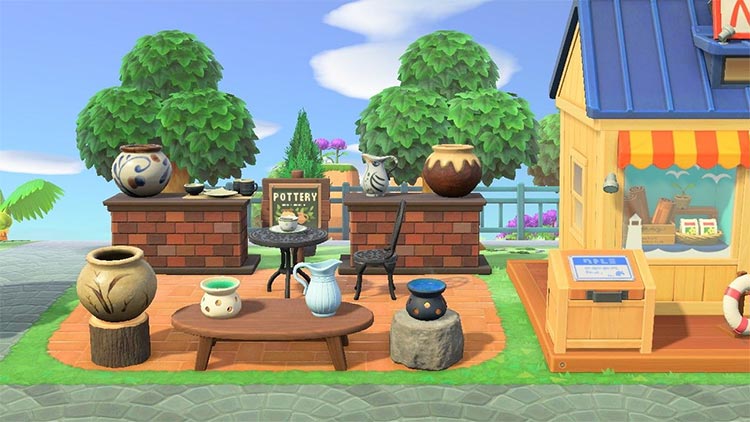 Why not add your own little store outside Nook's Cranny?
Section off an area to the side to create your own storefront.
This pottery store idea makes us want to buy everything and remodel our home!
You can use fireplaces as product shelves, just be sure you turn them around so you can't see the actual fireplace. You're left with a really cool brick shelf to display your products.
The best part is it doesn't have to be pottery! You can create any outdoor store you like.
So start thinking, what store does your island need?
11.

Town Square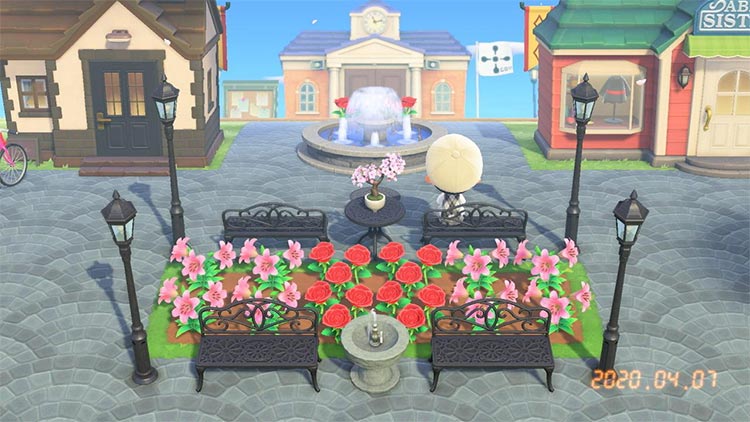 Placing your Nook's close to Able's and near Resident Services is a sure-fire way to create your very own town square.
Finish decorating the area with some colorful flowers, iron benches, and streetlights.
Of course, you can't forget to add a statement piece in the middle. Go for a large fountain or perhaps a statue.
And just like that, you've created the town center of every villager's dreams!
10.

Nook's on a Cliff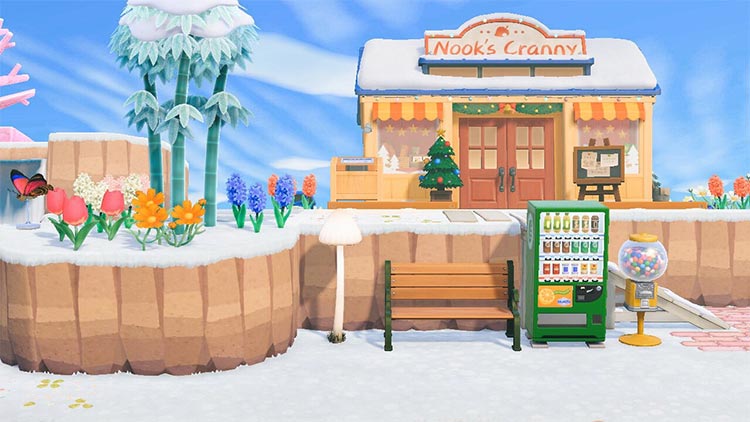 Setting your Nook's up on a cliff is an easy way to change up your island and create an interesting entrance to your store.
Build a cliff and choose your favorite incline to lead up to the store. This is such a simple way to present your Nook's Cranny storefront, and it looks amazing.
Add some flowers and general décor outside too. Maybe plant some trees or shrubs around the area.
If you're feeling adventurous you can even add a waterfall to the edge of your cliffs, to give it that extra special look!
9.

City Shopping District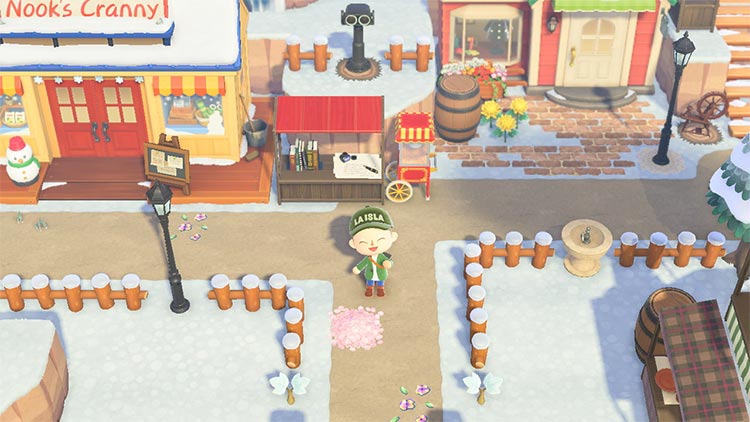 There's nothing quite as frustrating as running around your island looking for all your stores and villagers' homes.
Why not have them all in one place?
Creating you own shopping district keeps all of your stores together.
Alongside the physical buildings of Nook's Cranny and Able Sisters, you can also throw in a couple of your own kiosks and stalls.
Pop down your favorite path style, and some fencing to mark out your shopping area, and maybe add some streetlamps that'' give it that true high-street vibe.
8.

Garden Center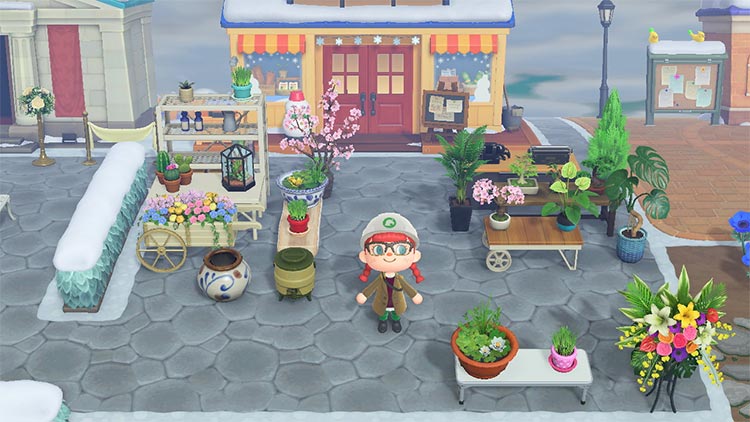 If you've got a green thumb, then a garden center outside of your Nook's could be a gorgeous idea.
Collect all the plants in the game for bonus points here.
You can even throw some flowers in there to create your displays.
Then relax and wait for your plant business to take off. You can even invite you friends over to shop at your store.
I'm not sure how Leif will feel about the competition though!
7.

Secret Nook's Cranny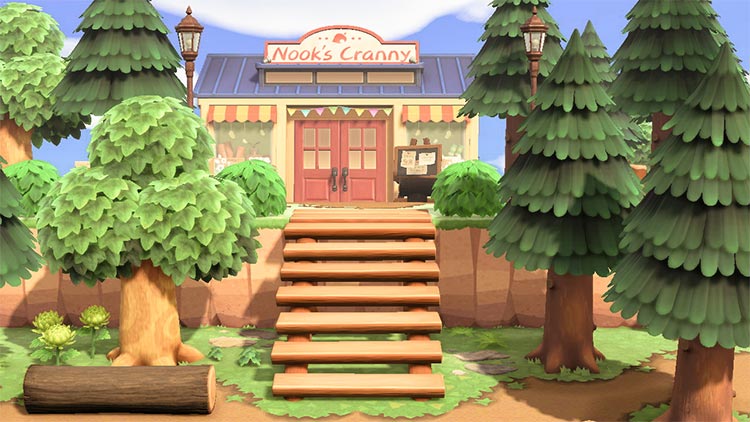 Hiking trails are becoming more and more popular in ACNH.
So why not tuck away your Nook's Cranny into one of your trails, and give your villagers a pleasant surprise?
Surround you Nook's will plenty of trees and shrubs, nestled away from all the noise of society. You can even set it up on higher ground if you like.
Keep it looking traditional with wooden steps, log seats, and maybe even a bonfire outside for those chilly evenings.
6.

Information Center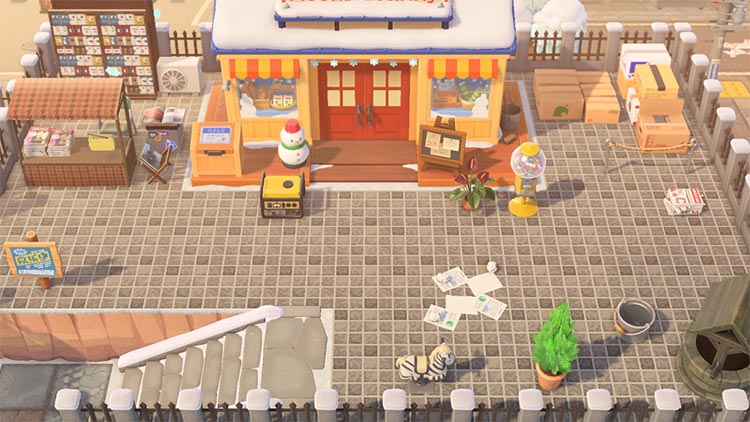 In the case where you have visitors on your island and they need a little advice, why not set up an information center next to your Nook's?
Set up an information stall and you can customize it with any pattern you like.
You can also customize some simple panels to look like shelves full of files, too.
Or you could throw in a little storage area for the twins to keep all their empty boxes. After all, where do they keep all their stock?
5.

Nook's Coffee Shop
Shopping can be thirsty work.
So opening a coffee shop outside Nook's could turn into a roaring business.
Using custom stalls and a mix of tables and chairs, you can create the perfect European-style coffee shop aesthetic.
Add some flowers and trees around the area, and you can make it stand out even more by adding your own custom sign too.
Although we want Brewster back, it's up to us to give the villagers their coffee fix until he makes his return.
4.

Downtown Shopping Strip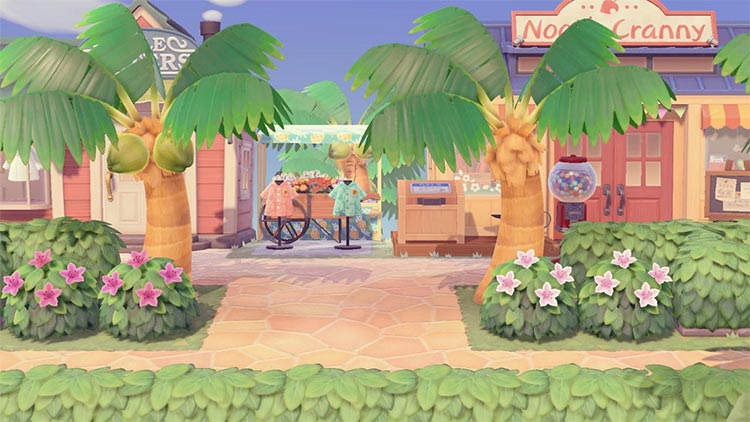 This tropical boutique filled shopping strip screams luxury, with kiosks and mannequins outside giving customers a taste of class as they pass by.
It's super simple to make too.
Just pop all of your stores side by side, and fill the area with coconut trees and tropical flowering plants.
Because who doesn't want to feel like royalty while they do their weekly shopping?
3.

Staff Parking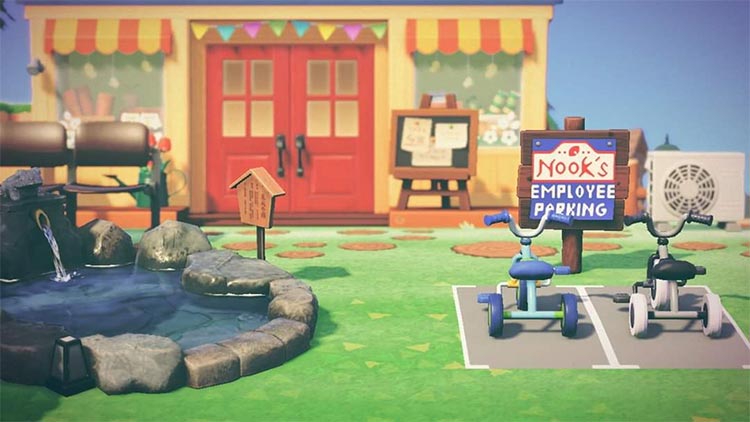 Ever thought about how Timmy and Tommy get to work each day?
Creating a parking lot for them outside the store is an adorable idea. Just so they can park their vehicles.
A cute addition to the outside space along Nook's Cranny.
It's easy enough to do and only uses a few design slots, since a couple are needed to make the actual parking bays and then a custom sign to pop next to it as well.
2.

Nook's on the Lake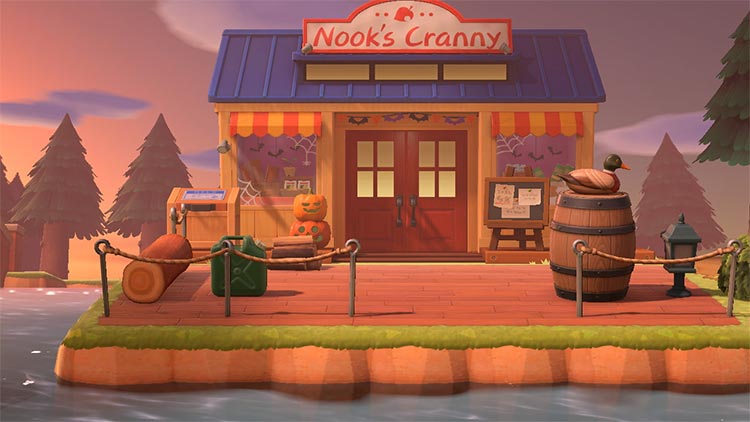 What better way to enhance your shopping experience than having a spectacular view right outside?
Moving Nook's to a small island (or in front of a huge lake) is the perfect idea for those nature lovers.
You can even make it look like a dock too with wooden flooring, log seats, and maybe some fishing rods. Or a weird wooden mallard.
It's also a solid location to get those Instagram-worthy photos.
Just throw on your best outfit and head down to the shops at sunset for the best photoshoot of your life.
1.

Nook's Retro Gas Station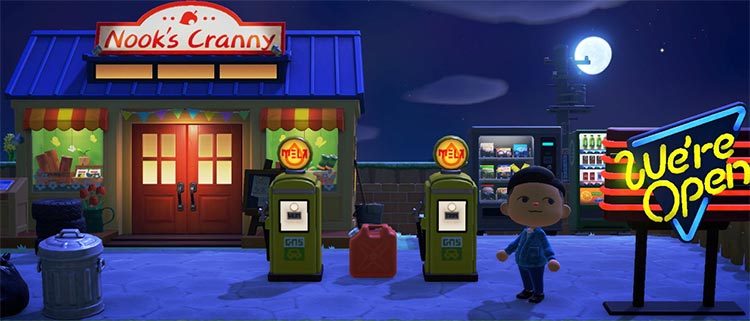 This has to be our favorite by far.
We just love this retro gas station outside of Nook's Cranny. It looks even better during the evening when the neon signs can really glow!
Throw a few gas pumps outside, then add a huge neon sign. Or you could even make your own custom sign to slap you own spin on it.
Finish it up with some vending machines or even a coffee machine, because what's a gas station without snacks?
Although you may think it's a little unnecessary to have a gas station on an island where nobody actually drives… you can't deny that it looks amazing!
Browse:
Animal Crossing
Lists
Video Games