20 ACNH Office Room Design Ideas: The Ultimate Collection
This post may contain affiliate links. If you buy something we may get a small commission at no extra cost to you. (Learn more).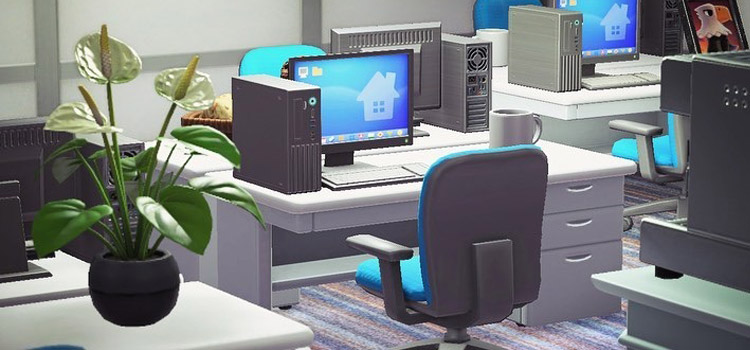 I think it's safe to say that Animal Crossing: New Horizons quickly became the game of working (and playing) from home.
While some were stuck at home playing Animal Crossing, others were also at home working.
And if you've ever worked from home, then you know that a comfortable environment is essential to productive work.
And I say we should provide ourselves that same comfortable home working environment in New Horizons.
So here's a bunch of unique (and brilliant) home office designs to help break through the monotony of the work week.
20.

City Apartment
Sometimes, the view out the window can make working from home all the better.
While my view as I write this is my neighbor's house, I'd argue the view from this home office build is a lot nicer: a gorgeous scene of the city skyline below.
To set this up you'll need some cityscape wallpaper to start.
Next, purchase a lecture hall desk, den chair, desktop computer, and white board from Nook Shopping to set up your workstation.
Items like the throwback rocket, mini fridge, and air conditioner are also available to purchase, and can help heighten this workspace.
19.

Fashion Designer's Office
Some people have jobs that require specific setups, like this fashion designer's boutique.
And this designer office is just a sight to behold.
To make this, first lay down some common flooring and a brown hallway wall for a simple room to set up this office.
Then purchase a few den desks and set them up as a large counter where you can display a laptop, fax machine, and cordless phone.
You'll also want to show off your fashion designs, so set up mannequins with your favorite clothing items that you've either purchased or created.
Displaying tons of magazines on the floor also gives off the impression that your designs are worth sharing with the world!
18.

Sales Office
Maybe you'd prefer to invite the whole office over to work from the comfort of your home (which is a little counterintuitive, but ok).
Well if you wanna build this sales office in ACNH, then each person needs an office desk, modern desk chair, and a desktop computer that you can purchase on Nook Shopping.
The amount of stations you'll need depends on the size of the room you're using, but 3-5 stations should be plenty.
Then you can personalize each station with various items such as house plants, coffee mugs, or even photos of your favorite villagers.
17.

Home Craft Room
Perhaps your at-home job consists of running your own craft business.
And that kind of setup requires a cute, artsy office, like this build.
I like how this office includes a sofa and wall mounted TV as a small recreation area for you take a break from your work.
As for the actual work areas, there are multiple stations setup for all your typical crafts.
Specifically, you'll need to purchase a loom, kimono stand, and sewing machine to begin your crafting business.
Also, you'll need to craft a DIY workbench so that you have a place to do your "crafts", if you know what I mean.
16.

Golden Royal Study
This design gives a more lucrative look to your home office, as you can see all the many expensive items on the walls and desks.
Start this off by purchasing a den desk, den chair, antique clock, desktop computer, and espresso maker from Nook Shopping.
As for items you'd need to craft, there's the wooden bookshelves, trophy case, and ironwood dresser.
Be sure to display your own trophies from the Happy Home Academy on top of the trophy case too. Because your work definitely deserves some recognition.
15.

Grossberg Law Offices
I have personally never played any of the Phoenix Wright games.
If you have, then you may recognize the Grossberg Law Offices in this build.
To recreate this iconic gaming scene, you'll want to start with a brown hallway wall and dark herringbone flooring. Don't forget to lay down your red kilim style carpet as well.
Then purchase some den desks and a den chair, as well as a double sofa for your office visitors.
You'll also need some wood to craft the wooden bookshelves and ironwood low table.
And to wrap up, you can proudly display your favorite artwork all over, like the pictured calm painting.
Now you're ready to get down to business.
14.

Fragrant Flowery Office
Plants can really brighten up an indoor office. And here's how you can bring that idea into the world of Animal Crossing.
Start out with a bright orange molded panel wall, dark herringbone flooring, and a yellow kilim style carpet.
Then purchase a den desk, antique chair, and laptop for your own work station.
You'll also want some rattan chairs and an antique table facing your desk so that your employees have room to sit when you invite them in. (I hope no one's getting canned.)
The last thing you'll need is some potted ivy plants and floral swag mounted on the walls to give your office that bright & natural feeling.
13.

Art Studio
Maybe your at-home work is simply the work of an artist.
Whether it's painting, drawing, or writing, artwork requires a great setup.
You'll want to start this build by customizing some simple panels to look like different shelves of all the supplies you'll need.
Once you have those setup along the walls, then add some basic teacher desks as your various workstations.
Top off the desks with items like a cartoonist's set, painting set, and rotary phone.
Some other items you'll need to display are a DIY workbench, corkboard, and iron shelf.
The monsters is one of my favorite plants, so I would also recommend adding one to your artsy office to get those creative juices flowing.
12.

Home Therapy Office
Fun fact: I have a degree in counseling, so I would definitely feel right at home in this home therapy office.
There's really no outlandish items you'll need to purchase or create for this. but Rather it's how this room is setup that makes it unique.
Start with a study desk and basic teacher desk for your personal work area.
As for your client's sitting area, purchase a double sofa and craft a wooden low table and log chair to face the sofa.
The formal paper and graduation cap displayed on the wall help your clients know that you're qualified to help give them advice – whether it's good advice, that's yet to be decided.
11.

YouTube Gamer Streaming Setup
YouTube and Twitch streamers got it lucky recently, as they were already working from home.
If you want your own streaming den in Animal Crossing, just make some custom designed gaming posters and proudly display them on your wall.
Next, craft a wooden low table and set up your gaming station with a desktop computer, fax machine, folding chair, and of course your ACNH Nintendo Switch.
Some other items you'll want to purchase include a folding floor lamp, study desk, velvet stool, and wall mounted TV.
As for crafting, you can create a trophy case, wooden block bookshelves, and a wooden block dresser.
And you'll want to finish off the room with some of your favorite gaming memorabilia, such as a zap helmet, or custom design Nintendo posters. Or maybe even consider throwing in some of the Super Mario items, if you can get your hands on some.
10.

Bank Vault & Office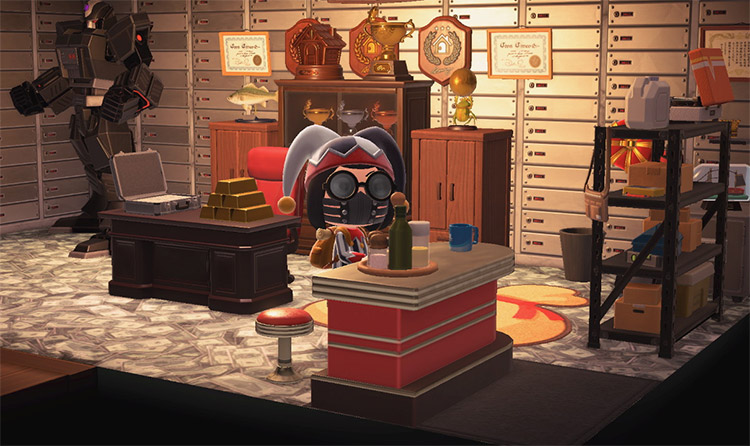 Perhaps a high-end banking office space is more your speed?
Well if so, you'll obviously want to obtain a bank vault wall from Saharah for your bank vault.
And crafting some money flooring is a must.
Then purchase a den desk and chair, and craft some gold bars to proudly display on the desk.
You'll also want to craft some furniture to match, like the trophy case and wooden wardrobes.
Once you're done crafting, then you can setup some of your Happy Home Academy awards, both trophies and plaques, to be more prized jewels in your vault.
While certainly not mandatory, if you have enough rusted parts, you can also craft a robot hero to guard your valued possessions.
9.

Stargazing Office
Speaking of the view outside your office window, you may want to try a gorgeous stargazing setup like this one.
This player cleverly created this scene to match an office space, and you can definitely do it too!
Start by first putting up some aurora wallpaper.
Then add enough plain climbing walls to go around most of the room, and turn them around so that the blank side faces out to create your actual walls.
Next, set aside a small area for a balcony by turning two fireplaces against the wall, and covering the sides with simple panels.
You'll also want to customize some simple panels to make your shudders, and leave open a small space for you to look out.
Once you setup a den desk and chair for your work station, all you need is a telescope so you can work among the stars.
8.

Outdoor Study
Here's another idea for a home office: specifically taking that office outside the home.
Maybe you prefer working out in the fresh air. I'm sure a lot of people would prefer that!
To make this on your island, you'll want to set aside part of your yard with some iron and stone fencing, and pave it with some stone pathway – since you probably don't want to work on the grass.
Craft a couple wooden bookshelves and purchase a den desk and chair for your workstation.
There's a lot going on in this scene, so I'll just call out some of my favorite items.
I do like the chalkboard that shows some of your work, and the park clock to let you know the time. And I also like the phone booth, just because it looks cool.
Creating a custom wanted sign gives off the impression that you're in an old sheriff's office, but it can be any custom sign you want, if you're not into catching outlaws.
7.

Post Office
Your "home" office could even be one that specializes in delivering mail, like this awesome post office design.
Start by customizing some simple panels to look like the mailboxes & divider, similar to the idea above.
The back desk consists of two den desks with a cartoonist's set, and a document stack on top.
The front counter is made up of seven podiums, though you might use more or less depending on the amount of space you have.
You'll also want to cover these counters with typewriters, document stacks, cartoonist sets, and cushions customized to look like packages.
Then throw in a ton of cardboard boxes in the back, all ready for delivery!
6.

Surveillance Room
If working in a security office is more your scene, then try building this dark surveillance room for your home.
I would start by customizing the simple panels to display all you top secret island security footage.
In front of the screens you'll want to set up your desk area. You can purchase a den desk and chair, as well as a desktop computer, whiteboard, and pro tape recorder.
I do like the addition of a fireplace and double sofa to create a warm sitting area. It's nice to take a break from hours of surveilling the island.
And now you're ready to see why Fang's special pouch really went missing!
5.

Doctor's Office
No amount of apple trees on your island can keep this doctor away.
To design a similar doctor's office on your own island, add the white hallway walls and mosaic white tile flooring.
For your desk, you'll need to purchase two office desks, a laptop, fax machine, and rotary phone.
As for the checkup area, you'll also need to purchase a stadiometer, anatomy model, camping cot, and skeleton.
And don't forget to wear your doctor's mask when working with patients.
4.

Mad Scientist Lab
The mad scientist always works from home.
And maybe that's because no one else wants to even go near him…
If you want to channel your inner madness, start out by setting up some outdoor tables with a lab experiment set, oil lamp, and mini fridge on top.
You'll need a modern desk chair and ironwood table to do all your lab paperwork, so be sure to purchase a homework set and document stack as well.
Chalkboards are also good items for conducting experiments, and while not pictured, a plasma ball can also add a touch of madness to the scene.
My favorite part is the custom designed warning posters, as well as the custom designs of famous scientists displayed on the walls.
3.

The Devil Wears Prada
I have not seen The Devil Wears Prada, but recreating Meryl Streep's office is definitely a creative idea for your home.
Start with the white botanical tile wall and stone flooring for this build.
Then you'll need a few white den desks and a den chair, as well as two director's chairs for those incompetent employees.
The custom designed pictures on the wall are also a sleek touch, as they show how much effort this player put into recreating this movie classic.
2.

Raymond's Room
I think there's no denying that Raymond is easily one of the most popular villagers in ACNH (I'm still trying to get him).
His home interior is setup just like an office room, and it's easily replicable if you want to be just like your favorite feline friend.
He uses the monochromatic tile flooring and office wallpaper to setup his home.
His workspace consists of a den chair and desk with one of my favorite items, Newton's cradle, on top.
There's also a smaller workstation with an office desk, modern office chair, and document stack that you can purchase.
When you're finished, take a break by the water cooler for a job well done.
1.

Dunder Mifflin Scranton
That's right, the people person paper people have come to Animal Crossing!
There's no doubt that I had to include this, as The Office is amazing.
To re-create this iconic office space, start off with some office wallpaper and monochromatic tile flooring.
Then setup two office desks, modern office desks, desktop computers, and a whiteboard for the Jim and Dwight desk clump.
While not in a separate office, Michael's desk can still be created by purchasing a den desk and chair, desktop computer, and his famous coffee mug.
The best part of this by far has to be the couple little nods to the show depicted throughout the room.
You have a purple paisley bandana as a nod to Prison Mike, and a custom-designed hat made to look like the infamous Jell-O stapler.
Now you know who to call for your business paper needs!
Browse:
Animal Crossing
Lists
Video Games