15 ACNH Orchard Designs, Ideas & Inspiration To Try
This post may contain affiliate links. If you buy something we may get a small commission at no extra cost to you. (Learn more).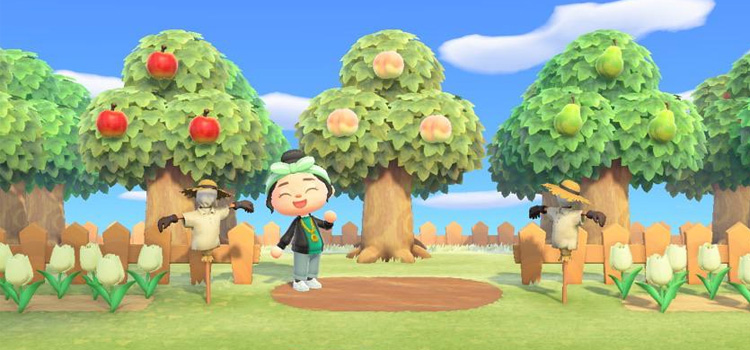 An orchard on your island looks amazing. But it can also be quite a lucrative business.
After all, who doesn't want to become a Bell-ionaire?
It's super simple to move fruit trees and relocate them around the island. But what kind of design should you be going for? Where do you even get started?
I've got you covered here with some of my favorite orchard ideas in New Horizons.
15.

A Walk Through the Orchard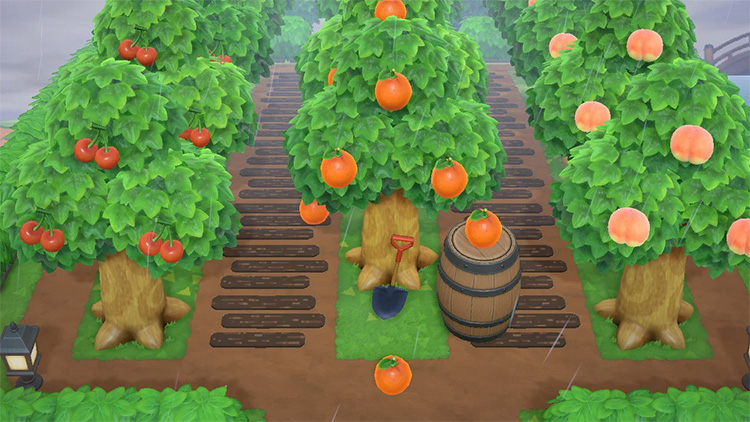 Who doesn't love an afternoon strolling through the orchard?
This design is perfect for those wanting a relaxing afternoon picking their own fruit.
All you need is to situate your fruit trees in lines, making sure each line is made up of the same type of fruit tree.
Mark out some paths and then add a custom design for the wooden plank pathways on top.
It's great for walking through on a summer's day, and let's face it… it looks good too!
14.

Orchard Island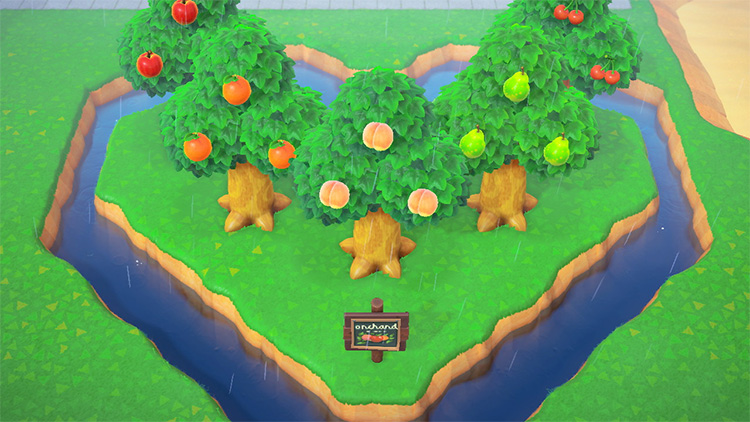 How adorable is this heart-shaped orchard?
Spread the love by re-creating this amazing orchard on your own.
Just set space aside on your island and start by digging a heart shaped river, leaving an island in the middle.
The island can be as big or as small as you like, just leave some room for trees.
You could add all of the same fruit trees or mix it up. It's all good.
Finish by adding a custom orchard sign to complete the look, and you've got yourself the cutest spot in town.
13.

Orchard Café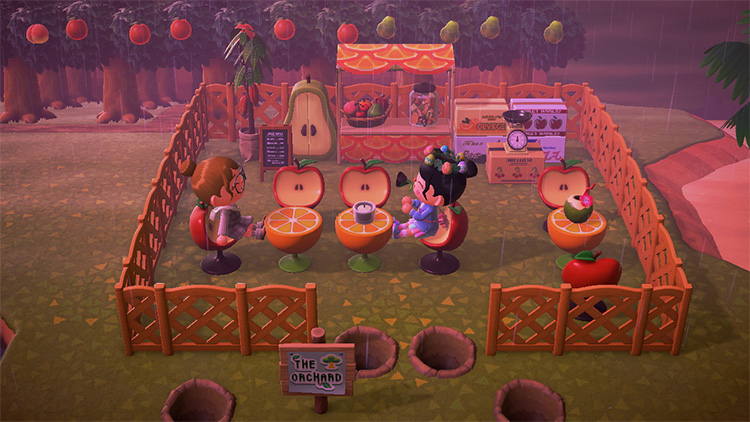 Picture this: you're picking fruit from the orchard and you get tired, so you take a seat in the fruit café right next door. Sounds awesome right?
Well now you can create this on your island, and it's really easy!
First build your orchard by lining up your fruit trees any way you like. Then take some fencing to section off a small area for your café.
Get you café ready by adding a custom stall with your favorite fruit design, and adding all the fruit furniture you can find.
Looks good enough to eat, right?
12.

Campsite Orchard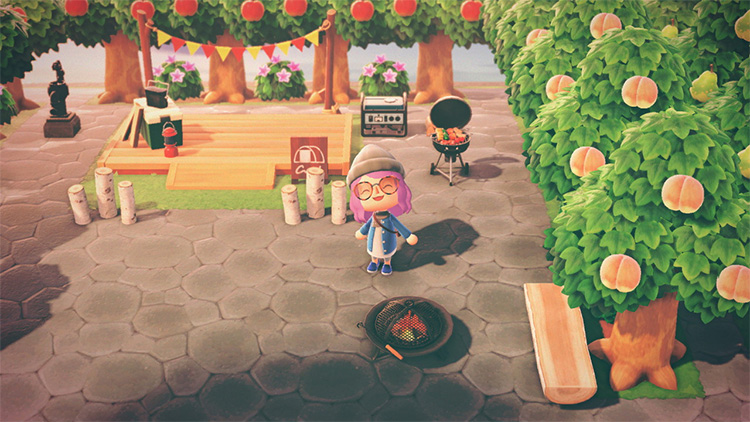 Visitors in your campsite won't want to leave once they experience sleeping amongst a forest of fruit bearing trees.
Place your campsite in the middle of your orchard, then place the trees strategically around the area for that extra cosy feel.
Don't forget to add some seating and a little barbeque area too.
A fire pit would also be a good addition for those cold nights, and maybe roasting a marshmallow or two.
Your campers will love the privacy of being immersed in an orchard, with an apple for breakfast at an arm's reach.
11.

Orchard Smoothie Bar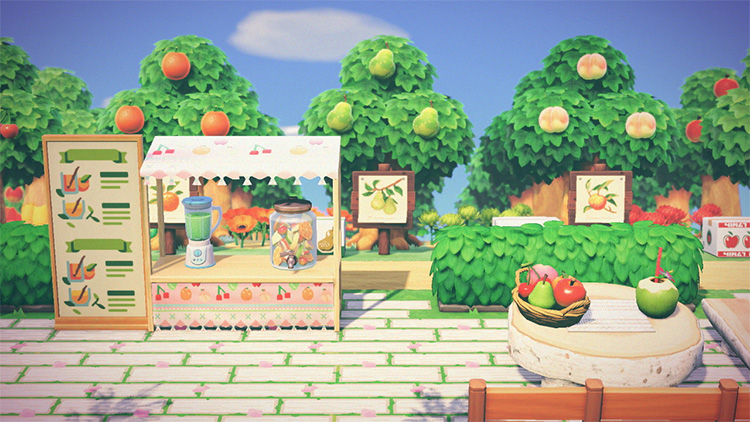 So now you have a huge orchard and enough fruit to last a lifetime. What should you do with it all?
Create a smoothie bar, of course!
Can it get any better than picking fruit fresh from the trees and throwing them straight into the blender?
Use a simple panel with a custom smoothie menu design to let customers know what's available.
You can add a custom stall with a blender and also throw in a cute table to match.
I'm sure your jock villagers will give this their seal of approval.
10.

Clifftop Orchard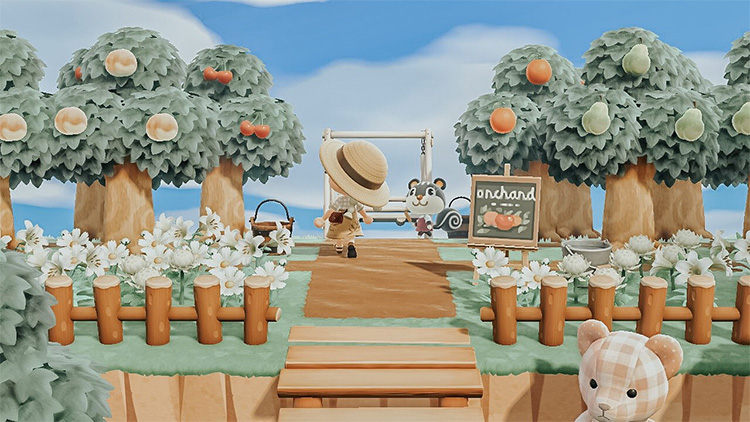 Give your villagers the perfect relaxation spot with a super sweet orchard on a clifftop.
First build up a cliff and add your favorite incline leading up to the top.
Fill the top of the cliff with fruit trees in whatever pattern you like, and don't forget to plant a bunch of flowers around the area too.
You can finish with a custom orchard sign, and also paths leading around the trees. This allows you to shake your fruit down without losing them in the flowers.
To complete this look, add some adorable seating areas.
9.

Rock Garden Orchard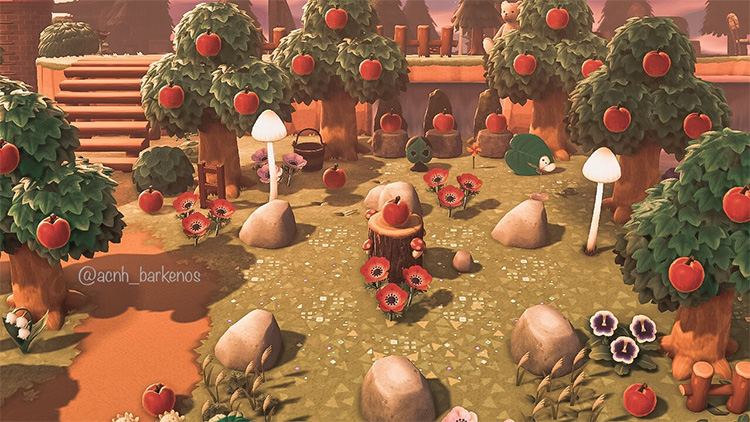 So you've gone through all of the trouble to create a rock garden and you're finally finished, but not quite sure what to do next…
An orchard is the perfect way to decorate this area. Just place fruit trees and stone stools around to tie in with the theme.
Don't forget to plant a few flowers, you can even leave a few weeds around too.
Just be careful not to place trees too close to your rocks, or you won't be able to get the full rewards from them each day.
8.

Walkthrough Orchard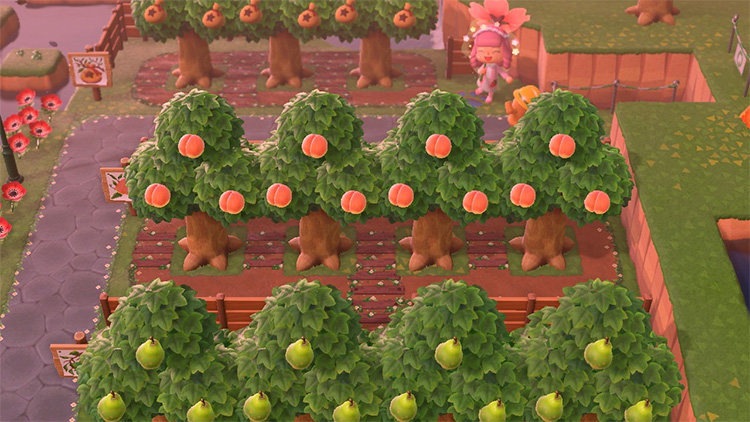 Everyone wants a walkthrough orchard on their island.
This cute little setup lets villagers walk around each section of the orchard, almost like an outdoor museum.
You can do it too by sectioning different areas off and filling each space with a different type of fruit tree.
Then you can label each section with a little sign for each of the fruits. Cute, right?
Divide each section up with some fencing around, then also fencing down the middle of each area.
I love how in this orchard they've even included an area for their money trees, and even added a little money sign too.
After all, we all know money grows on trees.
7.

Traditional Orchard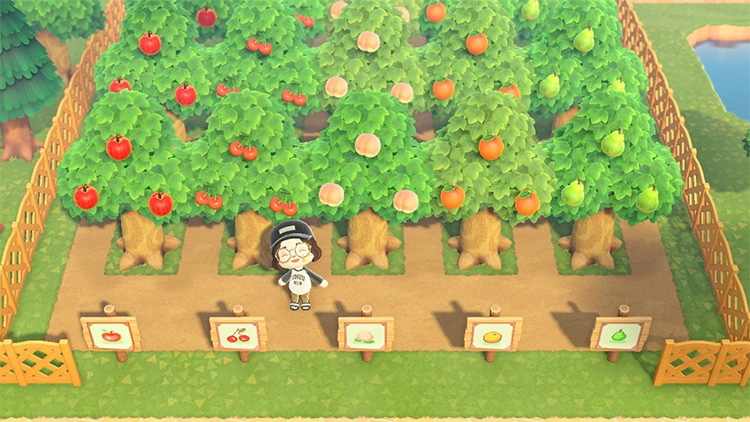 If you're wanting to keep a more traditional orchard design, then this idea is for you.
Create a spectacular show of fruit trees nestled side by side.
Mark out where you'll plant each tree first. It's important to leave a space around each tree since if they're too close together there's a risk they may not grow at all.
Finish each row with a custom signpost to help you identify your fancy fruits.
This design can be a fantastic addition to any island, and keeps all your fruit trees in one place. Which makes harvesting so much quicker.
6.

Orchard Market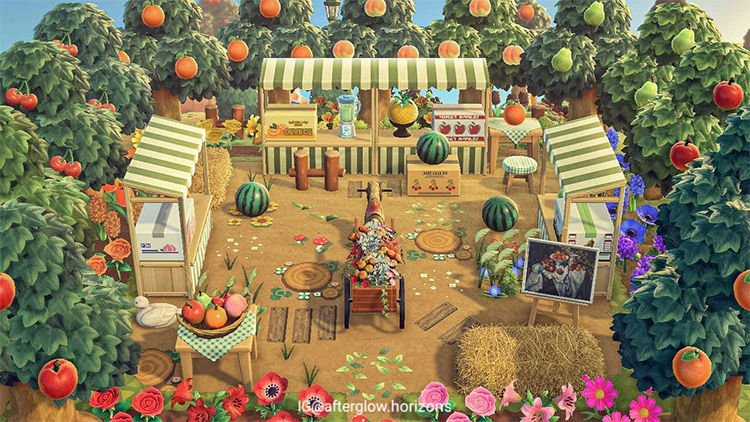 Is your island overflowing with fruit?
Open your own fruit market!
Set up some custom stalls in the center of your orchard area and fill them with fruits and boxes.
You can even add some custom designs to the floor, such as wood slices and wooden planks. Just to make it look extra special.
Then situate your fruit trees around the stalls, making sure to get every fruit type included in there for a colorful look.
5.

Checkerboard Orchard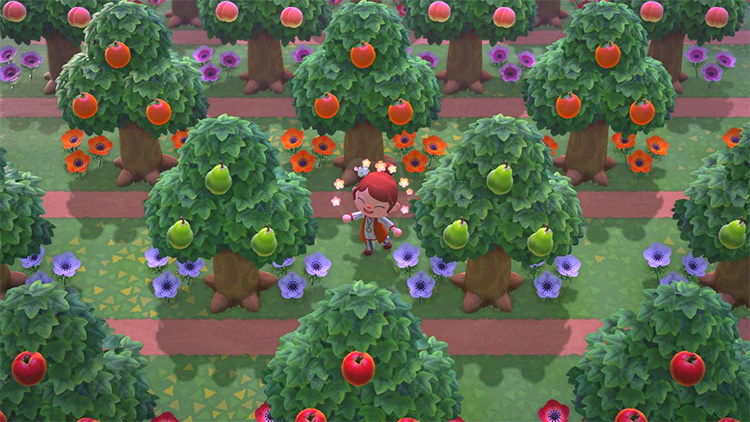 Got a more natural vibe going on with your island?
Then look no further, because this orchard is the perfect addition to compliment your island.
Create small paths running through between your trees. And don't forget to add lots of flowers in between too.
Placing your trees in a checkerboard pattern allows you to see every tree perfectly.
You can add as many trees as you like, the more fruit you have the richer you are!
4.

Orchard Fields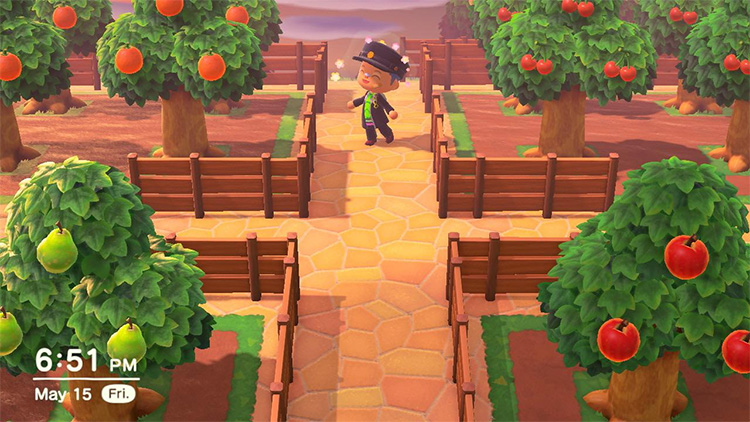 Want to try something a little different to the traditional orchard layout?
Then try creating these super cool fruit tree fields.
Each area is fenced off and holds one specific type of fruit tree.
Start by sectioning off a part of your island, pop down a dirt path in each area, and pop your favorite fence around each part.
Add your trees into each part of your orchard and watch your vision come alive before your very eyes!
3.

Orchard on the Lake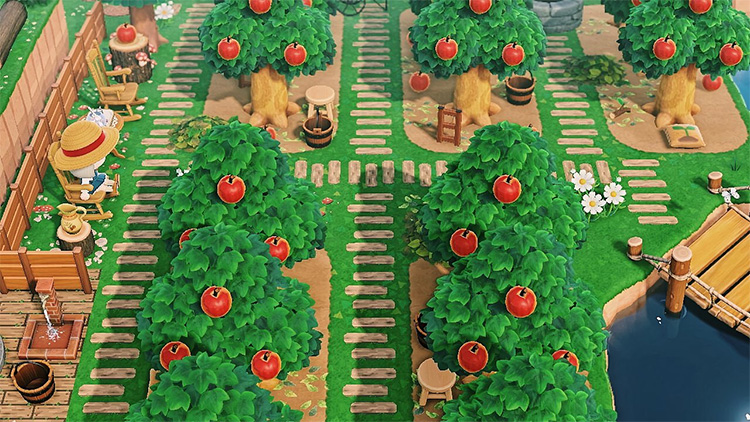 There's no better feeling than creating something so spectacular, and then sitting back to look over your masterpiece.
That's just the ticket with this orchard layout: each section has been intricately designed with wooden decking leading around the area.
Each area in this example is full of apple trees, although you could create this with any fruit you like. You could even mix and match different styles.
This orchard seems to be located next to a huge lake; did someone say orchard with a view?
Don't forget to add some rocking chairs at the side, and maybe a water spout to wash off your freshly harvested fruits.
2.

Colorful Orchard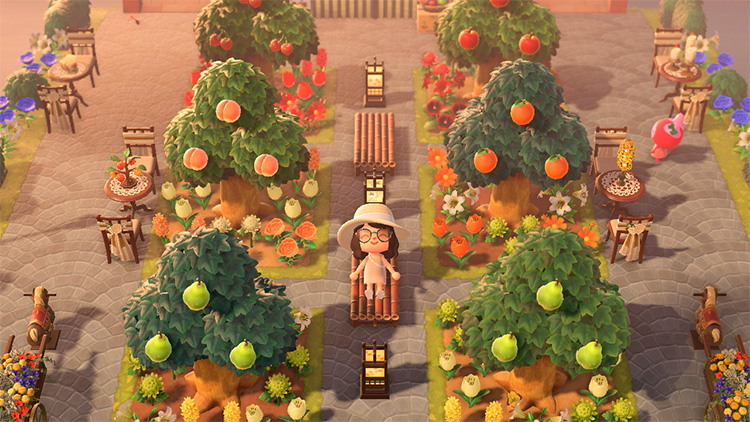 In a close second place we have this super colorful orchard design.
This is guaranteed to turn heads when your villagers visit the area.
Start by sectioning off a small area for each fruit tree, then plant corresponding colored flowers around the base of each tree.
Add a host of tables and chairs scattered around the area too. And you can also crank up the ambience with some lanterns if you like that idea.
It couldn't be simpler!
1.

Apple Orchard Store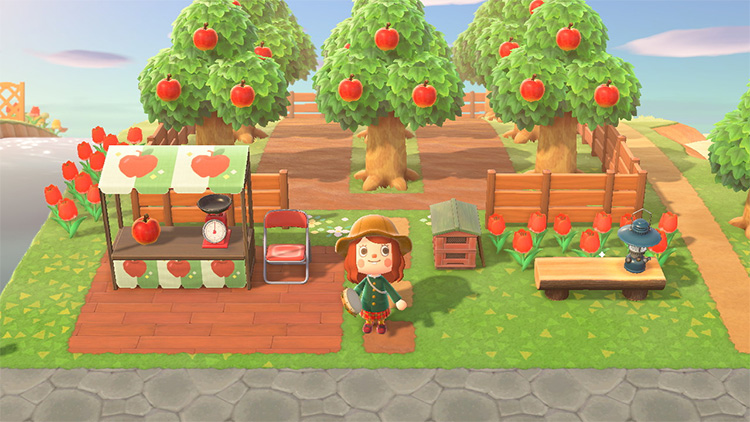 Know exactly how many apples you're buying with this apple weighing station.
Create a custom stall with your favorite fruity design, then place the fruit up on top along with some scales.
I love the color coordination between the apples and red tulips here. It's such an easy design, yet it still looks amazing!
This is by far my favorite orchard layout; and it can be done with any type of fruit too!
Browse:
Animal Crossing
Lists
Video Games