Fun Pagoda Ideas For Animal Crossing: New Horizons
This post may contain affiliate links. If you buy something we may get a small commission at no extra cost to you. (Learn more).
Pagodas can be a fun addition to your island. They have a really cool Asian-themed aesthetic, and they look great almost anywhere!
They also match with so many designs, from zen gardens to full blown temples, the possibilities are endless.
So why not take your island to the next level with some of these awesome pagoda designs?
We're cranking things up and really pulling out all the stops with some of these ideas.
So grab a couple of pagodas and let's get started!
10.

Pagoda Entrance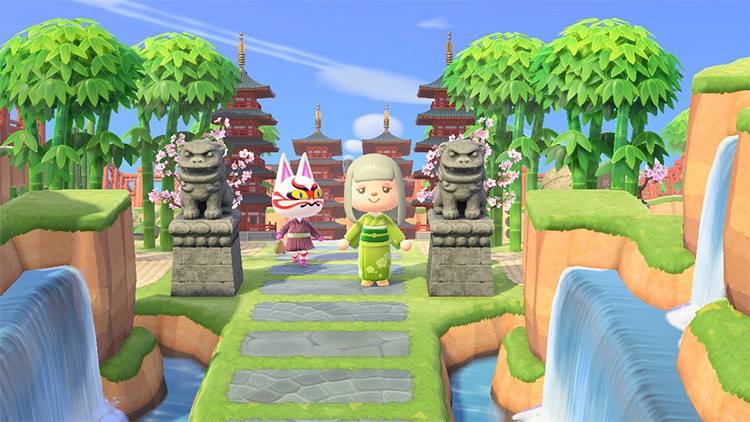 What better place to start than with your island's entrance?
We've already shared a ton of ideas for your entryway, but this pagoda-themed idea could be the ultimate entrance for your island.
It's super easy to create, too!
First you'll need to build some cliffs leading onto your island, and be sure to add some waterfalls running down too.
You can then add some statues at the entrance to fit in with the Asian-inspired theme.
Then be sure to add lots of bamboo trees and pagodas to tie the whole look together.
9.

Koi Pond
Is your island really complete if you don't have a zen garden with a Koi pond?
I think not.
Let's bring this awesome design to your island in just a few easy steps.
First off, you'll need to get your hands on a custom design for your koi pond. And one for
stone flooring.
Make sure you place your garden nestled between some cliffs, and be sure to add lots of bamboo trees if you're into that bamboo aesthetic.
Then add a zen bridge, bamboo items, and some butterfly models, and finish the look by adding your Pagoda wherever you like.
8.

Red Temple
I know it's surprising, but you can build this amazing Japanese-style area right in your front yard!
To start, you'll need to build some cliffs behind your home. You can then decorate them by adding some imperial beds and plenty of bamboo trees.
To add to the look you can also drop in some imperial partitions around your yard, too.
Finish by adding lots of pagodas, and some imperial fencing to mark out your property.
7.

Imperial Forest
This spot would feel like the perfect place to take an afternoon stroll.
And it would match so well if you're going for a Japanese-themed island design!
To make this tranquil area, start by adding a cliff with a waterfall towards the back of your chosen area.
You can then add lots of cedar trees and bamboo trees to tie in with the theme.
Pull the whole look together by adding some imperial fencing, red flowers, and shrubs.
Then finish by adding a stone arch and placing your pagodas in there by your waterfall.
6.

Pagoda Island
Anyone could create this show stopping Pagoda mini-island. It's not as complicated as it looks!
To begin, you'll need to dig out a river on your island, leaving a small island floating in the middle.
Around your river you'll want to line the land with a mix of both cedar and hardwood trees. And don't forget to add lots of flowers too.
Then pop down some stone path designs to tie in with the theme.
Complete the look by adding lots of Pagodas into that center block of land, and finish with statues and shrubs.
5.

Cherry Blossom Bridge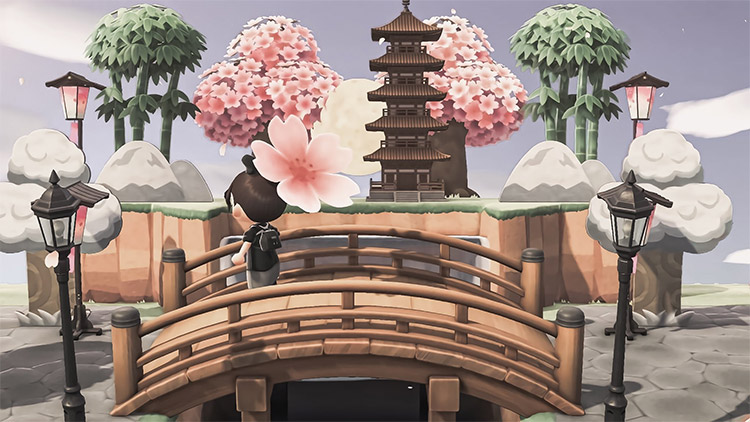 In need of an Instagram-worthy spot on your island?
Then look no further, especially in the springtime.
You'll first need to build a cliff on your island and add a waterfall cascading down over the edge. It doesn't have to be too high, either.
Then have the waterfall run into a river. And you can add a bridge crossing the river just to tie in nicely with this theme.
To finish the look, add your pagoda on top of the cliff, along with some bamboo and cherry blossom trees.
You can't forget the cherry blossoms!
4.

Zen Pagoda Garden
Bring your island to a quiet "ohm" with this pagoda-themed zen garden area.
You can make this yourself by building some cliffs around your chosen area. Be sure to then add in a bunch of waterfalls connecting to rivers around the garden.
Fill up those area with lots of bamboo and coconut trees, and you can even add some custom stone flooring designs too.
Then add a stone arch, shrubs, bonsai trees, and lanterns to tie the whole look together.
Of course, don't forget to add lots of pagodas around the area to complete the look.
3.

Street Market
Every island deserves its own marketplace.
And this one could be your marketplace dream come true!
To get started with this idea, you'll first need to get your hands on some simple panels. You can then customize them with your favorite screen designs to give the illusion of walls on your island.
After that, build a cliff and add some stone steps leading up.
Place your customized screens on both levels, along with some customized stalls too. We want this to look like a marketplace!
Then add a couple of statues at the bottom of the stairs to pull the whole look together.
Finish by adding your pagodas and some flowers to complete the design.
2.

Show Stopper
Just imagine climbing that incline every day.
Clearly the pagoda here is something special!
And it's fairly simple to re-create this on your own.
You'll first need to build a series of large cliffs on your island with some stone steps leading up to each level.
Surround the area with some zen fencing and plenty of bamboo trees for that eastern aesthetic.
And then finish the area with some lanterns on the cliff edges and pop your pagoda on top.
Trust me: this will look amazing in the evening.
1.

Flower Pagodas
If you're a true flower lover then you have to try this magical pagoda castle area.
You'll first need to build a number of cliffs across your island, and make sure to add a short river running through this area too.
Then add lots of bamboo items and a variety of flowers to tie in with the design.
You can then add some hammocks and plenty of pagodas running into the distance.
And to finish these lovely fields, add any patterns or stalls that suit your fancy.
Browse:
Animal Crossing
Lists
Video Games