15 Picnic Area Ideas For Animal Crossing: New Horizons
This post may contain affiliate links. If you buy something we may get a small commission at no extra cost to you. (Learn more).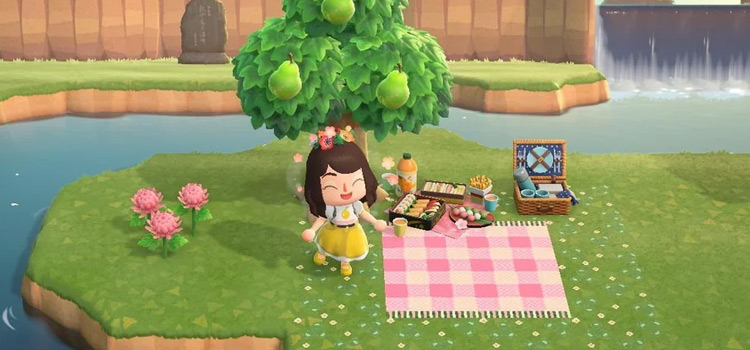 When you think about picnics, you probably picture the classic plaid blanket tucked into a basket stuffed with sandwiches, fresh fruit, and potato salad.
Leave it to New Horizons players to take this simple concept and turn it upside down!
Picnic spots are a popular small area filler because there's so much room for creativity. From designs that change with the seasons, to whimsical dining in the woods, there's something to appeal to everybody's personal preferences.
15.

Winter Wonder
Picnics aren't reserved for only the warm weather months.
Now you can head outside after the island's first snowfall and bask in the magic of a crisp winter morning.
And it's easy to change your current picnic area into a winter wonderland. Start by swapping out your decorative florals for winter specialties, like holly bunches and snowdrops, by laying down custom tiles.
Place seasonal decor, like brightly wrapped gifts, a festive tree, and colorful candles.
You could even freshen up your picnic blanket with a red flannel or snowflake pattern.
14.

Autumnal Atmosphere
Fall is my favorite season in Animal Crossing, so I'm a big fan of how this creator went all out for their autumn picnic area.
If you want to add a touch of class, go for more than one seating option.
This island has a table laid out with a complete set of dishes, in addition to a picnic blanket that matches the tablecloth!
Small details like the warm cup of tea, duck figure on the stump, and a basket of cozy blankets give this wooded picnic spot a uniquely fall feel…
You can almost hear the sound of crunching leaves just by looking at it!
13.

Summer Spread
Bright and sunny snacking is ahead when you create this kind of summertime-themed picnic space.
When it comes to your blanket, opt for bright, bold colors like pinks, greens, and blues that'll stand out in the sunshine.
And you'll want to soak up the rays all day, so place essential summer accessories nearby. Stuff like a barbecue grill and hammock are good.
And when it's time to eat or take a siesta, you can do so right from the comfort of your own picnic space!
Of course, you don't want to forget the right mix of flora for your final touch. Monstera plants, succulents, and sunflowers are all great choices!
12.

Springtime Snack
If pink is your favorite color, you're going to want to spend a lot of time outside during springtime on your island.
With sakura blossoms in bloom, it'll be like seeing everything through rose-colored glasses!
Take advantage of this once-a-year event by taking plenty of time to lounge around in pink perfection.
This creator's picnic blanket is perfect, featuring a blushing plaid pattern that complements the bubblegum and ballerina slipper-hued flowers adorning the area.
Piles of fallen cherry blossoms decorate the grass, along with custom tiles that add trails of scattered petals.
Top it all off with an excellent book to read, and you're set to bask in the sweetly scented spring weather!
11.

Lunch with Your Gnom-ies
Picnics alone can be lovely when you need peace and quiet.
But friends make them even more special.
Unfortunately, your villagers can sometimes get a little bit too busy to stop and smell the sandwiches. That's where your garden gnomes come in handy!
Instead of placing these round-bellied cuties in your yard's garden, get them set up at your picnic area. They'll always be around when you want to eat your lunch al fresco.
Gnomes are shy critters who prefer to be close to the woods that they call home. So it's only polite to place your picnic near the edge of the forest.
And you can make it feel even homier by planting flowers all around, to give them a secret little spot to cozy up with a stack of reading material.
You can even use stumps as their seats to add to the overall aesthetic!
10.

Tea Party
Was the Mad Hatter scene in Alice in Wonderland your favorite piece of cinema ever?
Did you carefully curate your own collection of tiny cups, saucers, and teapots when you were a kid?
No matter your answer, I think you'll love having an extra-fancy picnic area where it's always time for tea!
Decorate with pastel colors and plenty of dishes. Good choices would include Mom's Tea Cozy, Simple Kettle, and the Coffee Cup, but you can mix it up however you like.
Of course, no tea party is complete without sweet treats to accompany the meal. Use the hat decorating trick to create dreamy desserts.
Then put on your favorite puffy dress and invite your favorite villagers to come around for a cuppa. Choose any table you like (I'm a big fan of a round table to fit more friends!), lay cute cushions on the ground, and pick out a parasol.
Just don't forget – Pinkies out!
9.

Rainbow Garden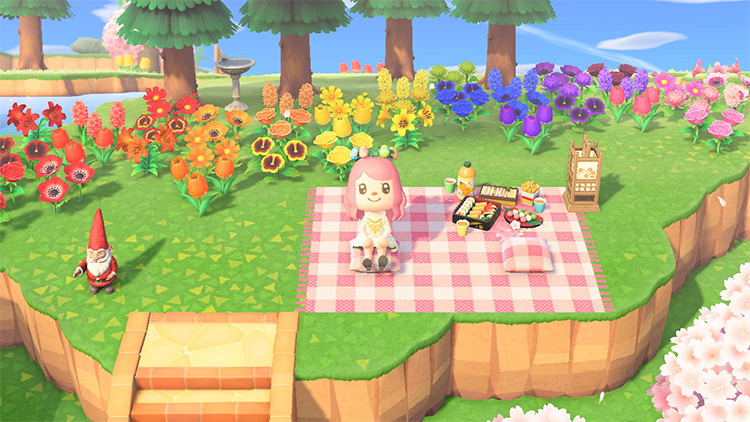 If you have a hard time picking just one favorite color, create a garden picnic spot that lets you enjoy the entire rainbow right in your own backyard.
Start with flowers of every color laid out in rainbow order, or mix them together for a more whimsical look.
The variations in shape and shade of the different flower breeds will look lovely no matter what layout you choose to display!
I like that this designer kept the rest of their picnic space pretty simple and added a gnome friend! Focusing on one element to make a rainbow allows the spectacular spray of flowers to stand out even more.
So when life gets a little dull, you can sit in the sunshine and enjoy the entire light spectrum in one place. And have a meal while you're at it!
8.

Fairycore Picnic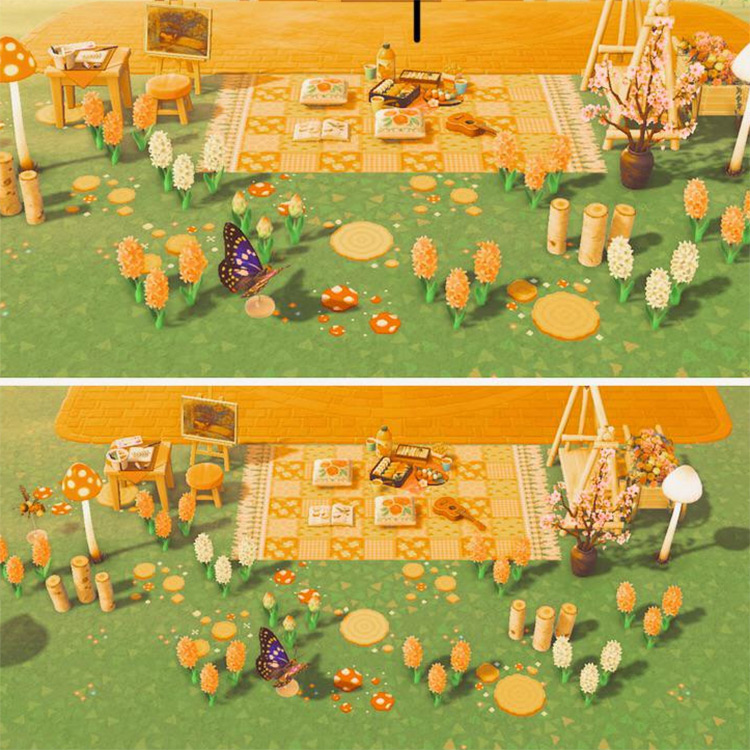 Fairycore is a trendy New Horizons aesthetic. And this designer's picnic area is a beautiful example of the natural charm and subtle magical touches that go into this look.
I love that this creation comes with its own mini painting studio, complete with a Redd original already on the easel.
The outdoor swing, wheelbarrow overflowing with flowers, and paths designed to look like log slices are thoughtful touches to this fairy paradise.
Plus the additions of various mushrooms really pull this picnic spot together.
Still, you could take it even further by bringing in your Mush furniture.
This villager already has their Mush Lamps adding a glow to the twilight, but adding a Mush Table, Mush Stools, and Mush Logs would take this design over the top!
7.

Campground Picnic
I get so excited when I open my island in the morning, and Isabelle announces we have a new camper.
It's almost enough to make me run through my flowers to reach the campsite faster to see who it is.
Almost.
So why not welcome your visitors to your island with a campground that you've transformed into a glampground, with extra lush outdoor seating accommodations?
It's always nice to have options.
This campground picnic space has a table and a blanket in the grass, ready for friends who decide to drop by.
Plus, all those extra seats mean that the whole neighborhood can come out to serve as the welcome committee.
This design showcases how fun picnics can be when you also host some outdoor entertainment. And placing a stage area allows you to provide dinner and a show.
You'll soon have all of your future visiting villagers swooning over your smooth covers of K.K. Slider classics.
6.

Classic and Simple
With so many great ideas at our fingertips, it can be overwhelming to choose just one design for our islands.
Cottagecore?
Rural?
Tropical vacation?
Instead let's bring it back to basics, just like this player did with their comfy picnic corner.
All you really need to enjoy a charmingly minimalist picnic is a blanket, a packed meal, and someone to enjoy it with.
With those gorgeous Hyacinth Lamps providing a dusky glow, and the sound of the waterfall lazily spilling into the rivers below, there's something uniquely appealing about keeping things simple.
5.

Stargazing Picnic
Astronomy and alien experts alike can appreciate the setup of this player's hilltop hideaway.
Spend your evenings under the stars by creating a tiny picnicking cove tucked away on top of a cliff.
You can make this by setting up your basic outdoor dining space, then spice it up with telescopes, space-themed decor, and a fire pit to stay warm.
Nova Lights, Crescent Moon Chairs, and Starry Garland are excellent choices for players who want a beautiful spot to enjoy nature.
Or if you're more into the science of space, set up your own little picnic-ready space hub by swapping out the lights and chairs for a Satellite, Lunar Rover, and Rocket!
4.

Brunch Picnic
Brunch is the perfect meal… You get all of the deliciousness of warm waffles, crispy bacon, and fluffy scrambled eggs, and it's totally acceptable to nosh on your favorite desserts to wrap up the meal.
This player made a good thing even better by creating an inviting spot to enjoy a lazy weekend meal in all the sunshine and fresh air that your island has to offer!
The different patterns on each cushion give this delightful garden party a shabby-chic look, complemented by the rustic accents like an outdoor brick oven, butter churn, and cast iron skillet.
You might even be able to convince Merengue to whip you up something delectable.
3.

Community Dining
Have room for one more?
Let all your neighbors know they're welcome to join in the meal by creating a picnic space large enough for everyone to have a spot at the table… or blanket…
I love this designer's eye for detail, like the complementary color palettes for each cushion, and the accents that look straight out of a botanist's study.
You could even personalize each table with decor items that your villagers would love, based on their personalities… Like plenty of snacks for your Lazy villagers, or sports equipment for your Jocks.
The most important thing, though, is ensuring that every one of your animal friends feels welcomed and loved.
2.

Sunny and Sandy
If you visit a tropical island, it's practically a rite of passage to picnic on the beach.
The sand on your toes, sun on your face, and sandwich in your hand, all make for a delightfully relaxing combination.
But you can come up with a ton of different themes for your shore-side snack zone!
This peaceful picnic area is adorned with lovely smooth stone paths, green bunting, and plenty of plant life for a more rustic, natural look.
Suppose you're not a fan of the rural setting.
Well in that case, you might consider a luau with tiki heads, coconut drinks, and hibiscus bushes.
Or perhaps something a little lusher, complete with all the frills, lace, and scented candles you can fit on one blanket.
No matter what your taste or style might be, a beach picnic space is versatile enough to fit whatever you want.
1.

Marshmallow Roast Area
With this precious marshmallow roasting picnic area, your residents will always want to spend s'more time hanging out!
Instead of a blanket and basket, try placing a rug down with a cozy couch, log stools, or lawn chairs.
Then use a custom-designed path with a campfire motif in front of the seating area. You can snag an in-game Leaf Campfire, then customize it with the "Roasting Marshmallows" option.
Lastly just place a few pieces of decor, then voila!
You've created an easy-peasy spot to grab a quick snack with friends.
Browse:
Animal Crossing
Lists
Video Games