Pokémon Island Design Ideas For Animal Crossing: New Horizons
This post may contain affiliate links. If you buy something we may get a small commission at no extra cost to you. (Learn more).
I'm honestly probably an even bigger Pokémon fan than an Animal Crossing fan, but mixing the two is even better.
But recreating some of your favorite places, scenes, and concepts from Pokémon can be difficult.
Especially if you don't know where to start.
Well here are some cool crossover ideas to get started creating a Pokémon paradise on your Animal Crossing island!
10.

Pokéball Lake
Here's a fun little idea that's also pretty easy to pull off.
It pretty much consists of waterscaping and planting a bunch of flowers in the color of a Poké ball.
You simply want to sculpt the Poké ball outline with land, as well as the button in the middle.
And once you're done with the water, plant red roses on the top half, white on the bottom, and a black rose right in the middle.
They don't even have to be roses!
As long as the flowers are the right colors, you have what it takes to catch 'em all.
9.

Pokémon Themed Bedroom
If you want somewhere fun to sleep, then consider customizing your very own Pokémon-themed bedroom in ACNH.
This design is simple, but there's so much you can do to elevate it even further (if you have the time, that is).
Start this idea by crafting a simple wooden bed and mini table, and purchase a table lamp.
Customize the bed to have your favorite Pokémon on it. That Eevee bed is pretty cute, though.
Then lastly, just display custom designs of some of your favorite Pokémon on your walls. You can stick with just your favorite starter trio, or you can completely cover the walls with any of your favorites.
I like that this person stuck with the Kanto theme. It's simple and charming.
8.

Pokémart Interior
During any Pokémon adventure, you've probably paid a visit to the Pokémart at some point.
Well now you can design an entire room to match a Pokémart interior.
Start by purchasing some snack machines on Nook Miles, and place them neatly in rows of shelves. These mimic the olden-style mart shelves from some of the older gen games.
But probably the most creative touch has to be the hats customized to look like different Poké balls on the tool carts.
Also, you'll want to create some custom designs that look like shelves of potions. Then display these all over the wall.
And then to wrap up this design, buy a desktop computer and put it on a diner counter table. Now you've got your checkout area so your mart can open for business.
7.

Outdoor Pokémon Stadium
The highlight of any Pokémon game is always the battles.
Well now you have the freedom to create your very own Pokémon stadium to host battles on your island.
This is actually one of the more unique designs in this list, and it's worth the effort. All you need is a bunch of custom designs to create the stadium flooring.
Once the actual field is set up, be sure to place some seating around the area so you have room for an audience.
The floor lights are nice addition too, so you can even host battles at night!
6.

Agatha's Chamber
Let's say you're at the end of your Kanto adventure. You've already beaten Lorelei and Bruno.
You enter the next room and see Agatha.
Well if you have enough time, now you can re-build her ghostly chamber in your very own home!
Start this idea by setting up the room with some harmonious wallpaper and black iron parquet flooring.
Next, set up some of the decorations like the Statue of Liberty, that can be obtained from Gulliver. This feels close enough to match those old statues from the Kanto games.
And the throwback skull radios are easy for purchase to add to the spookiness.
But the best part here is all the custom-designed clothes on display to resemble some of Agatha's many Ghost-type Pokémon.
5.

Indigo Plateau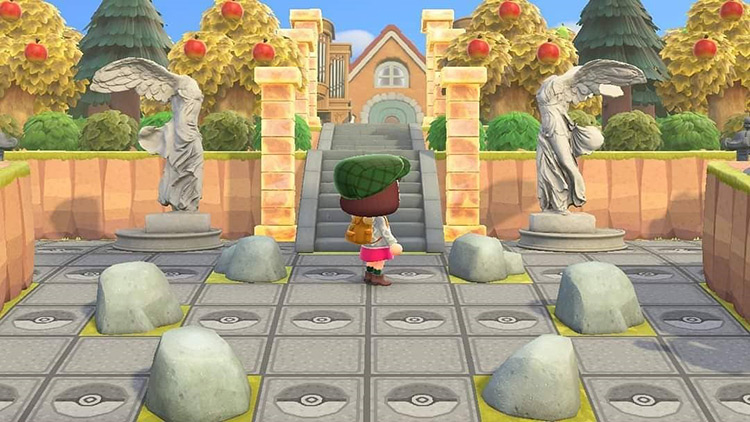 Take a few steps back from Agatha and you'd find this next stunning design.
Every young Pokémon trainer remembers the first time they made it to the end of Victory Road, only to face this grand series of steps leading up to the Indigo Plateau.
To re-create this yourself, you'll want to start by creating the different levels of elevation so you have room to build the stone staircases.
Then display some valiant statues at the entrance to the staircase to emphasize the regality of the building.
I like the use of the frozen pillars here that are customized to golden color. Really matches the aesthetic.
Finish the scene with some custom stone Poké ball pathways, and you're ready to take on the E4.
4.

Professor Oak's Lab
Now we go from the end of the game, all the way back to its humble beginnings.
And this takes us to a location that's even more memorable than your first attempt at the League:
Now we're in Oak's Lab choosing our very first starter.
To build out this lab design, start by crafting some wooden bookshelves. He is a researcher, after all.
Then purchase an office desk, desktop computer, and modern office chair to set up Oak's workstation.
The whiteboard and world map are just a couple little items that add to the feeling here, so definitely snag those too.
And while you could encourage any villager to dress up like Professor Oak, it wouldn't hurt to take a look in the mirror and become the Pokémon Professor yourself!
3.

Ballonlea City
With the gen 8 release of Pokémon Sword and Shield, we found our way through many new locations.
The city of Ballonlea has to be one of the most gorgeous locations in any Pokémon game, and now you have the ability to recreate it on your island!
You can utilize most buildings to re-create this city, but I think the Able's Tailor Shop is a nice standard spot that goes well with the scenery.
The most important thing you'll want is a bunch of different colored mush lamps, which you can craft from all the mushrooms you've collected.
Once you add a few simple items like the snack machine, drink machine, phone booth, and street lamp, you can enjoy the glowing beauty that is Ballonlea.
2.

Pokémon Center Interior
Perhaps the most recognizable location from any Pokémon game is the Pokémon Center.
And that's because there's a center almost everywhere!
I know we don't have Pokémon on our Animal Crossing Island. But we could still to pretend, right?
This design is actually created outdoors using brick pathways and customized simple panels.
Start by putting two diner counter tables together to make the reception counter, and put two custom Poké ball hats on the ends.
Next you'll want a seating area made from a diner mini table and some diner stools, and one from a couple of box sofas.
Once you add that famous Poké ball design to the center of the floor, you're ready to heal up and head out.
1.

N's Castle
If you've played Pokémon Black and White, then you know it has one of the best story climaxes in Pokémon history.
And if you want to try recreating that epic scene in N's Castle, here's some solid inspo.
You can get started by tossing down some water flooring and some palace wallpaper.
Then you can put down some custom designs to create the gold pathway.
After that, all you need is a gold seat and valiant statue, plus a monster statue to match.
Now you're ready to face N and his legendary dragon!
Browse:
Animal Crossing
Lists
Pokémon
Video Games