15 River Design Ideas For Animal Crossing: New Horizons
This post may contain affiliate links. If you buy something we may get a small commission at no extra cost to you. (Learn more).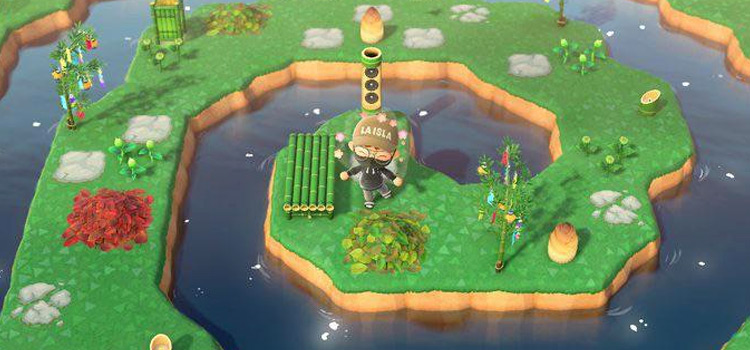 For myself, and probably many others, decorating my island in New Horizons is a way to relax and have fun expressing my creativity.
But areas around rivers hardly ever leave much space for items. This makes it hard to think of how to decorate those areas.
So to help you design some cool stuff around your river spots, we've gathered this list offering a variety of ideas and themes.
So now you can pick up some well-deserved inspo and push past any creative block.
15.

Love Connection Bridge
If your island is anything like mine, then you have quite a few bridge areas that you have no idea what to do with.
This simple bridge design is the perfect way to spice up your river without taking up too much space.
All you have to do to recreate this look on your island is get a little creative with pathway designs.
With a heart on each end of a diagonally-placed bridge, this design ties both sides of the island together, and makes the bridge look less boring.
If you still feel like it needs something more, you can even add your favorite flowers around each end.
14.

Mini Market at Midnight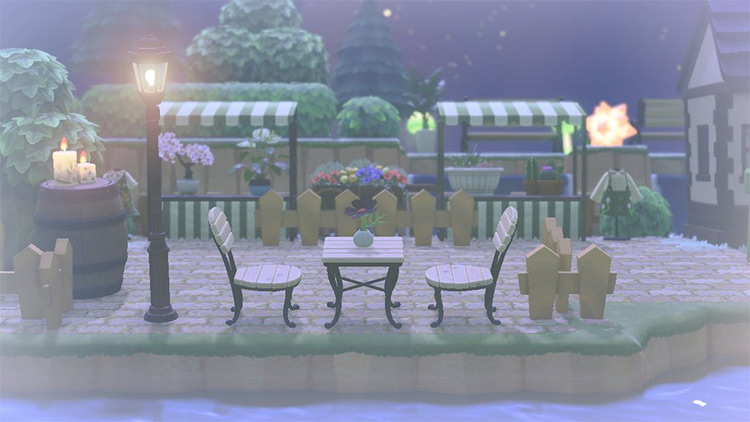 I'm a sucker for a good island design that leaves a place for the stars to shine bright and beautifully.
And this riverside flower market is the perfect spot to take a break, smell the flowers, and spend some time stargazing.
Sweet plants and flowers are displayed in all those stalls along the cliffs, joined by different types of lights placed around the market.
Simple wooden fencing is also used to section off the market area and the seating area. This is also great to design an entrance to this space!
And of course, you'll want this placed right next to a river. It just fits!
13.

Rattan Juice Bar
Spending the day with your toes in the sand is what ACNH should be all about.
And you can do just that on your Animal Crossing island with this riverside tiki juice bar.
The rattan furniture collection fits this juice bar's beach theme perfectly, which is why you see so much of it.
You can also recreate the countertop by flipping two den desks around and lining them with rattan stools in the front. This matches the seating areas around the juice bar, too.
Then the only thing left to do is add some items like surfboards, palm tree lamps, and tiki torches to complete the bar experience.
12.

Brooks, Blankets, and Books
Bookworms live amongst us everywhere, even in the Animal Crossing world.
Which is why this design is worth a build for your quieter villagers.
Since the items used for this tiny library are all customizable, this riverside design can fit with anyone's island theme.
You can create any pattern to lay down as a picnic blanket, and you can even use matching colors to create a pattern for the tassels at the ends of the blanket.
And of course, you can't have a library without books. So grab your favorite book-related items like the tiny library, and the stack of books, and place them all over.
The combination of the flowing river, the field of flowers, and the candle light makes this reading area just plain cozy.
11.

Waving Waterway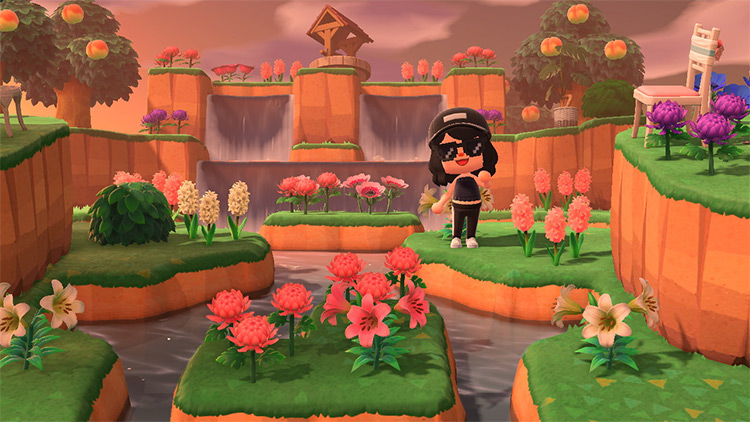 Bridges are a great way to start decorating the rivers around your island.
But there's another way to get across the river without building a bridge.
Yes, with a little waterscaping, you can create small stepping stones in the center of wider rivers. Then you can use 'em to get across.
This specific design uses heart-shaped bits of land decorated with flowers and bushes to help add to the natural element of the island.
But the great thing about this design is that you can choose any shape and size you want. So it'll work on any river you have.
And if you have enough room, you can even add some lights and seating too.
10.

Rock Garden on the River
Everyone needs a little zen in their life. So why not bring it to your island's river mouth with this design?
This peaceful stone space changes up your normal rock garden by adding a pinch of zen.
To recreate this garden on your own island, you'll have to do some waterscaping to create a small block of land in your river.
Then you can decorate the rock garden with your favorite stone recipes to go along with the theme.
This design also uses a few bamboo items such as a bench, bamboo partition, and a candle, which all help tie in the zen garden half of this idea.
You can also polish up your rock garden by balancing out the overabundance of stone with some natural items like trees, bushes, or flowers.
All you have left to do then is finish up your rock garden, drop in a bridge on either side, and marvel at your masterpiece!
9.

Jungle River
If you're going for a junglecore look, well, this is it.
This design uses plants and tropical trees to make this jungle river come to life.
You can remake this design however you'd like, mostly by gathering your favorite organic items such as flowers, bamboo trees, and coconut trees, and placing them around a river. Keep it green!
The only crafted items used in this jungle design are log stakes and a few green-leaf piles, which also feel super natural here.
You can even personalize your river design by adding cliffs and waterfalls, or you can create a custom pathway to cover any bare areas.
Line the sides of your river with lily pads, flowers, basically anything that'd complete this awesome jungle look.
8.

Brick Boardwalk
This boardwalk almost feels like Italy, right?
Adding in the river is both a creative and a detailed idea. And you can absolutely make this yourself, with a bit of effort.
With brick bridges, brick fencing, and brick pathways, this area has a very obvious recurring theme… bricks.
But too much of anything can be bad, so it's balanced with garden wagons and street lamps lined up along the walls.
You can make this idea on your own by adding some custom-created pathway designs, or you could even sway from the brick theme completely and use stone, or even create a beach boardwalk.
Lots of options!
7.

Cottage by the Canal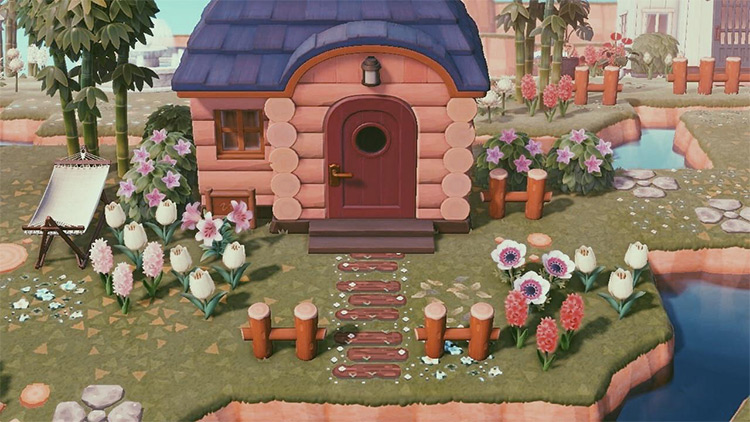 This cottage design, although very simple, is a great way to decorate along a river. And look at that cute yard.
If you design this for an animal on your island, then personalizing the design to fit your villager's likes and dislikes just requires a bit of research.
You can also make each yard different by designing custom patterns like stepping stones, or a wooden plank walkway, and place them around the yard.
This design doesn't feature many crafted or bought items. Rather it uses nature to decorate the area with things like flowers and bamboo trees.
There is, however, country fencing placed to match the cottage feel of the house. And a hammock for your villager to enjoy!
6.

Floral Riverwalk
Somebody call Celeste, because this flower garden walkway is just what she'd love to check out.
There aren't many taller items involved in this design, which leaves the skies clear, and makes it one heck of a place to wish on shooting stars.
This riverside garden can be recreated very easily, since it's almost entirely made of flowers.
All you have to do is scope out an area & lay down some flowers, and you're already more than halfway done.
The next step is laying down a pathway so both villagers and island visitors can enjoy a nice walk along the river, surrounded by wonderful-smelling flowers.
Lastly, if your garden is looking a little boring with just flowers, you can spice up the place by adding smaller outdoor items. Stuff like garden gnomes and butterfly models.
5.

Floating Art Gallery
Chances are, if you have any statues like this one in your inventory, then you've had your fair share of bad luck buying art from the infamous Redd.
This floating art gallery design can put those bad luck buys to good use by displaying them alongside a river spot, for a creative blend of art and nature.
This design also puts a spin on stepping stones by using them as a way to display art, instead of using them as a makeshift bridge.
The color white takes over the very center of the river here, with plants like the white mum flower cushion, white flowers, and an off-white statue.
And the color blue is found in items like then iron garden seating and then blue hydrangea bushes, not to mention that deep blue river water!
You can even continue this pattern down the entire river if you wanted to make a full art gallery.
4.

River Cafe
Adding buildings along the river is a great way to fill up those small empty spots.
And this riverside cafe design is not only adorable, but it uses quite just a few items.
Plus, adding a café like this to your island could help you get that five star rating.
Here's how:
Lay out some wood flooring and imperial fencing to start the groundwork for your island cafe.
You can use stalls to display delicious treats like cake, espresso, and other things you would find at a cafe.
Use iron garden benches and chairs for seating to fit the outdoor theme of this cafe, and line the outside with azalea bushes. Then you can finish off your cafe by adding a few plants here & there.
3.

Sinking Stream
This design connects the mouth of two rivers and is meant to be sunken into the center, making for one amazing sight to behold.
A field of bright-colored flowers surrounds the inverted falls, while a stone lion-dog statue and tiki torches sit at the center.
There are also some custom flower designs placed on the individual squares of land at each corner of the sunken water, and at the center, and that's such a cool touch.
Probably one of the coolest designs for the mouth of your river, and it looks like a great place for selfies!
2.

Tiered River
A big part of island designing is terraforming.
And recreating this sunken river would require quite a bit of that.
The perfect place to put a sunken river would be in an area where the island floor is raised one or two levels. So that'd be the place to start.
Before you can decorate, you have to break the floor down to the first level in whatever shape you want your river to be.
Then after you're done waterscaping, you can round out some of the edges of the cliffs and create some smaller waterfalls that flow into the river.
And you can fill up some of the empty spaces with bushes, flowers, and trees, just to make it more natural. Maybe even add some lights for a great view at night!
1.

Chilly Channel
This sunken river design definitely has a theme:
The white of winter!
The combination of the white lights, holly scattered on the ground, and the blanket of snow covering everything, all gives me the same warm feeling that Christmas does.
But the statues and imperial decor keep this design from feeling too festive.
It's basically a sunken river surrounded by cliffs, flowers, and trees. And all of this lies between two houses, each house with its own yard decor.
There are white nova lights, white garden lights, and even white street lamps used in this design.
Which means the secondary theme has got to be lights, right?
Seeing the complexity of this river design just makes me want to know what the rest of this island looks like.
Browse:
Animal Crossing
Lists
Video Games