20 Rural Island Ideas For Animal Crossing: New Horizons
This post may contain affiliate links. If you buy something we may get a small commission at no extra cost to you. (Learn more).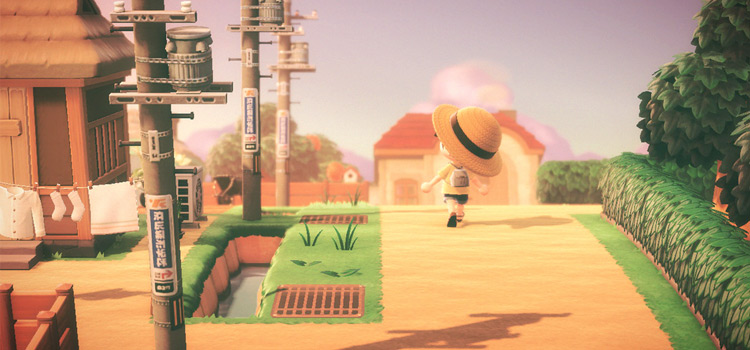 Rustic, shabby-chic, down-home, or country…
Whatever you call a rural aesthetic, there's something downright cozy about escaping out of the hustle and bustle of everyday life to something a little simpler.
Try giving your island a makeover with these rural layout ideas. I'm sure your villagers will appreciate the peace and quiet of your pastoral paradise.
20.

Mountain Village
Terraforming is new to ACNH, but many designers have already mastered this feature to create the illusion of being a snug valley village nestled in the mountains.
To get a similar look, create two layers of cliffs, but keep most of your town on the base layer.
Then add plenty of wooden ramps and rocky paths that lead down to your central plaza. Once there, you can place your shops, or even a small marketplace.
And finally, build villager homes up on the cliffs.
This will make your residential areas feel more remote and secluded, just like a real mountain village. Billy, Chevre, Nan, Sherb, and Pashmina will feel right at home!
19.

Orchards and Farms
No rural area is complete with plenty of agriculture, whether it's growing in an orchard or in neatly plowed rows.
Instead of planting your fruit trees scattered across the island, try keeping them close together (but more than one space apart) to create your own fruit grove.
Custom garden designs can give your yard the appearance of garden rows, complete with tiny sprouts. You can also swap out painted beach balls to create juicy watermelons in the summer, or add more squash variety to the pumpkin patches in the autumn.
18.

Garden Shed
Gardening is a common hobby in rural areas.
And for some, it's their livelihood.
Help your villagers out with their little garden plots by adding a small shed to your town, where your neighbors can go to borrow trowels, seeds, and watering cans.
This player cleverly used some Fish Drying Racks elevated on a cliff behind two Simple Panels to DIY their own little hut, then accented it with cushions designed to look like seed bags, a wheelbarrow, and a pump for quickly refilling a watering can.
17.

Ramen Shop
Is any Japanese rural village complete without a tiny ramen shop?
I think we all want our own setup and serving up big bowls of steamy, savory noodles.
This charming roadside eatery is so packed with tiny details that it's almost impossible to catch them all.
From the shop sign to the stickers on the electric pole, you can practically smell the warm shoyu broth bubbling away.
It also features another creative use of cliffs to create buildings, with a second-story attic showcasing cardboard boxes, a clothesline, and even a carp in a tank!
16.

Countryside Clothing
You can't run around the countryside in your city clothes. Well, you can, but we're going rural here!
Deck yourself out in some charming outfits with accessories to match.
If you're new to designing then maybe with neutrals, pastels, and floral designs for a modern take on rural duds. Or opt for something straight out of Anne of Green Gables with oversized bows, puff sleeves, and lots of buttons.
Cap it off with a straw hat, parasol, and a basket for gathering freshly picked flowers, and you're ready for long strolls through your tiny town.
15.

Communal Spaces
With wide-open spaces between homes and the town center, things can start to feel a little lonely on a rural island.
Apart from the Saturday KK Slider concerts, it's hard to get all your neighbors in one place to enjoy the sunshine.
Now you can give your villagers somewhere to hang out by creating a centralized gathering spot to visit. This way everyone knows where to go to socialize, like a public park, or an outdoor library, or maybe a forest cafe.
Spend a lot of time making this area cozy and cute with items that enhance the community feeling. Stuff like benches, picnic tables, snacks, and things to read.
14.

Simple Map Layout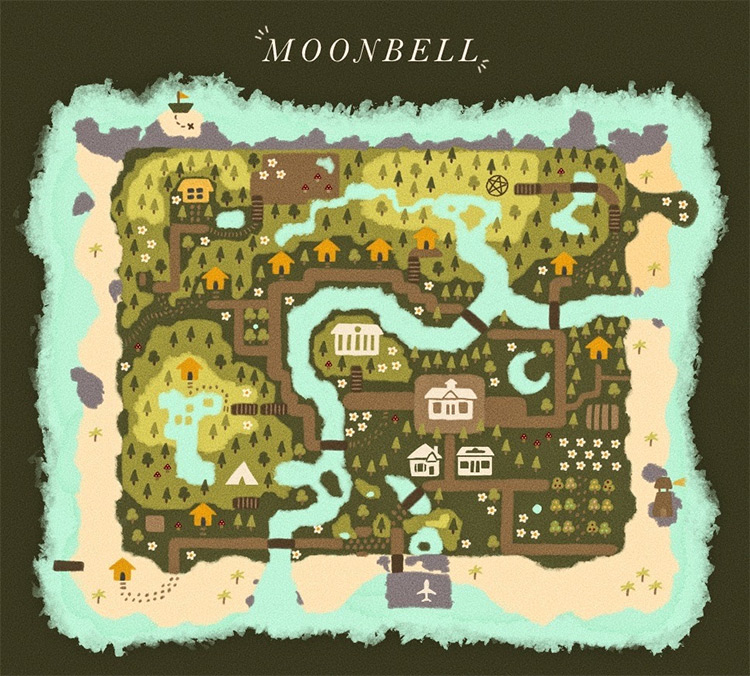 Maybe you love the idea of living on a rural island, but don't want to terraform, move your buildings, and re-lay paths…
Then keep it simple!
Building a creative map layout is hard. And it takes a lot of trial and error. Instead of focusing on exactly where to place a cliff or how many squares you need to build a moon-shaped pond, make the best of the space you already have.
There's no "right" way to be your island's Resident Advisor.
So spend your time doing what you love.
If completely renovating your island from the ground up isn't something you love, try a few of the ideas from this simpler design.
Some of the easier default maps make an excellent foundation for a rural island. Then you can focus on planting lots of trees, bonding with your neighbors, and decorating your shabby-chic country cottage.
13.

Stone Paths
Stone paths are an easy way to add a rustic & rural feeling to your island.
Bricks are lovely, of course.
But overgrown stones have that je ne sais quoi that will give your trails and footpaths a little more personality.
This particular island feature is trendy, so you'll find a huge variety of ready-to-use QR codes.
You could have mossy cobblestones, flower-speckled gravel paths, uneven rocky ridges… There's something out there for every village.
12.

Rural Lakes and Ponds
Between the ocean and the rivers, there are plenty of fishing spots available.
But a quaint pond can really pull your island together with that rural vibe.
You can create shapes, like hearts or crescent moons, to serve as the center plot of your village.
Then lay down a bike path around the circumference, complete with water fountains and benches, to create a small park right in the middle of town.
Another option is placing a smaller lake in a quiet corner and laying out a blanket. Complement the space with a basket, flowers, and cushions to create a spot for impromptu picnics with neighbors and visitors.
11.

Empty Spaces
It's tempting to fill up every inch of your island with all of the decorations that Animal Crossing: New Horizons has to offer… but don't overdo it!
Part of the charm of country living is having empty space, and plenty of it.
Some empty spaces can offer a spot for your sporty villagers to run, or for your lazy villagers to snooze.
Or for your cranky villagers to get some alone time when their particularly peppy neighbor just can't take a hint…
Plus, it's always nice to have cleared real estate ready for when your next inspiration strikes!
10.

Decorated Yards
One of the best parts about living in rural areas is that there's lots of space to deck out your lawn in your choice of decor.
We can stick with the rustic design like this example, by choosing furniture with a natural look, like the Firewood Pile or Old-Fashioned Washtub.
If you prefer the cottagecore look for your rural village, the Mush outdoor furniture collection brings us visions of tiny homes tucked away in the woods.
Set up a spot for al fresco dining with the Mush Table and Mush Low Stools, then invite your friends over to your yard for afternoon tea or a sunset dinner party.
9.

Rural Waterfalls
Even if you're not a fan of terraforming, it's tempting to build rushing waterfalls to accent your natural island theme.
Mountain villages, French countrysides, and farmland alike all benefit from thoughtfully-placed falls.
I love this island's double-decker cliffs that create two layers of falls cascading underneath the bridge. It'd be the perfect spot to cool off on a warm day, or stargaze during a meteor shower.
8.

Secret Seating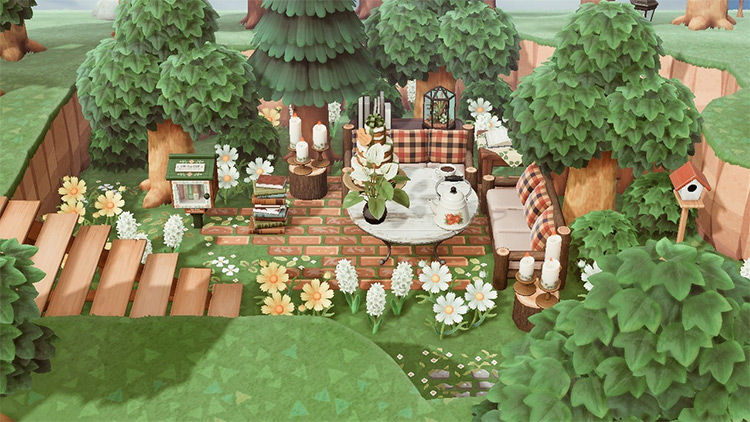 While you're plotting out your rural landscape, scope out a couple of spots for hideaways.
It might be a natural glade in a thicket of trees, or a hidden beach lounge tucked back from the shore.
But a secret hangout area is always welcome.
You can also take advantage of your terraforming skills to carve out cliffsides to create cheerful coves stocked with your favorite things, or build a secret library piled high with first-edition novels.
If you're the artsy type, maybe a secret studio offers a balance of theoutdoor rural lifestyle, without compromising your solitude.
7.

Farmer's Market
After you've put in long days working your land, you deserve the fruits of your labor… Cold, hard bells.
An outdoor marketplace is a rural staple for locals to get fresh produce, and for farmers to turn a profit.
But unless Nook's Cranny starts opening up booths for other businesses to sell their wares, you'll have to DIY your storefront.
The best part is that you can expand your selection from produce to include artisan goods of all sorts.
This business-savvy player has designed their space with an assortment of clothes, shoes, desserts, knick-knacks, and flowers.
6.

Bus Stop
While this could easily fit in with the many ideas on our list, a little country bus stop is a cute way to dress up a bare spot on your island.
You can keep it simple, with just a couple of chairs under an awning.
Or get more elaborate by designing an accurate route map, placing vending machines, lights for nighttime riders, and a town clock to keep everyone on schedule.
5.

Japanese Village Area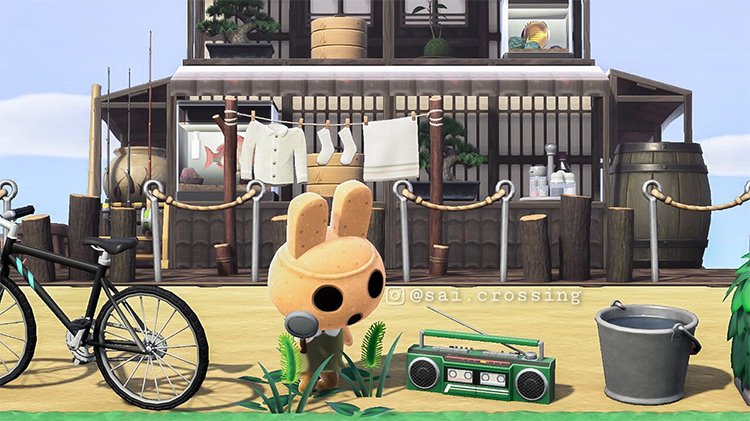 If you've ever watched a Studio Ghibli movie (or an anime set in a small town) then you understand how charming rural Japanese villages can be.
Many island designers opt for an Edo-period aesthetic, featuring hot springs, dry gardens, and rustic shrines.
Others prefer the Taisho Roman style, with elaborate vintage kimonos, paper lanterns, and pagodas peppering the landscape.
Whichever era you choose to showcase in your Japanese village, be sure to research color palettes, clothing designs, and examples to give your island a more realistic feel.
4.

Open Air Clotheslines
In the warm dry months, it's not uncommon to spot clothes drying on the line.
After all, why wouldn't you want your favorite outfit to smell like sunshine and summer breezes?
You can DIY your own natural dryer with a Tom Nook recipe and ten tree branches. Then use a customization kit to choose from five different variations to reflect your villager's personal style, whether it's the well-worn look of farm clothes or crisp white linens.
3.

Pink Countryside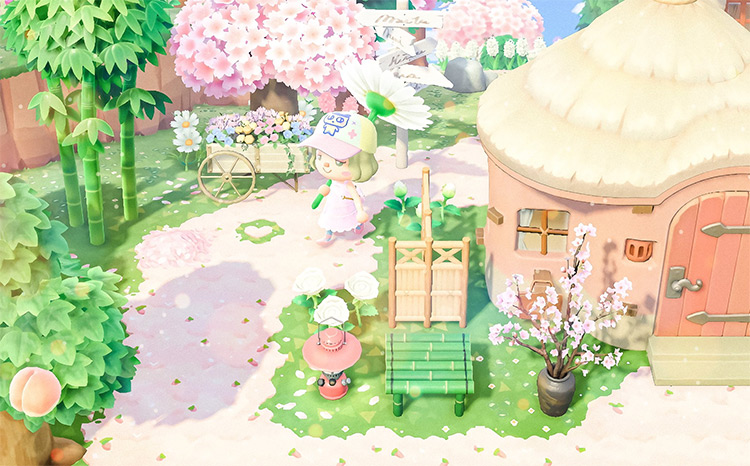 I might be a little biased because my favorite color is pink, but this rosy-hued rural village is absolutely adorable!
This design is perfect for sakura season when the leaves on your trees turn into cherry blossoms.
Even the native fruit on this designer's island perfectly fits the color palette, adding peachy pinks to the otherwise green fruit trees.
Pink paths give a little polish to this otherwise natural scene, but they don't look out of place. And the natural cloud-shaped "stones" fit right into the rest of the island's blushing beauty.
2.

Flower Fields
For an easy way to fill in an empty area in your village, design around a freshly-planted field of flowers.
Whether you choose tulips, daisies, or hyacinths, a lovely meadow will enhance the rural theme, and make the perfect backdrop for photoshoots with your friends.
You can use your NookPhone for custom designs to change up what kinds of flora occupy your island.
Sunflowers are a classic option, and will add a pop of peppy yellow to complement the rest of your design.
1.

Rustic Kitchen
If you're from the country, then delivery and takeout usually aren't dinner options.
So the kitchen is a pretty busy place!
Give your ACNH character a nice place to cook up a meal with some classic rural elements in their kitchen, like a wood-burning stove, candles for light, and plenty of plants to brighten up the room.
You can even use QR codes on the brimmed hat to create delicious baked treats for your countertops… After all, no kitchen is complete without something scrumptious to share with friends.
Browse:
Animal Crossing
Lists
Video Games