15 Spring Island Design Ideas For Animal Crossing: New Horizons
This post may contain affiliate links. If you buy something we may get a small commission at no extra cost to you. (Learn more).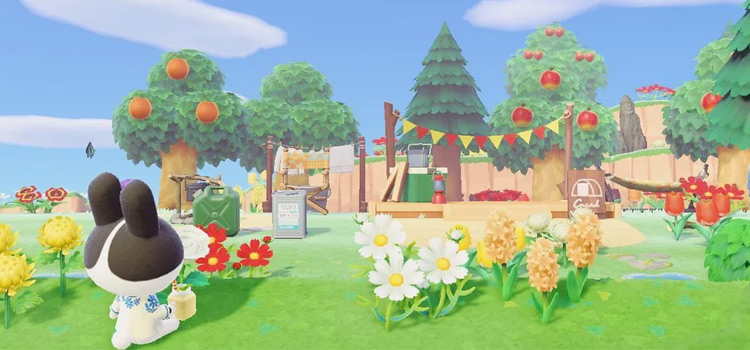 Ah, the birds are chirping, there's that fresh damp smell of growing grass, and the warmth is starting to creep back into the air.
That's right, spring is here!
Whether you prefer hot or cold weather, this is the perfect season for compromise with its mild temperatures.
That said, there's no need for compromise when it comes to your island's design styles. And with these adorable spring season ideas for Animal Crossing: New Horizons, you'll have plenty of new builds to try out.
You can ~spring~ for it all!
15.

Outdoor Micro Cafe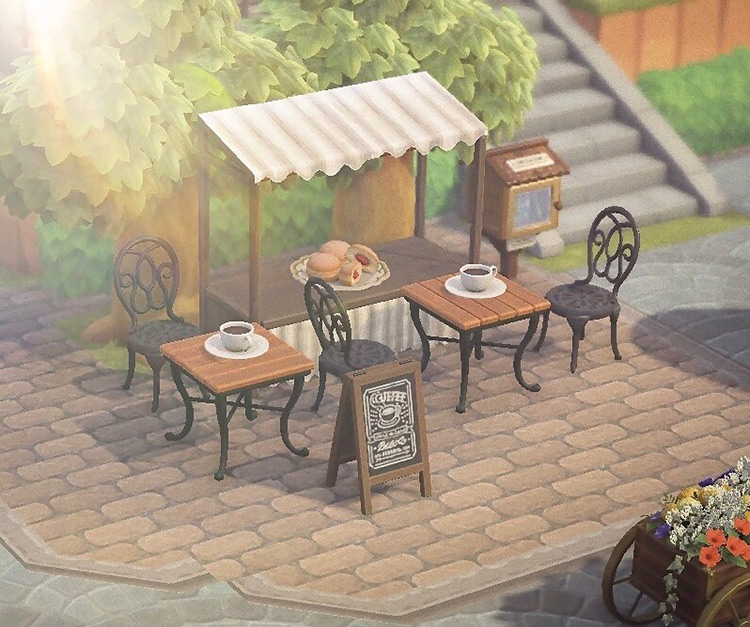 With nice weather, all I want to do is sit outside, breathe in the smell of all that melting snow, and sip on some strong coffee.
Well this adorable little café could easily give me (er, my AC character) some freshly brewed coffee.
It's a really great starter idea for players that maybe don't have access to a lot of DIYs or items yet.
The stall is available for purchase from the Nook Stop, and the rest of the items, such as the iron chairs, tables, desserts, and coffee cups, can be replaced with virtually any other variant.
I mean, you could use wood chairs and tables and teasets, if that's what you have on hand!
With this idea, the world is your oyster. Or, rather, cafe.
14.

Sweet Picnic Spot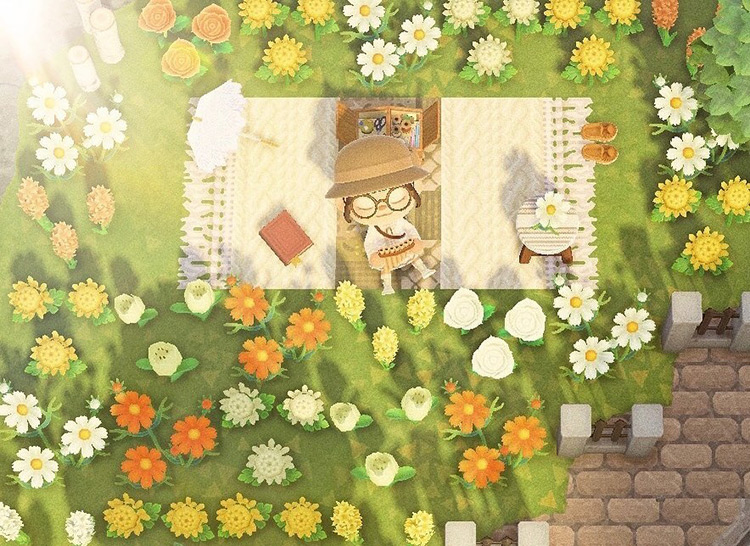 What better way to celebrate the warm weather than with a relaxing picnic?
Pack your favorite sandwiches, snacks, and drinks, and to take 'em to a spot just like this.
I'd say this is another great starter idea, really easy to make yet still practical for any island.
All you need is a rug and flowers of your choice. Sahara will be happy for the business, and your villagers will love milling about.
Who knows, some of them might even water your flowers for you! Get those hybrids, you know?
13.

Little Spring Greenhouse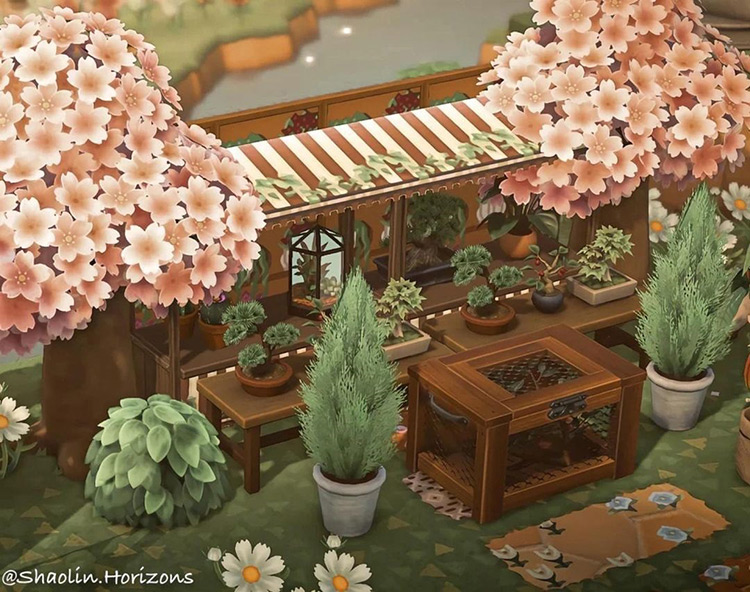 Spring is the best time to get plants started in real life.
So why not add some realism with new sprouts in ACNH?
With a few market stalls and some creative placements, you can add a custom greenhouse to your island. Just in time for the spring weather.
This is a great spot to put small plants, like bonsai trees, mini terrariums, or even flowers, if that suits your fancy.
Basically if you have a small corner of your island that you just don't know what to do with, consider a greenhouse like this. It won't take up too much space, and you don't need any crazy rare items or expensive DIYs.
12.

Creator's Garden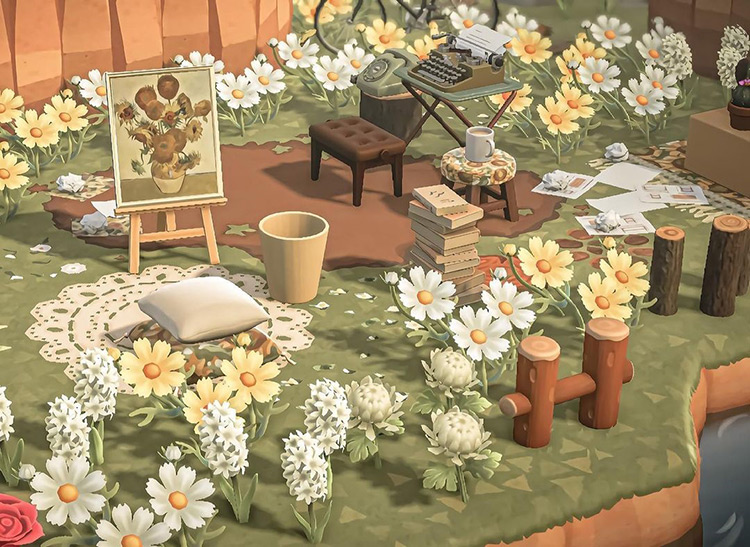 I absolutely adore this little garden, all set up with an easel and a typewriter.
As someone who does a lot of art and writing, I would adore getting to work in an environment like this.
And I'm sure your villagers will, too!
If you have an old-fashioned island, be it Victorian or just antique, this is a fantastic outdoor idea.
There's a tall stack of books if you want to just relax, or some comfy looking cushions to take a seat. And there's plenty more you could do with this space!
Daisies, hyacinths, and mums in yellow and white make up the flowers in this build. But any arrangement of colors would look great. Maybe pink or blue, combined with white?
11.

Gorgeous Garden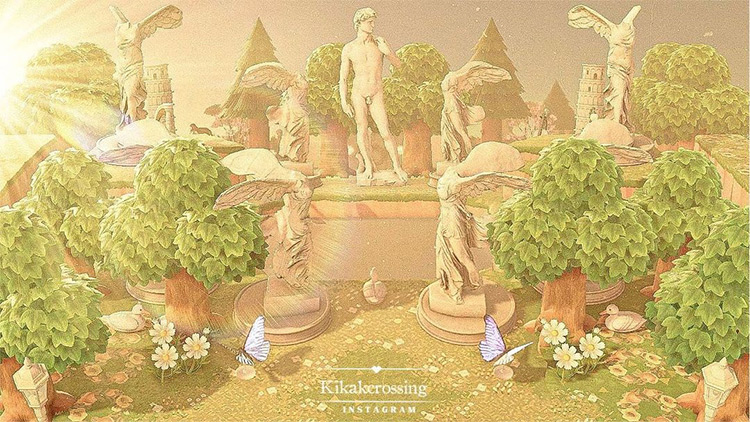 Springtime usually means flowers.
And what better place to plant them all than in this beautifully designed garden idea?
With an arrangement fit for royalty, this regal pond and statue garden combo is sure to impress your villagers and visiting friends alike.
A symmetrical placement of statues makes this spot really striking. But if you're short on rare items, you can totally recreate it with what you have.
I love the detail of the duck statues, to make it look like there's really some wildlife in the area.
And side note: this would be an absolutely gorgeous spot to watch for shooting stars during meteor showers at night, don't you think?
10.

Azure Campsite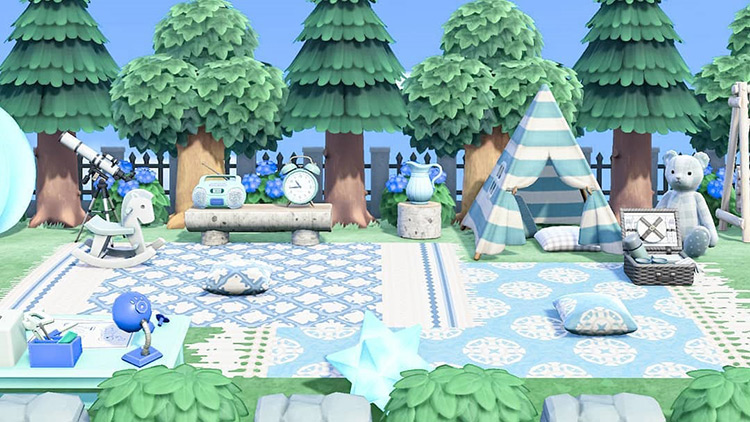 Speaking of shooting stars, here's another fantastic spot to watch for them.
Design a space for a campsite on your island, invite your friends, and have a campout outside. Just in time now that the weather's getting nicer!
With a really beautiful monochromatic blue theme, this is one of those spots that's sure to wow others.
And how couldn't it?
Finding items that match style-wise is hard enough in New Horizons, and finding items in the same color? That's a big task.
But with a DIY bench, no worries about your tools breaking.
A radio and telescope provide some low key outdoor entertainment here. And there's plenty of comfy spots to lean up against, including a teddy bear and cushions, if you're more down to sleep under the stars than under the fabric of a tent.
9.

Bursting Blossoms Entrance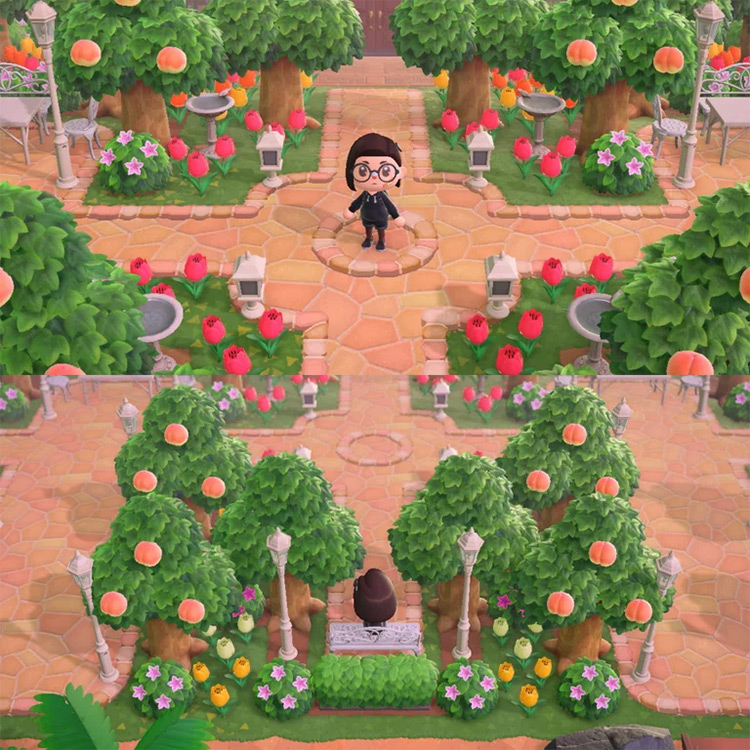 The entrance to your island is the first thing visitors see when they get off the seaplane. And you want it to be stunning!
This gorgeous springtime entrance is both beautiful and practical, as there's plenty of fruit-bearing trees around.
At 1500 bells a pop, having loads of fruit trees on your island (especially early game) is key to quick growth. So they're a great thing to sneak into a design wherever you can!
This specific idea is bursting with beautiful spring colors, with the tulips, camellias, and peaches.
A bench with some tables and chairs offer spots to sit if you just want to relax and soak in the nature – if you can find a free seat! I'm guessing your villagers will love this spot, so they might be taken 24/7.
8.

Sakura Onsen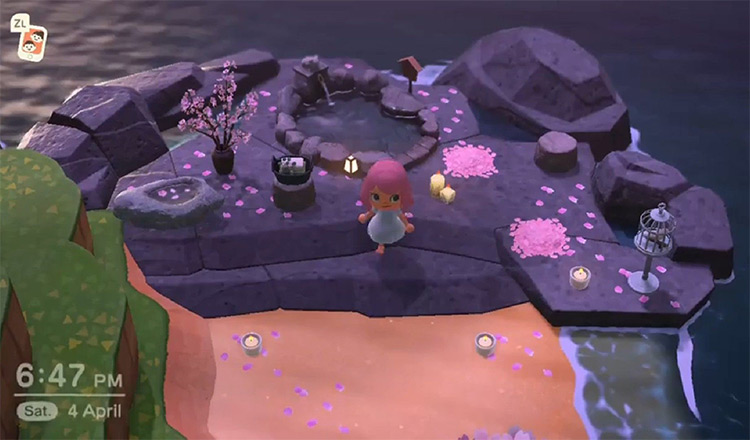 One of the best parts of spring in New Horizons is the cherry blossoms.
After the cold of winter, trees all over the islands bloom into beautiful pink blossoms.
This gorgeous hot springs idea, or onsen, uses cherry blossoms as its main theme.
Piles of the pink petals are scattered around a sunken hot pool, which is located on the rocky beach shores. I personally find the rocky sections to be hard to design, so this is a fantastic fix!
If you're looking for something to fill up your beach, give this fun idea a try.
7.

Springtime Tea Party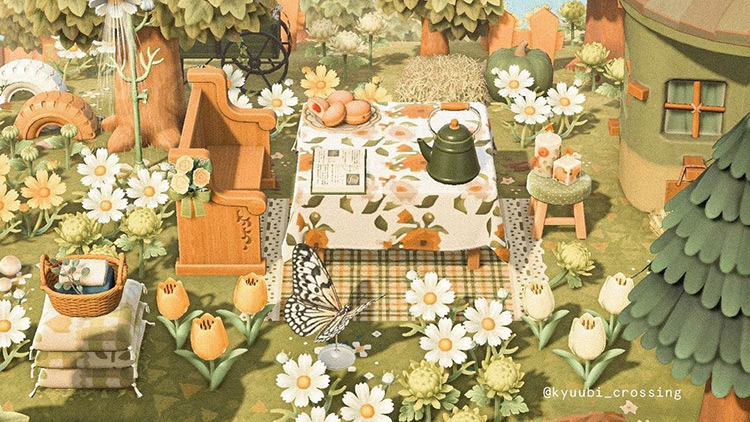 Spring is the perfect time for an outdoor tea party.
And with this beautiful setup, you'll have plenty of time for tea.
With a large square table, a bench, and a stool, you can invite all of your friends – or maybe just your favorite villagers!
Having this table surrounded by flowers encourages pretty butterflies to make an appearance, too. They won't disturb your snack, but they will make for gorgeous additions to any selfies or group photos!
If you're re-creating this idea then you could use any flowers you like, but I love the daisies in this build.
Maybe add a few candles for some dreamy mood lighting, and this can be a beautiful spot even at night.
6.

Cherry Blossom Picnic Spot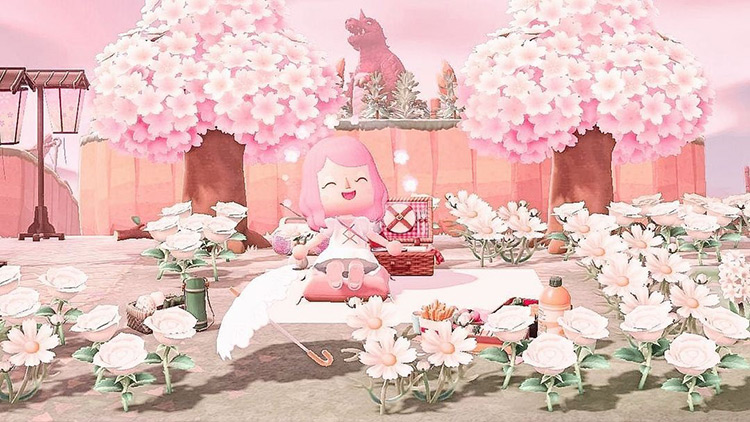 Picnics are a popular spring choice. And this pretty pink spot definitely deserves a mention on this list.
What's better than sitting in a field of beautiful flowers?
Probably snacking in a field of beautiful flowers, of course!
This is a wonderful build idea, because it can be as simple or as elaborate as you want.
Really, all you need is a rug and flowers.
But do you have a tea set? Candles? Teddy bears?
You can add any extra thing you have, really, and it'll only boost your Star Rating.
I mean, even the Godzilla statue hiding in the background looks great!
5.

Cute Wedding Spot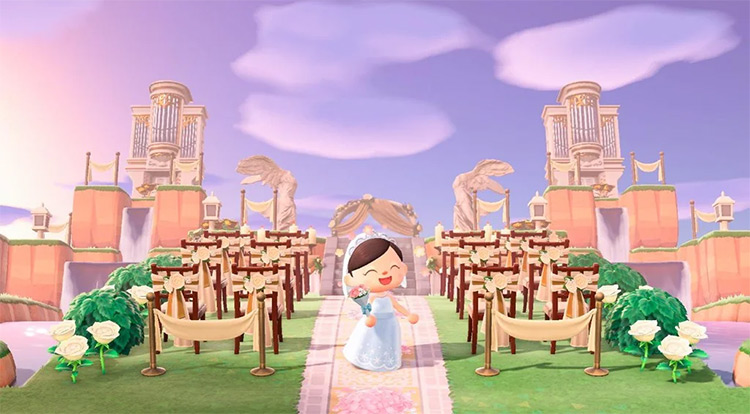 Spring is the perfect season to host a wedding!
So why not gather your friends on your island, assign one as an officiator, and tie the knot with that special (virtual) someone.
With the help of an arch, ceremony chairs, and some creative terraforming, you can create a tiered aisle so that all of your guests can witness your special moment of "I do".
For bonus points, plan your spring wedding during cherry blossom season for some naturally romantic nature colors!
I wonder if virtual weddings are legally binding?
4.

Outdoor Dinner Setup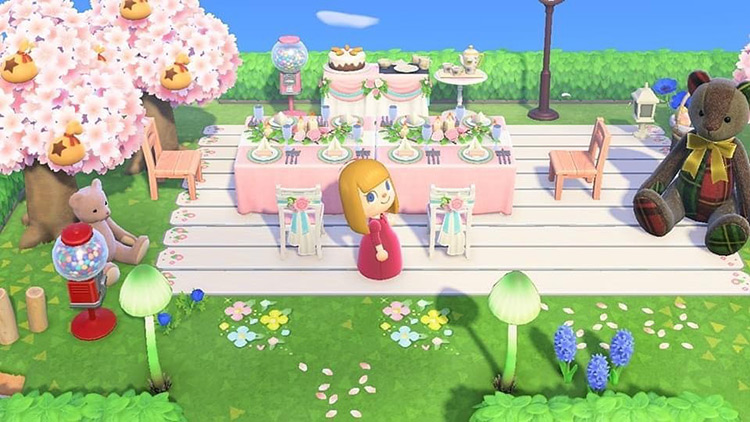 When the weather gets warmer, eating outside is a treat – no restaurant required!
This adorable build uses two tables pushed together to make a larger table, where there's space for you and all of your ACNH friends.
A few teddy bears make for an adorable detail as well.
With flower petals scattered about, lovely pastel colors everywhere, and a buffet of treats set up, this seems like a perfect spring afternoon!
3.

Museum Study Area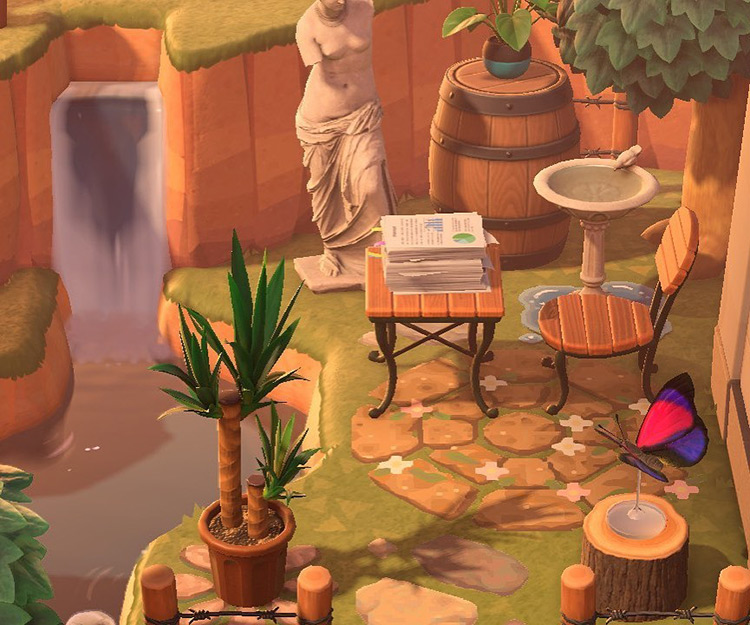 Blathers may hate bugs, but this is a great spot to observe them in their natural habitat.
With a stream so close, you can do all the fishing and bug catching that your heart desires.
Whether you're in the Southern or the Northern hemisphere, there's certain to be plenty of new things to catch!
The stone bird bath, stacks of papers, and butterfly display are great details here, too.
2.

Spring Beach Spot
Summer may be the popular choice for the beach due to the hot weather. But spring is also a lovely time to visit the ocean!
This design idea leaves some weeds to grow, and plants the odd flower to make this beach spot appear untouched and a bit whimsical.
With a blanket out, the possibilities are endless.
You could setup a picnic, do some painting, or just soak up the nice weather. This idea is also a great spot for pictures.
1.

Springtime Carnival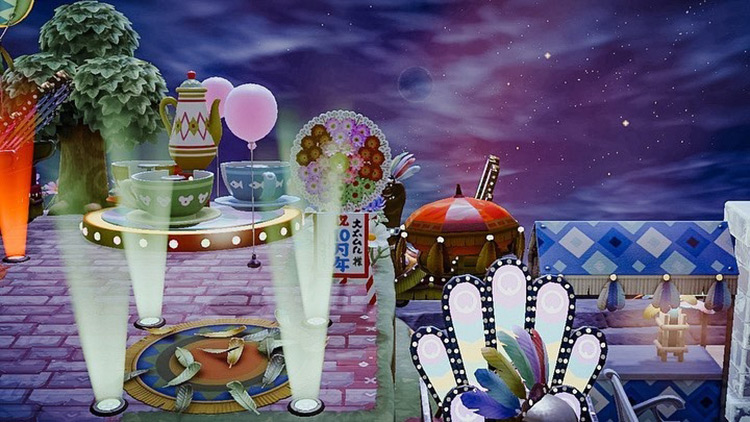 Celebrate the end of winter with your villagers at this awesome spring carnival build!
Spotlights light it up at night, even without a meteor shower to light the skies, so you can enjoy the teacup ride and festivities 24/7.
This design is a great way to use your old Festivale items, if you're like me and have no idea what to do with them.
So try this out for yourself and see what kind of carnival you could design.
No matter what you build, there's plenty of reason to enjoy the warmth and the spring night air, and have some fun!
Browse:
Animal Crossing
Lists
Video Games