ACNH Super Mario Island Design Ideas: The Ultimate Collection
This post may contain affiliate links. If you buy something we may get a small commission at no extra cost to you. (Learn more).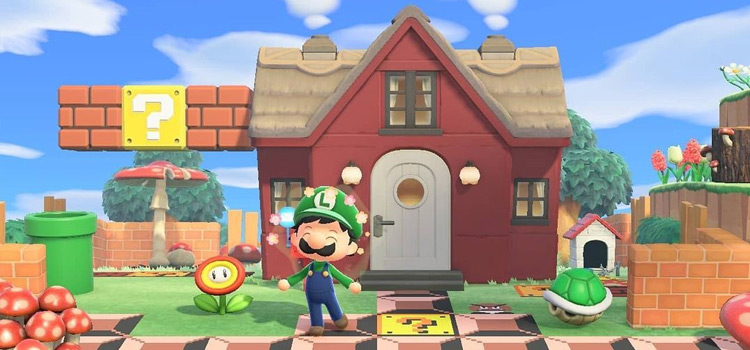 Calling all Super Mario fans!
Since the latest Animal Crossing update brought a host of Mario-themed items, players have been showing off their skills with some amazing designs.
From re-creating Bowser's castle to designing Mario Kart courses, players have gone above and beyond with their ACNH designing skills.
So if you want to get in on the action with these Mario items, here's a bunch of cool inspo to get you started.
15.

Mario Garden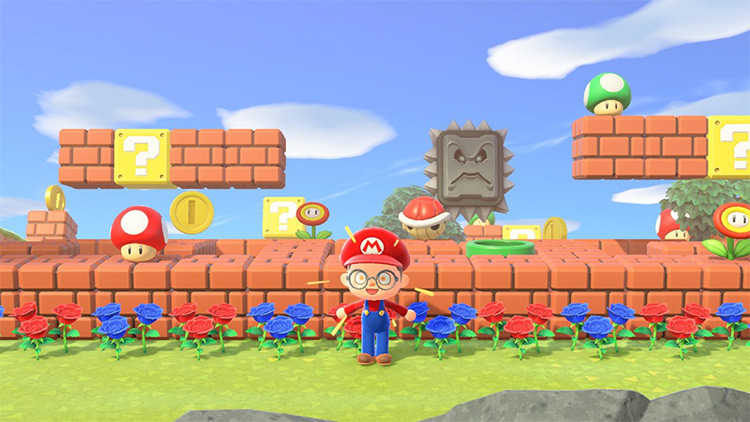 Transform your island into a Super Mario garden with this retro idea.
To make this yourself, first you'll need to lay your hands on lots of brick blocks. Then you can then pop them down on the ground in your chosen area.
Next, you can add some question mark blocks, and floating brick blocks, to really bring the area to life.
It's looking like a true Super Mario style now!
Throw in a few mushrooms, thwomps, and shells to add into the aesthetic.
And of course, if you have time for a photo op, throw on your best Mario outfit.
14.

Goal Pole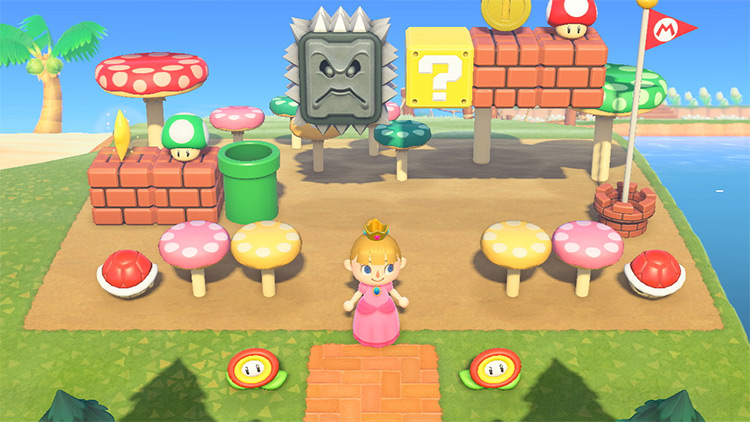 Every Mario fan will recognize the goal flagpole from the original SMB game.
So it makes sense to add one into your Mario-themed area, right?
Here is how you can do it!
First, lay down some sand flooring in your chosen area. Then you can start to add a bunch of small mushroom platforms to set the scene.
Pop some large mushroom platforms in the back to tie the whole look together.
To complete the look, add some floating blocks, question blocks, thwomps, and a few coins and shells.
Then drop in your goal pole and see if anyone can reach it!
13.

Mario Waterfall
Want to add a Mario-themed waterfall area to your island?
And how about that adorable Cheep Cheep pattern, right?
To make this yourself, you'll first need to build a large cliff area. You can then add waterfalls running into the middle of the cliff from all sides.
Be sure to add some floating blocks and mushrooms to pull the whole look together.
Then finish by adding some coins around the clifftops, and maybe a Fire Flower to boot.
12.

Mushroom Yard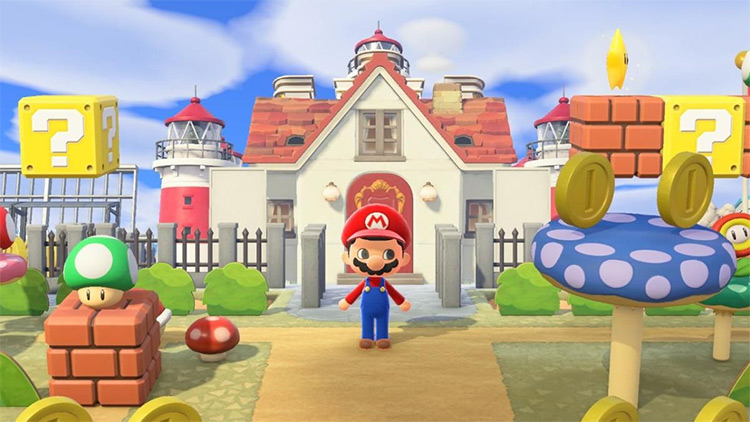 Ever dreamed of living in a video game?
How about a video game inside a video game?
Well now you can, with your very own Mario-themed yard right outside your Animal Crossing home.
To make this, just off your home with some fencing running around the perimeter. You can then start to decorate the yard with any Mario items you like (that 1-Up mushroom is looking pretty spiffy)
Bonus points for popping on Mario's outfit too.
11.

Mario Lounge
So, you've turned the rest of your island into a Mario course… now how about inside your house?
This Mario-themed room is the dream of Nintendo fans everywhere.
To create this amazing look for yourself, you'll first need to grab the Mushroom Mural and the Block Flooring.
After you've applied those, you can then finish decorating your room with lots of blocks, coins, shells, and mushroom platforms.
Finish by adding a goal pole to tie the whole look together.
10.

Gaming Couch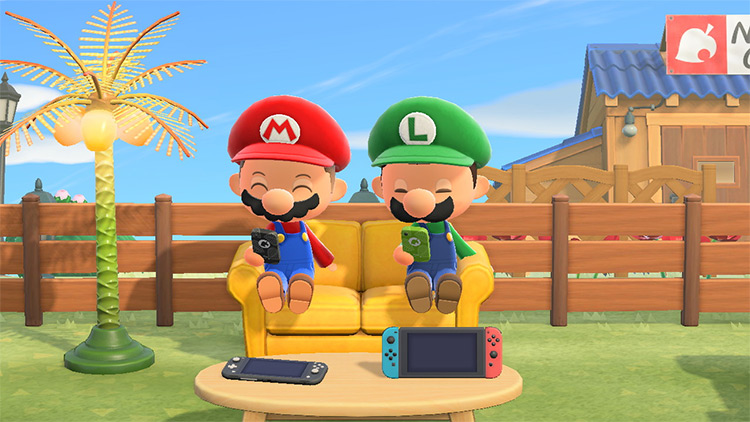 Would your island even be complete without a Mario-themed gaming area?
This is such an easy design, but will look amazing on your island. And it's the perfect place to sit back and game with your best friend.
All you need is your favorite couch and table. Pop them down wherever you'd like. Maybe even combine this idea with some other gaming room ideas.
Maybe add a palm lamp for ambience too.
And of course, don't forget to bring your Nintendo Switch and Switch Lite.
If you really wanna go the extra mile, make sure you and your best pal are wearing your Mario and Luigi outfits.
9.

Lava Pit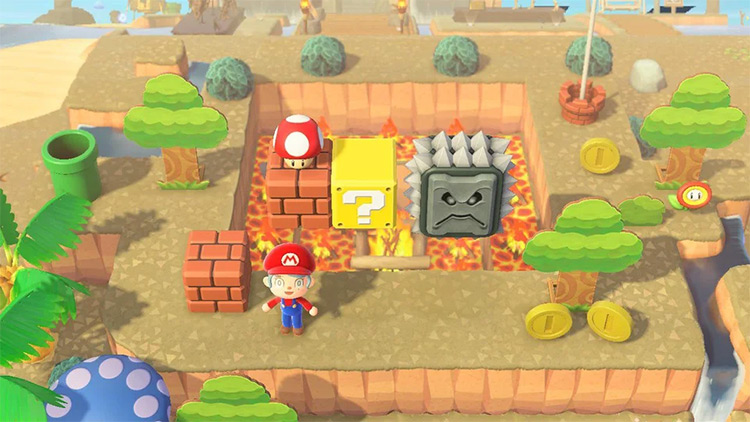 There's nothing quite like having part of a Super Mario course on your island…
Let alone a lava pit!
This is such a cool addition that really captures the retro game aesthetic.
To make this, you'll first need to build a large cliff area on your island. But be sure to leave a space in the center to act as the lava pit.
You can lay down some custom lava designs in this space (lots of custom patterns online to try!)
You can then start to decorate the top level of the cliff area with coins, blocks, trees, and mushrooms.
And be sure to add a thwomp over that lava!
8.

Mario Costume Madness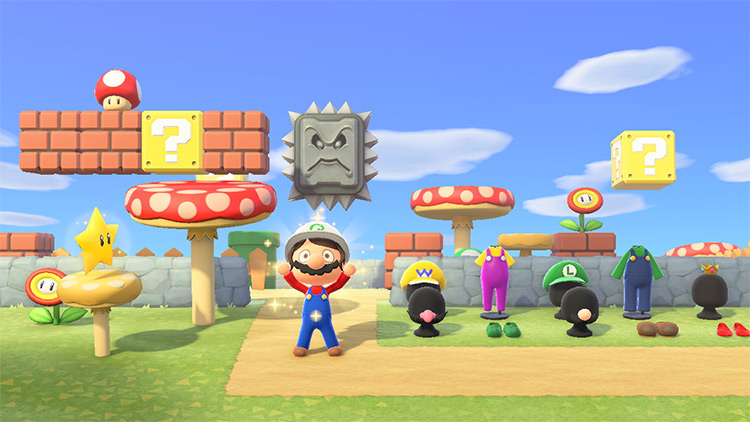 This design is for all the true Mario fans out there.
If that sounds like you, here's how to design this little area.
First, you'll need to create a small fenced space on your island, and be sure to lay down some sand paths inside the area too.
Then decorate the area with lots of large mushroom platforms, red mushrooms, floating blocks, and pipes.
And you can take this area to the next level with all of the Mario themed outfits!
7.

Mario Kart Rainbow Road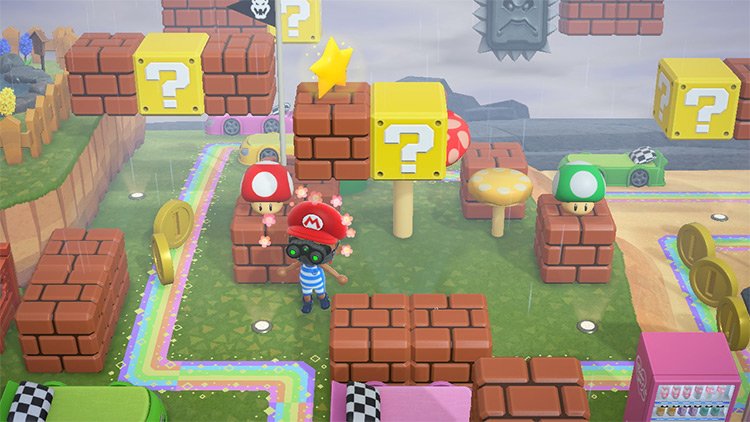 This Mario Kart theme area is such an awesome addition to ACNH.
It's the crossover we all need!
You'll first want to grab a custom design for your rainbow track. Once you have this, you can then lay it out in your desired shape.
You can then bring you track area to life with lots of blocks, mushroom platforms, and coins.
And don't forget to add a race car bed to act as your crazy kart'ing vehicle.
6.

Coin Yard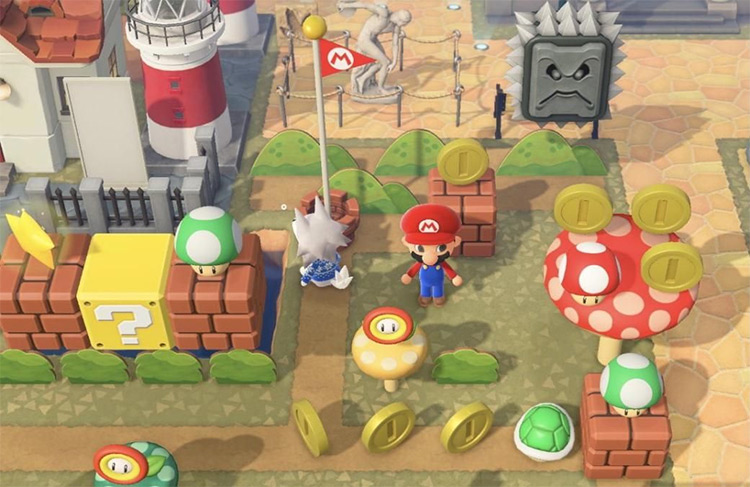 Transform your yard into this Mario-themed wonderland.
It's fair to say you'll definitely have the best yard on the island with this funky design.
All you'll need is a bunch of blocks to get started.
You can arrange them anyway you like, but be sure to add lots of coins and mushroom platforms too.
Pull the whole look together by adding a goal pole, and maybe some Mario hills in the background.
5.

Mario Kart Racer Track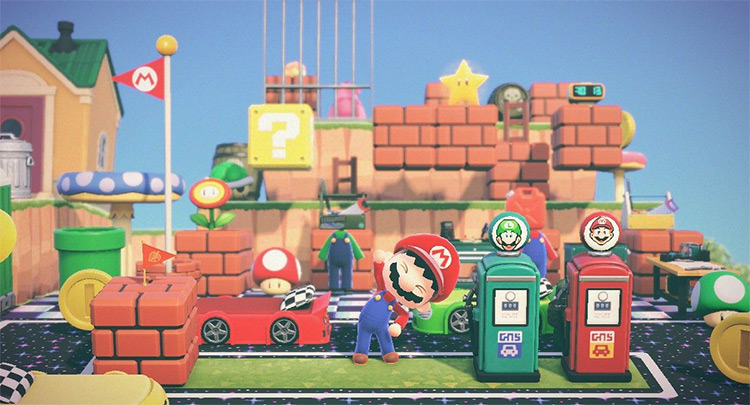 Is your Mario island really complete if you don't have some kind of Mario Kart racetrack?
Here's how you can get one, and it's actually super easy to do!
First you'll need to lay your hands on a custom design for your racetrack. You can then lay down your track in a loop, really however big you want to make it should be fine.
Be sure to also build some cliffs around the area and decorate them with blocks, stars, and mushrooms.
And you can't forget to add a couple of race car beds to act as the cars, and of course, we need some fuel pumps to complete the look.
4.

Mario Obstacle Course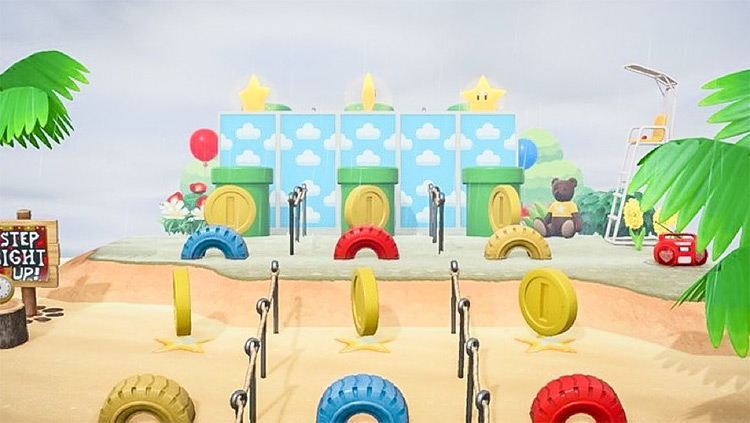 Bring the fun of Super Mario to your island with this awesome themed challenge!
If you want to challenge you friends to a foot race, here's a cool design that matches perfectly with Mario.
You can start designing this by making three courses, and separating them with some rope fencing.
You can then add some coins and pipes to each course to fit with the theme.
Be sure to craft plenty of tire toys to add, and you can customize them to match your color scheme as well.
If you grab a cloud custom design, you can customize some simple panels to place at the back of your obstacle course to complete the look.
3.

Bowser's Castle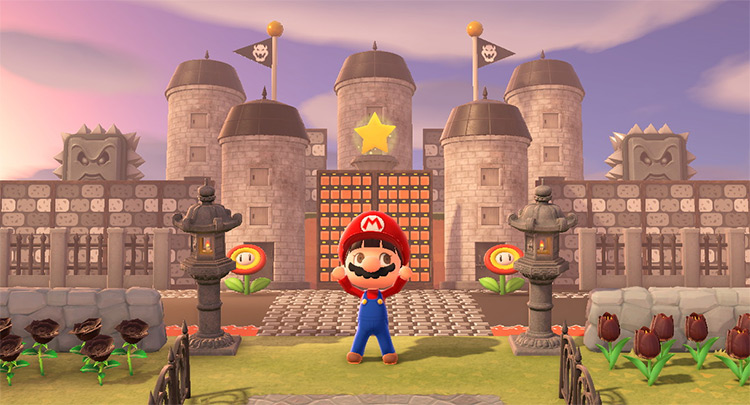 This is probably the most comprehensive build out there – it just looks so real!
This amazing recreation of Bowser's castle is a must-try for any true Mario fan.
To get started you'll need to grab a bunch of simple panels, along with some custom brick designs to create the walls.
Then setup another two customized panels. These act as the doors to the castle, with some iron fencing around the outside.
I'm already getting Koopa vibes here…
You can also use Silos to act as towers for the castle structure.
And don't forget to add some thwomps too. They'll make sure to guard the place!
2.

Princess Peach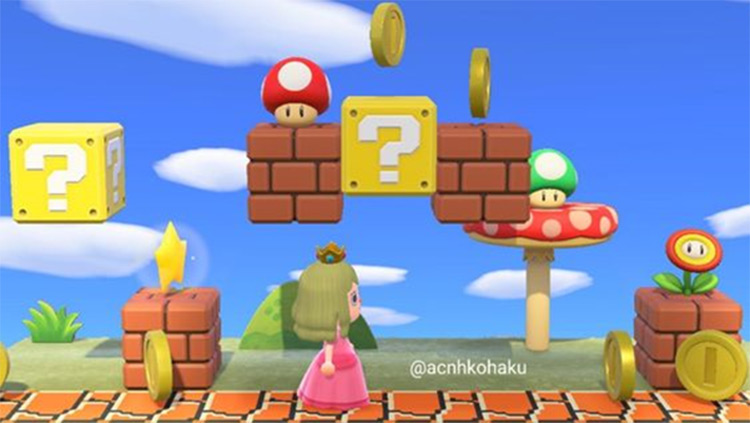 Looking for something more peachy?
Try adding this Mario-themed game course to your island!
To start, you'll need to grab a block custom design for your flooring. You can then lay that design down to create your game path.
Be sure to add lots of floating blocks and question blocks to really give it that Super Mario vibe.
And you'll also need to add lots of coins and mushrooms to fit in with the theme as well.
Complete the look with a large mushroom platform, and don't forget to throw on your Princess Peach outfit (or toss it onto a mannequin!)
1.

Mario Arcade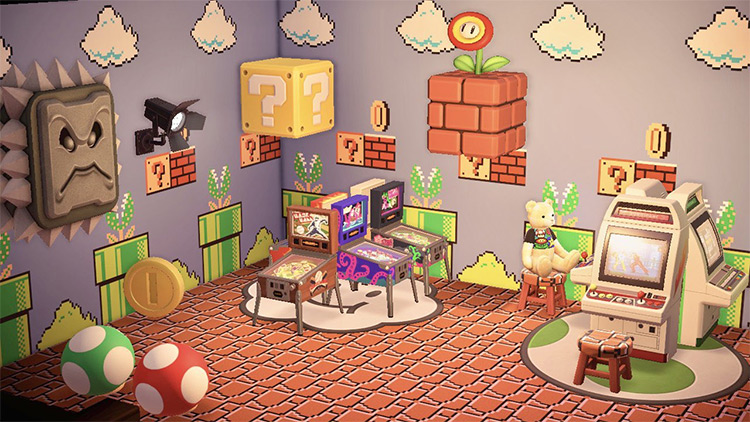 There's no better way to honor Super Mario than with your very own retro-style arcade room.
If you've got the space in your home (might I recommend the attic?) then absolutely give this a try.
First you'll want to prepare your chosen room by adding the Block Flooring and the Mushroom Mural.
And don't forget to add Yoshi's Egg Rug to match.
You can then start to fill your room with as many arcade machines as you can, or maybe even throw in your Nintendo Switch console.
Wrap up the space by adding some floating blocks, thwomps, and coins, and you'll end up with the hottest gaming spot in town!
Browse:
Animal Crossing
Lists
Super Mario
Video Games