ACNH Train Station Design Ideas: The Ultimate Collection
This post may contain affiliate links. If you buy something we may get a small commission at no extra cost to you. (Learn more).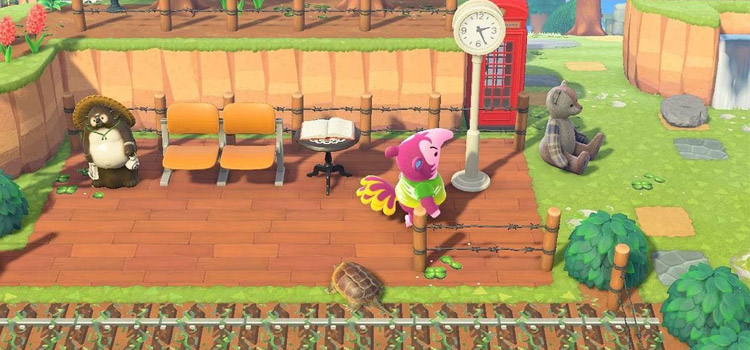 All aboard!
If you're looking for new and creative ideas for your island, then hop along the Animal Crossing Express and try out some of these train station ideas.
Whether it's creating a train from scratch or setting up a scenic station, the possibilities are endless.
All you need is a bit of time and a love for trains (and probably a lot of bells, too).
15.

Peninsula Parking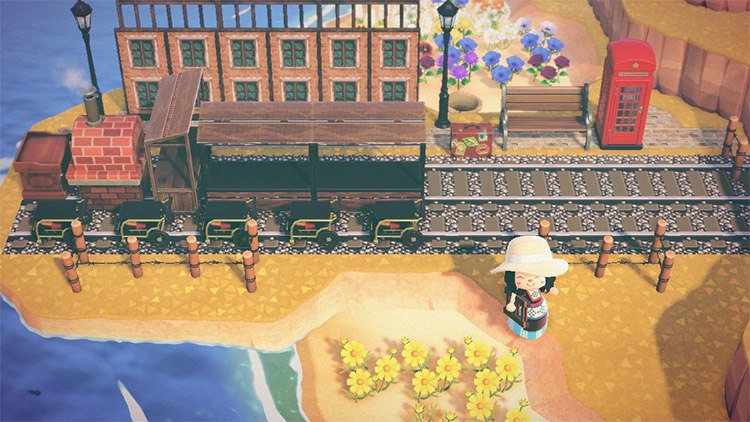 Your island's peninsula can be the perfect spot to set up a train station and park your favorite train.
To make this for yourself, you'll want to start by laying down some custom train track pathways and customizing some simple panels to look like buildings.
Next, you want to create the train.
Do that by crafting a brick oven and placing with a podium and a bunch of stalls organized in rows.
Place some serving carts in front to act as the trains wheels.
Lastly, you'll need a garden bench to wait for your ride along with streetlamps and a phone box, available on Nook Miles.
14.

Beachside Station
Setting up a train station on the beach gives you a wonderful seaside view while you wait for your 9:00 ride to work.
Make this by laying down some custom designed train track pathway along the beach. I like the track going vertically, as it's a wonderful sight to watch it minimize on the horizon.
The custom stones on the ground also make for some great scenery.
And then craft a garden bench and wooden shop sign so that your train knows where to stop.
13.

Food and Flower Train
I really like these ideas that create trains out of random furniture items.
This one stands out in particular because you can see the wonderful cargo it's hauling.
As per usual, start by laying down train tracks.
Once that's done, add a cotton candy machine and a popcorn machine that you can purchase on Nook Shopping.
The remainder of the carts will need to be crafted, so gather some flowers for a garden wagon and some fruit for a fruit basket.
Once you place said basket on an ironwood low table, it's time for this train to leave the station.
12.

Midnight Garden Station
Nothing warms my heart more than a gorgeous scene that's only made more beautiful as its illuminated by the nighttime moonglow.
For this you'll need to lay down some train tracks and setup throwback containers as the cars.
As for the waiting area, you'll need Nook Miles to purchase some public benches, a snack machine, drink machine, and phone booth.
Purchasing a plasma ball and throwback skull radio helps give the scene a spooky, midnight glow.
And the last thing you'll need to do is cover the ground in your favorite flowers to get this station up and running!
11.

Deserted Station
I don't know if you've played Red Dead Redemption, but this station gives me major Armadillo vibes.
To set up this abandoned ghost town station on your island, you'll want to lay down some dirt paths to really make the ground look bleak.
Customize plenty of simple panels to look just like various parts of the train station.
You'll also want to craft an iron garden bench to wait on. Add Rover's case if you've got it, so that you bring some luggage on your journey.
And add some floating biotope planters so that the place doesn't look completely dead before you leave.
10.

Woodland Station
Waiting in the woods can be quite a calming experience.
So maybe you should give this woodland station a try!
Obviously, you'll need to lay down some train tracks and set up the train. This one consists of a bunch of throwback containers placed on ironwood low tables.
And be sure to plant plenty of cedar trees to shade your public benches.
Then customize some simple panels for some background windows, and craft leaf piles out of weeds to give it a more natural look.
The utility poles and the phone booth are also available for Nook Miles, so be sure to pick those up as well.
9.

Kidcore Play Station
Even kids can enjoy a good train ride, though they may want to be accompanied by adults.
But here in Animal Crossing land, every adult is basically a kid!
For this custom kidcore train station, start with some train tracks, but make sure they're more colorful this time around.
You'll also want some stone paths because you can add custom designed chalk drawings.
Then setup a public bench in front of some iron fencing for the waiting area.
Behind the fence, create a fun play area full of toys. I'm talking about mama pandas, toy boxes, throwback racecar beds, unfinished puzzles, tricycles, and whatever else you can find to match that kidcore aesthetic.
8.

Industrial Railway
If you were thinking of a more urban setting for your train station, then take a look at what this design has to offer.
Make it yourself by carving a valley out of the land, and sculpting some cliffs on one side.
Decorate the cliffs with buildings by setting up some servers and even a lighthouse.
Through the valley, you'll want to lay down the tracks and place some utility poles that you can purchase for Nook Miles.
Lastly, set up the waiting area on the other side of the valley with some public benches, and even a model train for good measure!
7.

Colorful Train Station
Fair warning:
Only those with colorful personalities can hop aboard this train!
If you want to recreate this beautiful rainbow train station, then you'll need some custom rainbow pathways to start.
Just lay down a couple different rainbow brick and wood patterns, as well as the train tracks.
Then setup the train of throwback containers and ironwood low tables, which you'll need iron and wood to craft.
Also, craft a frozen arch and customize it to a nice pink as a tunnel entryway.
Lastly, set up some pink and blue public benches to match the vibrant colors of this design.
6.

Disneyland Express
If you've ever been to Disneyland, then you probably got sick and tired of walking around the park at some point.
And if you like a bit of Disney in your Animal Crossing, then you might want to take a load off and hop aboard the Disneyland Express!
Start by customizing many simple panels and standees to make the train walls. With the standees, you'll want to add many of your favorite Disney characters and princesses.
Then craft a brick oven to set up the train's engine so it can get rolling.
After that, all you need to do is lay down some custom designs to match Mickey Mouse's head – because it's his train, after all!
5.

Victorian Café
Sometimes, it's not the train that's the star of the station.
In this case, I'd say this outdoor café steals the spotlight for any who wish to board.
Once you've laid down tracks and made your throwback container train, set up a small stone patio to the side.
Next, craft some ironwood garden chairs and natural garden square tables for a small café seating area.
Be sure to serve up a cup of coffee on each table, and make sure you have some refreshments while you wait for your train.
Top off this idea with some garden benches close to the tracks, and add Rover's suitcase for some added fun.
4.

Modern Train Station
My college dorm was literally twenty feet from a train track. So I heard plenty of these trains going by all day long.
My memories aside, this is a more modern take on a train station that you can easily duplicate.
Public benches and a snack machine make for a cute little waiting area, so that's an easy place to start.
Also setup some custom standees to look like the train windows and doors.
You'll also need some custom pathways for the tile floor, and be careful to stay behind the yellow line!
3.

Basement Subway Station
This train station idea takes the previous one, mixes it up a little, and puts it in the basement of your very own home!
But much like all of the designs in this list, you'll still want to customize some standees to look like the train, and lay down some custom designs for that pesky yellow line on the stone tile flooring.
Then drop in some cardboard boxes, a floor sign, and a tin bucket, to show that you've been hard at work on some subway maintenance.
All that's left is to turn down the lights to create that underground subway atmosphere.
Just one of many ideas for sprucing up your basement.
2.

Tunnel Maintenance
If you want a train station with a twist, then look no further.
This station's twist is simply that it's closed.
You'll want to sculpt the cliffs in your space to create a valley, that way you can lay down some tracks and a throwback container train.
At the end of the tracks, set up some simple panels that you've customized to look like a tunnel. And place some wooden shop signs in front to inform your villagers that this train is closed for business (for now!)
And then above the tunnel, create a custom construction sign to further notify everybody of the work that's going on.
Then to wrap this up, you can't forget the seating area of public benches. Though waiting is rather pointless, since the train isn't running…
But if you ever want to bring it back into service, that's just one more design project to keep you busy!
1.

Heightened Perspective
This design is amazing, not because it contains any super creative items or custom designs, but rather because of its stellar use of cliffs to create this gorgeous view.
One the lowest level, you'll want to place the train and the station.
Start by laying down custom designed roads and train tracks, and setting up a train made of throwback containers.
You can add items like a lighthouse and wind turbines (available on Nook Miles) to liven up the scene.
Next you'll want to create the stunning clifftop view. This cliff is two or three levels up at least, so you'll need a lot of landscaping.
Finish it off with a small seating area with public benches and street lamps.
And get ready to stare off into a (literal) new horizon!
Browse:
Animal Crossing
Lists
Video Games