40 Urban Island Design Ideas For Animal Crossing: New Horizons
This post may contain affiliate links. If you buy something we may get a small commission at no extra cost to you. (Learn more).
You there, a little more urban! (I wonder how many of you actually got that reference…)
But maybe your Animal Crossing island could really use a bit of an urban flair.
If you want to perfectly create the city life in ACNH, there's plenty of indoor and outdoor ideas for you to try out. But where do you even get started?
Here's a list of some really great urban island ideas that almost anyone could put into action.
40.

Urban Lights
Nothing says a city quite like the nighttime illumination of all the wonderful lights along the streets.
And surprisingly, I've seen this exact setup on multiple other islands. It does provide a unique idea for a museum entrance area.
It's pretty self-explanatory too. You want to carefully place tons of street lamps in organized rows right outside your museum door.
There's at least four rows of five here, but if you wish to display more, then go bananas with tons of urban museum light fixtures!
39.

City Street Patterns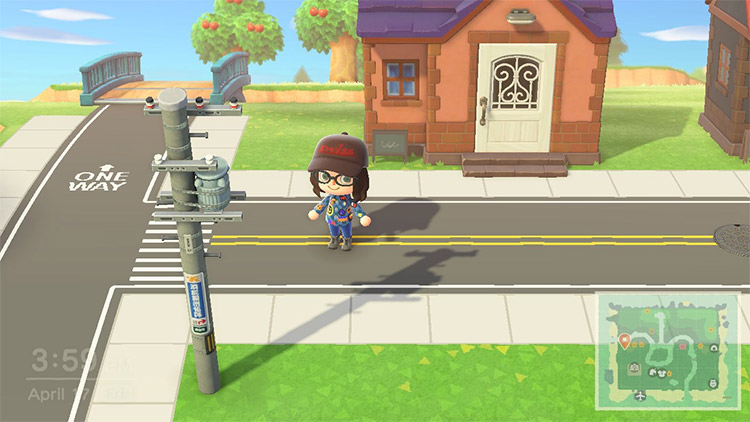 There are also plenty of unique ways to incorporate custom designs into the island city life.
For example, there are plenty of street line patterns for you to download online, or you can even make your own if you're feeling so bold.
You're also not just limited to street lines.
You can include crosswalks, one ways, bike lanes, or even left turn lanes if you wish.
As another little addition, you might also want to add some custom sidewalk patterns – because walking in the street is not the smartest decision.
38.

City View Loft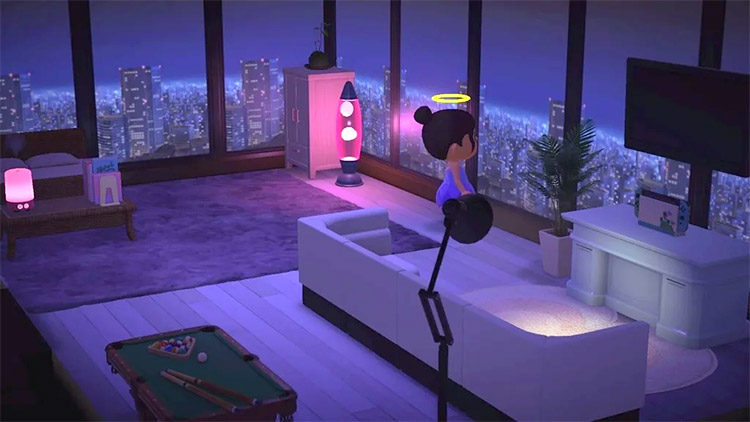 One of the best parts about living in a city apartment can easily be the view out your window.
The cityscape wallpaper is perfect for recreating the city nightlife view, while still experiencing the comfort of indoors. (Hint: this will not be the only time you see this wallpaper on this list.)
Once you set up your wallpaper, you can set up a relaxing lounge area by purchasing some box corner sofas and a den desk for a TV stand.
Be sure to mount your wall mounted TV too (50 inch, because you're in for the luxurious life). And hook up your ACNH Nintendo Switch, of course.
A pool table is also a great addition that you can purchase for some late night fun.
When you're done playing games, you can hop into your rattan bed to get a good night's sleep among the gorgeous city lights.
37.

Backyard Basketball
Have you ever seen the episode of Friends where they're all playing football on Thanksgiving? That's what I think of when I see this back alley basketball court.
I'll bet you figured you would need a basketball hoop for a basketball court, as well as a basketball.
Well you'll also need to purchase plenty of simple panels and customize them to have an overgrown fencing look.
Also, you can play down some custom designs to set up a basketball court.
Lastly, just let the weeds grow. Because this is some rundown back alley that probably doesn't get as much love as it should, and we wanna match that aesthetic.
36.

Beachside Bus Stop
If you need to easily get around the city, there's no better option than the bus.
OK that may be up for debate, but you can still create a cool bus stop that overlooks the beach.
For this you'll need to purchase items like snack and drink machines, and a phone booth from Nook Miles.
I also like how this player set up some floating blocks and climbing walls as an overhang for you to wait underneath to escape the rain.
Add an OK Motor Sign so that the bus knows where to pick you up, and crank up some Go K.K. Rider on the Jukebox to get you in the mood for an exciting trip.
35.

Bike Stop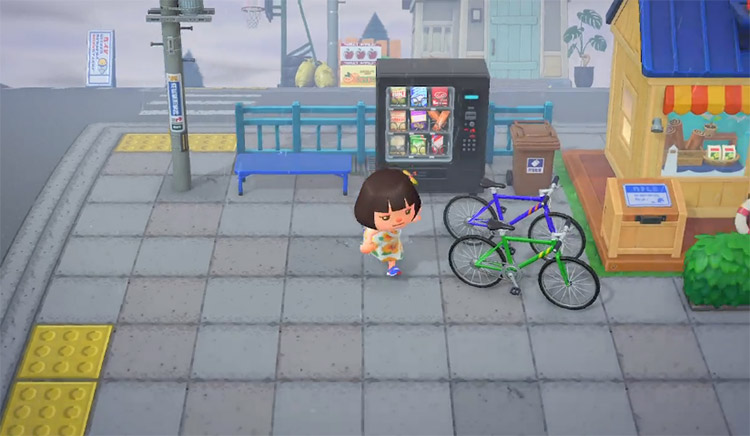 Here's another small idea for you urban setting: creating a little bike stop next to Nook's Cranny.
Once you lay down some custom designed paths for sidewalks, be sure to add some iron fencing to mark of the area. I like the yellow tiles to signify crosswalks. It shows effort in creating a more lifelike scene.
Then purchase a utility pole and snack machine from Nook Miles, and don't forget an outdoor bench so that you have a nice place to sit.
And you can't forget the mountain bikes to signify that lots of people rest here from their long, biking routes.
34.

Corner Laundromat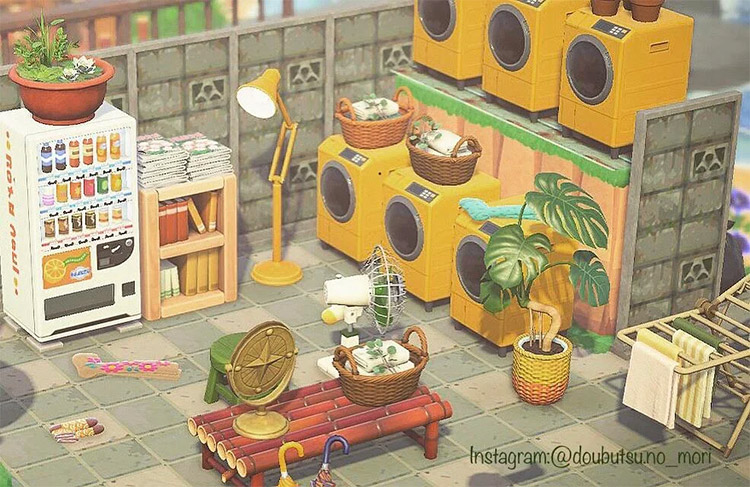 If you live in a city apartment, then you likely have to either go the building basement, or walk a few blocks to go to an actual laundromat.
For this idea you'll want to purchase plenty of deluxe washers, and set them up in organized rows. I like how this player did some landscaping to create a top row of machines.
And be sure to set up some bamboo towel baskets on top of the machines.
You'll also want to lay down some custom designed flooring, and set up some custom simple panels. The stone patterns help the place look cold and dingy.
The drying rack is a nice touch for a laundry room too. After all, you don't want wet clothing.
Finish off the area with some plants, like a monstera and a floating biotope planter, for some decoration while you wait for the never-ending cycle to finish.
33.

Drive-In Movie Theater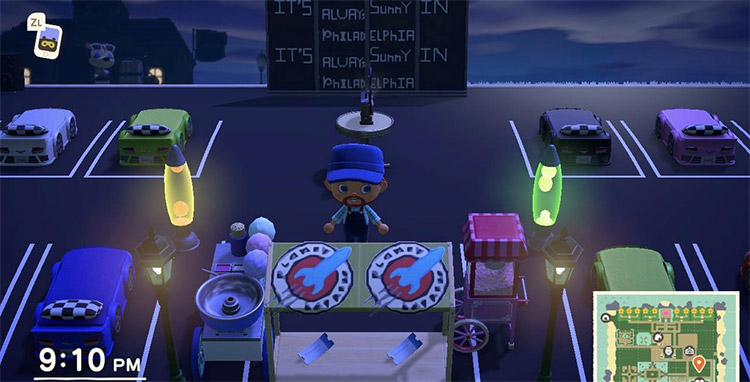 Nothing says "a city that cares" like community events for everyone to enjoy.
And a drive-in movie is one event that used to be all the rage in both urban and suburban areas.
Start this idea by setting up some custom designed paths to make a parking lot.
Once you have the spaces, pull in with your throwback racecar beds so that everyone has a seat.
Purchase some concessions like a popcorn or cotton candy machine, and set them up with a stall for a ticket counter. The fact that this player displayed some Nook Mile Tickets on the counter is a cool touch.
Then just set up your screen by customizing some simple panels, and you're ready for some cinema fun.
32.

Asphalt Playground
Urban playgrounds often look different than those you'd find in a suburban schoolyard. Not necessarily worse, just different.
They often have a more industrial look because they usually just have blacktop and less flashy slides and swings.
You can start this build by laying down some custom blacktop designs, and be sure to include some with lines for a soccer court.
Also, you can purchase the soccer nets, playground gym, sandbox, and springy ride-on from Nook Miles.
I like the inclusion of some tire toys here, as well as the small audience area for the soccer court.
Note you'll need to purchase some director's chairs and outdoor benches too, so that all your villagers can enjoy a nice game of soccer (or football).
31.

Rooftop Relaxation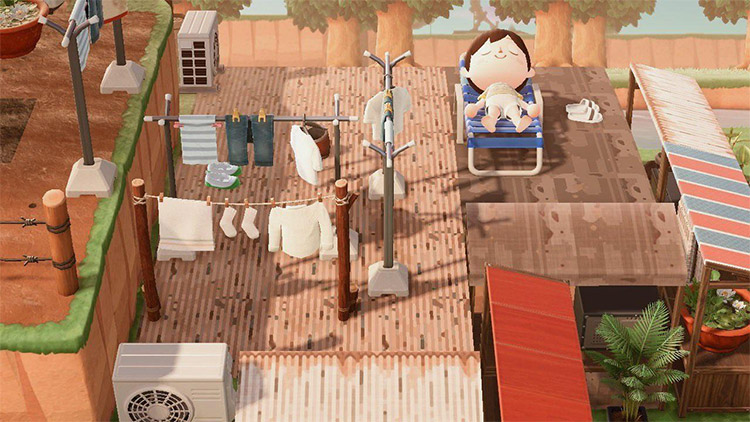 In a lot of sitcoms that take place in the city, they always seem to hang out on the apartment roof for some reason.
Maybe it's simply a place for some relaxation, like this ACNH build idea.
To make this yourself you'll need to create multiple levels of elevation that denote buildings of different heights. Then lay down some custom designed paths to set up your rooftop.
Craft some stalls from wood, and customize them to act as the rooftops of lower levels.
And be sure to purchase some clotheslines, because the roof is the perfect place to dry off your clothes.
Other items you can purchase for your rooftop are outdoor air conditioners and beach chairs for a nice breeze while you catch some rays.
30.

Artist's Loft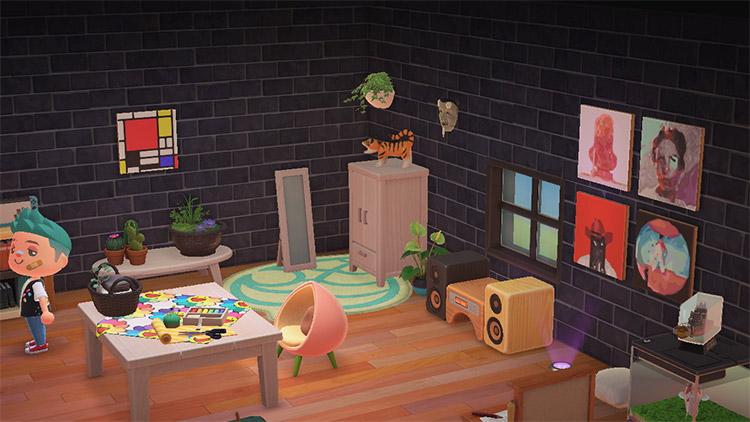 Sometimes you'll find the urban life to be perfect for your creative mind. And that's just what this artist's loft tries to show off.
Setup the room on your island with some black brick wallpaper and common flooring.
You can craft plenty of wooden furniture too, such as a wardrobe, table, full length mirror, and low table. Customize them all into matching colors, and even make a pretty rainbow flower design for the table's cloth.
Be sure to purchase and include many house plants as well – like mini cactus sets, anthurium plants, and floating biotope planters.
The most important part here is to decorate the walls with tons of artwork. You can easily find ideas to download, or you could make your own like a true artist.
29.

Bizarre Bazaar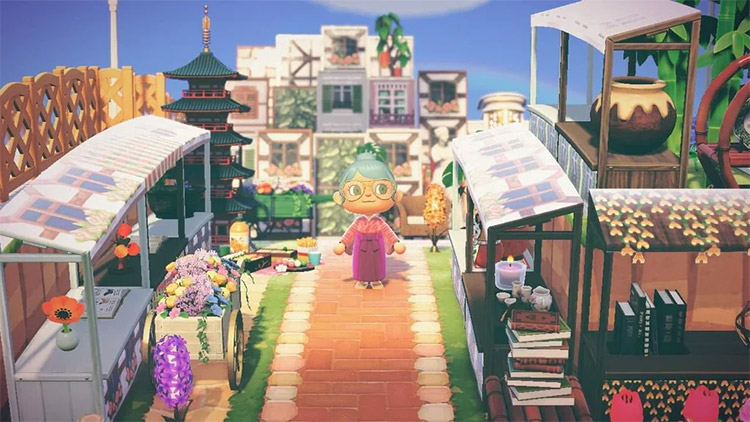 In your city, you might want to include a market area for everyone to purchase goods from other vendors.
You can make this a reality by laying down your favorite path as a main strip.
Once you do this, craft stalls and place them along the sides of your path for all your vendors to display their products.
These products can be anything from books to flowers, candles, magazines, or tea. A couple items that I particularly like to include are the garden wagon and stack of books.
At the end of your main strip, set up a grand cityscape by creating many levels of elevation with tons of simple panels that you've customized into city buildings.
Also, you can even include a pagoda that you've gotten from Gulliver. Just another structural marvel in your street bazaar.
28.

Corner Gas Station
If you've been driving around the city for a while, it may be time to stop and get some gas.
Design this gas station idea by laying down some custom street paths and enclosing the area with some zen fencing, which you need iron, stone, and clay to craft.
Then setup a small convenience store area with a snack machine, drink machine, public bench, and a stall.
And we can't forget your vehicles! So purchase some tricycles and throwback race car beds to fill the void.
Then purchase a few retro gas pumps and you're ready to fill her up!
27.

Run Down City Designs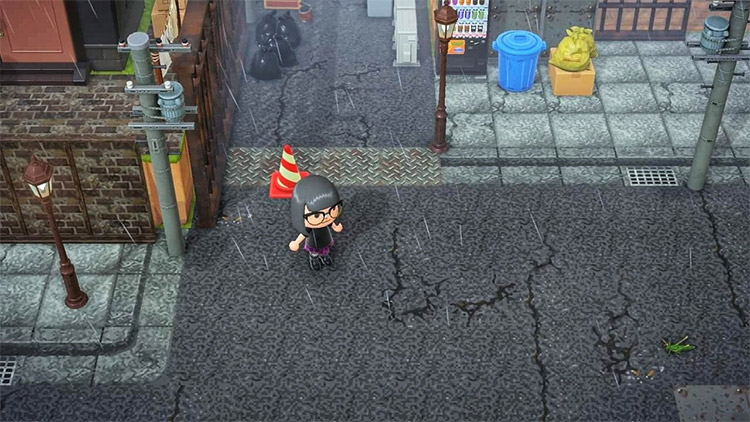 Another creative use of custom designs in your urban setting can be to create some patterns that give your city a more run-down feel.
Where I live, cracked roads and potholes are a common occurrence on just about every street or highway. You can create some cracked street patterns to add some character to your city too.
I also like how this player made the paint lines look faded, cracked the sidewalks, and even added some sewer grates.
If you've caught enough trash while fishing, you can also craft some trash bags to display by your garbage cans for an even dumpier look.
26.

Urban Shopping Center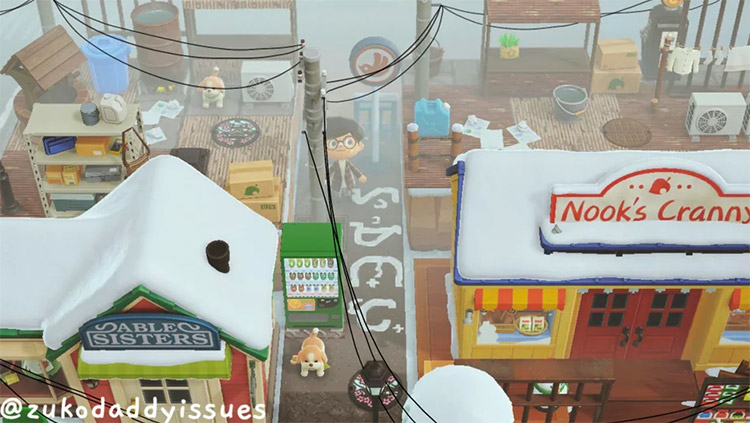 You need plenty of buildings in your city streets. So why not use the actual buildings that are already on your island?
For this you'll specifically want to set up Nook's Cranny and the Able Sisters close next to each other, to create a busy shopping street.
Here's where you can use some of your custom street designs too.
Then purchase some snack machines, drink machines, and utility poles from Nook Miles to decorate your street side shops. (Note: the power lines are drawn on, sorry).
25.

Food Trucks
Many who work in the city often seek a quick lunch nearby, that way they can return to work in a timely fashion.
Enter, the food truck!
I've seen many players create vehicles in a similar fashion. So why not make a food truck?
You'll need some custom standee designs to act as windows, a diner sofa for the hood, and a stall behind them to display the delicious food you're selling.
This players specializes in coffee, so they display espresso makers on the stalls.
And in your own design, be sure to include a garden bench for somewhere to sit and enjoy your food. And even use a cinnamoroll sign to advertise your culinary creations!
24.

Rooftop Garden
Some cities have stunning rooftop gardens where people will practically create entire crop farms on their own apartment rooftop.
And now you can make your own in ACNH (if you have the patience).
For this you'll still want to start out by creating multiple levels of elevation to look like different city buildings.
Wind turbines, utility poles, and solar panels are essential too, and can be purchase for Nook Miles.
Then we get to the crops.
You can include your favorite fruit trees and flowers here, to proudly grow them up on your rooftop garden.
I love how this player went with warm colors such as red, orange, and yellow to create a luscious and vibrant scene.
23.

Main Street Store Front
If you prefer making your own buildings for your city (as opposed to using island buildings), then here's a sample of how you can create a shop from just a few items.
Once you've setup your street with either real or custom stone paths, you'll then want to setup some iron and stone fencing to separate the area.
Add a small stall in front with a simple tea kettle and menu chalkboard for some street advertising.
Next, you want to make many levels of elevation to give your building height.
On each level, display plenty of simple panels that you've customized to create your shop's gorgeous façade.
Oh, and don't forget to leave a small window so you can say hello to Dom.
22.

Overgrown Urban Town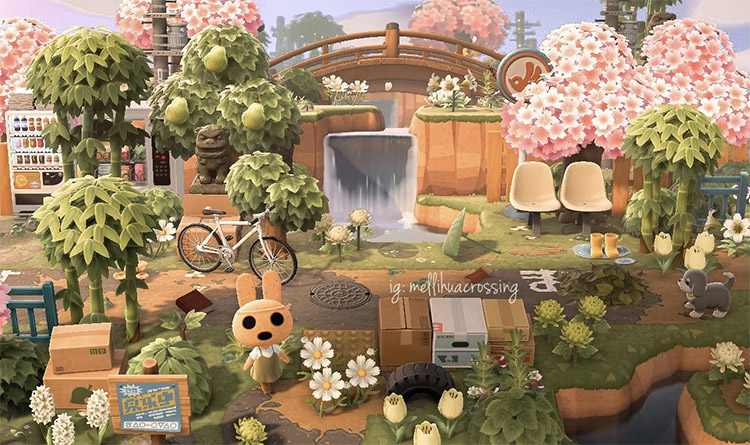 Not all city streets are maintained to be equally gorgeous.
However, if the overgrown city is more your style, then perhaps you'll want to try this design.
Most of the items are pretty common, such as the public bench, snack and drink machines, and even a mountain bike.
But to overgrow your area, plant plenty of trees and flowers. You'll want to use many varieties of both.
Bamboo trees, green and white mums, shrubs, and white lilies are some of the items to consider.
I really like the custom path here too, as it's both asphalt and dirt, which only enhances the rundown appearance.
21.

Hourly Motel
If you're merely visiting the city, you'll want to find somewhere to stay for the night – maybe like this hourly motel.
Right outside your front door, you'll want to set up a small parking lot with some stone paths and custom designed parking spots.
Park some throwback race car beds in the spots, and place some public benches on the sides for outdoor seating.
Then display some custom simple panels to advertise your business, and be sure to illuminate these signs with some floor lights.
And for the finishing touches, do plenty of landscaping to create many levels of cliffs, and decorate them with plenty of servers.
20.

New York City Skyline
The New York skyline is perhaps one of the most iconic metropolitan scenes in the world.
And if you wanna bring this into your ACNH island, you can start by sculpting a decent sized lake to sit between what will be a bridge and the famous city lights.
Setup a fake bridge by laying down some custom stone pathways with some fencing. The spooky fencing is a nice selection to complement the stone path.
As for the city, do some cliff-scaping and display plenty of serves for gorgeous, illuminate buildings.
Other items you'll want to include in your skyline are a rocket, lighthouse, and of course you can't have New York without the Statue of Liberty.
19.

Subway Station Exterior
New York is also known for its subway.
Maybe for bad things moreso than good, but it still makes for a great urban design.
Start out with this idea by doing some landscaping. You'll need to set up some cliffs around the lower level, and then setup the staircase from inside the pit you just made.
I like how this player went with the blue iron staircase to match the iron fencing.
Then add in a park clock and custom simple panels for an urban background.
Another option that I've seen is to make two stations on opposite ends of the island, and place some warp pipes at the bottom of the stairs for easy subway island travel.
18.

Basement Subway Station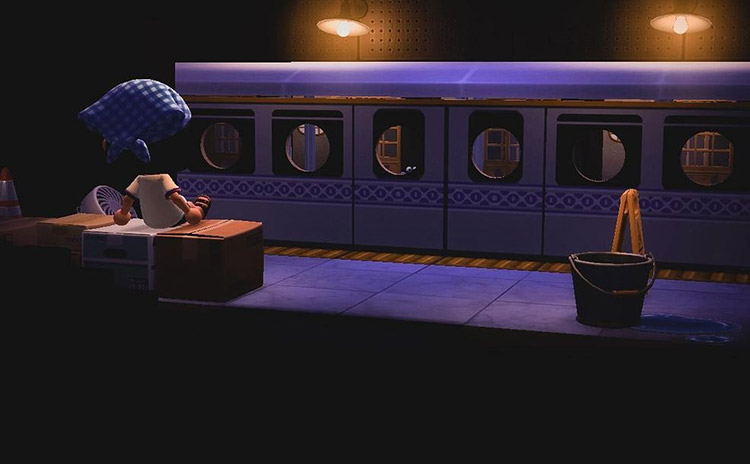 We're staying underground to show you how to set up the interior of the subway.
Your basement is the perfect spot to set this up, and you can even use the warp pipes to travel here as well.
Start by adding customized standees and custom flooring. The standees will act as your subway windows, and you'll also want some stalls behind them for the subway roof.
Then you can purchase items like floor signs, tin buckets, and cardboard boxes to create the dingy underground feel.
17.

Rooftop Fine Dining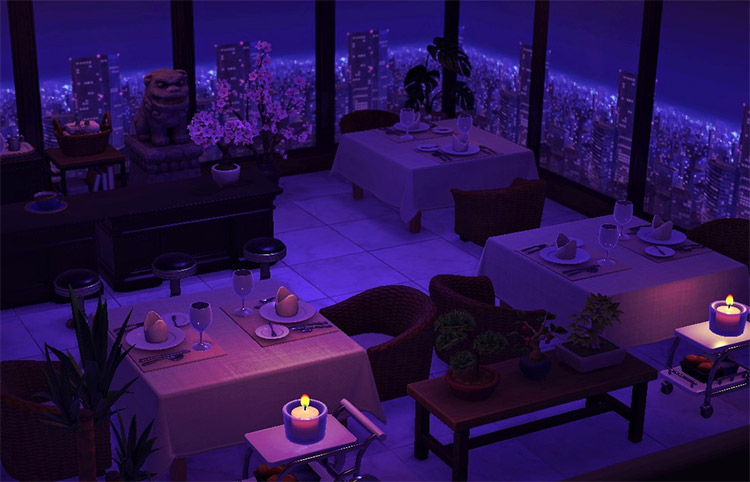 I said we weren't done with the cityscape wallpaper, and that's because it can make for some gorgeous scenery while you eat.
Once you have your wallpaper set up for this idea, purchase some den desks and diner stools to create the bar area.
As for the dining area, you'll need to purchase some rattan chairs and tables with cloth for small sitting areas.
Then top off each placement with a table setting, and you're ready for some good eats!
16.

Used Book Shop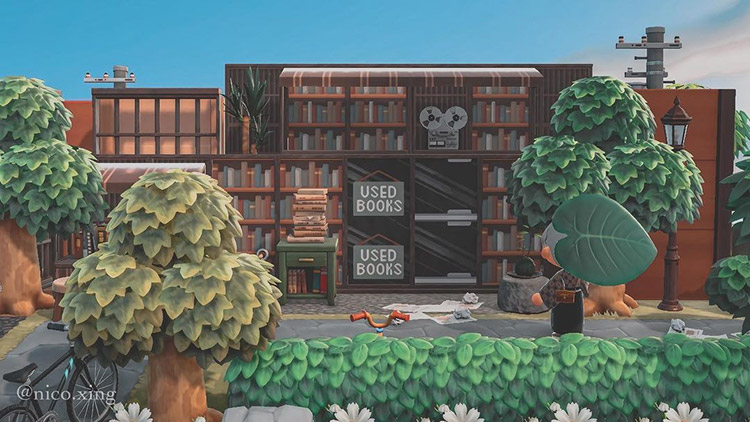 So many player-made shopping districts in ACNH have a used book shop of some sort. And if you love reading like me, then I'm sure you'd be eager to make this design a reality.
I like that this is in a more wooded area, as it adds to the tattered look.
Just make sure it's not too far off your main strip.
You'll need to make some cliffs to add multiple levels to your shop. After all, the more books, the merrier!
Then setup plenty of customized simple panels to act as bookshelves, doors, and windows.
Make sure you include a used books sign on the door as well, to reel in all those thirsty minds!
15.

Custom Skyscrapers
We've seen many ideas that use servers as skyscrapers.
After all, they do have many colorful lights to illuminate the nighttime scene.
But another idea can be to simply create some simple panels with your own custom skyscraper designs.
You'll still want to set up plenty of cliffs with the landscaping tool so that you can display all your panels as buildings of various heights.
And then you can finish off your scene with some urban items such as a phone booth, streetlamps, and even utility poles.
14.

Apartment Balcony
Plenty of urban apartments and hotel rooms offer a balcony with a view.
And we can add that into our island as well.
To give yourself (or your villagers) a view like this, start by laying down some custom rooftop patterns to create the illusion of living on top of the building.
Then pop in some zen fencing, a lawn chair, and a clothesline for some rooftop decoration.
For some reason, I also love the scattered papers. They add a slightly messy look to the scene.
And don't forget to craft a wooden duck so you have a feathered visitor waiting on your balcony.
13.

Tourist City Block
Not every urban city is as brilliant as Tokyo, Paris, or New York. However, that doesn't mean that they're any less stunning.
There's a lot going on in this scene, so I'll just discuss some of my favorite aspects.
You can carefully create multiple levels of elevation with plenty of staircases and stone pathways to mimic this design.
Then you can display plenty of simple panels that you've customized to look like your gorgeous city buildings.
And you can even use streetlamps, garden benches, phone booths, and simple wells in your city square – whatever matches the aesthetic!
But the thing that probably sets this design apart the most is the alternating pattern of floating blocks and prison bars. I'm not really sure how to describe it, but it works out really well.
12.

Five Star Hotel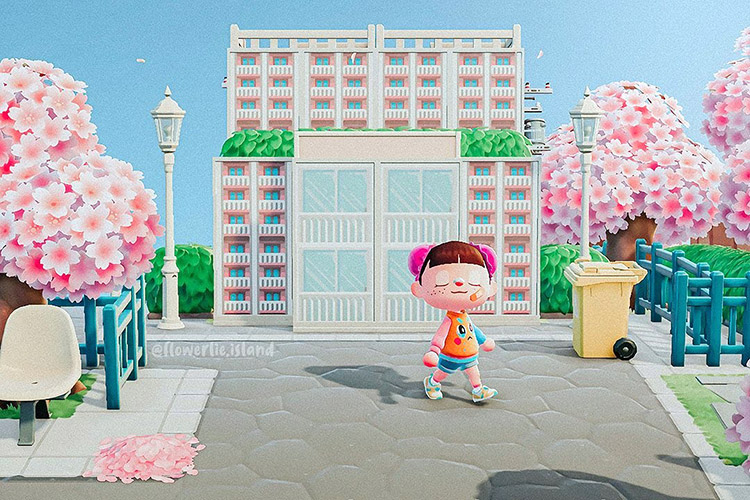 Who needs to stay in some rundown hourly motel when you can create a massive five-star hotel for everyone to stay in!
To start, I just want to say how I love that this player customized the simple panels to have pinks to match the cherry blossoms.
While the cherry blossoms may go away soon, you'll still want to do some landscaping to set up multiple levels of your hotel.
Then craft some hedges and set them up on each floor of the hotel for some beautiful and natural decoration.
And don't forget to purchase some loft beds to create that rooftop balcony.
Plus if you want even more ideas for some rooms in your hotel, check out our collection of awesome hotel ideas.
11.

Blade Runner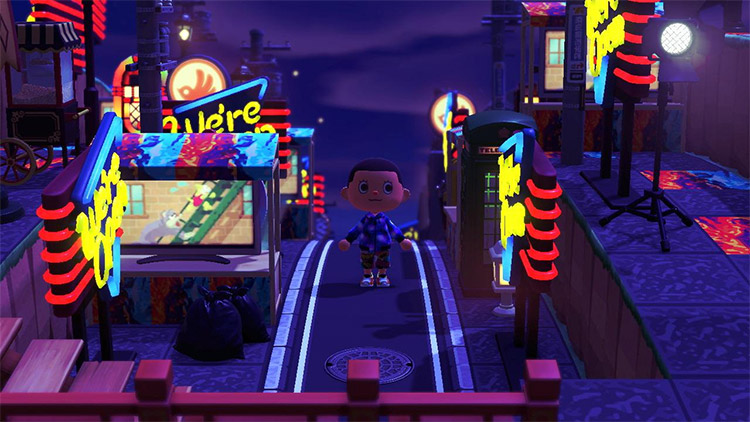 I have never seen Blade Runner. But that doesn't mean I can't appreciate a creative idea when I see it.
To recreate this dystopian future, start out by setting up your custom streets.
Make plenty of cliffs, on which you'll want to lay down some more custom sidewalk patterns.
And you'll definitely want to purchase some diner neon signs to create the well-lit brilliance of Blade Runner.
Then just decorate the city with trash bags, phone booths, utility poles, and popcorn machines.
10.

High School Academy
Ah, public school.
High school was not my scene. But if it was yours, then you could create a school for your island like this one.
Again, you'll need many levels of elevation to create the many floors of this building.
You'll also need plenty of custom simple panels for the school walls. The top of the school is made out of a park clock and wedding pipe organ, so be sure to purchase those as well.
Out front, setup a parking lot with some custom designed paths, and fence off the area with some iron fencing.
Once you display some mountain bikes for the students to ride to school, class is indeed in session.
9.

Chinese City District
If you want a truly unique city scene, check out this Chinese red light district.
To make it yourself, use cliffs for multiple stories, and add plenty of custom simple panels for the building walls.
Then setup rows of phone booths and street lamps to line you city streets.
You can also use silos for building towers, and diner neon signs simply for their colorful shine.
Be sure that you don't forget your pagoda from Gulliver, which is a must-have for any authentic Chinese scenery!
8.

City Hall
Any city needs a city hall.
Otherwise, no one knows who to complain to about the potholes and faulty traffic lights.
This design is similar to the school, but there are a few differences that I think give it more flare.
You still want to set up the building with customized simple panels, a park clock, and a wedding pipe organ, all on multiple levels of cliffs.
But what I particularly like about this design is the clean an organized look of the building's exterior. It makes it look more official.
You can even setup a small bus stop from a public bench, wooden shop sign, and simple panel. Then you have somewhere to wait outside!
7.

Japanese City Walk
Here's another specific city design with a quaint Japanese market city square.
To start this idea, lay down some custom designed street patterns with crosswalks, some turning lanes, and even Japanese characters.
Then line the streets with plenty of stalls customized to a plethora of colors and fruits.
On and around the stalls, display plenty of fruits, cardboard boxes, book stacks, magazine stacks, and even trash bags.
You'll also want a grand entrance, so set up some utility poles and diner neon signs for I sight your visitors will never forget!
6.

NYC High Line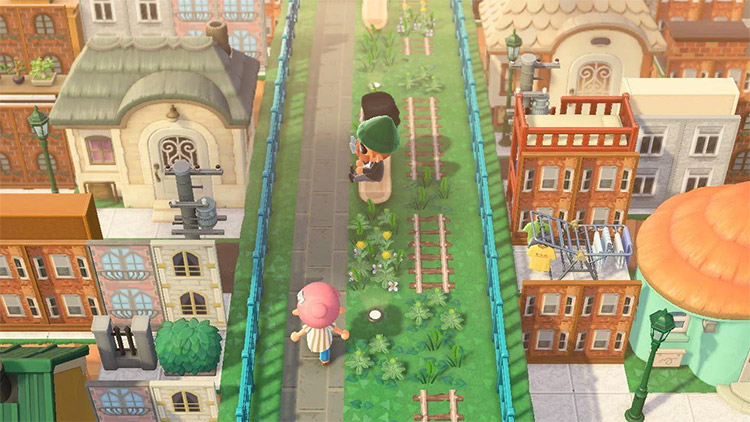 The New York City High Line is a very popular tourist attraction that makes for an awesome urban island design in Animal Crossing.
For this design, you'll need many, and this time I mean many levels of elevation to properly capture this scene.
You can setup some villager houses on certain levels, and surround them with loft beds and simple panels to create fake buildings.
Down the middle of the scene you'll want to leave a strip for the highest level of elevation to recreate the famous bridge.
It's here you'll want to set up some custom designed paths, railways, and public benches. That way you have somewhere to sit and enjoy this wonderful cityscape.
5.

Futuristic Skyline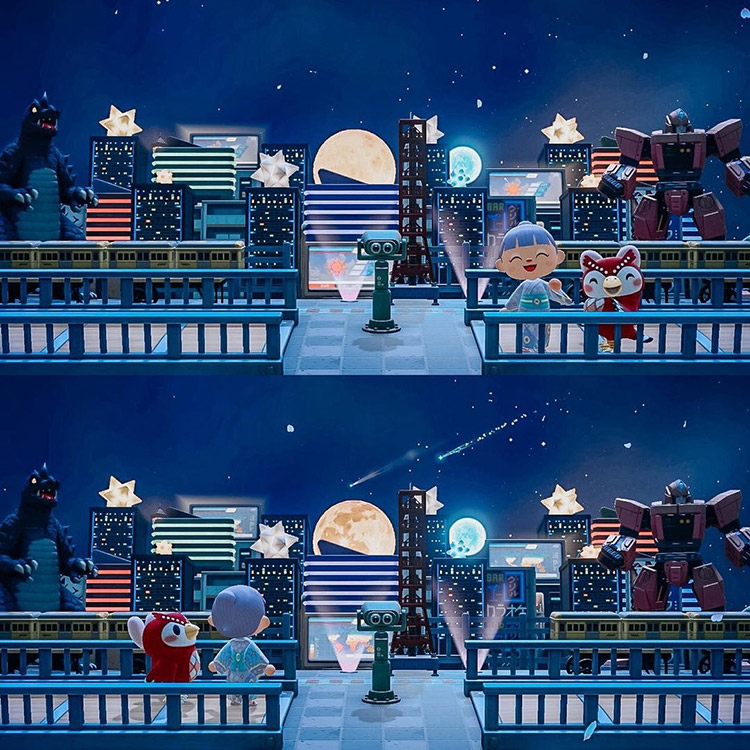 So Godzilla Vs. Kong seems pretty great. And I know this idea features a giant robot instead of a gorilla, but that's the impression I get from this city build.
To design this on your own island, create the typical city skyline by sculpting some cliffs and setting up servers as the skyscrapers.
In front of the city, lay down some custom railway paths with some throwback containers as a train running through your city.
Throughout the scene place plenty of nova lights, diner neon signs, and floor lamps, for a light show like no other.
And you'll definitely want to purchase a monster statue and craft a robot hero for these two titans of your urban city.
4.

Vinyl Record Shop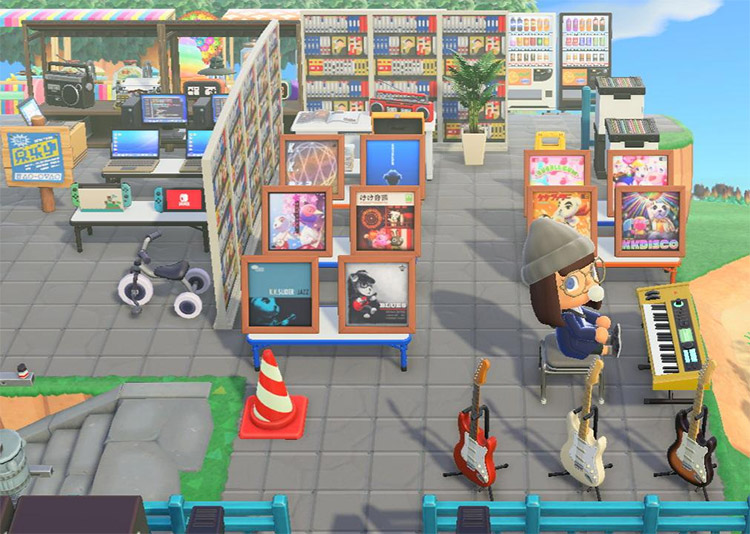 Maybe it's just the beanie, but this shop gives me major urban hipster vibes.
If your city needs some culture, then try introducing some hip new tunes! (The fact that I just wrote "hip" probably means I'm not hip and am getting old).
While certainly not necessary, I like that this shop is on its own small level of elevation, with a stone staircase leading up to it.
To make this you'll need a ton of simple panels customized to look like various records, movies, and games for sale.
Then you can even setup a small office area with some outdoor benches and desktop computers.
You can also setup a recording studio with a keyboard, a drum set, and even some rock guitars.
The part where you have more creative liberties is in displaying some of your favorite K.K. album covers.
K.K. Ballad, Stale Cupcakes, and Go K.K. Rider are some of my favorite covers that I'd highly recommend putting up for sale in your shop!
3.

River Boat Tours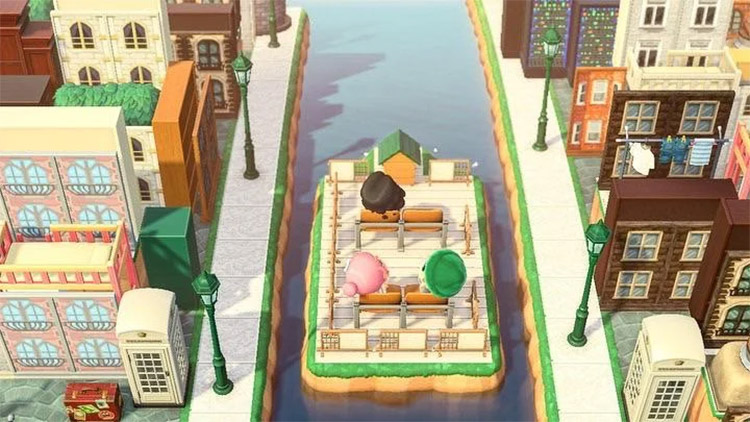 I did not expect to find an idea like this for Animal Crossing. And I absolutely did not expect to find it done in multiple ways.
But maybe your city's main tourist attraction could be the boat tours you can give around the city.
Obviously, you want to do some waterscaping to make a decent sized river with a bridge to cross it. However, you'll also want to leave a small island in the river to act as a boat.
On top of the island, setup some fencing and a few lecture hall benches to create the seats and sides of the boat.
Then once back on land, you simply want to create typical city skyline by doing some landscaping and making multiple levels of cliffs.
When you're done with that, setup the simple panels, servers, phone booths, and street lamps for a beautiful riverside dwelling.
2.

Seven Eleven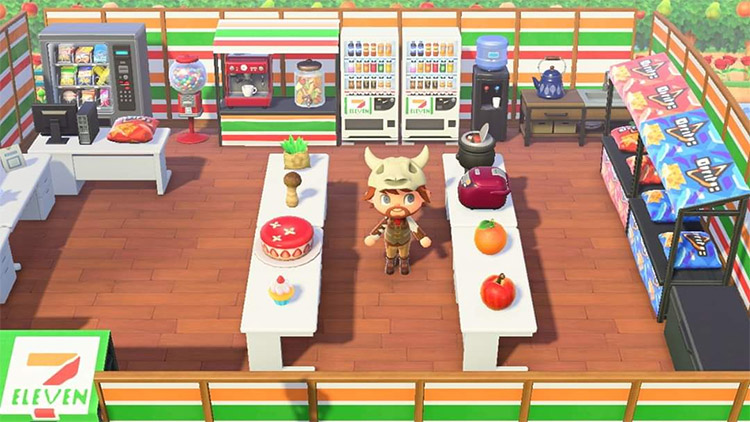 If you want to add more flare to your urban area with a convenience store or gas station, try out something like this Seven Eleven build that everyone will recognize!
To start, lay down some wooden paths for flooring, and create a perimeter of simple panels with an orange, red, white, and green stripe pattern.
You'll also want to include a counter made up of an office desk and desktop computer, so be sure to purchase both of these items on Nook Shopping.
Next, setup tons of stalls along the walls to display all your merchandise.
I'm an avid partaker of Doritos, so the custom Doritos stalls and cushions are absolutely a must-have in my opinion.
Then just drop in a shop sign out front, and you're open for business.
1.

Cityside Canal
I know I just discussed a river idea, but this to me really feels like an urban setting where I could live alongside the water.
To make this yourself, start by doing some waterscaping to create your canal.
You'll want it to be a decent width, and be sure to leave quite a few bridges crossing over it.
Next to the canal, you'll want to add some hedges, iron stone fencing, and shrubs. That way no one falls in.
You can then lay down some stone paths for walkways and streets. And maybe create small waterside seating areas too, by crafting some iron garden tables and chairs.
In the distance you can even see all the villager's homes, and that's such a great idea.
So be sure to line those up nicely on your island to build this urban yet cozy community on the water!
Browse:
Animal Crossing
Lists
Video Games