25 Waterfall Design Ideas For Animal Crossing: New Horizons Inspiration
This post may contain affiliate links. If you buy something we may get a small commission at no extra cost to you. (Learn more).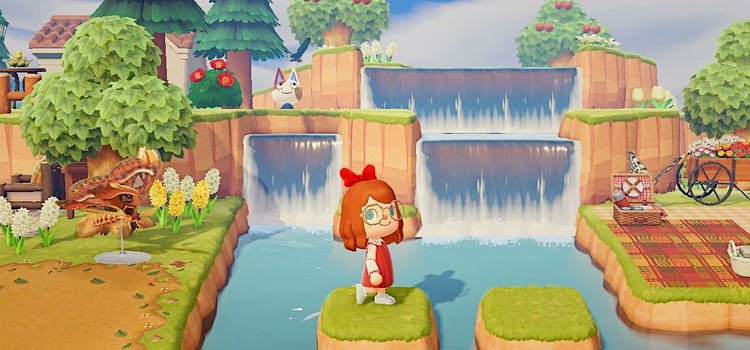 In New Horizons, players will get the opportunity to alter their islands using terraforming once they've hit 3 stars and have 9 residents living on their island.
This lets you modify pretty much whatever you want. And once you've unlocked the Island Designer App, you can purchase the waterscaping permit from your Nook Stop Terminal, found inside your Resident Services. (Although it will set you back 6,000 Nook Miles!)
With this, you can start dropping in waterfalls everywhere.
But where should they actually go?
Well if you're stuck looking for inspo to integrate waterfalls into your island, you've found the right corner of the Internet. Just note: you can't waterscape over curved cliff edges, only straight ones, and you also can't waterscape on the beach!
Just food for thought as we dive into our list.
25.

Clifftop Waterfalls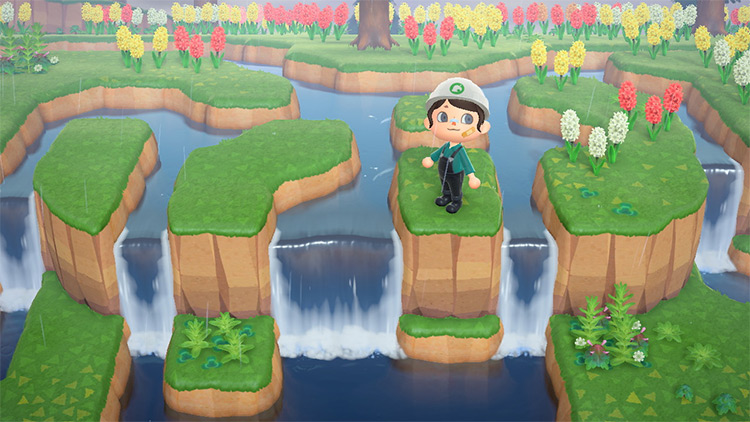 A simple yet vibrant look which brings a sense of beauty to this island, the gorgeous variety of hyacinths really brings the green finger vibe together!
I love the way the colors really make the flowers pop on the horizon.
And the little sprouted weeds add a cute sense of the wilderness to this design idea.
24.

Sitting By The Falls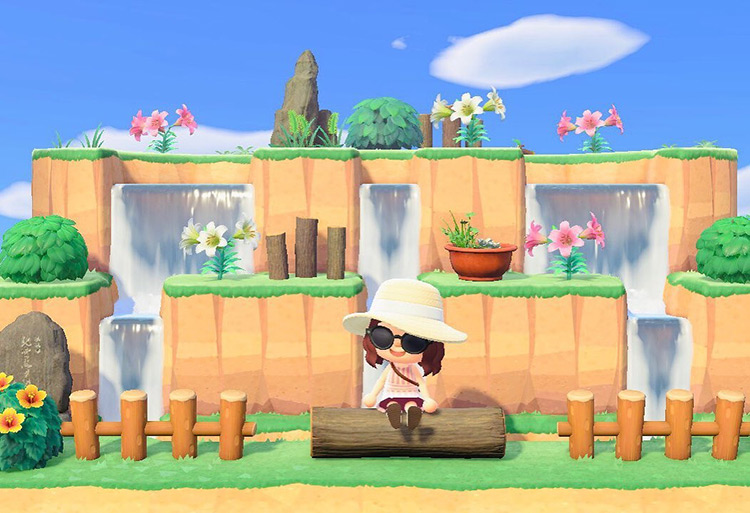 Looks can be deceiving, as this is a super straightforward idea which is pretty easy to do yourself.
You'll need the swinging bench DIY first, and you can get this by purchasing the Test Your DIY Skills pack from Nooks Cranny.
Then you'll want to build a section of cliff (this can be any size you want!) and build it two tiers high.
Once that's done you can place trees, flowers, and any kind of furniture to bring the look together.
And don't forget the adorable log fencing!
23.

Peace and Tranquility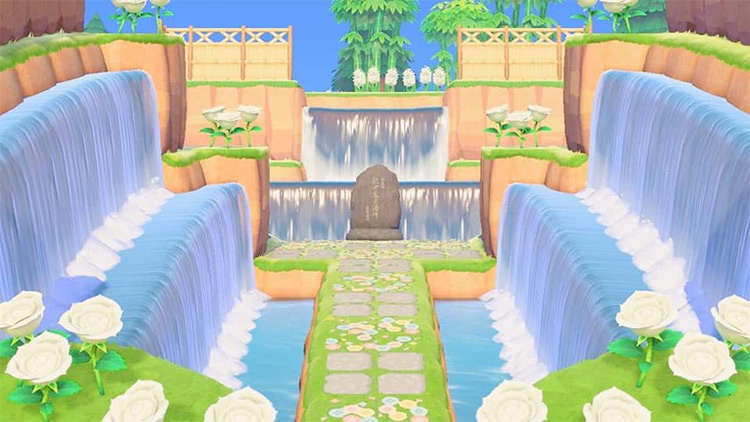 What I love about this design is the symmetry displayed so well. It's just so clean and organized.
The roses add a touch of elegance to the waterfall, making it look like the perfect place for a bit of relaxation.
The path here is a really cute feature, that totally stands out against the dull grass that fills most of the island! (Hint: use the kiosk inside Able Sisters to search for custom designs!)
I love that you can see the bamboo trees on the horizon here, too. You can't find these on your island, but you can travel the skies and find them on mystery islands!
22.

Home By The Falls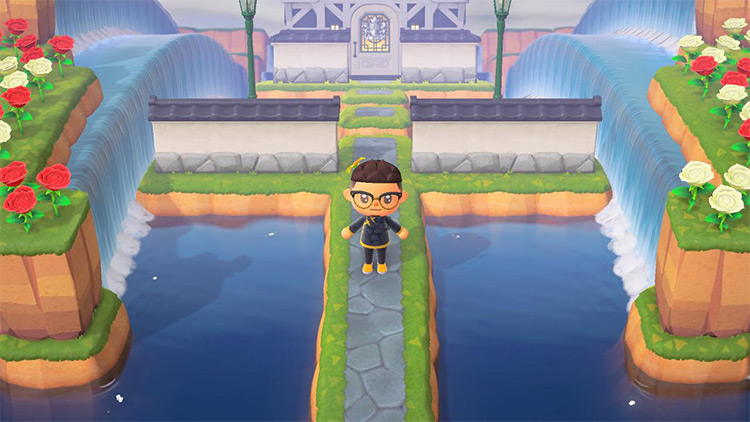 I can imagine most users will make their own houses the hot spot of their island.
The walkway leading up to this house, surrounded by a body of water, must be one of the coolest places to hang when friends come to visit.
The Zen fence (x3 Iron Nuggets, x3 Clay, x3 Stone) and the street lamps can both be brought on your Nook Stop Terminal for 1000 Nook Miles.
Although the color you purchase will be the only available to you. So choose carefully!
Also, the scattered white and red roses on the clifftops brings a fairy tale feeling to this design.
21.

Floral Fantasy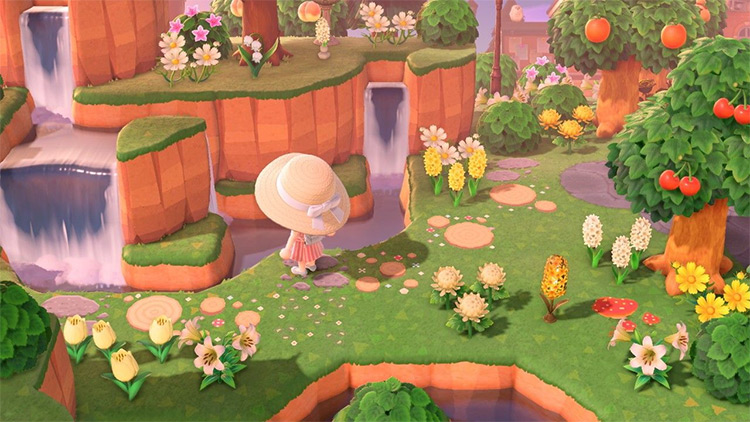 Channel your inner pixie when you gaze upon these complex waterfalls.
This isn't as complicated as it looks, either.
You'd just build two tiers and dig your waterfalls where you want them. Place a cute custom stone path in front, and maybe add a toadstool design to finish it off.
You can then scatter a variety of flowers and maybe throw in a few hyacinth lamps (these are a DIY, and you'll need x5 purple hyacinths and x3 clay).
As you can see on the cliff's edge is a Lily of the Valley, this means that this island is 5-star rated. Very nice!
20.

By The Beach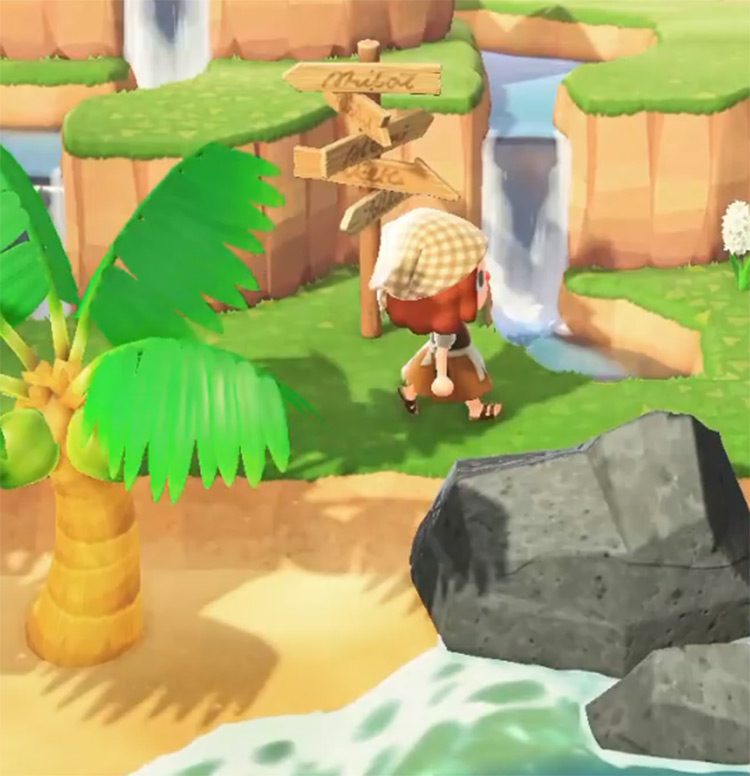 This small yet simple design will be a gorgeous addition to any island.
I really like how small the waterfalls are. They feel so cute, and definitely do not distract from the summer sun on the beach.
To create this look, you'll need to build one tier up (needs to be fairly big to do this design). Then maybe place your lighthouse anywhere around it, especially overlooking the ocean.
You'll then have to create the waterfall and climb down a tier (you'll need a ladder here), and once you're down you can dig in to create a 'mouth'.
Now water can fall down and filter into the ocean!
19.

Moon River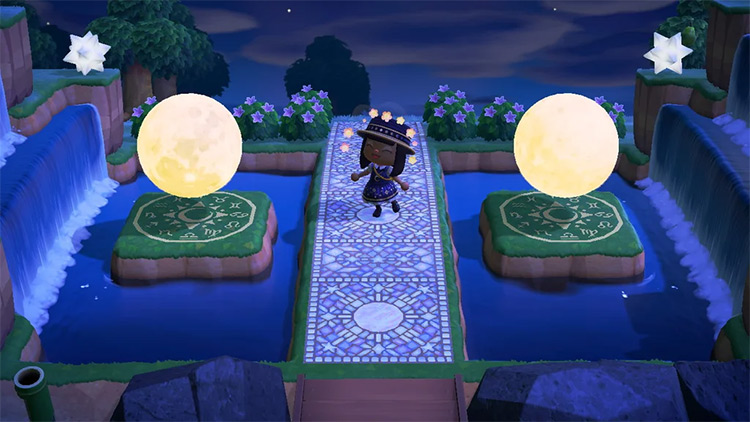 I am positive Celeste would love this!
This effortless and stunning waterfall area brings some serious elegant vibes.
The custom path is so eye-catching that it just lures you in.
Not to mention the moon and nova lights are a super cute touch!
To recreate this on your island, you first need to obtain the moon DIY from Celeste. She roams your island randomly after 7pm watching the shooting stars (if she isn't on your island, one of your friends might have her!).
To collect the star fragments, you need to wish on them by pressing A, then the morning after you should find washed up star fragments scattered along your beaches.
The moon DIY needs x15 star fragments and x1 large star fragment.
18.

On The Rocks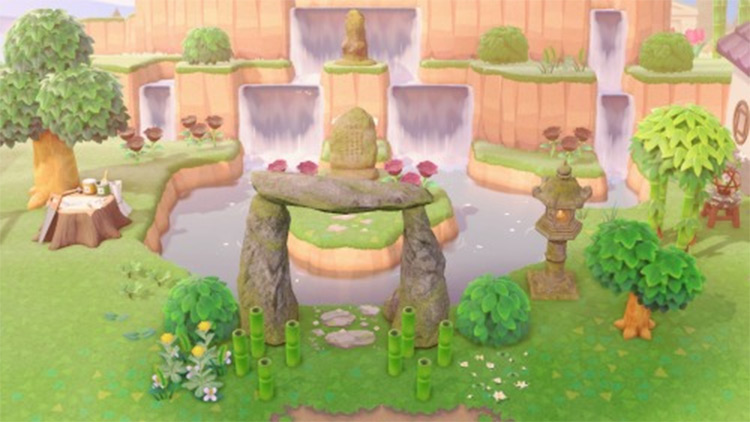 When you first lay eyes on this waterfall design, it just whispers ever so softly into your ear… anyone else? Just me?
The bamboo trees and shrubs in front of the stone arch are simple, but stunning.
And the sounds of the running water brings a quiet atmosphere to offer some serious meditation time.
To build this yourself, start off by creating some cliffs. Then add some waterfalls on the cliff edge all around.
You can drop in some details like the purple roses, a tall lantern, and a crafting table to stick to the same theme.
17.

Hidden Sitting Area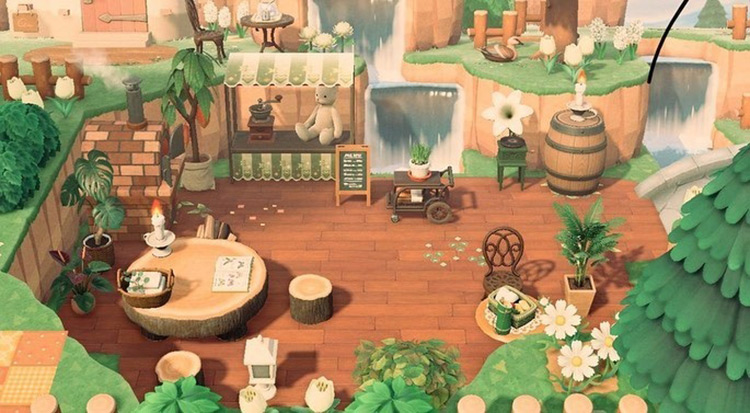 This design gives me major cottagecore feels, and sparks curiosity!
I love the different shades of green here, and how they contrast against the brown flooring. This gives the waterfalls an opportunity to stand out with their glimmering bright blues.
To create this idea, you need to generate a series of waterfalls anywhere you like. Then scatter outdoorsy furniture, decorations, and plants (who doesn't love some greenery?)
Your villagers would certainly love to hang out here.
16.

Signpost By The Pond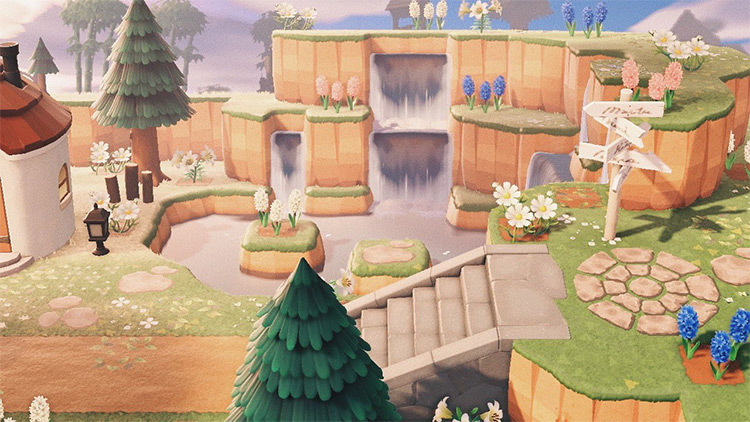 Now this is a fantastic use of space, and it's something I want on my island right away.
You could load up this area with scattered flowers, and drop down a destinations signpost to guide your friends around.
The two 'islands' of land in the middle of the pond give the space depth and definition, too.
Also, when building ponds, if they're over 3×3 then certain fish will spawn!
Note: The destination signpost can be acquired from Nook Stop for 1,500 Nook Miles, you just need x4 hardwood and x8 softwood, but it also comes in 6 different variations.
15.

Entrance Into The Falls
Make your visitors feel truly special as they step into a fantasy surrounded by endless streams of waterfalls!
Now this is an ACNH island entrance idea done right.
The single fountain placed in the middle of the waterfalls really makes it stand out against the Windflowers (you can get these from Leif, mystery islands or your friends).
If you were to re-create this look, maybe throw in some garden lanterns too. They'd just fit so well here, right?
14.

Sightseeing Waterfalls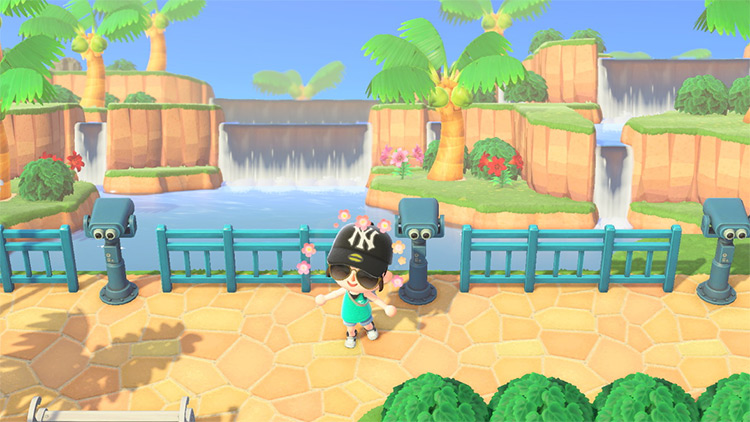 It's a summer feeling all year round with this design idea!
I mean, this area looks like a tourist hotspot. Just the use of palm trees is so effective!
Even the Terracotta path fits this summer theme so much. And I love the way the iron fence stands out against the path.
The ideal final touch to this design would be adding some tiki torches, just to pull this look together.
Or maybe add some brightly-colored flowers to stand out against the greenery.
13.

It Must Be Love!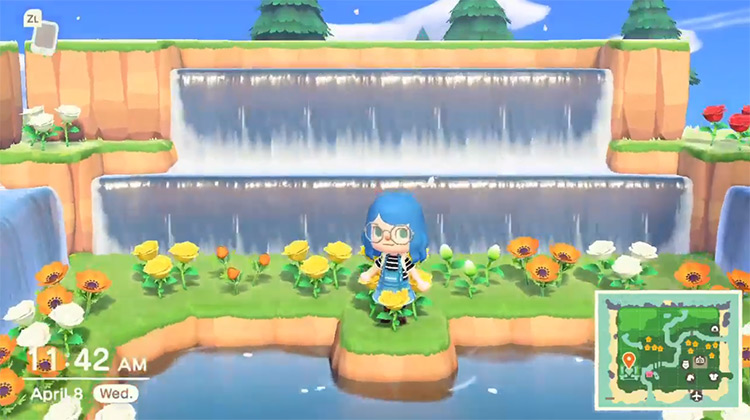 This is such a cute way of using the empty area of space in between the falls… the flowers placed around the outline of the heart really define this area.
I love the two Easter eggs too. These are from Bunny Day that happened in April 2020.
Not sure if there's ever any more, but they stand out against the rest of the scenery so well. If you can get more Easter eggs, do it!
12.

Follow The Stones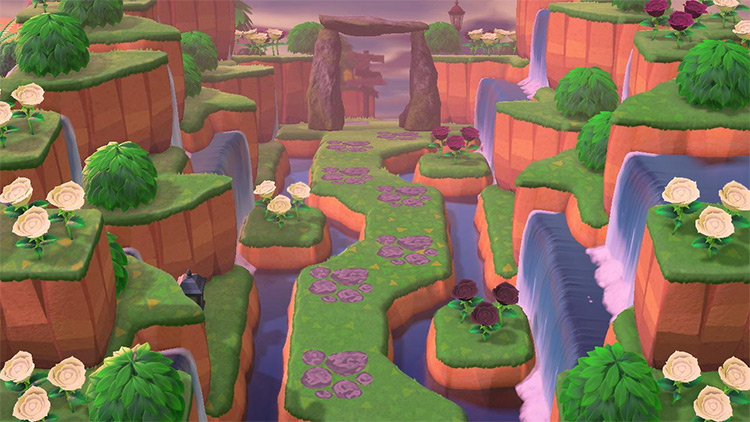 This is a nature lover's paradise!
I mean, just look at all those roses and shrubs.
The twist and turns of the waterfalls here flow so beautifully.
And this spectacular area has so many waterfalls, it's just straight-up unique. The stone arch is the only piece of furniture, so it really stands out against the shrubs so well.
I also love the small individual islands surrounded by the water, with the roses on top.
Not to mention the custom path of stones really captures your attention and draws your eye.
11.

Waterfall Valley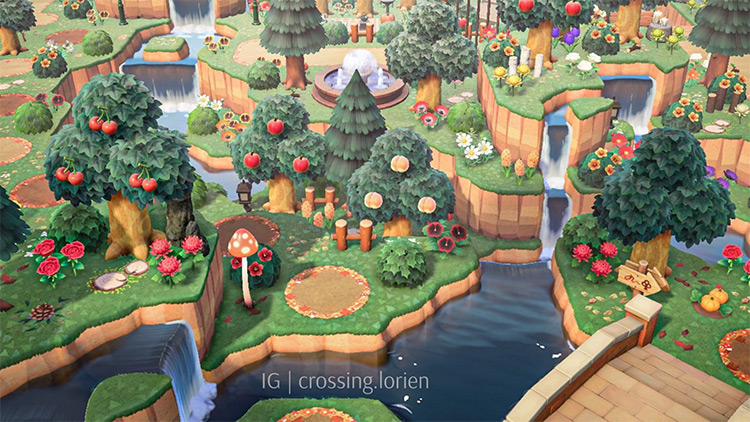 When I first saw this design, I didn't know where to look first!
It's breathtakingly beautiful, and it's hard to believe this is possible in an Animal Crossing game.
The waterfalls break up clumps of land to really leave it looking spaced apart.
Plus all the variety of trees and flowers really gives a natural theme to the space. You can spot mushroom lamps and mushroom custom designs everywhere.
The one lone pumpkin just over the bridge projects the natural vibe even more, and the custom path on the floor is so alluring, it just has you focused on that particular spot.
To add even more: the massive amount of flowers and hybrids are just plain stunning. They help divert your attention from one thing to another.
It's weird that the waterfalls are almost not even the main focus here!
10.

Statues On The Falls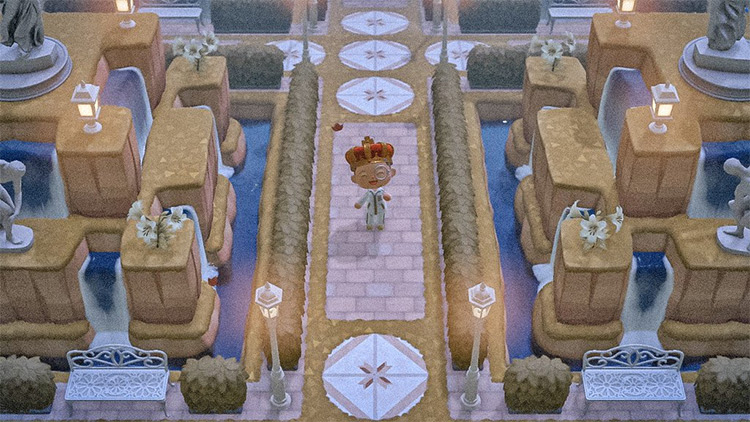 Now this stunning waterfall entrance would be the spotlight of any island.
The symmetry is spot on, as everything is placed so well. Nothing feels overcrowded.
I love how the furniture, flowers, and statues really capture the attention to detail in this idea.
The white furniture brings a form of elegance, and has me appreciating waterfalls even more.
Not to mention the white custom path is beautiful and really contrasts against the grass. And that hedge fence really makes the white flooring pop.
9.

White Waterfalls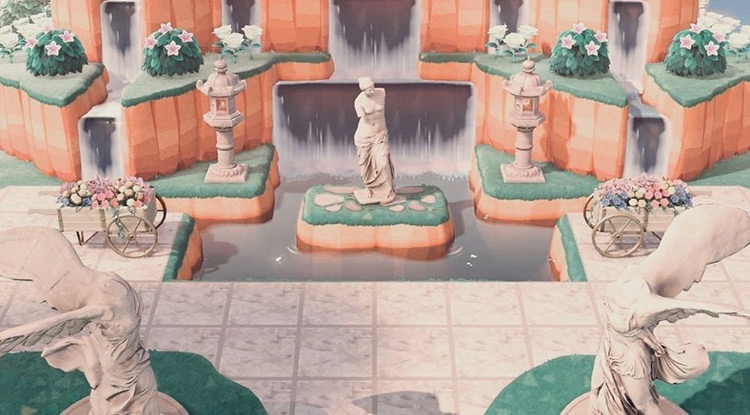 The statues on this user's island set the tone for this scenery.
Specifically, these statues in this design idea (which you can get from Redd, when he visits) are 2 Valiant Statues and a Beautiful Statue.
I also like the Tall Lanterns here, they fill the space so well.
They're a DIY recipe that can be obtained from balloons, a message in a bottle that washes up on your beach, or from a villager who's crafting.
And the white tiling here is a custom path, which this player made all on their own. And it fits so well with the waterfalls and the white garden wagons.
If I had a few hours I'd be making this myself.
8.

Cherry Blossom Falls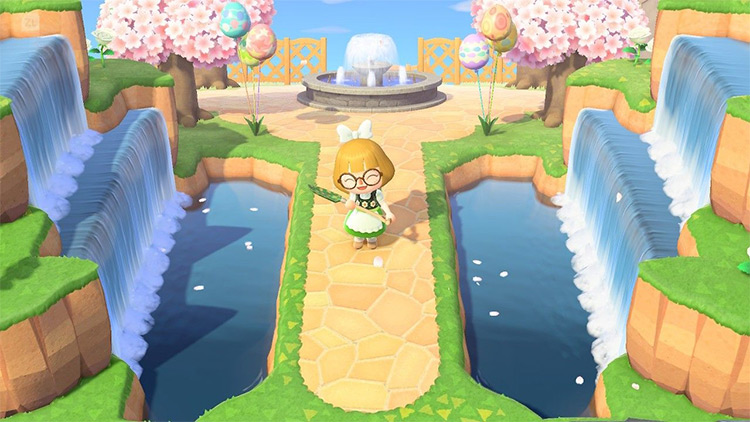 How amazing are these waterfalls!?
If there's one waterfall-centric design you need on your island, it's this one.
To create this yourself, you'd need to build two clifftops and dig your waterfalls. Then put down a path (maybe branch out and use a cute custom path) and plant some non-fruit bearing Hardwood Trees.
Bear in mind, Cherry Blossom Trees are only available for 10 days during the Cherry-Blossom Festival.
This festival takes place in Spring, which is when the Hardwood Trees will bloom, but now here's the catch…
For Northern Hemisphere players, this happens in April.
But it happens in October for Southern Hemisphere players.
Plan around your time zone, folks!
7.

Close-To-Airport Waterfall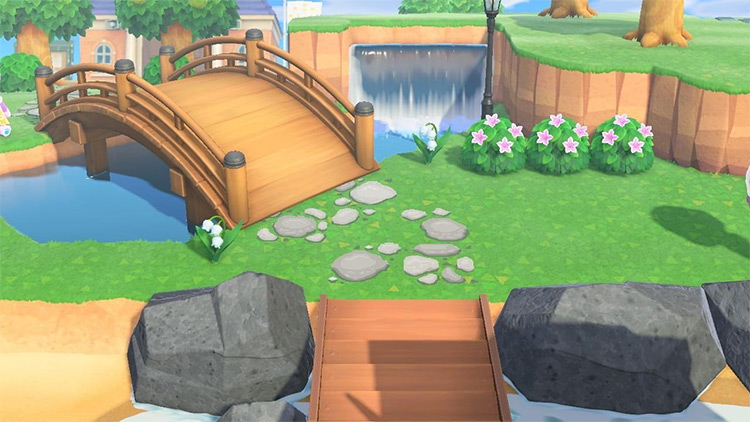 I love the natural look here!
It makes this player's island feel a bit more grounded and down to earth.
The stepping stones are a custom design, and they go so well against the vibrant greenery.
Maybe the best part of this waterfall/airport section is just the simplicity of it all.
Even the minor details, like how the two delicate Lily of the Valleys are strategically placed at either side of the bridge entrance.
And this idea is just so easy to re-create on your island. Simply build a clifftop and incorporate a waterfall, then place a Zen Bridge on either side of the land.
Maybe throw in some streetlamps like this player has, that way you're ready whenever nighttime comes around.
6.

Sunken Waterfalls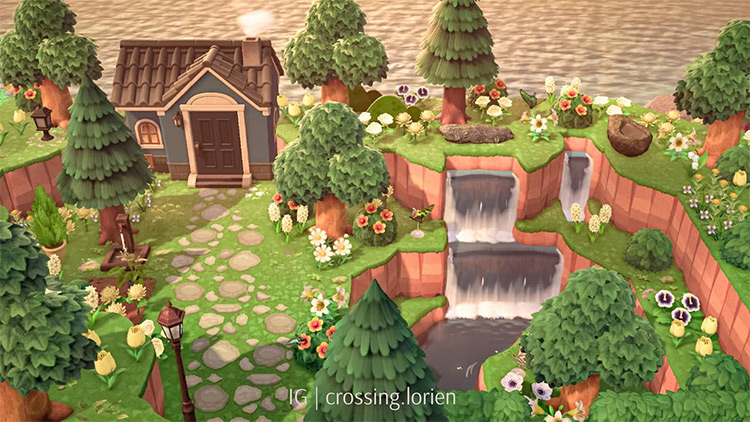 I mean, who thought of designing a sunken waterfall section?
I'm not sure who first had this idea, but it's remarkable!
Let me start by complimenting how cool the waterfalls are here, especially the space choices. They're surrounded by shrubs, flowers, trees, and outdoor furniture everywhere!
Big fan of that one streetlamp that stands alone, and will illuminate the path when night falls.
You can even spot a butterfly model in one of the clifftops, too. Very nature-centric.
5.

Snowy Falls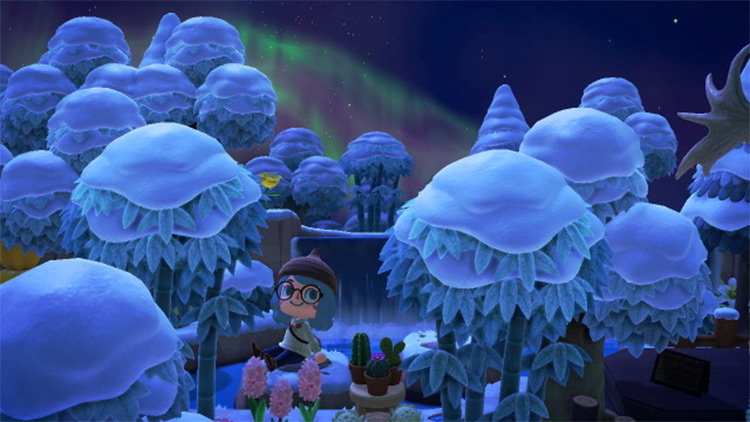 This winter wonderland proves that waterfalls can work year-round.
So first, let's talk about those beautiful golden roses. They stand out so much against the snow.
And then next, let's admire how gorgeous the moon looks hovering above the two waterfalls. And with large star fragments scattered near the waterfalls? Delightful.
I also love how the outdoor bath fits into this area. And strangely enough it doesn't look out of place like you'd imagine.
You can buy the outdoor baths from Nook Stop, and it has 4 variations (you'll need x20 Stone and a shovel).
To get started reimagining this idea on your island, you'll need to go build two clifftops and maybe decorate it like this player has. Keep an eye on the details as you go!
I say throw in a couple telescopes and really go all-out with the stars.
4.

Villager Falls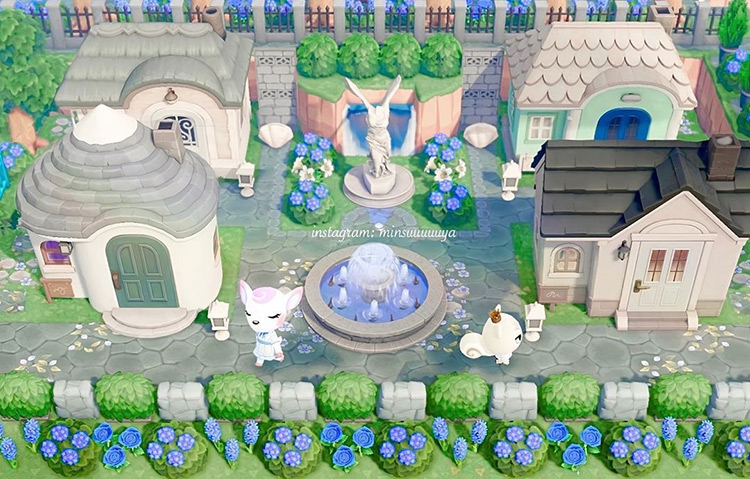 If you're stuck on how to design a chic neighborhood, well this waterfall style should fit beautifully.
This imaginative player has used multiple sections to bring this look together, and it's just flawless.
I love the fact they've used two different fence styles, and yet they go together so well.
The flooring can be purchased from Nook Stop, however it's the custom design on top of it that really grabs my attention.
It'll be hard for your villagers to ever forget where they live with this incredible fountain in the center of town. What a neighborhood.
3.

Hydrangea Waterfall
What could be more relaxing than sitting with a drink and just listening to the waterfall?
If you're not sure how to make your Resident Services the hot spot of your island, here's one idea that you can easily copy over.
This is the most enchanting area I've come across so far. And similar to the one above, the blue floral theme here is one of the best features that really grab my attention.
The trees surrounding the waterfall also hides some of the island, yet kinda tells you what's in store.
To build this yourself you can either have a standalone waterfall, or you can create a river like this player has.
Then throw some flowers and shrubs into the mix, add a few trees, and you're good to go!
2.

Nook's Cranny Falls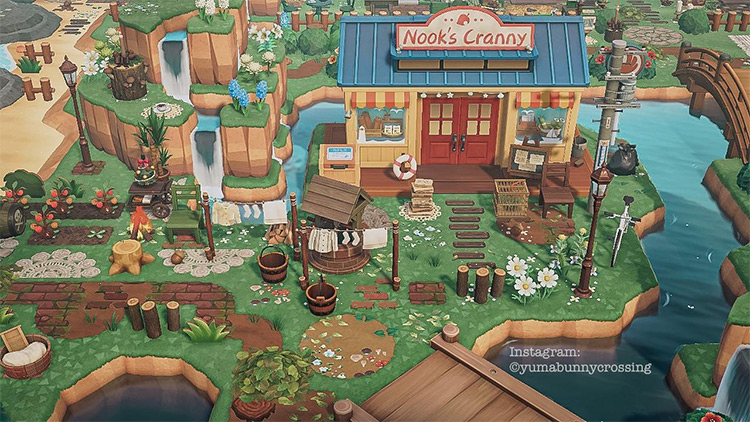 This idea is magnificent.
It's so aesthetically beautiful and unique, I know Tom Nook would approve.
There's just nothing like it.
I absolutely love how it screams Cottagecore. Clearly the island's main theme here.
Although the waterfalls are small, they grab your attention because they're enclosed with furniture, like the mushroom stool and flowers.
As a whole, this is one of the better design ideas for Nook's Cranny, albeit definitely a unique concept.
If you're going to recreate this in your own island, make sure you have lots of outdoor furniture that fits your theme. And try to find a layout to match, ideally by the beach.
1.

Autumn Falls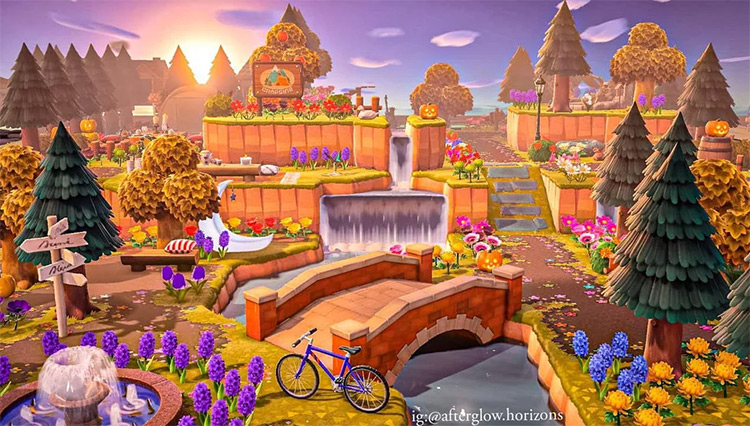 Now this is my absolute favorite waterfall design for ACNH, hands down.
The wide angled shot has captured just how much this area screams "tropical paradise".
And there's so much to love here: the custom path, the unique flowers, the matching furniture, and definitely the waterfalls.
I especially love how colorful this is. Brilliant autumn colors all around.
Note: the campsite sign up on the clifftop, that's a houseware item. It can be bought from Nook Shopping (in the promotions tab) once you've linked your Pocket Camp to your My Nintendo Account.
It'll set you back 2,500 bells. But it might be worth it to combine these paradise-style falls with your own camping area.
And if you're going to replicate this, maybe switch up the theme a bit. Try some other flowers, or even some other plants/trees in general.
It's such a versatile idea that you could easily re-style this to suit any theme.
Browse:
Animal Crossing
Lists
Video Games