20 ACNH Wedding & Reception Area Design Ideas To Try
This post may contain affiliate links. If you buy something we may get a small commission at no extra cost to you. (Learn more).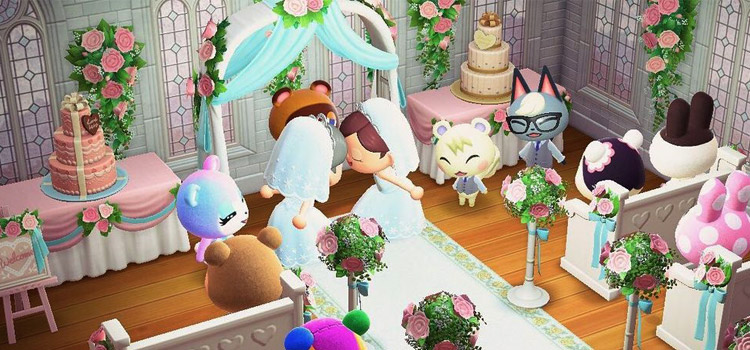 With the warmth of spring comes one of the most expensive times of the year.
No, not Christmas, but wedding season.
Weddings can (and usually do!) cost thousands of dollars for a big party.
But I have no idea how that converts to Bells.
As of this writing, villagers can't get married. But you can play pretend with friends online.
If if you're into that idea, here are some wedding setups to keep in mind for aesthetics while we pray for a wedding update.
20.

Hyrulian Wedding
Look closely on either side of the arch.
I didn't know Link and Zelda finally tied the knot… and in New Horizons, no less!
Whether you want to cosplay Legend of Zelda for an Animal Crossing wedding is up to you. But this is a lovely idea regardless.
Plenty of white roses and fabrics make for a pretty classic nuptial theme. Invite your friends, take a seat at the tables, and celebrate some fictional love!
Just better hope Ganon doesn't show up…
19.

Pink Beach Wedding
Pink is such a lovely color. It goes well with other colors too – which is perfect for the brown sand, green grass, and blue sky for this gorgeous beachside venue!
Toss in some pink and white roses, love-heart pews, and an aisle, and you've got the best wedding destination for the hot summer – no wedding planner required!
This would be such a good spot for photos.
18.

Forest Wedding
Walk down the aisle to some meaningful live piano music here – maybe Pachelbel's Canon, My Heart Will Go On, or just the standard march, it's up to you!
There's plenty of dark greens and browns here that mesh well with red daisies for an atypical wedding theme.
If pastels and whites aren't your jam, this might be a great option. Especially if you're big into a forestcore look.
Just make sure it's not too deep in the woods, or you might be left alone at the altar if everyone got lost.
17.

Romantic Waterfall Venue
Putting the arch right in front of the waterfall here is so clever and romantic.
You can say your moments of "I do" right in front of the burbling brook surrounded by beautiful flowers.
Iron garden chairs are an easy yet classy way to provide seating for villagers and visitors alike. The lace aisle is super nice, too.
BTW, is it just me, or does that cake look super tasty? Maybe I'm just hungry.
16.

Classic Wedding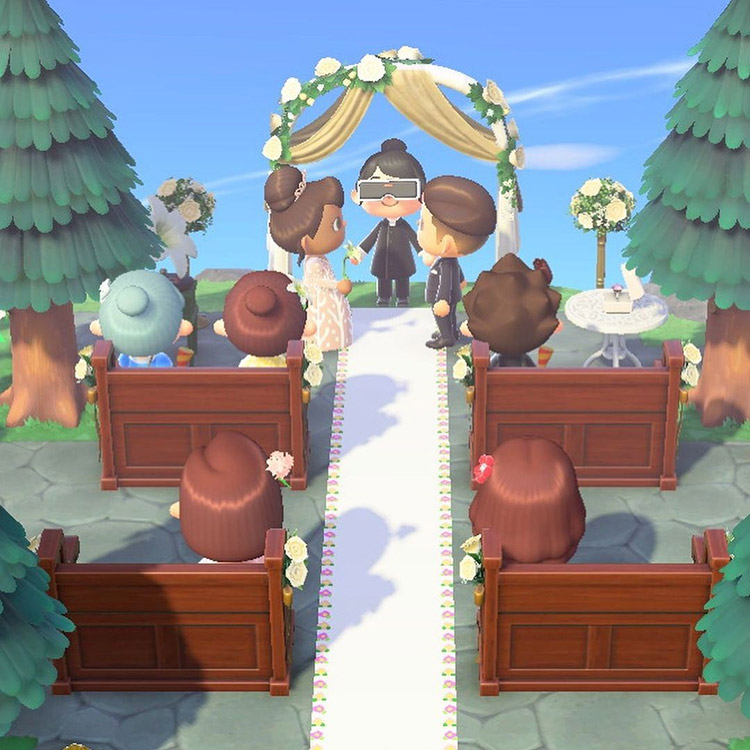 Not everyone wants a big fancy wedding. And that's a-ok!
They're expensive, frivolous, and sometimes a real headache.
If you just want to tie the knot with your beloved, a simple setup like this will do the trick.
All you need is an arch, some seats, and an aisle with a few decorations. Gather your friends, get an officiator, and tie the knot – Animal Crossing style.
15.

Meadow Wedding
This build was created by a couple who couldn't celebrate their wedding in real life due to the lockdowns. So they had one in Animal Crossing instead!
It's an adorable way to celebrate – having a wedding in a meadow surrounded by flowers, butterflies, and good friends.
Dropping roses down the aisle mimics the flower petals throw IRL, which is a fun detail as well.
The shell arch is adorable too, and it really matches nicely.
14.

Romantic Chapel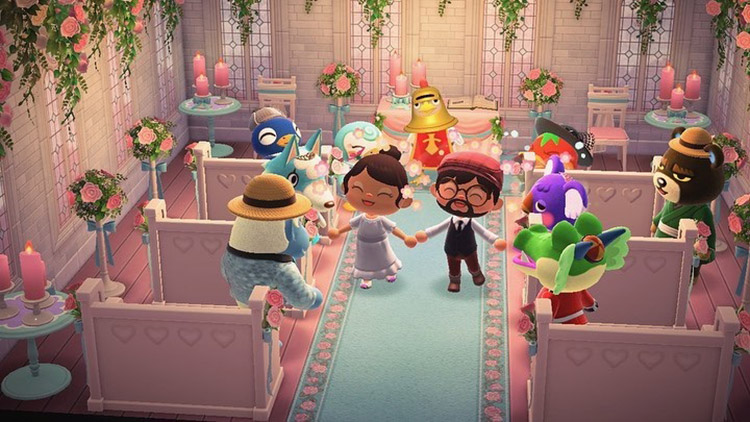 Outdoor weddings aren't for everyone.
Bugs, heavy heat, and strong winds can quickly mess with a carefully-planned day.
Bring on the AC and ceilings, I say!
This indoor chapel has great big windows, romantic candles, and some well-dressed witnesses.
Rose garlands and bouquets make for some great floral arrangements here, and these go really nicely with the vibe of the room.
13.

Dainty Daisy Wedding
Do you love yellow like I do?
It's the color of all the best things: butter, lemons, and in this case, plenty of cheerful daisies!
Walk down the aisle surrounded by swaying daisies and get married in front of a pristine arch with this ACNH idea.
Custom panels make up a building with beautiful windows as a backdrop, and there's plenty of seating for anyone you'd like to invite.
12.

Moonlit Wedding
In a game called Animal Crossing, it shouldn't be surprising to have a flamingo wedding attended by turtles.
No weirder than having a sheep as a neighbor, I guess.
This beautiful setup and expensive decorations (loose pearls, man) make this idea even funnier.
Having it as a little Easter egg for your pals to stumble upon during some exploration is sure to lead to some real life laughter!
What do you think that gramophone is playing? Kero Kero Bonito's Flamingo? (I'd get married to that)
11.

Elegant Ocean Wedding
For this wedding venue, sir or madam, I'd like to present you with not one, but two pipe organs.
It's perfect for a very intense walk down the aisle to this pretty arch and signing table.
Adorned pews offer plenty of seating, and the area is understated, but elegant. Which makes it a great place to get married.
Oh and look, a wedding gown and tuxedo are fully provided for you.
Handy!
10.

Golden Hour Venue
This wedding spot is beautiful already.
But golden hour makes it even more magnificent.
There's a variety of flowers here, like tulips, cherry blossoms, and sunflowers. Sakura petals are scattered along the aisle between seating, and the fresh air will be wonderful during the ceremony.
Enjoy the day, and congratulations to the new couple!
9.

Beach Elopement
Not every wedding needs a crowd.
If the big wedding thing isn't for you, here's a great beach spot to elope at.
Eloping is very popular these days. It's much less expensive, you often get a vacation out of it, and for the romantics out there, and it's more intimate and personal than a big party with crazy great-uncles raiding the open bar.
Enjoy each other's vows by moonlight and candlelight in this beachy area.
If you're lucky, you'll see a shooting star too – that's gotta be good luck!
Better hope Celeste doesn't wander into your photo op, though.
8.

Small Beach Wedding & Reception Area
When you're able to have your reception in the same space as your wedding, that's great.
Venue costs can be through the roof!
This beachside wedding is a great design to mimic if you only want to celebrate with a few people.
It's beautifully decorated with flowers, paving, tiki torches, and palm trees for a tropical to-do. Enjoy a delicious dinner right after your ceremony with your new partner and your closest friends!
Even if it's a little cold, no worries. There's a wood-burning oven to keep things warm. And you're on a beach, so a bonfire is always an option!
7.

Candlelit Wedding
There's something so quiet and romantic about nighttime weddings.
Candlelight is a universally flattering light source. And it looks great around this arch!
A few lamps help light things up even more, as well as spotlights to lead guests to the show.
There's even an organ to play some music, and flower petals to welcome the bride down the aisle.
And plenty of heart shaped bouquets make sure guests know that this is a celebration of love!
This would be the perfect design to build for a wedding during a meteor shower, too. Wish for star fragments while you wish for a happy life together!
6.

Victorian Wedding
Maybe it's the candlelight, maybe it's the dark wood paneling… but this wedding spot gives me serious Victorian vibes.
Whether you're a history buff, a Jane Austen fan, or just appreciate some good old antiques, consider having a Victorian themed wedding like this on your own island.
The dresses are gorgeous, and the dark wood is lovely. It'll make for fantastic pictures, and a unique day.
Decorate with white rose wreaths to complement the dark wood, or white anything, really!
Enjoy old-timey music from the pipe organ, or if you can't find one, a gramophone will do nicely, too.
5.

Subtle Witchy Wedding
If you look closely, the flooring and stained glass have a lunar pattern on them.
Purple and yellow flowers, as well as purple borders, help to really bring these unconventional wedding colors together.
Or if you want to kick it up a notch, you could have a table with a fortunetelling set to have some fun during the reception.
There's also a pipe organ or gramophones for music. So whether you're feeling something live or recorded, you have options.
It's a smaller venue, though. So you'll have to invite just your closest friends.
But that's more cake to go around, right?
4.

Outdoor Reception
This reception venue does not have an arch for a ceremony. But no need to fret!
Many weddings take place at separate locations, either because of scheduling, space, or sometimes just because.
Having it near a neighborhood means that all your villagers can attend, as well as any friends you want to invite.
This would be an especially lovely idea during sunrise, due to the gorgeous lighting. The table is set for a wonderful dinner in this example, and that's one eager looking groom.
3.

Wonderland Wedding
Now this small wedding venue looks like something right out of Alice in Wonderland.
With whimsical items like the mermaid chair, shell fountain, and mermaid divider, it's a fancy, fairytale spot.
Peach trees in the back would fill the air with a delicious aroma, as well as give lots of shade and privacy so nobody snoops – and so that one villager you can't stand won't just wander in.
There isn't a lot of seating, though. If you're space is bigger you could always add more.
But if you're tight on space this may be a better spot to elope, or just to have a few people bear witness, which is totally valid! Not everyone wants an audience.
One thing, though – who ordered three cakes? I just want to talk.
2.

Rocky Beachy Wedding
If you're looking for some really cool Animal Crossing wedding ideas, this one rocks.
Okay, I'm sorry, I'm sorry. It does though.
The confetti and balloons make this design look very festive. And while a groom wearing bunny ears may not be my first choice, I respect that this game is literally about animals.
Gather your friends and villagers for some coastal fun and say your vows by the crashing waves.
Oh no, I'm not crying – it's the salty sea breeze hitting my eyes, I swear!
1.

Duck Wedding
For the very top entry of our list, I present to you… a Duck Wedding.
This idea beats out the flamingo wedding mentioned earlier, on account of ducks being adorable and flamingos being aggressive.
So why is this the best wedding design idea of them all?
Because ducks are adorable.
Okay fine, the composition is nice too. It takes into account all the important wedding things, like an arch, decorations, flowers and even a confetti machine.
Fun photo backdrops like a moon seat are also available for all the duck guests.
I'm quackers for this one. Absolutely honking.
Browse:
Animal Crossing
Lists
Video Games