Winery & Vineyard Design Ideas For Animal Crossing: New Horizons
This post may contain affiliate links. If you buy something we may get a small commission at no extra cost to you. (Learn more).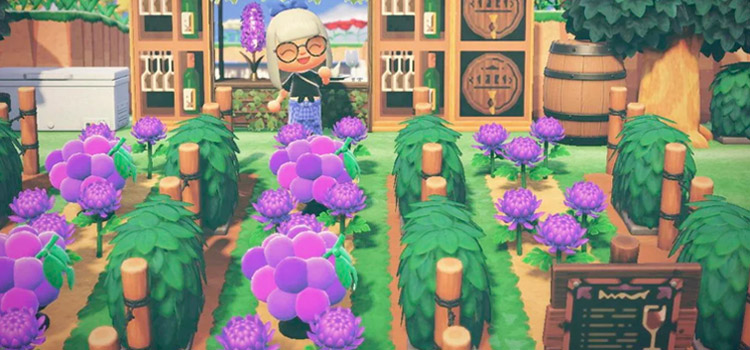 From Pelee Island to Hawaii, to the many Italian islands, wineries are a welcome part of vacation spots.
Even if the adult grape juice isn't your thing, more and more wineries are opening up lines for ciders and stone fruit wines, which offers one great way to use all those fruit trees in New Horizons!
If you're looking to deisgn your own vineyard area, check out these sleek designs for your own inspo – especially if you want to add a refined rural detail to your island.
10.

Reneigh's Vineyard and Winery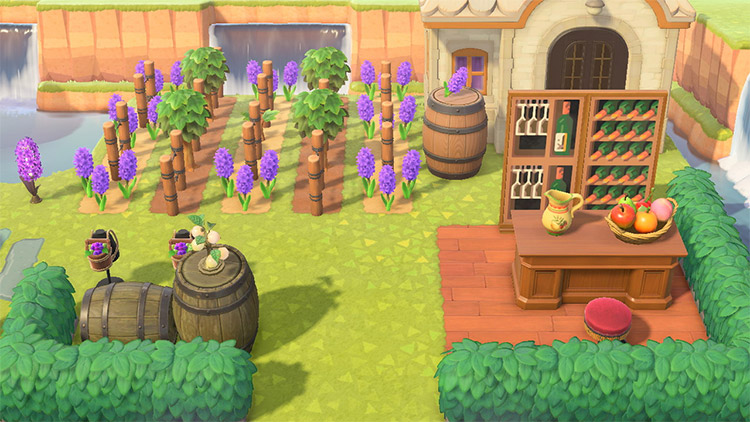 New Horizons is great. But one thing it's sorely missing is a greater variety of harvestable plants.
This player makes the best of a bad situation by using purple hyacinths instead of grapes! Neat rows beside a villager's house make for a creative design.
The best part of wine touring is the tasting though, of course. Whether you prefer a sweet Merlot or a dry Chardonnay, this little wine bar has something for you.
Just try not to wine about the long lines on a busy day!
9.

Apiary Vineyard
Did you know that the only difference between red and white wine is that red leaves the skins of the grapes on in the process?
Red or white, sipping any wine in this gorgeous vineyard would be a treat.
It doubles as an apiary, which is a great idea – bees can pollinate the grapevines, resulting in healthier grapes.
Bright pops of purple hyacinths tie in with the custom designed vertical grapevines for a well-put together build.
The beauty of this build is really in the details.
Wine barrels, a clay jug, even the bee in the left corner… builds like this are always super impressive, just due to the sheer amount of materials needed to put everything together. Well done!
8.

Vineyard Restaurant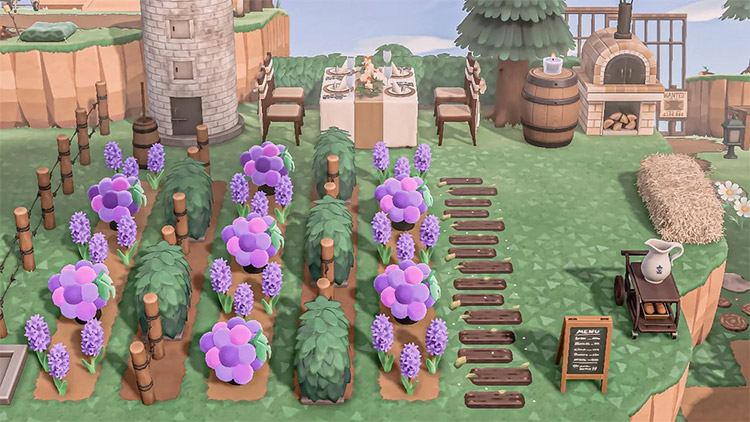 Many IRL vineyards also have restaurants on the property with really fine food. Which makes total sense, because pairing wine and food are a time-honored art form.
Nothing beats a good cut of steak with a dry Cabernet Franc, or a flaky dessert with an exquisitely sweet icewine.
This cute winery and outdoor restaurant build definitely seems like the type to serve some darn good food.
Invite your friends to your island to take fun photos around this build, and cheers to spending some quality time together!
When you can't visit a real vineyard, doing it virtually in ACNH is the next best thing.
7.

Springtime Vineyard
The fresh smell of springtime, the view of cherry blossoms, and the promise of good wine are a tantalizing trio.
This build uses three different fences, and purple roses to mimic the visual of grapevines and wrought iron. And with great success!
Some barrels, a fountain, and a stone light add a rustic but elegant look to the build as well.
It's a great idea if you have an awkward spot on your island that you just don't know what else to do with. And if you often have people visiting your island, there's no risk of them trampling your 'grapes' since it's totally blocked off with fencing. Heck yeah!
6.

Outdoor Winery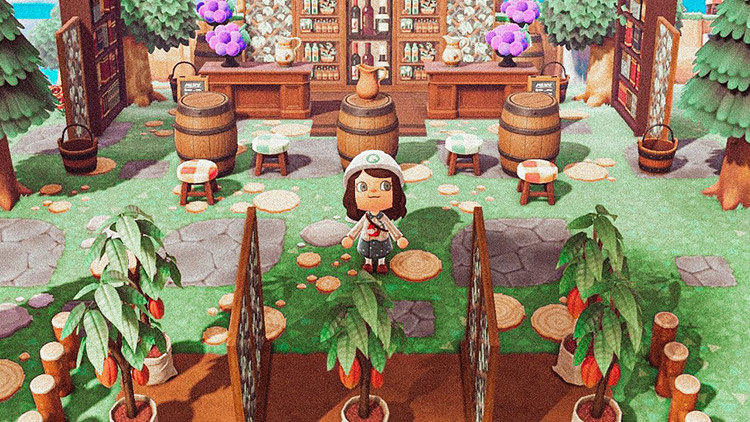 A good tasting bar is integral to a successful winery.
Barrels as bar tables and low stools, wooden stepping stones, a great assortment of greenery make this outdoor tasting bar a fun & rustic spot.
Invite your favorite villager for a glass of Shiraz, or make a toast with an online friend.
You can recreate this look with any bar, some custom made panels, and any rustic items, like buckets, barrels, clay goods, or flowers that you like.
Imperfect things are beautiful and interesting to look at. So no worries if you don't have matching sets just yet.
5.

Coastal Winery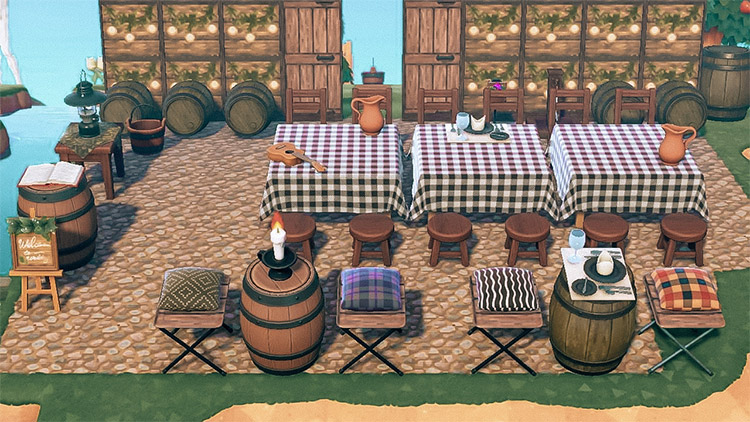 Wineries don't have to be fancy to be beautiful, or to have a great wine!
This coastal build uses barrels, plaid, and mismatched cushions for an interesting rural looking spot.
There are plenty of seats at the long table, too. So invite all of your friends for a fun evening.
It's the perfect spot to host a virtual birthday party for that wine-loving friend. Or to simply watch a meteor shower with Celeste.
Barn doors lead to the orchard out back as well.
Did I hear something about peach wine? Yum!
4.

Simple Vineyard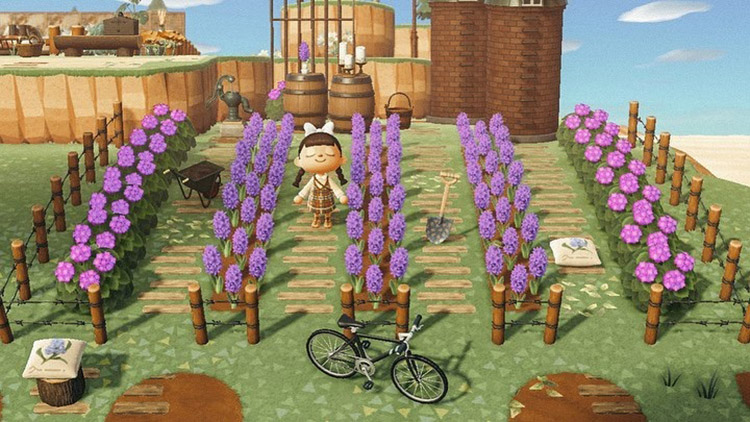 Here's a great starter vineyard for newer players, or just for players that don't have loads of resources handy.
Rows of purple hyacinths mimic grapes, and silos (which can be found through the Nook Stop) give the build some great levels.
Plus all the fun details like a wheelbarrow, a dropped shovel, and a water pump are easily available too.
Terraforming is helpful here, but optional.
A few candles on top of a barrel will give a fun bit of lighting when the sun goes down!
3.

Roadside Wine Bar
Ah, stalls. The bread and butter of New Horizons content creators.
They're such a handy tool for all sorts of builds, none less than this cute little wine bar.
Turn something simple into something elegant with brick fences, iron garden chairs and tables, and even some clay jugs if you're feeling wild.
Bonus points if you add barrels too.
Barrels and wine builds go so well together. And these make for perfect tables – toss on some flowers, candles, or glasses for extra detail!
2.

Waterfront Wine Bar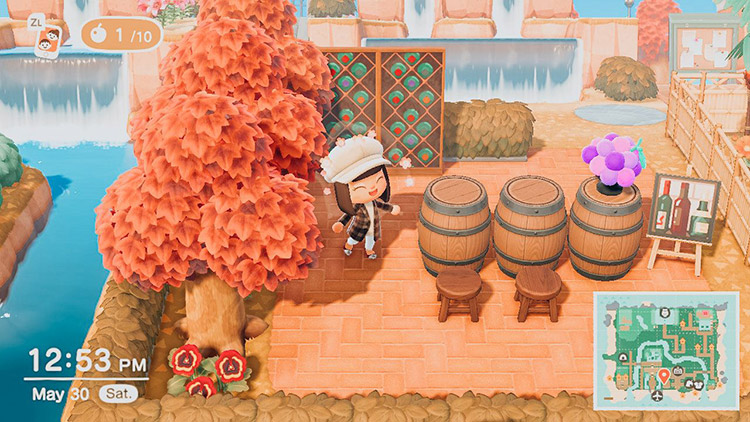 Remember what I said about wine and barrels?
Well, it seems to be a truth universally acknowledged, so to speak. Because here's another build with barrel tables.
Enjoy the sound of waterfalls as you sip wine at this waterfront wine bar.
Autumn is peak wine season, so having some trees nearby to enjoy the fall colors with your wine is a great idea.
Use custom designed panels to create vertical wine racks for this idea. And if you're feeling really fancy, you can even add some glasses to a table.
1.

Woodland Vineyard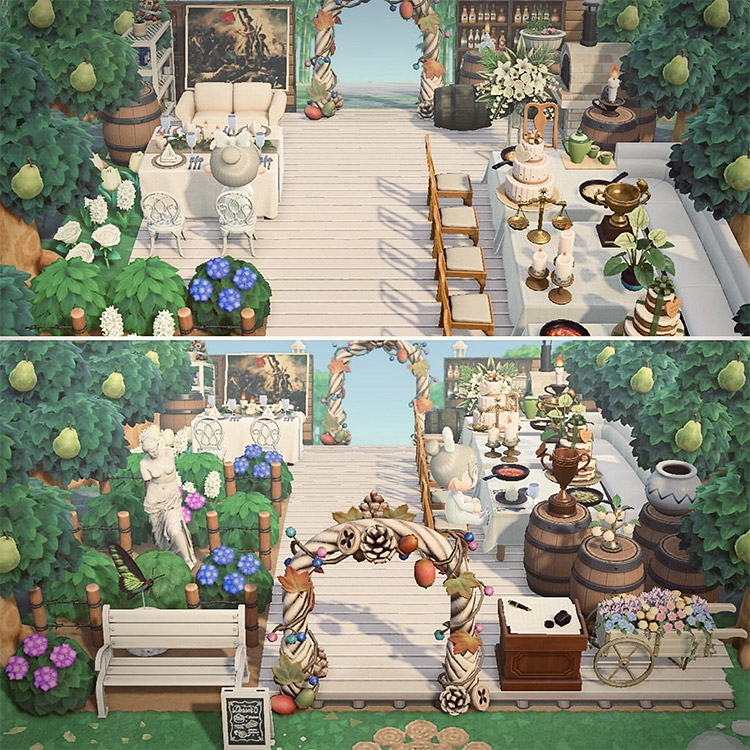 Did you know that vineyards are popular wedding destinations?
I can see why, when they're this beautifully decorated!
This woodland winery is decked out with loads of fun items, like an autumn arch, a push cart of flowers, and plenty of trees and flowers.
Custom designed panels show racks of different wines at the back of the restaurant, which look awesome. While normally wineries aren't found in the woods, I'll make an exception for this gem.
Excuse me, waiter? Top me up, pal.
Browse:
Animal Crossing
Lists
Video Games