15 Cool Winter Island Design Ideas For Animal Crossing: New Horizons
This post may contain affiliate links. If you buy something we may get a small commission at no extra cost to you. (Learn more).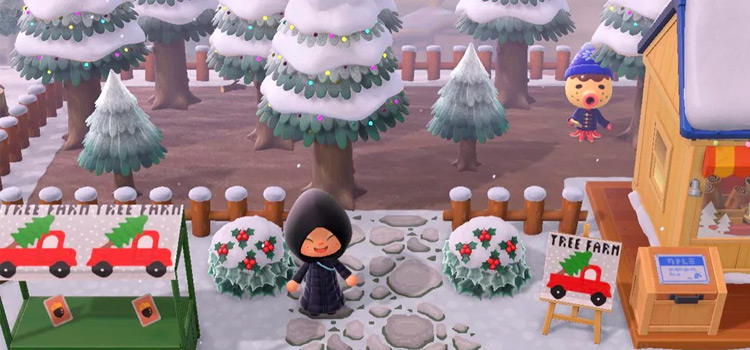 Brace yourselves, as winter is always around the corner!
And with the coming change in seasons, comes an island covered in snow in Animal Crossing.
But who doesn't love a beautiful snowy scene? It brings warm feelings and holiday fun.
And luckily, you don't need any snow removal on your island. However, there are plenty of new DIY recipes, seasonal items, and festive outfits for you to try out as you embrace the coming winter months.
If you need a few ideas for how to spruce up your ACNH island for the winter, here's some awesome inspo to get you started.
15.

Snowboys, Snowboys Everywhere!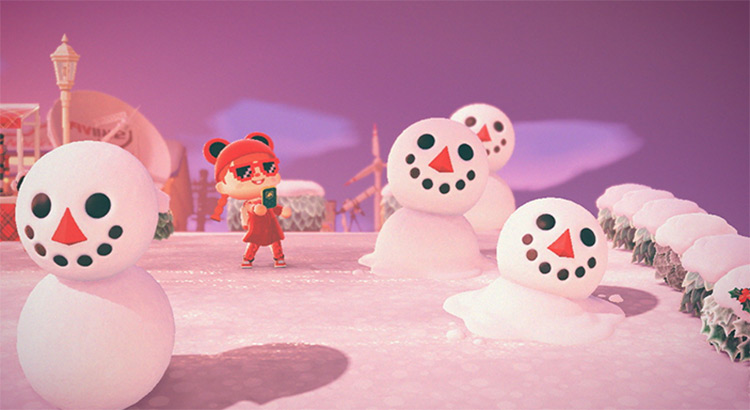 Winter in Animal Crossing brings a lot of snow.
And what's one of the greatest snowy day pastimes? Why, building a snowman of course!
Snowmen, or snowboys in Animal Crossing, bring any winter scene to life.
Throughout the snowy season you'll find snowballs scattered about your island. If you roll two of them to a big enough size and put them together, you get a beautiful new snowboy!
Try your hardest to make the elusive perfect snowboy, or maybe just make yours comically disproportionate if that's more your style.
Or you can even craft your own snowmen by catching snowflakes and then splattering your island with these snowy friends.
14.

Sparkling Princess Castle
With the addition of winter seasonal recipes comes the institution of the frozen DIY set.
These crafting projects give off a sparkly princess vibe, especially when you customize them to be various colors such as pink, purple, or yellow.
Utilize frozen pillars and arches to make yourself a regal palace where you're the princess (or prince).
Once your snowy palace is set up, then you decorate it to your heart's content with whatever shiny objects you'd like.
Illuminated reindeer, gift piles, candy machines, standees, and toy pandas are just some examples of objects you can use to deck out your palace.
After all, you're the ruler, and no one can tell you otherwise!
13.

Frozen Ice Block House
Speaking of frozen decorations, there are plenty of furniture options for you to utilize in your home.
You have the ability to use whatever frozen furniture you want to make your home into a frozen wonderland!
Frozen beds, tables, and chairs, are all at your disposal as long as you have the snowflakes to craft them.
Again, you can customize them to be whatever color you desire to give your home that cool, chilling feeling of living inside of an igloo.
12.

Lakeside Mountain Campsite
Just because the seasons are changing doesn't mean you can't take advantage of the other areas in your island.
Creating your own lakeside campsite will require a lot of construction on your part.
However, the effort is totally worth it to create a scenic escape. And this goes double in the winter!
Use various elevations to your liking to give the area the appearance of a mountainside lodge.
This idea can offer a view that your villagers will never forget!
11.

Wintergreen Gardens
Gardens in the springtime are quite a sight to behold. And in the winter, they're even more stunning!
Take the time to craft various garden furniture to your liking. This way you can setup a beautiful landscape, like the idea above.
The most important feature is perhaps the flowers.
Choose your favorites that'll make your garden prosper.
How they grow in the middle of winter, I'm not quite sure.
I personally prefer the look of white and pink flowers in the snow. But brighter colors like yellow or orange can give the scene a warmer feel.
10.

Mermaid Snow Palace
One of my personal favorite DIY sets is the mermaid set.
Collecting seashells and crafting tables, chairs, lights, and fencing may seem like a summer activity…
But there's something magical about seashells in the wintertime.
The pastel colors of the mermaid items blend well with snow to create a calming feeling to any room.
Use your favorite seaside items to decorate your palace to the rafters with mermaid stuff.
I personally prefer to turn on the shell speaker and crank up some K.K. Island for some wintery beachside relaxation!
9.

Magical Wintery Woods
As you're preparing for the winter months, you're probably in the process of collecting and crafting a bunch of mushroom-related objects.
Well you can utilize these mushrooms to your advantage in the winter, too.
Craft tons of mushroom-themed projects and set them up in a forest full of trees.
Use mushroom tables and chairs for a nice picnic in the magical woods, or just simply have a fungal infestation of wild mushrooms among the foliage.
When the snow falls, your magic woods can become even more lively, as trees and mushrooms end up coated in that wintry beauty!
8.

Christmas Light Extravaganza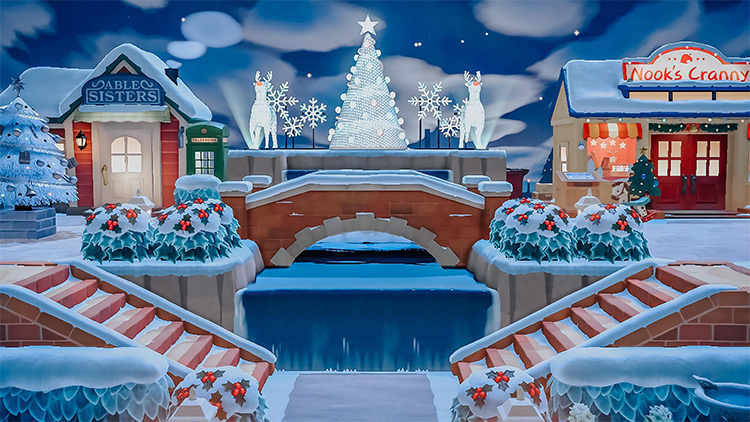 Stop for one second and just think about all the Christmas decorations you've ever seen.
There's always lights everywhere, right?
Well there are plenty of brilliant Christmas light recipes for you to craft in Animal Crossing too. Stuff like Christmas trees, reindeers, snowflakes, and plenty more!
Set up 8 reindeer with your Toy Day Sleigh to ready Santa for a wonderful night of delivering presents to all the villagers.
But the lights aren't everything.
You can also use other seasonal decorations here, like gift piles and holly bushes, to make your island look even more festive.
Or maybe keep it up year-round.
7.

Outdoor Snow Study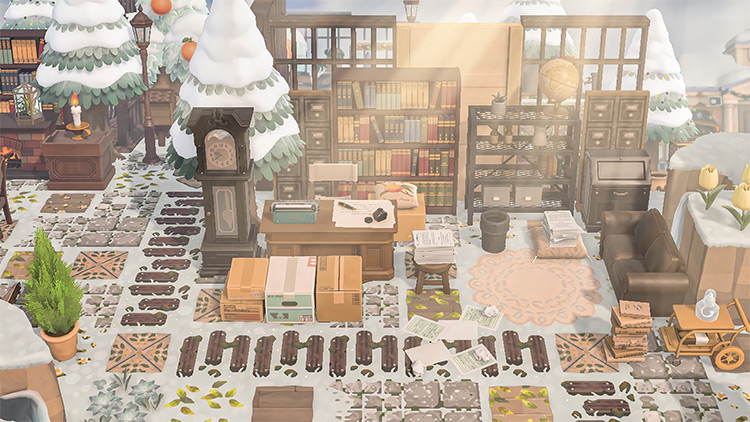 Who says indoor furniture is limited only to the indoors?
While this idea might suggest otherwise, you can still use any furniture items to create a stunning outdoor spot.
You'll need to craft and purchase plenty of items that you may not already have, especially if you want to replicate this idea.
But it's bells well spent.
And your design doesn't even have to be a study, either.
Make a living room, bedroom, or kitchen outdoors so that you can enjoy the snowy weather while still basking in the comforts of home.
6.

Festive Holiday Living Room
When most people think of winter, one of the first things that probably comes to mind is all the holidays.
Well with this cozy setup, you can celebrate Christmas, Hannukah, or simply the spirit of winter, all with various seasonal items and recipes.
For some of the more seasonal items such like the Big Festive Tree, you'll need to go outside and catch some snowflakes, or shake down some trees for ornaments.
Other seasonal items, such as the snow globe or yule log, can simply be bought via Nook Shopping.
Once you're done gathering whatever items you like and decorating, you can relax in this beautiful room by curling up by the fireplace with a good book.
5.

Santa's Workshop
With Toy Day always around the corner in Animal Crossing, your villagers are probably looking forward to receiving toys more than anything else.
And you can't have toys without someone and somewhere to make them!
So why not design a little toy workshop? Fits great with the winter aesthetic, too.
This might require some extra creativity for custom designs, but it's worth the time and effort to make your friends happy.
You can even use some hay and fencing to set off a place for the reindeer to live.
After all, you can't deliver presents without them.
I'd say this is a design where you really want to use as many well-placed decorations as possible.
Honestly, who's more into the Christmas spirit than Santa Claus himself?
4.

Hot Cocoa Stand
After spending all day playing out in the snow, I personally like to relax by warming up with a nice cup of hot cocoa.
Constructing this beautiful scene doesn't require many seasonal items, but it does need your creative touch.
After crafting items such as the stall and plain wooden shop sign, you can alter their appearance with custom patterns so that your stand matches your island's vibes.
As for furniture, you can pick whatever style you think works well!
I think that the iron garden furniture gives the whole idea a nice outdoorsy feel, but still very much in line with winter.
Then all you need is a few mugs, and you can share cocoa with your friends and villagers!
3.

Christmas Tree Farm
You can't have Christmas without a good tree!
While my family prefers artificial trees, many prefer the natural look of a sturdy cedar freshly cut down.
And with this design idea, you have the freedom to summon your inner lumberjack and cut down your own Christmas trees!
It's a really creative design that absolutely fits with the winter aesthetic.
Most of the DIY recipes you'll need require wood, so you'll wanna chop some trees to make more trees (ironic, I know).
If you want the tree farm to look more seasonal, craft some gift piles with red wrapping paper and customize them to your liking.
Then the festivities can begin!
2.

Snowy Town Square
I don't know about you, but when I look at this lovely town square, I get "A Christmas Carol" vibes. Like a snowy London street.
To create a gorgeous scene like this on your own island, you'll need a lot of crafting to capture the hubbub of a city street during the holidays.
Benches, plants, fountains, and lights are just some of the possible items you can use to bring the town to life.
There's also plenty of room for creativity, that way your town square can match the rest of your island's décor.
You can utilize different stone or brick pathways, or even create your own pathway patterns.
Craft, plant, and grow whatever flowers (and trees) you feel can give off the right look.
Bright pink flowers can make for a warm, wintery afternoon, or calm white lilies can make a snowy moonlight evening just a bit more entertaining.
1.

Halloween in Winter
Stop!
Before you pack up all your spooky decorations on November 1st, you might want to consider keeping a few out.
Why? Because Halloween just might carry on into winter!
If we can have Christmas in July, why not Halloween in December?
For most of these DIY items that are seasonal to October, you'll need pumpkins. And a lot of them.
So keep those pumpkin patches flourishing.
Then craft as many spooky lanterns, carriages, fencing, arches, and tables as you'd like, and completely deck out your island with pumpkins.
The added snow from the winter creates a visually stunning sight with a really festive crossover.
Browse:
Animal Crossing
Lists
Video Games