Animal Crossing: New Horizons Yard Ideas (For Your House & Villager Houses)
This post may contain affiliate links. If you buy something we may get a small commission at no extra cost to you. (Learn more).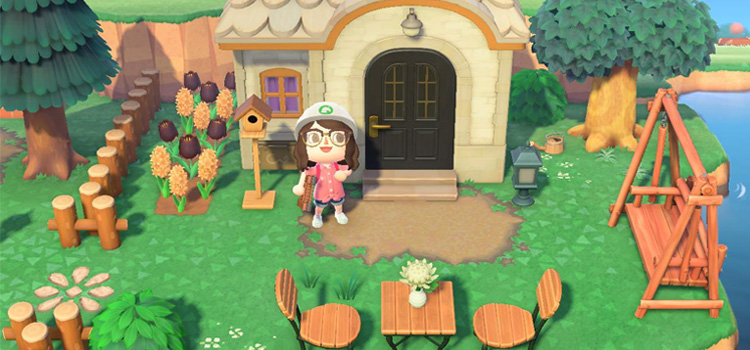 So you've customized your home as much as you can, but now you're not sure how to decorate your yard.
We've all been there!
Ever been to visit another player's island and seen their incredible yard designs, wondering just how they did it?
Well this list is sure to help! Here's a handful of some of the best yard ideas for New Horizons. So if you're looking for lots of yard inspo, look no further!
20.

Rustic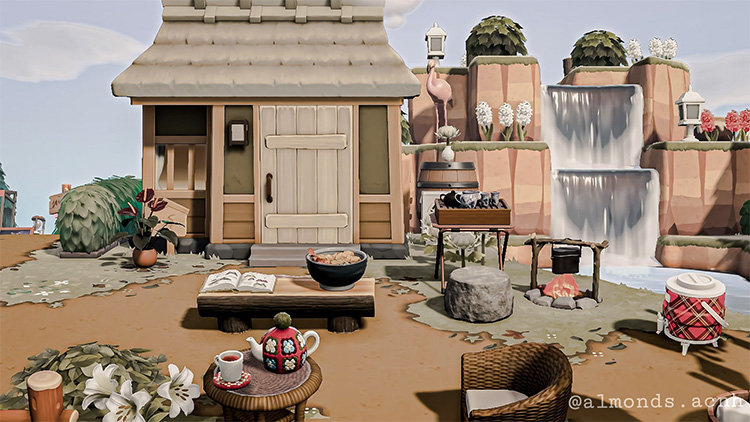 Why not bring your yard to life with this dreamy design?
Fall asleep each night to the sound of the waterfall just outside your bedroom window.
And even add your favorite rustic path design leading around your home.
You can also set up a little firepit by the riverbank too. Your friends will love gathering around the fire as the sun sets.
Even add a cozy little tea set for you and your company.
19.

Private Lake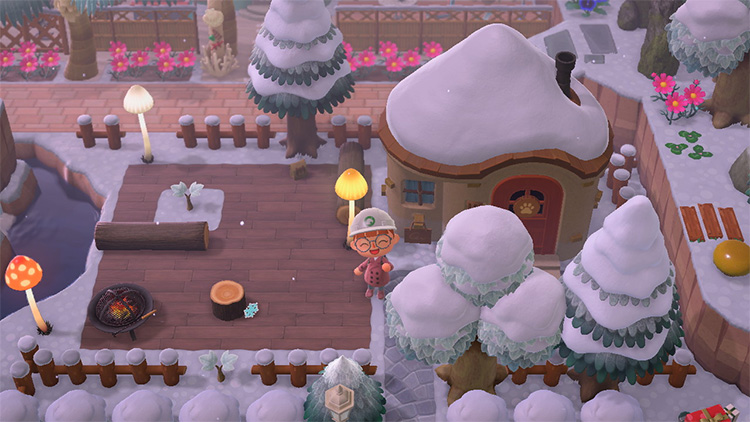 This has to be the ideal yard for those chilly nights.
Invite your friends over to enjoy an evening by the lake roasting marshmallows and storytelling.
To create this yard, start by laying down some path designs to mark out the area around your yard over to the side of your home.
Then try adding some tree stumps and a little wooden fence running around the perimeter.
And don't forget to add a ton of mush lamps to generate that evening glow.
18.

Clifftop Yard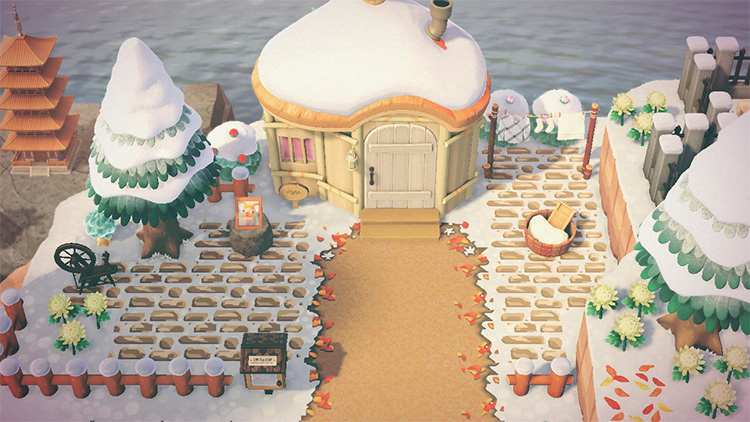 I know your villagers will love having a yard with a view!
This is ideal for those early risers. What better way to start the day than watching the sunrise?
Build your yard around one of your homes situated on the cliff edge & lay down your favorite path leading up to the front door.
You can also add a cobble design running down each side of the yard, along with adding some stone seating.
It'll need a couple of trees and flowers too; you can even add some shrubs if you like.
17.

Diner Front Yard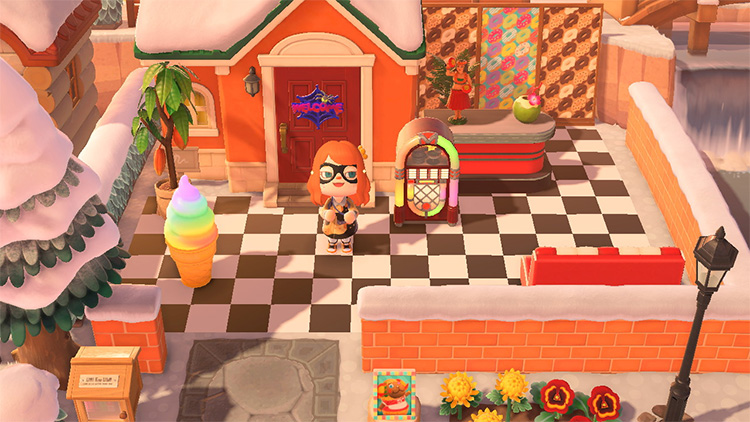 Who doesn't want their very own diner?
From the funky designs to the neon lights, this is bound to put a smile on anyone's face.
Bring your outdoor yard diner to life by adding that famous checkerboard flooring, and you can even make your own custom design fir this.
And we can't forget about the diner counter and seating, so pick your favorite colors and throw those in too.
Complete the look by adding a neon jukebox and illuminating your yard with an ice cream cone lamp.
Diner staff outfit optional, but encouraged!
16.

Woodland Yard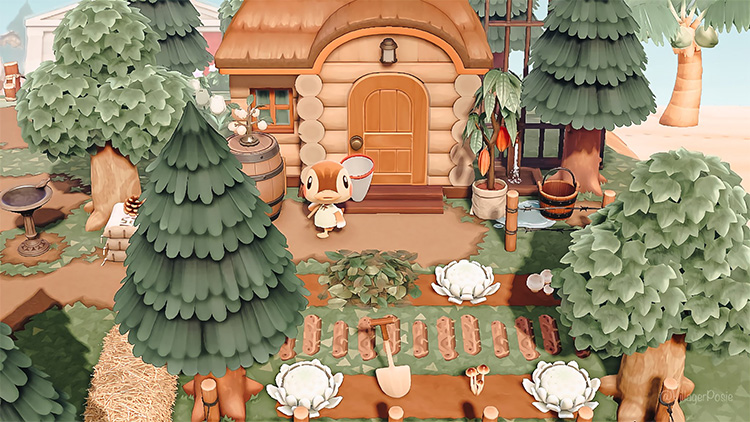 This yard is a staple for you garden-loving villagers.
Pad out the yard with lots of plants and piles of leaves to give it that extra green vibe.
You can even add a few trees too, and mix it up with both cedar and hardwood trees to keep it looking fresh.
Just lay down some dirt path to create a little workspace. Then add a bunch of mushrooms and flowers.
Include some wooden planks to this area also, easy to do by using a custom design.
Your villagers will be throwing on their gardening gloves every day with this yard.
15.

Spacious Area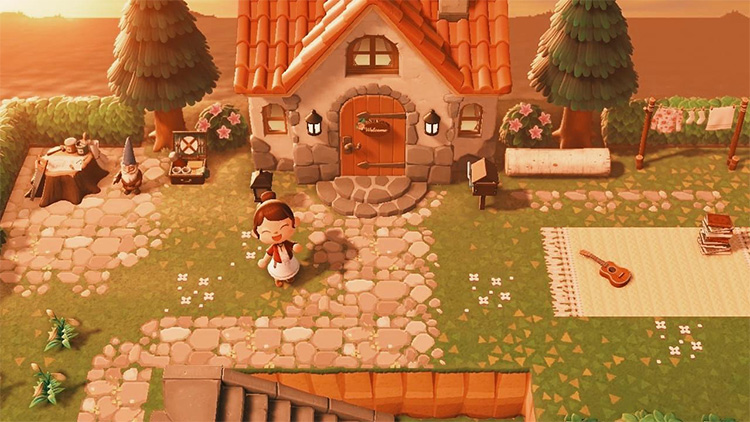 A brilliant idea for anyone who wants a huge yard with lots of space for activities!
Run some hedges around the outside of the yard, and don't forget to add some hardwood trees wherever you'd like.
This design will take up a few custom design slots, as you'll need some to create your perfect stone path.
You'll need another couple slots to create your blanket too: one for the blanket and another for the tassels running along the side.
Finish strong by adding some log seats, a ukulele, and a stack of books. And of course don't forget your DIY table.
14.

Elegant Yard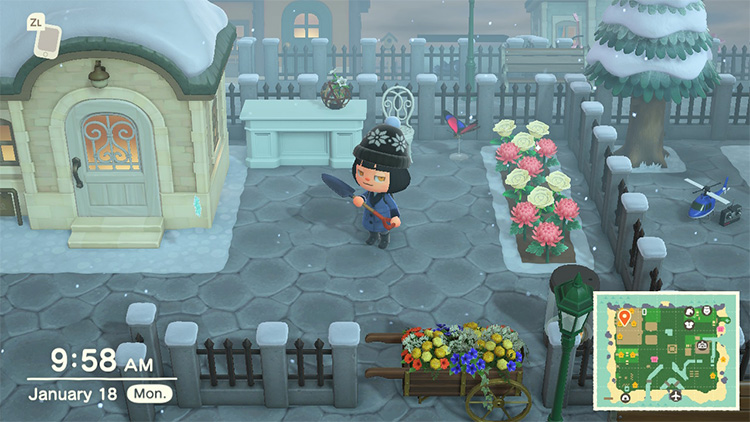 This city-style cobblestone yard will bring a touch of class to your island.
With its perfectly co-ordinated flower beds, your villagers will adore this stylish addition to their home.
Mark out your yard with some iron fencing and lay down some stone paths all over.
A fireplace turned backwards will create a cute little shelf where you can store books, flowers, or even gardening tools.
Then add some iron chairs and lamp posts to complete the look.
13.

Outdoor Cooking Yard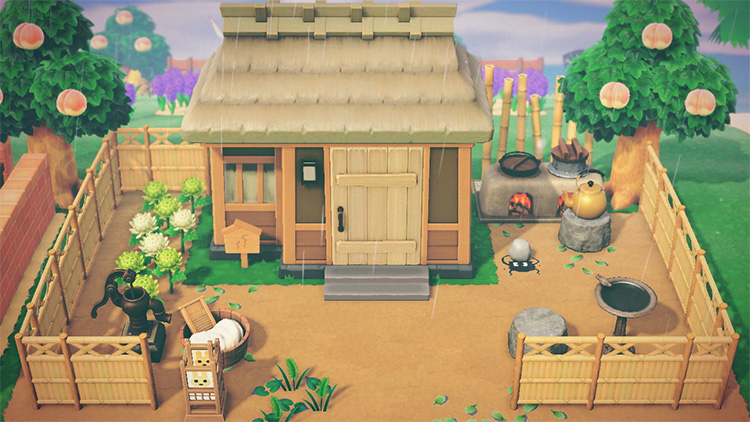 This design even has its own little cooking station. What could be better than outdoor snacks?
The bamboo fencing matches the design of the house perfectly, too!
I love the addition of the fruit trees here. So be sure to add some trees to tie the whole look together.
Some stone seats and color co-ordinated flower beds are also always a good idea.
Complete the final design by adding cute little custom leaf designs scattered around your yard.
12.

Relaxed Space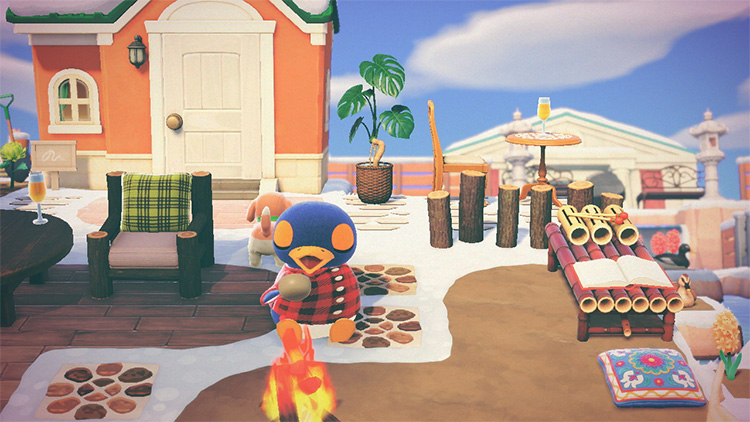 Roald seems to love his new yard here. And I don't blame him!
It's super easy to create too.
Add some of your favorite paths leading around the yard.
You'll need to have a couple of seating areas too, maybe some log furniture to fit in with the theme.
You can also add bamboo furniture items if those might fit the theme better.
Then lastly add some patterned cushions to bring the whole look together.
11.

Tropical Front Yard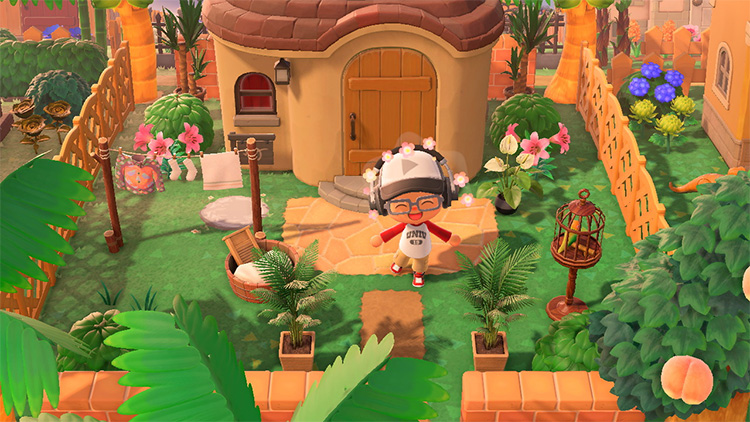 Take a vacation in your front yard with this tropical design.
Create those summer vibes all year round by using a series of shrubs, bright flowers, and coconut trees, all to keep that cheery vibe going strong.
Create your little yard area by lining up some fencing and brick walls around the outside.
Of course, don't forget to add heaps of plants… in this case, the more the better.
And no tropical paradise would be complete without a pet parrot!
10.

Picnic Area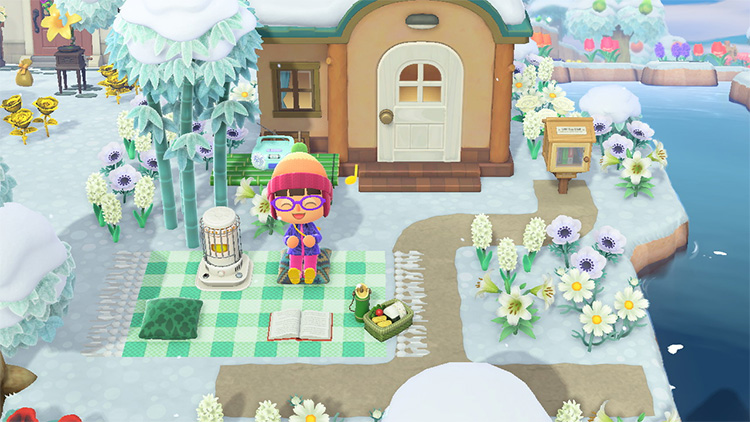 Did someone say picnics in the front yard? Yes please.
Choose your favorite custom pattern to pop down for the blanket, or you can also find custom designs to add the tassels on the ends.
Create a little path leading up to the front door, then fill that garden with lots of different types of flowers.
Add some bamboo items too. Then you'll be ready to kick back with your favorite book and a whole host of snacks.
9.

Bamboo Yard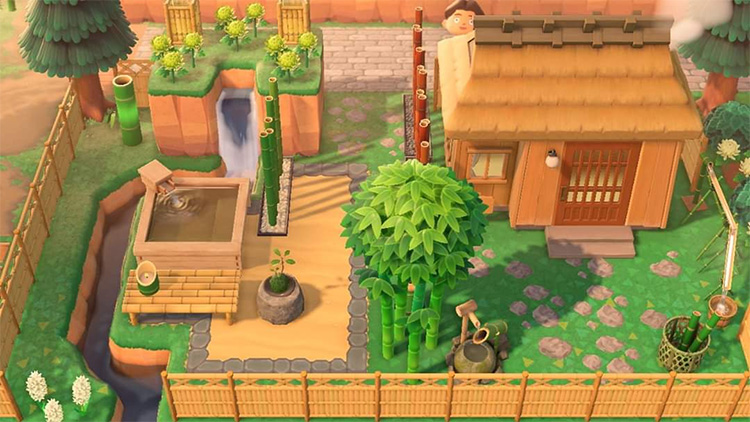 I simply love this design, whether it's for your home or one of your villagers.
Start by putting on your terraforming shoes and getting to work: you'll need to first create a cliff and form a waterfall running down into a small river.
You can then add a bunch of bamboo trees and bamboo items around your yard.
The look couldn't be complete without the cypress bathtub, so be sure to throw it in there next to the river.
If you're feeling adventurous you can also add some custom stone details around the area. Expert craftsmanship!
8.

Colorful Yard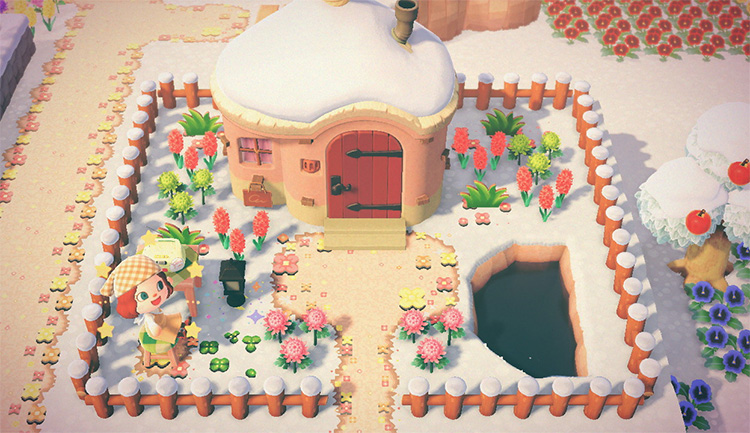 If you take pride in your yard, then this flower explosion is the way to go.
Fence off an area creating your yard as big or as small as you like.
Then go crazy filling your yard with as many colors and types of flowers as you can.
Add a little bench where you can do some reading, and where you can gaze out into the sunset.
And don't forget to add a small lake in the corner for style points!
7.

Library Yard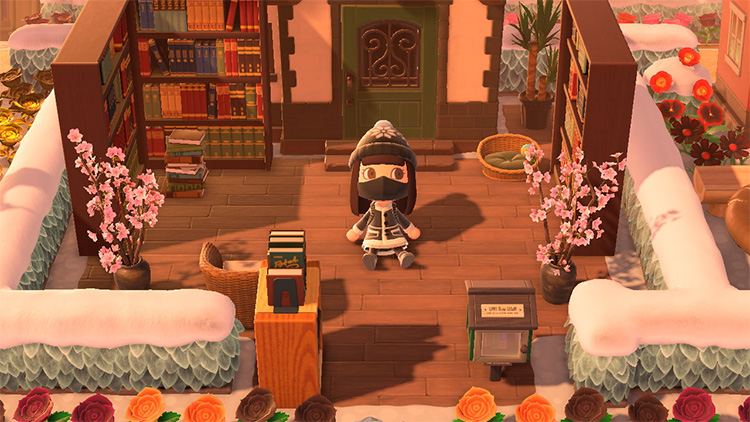 This yard design is for all the bookworms out there.
How amazing would it be to have your own private library right at your doorstep?
Encase your house with hedges or a fence of your choice. This makes a little snug area perfect for keeping yourself away from the outside world.
Now for the exciting part: pop up a few bookcases around the edges. They already come filled with books and are also customizable, so you can change the colors to match your theme too.
Add some plants, desks, and of course a comfortable chair. At least one.
6.

Farmer's Yard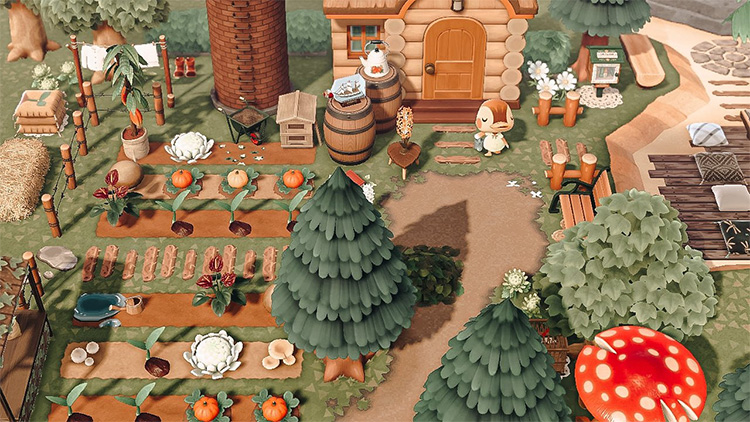 If your favorite pasttime is working the soil, then this is a yard you have to try.
You can create your own farming area by laying down some dirt paths next to each other, and then place any crops you like on those.
You can add pumpkins, saplings, flowers, mushrooms, or any other items to make those fields look like your own.
Then add a bunch of trees and hedges to complete your farm style yard.
You'll be opening your own farmers market before you know it!
5.

Zen Garden Yard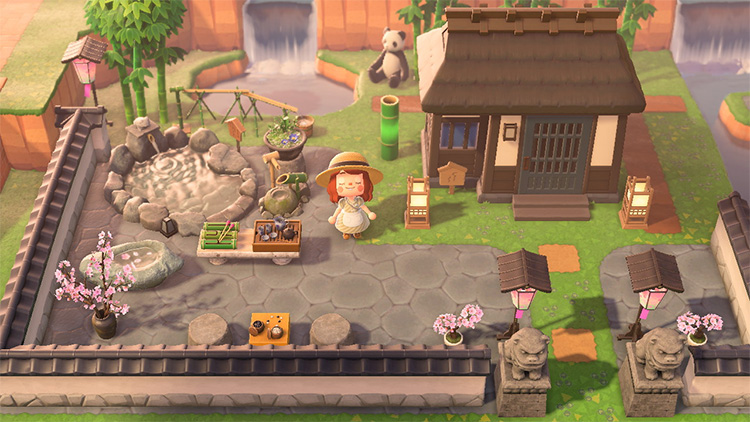 Create your own little zen garden with this set up.
I simply love the way this idea is situated in front of a cliff!
To try this yourself, create a running waterfall from a nearby cliff cascading into a small pool area.
Pop down some stone flooring around the area too, and complete with a rockpool and some bamboo items.
You can also throw in some cherry blossom items including the much-loved cherry blossom lamps.
4.

Cozy Yard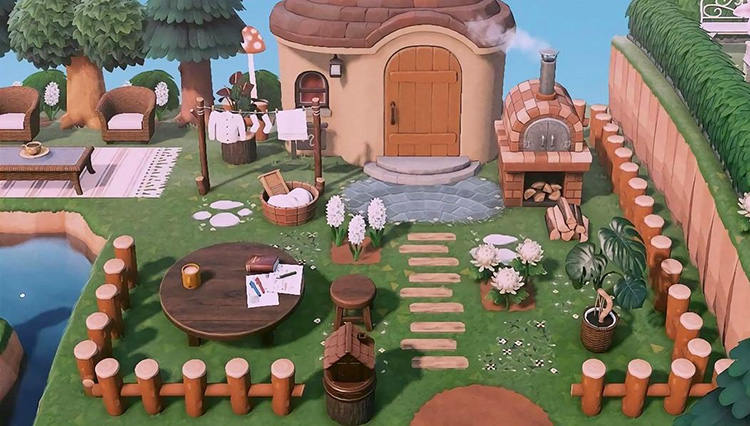 There's nothing like the simpler days, eh?
This yard has everything from a relaxation area to a studying area, and here's how you can call this your own.
Section off an area around your home with your favorite fencing, wooden is perfect for this idea.
Complete the yard by adding at-home items such as the brick oven, washing line, and some plants.
Don't forget to create a small lake running through your yard too. And be sure to add the cutest little seating area.
Complete it with some rattan seating & a table, and of course your favourite rug.
3.

Magical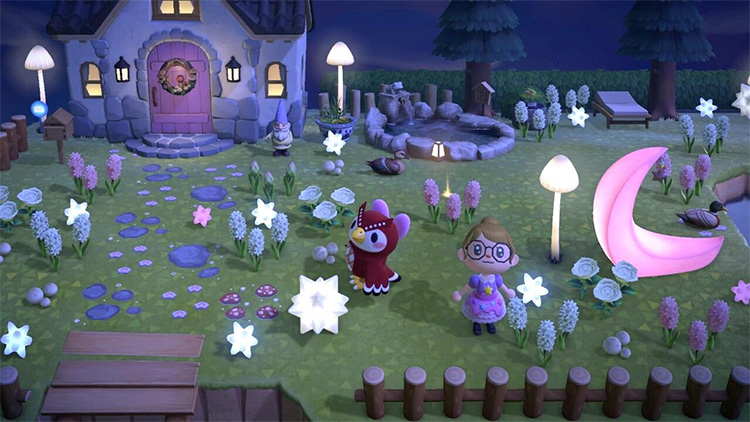 This has to be the yard of dreams!
You can create this fairy-themed yard by covering the grass with custom stone and toadstool designs. Seems like a house right out of a storybook, right?
Add lots of flowers too, and be sure to sprinkle your yard with a variety of big and small star fragments. You can also add some nova lamps for a truly magic feel.
And of course, you can't forget the crescent moons.
It's no surprise Celeste wandered into this magical yard. It's the perfect place for stargazing on a clear night.
2.

Rural Yard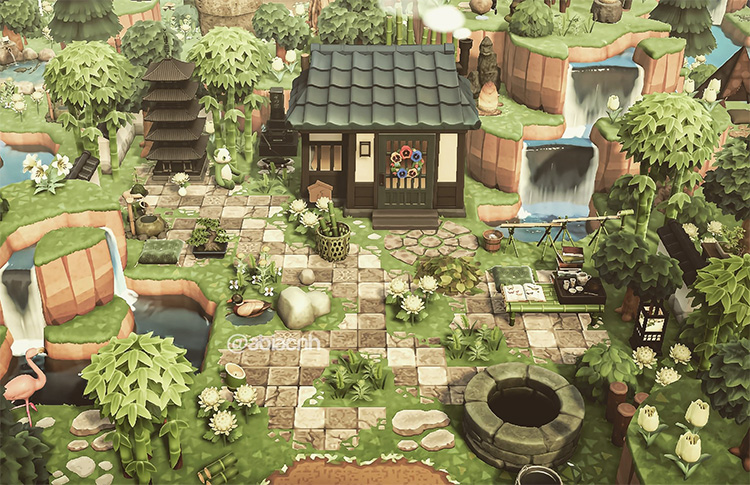 This rural yard is screaming nature. And I'm here for it!
Create this rural masterpiece by adding your favorite stone path to space around your home. And for a nice touch be sure to leave any weeds that grow around.
Line the outskirts of your yard with a series of cascading waterfalls for that extra zen vibe.
Don't forget to add some rocks and a bunch of flowers too. Very "rural Japan" in some ways.
Lastly, add as many plants as you can to finish this amazing yard design.
1.

Private Pool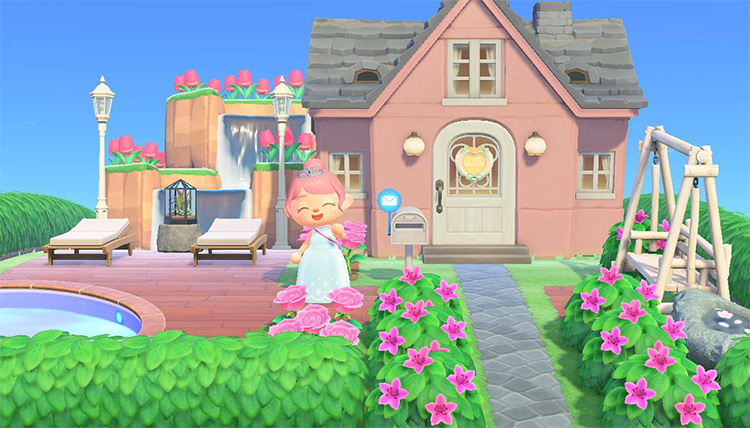 Who doesn't want a swimming pool in their front yard?
This has to be my favorite yard design, from its impressive waterfall to its swinging garden seating.
You can do it too by sectioning off a small area at the side of your house, then popping down some custom brick flooring.
Put out a couple of lounge chairs off to the side. But don't forget the most important piece: the swimming pool!
Finish the look by creating a path outside your door and lining it with flowering shrubs.
There's nothing like a dip in the pool after a hard day of fishing and bug catching.
Browse:
Animal Crossing
Lists
Video Games