24 Best Free Mods For American Truck Simulator
This post may contain affiliate links. If you buy something we may get a small commission at no extra cost to you. (Learn more).
Should it be a surprise that American Truck Simulator, one of the games that supposedly depicts the true American experience, is developed by a Czech company?
Hey, we're not the land of opportunity for nothing!
To be fair to developer SCS Software, they have a proven track record of producing deep simulation games like the Truck Simulator series, a franchise that emphasizes on real-world topography and local weather conditions as much as the trucks the players are driving.
In short, these devs are a good fit for rendering the true beauty of the American road experience!
Of course, you just can't expect a single development team to know what's it like to truly live the American road life. Thankfully any slack on that end has been picked up by the very robust modding community.
Currently there are already close to 5,000 mods on the game's Steam workshop page. Not bad for a "niche" title.
Now we come to the real challenge: how do you make sure the mod you'll be downloading is some premium, high-grade quality stuff like the goods you're trucking?
Well I took the liberty of parking my butt inside the driver's seat for hours to give you this sample of the absolute coolest mods you can use to make your realistic driving experience as pleasurable as possible.
And of course, these mods are 100% free. Knock yourself out!
24.

Coyote's Parking Brake Sounds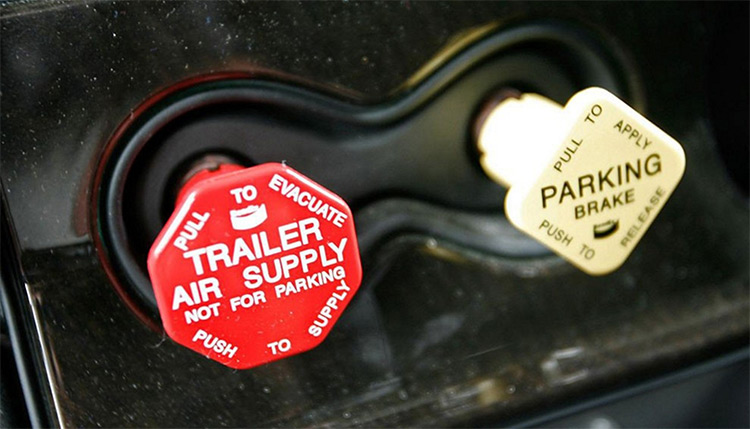 Driving games can boast realistic physics and damage all they want, but you know what else doesn't get enough love around these gaming spaces?
It's those damn car sounds!
Seriously, not everything has to sound like your car is doing stunt drifts in a car show.
Modder Coyote Man has uploaded an even more nitpickier version of the car brake sound: he not only uploaded the parking brake sound, but he also upgraded it with its tailored service break sound.
Hey if you're gonna honk, better do it with style.
23.

"I Support Single Moms" Mudflap Pack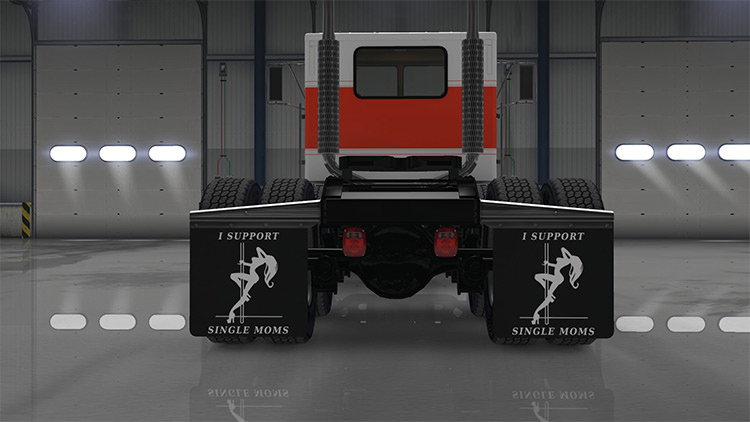 Nothing says "American trucker" like a tricked-out mudflap.
And nothing expresses that sentiment more than the "single mom" design.
Crude?
Maybe, but what else are you going to discuss with your bud while you're on the road for the entire week, high art?
22.

OVERSIZE LOAD Placard & Sign
Big trucks with big loads should come with–ahem–big signs.
This mod by Dogface features three variants on the "OVERSIZE LOAD" signs.
Additional attachment points make sure that your sign displays enough outsized personality to let everyone know that they have to get outta the way ASAP!
21.

SiSL's Trailer Pack USA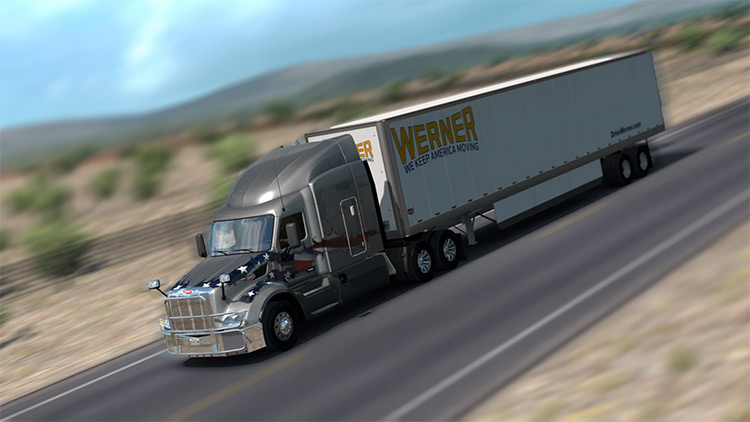 SiSL is one of the more prominent modders in the American Truck Simulator community.
His creations just carry that extra "oomph" when it comes to realism and accuracy.
As expected, his Trailer Pack USA set features around over a hundred real-life skins of the most popular freight and logistics companies operating in the good ole US of A.
And why not?
If you're going to go out delivering large stuff, you might as do it with the best of them!
20.

State Highway Patrol
WOOP WOOP, IT'S DA SOUND OF DA POLICE!
Can't complete a decent trade without the long arm of the law protecting the goods, right?
The State Highway Patrol includes the latest patrol vehicle models for California and Arizona on top of the base police car models that are already included in the game.
Boys in blue represent!
19.

Google Maps Navigation
Really, there's so much credit we could give to GPS apps for making driving a little bit easier (security concerns notwithstanding, of course).
With that said, what is the best GPS to use other than the one that's available to most smartphone?
Don't lie; I know you're already using an Android smartphone.
The Google Maps Navigation mod, predictably, follows the UI of the app used in smartphones.
With screen colors, arrows, and map icons slightly tweaked to suit your truck's screen.
18.

Trilex Rims
It's the wheels that make the difference, as any self-respecting professional driver would tell you.
MrOverfloater knows what's up; he's the one who uploaded the Trilex Rims mod on Steam Workshop, after all. It's big-ass wheels coming in paint and metal variants.
It's pretty straightforward, but why change it when it ain't broke?
17.

Decepticon Truck and Trailer Skin + Parts
Just because the game is supposed to be a realistic sim, doesn't mean that everything has to be safe and boring.
Sirblackyalot's skin creation is a very cool take from the design of the Decepticons, theeternal bad guys of the Transformers universe.
Although I did have to rack my mind a bit to recall if there ever was a purple-colored Decepticon toy released, who cares if it's not canon?
The design just looks cool enough and that's what matters!
16.

Kenworth T680 The General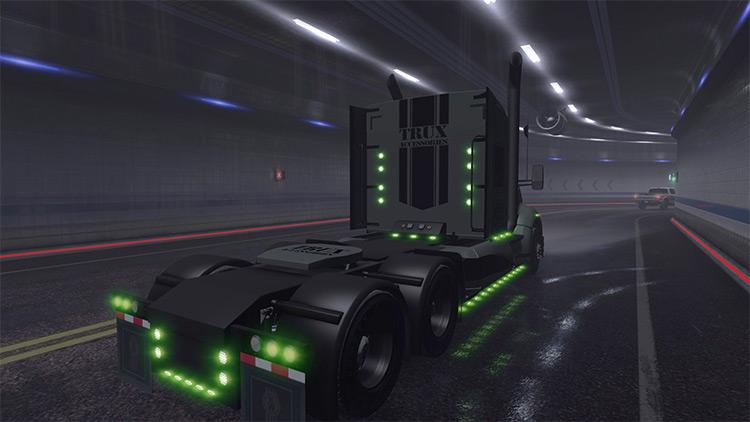 For all the efficient utilitarianism the trucking industry espouses, it's not surprising to know that even they are not above rocking the hottest models out there in the market.
The Kenworth T680, as it turns out, is one of those need-to-own models for anyone looking to truck in style.
One little caveat, though: you can't put any add-on to this skin because it follows the real-world T680 model to a tee. But that's why we don't mess with greatness!
15.

Air Ride A Series by Momo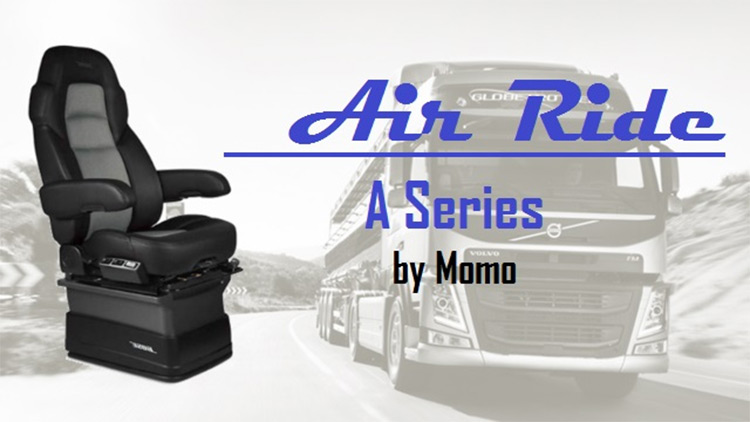 No matter how tempting it is, you just can't put hydraulics on a truck like you would with a low-rider.
Seriously, the thought of riding inside a truck jumping up-and-down with all that weight bearing down on the asphalt is a scary AF thought!
With that said, this is probably the closest we'll have to hydraulics being implemented on a truck.
Momo's Air Ride Series A makes the driver's seat move up and down like you're on air suspension.
Now all you need is some '90s West Coast g-funk tunes and you're ready to bounce (pun very much intended).
14.

New Mountain Textures v7.7
The reason why we still encounter people who drive trucks as a profession is, I surmise, because they're Jack Kerouac-styled romantics (even if, like many of us, we don't realize we're doing a Kerouac when we're posting those #Wanderlust photos on Instagram).
Which is my roundabout way of saying that the New Mountain Textures mod pack lets you ponder life on the road while looking out at the pock-marked beauty of nature… and all in the comfort of your own gaming PC rig.
Very apropos.
13.

Realistic Headlighting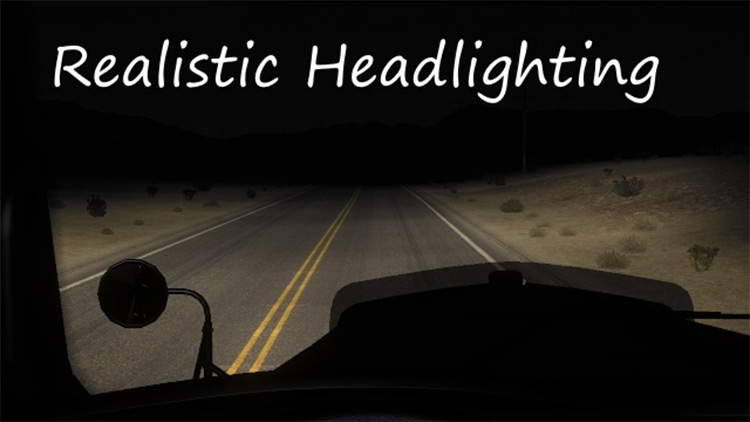 Believe it or not, there is a mod for adjusting the default lighting in ATS.
And trust me when I say it's as essential to it as downloading whatever cool skin catches your fancy!
But be forewarned, though: this mod takes "lighting" so seriously that your processor might take a beating if you max out its settings.
12.

Real Company Logo 3D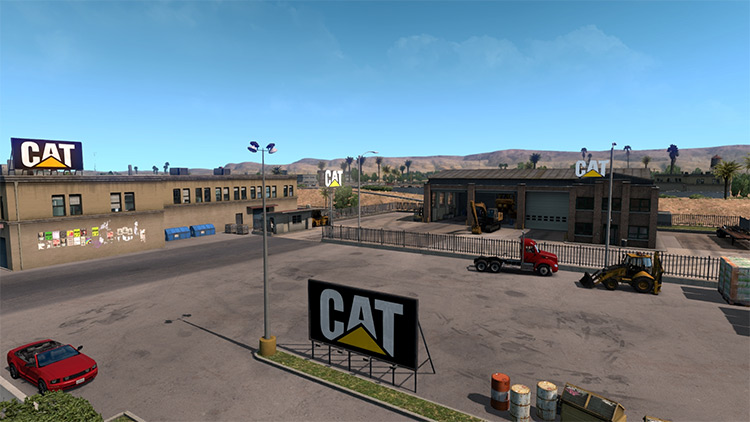 You gotta love the smell of big business in the morning.
Modder P16 does the good lord's work (as well as probably incurring the wrath of those pesky copyright hounds) by incorporating the logos of the biggest companies in the industry on signage and billboards.
They might be ads, but at least it's accurate.
11.

Realistic Roads v3.2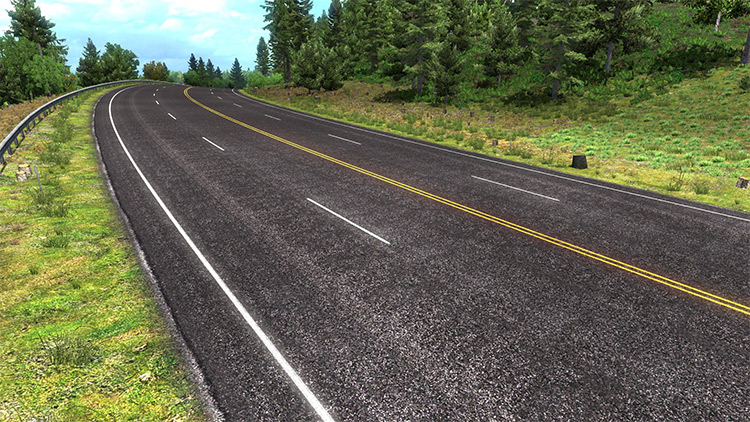 If we're talking about realism in video games, that means taking into account everything from that world you'll be copying… including, obviously, the crappy roads you'll have to encounter.
For this mod,slavsan93 based it on real-world pictures of the roads featured in ATS's states, with all the requisite cracks and crevices included.
Hey at least you won't be damaging real tires in this one!
And speaking of tires…
10.

[SCR] Smarty's Wheel Pack
Every wheel variant that would be used in any truck today is included here.
The fun part about all of this is that those wheels are made for mixed-service usage, so they're ideal for any cargo you'll be carrying in your virtual truck!
9.

SiSL's FlatUI
Oh look, it's our boy SiSL again providing us with the good stuff!
This time, he's tackling one of the more annoying problems we encounter not just with trucks, but with any vehicle we have these days: crappy UI design.
For this mod, the truck's native UI was re-designed to be simpler and with less gradients than usual.
It even allows you the option of uploading your truck jam playlist via the RadioTrucker app to share with other… err, truckers on the road.
Now if only real-life driving can be that pleasurable…
8.

Actual Day/Night Times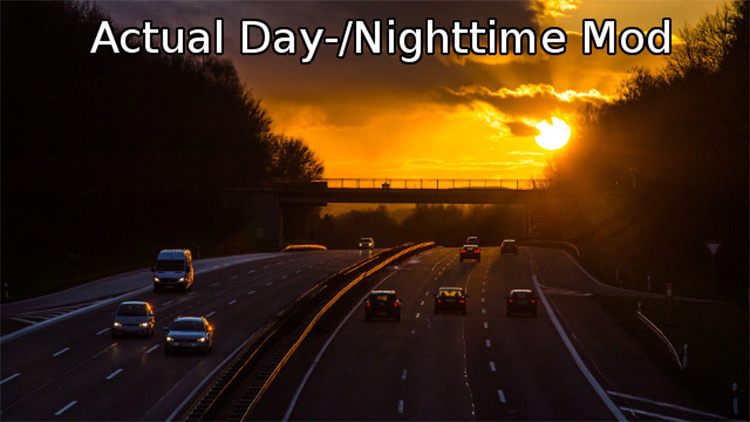 You want to know what qualifies as "hardcore" for gamers today?
It's not difficulty, but having to play through the game using the slowness of real hours.
And this mod does exactly that.
Take note that the mod follows daylight savings standards, so it's clearly not that insane yet. Let's see someone upload this mod for Skyrim.
7.

Real Fuel Prices Live
Oh now we're talking "real" here, all right!
This might be some major headache in the real world, but if you're in the whole business management angle of ATS, then I'd imagine you're already salivating at the prospect of creating a spreadsheet simply for this mod.
6.

US Speed Limit Sign for Route Advisor & GPS
You really have to give it to ATS's modding community: this is probably the only game where highway speeds matter as much as the condition of the truck you're driving.
Speed limits might be a variable for ATS.
But the font used here is capital-A authentic!
5.

Mack Trailer Skin Paintable
Now this is some real sleek, sexy stuff right here!
The skin is based off the current-era MAC trailers.
"Sleek" and "sexy" might not be the best adjectives to describe a truck, but there it is. And if you're a fan of this game you'll know how well this fits.
4.

Mack R Series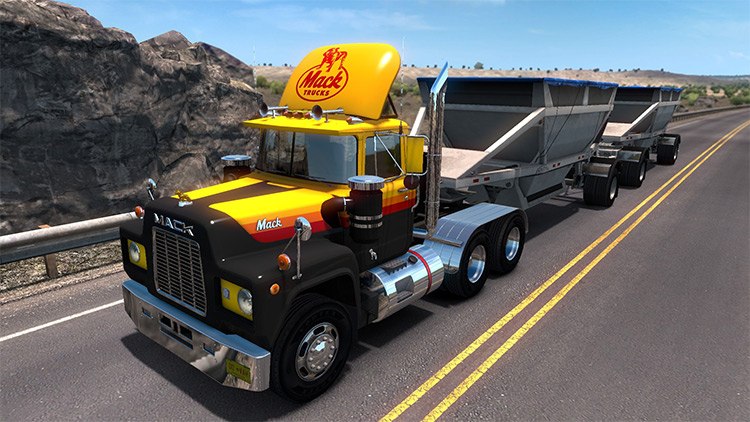 Speaking of Macks, no design screams "trucker" more than the Mack R series.
For over 40 years its ubiquitousness on the roads and, of course, in pop culture essentially defined the trucker lifestyle as many know it today.
Probably the only thing that makes it better is the "short story" that comes posted in the mod's Steam workshop page.
There's nothing as American as a good old-fashioned Paul Bunyan-esque tale.
3.

Rescued 1977 Peterbilt 359 (SCS)
Out of the many things that went viral in the past couple of years, few of us surely counted on a restoration of an old Peterbilt truck to make this list.
But that's the beautiful thing about the Internet: once you think everyone's going to be clicking on the same thing, something delightfully weird shows up to upend our expectations!
This mod captures the restored '77 Peterbilt with all the bells and whistles.
And really, you couldn't get any more essential than that.
2.

Realistic Graphics Mod v4.0 (by Frkn64)
So you still think graphics ain't everything?
Those hi-res 4K graphics ain't affecting you in any way?
Well it's a good thing that we're not playing this on a Nintendo system, then. Cause this graphics mod is guaranteed to bump things up a notch. It's gonna be hard to explain here, so I'd say just download this and give it a try. You'll see what I mean.
And if you don't like it this can be uninstalled pretty fast so it's an easy mod to work with.
1.

SiSL's Mega Pack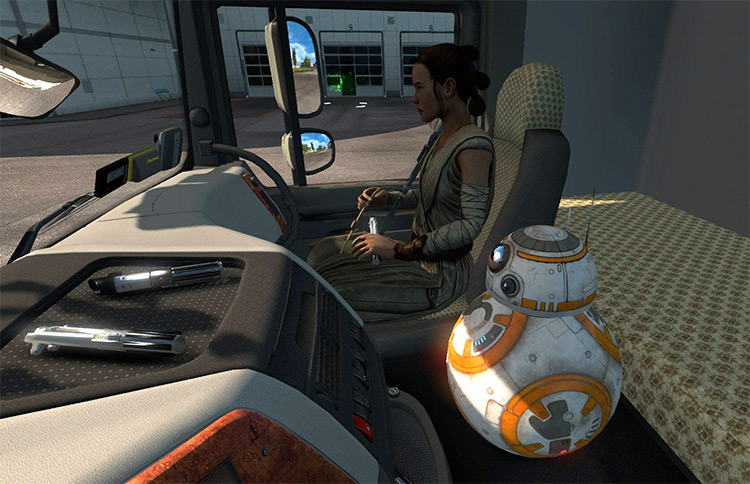 There's a reason why SiSL calls this mod the "mega pack".
It's basically the starter mod for all things ATS.
Are you looking for more add-ons like new skins and accessories? This bad boy has you covered.
Updated traffic conditions and weather conditions? Yep.
And the odd Star Wars-themed pack, too? Of course. Why not!
So are you ready to take to the open road? With the mods we listed here you'll be doing that and a whole lot more.
Browse:
Lists
Simulation Games
Video Games