20 Best Animal Crossing Dog Villagers (Ranked)
This post may contain affiliate links. If you buy something we may get a small commission at no extra cost to you. (Learn more).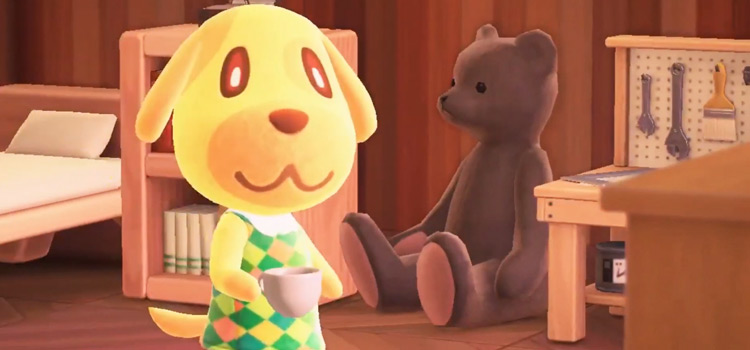 Who let the dogs out? Who? Who? Who?
Although there are many species of villagers, some of the most beloved happen to be dogs.
If you're in search of a new villager, then this is a list you'll wanna check out, as we take you through some of the most popular dog villagers in all of Animal Crossing.
20.

Digby
Digby is Isabelle's younger twin brother; he's easy going and relaxed much like his big sister.
Digby runs the Happy Home Showcase in New Leaf. You can find him located at the entrance anytime of day. He's always happy to help!
And he can also be found in Pocket Camp as one of the Happy Homeroom Judges.
19.

Portia
At first Portia may not be as friendly.
But after some time getting to know you, she will warm up to you and start to show her true loving nature.
She loves gifts and surprises. If you keep giving her attention, she is sure to become your friend ASAP!
This snooty villager shows off her Dalmatian style with her patchy appearance, but remains truly stylish. She really works that bright purple outfit!
She loves all things elegant and class, which she shows off in her stylish home complete with her record player and rose bed.
18.

Mac
Our favorite bulldog villager, Mac is a fitness machine!
Find him working out solo, or with other villagers by the plaza or the beach. The perfect guy for you if you're looking to pump some iron.
His competitive streak comes across as mean sometimes to other villagers, as he just can't help but share his criticisms on other fitness levels.
However, he does get some cool points for his home interior.
His house screams outdoors with the ivy walls and the doghouse. He even has a plastic pool in the middle of the room, how cool is that?
17.

Marcel
We all know Marcel as the slightly creepy looking dog villager.
Given his facial mime like markings, it's likely that he was named after the famous French mime, Marcel Marceau.
He'll keep the snooty villagers on their toes, as you can often find them making fun of his appearance.
Even though Marcel is a lazy villager, you'll often still see him out and about around your island. Although you'll probably find him relaxing with a snack, taking a nap, and just generally living a chill life.
Because who doesn't want to spend the day relaxing?
His house interior is the epitome of relaxation. You might find yourself channelling inner peace as you step into his home complete with a futon, paper lantern, bamboo speaker, and even a goldfish. Truly the definition of zen.
16.

Harvey
When you're having a good hair day, you just can't pass up a visit to Harv's Island.
Harvey is the kind soul that allows you to use his photography studio on his very own island.
It's the perfect place to capture those memorable shots, whether it's a solo shoot, or a group shoot with your villagers. Harvey is more than accommodating.
Although he has a photo studio, he tries to shy away from technology. He's much happier outside immersed in the outdoors watching the birds.
15.

K.K. Slider
This musician has to be one of the most well-known dog characters in Animal Crossing since the first game.
He has been a major part of the game ever since, and in New Horizons you can expect him outside Resident Services every Saturday.
So make sure you attend every week. Pull up a stool and enjoy the musical snack he's prepared.
K.K. is a free spirit and travels everywhere playing his music. He'll even take requests and give you a copy of his music after he performs. Who doesn't love a freebie?
14.

Benjamin
So, you like fishing?
While you're busy reeling in a series of Sea Bass on the shoreline, that's where you'll find Benjamin.
A keen fisher and fossil collector, he also likes to spend his spare time catching a host of bugs all over island.
Make sure you find time to talk to Benjamin, as he will be sure to give you the run down on 'Fashion Lad', a superhero fighting fashion crime, and his alter ego.
When he's not daydreaming about fashion, you can find him lazing under a tree, eating, or talking to other villagers.
His lazy personality is a great match for normal villagers; however, it drives a wedge between him, snooty, and jock villagers. They just don't get along with his relaxed lifestyle.
13.

Isabelle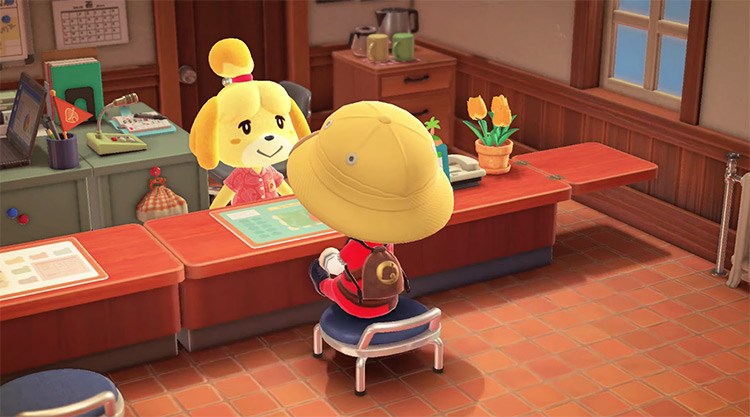 Where would we be without Isabelle and her morning announcements?
It brightens our day when we're greeted with her cute smile and tales of her previous day.
She's such a friendly and loving character. And you can just tell she is crushing hard on K.K. Slider!
You can find her in Resident Services where she works alongside Tom Nook, she's always ready and waiting to help you with any issues you're having on the island.
12.

Bea
This cute little dog can't help but melt our hearts with her sleepy eyes.
Bea is a very polite and well-mannered villager to have. She's super friendly and always up for conversation too.
She can be a little shy at first, but once you get to know her, you've got yourself a BFF for life!
Although she does get upset when others are mean to her… so we must protect her at all costs.
She has a funky fashion sense and a funky home to match, with a full-blown soup kitchen going on you know where to go if you fancy a midnight snack!
11.

Bones
We always have time for another lazy villager, and Bones is no exception.
He's your typical dog villager with a big brown patch around his eye.
You'll make his day if you give him the gift of snacks, because who doesn't love free food right?
He's a sweetheart that will try to make you laugh with one of his cheesy jokes. And of course his favorite hobbies are fishing and catching bugs.
He also loves to read, which becomes apparent once you visit his home which is basically a library. If you need a book, he's the villager to visit.
10.

Butch
This cranky villager really lives up to his name.
With his frowning facial expression, Butch gives off a tough guy persona. He may look like a Rottweiler, but he's softy at a heart.
And you'll often find him wandering around the island singing to himself.
Although he gets along with most villagers, he won't be too friendly with peppy villagers. And may even try to get you in on gossiping behind their back.
Although he's a musician, his dream in life is to become a race car driver, which is clear when you pay a visit to his home.
When you step inside his house, it's like stepping straight onto the racetrack with a road and even a shiny red race car bed. He's certainly living his dream.
9.

Walker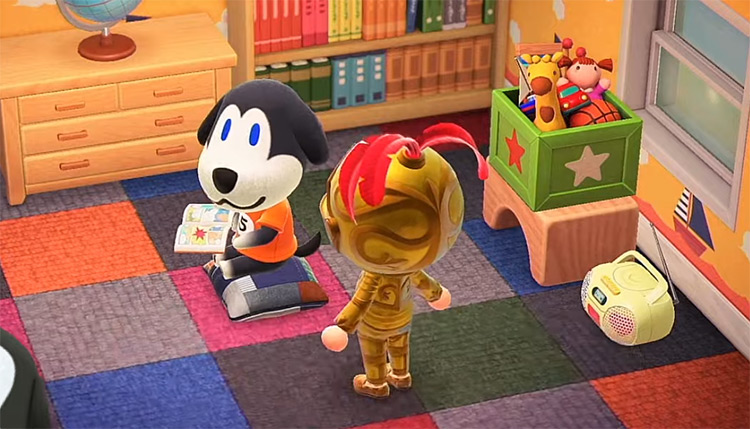 Another favorite lazy villager of ours is Walker.
He is a friendly little pup who gets along with almost everybody.
If you can't seem to locate him on your island, it's probably because he's taking a nap.
Sleeping isn't his only pastime though. He also enjoys catching bugs and hunting for fossils. Although snooty and jock villagers find this relaxed lifestyle a little strange, this sometimes causes conflict with Walker. But he's good at keeping his cool in tricky situations.
With the cutest little study room inside his house, it's the perfect place to kick back with a book and unwind.
8.

Shep
You may be surprised Shep is high on this list with his smug personality.
However, you can't help but fall in love with his sweeping white hair and cure little denim gilet.
He is a true gentleman with his smooth and charming conversation, and even dialling up the flirt from time to time.
He will sometimes slip his hobbies into conversation too, such as his obsession with trains and his ever-growing collection of plastic bottle caps.
This dog is widely into fashion, and will also talk about his clothing from time to time. His fashion sense is just as wild as his home décor, with vivid patterns and wood cladding.
7.

Maddie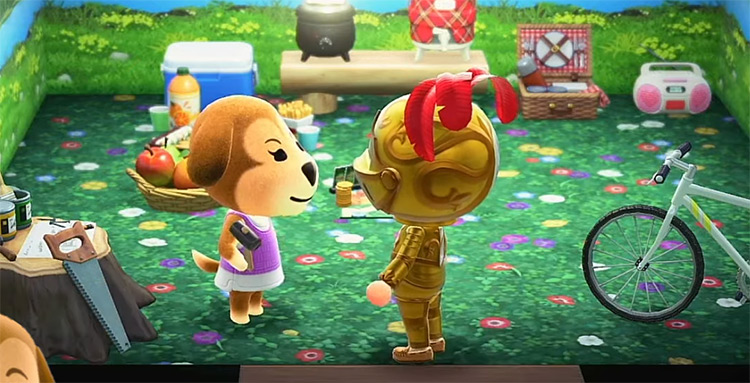 Many fans were left with a gaping hole in their hearts after Maddie failed to make an appearance in Wild World and also City Folk.
However she's back with a vengeance in New Horizons.
This much-loved peppy villager lets her competitive streak out. She often over-reacts at the thought losing, and often reaches out to villagers for furniture or clothing items she's missing – all just to enter competitions.
However, her fun-loving nature is reflected in her super cute home.
With her Meadow Vista wallpaper and her Meadow flooring it's the perfect place to bring a few snacks and set up a picnic.
6.

Daisy
This young pup is a very shy and delicate villager.
Daisy can get upset easily yet, she is very kind and polite to others on the island. Daisy is desperate to be a fossil excavator when she grows up, so you can often find her fulfilling her hobby digging up fossils around the island.
She gets on well with other villagers, and she does have an imaginary friend named Moppina, that she tends to mention from time to time.
Daisy is an early riser too. So you're likely to find her at home through the day.
It's worth the visit to her home, as her cozy décor gives the perfect place for a midday hangout.
5.

Biskit
As we near the top of the list, there's no question as to why Biskit has made the cut here at the top.
His funky style consists of a t-shirt with a cat that has laser beams coming from its eyes… need I say more?
His passions are stuffing his face with as many tasty treats as he can find, and sleeping.
You're often likely to see him with his arms in the air running around outside Resident Services.
His home screams his personality: it's set up like a backyard with a picnic basket and even a jungle gym set!
4.

Lucky
Who doesn't love a lazy villager dressed like a mummy?
Lucky is extremely friendly and playful. And despite having a relaxed lifestyle, his favorite activity is to hang out at play with other villagers outside Resident Services.
Lucky gets along with almost all of the villagers, although he may seem strange to jock villagers as their opposing lifestyles clash.
His appearance matches his home too, as his interior is decorated like a cemetery complete with a skeleton and even a gravestone. Spooky!
3.

Cherry
Cherry is your go-to big sister. She's especially kind and is quick to shoot down any rumors spreading across the island.
She has to be one of our favorites with the super cute smile she wears 24/7.
She's caring and is very kind to everone. Stung be a bee? No problem, Cherry will be there to give you the medicine you need.
Her home is stunning, adorned with the Cityscape Wall and large Rose Bed. It matches her quirky appearance perfectly.
2.

Cookie
There's no mistaking Cookie as one the cutest villagers, with her super cute appearance and her sweet personality to match.
This peppy villager is always in a good mood and ready to spread positivity across the island.
Her dream is to become an actress. But she also takes great joy in fishing and catching bugs on the island.
The pink pup has decorated her house in every shade of pink, from the cute bed to the pink heart rug, it's a pink lover's dream.
1.

Goldie
So here we are, our favorite villager has to be Goldie.
She's motherly towards you and the other villagers, and is always on hand to help.
Goldie regularly feels bad if she has to ask another for a favour. But with her sweet nature, you can't help but want to do everything you can for her.
She's super sensitive and often gets sad, but it's easy to cheer her up too.
And it's easy to befriend her: at some point she'll ask you for clothing, if you give it to her she'll reward you with her sweet photo.
Browse:
Animal Crossing
Lists
Video Games