15 Great Anime To Watch If You Like Yu Yu Hakusho
This post may contain affiliate links. If you buy something we may get a small commission at no extra cost to you. (Learn more).
Yu Yu Hakusho is one of the most well-received anime classics.
The story, the characters, and even the many fight scenes are all so incredibly well done for its age.
Perhaps his multiple hiatuses somehow make Togashi Yoshihiro a better writer than most? We will never know…
In any case, if you're looking for even more anime to binge, here's our picks for similar series that you must check out if you're a fan of Yu Yu Hakusho (like yours truly!)
15.

Flame of Recca
For our first entry, we have a series that captures that same 90's "Golden Age" vibe just like Yu Yu Hakusho does.
In terms of animation and art style, Flame of Recca is by far the closest series to Yu Yu Hakusho.
And by its own merit, Flame of Recca is actually a pretty great show that features a lot of qualities that all great Shounen have in common.
You know, stuff like a cool MC, intense action scenes, a fast-paced plot, and some memorable and over-the-top characters.
Not to mention it also has a tournament arc that may not be as great as Yu Yu Hakusho's – but it can still hold up compared to other series.
14.

My Hero Academia
One of the things that made Yu Yu Hakusho great was its masterful handling of the Dark Tournament.
And while this concept is not as pronounced and focused on in My Hero Academia, the Sports Festival Arc certainly was still pretty great.
I'd even go as far as to say that it exceeded my expectations!
After all, most anime that try to cram in a "tournament arc" within its already-loaded plot often fail in execution.
But not My Hero Academia.
If you liked Yu Yu Hakusho's (short-lived) school-life aspect and its intense fight scenes, then BNHA is definitely for you.
13.

That Time I Got Reincarnated as a Slime
Some of you might've never noticed it before, but Yu Yu Hakusho (given the nature of its plot) can actually be considered as an Isekai.
Pretty wild, huh?
I wasn't kidding when I said this series was ahead of its time.
On that note, That Time I Got Reincarnated as a Slime is a great show for this list, in the sense that they both feature a plot that kicks off after the MC went into the afterlife.
TTIGRAAS itself is very thrilling too. Especially if you're also a fan of LitRPGs or any story that has a game-like power system in them.
12.

Fairy Tail
Here we have an anime series that features yet another exciting tournament arc.
The difference is, Fairy Tail features spell-slinging wizards instead of the usual demons in Yu Yu Hakusho.
It's one of the best anime centered around magic, and is most certainly a show that I'd recommend for any anime fan.
And given the show's considerable length (it even has a prequel), you probably won't have a problem with having too few episodes to watch.
In short, Fairy Tail is a highly successful manga and anime series much like Yu Yu Hakusho. And it's something I recommend to those ready for a relatively long commitment!
11.

Baki the Grappler
Baki the Grappler is another age-old classic that won't disappoint.
This is especially true if you're looking for a fun yet thrilling show that has a ton of fight scenes.
And while the show might not have that same supernatural theme Yu Yu Hakusho has, it makes up for that by giving us some dudes as buff as Toguro, who are all ready to duke it out at any given time.
At its essence, this is a show that any action/fighting anime fan would absolutely love.
10.

Kengan Ashura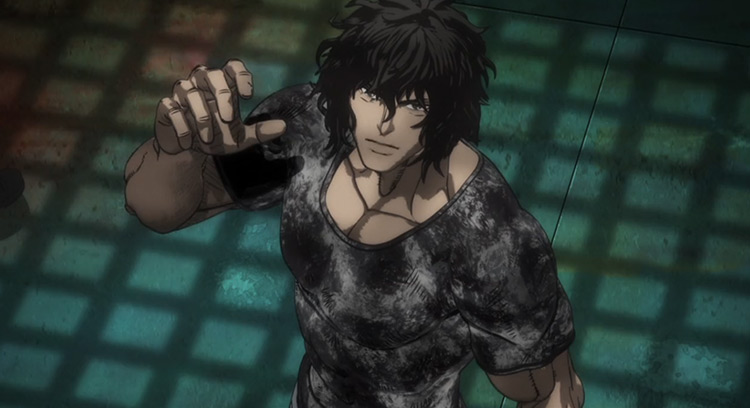 When the words "fighting" and "tournaments" come up, you can never go wrong by checking out Kengan Ashura.
Sure, the adaptation might've not lived up to its phenomenal manga counterpart (in my opinion anyway). But it's still worth a watch.
After all, Kengan Ashura is one of the most well-made martial arts anime out there.
In addition, it also heavily features that same tournament-style plot from Yu Yu Hakusho.
If you could bear a 3D-ish animation style that's somewhat reminiscent of that of Berserk (2016) then this one's worth trying.
Personally, I'm more of a 2D guy myself. But Kengan is just so good that it's worth ignoring the wonky animation style if you can.
9.

One Punch Man
OPM is a series that's a personal favorite of mine, and I'm sure that's true for many of you as well.
Very rarely will you see an anime mix action and comedy together – or at least to the same extent that this show has done it.
It's a fun series that manages to both be downright hilarious and intense at the same time.
Did I also mention that its second season also featured a short-yet-well-made tournament segment?
Well to be fair, almost every entry on this list does…
The only difference is that One Punch Man actually did its action scenes better than most titles on this list, despite being a comedy series first and foremost.
8.

Shaman King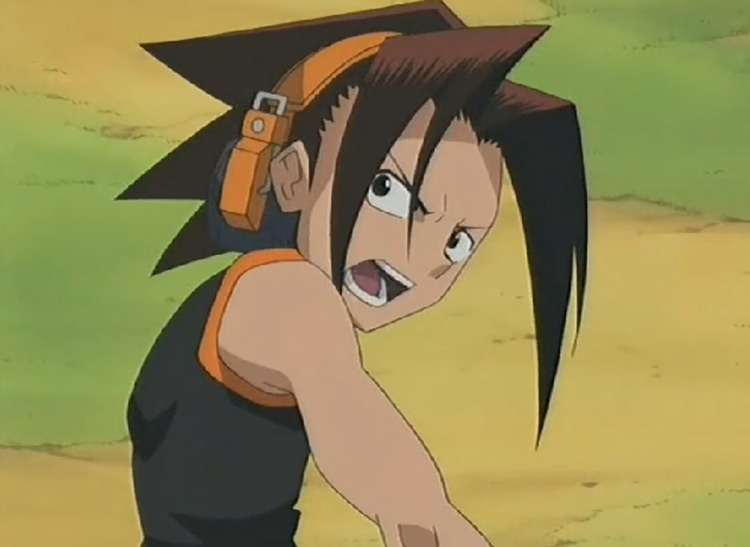 Shaman King is an older title that features many of the classic Shounen attributes, much like Yu Yu Hakusho, albeit a tad more light-hearted.
It's an anime that encapsulates the unique traits that most aged anime share – and it makes them feel newer, even compared to modern & more well-animated titles.
But then again, Shaman King is also one of the few lucky shows that managed to snag a remake.
And it's a recently-released one at that!
Fortunately for the newer anime fans out there, you have the opportunity to see what makes older shows like Shaman King so great —albeit in a more "modern" style of animation.
7.

Record of Ragnarok
If you loved watching the Dark Tournament from Yu Yu Hakusho, then this is by far the best anime for you.
Record of Ragnarok is a recently released title that tells an age-old classic tale of mortals going against gods.
Although it's in a more high-octane tournament setting that quite literally sees mortals going against gods in a series of no holds barred, one-on-one fights.
As a manga reader, this adaptation was actually one of my most anticipated – simply because I consider the manga to be a complete masterpiece.
If you are a huge fan of Yu Yu Hakusho, this is one title that you won't regret watching.
6.

Demon Slayer
One notable thing about Yu Yu Hakusho is its interesting usage of demon characters — all of whom are not even portrayed as bad guys and villains.
Heck, even the main character (Yusuke) is part-demon himself. And he's not exactly what you would call evil.
Demon Slayer, on the other hand, more or less does the same thing with Nezuko — Tanjiro's adorable demonified little sister, who would only attack others when her brother's life is threatened.
Aside from this thematic similarity, Demon Slayer also has an action-heavy plot that goes along well with its breathtaking fight scenes.
5.

Toriko
Speaking of demons… here we have Toriko — a show that also features many demon characters, but in a different kind of way.
What kind of way, you ask?
Well, the "demons" in Toriko don't necessarily desire other people's souls or anything like the superstitions suggest.
Instead they require tons of food to maintain themselves. Which is why Toriko (the main character) went on his merry adventure in the first place.
Sure, watching an anime that's centered on fighting and food might be a bit strange… but let's be honest — is it really?
4.

Bleach
Bleach is your usual Shounen anime that mirrors a lot of things from Yu Yu Hakusho.
Don't believe me? Let me give you a short recap of the show's plot:
Ichigo, once a normal high school boy, was forced to enter a hidden world in the afterlife where he encounters a lot of malevolent beings (hollows) that he must defeat to go back to the way things were.
Our MC then discovers he's not exactly human, and is actually part-something, which is a plot point that the show doesn't expand on until much later.
Hmm, remind you of someone?
3.

One Piece
Any self-respecting Shounen anime fan would never forget to recommend One Piece.
And seeing as I'm a massive Shounen anime fan, I'm no exception to this rule.
One Piece is not just one of the best Shounen anime ever created (which it definitely is). It's also one of the longest-running anime in history!
It has even reached its 1000th episode milestone and I have to say, it's an achievement well-deserved.
Like Yu Yu Hakusho, One Piece was also a part of its generation's "Big 3". And it's not hard to see why.
Seriously, check it out if you still haven't for some reason!
2.

Dragon Ball Z
For our runner-up in this ranking, we have Dragon Ball — a show that's likely older than most anime fans, but still about as relevant now as it was during its heydays.
Perhaps even more so today!
In addition to being a title that was a part of the 90s, it can also still keep up with more modern titles (and there's still lots of modern Dragon Ball series being made).
This stems from the fact that Dragon Ball, at this point, isn't just "a show".
It's the show.
It's part of a series of shows that won't be soon forgotten.
DBZ is a title so memorable and iconic, that if you were born in the 80s or 90s, you've probably seen at least part of an episode at one point or another.
1.

Hunter x Hunter
Was there any surprise this series would be at the top?
Yu Yu Hakusho spearheaded a lot of Shounen tropes we see today.
Hunter x Hunter, however?
This series is basically Togashi's magnum opus.
It's Yu Yu Hakusho's successor that's somehow better in every aspect – despite Yu Yu Hakusho being an already superb show in its own right.
In a nutshell, HxH is a piece of literature that's so well-written, that the anime adaptation could probably just end where it left off and still be considered as an all-time great.
Trust me. It's that good.
Browse:
Japanese Culture
Lists
Anime