Top 30 Most Badass Anime Characters Of All Time (Ranked)
This post may contain affiliate links. If you buy something we may get a small commission at no extra cost to you. (Learn more).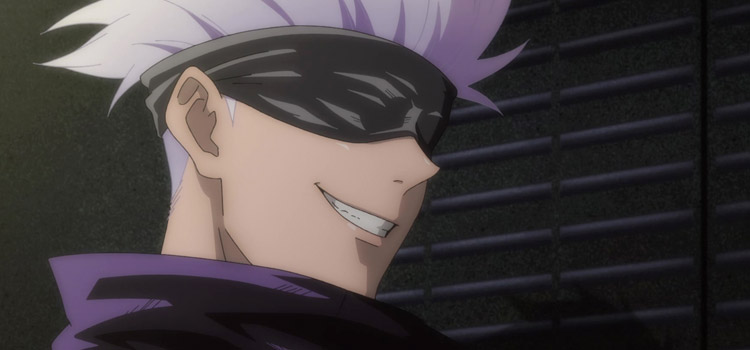 It's unavoidable that certain characters just shine brighter than others.
While some characters are there to just make us laugh, or to make us cry, it's usually the badass showstopper characters that make the audience sugoi.
And for this ranking we're going to be looking over some of the biggest badasses that anime has to offer.
So let's watch out guys, cause it looks like we've got badasses over here.
30.

Ken Kaneki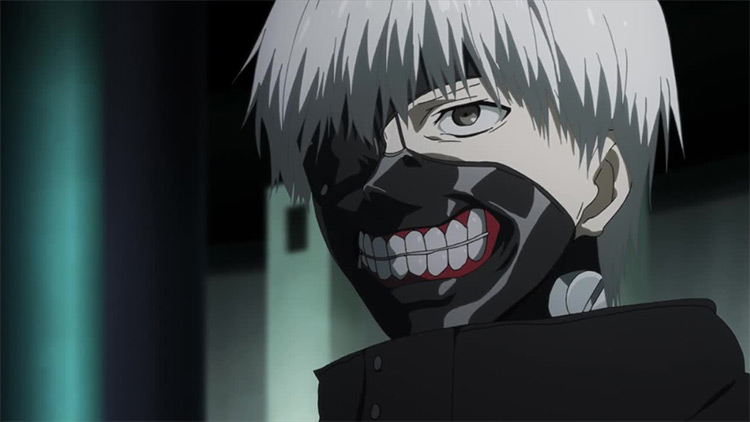 Anime: Tokyo Ghoul
If this was a manga-only tier list, then Kaneki would have probably been higher up.
Nevertheless, the first and second season of the anime gave us plenty of material when it comes to this badass ghoul.
The crucial moment that rocketed Kaneki into the hall of greats was definitely his hair changing to white, as it was obvious he would take nothing from no one from that point on.
His fight with Jason was probably my favorite, and it alone solidified him as the end-of-list pick for this ranking.
29.

Baki Hanma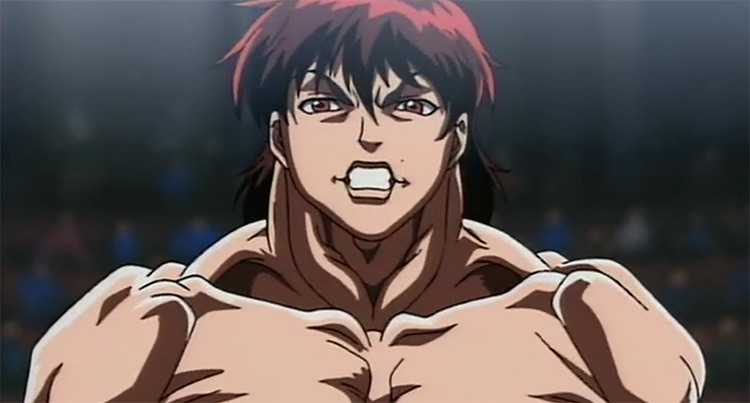 Anime: Grappler Baki
When it comes to the proportions of testosterone per pound of body mass, this dude even makes the JoJos look average.
Baki is no less than a muscle machine, capable of doing pretty much anything short of flying.
He also has that badass aura that's activated whenever he gives someone a slightly stern look.
This AoE fear factor has sent armed thugs running away plenty of times throughout the show, and for good reason.
28.

Yami Sukehiro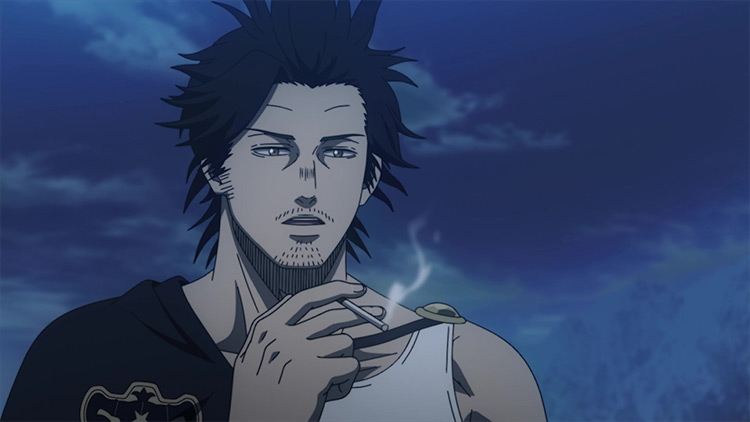 Anime: Black Clover
Usually when you get a samurai character they're tall, skinny, mysterious, and outspoken.
Yami never got that memo and just looks like a slightly deflated Baki.
However, his attitude and his power is far greater and way more badass.
The dude never seems to worry much in battle, as he always just knows that he can surpass his limits and look any foe in the eye if given enough time to ramp up.
And when he does go all out, it's truly a beauty. As the combination of dark shadow-based magic and a katana is nothing short of awesome.
27.

Ghislaine Dedoldia
Anime: Mushoku Tensei: Jobless Reincarnation
Although Ghislaine initially just seemed as a fan service character, she quickly became one of my favorites in the show.
This is because everything that could have been ecchi about her is substituted with badassery.
She's an incredible warrior and never really needs backup from anyone. She also genuinely doesn't care for men, but also doesn't hate them.
I'd argue she's a proper warrior that will behead you in an instant if you touch her employer, and she even sought higher education to be more well-rounded.
Even primetime ecchi material (like her butt) is just used to showcase how powerful and hardworking she is.
26.

Firo Prochainezo
Anime: Baccano!
Firo was just dripping from swag the second he came into frame.
He's an excellent fighter that'll both kick your ass, and somehow look elegant while doing it.
He always looks dashing. And his choice of waifus is definitely S-tier.
I mean, I'm honestly surprised that more characters didn't see the absolute waifu stonks that were present with Ennis. He always comes off as a gentleman and a true mafia member at the same time, which is pretty badass.
25.

Zoro Roronoa
Anime: One Piece
Zoro is an OG badass that has been giving us high-tier sword fights for decades now.
He's among the more serious members of the crew, and you can always count on him to keep the situation under control.
His stoic demeanor plus his sick skill with the blade is just a guaranteed hit with any shounen lover.
Especially when the third sword comes out. Then I get serious Zabuza flashbacks and simply know that I'm in for a ride.
24.

Hawks
Anime: My Hero Academia
My Hero Academia had quite a few candidates for this list:
Dabi, Stain, and Overhaul, just to name a few right away. But with the fifth season, I'm on the Hawks hype train.
We all knew he was going to be an interesting player from his introduction, as he gave little regard to the usual hero ideal and just wanted to work from the shadows.
He's also immensely powerful and versatile. But it's his nonchalant attitude and mysterious past that really had me hooked on his character.
23.

Garou
Anime: One Punch Man
I don't know whether I'm in the minority here, but I really liked the second season of One Punch Man.
The key selling point was definitely Garou as he fell in-line with the typical shounen protagonist way more than Saitama ever did.
The dude is just tenacious beyond belief. And every fight feels like a little character arc, as he always comes out of it stronger than he was when he went in.
His wild appearance mixed with some sick martial arts and a gift for combat made Garou the highlight of the second season for me. And I think people need to stop sleeping on this badass.
22.

Ban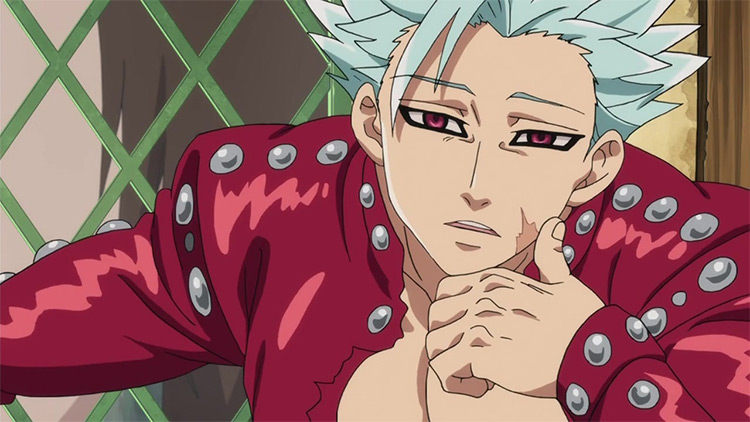 Anime: The Seven Deadly Sins
Ban probably had the best introduction in the show, with the only possible exception being Full Pringle Escanor.
We see this dude getting tortured, looking lifelessly into the distance. But the second he hears Meliodas is coming, he just busts out and uses his enemy's attack to get a fresh shave before his big date with his friend.
They then proceed to tear the entire castle down through the cheer power of arm-wrestling.
How can you not immediately fall in love with this dude?
21.

Rokurouta Sakuragi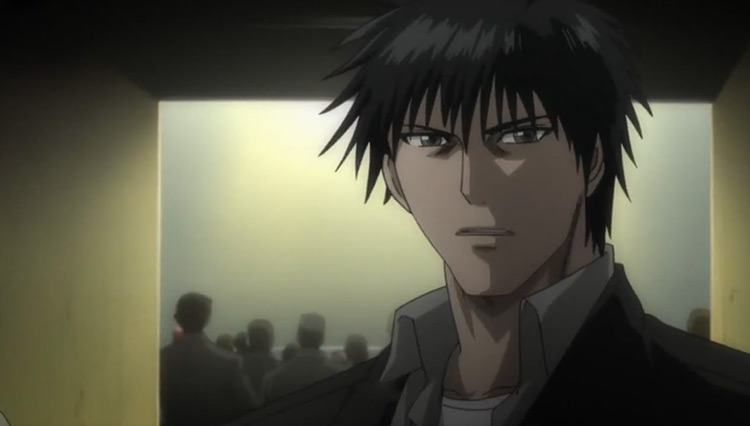 Anime: Rainbow
This guy is one of the rare cases where a character was so blindingly nice and borderline angelic that it actually made him look like the biggest badass around. I'm serious!
Even though his cellmates were all strangers to him a day prior, he immediately took them all in and protected them from the corruption making its rounds through the prison.
Okay, he did also initially beat them up to prove a point… but that just makes him even more badass!
So if you too want to be a badass, maybe look up to this guy.
20.

Sinbad
Anime: Magi: Adventure of Sinbad
When it comes to morality, Sinbad is a difficult guy to peg.
On a surface level he does seem like the ultimate good guy who's trying to create a nation where everyone can be at home.
On the other hand though, he's nearly a god when it comes to power. And he has no issues with blowing away anyone who dares oppose him and his ideals.
But that just made him so interesting to watch!
He was a dude that literally grabbed life with both hands and decided where to steer it.
His powers are always visually cool, and his more serious moments were highlight of both this show and the sequel.
19.

Shinya Kougami
Anime: Psycho-Pass
The good cop/bad cop dynamic is a landmark of any good detective or crime series.
And when it comes to anime, Psycho-Pass is arguably one of the biggest.
And let's face it: even though we would all wish to get the good cop if we were in their shoes, it's way more interesting to see what the bad cop is going to do next.
Shinya is a prime example of this trope. He's anything but plain, yet he always gets results.
That badboy energy stays with him throughout the series, and is arguably the thing that gave the show its initial edge.
18.

Thorfinn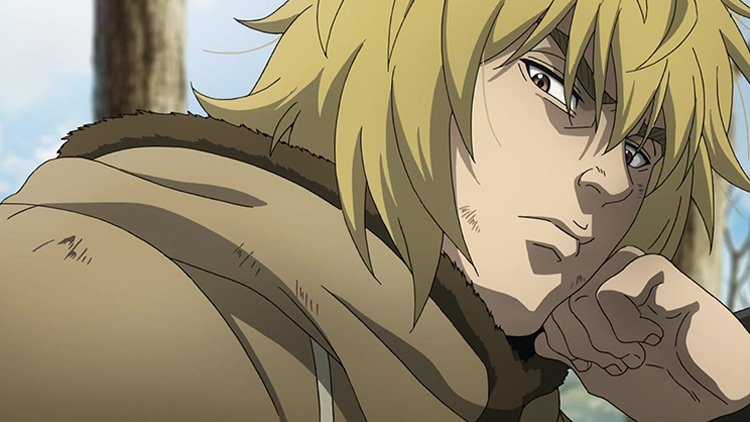 Anime: Vinland Saga
Who doesn't enjoy the occasional revenge plot?
Thorfinn's was especially fun to watch, as the dude just had no chill.
Although it seemed odd at first for him to hang out with the very people he swore to kill, that's quickly pushed to the side as we get to see him become a badass warrior.
Even though he's small in stature, Thorfinn easily took on dozens of armed guards without even breaking a sweat.
And he brought back the severed heads of generals to cash in like they were arcade tickets.
His brutality was a bit shocking, but also very badass.
17.

Hyakkimaru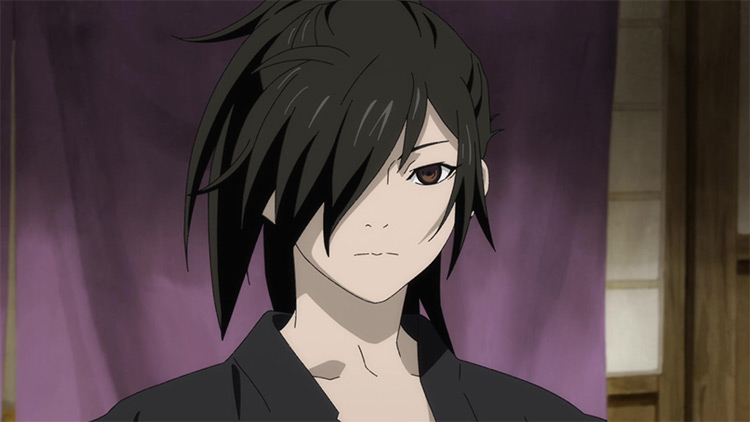 Anime: Dororo
I love underdog stories. And Hyakkimaru is so below the dog that he's at hell's door.
This is because he was given one of the worst starting hands of almost any anime character, being completely void of basically everything we humans take for granted – like sight, pain, limbs, and even skin.
And yet he manages to become this complete badass who can take on literal demons and entire army squads by himself.
It never seems like he enjoys killing. But his will is so iron-clad that he also never hesitates when it's time to land the finishing blow.
And when he goes berserk, it's awesome and terrifying at the same time.
16.

Roy Mustang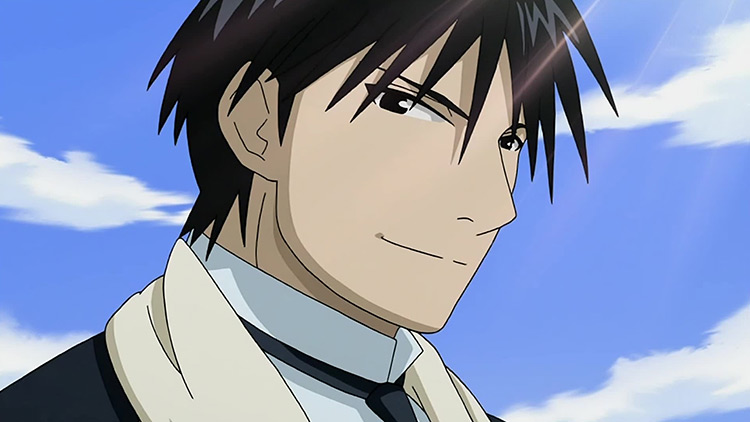 Anime: Fullmetal Alchemist: Brotherhood
As one of the top rated anime in existence, it's no wonder that FMA has quite the strong line-up of characters.
Roy was among my favorites in the series, as he was the type to usually slack off and appear a bit harsh, all while being extremely caring and thoughtful on the inside.
His form of alchemy was also just badass on every level. He literally snapped you out of existence.
And his fight with a certain someone went down in history as one of the most satisfying arc conclusions in anime – or at least I think it did.
15.

Akabane Karma
Anime: Assassination Classroom
Karma was an instant hit, in my opinion, as he finally brought some edge to the mostly PG class.
Which is quite important considering they're all training to be assassins.
He always taught outside of the box, and wasn't afraid of anything if it meant achieving his goal. Even jumping off a cliff was fair game.
Throughout the show we see that he's an incredible fighter, and that he's mentally a few steps ahead the average assassin – making him extremely fun to watch.
He also somehow managed to get good guy and badass points at the same time when he fought Nagisa.
14.

Angelo Lagusa
Anime: 91 Days
I already mentioned how I like revenge stories. But I forgot to mention that mob-related revenge stories are an instant must-watch in my book.
Angelo was honestly born to be a mobster, as his cool temperament and deductive reasoning seemed to get him out any sticky situation.
He was also quite the manipulator, as he laid low right below his enemies' nose, waiting for the ideal opportunity.
When stakes were high, Angelo never failed to deliver some quality content. And I for one was really glad at how the series concluded.
13.

Izaya Orihara
Anime: Durarara!!
I really like clever characters. Light, Lelouch, and Johan are just a few worth naming.
But they usually lack that little something for me to view them as true badasses. They just rarely got their hands dirty.
Izaya, however, was a pleasant surprise. As he was a master tactician as well as an avid fighter.
Although he usually avoided confrontation, he was completely capable of whipping out his switch-blade and duking it out with one of the strongest dudes in the entire series.
This double threat nature just made him look so cool in my eyes.
12.

Chrollo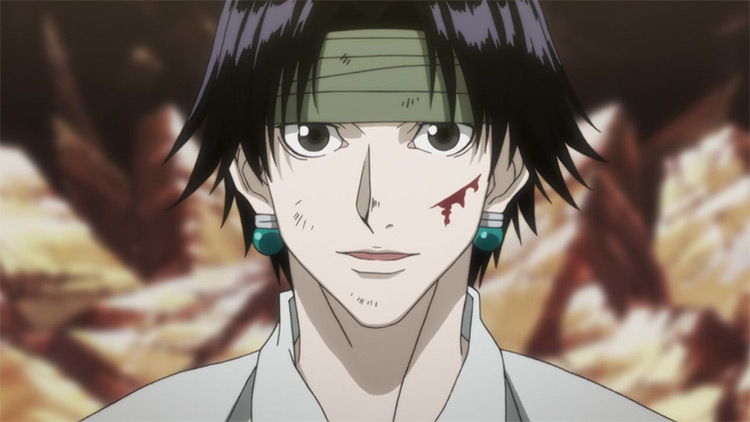 Anime: Hunter x Hunter (2011)
Although we don't really see Chrollo that much throughout the series, he has made an everlasting impression on me with two key scenes.
Spoiler alerts here:
My first example is the scene when he took on the Zoldyck duo by himself and immerged mostly unscathed, even though his opponents were among the strongest in their world.
But the real selling point was when he conducted a symphony of chaos, as he calmly jammed out to some Mozart while his gang brought chaos to the city.
This one scene had such a high badass coefficient that it would have qualified Chrollo for this list by itself, even if it was his only appearance.
11.

Spike Spiegel
Anime: Cowboy Bebop
Spike has a very dualistic charm. He seems like a completely different person when he's on the job vs. when he has time on his hands.
When there's nothing to do, he just lays around and kills time by killing his lungs slowly. Which makes him quite relatable.
But when he's on the job and the chips are down, he's shown as being incredibly tenacious. And his fighting style does so much more than just being an homage to the likes of Bruce Lee, as he has some master class choreography.
The dude has been a staple in any anime watcher's diets for over a decade strong. And I doubt anyone is going to forget about this particular badass for quite some time.
10.

Giorno Giovanna
Anime: JoJo's Bizarre Adventure: Golden Wind
From the get-go I knew that part five was going to be amazing. What could possibly be bad about a JoJo season that's centered around mobsters?
But I was not prepared for the level of coolness Giorno was going to bring to the table.
Aside from being one of the few protagonists in the franchise who wasn't opposed to murder (by banana no less), his attitude was just to die for.
He never backed down from a challenge. And he was extremely creative (and sometimes brutal) when it came down to getting the W for his gang.
9.

Mugen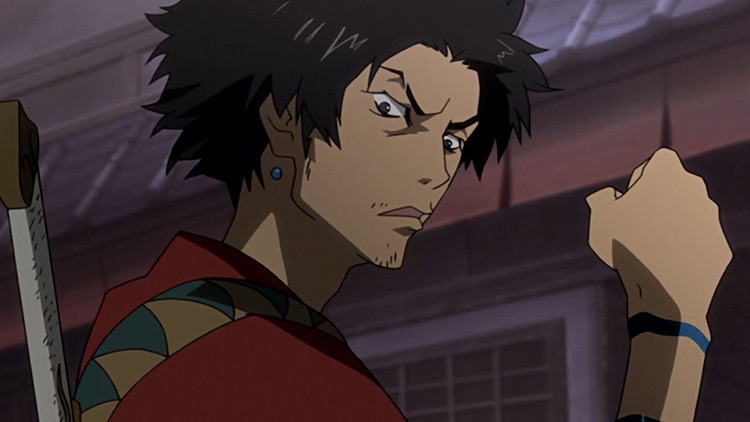 Anime: Samurai Champloo
Personally, Mugen has a very similar appeal as Spike, as he too can switch between lazy womanizer and sword prodigy at the drop of a hat.
His fighting style was also a spectacle to look at, as it was very raw and creative in nature. Oftentimes it looked more like a hip-hop routine than a life-saving maneuver.
His bluntness was also a cool touch, as he seemingly followed every stereotype that would describe a samurai of his caliber.
The dude was just out here living his best life. And you have to love him for it.
8.

Sukuna Ryoumen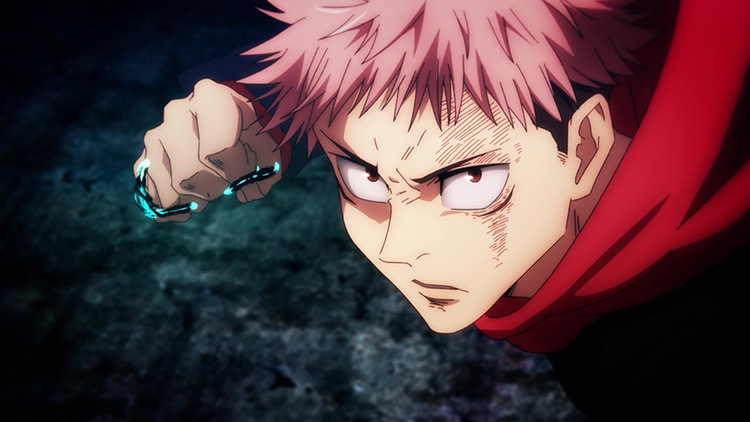 Anime: Jujutsu Kaisen
I've seen plenty of shounen use the "demon/monster inside of the protagonist" trope.
But none have ever been as cool as Sukuna.
This is because Sukuna was actually terrifying, showcasing multiple times how little of a damn he gave for the life of his host.
In fact, he even employed some pretty underhanded tactics to get his way.
He also has quite the ego, leading to some extremely badass scenes where he would basically smite someone while sitting on his throne of bones.
Take notes, shounen creators, this is how you do the trope justice!
7.

Alucard
Anime: Hellsing Ultimate
If you're into dark and gritty characters, Alucard is probably at the very top of your list.
This is because he feels like a terrifying god in his universe, playing around with his pray before sending them into oblivion.
Everything about him was custom-made to be extremely badass, from his outfit to his powers. He ruled every scene that he was in.
And he also had quite the attitude, sometimes sounding like a little troll that's just amusing himself – even when multiple lives hang in the balance.
6.

Levi
Anime: Attack on Titan
I'm still amazed at how consistently Levi managed to blow me away throughout the show.
When it comes to strength, it isn't even a competition.
When it comes to dedication, few can stand in the ring with him.
And when it comes to character, not even some of the main cast has shown as much depth as our short king.
His painfully realistic outlook on life made for some excellent and even thought-provoking scenes. And his capability to splatter the entire frame in blood has made quite a few hype moments.
5.

Hisoka Morow
Anime: Hunter x Hunter (2011)
I love morally ambiguous characters.
They always keep me on my toes.
And Hisoka is probably one of the best examples of this archetype.
Although I can't really condone his kinks, this killer clown is fascinating to look at. He only really lives for himself.
His whim can make the difference of whether someone lives or dies, and his need to murder in such a condescending and often flamboyant manner makes for some great plot twist.
You can never tell what he's thinking. And I find it nearly impossible to imagine Hisoka being in any other state besides "badassery".
4.

Guts
Anime: Berserk
Take everything I said about Hyakkimaru, then increase the numbers ten-fold, and you'll get Guts.
The dude was literally born from a corpse, and somehow his life still managed to go downhill from there.
Manga readers, you know what I'm talking about.
But nevertheless, time and time again he manages to stay on top and become no less than a legend within his world.
The word "tenacious" can't even begin to describe this man. And when he smells blood in the water, it truly is a page-turner.
3.

Joutarou Kuujou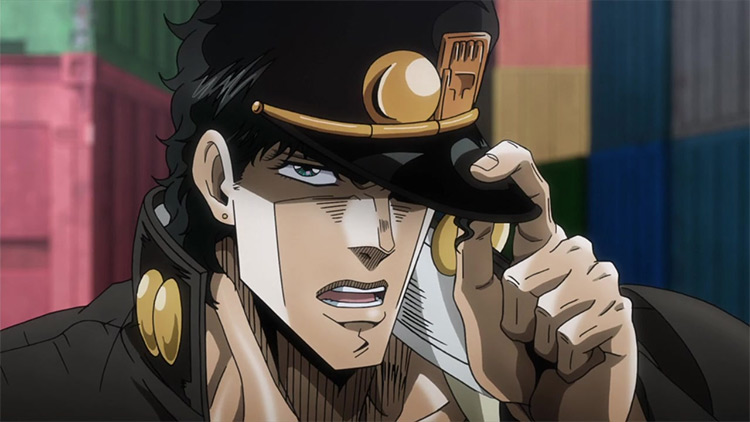 Anime: JoJo's Bizarre Adventure: Stardust Crusaders
Even though I stan my boy Giorno, I think that in terms of badassery, no one can come close to this dude.
He's the living definition of a brooding badboy, and has somehow managed to stay in that role throughout the entire series.
Appearance-wise, he's completely decked out. And I'm certain that even one serious gaze from this dude could silence an entire detention center.
He also has quite the good head on his shoulders, as he rarely wins through brute force, but rather by outsmarting his opponents.
And some of his plans require so much courage that you really have to doubt his cannon age for a second.
2.

Satoru Gojo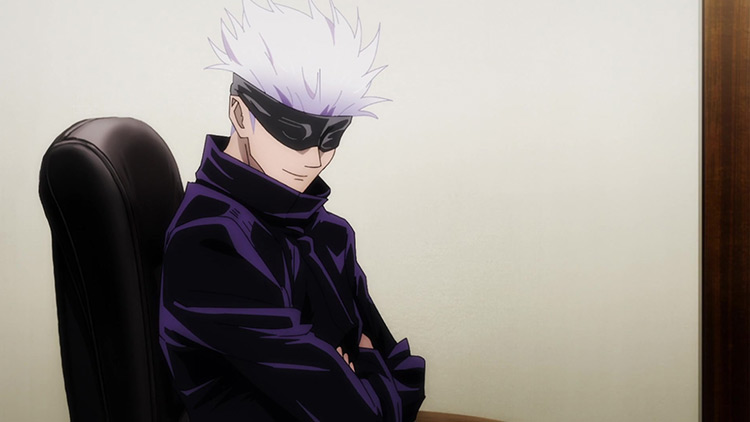 Anime: Jujutsu Kaisen
I feel like Gojo goes against nearly everything I've defined as being "badass characteristics" in this list.
Gojo is constantly goofing off, and usually has the mental presence of a ten-year-old after 300 grams of sugar.
But then you realize that his demeanor simply comes from the sheer amount of power he holds in his hands.
This dude just flexes on every opponent dumb enough to get in his way, and uses his power in such a stunning way that you end up glued to the screen for the entire fight.
He also knows that he's far from naïve, as his plans for the future are not nearly as carefree as one would think.
1.

Itachi Uchiha
Anime: Naruto: Shippuden
Itachi was the character that kept bringing me back to Naruto.
Even though he had such limited screen time, his presence was always felt.
Everything about this dude is just beyond badass.
From his iron-clad will and ideology to his fighting technique and visual design, you would be hard-pressed to find a character that's as badass as Itachi.
From being the ultimate bad guy in Sasuke's arc, to then becoming the unsung hero of an entire generation, this man was always a step ahead of the game.
So I think it's only fair to crown him with the number one spot.
Browse:
Japanese Culture
Lists
Anime