15 Best Mods For Batman: Arkham City
This post may contain affiliate links. If you buy something we may get a small commission at no extra cost to you. (Learn more).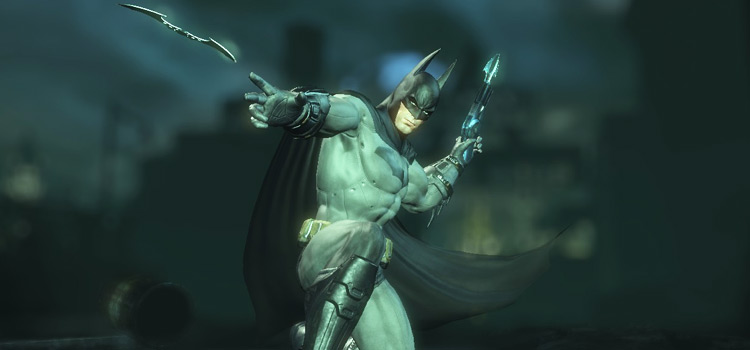 If you enjoy single player open-world games at all, you've probably played through the Batman: Arkham games.
While the Arkham series wasn't the first to maximize the specific brand of fast-paced combat, it set the trend. And it paved the way for games like Shadow of Mordor and the newer Spider-man (one of many amazing Spider-Man games).
Batman: Arkham City is the second game in the series, and is without a doubt a worthy sequel to Arkham Asylum. Everything is bigger, with more locations to explore and enemies to fight. And yet… it still feels like we want more.
So whether you're picking up this game for a first try or jumping back into Arkham after a while, this list is sure to tickle your fancy. Plenty of mods, really all the best ones you could install, basically at your fingertips.
15.

Batman Arkham City – Improved Quality
While Arkham City is by no means a bad-looking game, modder JTT211 found ways to make the game look just a bit better with this Improved Quality mod.
You'll need ReShade installed for this one, but JTT211's preset will do the rest.
The game's default graphics settings are actually disabled and replaced with custom ones, giving the game a much more realistic look overall.
Lighting effects are improved, and the overall image quality is much sharper than that of the base game.
14.

Daylight Mod
This next mod doesn't really make any visual improvements. Rather it adds a new graphics option that wasn't previously available in the game.
While the Dark Knight isn't known for roaming the streets (or rooftops) during the day, this mod lets you do exactly that.
Take a glimpse over the city of Gotham in a completely new light (quite literally) with the Daylight mod by thebatmanhimself. Hell of a username…
While it's not as dark as it used to be, Gotham still maintains that overall gloomy vibe, even with the mod installed. Just the right balance.
13.

Black Cape and Cowl
Most of the community focuses on creating skins for some of the characters in the game. Which is great, since there have been so many different iterations of Batman over the years.
Modding makes it possible to try out the different batsuits in the game, and lucky for you, I've already picked out the best ones.
Let's start off with a simple one here – the Black Cape and Cowl mod from FastN1CK.
Suits are often the first thing fans notice in a superhero game, and many seemed to dislike the dark blue cape and cowl in this particular version.
The mod brings back the original colorway from Asylum, giving the batsuit a true black makeover.
12.

Playable Characters V3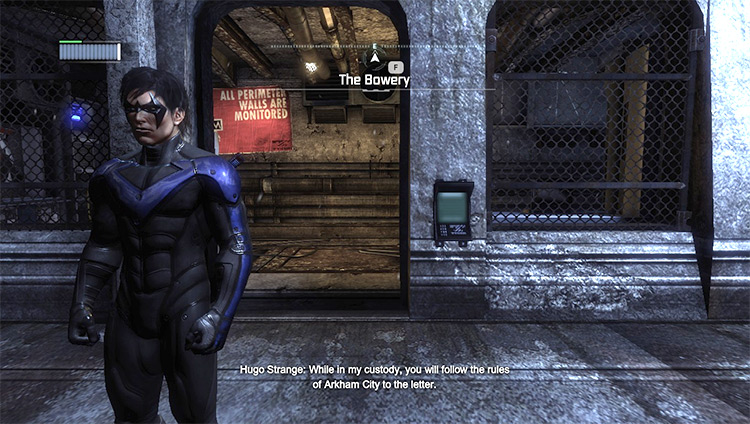 This next one isn't exactly a skin, but offers the chance to play the game as any of the different playable characters included in vanilla.
In case you haven't played the game yet, consider this your warning that there are spoilers up ahead.
Skip down to the next mod if you want to avoid any plot points!
The mod simply unlocks the other characters you eventually play throughout the campaign, which means you'll be able to free roam with either Catwoman, Robin, or Nightwing. All pretty much instantly!
11.

Ben Affleck Batman Suit
Here's where the fun really starts, as fans have found ways to incorporate their personal favorite batsuits into Arkham City.
If you're a Batman fanatic, you most likely have your own favorites as well.
It might just be on the list, but if not, I'm sure you'll find something just as interesting.
This first one takes the most recent Batman big screen depiction as portrayed by Ben Affleck in Batman v Superman.
While the film might not have been as good as most expected, the suit was surely a unique take.
10.

The Dark Knight Movie Costume
This next one takes the suit from the undoubtedly better Batman film series: The Dark Knight.
The suit features a hardened Kevlar exterior separated into multiple pieces, which as explained in the films, was a decision made to improve Bruce's mobility.
I'd say this seems to be one of the more popular suits from Batman films as well, as demand for this one was high even when other suits were released for Arkham: Knight.
Luckily, we won't have to worry about that. You can download this mod unlimited times! God bless the Internet.
9.

Batman The Animated Series New Outfit
This time we're taking a look at one of the most popular Batman series' of our time – Batman: The Animated Series.
Most 90's kids will likely remember this one from their childhoods.
The plain light grey suit and big white eyes are so easily recognizable.
While the game already includes an animated Batman suit, this one zones into the suit from season 4 of the series.
If you prefer this design over the older versions, go ahead and grab it for free!
8.

Netflix's Daredevil – Batman Year One
So we can totally change how Batman looks. It should be no surprise that the community has found ways to swap him out completely for someone new.
This next mod in particular replaces the Batman Year One suit in the base game with another popular DC hero: Daredevil.
The suit is taken from the recent Netflix series, replacing the typical black and gray with Daredevil's red and black colorway.
7.

Kylo Ren
If you happen to be a fan of both Batman and Star Wars, then you're in luck! At least with the next few mods.
Strangely enough, there is no shortage of Star Wars mods for Arkham City.
Which means you'll be able to play the game as some of your favorite characters from a long time ago in a galaxy far, far away.
This mod in particular brings one of the newer Star Wars villains to Arkham City, as you'll be able to play through the campaign as Kylo Ren.
6.

Darth Maul Robin
Now this next one brings us another iconic villain from the Star Wars universe.
Who better to replace with a Darth Maul skin than Batman's sidekick Robin?
The mod replaces Robin's skin with that of Darth Maul, complete with his signature double-bladed lightsaber instead of Robin's staff.
5.

Darth Vader-Themed Batsuit
The list of Star Wars-related mods wouldn't be complete without mention of the quintessential Star Wars villain.
Who else would I be talking about, other than Lord Vader himself?
Masterliamy's mod gives us an interesting crossover, merging a hero with a villain with the Darth Vader-themed batsuit.
While you still play as Batman, you'll notice that the suit includes details from Vader's – including the main chest computer designed to keep him alive.
Batman's eyes have been replaced with red dots as well, giving him a much more sinister look overall.
4.

Gotham Penguin
Heroes aren't the only ones getting makeovers, as there are skins out there for some of our favorite villains as well.
Penguin has taken on many different forms in many different movies. From Danny Devito's dark troubled portrayal in Batman Returns, to the more sophisticated look he takes on in Arkham City vanilla.
This mod looks to combine the original base game's version of The Penguin with that of the recent TV series Gotham, swapping out the black coat with the purple one seen in the show.
3.

Joker Phoenix
As with Luke's rival in Star Wars, we can't forget about Batman's archnemesis as well.
Fans are particularly critical of how the Joker is portrayed in media, as the character has come a long way from the earlier depictions as well.
Heath Ledger's Joker seems to have set the bar pretty high. But fans were generally pleased with the more recent Joaquin Phoenix take on the iconic villain.
If you enjoyed the more humanized version of DC's most well-known villain, you'll be happy to know that you can have that version in Arkham: City as well.
2.

TDKR Robin
Earlier we transformed Robin into a dual-blade lightsaber wielding Star Wars antagonist, but we haven't really offered a proper reskin for the boy wonder.
Well with this mod, you can get the Robin suit from The Dark Knight Rises to go along with that of Bale's batsuit perfectly.
The mod features the all-black hooded suit as seen in the film.
1.

Bruce Lee For Nightwing
Here ranking at #1 we have probably one of the most fun Arkham: City mods out there.
Who else does Nightwing's martial arts prowess remind you of… other than master martial artist Bruce Lee?
Well if you don't think so, I'm obviously not alone. As user KEVIN465M0RAN thought so as well.
With this skin, Nightwing's suit is replaced by the legendary suit Bruce Lee wore in his final film "Game Of Death".
I mean, it's just Nightwing so no big deal right?
But if we have the power to mod, then I say mod we must.
Browse:
Batman
Lists
Video Games