Battle for Middle-earth II: The Best Mods For Better Gameplay
This post may contain affiliate links. If you buy something we may get a small commission at no extra cost to you. (Learn more).
The Lord of the Ring's Middle-Earth is a great setting for any video game. Over the years we got action games, open-world adventure games, role-playing games, and so on.
Battle for Middle-Earth II is still a really fun title to revisit. But quite a bit of time has passed since 2006, so naturally the game does feel dating.
But that's nothing that a few mods can't fix!
10.

Hero Mod
In a world such as Middle-Earth, we can never have too many heroes.
How are we supposed to survive in a land like this without them?
As we can never have too many heroes, no one will object to getting more of them with the Hero Mod. This adds multiple heroes for different factions right into your game.
You may have never heard of them before, but you'll be sure to remember their names once they've bashed enough Nazgul skulls for you!
9.

Dawn of Middle-Earth
Gandalf is one of the most iconic characters of The Lord of the Rings. And he's also among the most powerful, although games based on the franchise seem to forget about this way too often.
Dawn of Middle-Earth is the modification to download for all fans of the legendary sorcerer. This mod turns him into a super hero, making him extremely powerful in the process.
The mod also brings new abilities for Sauron, as well as a few more tweaks that can make your experience more enjoyable. Simple but well worth trying.
8.

ROR's BFME 2 HD Patch
I don't know about you, but I hate how games often look nothing like they do in their reveal trailers.
Downgrades are the true enemy of all players!
The Battle for Middle-Earth II HD patch is a simple add-on that tries to restore the game's visuals to what they were in the original reveal trailers, adding new high-quality textures for all units and a few other visuals tweaks.
Definitely a valuable update to this game's visuals.
7.

Kingpackage
The Kingpackage is a package worthy of a king. Why, you ask?
Because it brings more war to Middle-Earth: what would a king be without any foe to conquer?
Kingpackage includes a selection of custom maps for Battle for Middle-Earth II that will challenge your strategy skills with new dangers, new mechanics, and hordes that are more vicious than ever. Time to show your prowess, lord king.
6.

Rise of Rome II: The Gods of War
Rise of Rome in Middle-Earth? What sorcery is this?
A very powerful one, my friends.
Rise of Rome II: The Gods of War is among the best gameplay overhauls ever made for Battle for Middle-Earth II. It introduces tons of new features, battle mechanics, and custom maps.
Suffice to say the units that you'll be able to deploy are dependent on which "god" you decide to worship. If this doesn't scream massive, I really do not know what does.
5.

Unlimited CP and Faster Build
Fighting hordes upon hordes of enemies can become tiring over time. Unless you start using some handy shortcuts to glory.
The Unlimited CP and Faster Build mod grants you more freedom in doing whatever you want in the game by granting you unlimited CP in the War of the Ring mode, and faster build times in all modes. The latter won't work in multiplayer, but with these servers no longer being available I'd say this isn't an issue.
4.

The Battle for Middle-Earth II: Passion
Do you hear that sizzling sound in the distance? It's the sound of your passion for Middle-Earth, burning ever hotter.
Battle for Middle-Earth II: Passion is a gameplay mod that simply aims at expanding the game whenever possible, without overhauling any of its mechanics. So what exactly do you get here?
You get new powers for heroes, new units, new maps, new factions, and so on.
Pretty much everything that any true Battle for Middle-Earth II fan would ever want.
3.

The Peloponnesian Wars
This. Is. Sparta!
Just can't help myself no matter how predictable this joke has become.
This Peloponnesian Wars mod brings some ancient Greece action into BFME2 by introducing the Spartan and Athenian factions, new maps, and tons of original content. All of this will let you replicate the Peloponnesian Wars that eventually saw Sparta rise as the most powerful city-state of all Greece.
Only that things do not necessarily have to end this way. You now have the chance to change history, and become a much better leader than Pericles and the other Athenian rulers ever were!
2.

Battle for Middle-Earth 2: HD Edition
Battle for Middle-Earth 2: HD Edition goes way beyond what you would expect a mod to do.
This massive gameplay overhaul introduces reworked units and heroes, along with totally new ones as well.
There's also plenty of balance tweaks to make the experience as fair as possible, even with the addition of these new powerful characters. Better yet, this mod is compatible with the base game. So players running without the mod installed will be able to experience all of its greatness if they're playing with another who has the mod installed.
Glory and HD gameplay for everyone!
1.

The Last Hope of the Third Age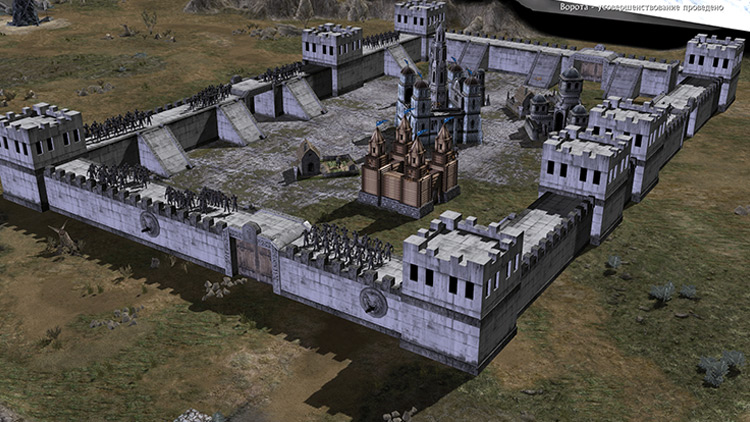 The Last Hope of the Third Age is what BFME2 players have been waiting for: a gameplay mod that brings the epicness factor to new heights.
This is a huge global mod that introduces improved graphics, new units, improved ships and artillery, and the one feature that all strategy game fans want in their titles: the ability to build walls.
How good are you at siege warfare? Let's find out together, shall we?
Browse:
Lists
Lord of the Rings
Video Games