Best Beat Saber '90s Custom Song Map Mods
This post may contain affiliate links. If you buy something we may get a small commission at no extra cost to you. (Learn more).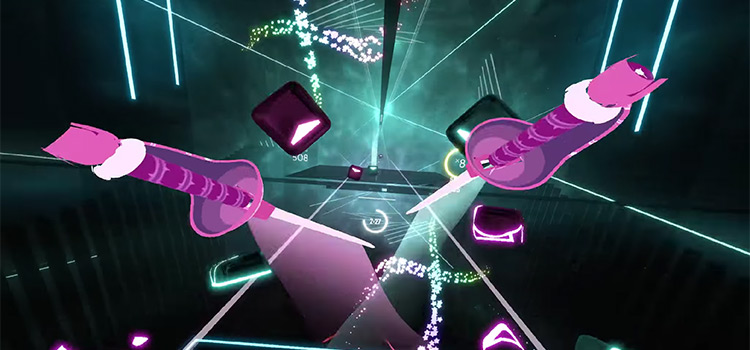 Oh, what I'd do to be back in the 90s.
Despite setting the stage for absolute insanity in the 2000s, it's hard not to think of the 90s as this golden age of good vibes where people just goofed around in comfy clothes and listened to catchy pop songs on the radio.
Sure, there were issues all over the place.
But there's something about the advent of the Internet, the appearance of new media, and seemingly ever-rising prosperity that gave people in the 90s every reason to just relax and not be at each other throat's all the time.
I don't think we'll get back any of that harmony any time soon.
But we can immerse ourselves in better times while working up a sweat, thanks to Beat Saber and these custom 90s tracks.
10.

Boom, boom, boom, boom!! – Vengaboys
It's written with two exclamation marks, so it must be good.
I'm guessing that was the marketing logic behind Dutch Eurodance group Vengaboys' hit single from 1998.
This quintessential 90s bop became a top 10 hit in several places around the world.
As a 90s kid myself, hearing it always sends me back to my childhood birthday parties.
Get this for the aerobics instructor in your heart.
9.

Wannabe – Spice Girls
Anyone alive during the 90s remembers the Spice Girls, an English girl group promoting female empowerment – and Wannabe was the debut single that put them on the map.
The lyrics of this uptempo bop bring the value of sorority to the front, reminding girls worldwide that a strong bond with their girlfriends would outlive any passion-filled heterosexual connection.
It doesn't matter whether you're Sporty Spice, Baby Spice, or more of a Posh Spice – this song will turn you into Sweaty Spice in as little as 2:52 minutes.
8.

Baby Got Back – Sir Mix-a-Lot
Nowadays, men and women waste no time expressing their immense love for big butts and wide hips.
"Thicc" is in, so to speak – but back in 1992, "I like big butts, and I cannot lie" was a strong statement.
The song was a bit too explicit for the times, leading it to be banned from several music networks for a while. Still, its message about recognizing beauty in all shapes and forms stuck, especially among black women.
Narrow-hipped girls are welcome to play it, as long as they can appreciate a nice plump butt too.
7.

Tubthumping (I Get Knocked Down) – Chumbawamba
Millennials are known for being a little bit defeatist – yet the age we hail from is anything but that.
Released in 1997, Tubthumper is British rock band Chumbawamba's most famous single – and probably the only song most of us heard from the band.
It's a song about the constant effort of oppressed people to survive day after day.
It's not a sad or melancholic song, but an exciting dance bop with a chorus that evokes the feeling of standing elbow-to-elbow with fellow soccer lovers as you chant your team's anthem after a long day of work.
Growing up with songs like these, it shouldn't come as a surprise that Millennials are also very conscious about the struggles of the less fortunate.
6.

Livin' La Vida Loca – Ricky Martin
On the other hand, you have Ricky Martin's 1999 super-hit Livin' La Vida Loca – a song about letting go and experiencing life to the fullest.
Nowadays, Bad Bunny tops the charts worldwide every other week – but Ricky Martin was the first Puerto Rican to achieve such a feat, and it gave him everlasting fame.
No matter if you heard it in the early 2000s or now, this salsa-rock hybrid will fill you with passion for life and excitement for what lies ahead.
5.

Losing My Religion – R.E.M.
Whereas Ricky Martin sings about passionate, fast-burning love, R.E.M. appeals to the heartbroken masses with a song about unrequited love and the obsession that accompanies it.
The 1991 world hit Losing My Religion is the quintessential R.E.M. song, and it features the same classic chords they always resorted to.
However, the song has a way of reaching further into the listener's heart than any preceding tracks.
There's just something about unrequited love that's universal to the human species.
It's not the fastest-paced song, but it'll still get you sweating – and maybe even crying, depending on your current romantic situation.
4.

Smells Like Teen Spirit – Nirvana
Losing My Religion only came second in popularity to Nirvana's Smells Like Teen Spirit, also released in 1991.
It was the band's biggest hit worldwide, topping the charts all over Europe and the Americas.
The song swings back and forth between soft and loud, keeping you at the edge of your seat waiting for the next riff.
The lyrics are also mysterious – and hard to hear with Cobain's intense slurring – leading the listener to fill in the blanks with their imagination.
3.

I Want It That Way – Backstreet Boys
No band sounds more "90s" to me than the Backstreet Boys.
Their album Millennium was a fantastic outro to the century, and most 90s kids like me listened to it with abandon.
Something that makes this pop ballad stand out is how unpretentious it is.
Singing about love strained by physical and emotional separation seems like the most boy band thing to do. It made their female fans fly away on their boy band fantasies, while everyone else just enjoyed it for the fantastic bop it is.
Like many chart-topping songs throughout the years, the lyrics make little sense, but they get the people going – and they'll get you slicin' blocks with reckless abandon.
2.

We Didn't Start the Fire – Billy Joel
I'll admit it. I'm cheating a little bit with this mod.
After all, Billy Joel's We Didn't Start the Fire was released in 1989, technically making it an 80s song.
Still, I felt it was too good to leave out on those grounds. It has been a gift that keeps on giving, climbing its way up the rankings repeatedly since its original release.
The lyrics reference hundreds of major culture-relevant events from 1949 to 1989, somehow summarizing the perfect storm that led to the 90s as we know them.
1.

Barbie Girl – Aqua
The first song that comes to mind when I think of 90s music is Barbie Girl by Aqua.
This Eurodance masterpiece topped the charts all over the world for months after releasing in 1997. It was played at every single children's gathering I ever attended during my childhood – and it was on the radio constantly.
Listen to it once, and it'll play in your head for days on end.
It's an invincible earworm that'll only leave your body once you put on your VR headset and slash away the curse.
It's hard to tell whether the lyrics celebrate femininity or commit misogyny against Barbie, but for once, nobody really seems to care.
Everyone loves this perfect 90s bop.
Browse:
1990s
Beat Saber
Lists
Video Games