The Best Custom Avatar Mods For Beat Saber
This post may contain affiliate links. If you buy something we may get a small commission at no extra cost to you. (Learn more).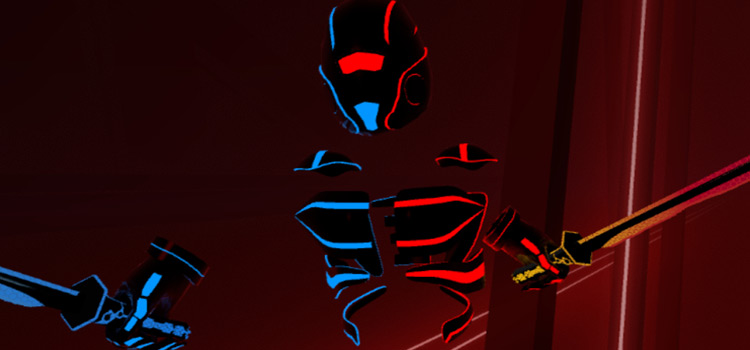 Beat Saber started out as a private past-time.
It was you, the blocks, and your blades – alone in the vast space within your VR headset.
Now that streaming Beat Saber has become so popular (and multiplayer is available through modding), having a cool custom avatar has become almost necessary.
Lucky for those of us not gifted in the art of rigging 3D models and programming, many fan creators are willing to share their creations for others to enjoy – free of charge!
There's a big variety of skins to choose from, ranging from cute anime girls to space marines.
So keep reading if you want some ideas for you Beat Saber avatar.
20.

Misa Amane
Most of us remember Death Note's Misa Amane as a girl crazy enough to give up half her lifespan to get magic eyes and impress her sweetheart.
We tend to forget she's also a famous idol.
Music and spectacle are her true calling, making her ideal for playing Beat Saber.
This avatar's dynamic bones and full body tracking compatibility will help you get the most out of this iconic Death Note wielder and her classic goth lolita attire.
19.

Ooka Miko
Thanks to Miku Hatsune, everyone knows a bit about Vocaloid.
But there's other voice synth software with cute anime avatars around.
Consider Ooka Miko from UTAU.
As viral kitten videos on YouTube have taught us, small and cute things quickly rise to popularity on the platform.
The same is true for Ooka Miko, the cutest pink-clad wolf girl ever conceived.
It's time to face it:
We all want to be cute anime girls at least once in our lives.
18.

Ryuko Matoi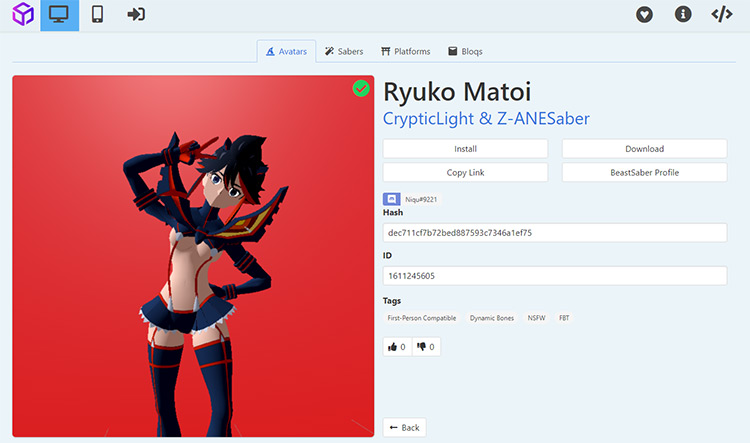 The epic main character from Kill la Kill is well-known for her somewhat revealing outfit and immense power.
If you like Studio Trigger (and if having your streaming channel get censored is not a concern) then you should give Ryuko a try.
It's a little skimpy, but it supports full-body tracking and looks fantastic if coupled with the Scissor Blades.
Don't lose your way toward victory with this badass skin.
17.

"Default"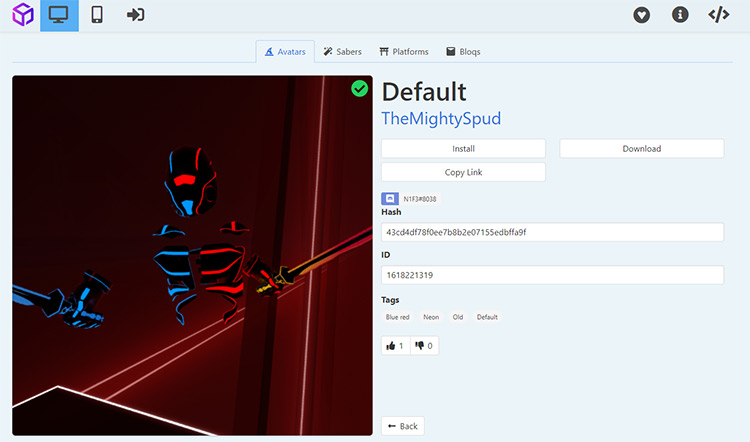 Since custom avatars are only available through modding, we'll never know what the "default" would have looked like on an official release – but we can guess.
This floating black torso with red and blue accents looks right at home with Beat Saber's base aesthetic.
It's sober and to-the-point, though it looks a bit like it was sent back in time to "terminate" you to protect the timeline or something of the sort.
16.

Legoshi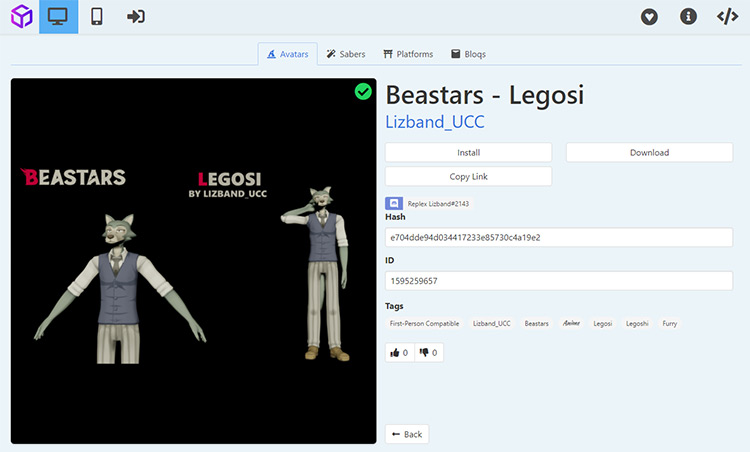 Beastars was one of the biggest anime hits of 2019 thanks to its intriguing world-building and magnetic characters – especially Legoshi.
This lanky wolf boy has a heart of gold that has captured the hearts of many.
Despite being a carnivore, he's mild-mannered and docile in most situations – especially when dealing with herbivore/prey animals.
Still, he can be surprisingly alpha when push comes to shove – or when his tiny bunny sweetheart Haru is in danger.
I'm sure slicing through some blocks will be a walk in the park for Legoshi.
15.

Neptune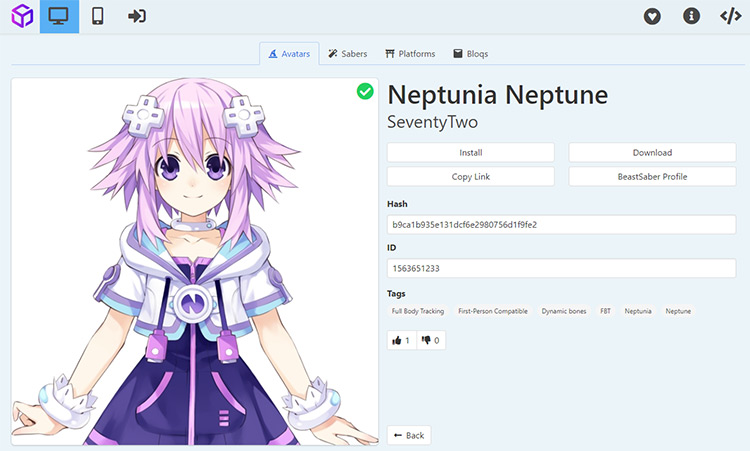 If you like RPGs but have never heard of Hypedimension Neptunia, you're missing out big time.
The game asks the age-old question:
What if all major console manufacturers were cute anime girls?
Youngsters may not know this, but Sega used to make consoles. In fact, it was the fierce competition between the SNES and the Sega Saturn that was first described as a "console war."
Saturn is a planet. Neptune is a planet. You follow?
This cute parka-clad airhead wields broadswords and katanas in combat, making her perfect for Beat Saber.
14.

Lightning
Someone who definitely knows her way around blades is Lightning, the protagonist of Final Fantasy XIII, and the only reason the trilogy wasn't a flop.
I used to think of Lightning as a female Cloud Strife back when FFXIII first came out.
They're both no-nonsense soldiers, they both have great hair… can you blame me?
Now that the dust has settled, it's easy to see who the biggest badass is. I'll give you a clue: it's Lightning.
For Lightning, fighting gods to save the world is an everyday occurrence.
With this FBT-compatible custom avatar, you'll feel like you can take on anything a song throws at you.
13.

Master Chief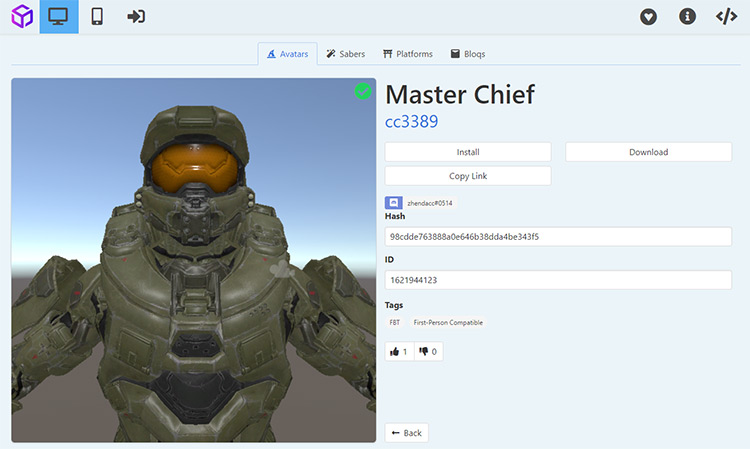 There's nothing Master Chief can't do.
It's part of his character!
Put him up against an intergalactic religious superpower, and he'll destroy their chain of command.
Tell him to slice blocks to the beat of the Halo Theme, and that's what he'll do.
It can't be too different from cutting up alien terrorists!
Just make sure to pair this Master Chief avatar with the Elite Energy Sword for maximum Halo fanboyism.
12.

Lapis Lazuli
Lapis is one of the most interesting and well-written characters in Steven Universe.
Her struggle with mental health and toxic relationships made her profoundly relatable. Watching her slowly adjust to a healthier, happier life was among the best parts of the show.
She's just as endearing when dancing and slashing through blocks.
This creator took some creative liberties with her outfit when bringing it to Beat Saber, but it works.
And either way, this avatar supports full-body tracking and hair physics.
It's really a work of art – or as Lapis would say it, a meep morp.
11.

Ramirez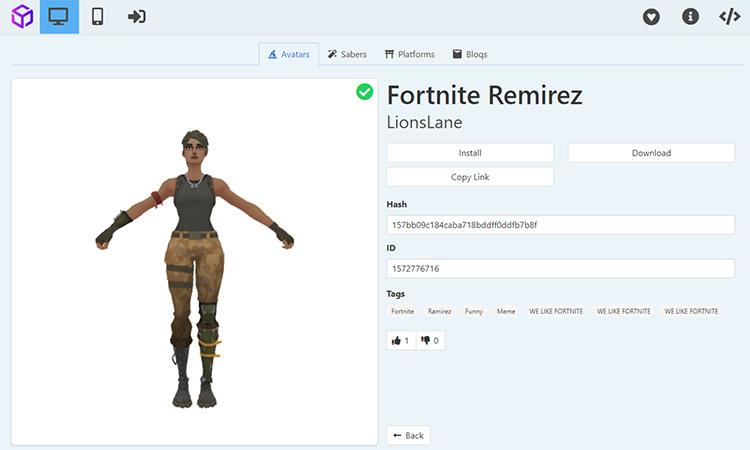 If you're hungry for Latino representation in your custom avatar roster, Fortnite's Ramirez should be your top priority.
After the worldwide meme phenomenon of Fortnite dances, Ramirez looks right at home in a rhythm game.
If she can pull out her best dance moves right after gunning down a whole squad of fools, she can handle some blocks.
Many of us grew attached to Ramirez as we learned our way around Fortnite, and this is an excellent way to reconnect with the character.
10.

Vanilla & Chocola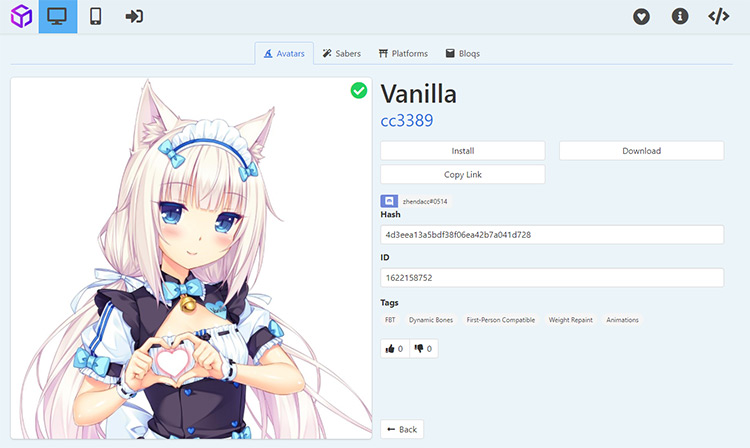 Two adorable feline companions come from the hit catgirl-raising simulator Nekopara – the smooth Vanilla and endearing Chocola.
These two catgirls adore their master – so they followed him when he decided to open his own patisserie.
They're as sweet as the confectionery they sell, and it's easy to fall in love with them after only a couple minutes of playing Nekopara.
Even if you've never played the fantastic visual novel, it's hard to argue with this much cuteness.
9.

Lumine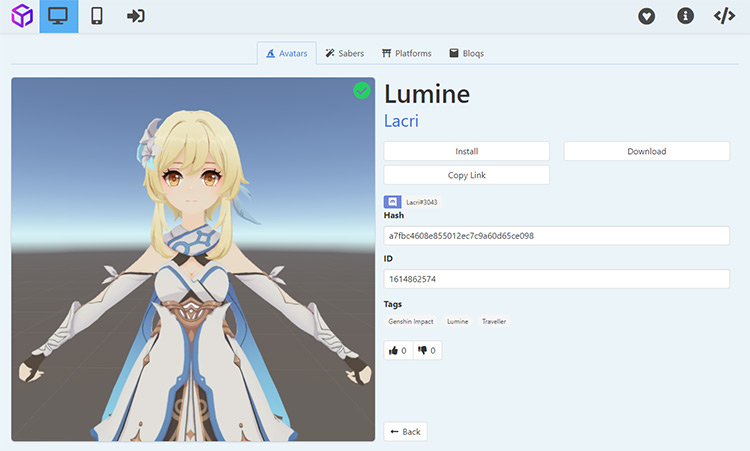 If you've ever played Genshin Impact, you know how overpowered the main character is.
If The Traveler can wield all elements and defeat deadly automatons and powerful monsters like it's nothing, why wouldn't they rock at Beat Saber too?
If you can emulate at least a fraction of their skills, you'll master any song in no time.
Lumine is the female main character and, as far as I can tell, the most popular.
She has a big personality for a silent protagonist!
8.

Ghastly Fox Girl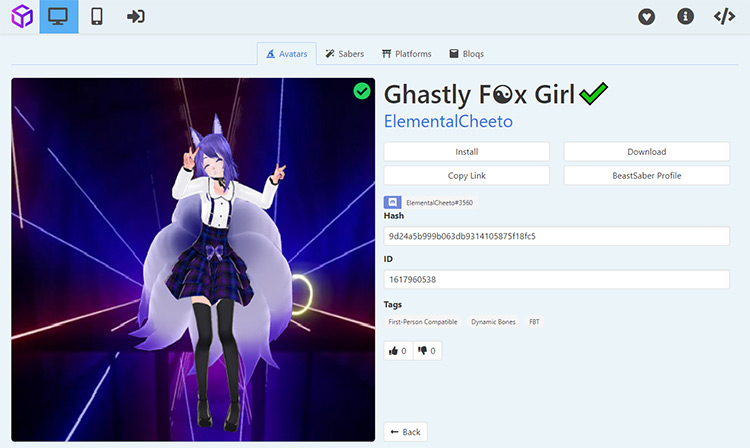 The only thing that people like more than wolf girls is fox girls.
So any weeb with taste will appreciate the delicate appeal of this Ghastly Fox Girl avatar, based on a popular VRChat character.
Her long fox ears are adorable, and her lilac tails look super fluffy.
Plus the avatar has dynamic bones and supports full-body tracking.
Get this if you want to look like a V-Tuber.
7.

Spirit Blossom Ahri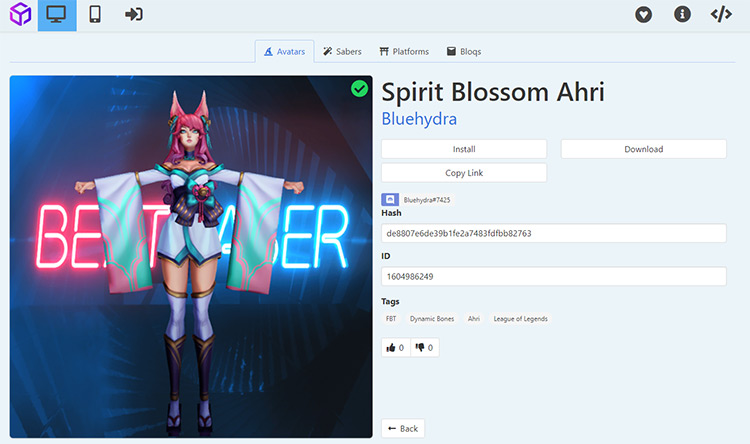 Hardcore League of Legends players who still find some time to enjoy Beat Saber on the side will love this FBT-compatible Ahri avatar.
Spirit Blossom Ahri is one of the most appealing skins for the Nine-Tailed Fox.
Its bright and vibrant colors help her stand out among Beat Saber's bright neon lights.
Or if you'd prefer something more modern, be sure to check out K/DA All Out Ahri by the same creator.
6.

Doomguy
You wouldn't typically picture the DOOM's main character doing anything music-related other than maybe using severed demon heads as drums, but that's what makes this avatar so good.
It's unusual, and its badass factor is undeniable.
Even if you miss a block or fail an entire song during a stream, it's okay.
Neither words nor stones can hurt you inside the Doomslayer's mythic armor.
It's also by far the most muscular character I've seen as an avatar for Beat Saber.
You won't slice through the blocks. You'll rip and tear them apart.
5.

Judy Hopps
Who's better to slice through high-velocity blocks than a fast and agile bunny?
Officer Judy Hopps quickly rose to fame after her protagonist role in Disney's Zootopia.
She was the first bunny to join Zootopia's police force. Her inexperience was evident at first, but in time, she became a full-fledged agent of the law protecting herbivores and carnivores equally.
And she's absolutely adorable by all standards.
Her brave personality and cute design made her a heartthrob among fans, despite looking so much like a real bunny.
4.

Miruko the Bunny Hero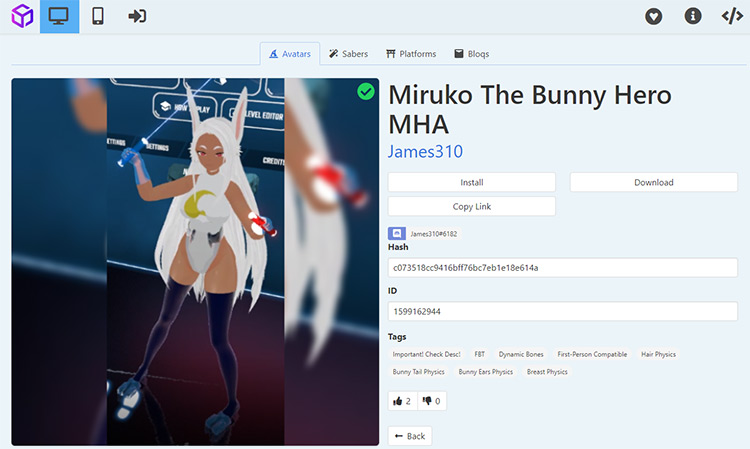 If you like the idea of playing as a bunny girl, but would prefer it to be more girl than bunny, Miruko the Bunny Hero from My Hero Academia is a fantastic choice.
She's one of the sexiest characters in the series – which doesn't stop her from being an absolute badass too.
If you think rabbit-like powers sound weak because they're small, cute, and fluffy, think again.
Her athletic build allows for speed and agility, making her the perfect block slasher. She's an excellent avatar for high-ranking players (or anyone with a thing for Miruko).
3.

2B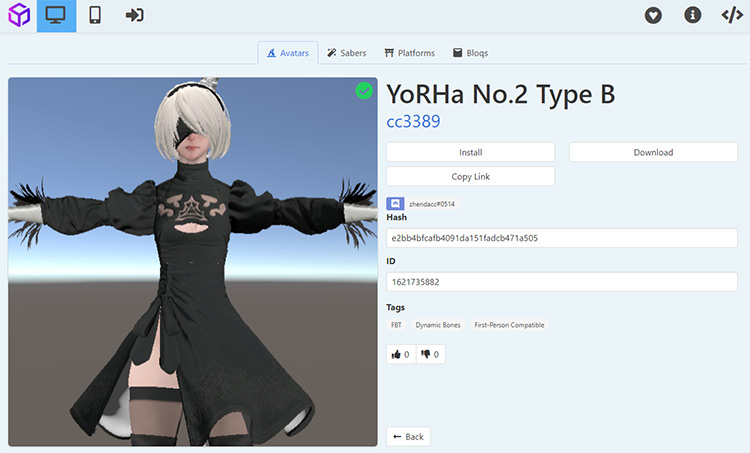 The one thing I've learned after years of writing articles on gaming mods and fan-made content, is that you can always play as 2B.
NieR: Automata's drop-dead gorgeous protagonist has garnered a massive following thanks to her appealing design and the ease with which she slices and dices through giant robots.
Whether or not the blocks in Beat Saber are machine lifeforms is hard to say.
But 2B will do just fine against them one way or another.
In addition, this custom avatar is FBT-compatible and features fully dynamic bones.
2.

2A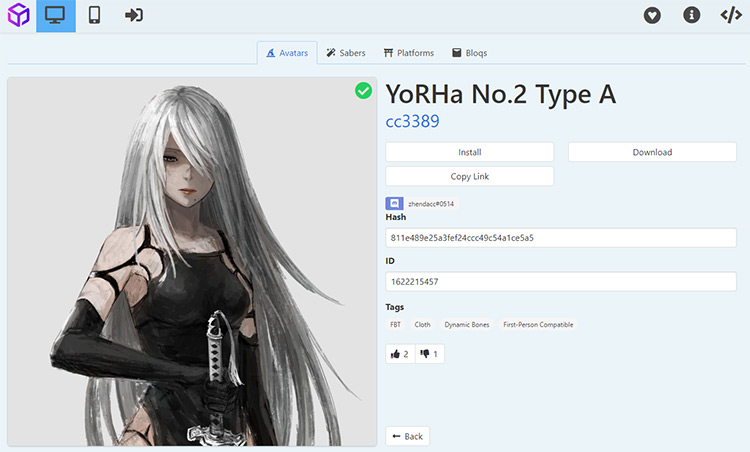 2B isn't the only YoRHa android in NieR: Automata worth remembering.
Even people who've cleared the game once may have missed 2A – after all, you have to clear the game at least thrice to play as this prototype battle android.
She's fiery and aggressive, but also a bit of an airhead.
This cute personality comes together with what must be the sexiest attire in the entirety of NieR: Automata to create an exceptional appeal.
Get this FBT-compatible avatar to fulfill your dream of having an angelic face and a perfect butt – at least in Beat Saber.
1.

Miku Hatsune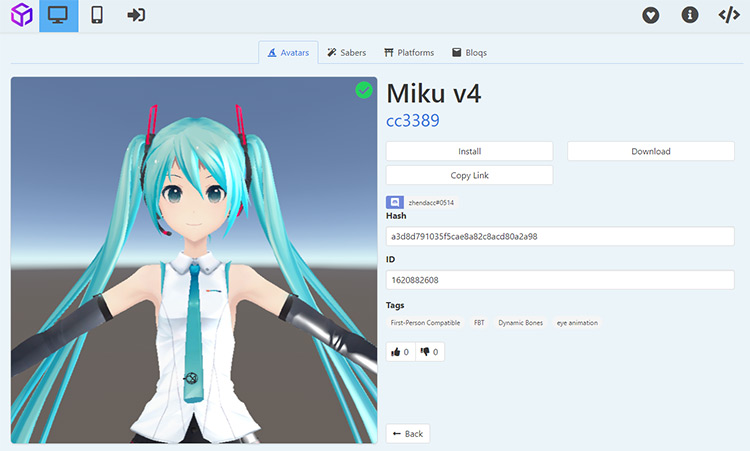 Miku Hatsune has gone from a voice synth software mascot to a world-class superstar, selling out venues for holographic performances.
Now she's here to slay in Beat Saber.
If you love the Project Diva series but want to move to tackle your favorite Vocaloid songs, playing Beat Saber as Miku will scratch that itch.
This high-quality custom avatar is FBT-ready and includes both dynamic bones and animated eyes for a more natural appearance.
There are many other Miku Hatsune avatars available online, but this is the best.
Browse:
Beat Saber
Lists
Video Games