Best Romance Anime From The 2000s: The Ultimate Collection
This post may contain affiliate links. If you buy something we may get a small commission at no extra cost to you. (Learn more).
Everyone these days knows about standout romance anime series such as Kaguya-sama: Love is War and The Quintessential Quintuplets.
But what about romance anime from decades ago?
They may differ a lot from modern anime in terms of art style, humor, and overall production value.
But my favorites from the 2000s have stories, characters, themes, and other aspects that stand the test of time – let's have a look.
20.

Love Hina
Just like its fellow 2000s series Ah! My Goddess, Love Hina is a rom-com harem with character designs you rarely see these days.
Instead of a seinen, however, this Xebec production is a shounen with 'light' ecchi elements.
As you might expect, Keitaro Urashima is your standard clumsy male MC.
Often, he accidentally (and inappropriately) ends up touching or seeing more than he should of the five girls.
But at the end of the day, he doesn't mean harm and is amicable – so much so that Naru and the rest of the tenants begin to find their new dorm manager endearing.
Oh, and while the main girl is Naru, I have to shout out the eye-catching design of Kaolla Su – the hyper dark-skinned foreign exchange student.
19.

School Rumble
Premiering in 2004 and running with 52 episodes in total (plus two OVA episodes), this series tells the story of Tenma Tsukamoto's attempts at finally confessing to Ouji Karasuma, an expressionless but oddly charming lad.
But there's also an assortment of hilarious and likable teens — and the two are not the only ship here.
Characters like the delinquent Kenji Harima, rich blonde girl Eri Sawachika, and Tenma's younger (but more mature) sister Yakumo have their own shining moments and romantic connections.
Effortlessly funny and full of life, School Rumble is the kind of school rom-com that could go on forever.
18.

Skip Beat!
Even today, you'll have a difficult time looking for an anime that adequately explores showbiz beyond all the glitz and glamor.
Skip Beat stars the teen girl Kyouko Mogami, a people-pleaser who's unfortunately been abandoned by her biological mother and had her heart crushed into smithereens upon learning that her crush, Shou Fuwa, was only using her.
Rather than stay in despair, however, she uses her built-up thirst for revenge to follow in the footsteps of Shou and try her luck in showbiz as well.
From here she learns to give more time and love to herself – and meets other interesting folks (like the MC and second love interest Ren Tsuruga), each of whom has their struggles and reasons for entering the entertainment industry.
17.

Ouran High School Host Club
Ouran Koukou Host Club is a reverse harem from Studio Bones.
It has 6 beautiful and distinctly appealing male students who form the uber-expensive host club at the elite school.
In contrast, the female MC Haruhi Fujioka is a normal teen from a normal family — and she only got in because of a scholarship.
One day, Haruhi accidentally breaks the club's multi-million-yen vase.
Tamaki Suou and the rest of the boys convince her to work for the club as compensation. But as it turns out, Haruhi has a knack for disguising herself as a male host and charming her fellow female schoolmates in her own way.
Its premise and shenanigans are unbelievable. But what would anime be if it didn't bring the silliest of situations to life?
16.

Bluer Than Indigo
Ai Yori Aoshi proves that you can make something amazing with a rather simple idea:
A 20-year-old guy's childhood friend finds him in the city because she promised to marry him.
Why did this work?
It's all about the characters, animation, writing, and execution.
First, Kaoru Hanabishi is a great MC. He's neither foolish nor egoistic — and he doesn't let his traumatic past get the best of him. Likewise, his blue-haired fiancee, Aoi Sakuraba, is beguiling.
Several other girls like the chest-loving Tina Foster and the well-endowed Taeko Minazuki complete the harem.
But thanks to the show's solid dialogue, character art, and expression of social dynamics, you still end up rooting for all of them to find happiness and to live a good life.
15.

Hanasakeru Seishounen
Before Chiaki Kon went on to direct other romance anime such as Golden Time and Sekaiichi Hatsukoi, she took on mangaka Natsumi Itsuki's Hanasakeru Seishounen.
Kajika Louisa Kugami Burnsworth spent most of her childhood years on a secluded island and had a white leopard as her constant buddy. Why?
Her powerful father, Harry, wanted to keep her safe and prevent another death in the family (Kajija's mom died trying to protect her).
But now she's 14 and attends school in Japan — and Harry's just given her a challenge:
Find the three men he's chosen as candidates to be her husband.
And from there, this 39-episode shoujo takes viewers on a wild ride filled with international travel, political intrigue, and four (no, not just three) alluring men who will inevitably shape Kajika's life.
14.

Natsu no Arashi!
But Natsu no Arashi immediately sets itself apart with strong supernatural and time travel elements.
Sayoko Arashiyama, our long-haired female MC, isn't actually just 16 years old. She looks like it, but she and her best friend (Kaja Bergmann) are both 'living ghosts' from more than 60 years ago (i.e., during the Second World War).
How does this all work out?
Why do these ghosts have to travel to the past and present multiple times?
No matter the answer, Natsu no Arashi impresses whether it focuses on the big narrative or simply gives viewers episodic comedies to slowly develop its characters and romance. Nothing like a Shaft production, am I right?
13.

Sweet Blue Flowers
Akira Okudaira was Fumi Manjoume's protector when they were just kids.
Fast forward to high school — and this still seems to be the case even if the bespectacled Fumi is already taller than her childhood pal.
But height isn't the only thing that's changed.
Fumi has realized that she forms romantic feelings toward other girls. These include her cousin Chizu Hanashiro and her senpai Yasuko Sugimoto.
On the other hand, Akira still wants to protect Fumi. But how can she help her with problems of love when she's not familiar with (nor ready for) the concept of romance?
Ao Hana is a girls' love and school slice-of-life romance series that faithfully captures the heartaches and fluttery feelings of being in love at a young age.
Moreover, it humanizes—rather than fetishizes—the young girls in anime that are interested in other girls.
12.

Bokura ga Ita
Bokura ga Ita remarkably remains emotionally potent even now that I've gotten older.
And I think I know why.
For one, the rather subdued animation and character art surprisingly make moments more heartfelt (or heartbreaking).
Some shots are mostly just closeups of Motoharu or Nanami in their pensive, sad, or angry state.
As their faces linger more on screen, the more they feel personal, as if you also carry the weight of their actions.
Moreover, the teenagers in We were there are simultaneously simple yet complex.
From the MCs to Nana and Masafumi, they face the same troubles of falling in love and passing subjects, but each can be unpredictable in how they act and think — not just because of their backstories but also because that's how even hormonal adolescents in real life are.
11.

Honey and Clover
It feels like fate that Honey and Clover is what follows after Bokura ga Ita.
Both offer an immensely fascinating cast — with the difference being that this JC Staff classic focuses on the college years of five friends.
With each episode, you realize what's driving (or stopping) them to chase their dreams.
Yuuta Takemoto, for example, took architecture but doesn't know what he'll do once he graduates.
Consequently, Shinobu Morito works so much that he sleeps a lot and fails to attend classes on time, preventing him from graduating.
Of course, love triangles, broken hearts, and the difficult but essential process of moving on are present.
Honey and Clover is a rare josei gem that might just be the best anime about college students of all time.
10.

Searching for the Full Moon
Not all romance and drama titles could pull off with giving viewers "the feels" and having an ending that is fully earned.
But this was the exception.
Starting as a 12-year-old who misses her beloved Eichi Sakurai after he left for the US, Mitsuki Kouyama is granted the chance by two spirits to achieve her goal of becoming a singer despite her throat cancer.
However, she only has a year left to do this.
Can she pull it off?
Will she see Eichi again?
Nearly 20 years later after its premiere, I still cherish Full Moon wo Sagashite.
Its ending is flawless and I applaud its decision to portray even the more serious and dark themes involving the frailty of human life.
9.

Lovely Complex
Despite being the most crucial member of the basketball team, Atsushi Ootani feels insecure about his short stature.
Likewise, Rise Koizumi dislikes how she's much taller than the average teen girl.
These two find it difficult to find love just because of their height.
Worse, their respective subjects of affection already fell in love — with each other.
Do Atsushi and Rise still have a chance at love?
Well maybe they don't have to look far…
Every episode of Lovely Complex is a joy to watch—even when it has a bit of drama—and each starts and ends with a super-catchy theme song. Soon, you'll catch yourself singing "bon, bon, bo-bon-bon" as well.
8.

Kimi ni Todoke: From Me to You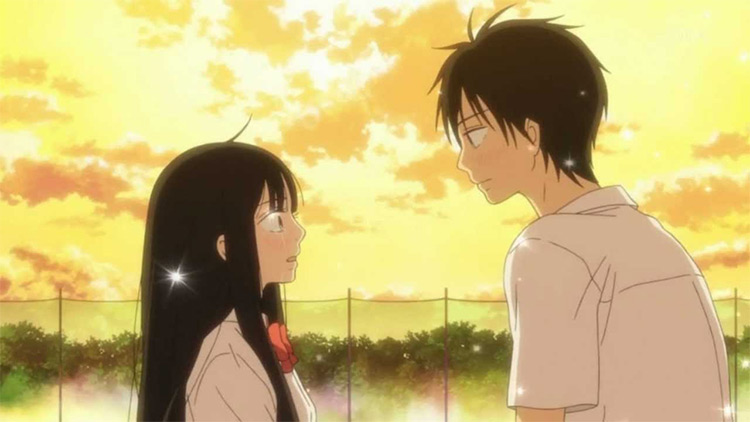 Sawako Kuronuma would love to make friends at school.
Unfortunately, her long black hair (similar to the horror icon Sadako from The Ring), shyness, and apprehension toward clearing up rumors stop her from forging new bonds.
Thankfully, the charismatic school hottie Shouta Kazehaya—along with other amazing folks—reaches out to Sawako.
She soon grows her social circle and learns to be less anxious around others.
But are Sawako and Shouta just friends at this point, or is there more to their relationship?
How would Shouta's legion of admirers (since middle school) react?
Regardless, Kimi no Todoke is a must-watch for its characters and the high-quality efforts of Production IG.
7.

Bakemonogatari
There's a ton of entries in the visually dazzling, narratively masterful franchise of Monogatari graciously adapted by Shaft — and Bakemonogatari is the finest among them if you want your heart to go all doki doki.
This 15-episode supernatural romance is about Hitagi Senjougahara and her mysterious disease, which causes her to be practically weightless.
And because of this odd condition, she has no other choice but to stop people from approaching her.
But as luck would have it, Koyomi Araragi unintentionally discovers her secret and decides to find a cure.
Bakemonogatari is stunning throughout. But I was not prepared for the final scene of them opening up their hearts under the night sky.
6.

Emma: A Victorian Romance
The titular character is an industrious and pretty maid working for Kelly Stownar.
Lots of working-class guys fall for her, but Emma doesn't feel anything special for any of them.
Then comes William Jones, a guy whose previously middle-class family has risen to the upper class.
Emma and William fall in love with each other, but Victorian society isn't so kind to love between people from different socioeconomic classes.
Historical romances are hard to find in any medium – but even more so in anime.
So it's a welcome surprise for Studio Pierrot and Aija-Do to offer a two-season adaptation of the award-winning Emma manga from Kaoru Mori.
5.

Toradora!
Taiga Aisaka and Ryuuji Takasu are living proof that you can't solely judge people by their appearance.
The girl is small and adorable, but she's infamously aggressive.
On the other hand, the mean-looking Ryuuji isn't a delinquent — he's intelligent, gentle, and fantastic with housework.
Toradora! starts as a hilarious story of two students helping each other to get together with their crush.
Then it evolves into a vivid & gripping tale of fully-realized adolescents traversing personal issues, family, friendship, and young love.
What else is there to say about this feisty series with its equally feisty tsundere girl lead?
JC Staff ruled Fall 2008 and Winter 2009 with a school romance that packed a punch both physically and emotionally.
4.

Clannad: After Story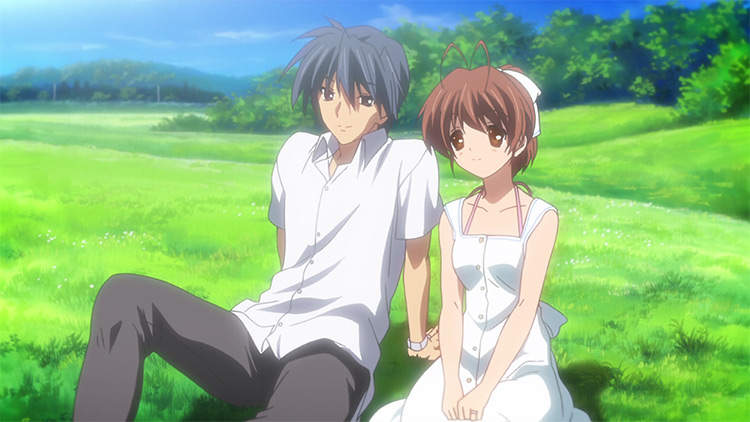 Clannad: After Story is not only Jun Maeda's defining work, but also one of the most iconic adaptations from Kyoto Animation back in the 2000s.
Tomoya Okazaki and Nagisa Furukawa have already graduated from high school and are ready to build a future together. In contrast to his days of delinquency, Tomoya now works hard and is motivated by her love.
The two eventually get married, have a child — then the unexpected unfolds.
Clannad: After Story explores selfless love, grief, family, redemption, and all the things that many adult couples in real life can strongly empathize with.
Remember to watch Clannad before this for the complete context and backstories, which in turn make the events here a thousand times more affecting.
3.

Spice and Wolf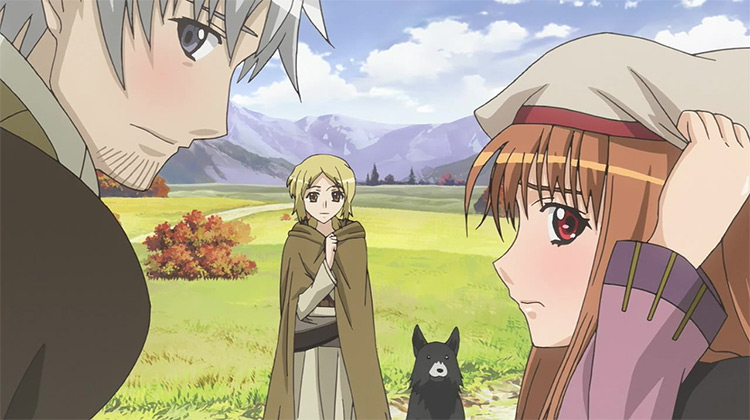 Spice and Wolf takes place in a fictional vision of historical Europe, complete with small towns, farms, merchants, and a religious institution governing nearly every aspect of life.
Holo is a divine wolf entity whose centuries-long reverence from townsfolk has dwindled as they learned how to handle harvest conditions by themselves.
So, she finally decides to leave the town and ends up in the wagon of the 25-year-old Kraft Lawrence.
Together they meet people, grapple with business and economic options, understand their place in a rapidly changing society, and deepen their relationship.
With two of the best MCs of all time forming one of the most beloved couples in anime, Spice and Wolf will never run out of fans begging for a well-deserved third season.
2.

Nodame Cantabile
With three consistently brilliant seasons, Nodame Cantabile reveals the highs and lows of individuals and how hard it can be to reach for even bigger dreams without forgetting what is essential to oneself.
Megumi Noda is a highly skilled pianist who doesn't want to pursue a career in music.
Shinichi Chiaki, the guy Megumi is in love with, is a legend in the making.
But his perfectionism and fear of abandonment are dangerous for both his future career and romantic prospects.
Many of my entries in this ranking have good soundtracks.
But only Nodame Cantabile magnificently weaves romance and passion for classical music together — all while illustrating the changing lives of young people as they shift from college to their newfound careers.
1.

5 Centimeters Per Second
Makoto Shinkai is already a household name these days after the smashing success of your name. and Weathering With You, yet this is still my top Shinkai pick.
Divided into three parts (Cosmonaut being my favorite), Byousoku 5 Centimeter portrays the childhood, teenage, and adult years of Takaki Toono, particularly concerning Akari Shinohara, his best friend back in elementary school.
This original anime project is breathtakingly animated from start to finish.
Everything else, from the writing to the voice acting and the soundtrack, work together to express the warmth and joy of a first kiss, the pain of longing, and the numbing anguish of knowing what could've been.
5 Centimeters Per Second is a triumph in filmmaking and anime, proving that there are many ways to evoke love, and that even lingering scenes (without any dialogue) are capable of showcasing complex and pure emotions alike.
Browse:
Japanese Culture
Lists
Anime